Sometimes, you need a weekend away with friends to relax, to reconnect, or just to escape the daily grind. However, it can be hard work to organise a group getaway — especially if you draw the short straw as the organiser! There are so many things to consider, like the best time to travel, where to go, what to do, and where to stay.
If you're looking for ideas and inspiration for your next girls' getaway, then we've got you covered. In this list, we've done the heavy lifting for you. We've found some of the best destinations and accommodation in New South Wales for a girls' getaway that are all within three hours drive of Sydney.
---
CENTRAL COAST COOL
Just over an hour's drive from Sydney is the Central Coast, an amazing weekend destination that is far from the hustle and bustle of the big city. Surrounded by gorgeous scenery and fascinating coastal towns, your girls' getaway will be filled with relaxing moments on unspoilt beaches, dining at chic cafés and restaurants, and activities that are sure to raise your adrenaline level.
If water sports are your thing, then the Central Coast is a perfect fit. The region boasts a myriad of beautiful beaches that are perfect for swimming, snorkelling or surfing. Many of the popular beaches are patrolled, like Avoca Beach and Terrigal Beach, while others are pristine and secluded, such as Lobster Beach and Little Beach in Bouddi National Park. For fun-filled group activities, why not try some water skiing, diving or perhaps even water-powered jet packs?
After your beach time, the Central Coast has plenty of great restaurants and cafés to discover too. Check out Cowrie Restaurant in Terrigal, Avoca Sands Café in Avoca Beach, or Bells at Killcare Restaurant in Killcare Heights, which are all renowned for serving the freshest local produce and flavours.
If you prefer something more low key where you can reconnect with nature, go on a coastal walk at Bouddi National Park. This 8-kilometre walk runs from Putty Beach to MacMasters Beach and is filled with sweeping views, shady rainforest and inviting picnic spots. There's a photo opportunity around every corner and you might even see migrating whales from the Gerring Point lookout.
Mercure Kooindah Waters Central Coast
Mercure Kooindah Waters Golf Resort is one of those places where the pace slows the moment you arrive. Here you can totally relax whilst enjoying the brilliant sunshine, gourmet food and wine, and endless recreation facilities on offer, all just 90 minutes from Sydney. With a choice of rooms & apartments, this is a perfect getaway for groups small or large.
---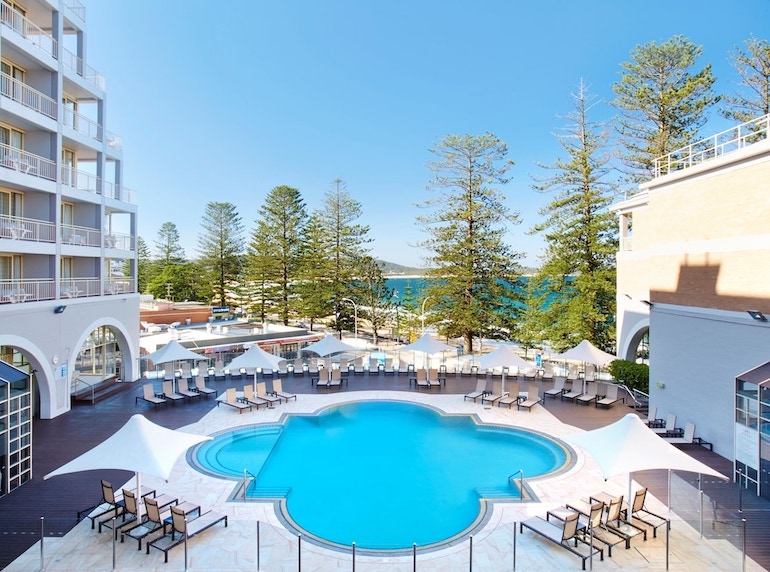 Crowne Plaza Terrigal Pacific
Airy and bright, Crowne Plaza Terrigal Pacific is a deluxe beach accommodation in Terrigal. Centrally located, this coastal resort offers the perfect base from which to have a little adventure and explore the delights of the Central Coast. Each of the 199 light-filled rooms and suites will make you feel welcome, complete with furnished balconies where you can soak up the stunning ocean views and sea breeze.
View all luxury accommodation on the Central Coast
---
WINE & DINE HUNTER VALLEY
Two hours north of Sydney is one of the favourite weekend destinations for Sydneysiders — the gorgeous Hunter Valley. Your girls' getaway will have a smorgasbord of fabulous activities to choose from, including plenty of wine tasting and fine dining. Of course, there are more adventurous pursuits too, such as hot air ballooning over the valley and bushwalking in the surrounding State Forests & National Parks.
The Hunter Valley is a well-known paradise for wine lovers and couples, but it can also be a lovely place for a girls' getaway. With over 150 cellar doors, you and your friends will be spoilt for choice. Stop by the Small Winemakers Centre in Pokolbin and sample the award-winning wines from multiple wineries all in one central location. In addition, you can visit some of the popular favourites in the region including Audrey Wilkinson Wines for its spectacular views and amazing vintages, and Harkham Winery for its hand-picked natural drops.
The region is also fast becoming a foodie destination. From casual bites to artisan cheeses and fine dining, there is a flourishing restaurant scene that will definitely excite your flock. Be sure to try the gastronomic delights at some of Hunter's best dining destinations such as the Muse at the Hungerford Hill winery, Restaurant Botanica at Spicers Vineyards Estate, and Circa 1876 at Pepper's Convent.
Finally, one of the most unforgettable ways to experience the Hunter Valley is in a hot air balloon. Time your group's picturesque aerial adventure at sunrise or sunset to witness the beautiful landscapes, rolling hills, and expansive vineyards of the region in their best light.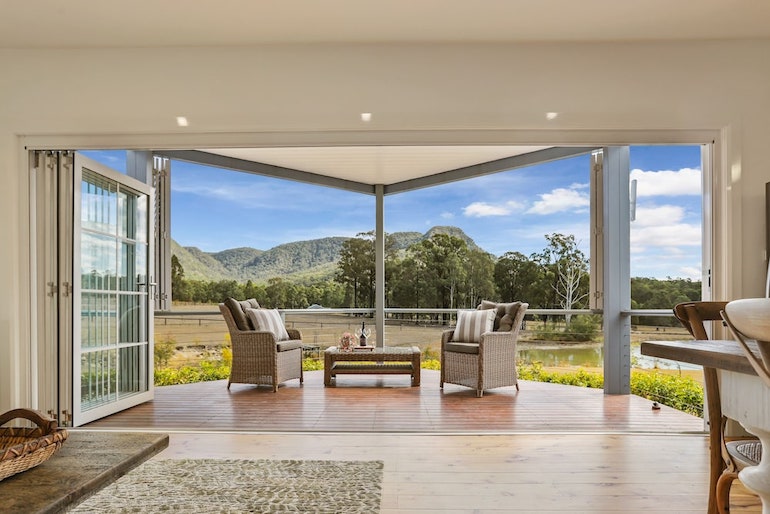 Brokenback Views Country Estate
Located centrally in Pokolbin near Roche Estate, Brokenback Views Country Estate is a place to relax, revitalise and rejuvenate, while being close to all the attractions of the Hunter Valley. The estate comprises of individually designed, luxury self-contained villas surrounded by spectacular country views across the lake and the Brokenback Ranges.
---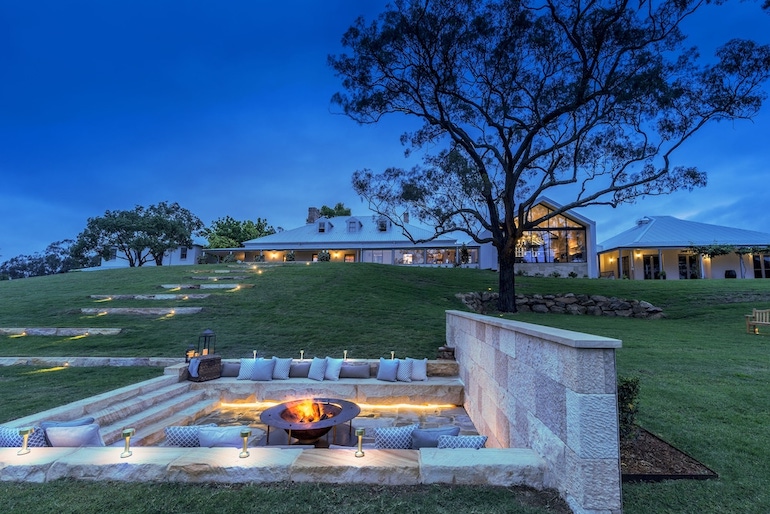 Spicers Guesthouse
A luxe boutique hotel located in the heart of the Hunter Valley, Spicers Guesthouse is a favourite for those looking for relaxed, laid-back luxury. Here you can enjoy world-class food and wine against a backdrop of rolling vineyards & mountain ranges before retiring to your luxuriously appointed guest room.
View all luxury accommodation in the Hunter Valley
---
BLUE MOUNTAIN MAGIC
If you're looking for jaw-dropping scenery on your girls' getaway then the Blue Mountains is the perfect destination. Only two hours west of central Sydney, you and your group can enjoy clean, crisp mountain air that is sure to melt your cares away. One of the best ways to experience the Blue Mountains is to explore the region's heritage-listed national parks — there are plenty of hiking trails, picnic spots, and lookouts that are absolutely Instagram-worthy.
Explore scenic lookouts like Bluff Reserve and Perry's Lookdown on a day tour of the area. You can also challenge yourself with a hike through the Three Sisters Walk in Katoomba, or experience the stunning limestone landscape of the Jenolan Caves.
Aside from the fresh air, the spectacular scenery and the walks, the Blue Mountains is also known for its distinct 'Mountain Cuisines.' From Katoomba to Blackheath and Leura to Blaxland, there's definitely an abundance of culinary delights. Grab your girl friends and indulge in an impeccable dining experience at Darley's in Katoomba or enjoy modern Australian cuisine with a French influence at Silk's Brasserie in Leura.
You can also experience the Blue Mountains from a different angle with plenty of adrenaline-pumping activities. You can try abseiling, canyoning, rock climbing, or even 4WD adventures throughout the region. Another must-do for your girls' getaway is the Scenic Cableway in Katoomba. Here, you can enjoy panoramic views of the Blue Mountains from the steepest and largest aerial cable car in the Southern Hemisphere.
---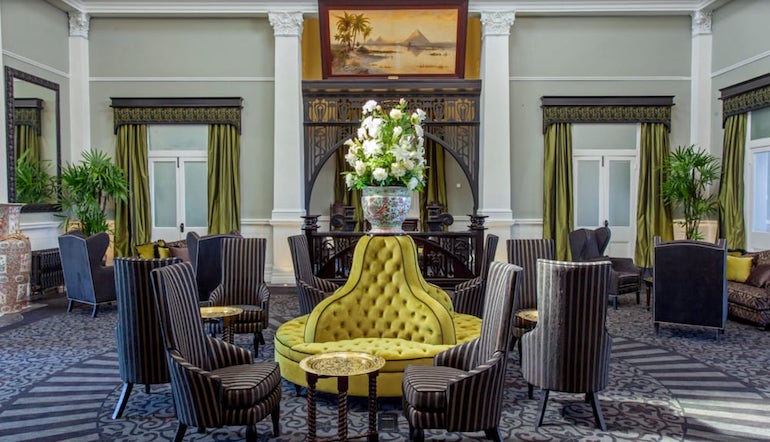 The Hydro Majestic Hotel
The Hydro Majestic Blue Mountains is one of the most historical and iconic hotels in Australia. Situated in Medlow Bath overlooking the Megalong Valley, this luxe hotel features beautiful interiors in art-deco style, with rooms boasting an elegant black and white colour scheme. Designed to reflect its rich heritage, this retreat is a a delight for gourmets and a wonder for lovers of nature.
---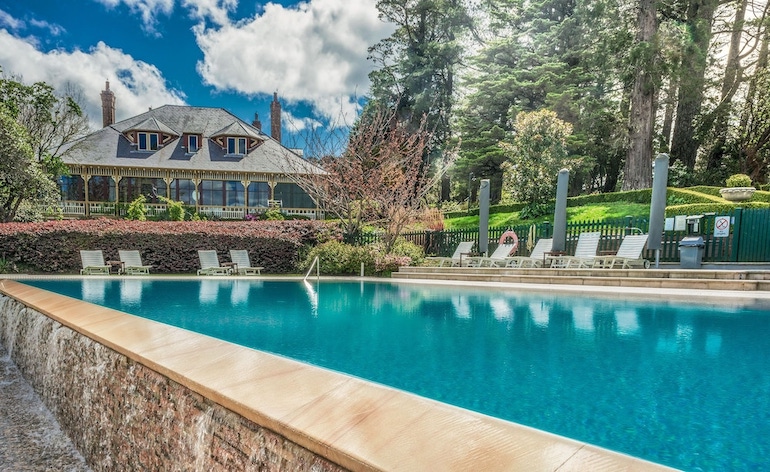 Lilianfels Resort & Spa Blue Mountains
Set on the edge of Blue Mountains National Park, Lilianfels Resort & Spa is an award-winning hotel in Katoomba. This mountain getaway offers boutique rooms richly decorated with organza and silk, and equipped with modern amenities for the ultimate in comfort and luxury. With picturesque views and scenic attractions, this hotel is an idyllic escape, bringing the beauty of nature right to your doorstep.
View all luxury accommodation in the Blue Mountains
Find your perfect getaway in New South Wales
Discover over 250 handpicked hotels, resorts & private villas
SUBLIME SOUTH COAST
Tempting you with pristine beaches, untamed coastlines, and spectacular scenery, the South Coast of New South Wales provides the ideal atmosphere for a relaxing or adventurous girls' weekend getaway. The variety of experiences and activities in this region will also surprise you — catch a glimpse of migrating whales and dolphins in Jervis Bay, shop and dine in Berry or enjoy a picnic along any of the gorgeous beaches.
This region also boasts a magnificent diversity of natural attractions and wildlife that you can discover with your group. The rugged coastline offers adventures such as swimming with seals as well as coastal walks and surfing. Seaside towns and fishing villages along the coast also specialise in serving the freshest local seafood… be sure to try the oysters, which are sure to impress!
Only two hours from Sydney and surrounded by lush dairy country and spectacular scenery is the gorgeous village of Berry. This food and wine lover's paradise offers the peace and serenity of the countryside with plenty of activities to entertain, such as local wine tours, dining at superb restaurants such as Queen St Eatery and South on Albany, rejuvenating spa treatments, and boutique shopping.
A little farther south and less than three hours from Sydney is the beautiful Jervis Bay. Here, you can relax on the powdery white sands of Hyams Beach or go on a dolphin and whale watching cruise in the delightful town of Huskisson. Rich with Aboriginal heritage, the Booderee National Park is also an excellent location for your group to go swimming, bushwalking, and bird watching.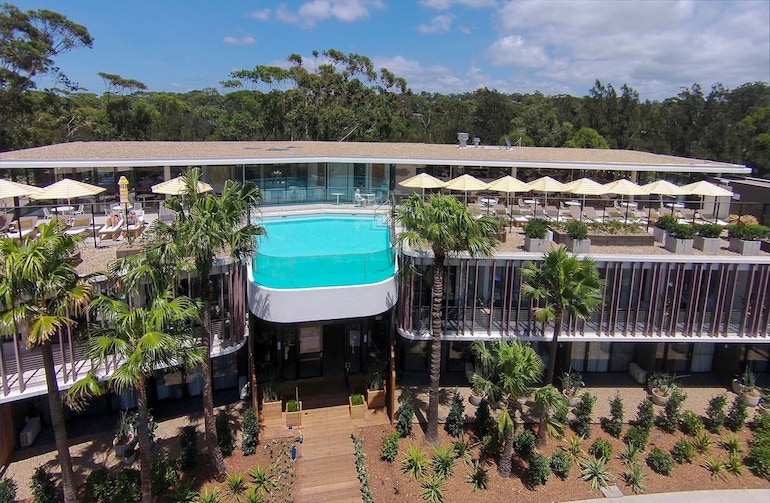 Bannisters Pavilion
Situated just 80 metres from the shores of Mollymook Beach, Bannisters Pavilion boasts stylish, beach-chic rooms and suites that are the perfect choice for a coastal getaway. The Pavilion promises a laidback escape where you can spend sunny days poolside and eat and drink in the relaxed tree-top atmosphere of The Rooftop Bar & Grill.
View all luxury accommodation on the South Coast
---
SYDNEY STAYCATION
With so much happening in your own backyard, there's no need to head far just to enjoy a weekend getaway with your girl friends. There's plenty to explore right here in Sydney that will excite even those who think they've experienced all that the city has to offer. Whether you're after a girl's night out, a shopping adventure, or chilling at the beach, there are loads of activities to experience here throughout the year.
Considered as one of the best foodie destinations in the world, indulging in sumptuous flavours and alfresco dining at one of the many waterfront restaurants in Sydney should definitely be at the top of your to-do list. If you prefer to get out on the water, a sunset cruise around Sydney Harbour might be the perfect pre-dinner option, and there is nearly always a bountiful collection of shows, theatre productions or events for later in the evening, no matter when you're visiting. When looking for great restaurants, you don't have to look for long. Sydney's food scene is outstanding with fine-dining restaurants such as Rockpool Bar & Grill, Quay and Nomad.
Definitely pack your beach gear because Sydney offers over 100 different beaches to explore. Bondi Beach is certainly the most famous, but there are plenty of other quieter beaches that are equally as beautiful. If you're looking for something more adventurous to do, you can head out to the harbour at Clovelly for an underwater scooter tour or perhaps to try a stand-up paddleboarding session at Manly Wharf.
There's also nothing like some retail therapy on a getaway, and with Glebe and Kirribilli markets on your doorstep, you can all bond over a spot of shopping. Fill your wardrobes with new clothes and jewellery direct from emerging designers without the high price tag. There's also entertainment and coffee carts at both markets, so you can grab a coffee and enjoy some music once you're shopped out.
---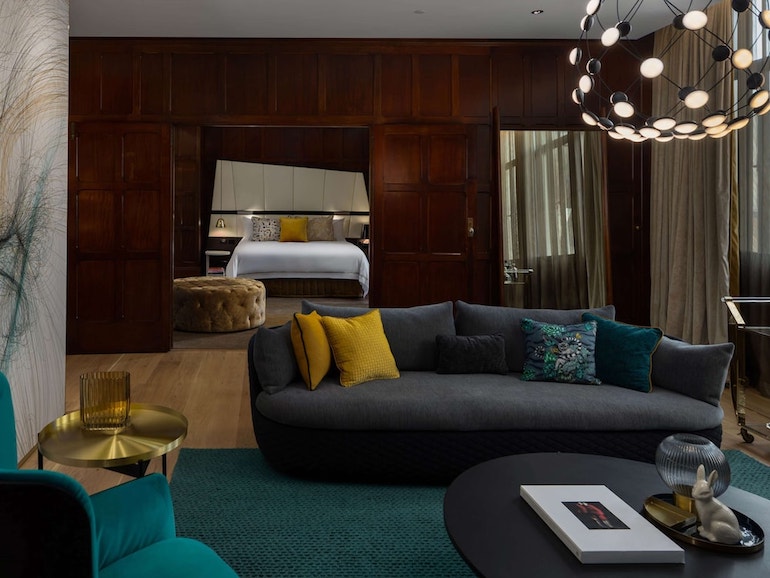 QT Sydney
Housed in the landmark State and Gowings buildings, QT Sydney is an exquisite luxe retreat located in the heart of the city. 198 luxurious rooms are thoughtfully designed to engage the senses, complete with modern features and excellent amenities. Artsy and theatrical, this hotel boasts eclectic interiors and a curious selection of furniture, perfectly capturing the spirit of this harbour city.
---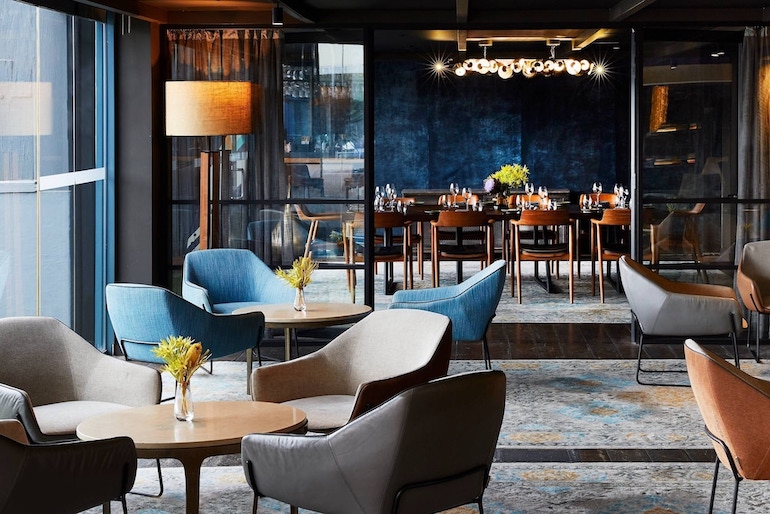 Pier One Sydney Harbour
Full of natural light, contemporary art and Federation-style touches, Pier One Sydney Harbour is an exceptional waterfront hotel located right next to the Sydney Harbour Bridge. This luxurious retreat offers 185 well-appointed suites that feature luxury amenities and breathtaking views of Sydney Harbour or Walsh Bay.
View all luxury accommodation in Sydney
---
Looking for more options? Check out our full range of luxury hotels, holiday homes and getaways in NSW.
Image credit: Bannisters Pavilion – Mollymook, South Coast
What's your luxury?
Luxury means different things to different people. Is your luxury a glamorous hotel in downtown Manhattan, a private island hideaway on the Great Barrier Reef, or a safari camp on the plains of the Serengeti? We'll help you find your perfect version of luxury in some of the world's most beautiful places.