Spectacular views, romance, adventure, and timeless luxury all converge at Longitude 131°. Situated at the gateway of the World Heritage Site of Uluru-Kata Tjuta National Park, this lavish retreat lets you immerse in the beauty of the Australian Outback where the desert landscape, and the glimmering red Uluru, will never fail to mesmerise you.
From above, the luxury tented pavilions look like a slender crescent-shaped moon that floats over the rust-red dunes and desert scrub of what is known as Australia's Red Centre. Here, the indigenous textures of the land fuse with traditional flair from bygone eras to create a sanctuary that evokes an earthy elegance found nowhere else.
The tents are more than just the canvas shelters you find on camping grounds. Rather, they are luxury cabins that are built on steel stilts with full-length windows that look across miles of desert to the majestic thousand-foot Uluru. As the spectacular scenery unfurls before you in every direction, you'll also be delighted to relish the serenity and seclusion that Longitude 131° offers as the cabins are invisible from the town where many of the tourists stay.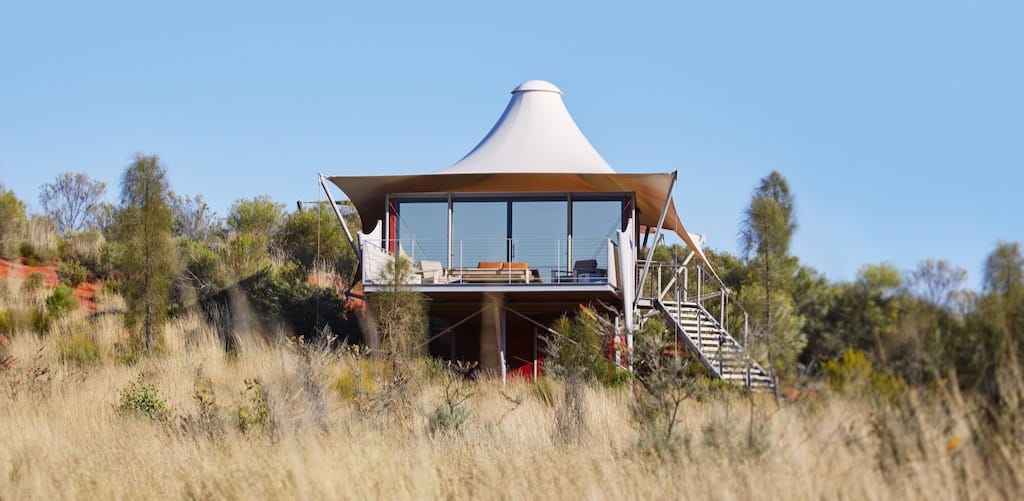 Furthermore, the lavish accommodation has taken great consideration of how it affects its surroundings, using only endemic species to enhance the property. This is to ensure that the natural lay of the land remains undisturbed and relatively unchanged. Guests are asked to keep to designated paths to minimise impact to the environment.
This meticulousness is carried to the 15 cabins where each is richly appointed and themed after Australian pioneers. The decor exudes a bit of British Africa with lots of memorabilia, photos, and a few letters here and there from the time of the early settlers. However, this does not mean the absence of modern conveniences and technology. In fact, within each private retreat you will enjoy an iPad with entertainment, a music system, wireless Internet access, phone, and climate control.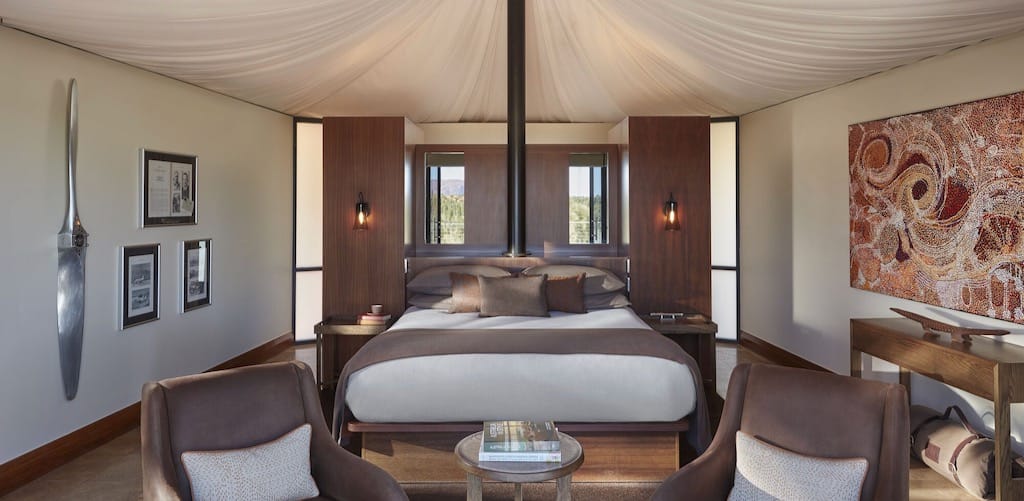 Floor-to-ceiling windows let you wake up to unobstructed views of Uluru from your bed, which also happens to open up to an expansive private balcony fitted with a day bed, seating, and a fireplace. There is also an en suite bath with rain shower, a bar filled with a selection of well-loved, gourmet local treats. Daily housekeeping, evening turndown service, and plush bathrobes complete your glamorous camping experience.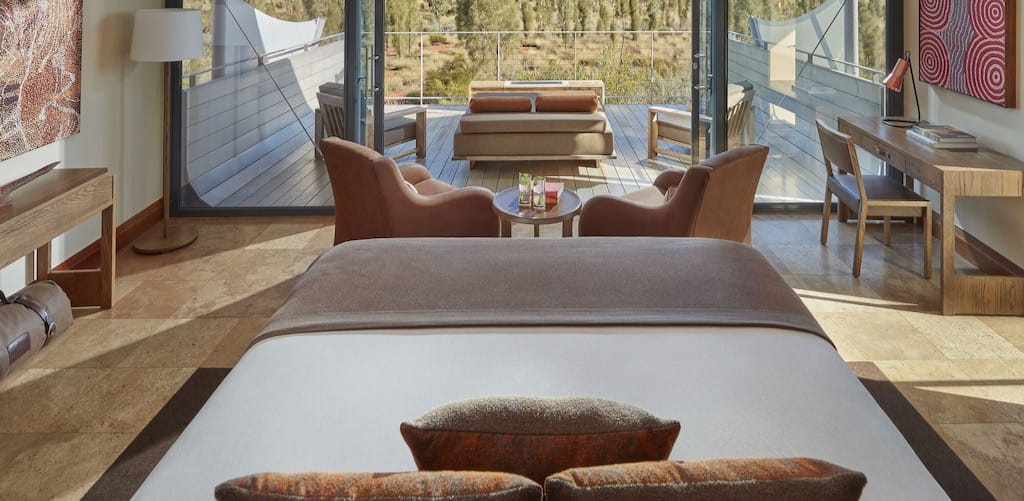 Guests can converge and mingle at the Dune House, a stunning place located in the middle of the property where a dramatic landscape provides a backdrop unlike any other. It's the perfect place to lounge, relax, and swap stories of the day's adventures. At the Dune House Restaurant you can savour delectable outback fare from breakfast to dinner, as well as a variety of wine from Australia's finest wineries.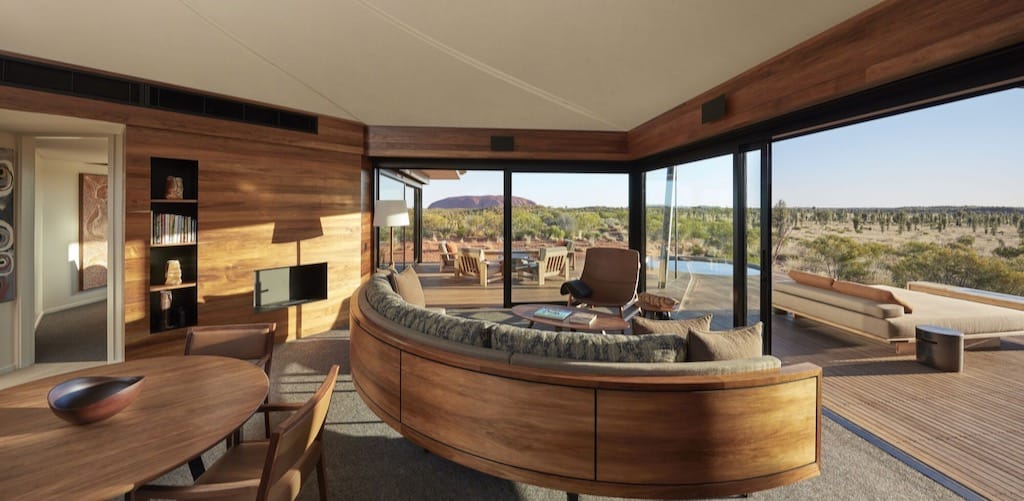 In particular, dinner is something of an experience at Longitude 131°. You can choose to dine under the white canopy or under the twinkling lights of the stars. The four-course menu changes daily and proudly showcases the rich and superb Australian produce. If planning a romantic evening, private dining is also available via advanced booking.
After dinner, or anytime you feel like it, there is a library at the Dune House filled with an impressive collection of historical literature, maps, books, and artefacts on the discovery of Australia's Red Centre. There is also a library of movies and games available if you find yourself looking for entertainment for two. Just beside the House is an outdoor swimming pool and terrace, another ideal place to enjoy the stunning milieu.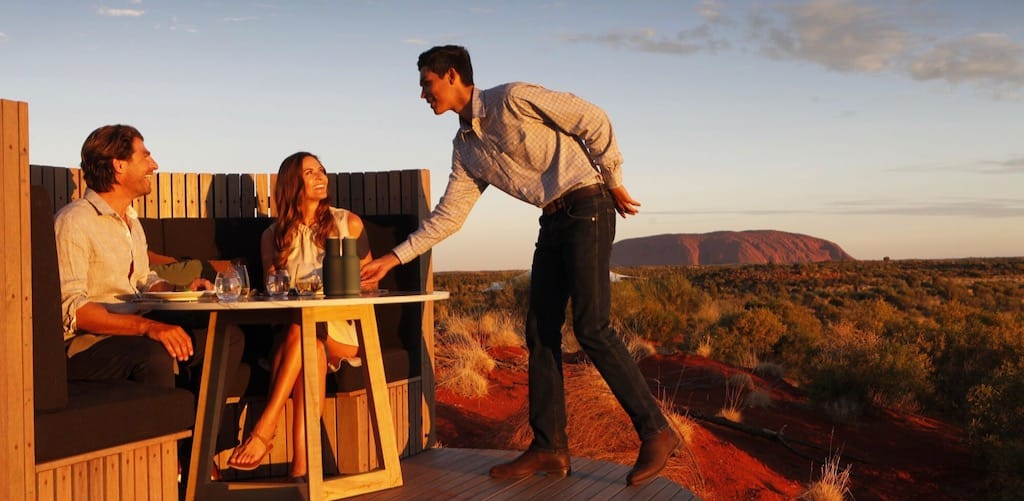 The main attraction though, is the red rock and Kata Tjuta where guided tours are available. These tours are designed exclusively for Longitude 131° guests and can be personalised according to your requirements. They showcase the amazing biodiversity and geography of the country's central deserts. Through these tours, you can also learn about the ancient culture of the Anangu, the Aboriginal people who cared and lived in these lands for thousands of years. However, if you prefer to just contemplate the majestic rock formations from a distance, you can opt to stay at the luxury retreat.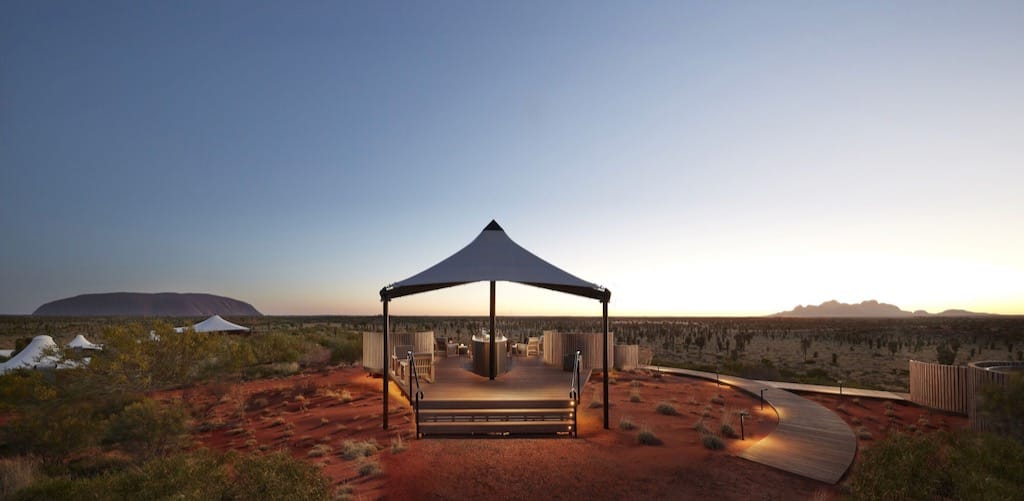 Whether you want to spend your time learning the history of the locale or exploring the flora and fauna, or even just enjoying the comforts of your serene sanctuary, Longitude 131°'s exclusive and world-class services are sure to deliver an unforgettable encounter with Australia's majestic Red Centre.
For more information visit Longitude 131°.
What's your luxury?
Luxury means different things to different people. Is your luxury a glamorous hotel in downtown Manhattan, a private island hideaway on the Great Barrier Reef, or a safari camp on the plains of the Serengeti? We'll help you find your perfect version of luxury in some of the world's most beautiful places.