Queensland is a beach-lovers paradise. Not only does it have some of the best beaches in Australia, but many of them are bordered by renowned UNESCO World Heritage sites just waiting to be explored, including the incredible Great Barrier Reef and the ancient Daintree Rainforest. To help you plan your next coastal escape, we've handpicked a collection of Queensland's best luxury beach resorts where you can rest, relax and unwind.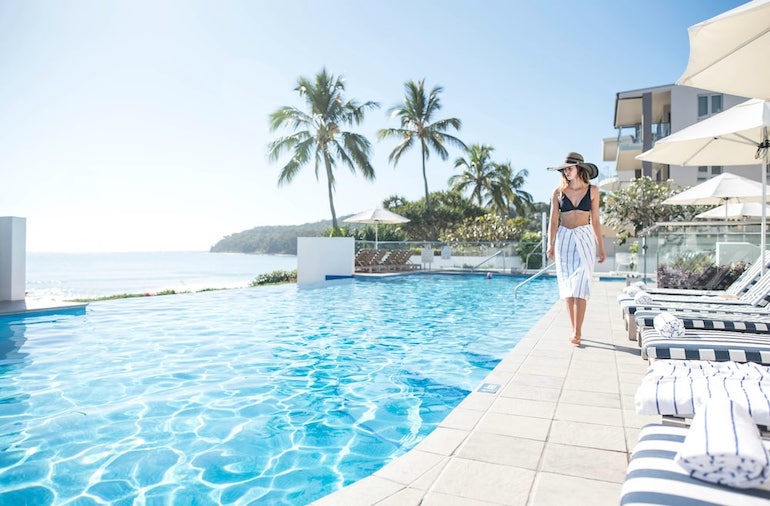 Tingirana Noosa
Set perfectly between Hastings Street and Noosa Beach, Tingirana Noosa is an exclusive beachfront resort. With a vibe that will remind you of The Hamptons, Tingirana boasts a combination of turquoise waters, stunning sandbars, boutique shops, and 18 individually decorated accommodations. Ask the concierge if you want to go fishing, river cruising, or whale watching.
---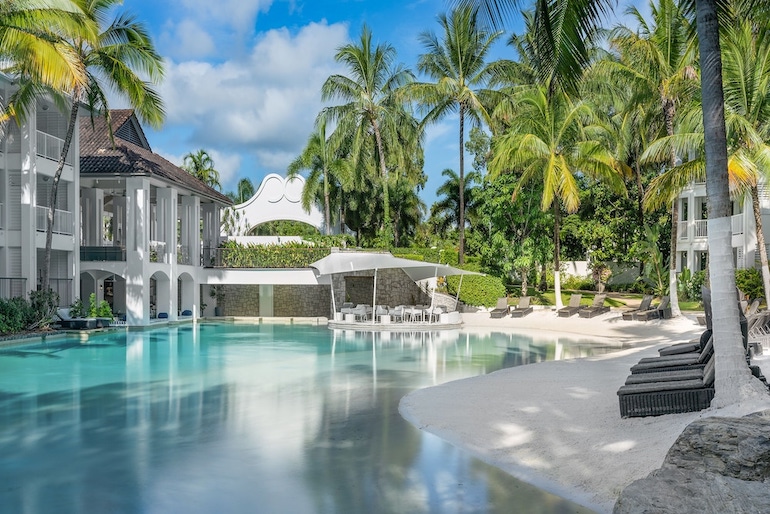 Peppers Beach Club
Located in the bustling tropical village of Port Douglas in Tropical North Queensland, Peppers Beach Club offers plenty of open space, sparkling blue water, lush gardens edging private terraces and cooling plunge pools. Here you can snorkel the Great Barrier Reef or stroll along Four Mile Beach, just 5 minutes on foot, during sundown.
---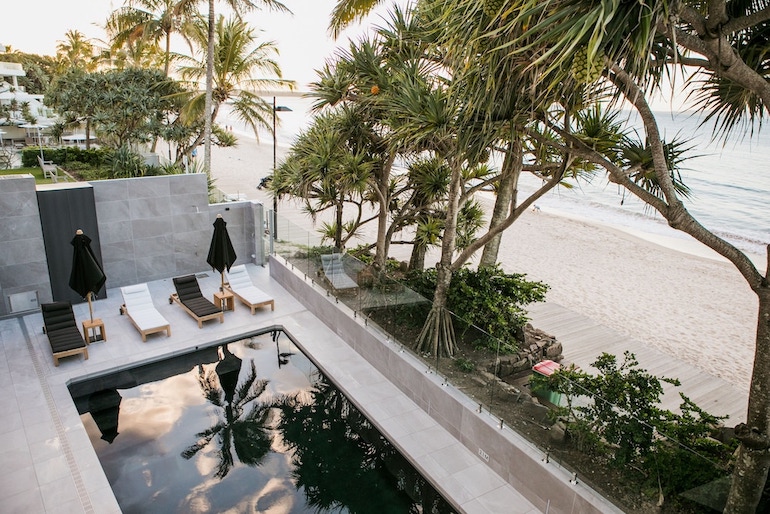 On The Beach Noosa
Fancy a tropical blend of sea, sun, spa and sky? Discover all these and more at On The Beach Noosa. At this absolute beachfront resort, you can experience exceptional comfort in your self-contained apartment complete with a private balcony and spa bath. On The Beach offers the perfect vantage point to make the most of Noosa.
---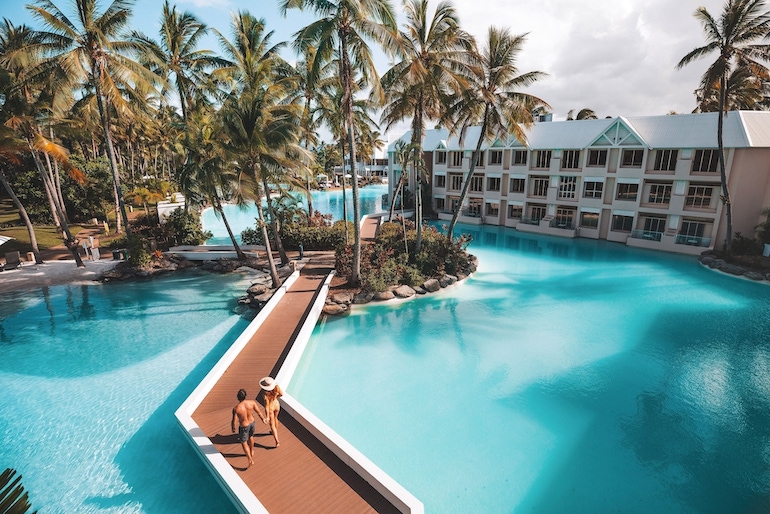 Sheraton Grand Mirage Resort, Port Douglas
Sheraton Grand Mirage Resort is a stunning five-star hotel set amid golden-sand beaches and lush tropical gardens. In addition to luxuriating in serene and indulgent guest rooms, this dazzling accommodation in Port Douglas, North Queensland is close to two UNESCO World Heritage sites — the Great Barrier Reef and Daintree Rainforest.
---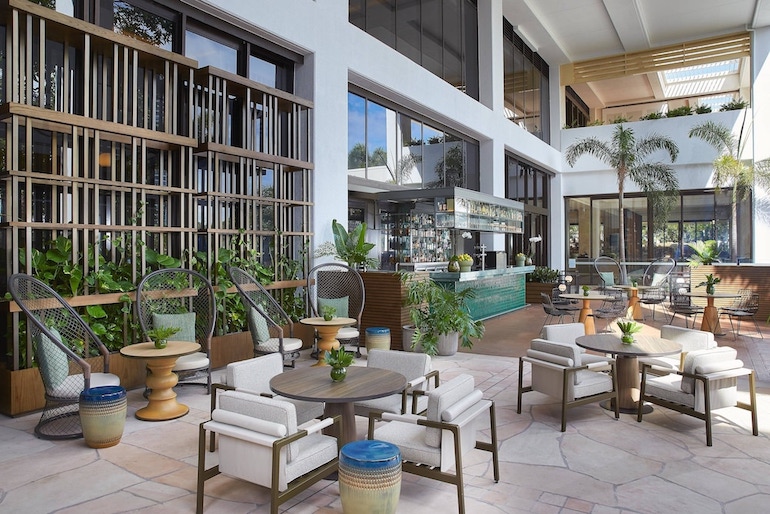 JW Marriott Gold Coast Resort & Spa
JW Marriott Gold Coast Resort & Spa has been described as a luxury playground for all generations. This picturesque hotel is located just minutes from Surfers Paradise and offers easy access to the Gold Coast's famous beaches, shopping district, and hinterland valleys. You can't go wrong with a hotel that has been voted as Best Family Resort in Australia for seven consecutive years.
Find your perfect getaway in Queensland
Discover over 235 handpicked hotels, resorts & private villas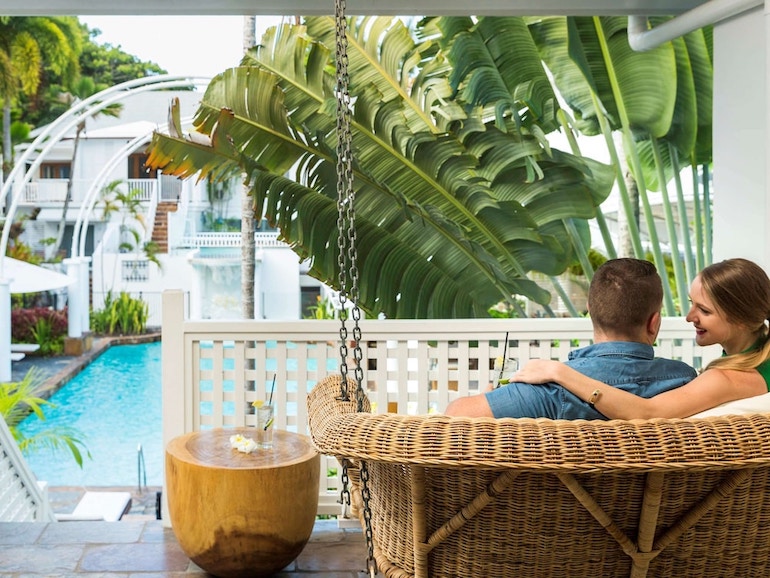 The Reef House Palm Cove
The Reef House Palm Cove provides locals and travellers with a relaxing and sophisticated resort experience only 25 minutes from Cairns. Relax at the full-service spa and enjoy activities including aqua aerobics, beachfront yoga, and cocktail-making classes. If you prefer, spend the day by the pool before enjoying complimentary drinks and canapés then dining under the stars in the Reef House Restaurant.
---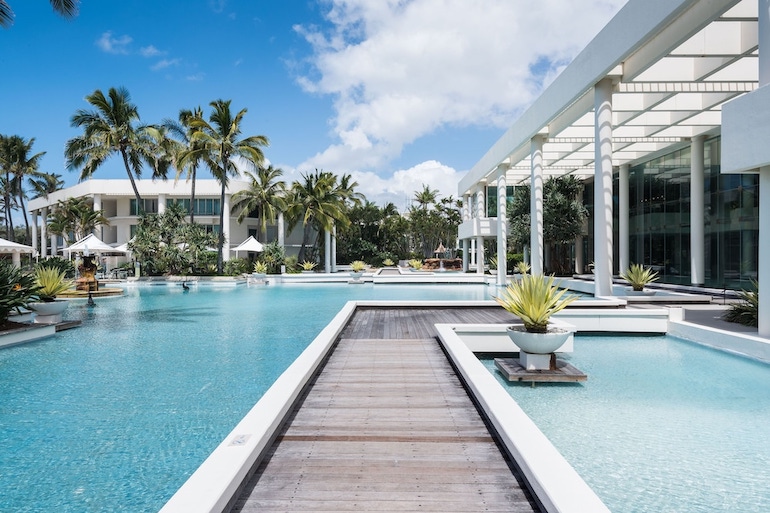 Sheraton Grand Mirage Resort, Gold Coast
Just like its sister property in Port Douglas, Sheraton Grand Mirage Resort on the Gold Coast invites you to experience a new realm of luxury just minutes from Surfers Paradise. Here, you can enjoy stunning seascapes, beach activities, and Australia's biggest theme parks nearby. As for the suites, each one features beautifully appointed interiors and designer décor as well as views of sparkling lagoons and tropical gardens.
---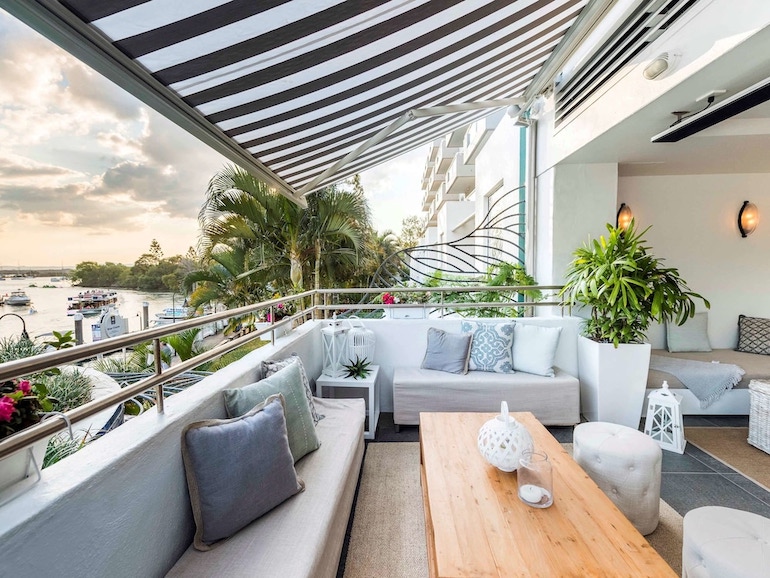 Sofitel Noosa Pacific Resort
Sofitel Noosa Pacific Resort invites you to live the 'French Way.' This means drawing inspiration from local culture and tradition while celebrating innovation and the French 'art de vivre' (or the art of living!). Located on Hastings Street, this 5-star lodging offers a blend of coastal chic and Parisian elegance which makes for a one-of-a-kind, luxurious resort experience.
---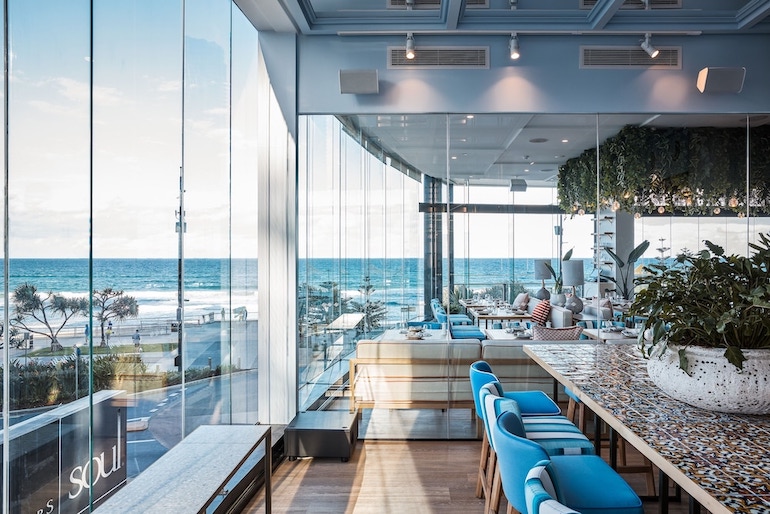 Peppers Soul Surfers Paradise
With 77 levels towering above the white sand beach and crystal waters of Surfers Paradise, Peppers Soul redefines luxury accommodation on the Gold Coast. Savour a romantic escape filled with uninterrupted ocean views, culinary delights, and luxurious spa services. Your stay will be filled with the richest experiences from arrival to checkout.
If you're looking for more options, check out our entire Queensland Beach Collection.
What's your luxury?
Luxury means different things to different people. Is your luxury a glamorous hotel in downtown Manhattan, a private island hideaway on the Great Barrier Reef, or a safari camp on the plains of the Serengeti? We'll help you find your perfect version of luxury in some of the world's most beautiful places.