Majestic mountains, serene lakes, rolling hills, and lush forests — this is New Zealand, the home of magnificent landscapes. A trip here means sipping world-class wine in a vineyard, getting pampered in a luxurious day spa, playing a championship golf course, exhilarating skiing or exploring the great outdoors. Nestled within this epic scenery, you'll find some of the most luxurious lodges and resorts on the planet — from gorgeous waterfront sanctuaries to remote alpine hideaways. Each offers you the opportunity to escape and experience the extraordinary.
Azur Luxury Lodge, Queenstown, South Island
Nestled amongst lush foothills, just five minutes from downtown Queenstown, Azur Lodge captivates with unparalleled views of Lake Wakatipu and the stunning Remarkables from each of its nine luxuriously appointed private villas.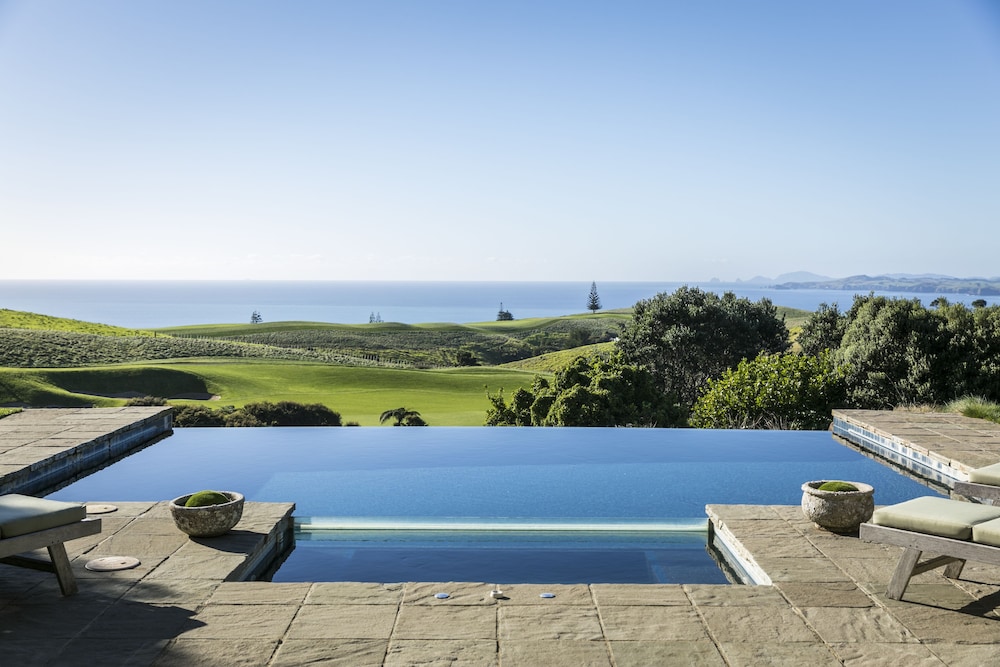 Kauri Cliffs, Matauri Bay, North Island
Set on 6,000 acres of verdant land, with sensational 180-degree views of the Pacific Ocean, Kauri Cliffs offers opulent comfort and relaxation in the amazing enclave of the Bay of Islands.
Stoneridge Estate, Otago, South Island
Experience peace and tranquility at Stoneridge Estate, a beautiful luxury lodge on the banks of Lake Hayes that combines five-star amenities and unparalleled scenery – all just fifteen minutes from Queenstown.
Treetops Lodge & Estate, Rotorua, North Island
Discover the spirit of adventure at Treetops Lodge & Estate. Nestled in 2,500 acres of pristine wilderness, this elegant and rustic accommodation is located in Rotorua, New Zealand's famous healing thermal region.
Solitaire Lodge, Lake Tarawera, North Island
Unwind and soak up the good life at Solitaire Lodge, a premiere accommodation 20 minutes from downtown Rotorua, with nine luxe suites all featuring breathtaking views of Lake Tarawera and the volcanic peaks of Mount Tarawera.
Te Arai Lodge, Auckland, North Island
Set among 20 acres of native, ancient flora and fauna, Te Arai Lodge is an eco-friendly haven that boasts panoramic views of the Brynderwyn Ranges only 1 hour and 15 minutes from Auckland central.
Huka Lodge, Taupo, North Island
Set along the banks of the Waikato River and surrounded by 17 acres of lush grounds, Huka Lodge is a 1920s heritage hotel with 26 gorgeous suites, just 40 minutes flight from Auckland.
Blanket Bay, Glenorchy, South Island
Situated on the shores of the placid Lake Wakatipu, surrounded by the craggy peaks of the Southern Alps, Blanket Bay is an opulent stone-and-timber lodge only 45 minutes from Queenstown.
Hapuku Lodge & Tree Houses, Canterbury, South Island
Located at the base of Kaikoura Seaward Mountain Range, Hapuku Lodge & Tree Houses is a contemporary country hotel with 12 luxurious rooms and suites perfect for couples or families.
Matakauri Lodge, Queenstown, South Island
A luxury lodge accommodation on the banks of Lake Wakatipu just seven minutes from Queenstown, Matakauri Lodge has 11 luxurious rooms all with spectacular views of the majestic Remarkable Mountain.
---
Discover our handpicked collection of Luxury Hotels, Resorts, Lodges & Villas in New Zealand.