Majestic mountains, serene lakes, rolling hills, and lush forests — this is New Zealand, the home of magnificent landscapes. A trip here means sipping world-class wine in a vineyard, getting pampered in a luxurious day spa, playing a championship golf course, exhilarating skiing or exploring the great outdoors. Nestled within this epic scenery, you'll find some of the most luxurious lodges and resorts on the planet — from gorgeous waterfront sanctuaries to remote alpine hideaways. Each offers you the opportunity to escape and experience the extraordinary.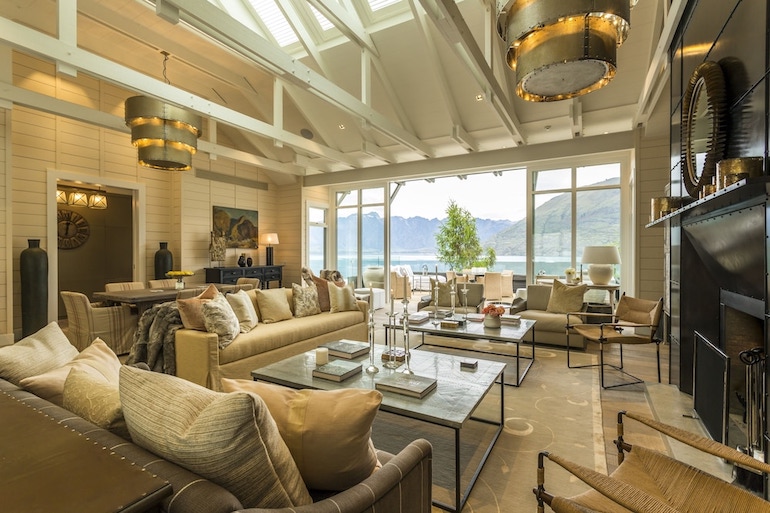 10. Matakauri Lodge, Queenstown, South Island
Nestled on the shores of Lake Wakatipu, Matakauri Lodge is a stylish retreat boasting grandiose views of the big three; The Remarkables, Cecil, and Walter Peaks. Located just 8 km from the centre of Queenstown, this luxury lodge offers 11 indulgent suites and villas in a sophisticated yet cosy ambience, providing an idyllic setting to enjoy the stunning lake and mountain vistas.
---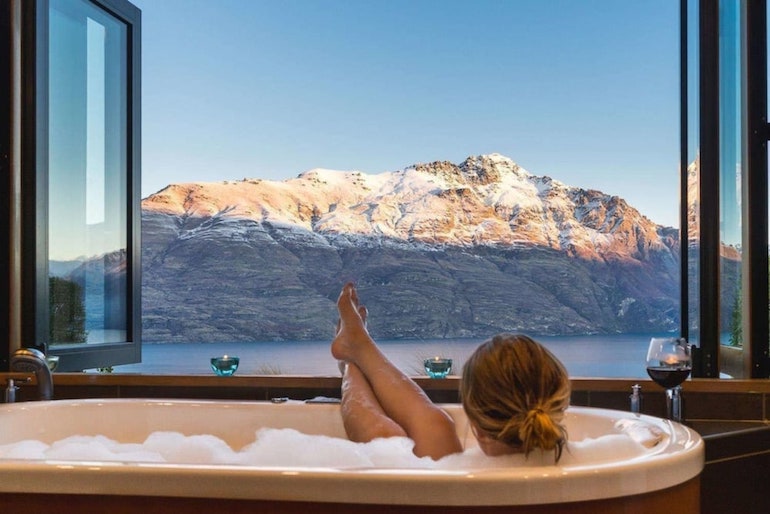 9. Azur Luxury Lodge, Queenstown, South Island
Set on a steep hillside two miles west of Queenstown, Azur Luxury Lodge is a boutique hotel commanding uninterrupted vistas of Lake Wakatipu, the majestic Remarkables range and Cecil and Walter Peaks. Nine contemporary private villas are offered, incorporating a lounge, dining area, a private sun deck, and an enchanting bathtub set into a bay window with spectacular unobstructed views.
---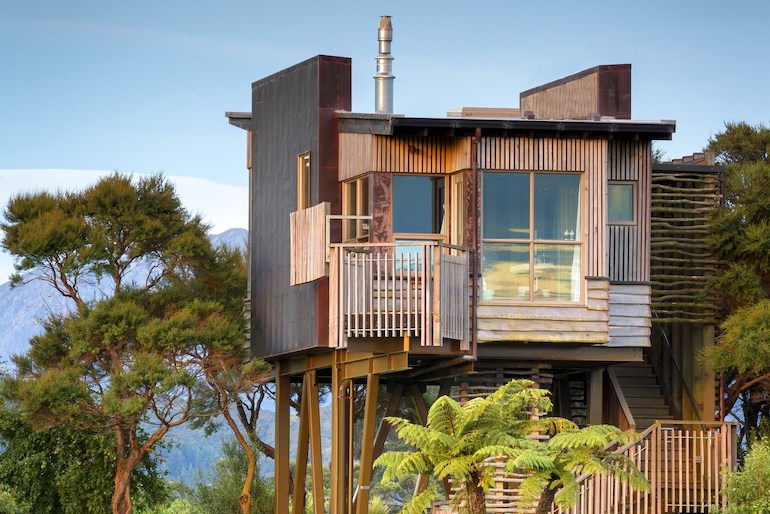 8. Hapuku Lodge & Tree Houses, Canterbury, South Island
In a rural area between the Kaikoura mountains and the Pacific Ocean, Hapuku Lodge & Tree Houses is a modern, country-style hotel nestled on a deer breeding farm in Canterbury. Featuring a distinct and cosy design, this luxurious accommodation offers 12 individually furnished guestrooms complete with intimate indoor and outdoor facilities, allowing its guests to explore the beautiful maritime landscape.
---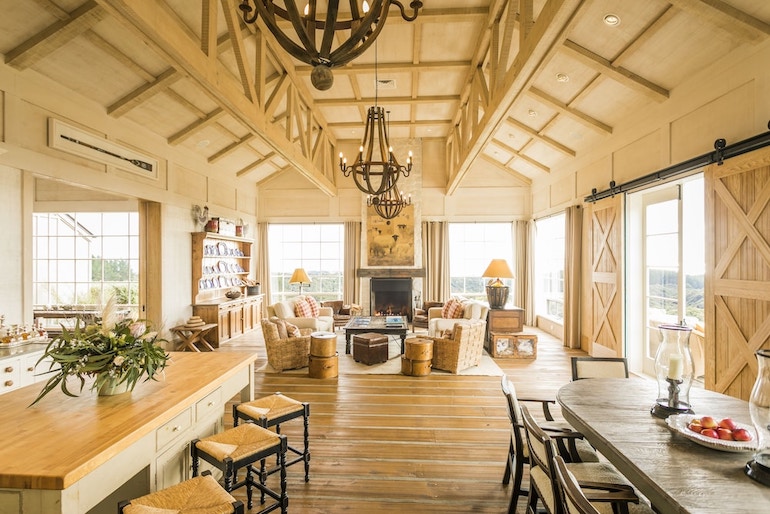 7. The Farm At Cape Kidnappers, Clifton, South Island
Located in Clifton, The Farm At Cape Kidnappers is an extraordinary luxe destination offering an experience like no other. Sat atop 6,000 acres of rolling farmland and rugged cliffs, this award-winning boutique hotel offers 24 ultra spacious suites and a four-bedroom Owner's Cottage, all with jaw-dropping views of the vast Pacific Ocean. Leisure opportunities abound, including a luxury spa, an extensive wine cellar, and a stunning gold course.
---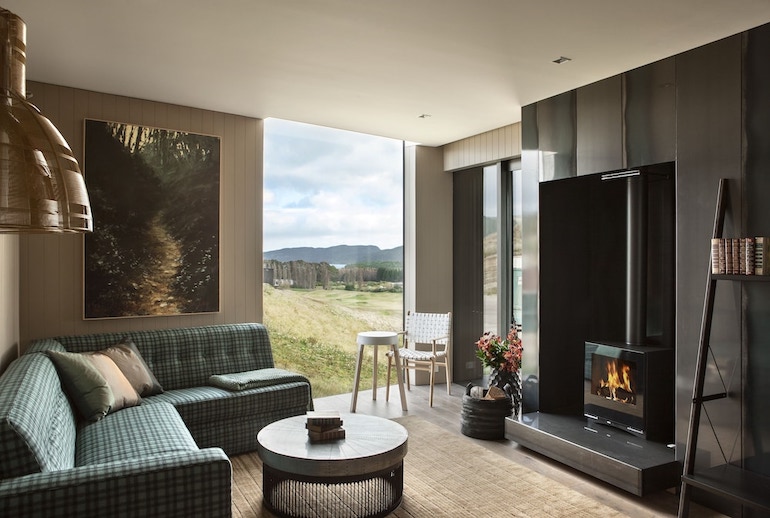 6. The Kinloch Manor & Villas, Kinloch, North Island
Perched on a hill overlooking the dramatic beauty of Lake Taupo, The Kinloch Manor & Villas are located in Kinloch. Ultra-modern with a touch of medieval flair, this stylish retreat features 18 luxurious suites and villas, complete with outstanding amenities and a myriad of world-class outdoor activities. These include New Zealand's only Jack Nicklaus Signature 18-hole Links Golf Course, voted #1 course in the country, and the most popular day hike, the Tongariro Alpine Crossing.
Find your perfect holiday in New Zealand
Discover over 225 handpicked hotels, resorts & private villas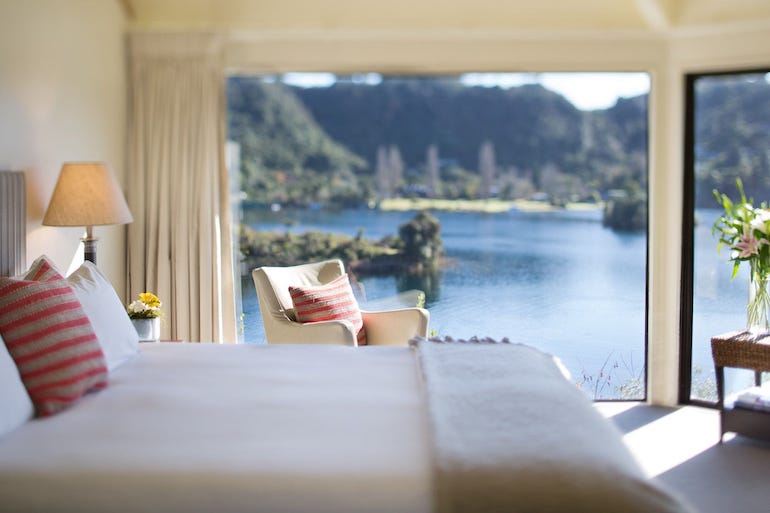 5. Solitaire Lodge, Rotorua, North Island
Nestled on a private peninsula overlooking Lake Tarawera, Solitaire Lodge is a luxurious lodge located in Rotorua. This luxe retreat features a contemporary and subtle design, bringing the majesty of the outdoors in, and inviting its guests to soak up the peace and quiet of the tranquil setting. Styled with comfort in mind, all nine suites feature panoramic views over the lake, equipped with modern conveniences for the ultimate luxury getaway.
---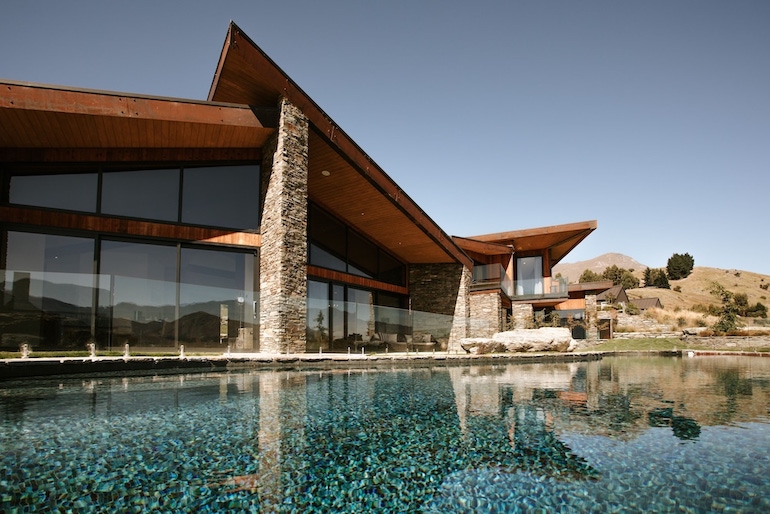 4. Stoneridge Estate, Lake Hayes, South Island
Nestled on the shores of Lake Hayes amidst acres of sprawling gardens and vines, Stoneridge Estate is a luxury lodge boasting sublime scenery coupled with five-star facilities and personalised service. Make yourself at home in one of the 4 spacious suites with private balconies that offer awe-inspiring lake and mountain views. Complete with a host of lavish amenities, this lodge promises a remarkable & memorable experience.
---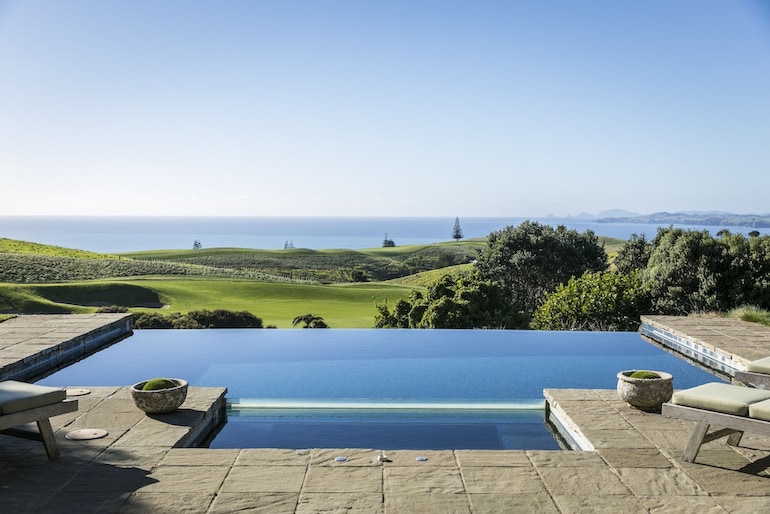 3. Kauri Cliffs, Matauri Bay, North Island
Amongst the rolling hills and gorgeous sea views, Kauri Cliffs is an elegant boutique hotel nestled in 6,000 acres of private land in Matauri Bay. With jaw-dropping vistas of Cape Brett and the offshore Cavalli Islands, this luxe getaway offers 24 guestrooms with private porches overlooking the sea. The epitome of refinement, this luxury lodge brings a new level of comfort along this untouched coastline.
---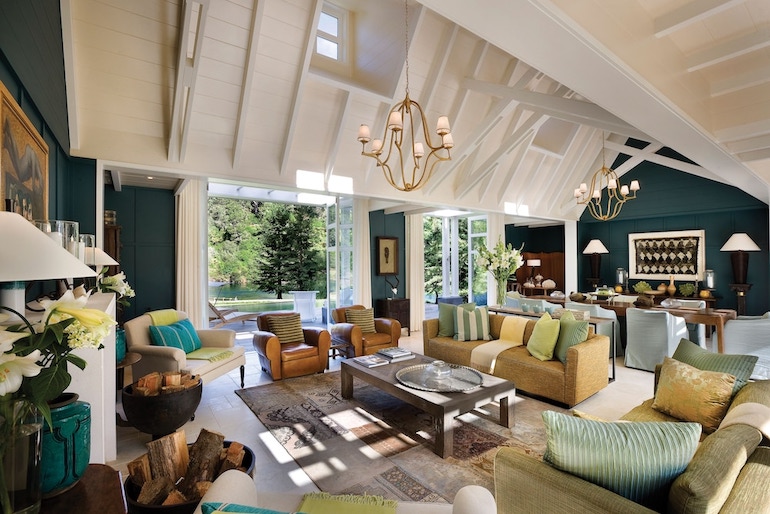 2. Huka Lodge, Taupo, North Island
Set on 17 acres of countryside on the banks of the Waikato River, Huka Lodge in Taupo is a luxurious lodge just 10 minutes' walk from Huka Falls. Find peace and tranquility in the sound of flowing water as you unwind in one of 25 elegant guestrooms, complete with lounges and private patios looking over serene river views. Treat yourself to the well-appointed amenities including an outdoor swimming pool, tennis court, and an exquisite wine cellar.
---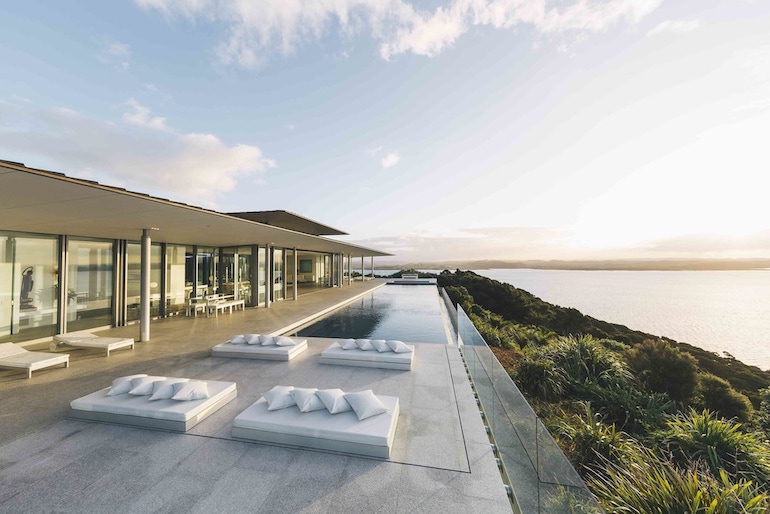 1. Eagles Nest, Russell, North Island
Sat atop a private peninsula overlooking New Zealand's Bay of Islands, Eagles Nest is an award-winning luxury estate located in Russell. Featuring sleek contemporary interiors, this boutique retreat offers 5 individually designed villas that blend seamlessly into the natural landscape. Here you can enjoy total relaxation with a selection of luxurious comforts that provide the ultimate in exclusivity and five-star hospitality.
---
Ready to book your New Zealand getaway? Discover our handpicked collection of Luxury Hotels, Resorts, Lodges & Villas in New Zealand.
What's your luxury?
Luxury means different things to different people. Is your luxury a glamorous hotel in downtown Manhattan, a private island hideaway on the Great Barrier Reef, or a safari camp on the plains of the Serengeti? We'll help you find your perfect version of luxury in some of the world's most beautiful places.