Finding a unique escape for your next holiday is a fun and exciting journey and, as such, we would love to be part of your adventure! If you are looking for truly extraordinary accommodation options, you've definitely come to the right place. We've handpicked the best unique escapes around Australia that are guaranteed to awaken the wanderlust in you.
Really Remote Retreats
There is no denying how hectic life gets—we feel you. This is why opting for a retreat that is miles away from everything has such an allure to it. Wouldn't it be nice to tune out the noise and relax in the peace and tranquillity that a remote location brings?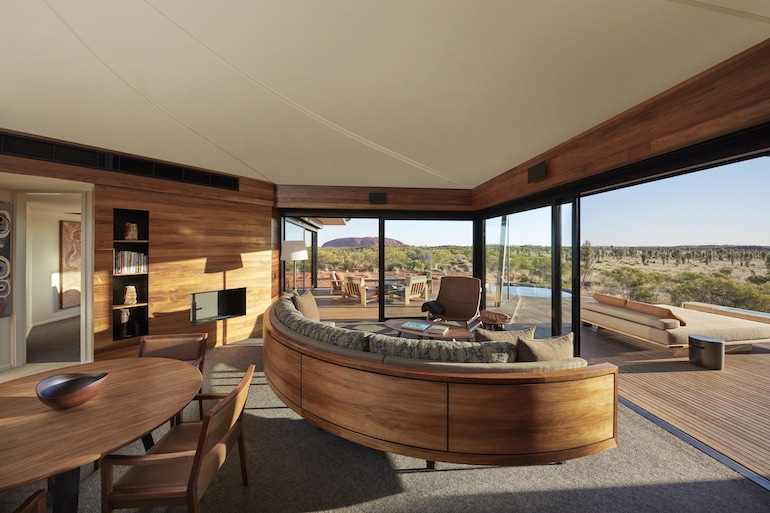 Let's start in the spiritual heart of Australia—Uluru (Ayers Rock). Longitude 131 by Baillie Lodges is an ultra-luxe resort where you can wake up to the sight of Uluru in the distance. Taking glamping to the next level, Longitude's 16 tented pavilions are dotted on the red desert, welcoming you for a luxurious outback getaway. Begin your day with the complimentary breakfast then enjoy the ever-changing views of the Red Centre from your private balcony. You can also treat yourself to relaxing treatments at Spa Kinara, enjoy exceptional cuisine in the restaurant or opt for the "Dine Under the Stars" experience. For an even more romantic setting, you and your special someone can snuggle in front of your EcoSmart fireplace on your private deck.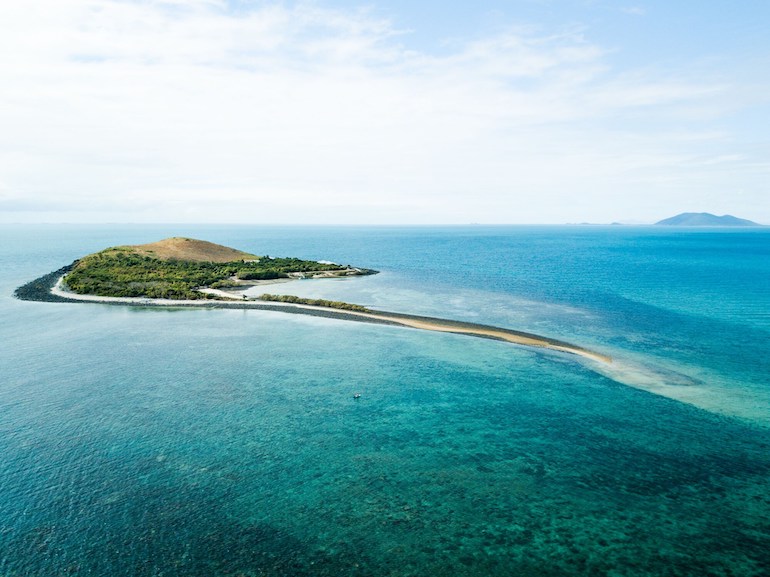 Gather together a group of your besties and live the dream of having a tropical island all to yourselves at Camp Island Lodge in Queensland. The lodge comprises of 4 interconnected villas cooled by haiku ceiling fans and the gentle sea breeze wafting through large French doors. There are en suite bathrooms in all villas, and the bedrooms can be configured as twins or kings that can accommodate up to 8 guests in total. Take some time to relax after your complimentary boat transfer from Guthalungra, then you and your travel buddies can swim in the outdoor pool or have a friendly tennis match before sunset drinks. Nearby activities include fishing, snorkelling, and charter experiences on secret reefs!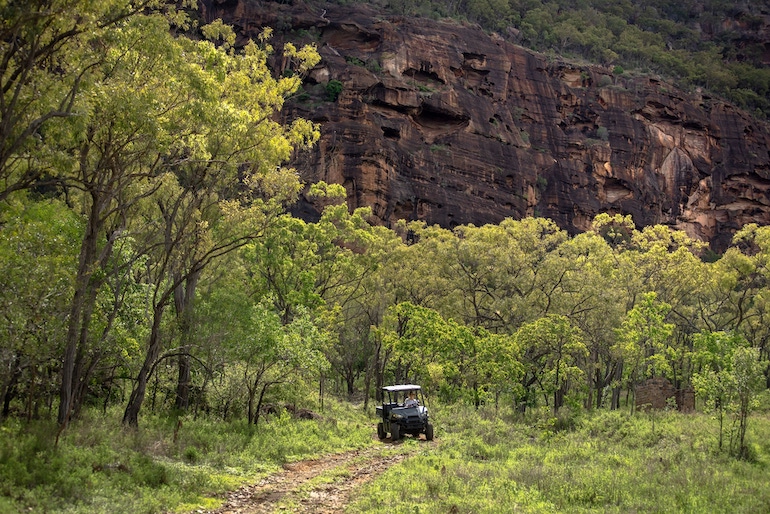 A bit further up north is Mt. Mulligan Lodge, an outback luxury lodge only accessible by helicopter or a 4WD adventure. Just getting there is an experience in itself, and you'll be pleasantly surprised by their rustic-luxe take on pastoral living when you arrive. Accommodating only 20 guests at a time, this all-inclusive destination also offers daily curated experiences so you can enjoy the location to its fullest. A haven in the middle of the Queensland's rugged outback, Mt. Mulligan's Allawah Spa will rejuvenate and calm you while immersing your senses in beauty and relaxation.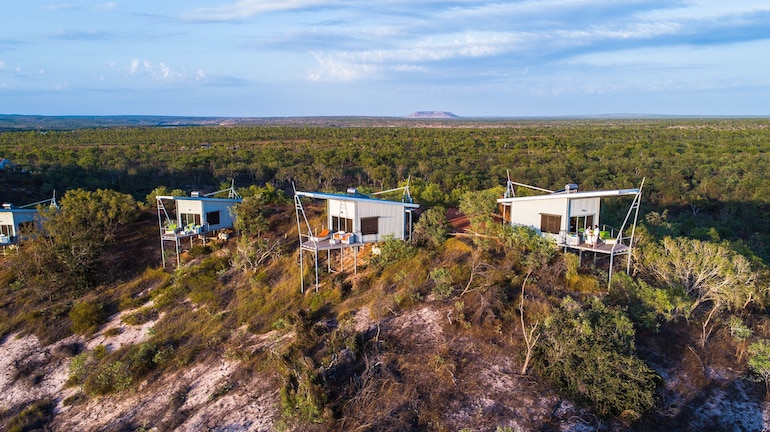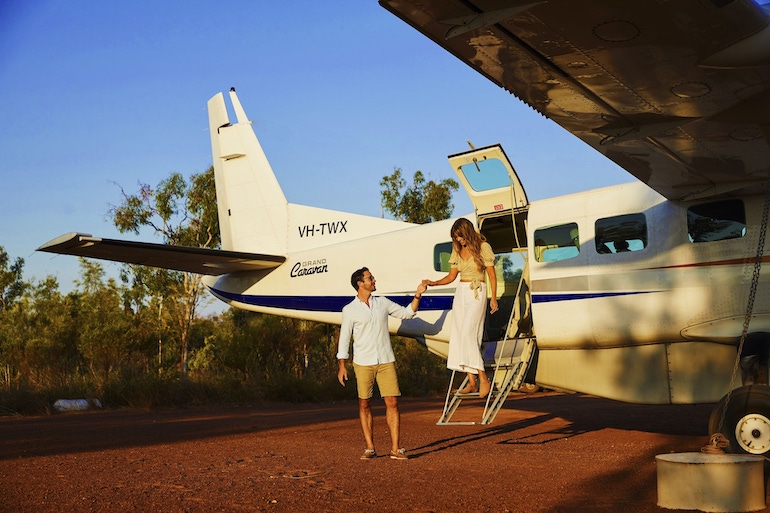 Last but definitely not the least in our remote escapes is The Berkeley River Lodge in Western Australia. The most remote luxury lodge in the country, the lodge is only accessible by boat or air and gives you magnificent views of Timor Sea sunsets. Here you can enjoy a stay in one of only 20 villas where you can relax on your own private balcony or while taking a moonlight dip in your outdoor bathtub. For food, you can enjoy flavours as rich as the scenery at Dunes, The Berkeley River Lodge's restaurant. And, when you feel adventure calling, you can arrange helicopter tours, 4WD adventures, creek nature walks, and river cruises to take in the rugged beauty of the nature around you.
---
Wild Wildlife Encounters
There's something very special about seeing some of Australia's native wildlife, reminding us of all the unique (and incredibly cute) creatures we share this planet with. But it's even more special when you can get up close and personal with some of these cuties. Here are some unique escapes in Australia where you can experience that special kind of magic and connection…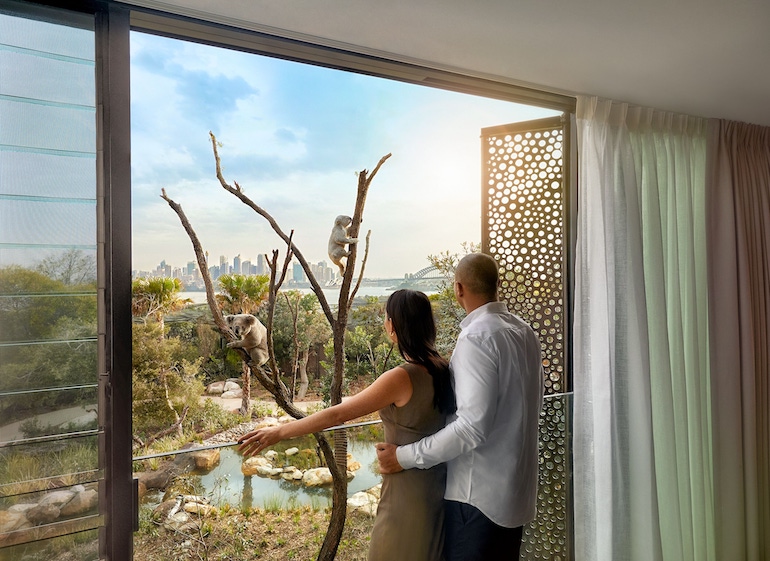 First stop, Wildlife Retreat at Taronga is a luxe eco-retreat overlooking a host of native Australian critters and the magnificent Sydney harbour. Just a short drive away from Sydney Opera House, this destination offers amazing contrasts; one minute you're in the heart of the city, the next, you're on your own balcony, making eye contact with adorable koalas. Nestled within Taronga Zoo, your stay contributes to the ongoing care of the Taronga animals and other important conservation efforts. You can choose the view you'd love to wake up to—Bushland, Harbour, or Animal View – and, by booking a stay, you'll also receive passes to the zoo!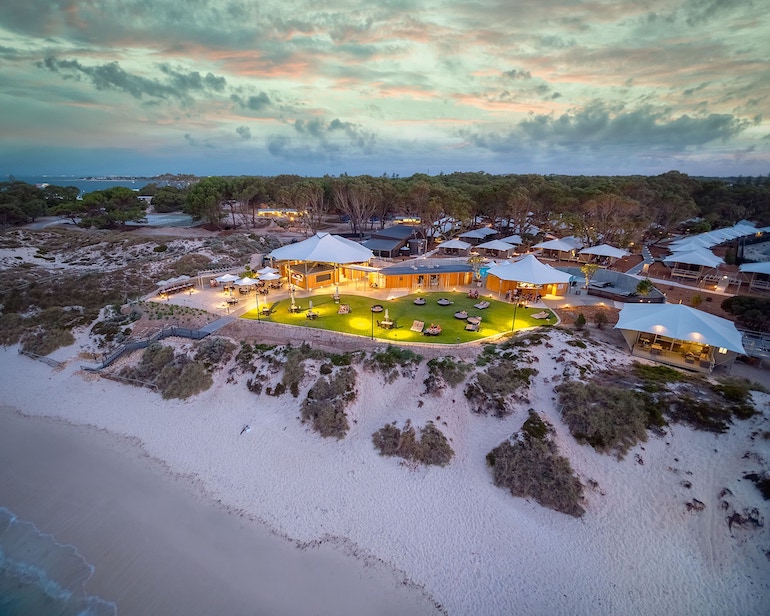 If you prefer a laid-back beach holiday in a breathtaking location, Discovery Rottnest Island behind the sand dunes of Pinkie Beach is the place for you. After enjoying your complimentary breakfast, you can take a stroll towards the white sand beach and keep an eye out for the happiest animals on earth, the quokkas, who are the island's resident cuties. These little guys' happy faces are just so adorable and will punctuate your beach getaway with cute smiles! With luxury eco-tents available for couples, families, or groups of friends, you can make yourself at home in one of the low-impact tents that are perfect for disconnecting from the world and being more in touch with nature.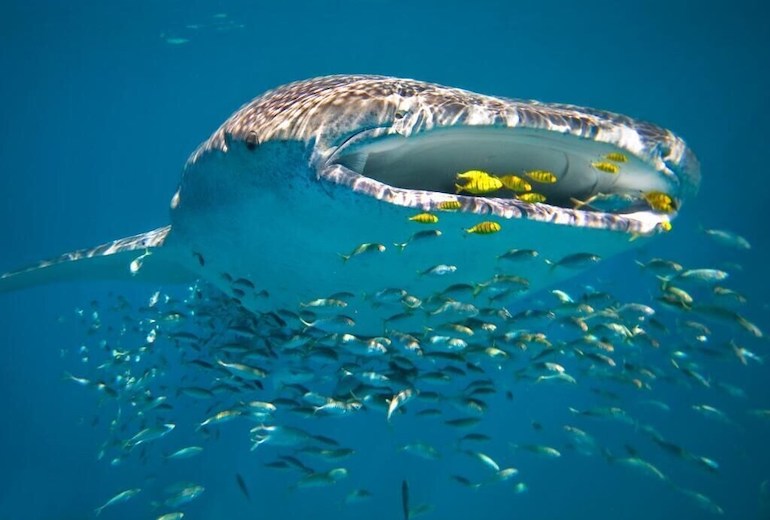 Feeling a bit more adventurous and ready to dive into the deep blue? A luxury glamping stay at Sal Salis is your gateway to a unique and exciting underwater adventure: Swimming with whale sharks and humpback whales. How cool would that be?! Sal Salis has 14 all-inclusive eco-luxe safari tents with en suite bathrooms and private balconies or patios. Here you can fill your days with guided walks, kayaking, snorkelling, or swimming with the whales and over 500 species of colourful reef fish. Truly a place where nature lovers can enjoy seeing these majestic creatures in their natural environment, Sal Salis promises an unforgettable stay.
---
Be At One With Nature
Grounding and relaxing – there's nothing quite like Mother Nature's healing and rejuvenating power. It's such a treat to be able to enjoy nature while still enjoying the comforts you are looking for while on vacation. These two properties are our top picks for when you want to feel nature's embrace while still treating yourself to a little luxury.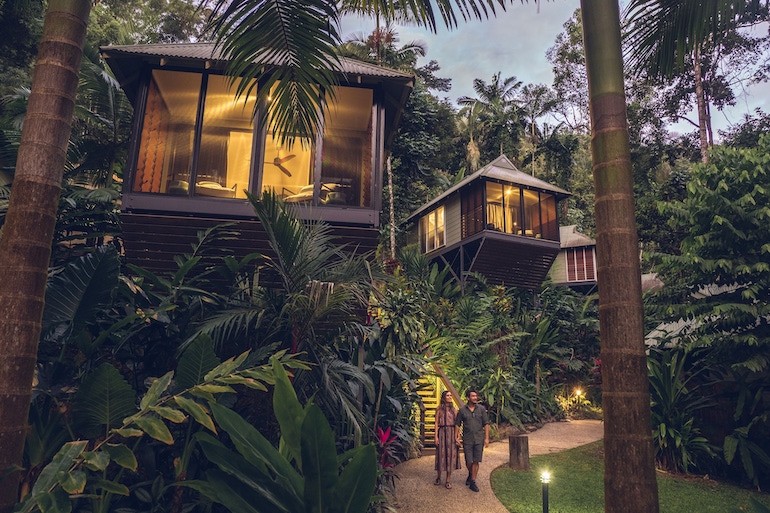 There is undeniable magic and wonder when you find yourself somewhere as old as time. At Daintree EcoLodge, you will find luxury in the midst of the world's oldest tropical rainforest. To fully immerse yourself in your surroundings, recharge your senses by taking a dip in the swimming hole or taking in the relaxing sounds of the onsite waterfall. Looking for some private peace and quiet? You can stay in one of the 15 spa bayans or treehouses where will you'll wake up to the view of the lush tropical greenery surrounding you. The floor-to-ceiling sliding glass doors make the view feel like a soothing living artwork of flora and fauna.
Find your perfect holiday in Australia
Discover over 915 handpicked hotels, resorts & private villas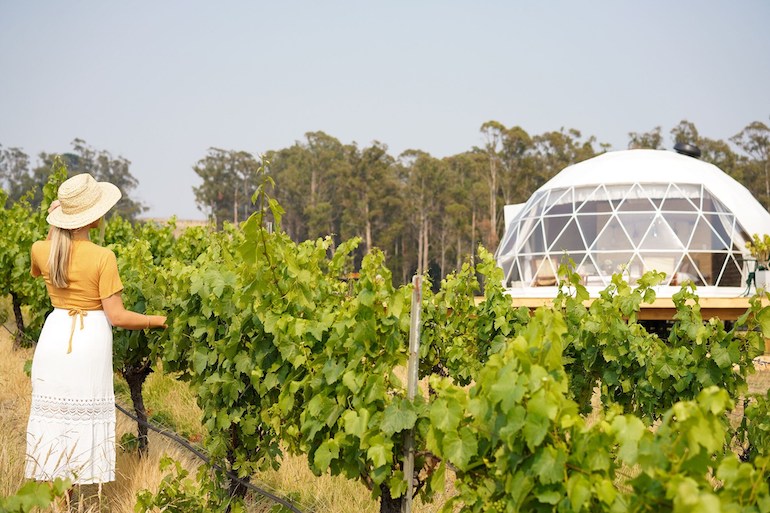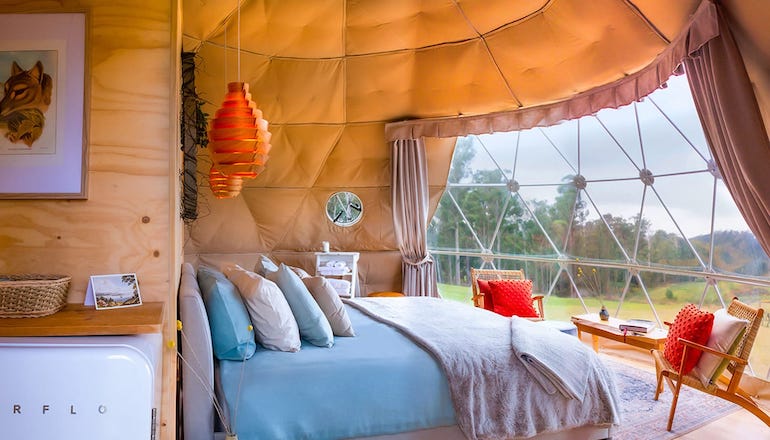 If you're looking for something different while still immersed in natural wonders, Domescapes in the Vines might be the place for you. Head down south to Tasmania, where you'll feel a million miles from city life. When you book a stay, you'll find your private haven in one of their bespoke geodesic domes. The domes have en suite bathrooms and outdoor baths where you can enjoy sweeping views of the vineyard or the starry night. Built to withstand Tasmanian weather, these energy-efficient domes have double insulation and solar vents for maximum comfort. They also offer a Tasmanian Wine and Cheese Tour—an immersive (and romantic!) wine lover's adventure. Now that's glamping in style!
---
Not Your Regular Stay
If you want to stay somewhere that has everything you need when on holiday but isn't just the regular type of accommodation, we've got just the right picks for you. A different type of space opens up our minds to having an appreciation for the unusual and how it can offer entirely new sensations when you're on vacation.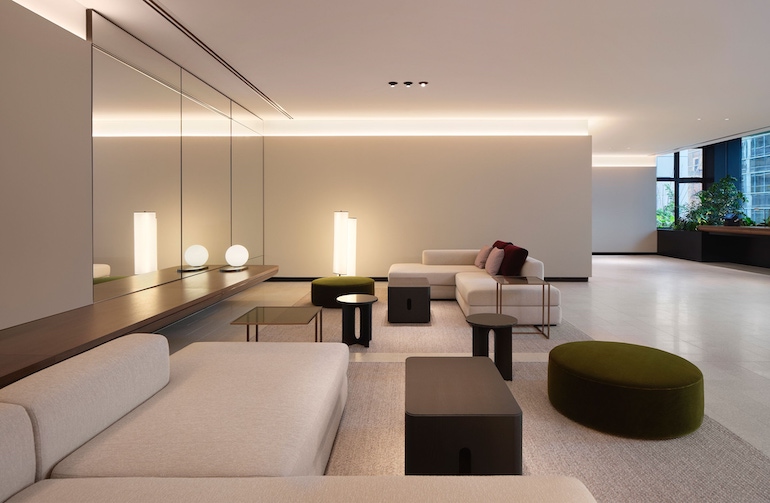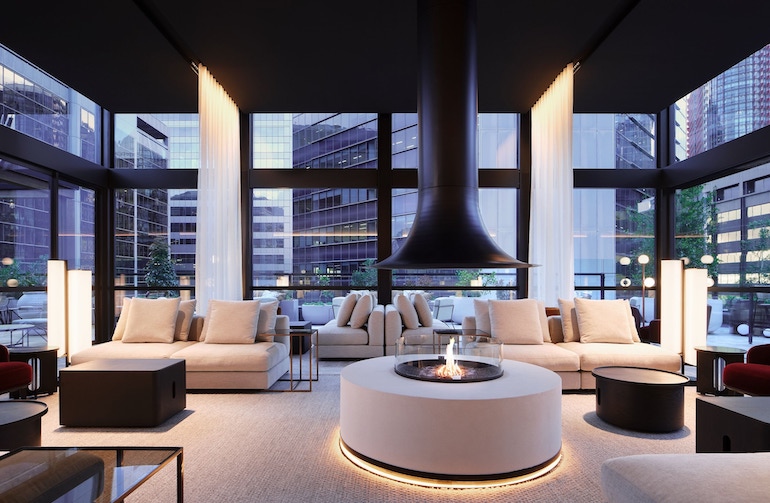 If you love minimalism, you'll love Little National Hotel Sydney. A new style of hotel featuring plenty of communal spaces, it is chic, compact, and contemporary while having all that you need and more when on vacation. The rooms are small and full-on Japanese style with efficient spatial planning, comfortably maximizing a tiny space. A calming neutral colour scheme in the rooms is perfect for achieving that zen feeling. You can even do a bit of work while still feeling that holiday vibe in the stylish library or rooftop lounge. Afterwards, enjoy some drinks in-house or in the nearby hotspots, or take advantage of the in-room dining options. Little National Hotel is a fresh take on affordable luxe, and we're all for it.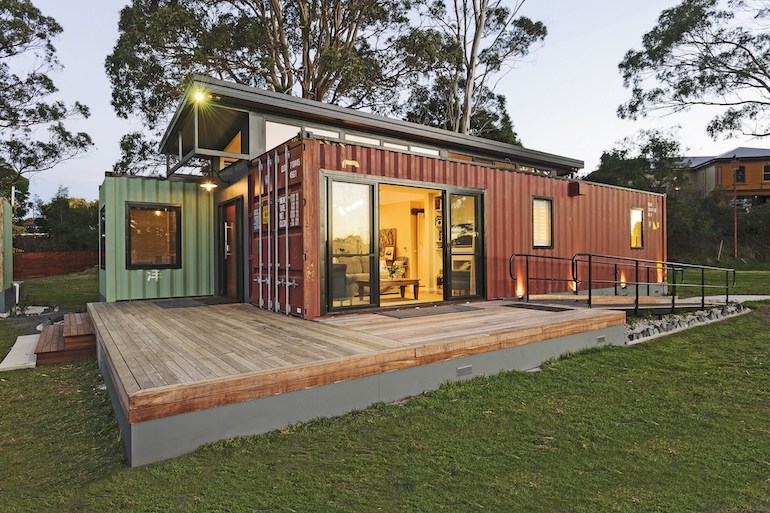 Offering a unique take on self-contained accommodation and nestled on the riverbanks of Inglis River, Coastal Pods Wynyard presents us with luxury escape pods made out of decommissioned shipping containers. Upcycled—and masterfully so—you don't feel like you're inside shipping containers at all! The interiors have an industrial-chic vibe championing sustainable functionality with all of the furnishings you need for a holiday. Each pod has a kitchen, laundry area, two king-sized bedrooms, and grand bathroom facilities. Enjoy some quiet time in the reading nook right beside picture windows or watch sailboats as you relax on your own spacious deck with all the beautiful river views you can handle.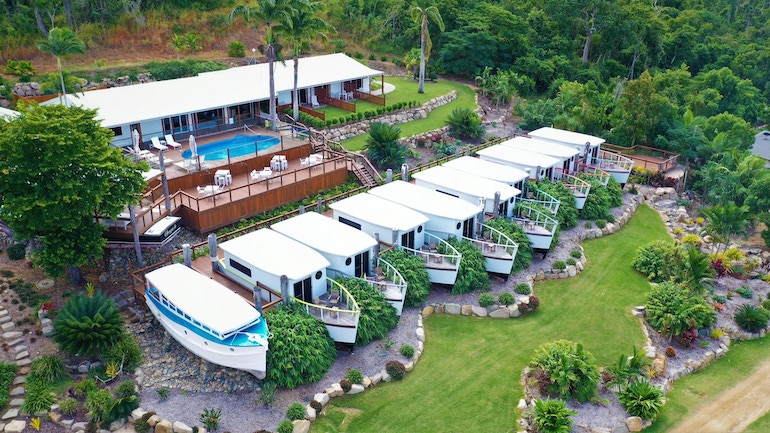 If coastal interiors and a beachside escape is more your preference, you'll be in for a nautical treat at Freedom Shores. Set in a land-based marina near Airlie Beach, these 9 boat-shaped bungalows are set on a beautiful private beach but are still just a few minutes away from town. The air-conditioned bungalows feature a queen-sized bed and the look and feel of a boat's interior. Furnishings include fitted indoor seating, a refrigerator and minibar, an electric kettle with complimentary tea and coffee, and bright compact en suite bathrooms. For the ultimate boat accommodation experience, choose The Denver which is the biggest boat-style stay. For additional space, you can also choose one of the (non-boatey) suites that boast a charming summery coastal décor.
---
Art + Architecture
Yes, beautiful interiors are wonderful! There's no denying that… but what about staying somewhere even more visually exciting? A play of colours, bespoke art or some interesting architectural features can make you feel like you're somewhere otherworldly, adding to that sense of wonder that you look for when you travel. Below are some unique escapes in Australia where you can enjoy art and design.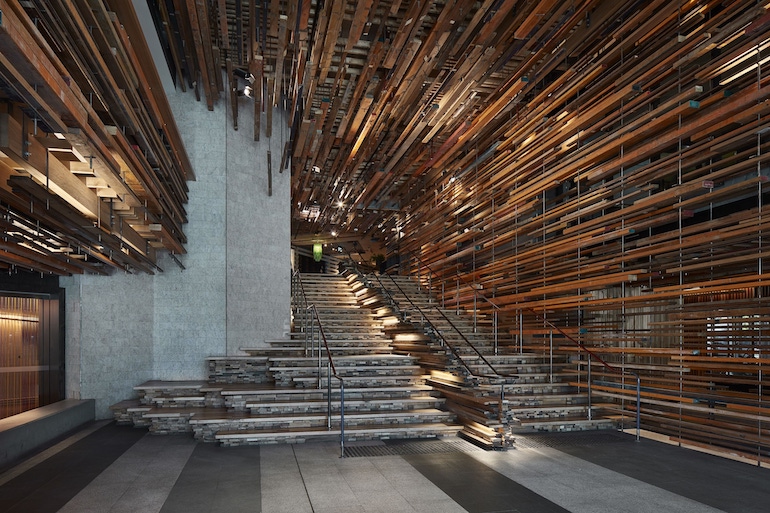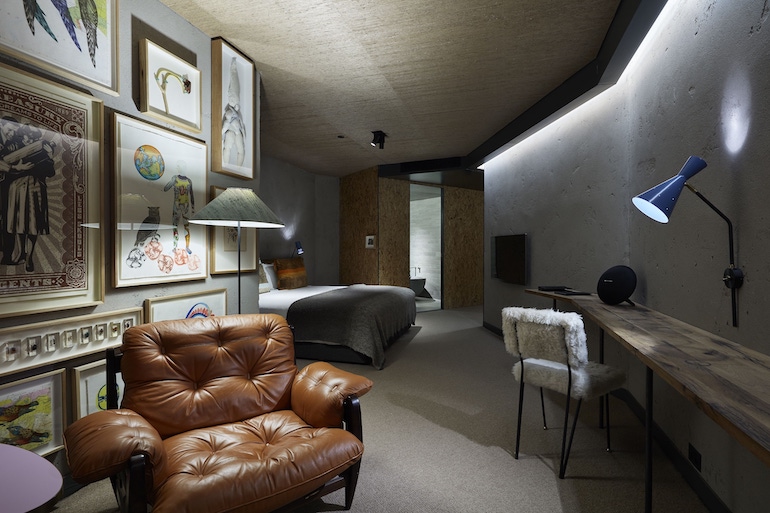 Artistic, luxurious, and full of wonder. Ovolo Nishi is a boutique art and design hotel in the heart of Canberra. Each room is unique with restored vintage furniture and artworks giving them their own distinct character. You can choose from compact and cosy to more spacious rooms, all filled with unique furnishings. From transitional to artsy industrial interiors, Ovolo Nishi's rooms have soft moody vibes perfect for slowing down even while in the heart of the capital. You can enjoy the artwork on display at Monster Kitchen & Bar where they serve a seasonal vegetarian menu. The innovative and sustainable design here is fun and perky – as alive as the cultural highlights of the surrounding capital's attractions just minutes away.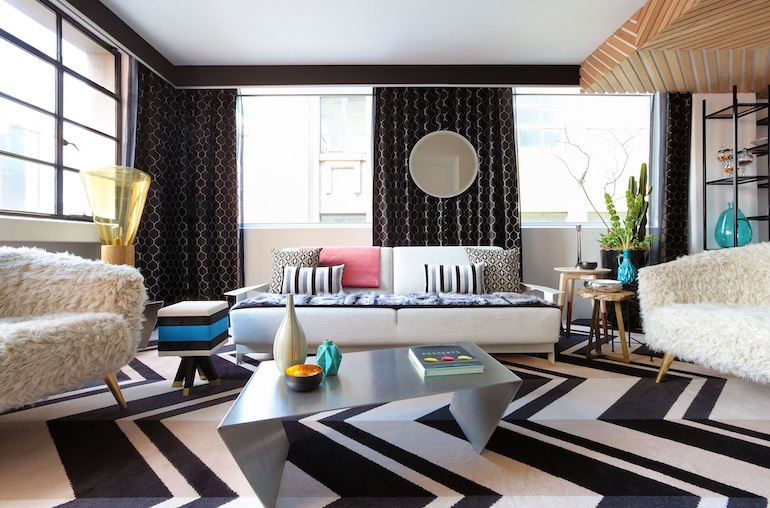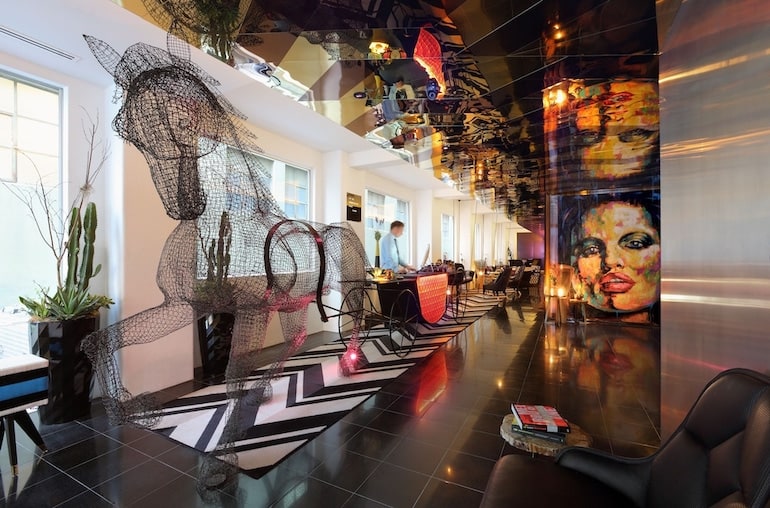 Melbourne's entry to our Art + Architecture picks, Adelphi Hotel is the world's premier dessert-inspired hotel filled with fun, quirky, and whimsical touches. Om Nom Cocktail Bar's delightful cocktails, high tea experience, and swinging chairs along with room furnishings taking inspiration from Liquorice Allsorts, lollipops, and candy jars give you visual decadence at every turn. Add to that, all 34 rooms and suites have their own minibar where you can have enjoy private fare during your stay. Enjoy the view of Flinders Lane's cafes, restaurants, bars, galleries, and ateliers from Adelphi's glass-bottom roof deck pool extending 2 metres beyond the building's periphery. This architectural delight is 9 storeys up and will surely give you a thrill and a splash!
---
A Little Bit of Everything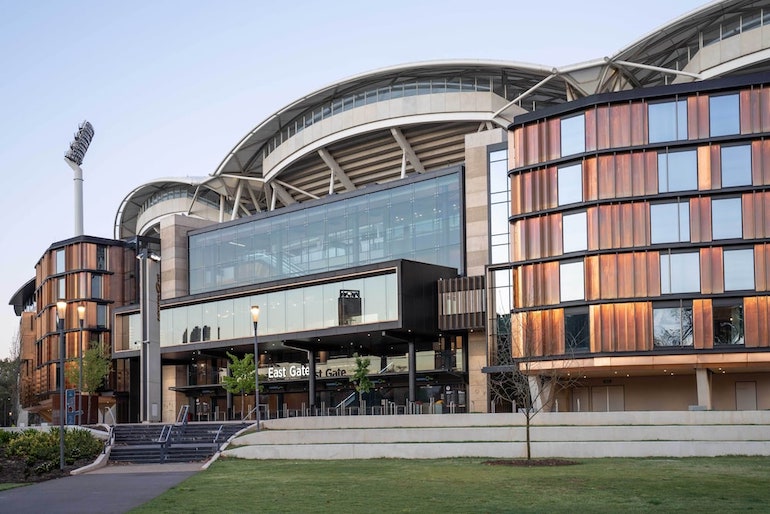 Wrapped around Adelaide's iconic oval, Oval Hotel's rooms boast expansive views of the city's historic parklands while treating you to contemporary interior design. Enjoy an exclusive dining vibe at the reservation-only Five Regions Restaurant, the bespoke wine bar and kitchen, or grab something lighter at Malt Shovel Taphouse or Koffee Ink Café, while overlooking the River Torrens. Packed with options for adventure both on and offsite, choose from activities such as the RoofClimb experience, Adelaide Oval stadium tours, Henschke Winery tours, or a guided tour to Monarto Safari Park. Minutes away from the vibrant city centre, Oval Hotel is a great choice when you are looking for that mix of excitement and relaxation in the heart of the city.
---
So, what tickles your fancy? There's a stay for every type of adventurer and these unique escapes in Australia offer a smorgasbord of interesting options to help you experience and find your luxury.
Inspired by our collection of beautiful accommodation? Check out all of our luxury accommodation in Australia.
Image credit: Longitude 131, Uluru
What's your luxury?
Luxury means different things to different people. Is your luxury a glamorous hotel in downtown Manhattan, a private island hideaway on the Great Barrier Reef, or a safari camp on the plains of the Serengeti? We'll help you find your perfect version of luxury in some of the world's most beautiful places.