Whether you're seeking time away from your kids or are looking for some quiet time, we've got you covered. Here's our selection of the most luxurious adults-only accommodation in Bali. At these stays, you'll enjoy a relaxed mood and attentive service that will guarantee a wonderful time with your special someone.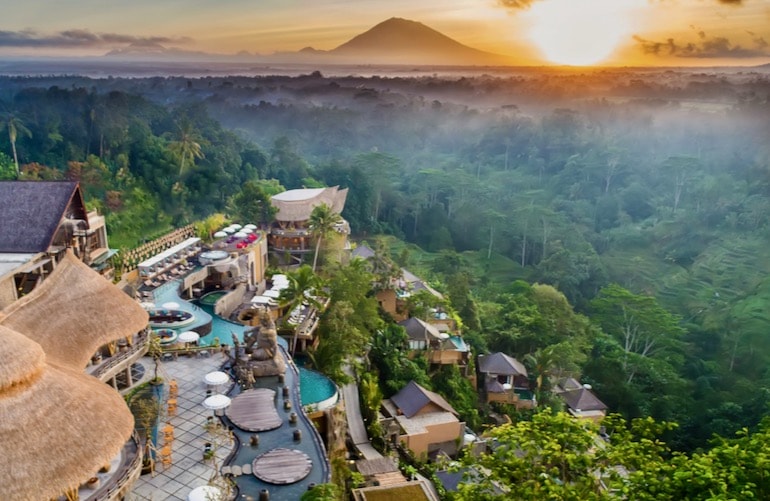 The Kayon Jungle Resort, Payangan
A tropical paradise where you can enjoy dewy mornings and a floating breakfast in your private pool, The Kayon Jungle Resort is a nature lover's sanctuary. Only 25 minutes away from the heart of Ubud, it is set within the Balinese village of Bresela and has locally inspired suites and villas fitted with modern features. Whether you choose to relax on your private terrace or have some cocktails at Wanna Jungle Pool Bar, the lush surroundings will get you instantly relaxed.
---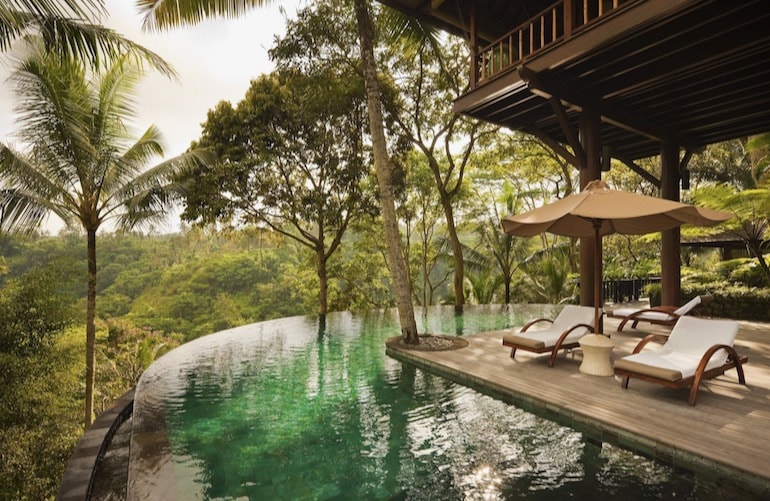 COMO Shambhala Estate, Payangan
An award-winning adults-only resort near Ubud, COMO Shambhala Estate is a nature and wellness retreat where you can rejuvenate and reconnect. They have a range of relaxing experiences and the Kedara Picnic is a great choice for a romantic daytime activity. Organise a picnic at the hidden water garden after a short walk in the estate and have the area to yourself. The nearby mineral pool and surrounding vegetation is just so calming. It's also one of our ultimate luxury wellness getaways!
---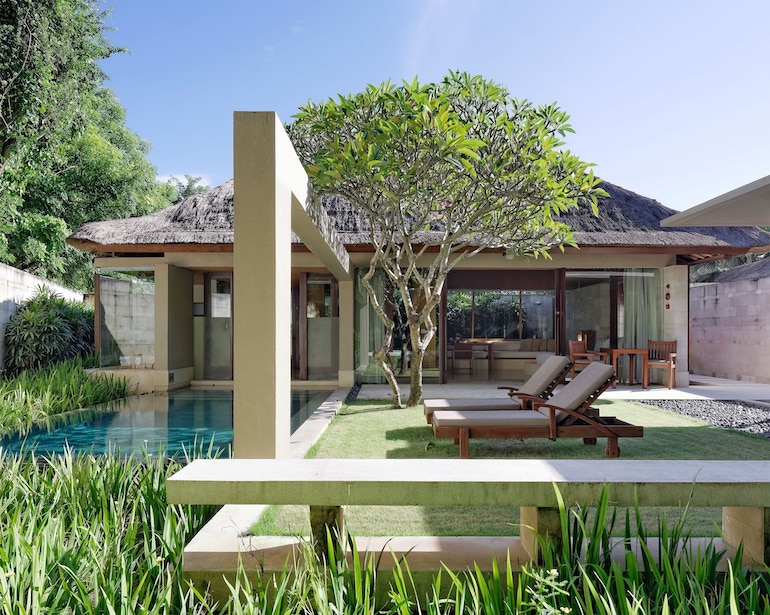 The Bale Nusa Dua
The Bale Nusa Dua is a lovely couples' retreat with 29 spacious pavilions that each have a private garden and pool. A tropical paradise with a contemporary design, each of the pavilions offers intimate and quiet hideaways where you can reconnect and rejuvenate. Speaking of rejuvenation, you can indulge in sublime pampering therapies at the on-site spa or chill out at the beach together and discover cafes and restaurants only a short walk away.
---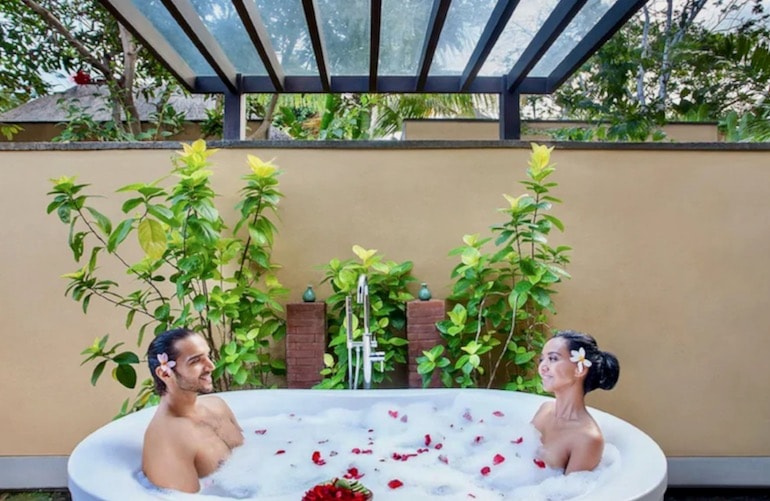 Amarterra Villas Bali Nusa Dua
Drawing inspiration from the island's culture and traditions, Amarterra Villas Bali in Nusa Dua is part of MGallery's collection of luxurious sanctuaries. It offers a 5-star boutique experience with inspired interiors and intricately-detailed furnishings. An oasis for couples and honeymooners, it has 42 private pools and villas and is close to the beach too. Make sure to indulge in authentic Balinese cuisine at Maja Restaurant and the pampering Dharma-Bali healing philosophies at Amarta Spa.
---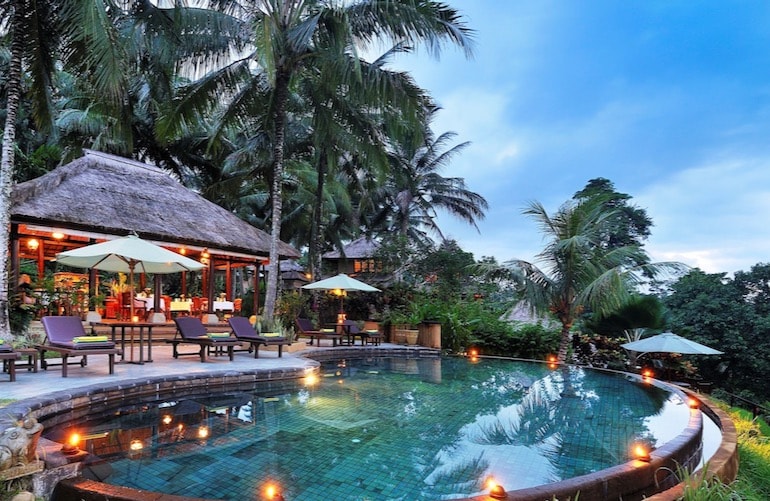 Villa Semana Resort & Spa, Ubud
A hidden gem in Ubud, Villa Semana Resort and Spa is perfect for those looking for a more exclusive atmosphere. With only 10 traditional Balinese villas, peace and quiet is guaranteed at this lush hideaway. Villa Semana combines cosy Balinese interior design with romantic charm and is conveniently located only 15 minutes away from Ubud's cultural heart. It's the perfect base from which to explore temples and other local attractions.
---
One Eleven, Seminyak
For those who like minimalist interiors fused with Balinese charm, One Eleven Resort is a private sanctuary that exudes contemporary style with thoughtful local touches. This child-free resort in Bali is in the middle of Seminyak, yet is secluded and convenient. It gives you easy access to local hotspots! You wouldn't have to venture out to enjoy spa treatments, sushi and sake, and shisha though as these are available on-site. With a butler available on call for 24 hours, you can request in-room services so you don't have to get out of bed.
---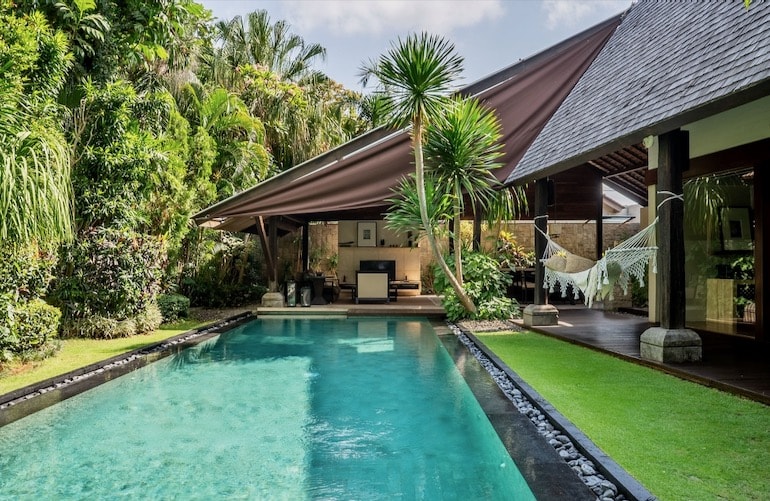 Ametis Villas, Canggu
Looking for a more personalised experience? Ametis Villas offers 14 villas and guests are assigned personal butlers to tend to their every need. This intimate tropical getaway also features the on-site Ruby Spa that has double treatment rooms where you can experience Reiki and therapeutic healing sessions. Your holiday will be hassle-free and deeply relaxing at this tranquil escape in Canggu.
---
Looking for more adults-only accommodation in Bali? View our full collection at viewretreats.com
Image credit: The Kayon Jungle Resort
What's your luxury?
Luxury means different things to different people. Is your luxury a glamorous hotel in downtown Manhattan, a private island hideaway on the Great Barrier Reef, or a safari camp on the plains of the Serengeti? We'll help you find your perfect version of luxury in some of the world's most beautiful places.