Art adds new dimensions to travel. Finding yourself surrounded by art – in all its different forms… it takes you places. It has the power to make such a lasting impression that enriches your travels and makes them even more enjoyable. We love travelling and being inspired while we're at it, which is why we've come up with a handpicked selection of Australia's best art hotels. We believe that there are always wondrous art discoveries that can leave us feeling inspired, and we would love to share these beautiful places with you.
---
Art Series Hotels
Let's start with some homegrown love. Art Series Hotels is a growing stable of boutique hotels inspired by and named after Australian contemporary artists. Their hotels are strategically placed in hip city spots surrounded by cultural hubs and other charming local attractions.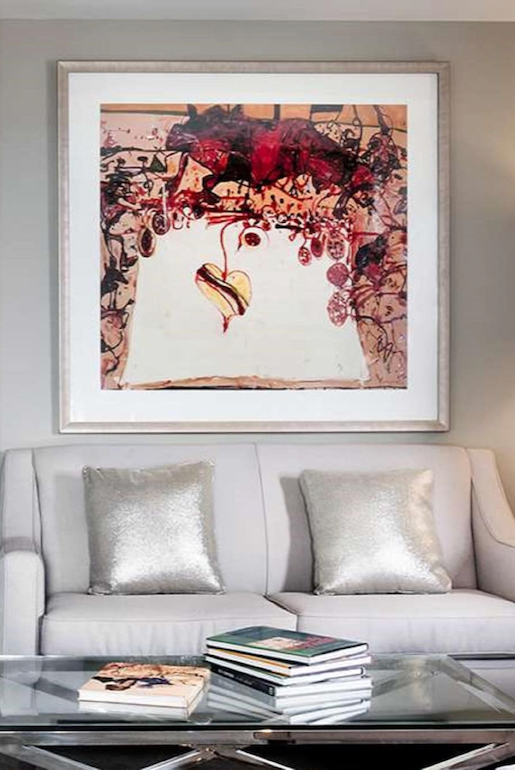 Art Series – The Olsen, is in South Yarra, Victoria, and there's something John Olsen, the hotel's namesake artist said that resonates with us: "If we take the positive side of life, we have so much to enjoy, viva!" Upon arrival at The Olsen, you will be greeted by a breathtaking sculpture, and Olsen's bright-coloured and energetic prints adorn the walls, infusing you with vibrant energy. After a day exploring South Yarra, you can relax in The Olsen's day spa and choose from 1 of 2 on-site restaurants.
---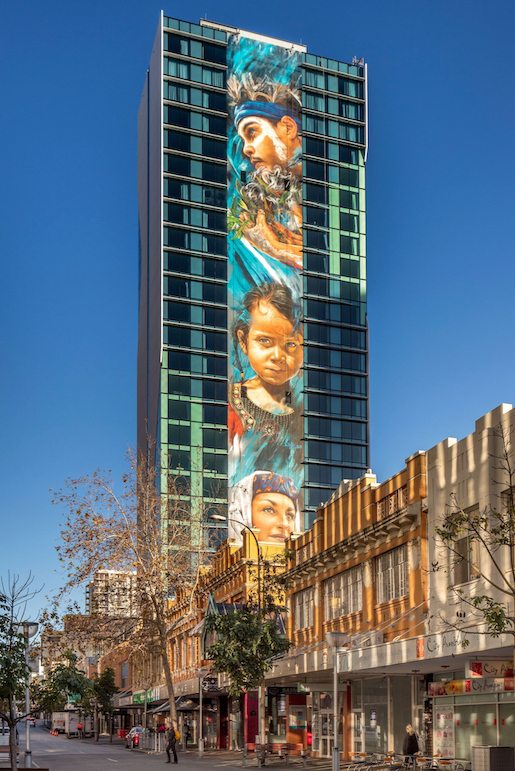 Over at Art Series – The Adnate in Perth, Western Australia, you will see renowned Australian street artist Matt Adnate's mega murals on the hotel's east-facing wall. Central to the hotel's eastern exterior is a 25-storey mega mural featuring local residents and is Adnate's largest work yet. The wow factor doesn't stop there, as the hotel's 250 rooms, restaurant, outdoor pool, bar, and gym are adorned with portraits by Adnate, about which he says, "The best thing about painting portraits is learning about the people I meet and the country they live in. It takes me places I never expected to go." Needless to say, we love the artist's insight about his work, and makes us look forward to experiencing the expressions and emotions captured in his paintings.
---
Ovolo Hotels
Artsy, playful, and delightfully distinctive, Ovolo Hotels is a family of modern boutique hotels across Hong Kong, Bali, and Australia.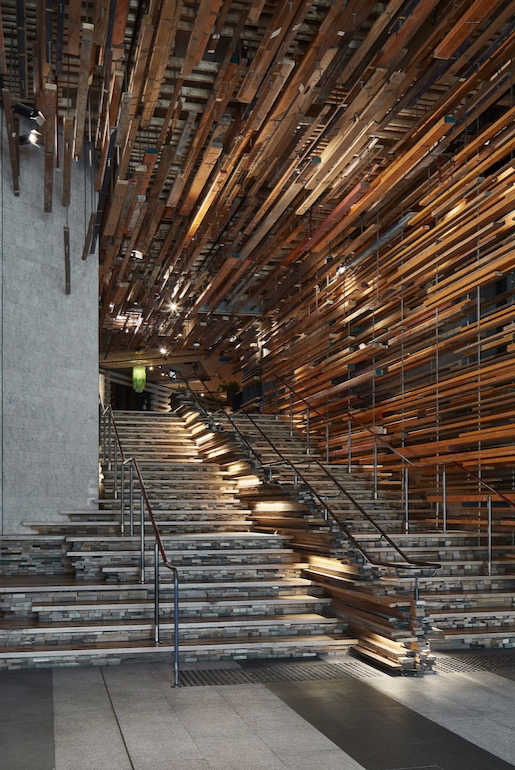 We particularly love Ovolo Nishi in Canberra and it's easy to see why. Ovolo Nishi's entrance alone is a jaw-dropping architectural masterpiece with floating beams and panels that almost make you feel like you're in a time warp. How cool is that? The Mosaic Room is another Ovolo Nishi spot that we love. It features a collection of tile works by artist Gerard Havekes. This Dutch immigrant artist developed his own style starting at a young age and learned to mix his own glazes, acquired kilns, and made his own handmade tiles.
---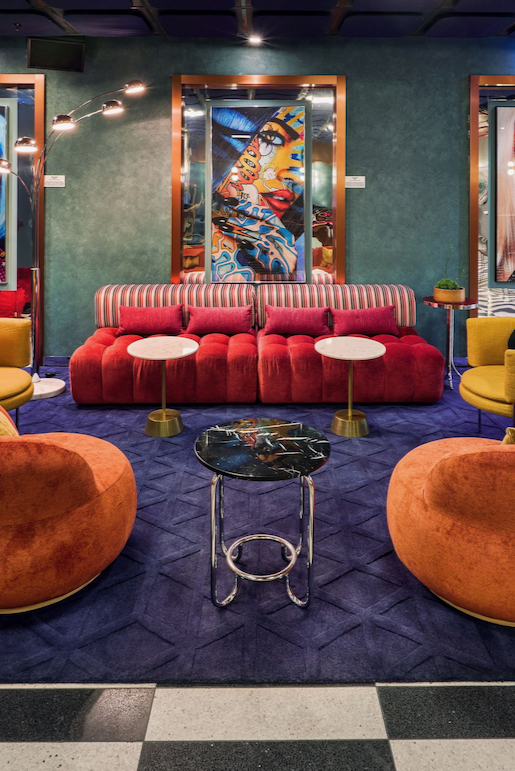 Ovolo South Yarra on the other hand takes us back in time—disco era to be exact. Situated in the trendy cosmopolitan heart of Melbourne, Ovolo South Yarra is an intoxicating mix of 'retrofuturism'. Yes, you read that right. Think of 1970s wallpaper prints, shag carpets, rattan furniture accents, retro-plush couches but with Bose Bluetooth speakers and seamless technological integration. Back to the future, aren't we? That's the artsy wonder Ovolo Hotels is famous for.
---
Artsy Escape in Tasmania
If you're yearning for an artsy weekend getaway in Tasmania, we have an artsy escape for you.
Find your perfect holiday in Australia
Discover over 915 handpicked hotels, resorts & private villas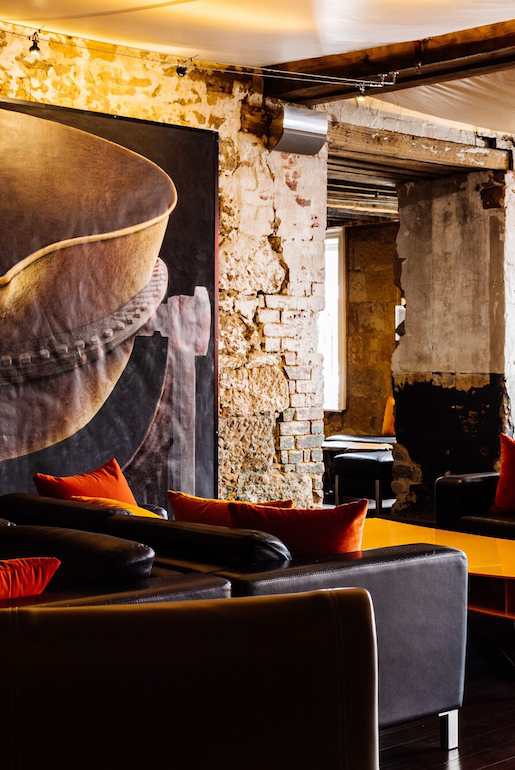 Henry Jones Art Hotel, is where art and history collide. The space itself is made up of some of Hobart's oldest waterfront warehouses, reimagined into the living, breathing, art-filled and modernized industrial accommodation it is today. No room or suite is the same, and the industrial rawness coupled with luxurious beddings and modern technological touches make for a refreshingly uplifting experience.
---
Brisbane's Art Fest Vibe
Home to the Gallery of Modern Art and a myriad of galleries and museums, Brisbane and its year-round art exhibitions offer a plethora of choices if you are looking for diverse art experiences.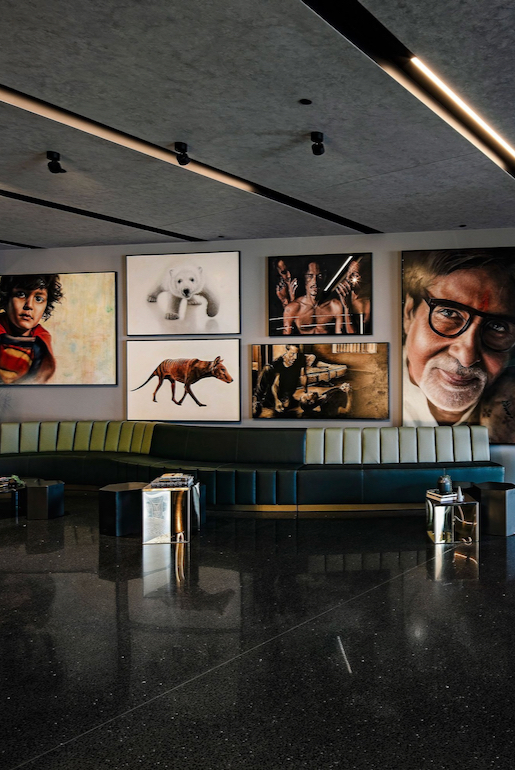 Vincent Fantauzzo is a multi-award-winning portrait artist best known for his portraits of Heath Ledger, Emma Hack, Baz Luhrmann, Asher Keddie, Matt Moran, and his son, Luca among other works. He said that "Every time I paint a portrait, it's a collaboration. There is a moment when something lights up—you feel it going through your body." Crystalbrook Vincent in Brisbane, Queensland is where you can see some of his original works and over 500 prints on display. The hotel has a recognizable (and instaworthy!) geometric exterior which in itself is a visual masterpiece, and the rooms are filled with bold colour blocking schemes where visual play, leisure, and pleasure meet.
---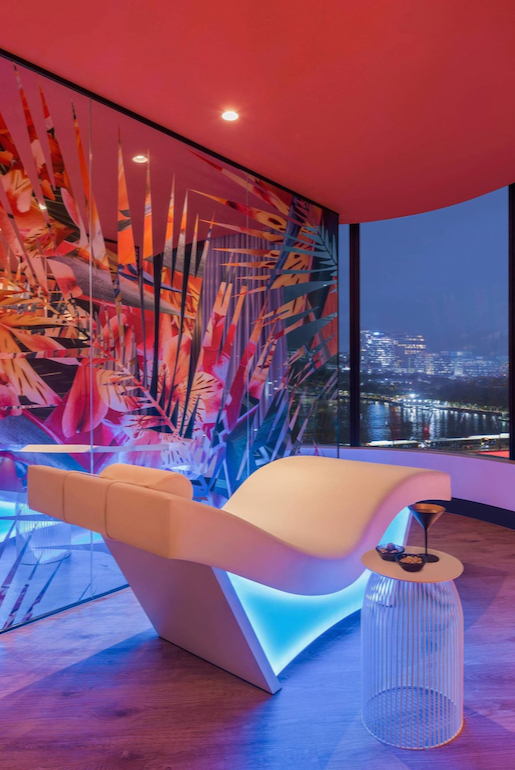 Taking inspiration from the nearby Brisbane River, the interiors of W Brisbane, Queensland is an amalgamation of modern design and local influences presented in sharp contrasts; all pulled together into a delightful visual feast. Water depth markers throughout the hotel represent the ebb and flow of Brisbane River's tide, and the Living Room Bar has a backlit mural with Easter eggs hinting at BrisVegas and Tropicana details for the discerning eye. They pride themselves on incorporating touches of Australian living that make each of the 312 guest rooms feel like home despite the hotel's overall flamboyant vibe.
---
Art the Heart of Sydney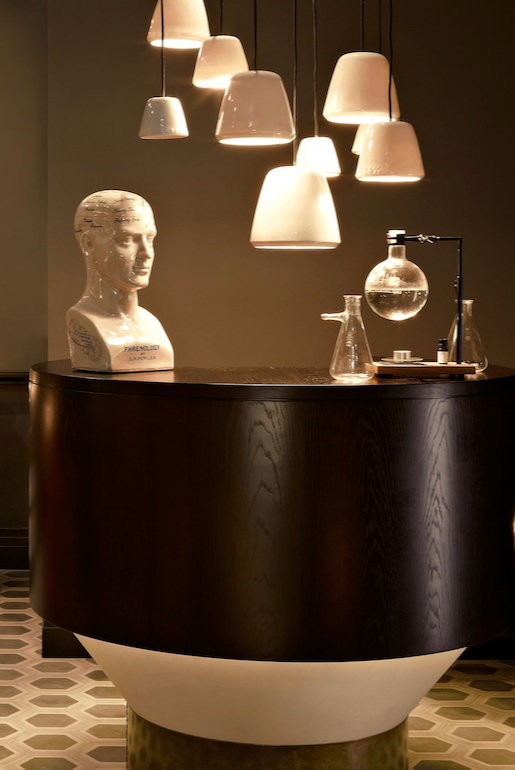 QT Sydney is the culmination of restoration work done on the historic Gowings and State Theatre buildings. Amanda Love, a celebrated art curator, along with QT collaborators crafted a cutting-edge digital art experience featuring the works of three artists. Experience a feast of light and movement with Daniel Cook's high-definition digital video of frozen moments that move in the reception and lounge area. At QT Sydney's bar—Gilt Lounge, Daniel Boyd's multi-channel installation showcases Impressionism and Pointillism through a new medium with shimmering effects. Last but not least is Grant Steven's larger than life digital video exploring the fine lines between what is private and public in our social lives. How intriguing!
---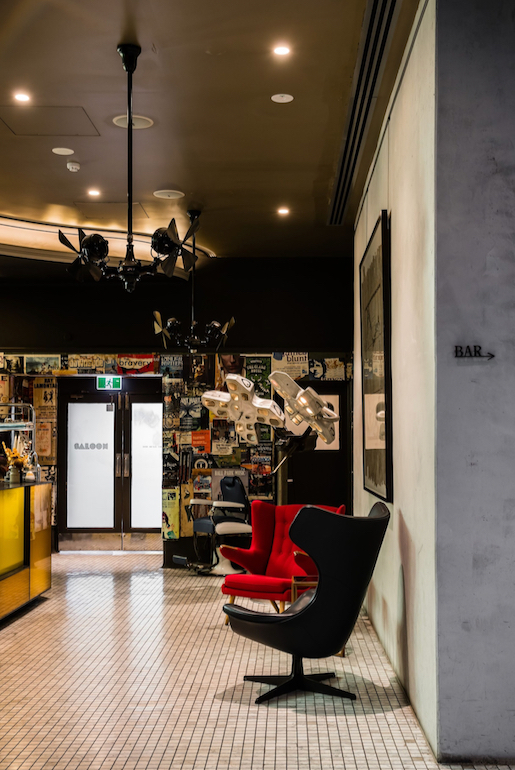 Our list of Australia's best art hotels wouldn't be complete without The Old Clare in Chippendale, Sydney. The charming hotel name alone makes us feel welcome, and inside, there is an air of nostalgia from the Art Deco Clare bar mingling with the crisp contemporary touches and artwork throughout the rooms. Further to our delight is the Bottle Shop Gallery right beside the bar where curious and functional homewares from an array of creatives and brands are showcased. They welcome pop-ups in support of independent creatives, organisations, and designers, so there are always pleasant surprises waiting for travellers and guests.
---
It's so hard to decide which one to visit first, isn't it? Hopefully our list makes things easier, though! These boutique hotels are a breath of fresh air for the art lover in you, and we hope you've discovered something new for your next getaway.
Image credit: Art Series – The Adnate
What's your luxury?
Luxury means different things to different people. Is your luxury a glamorous hotel in downtown Manhattan, a private island hideaway on the Great Barrier Reef, or a safari camp on the plains of the Serengeti? We'll help you find your perfect version of luxury in some of the world's most beautiful places.