Moving to the region in 2020, I set out on a mission: to experience all of the wineries and restaurants in the beautiful Barossa Valley. With more than 150 wineries and dozens of high-quality restaurants to choose from, there are plenty of surprises and new discoveries for wine connoisseurs and foodies alike. We would love for you to experience this bounty for yourself with our handpicked list of wineries, restaurants, and luxurious stays to help you plan and make the most out of your Barossa Valley getaway. Cheers!
Some of our favourite wineries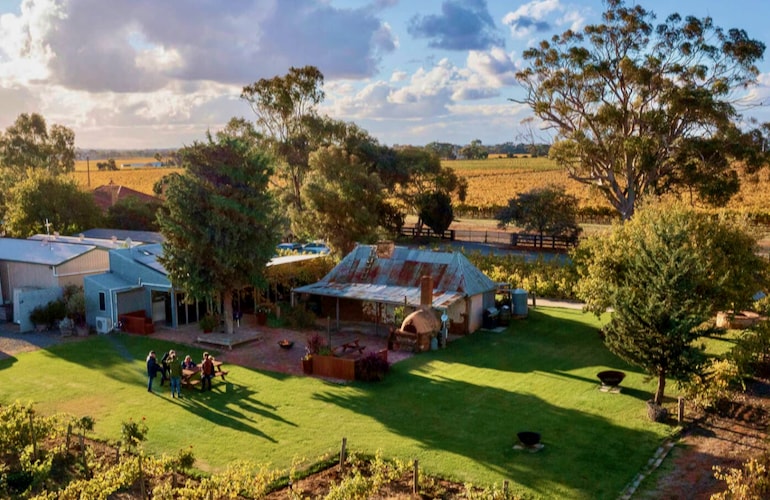 Tucked away in the northern part of the Barossa, Gibson Wines is a family-owned winery famous for its Dirtman Shiraz. Its founder, Rob Gibson, is a viticulturist, winemaker, and geologist (hence, "The Dirtman") with a passion for wine growing and the good life. Gibson Wines aims to maximise flavour intensity and together with his wife Anne and son Adam, Rob's wine-growing philosophy continues.
If you're in the Barossa for just the weekend, don't miss out on Moorooroo Park Vineyards and Eperosa which are open only on Fridays and Saturdays. If you're looking for something small and boutique, head out to Moorooroo Park Vineyards for small-batch handcrafted wines. Tucked away in a hidden corner just off Krondorf Road, it feels like a secret vineyard escape. Eperosa on the other hand is not your average cellar door—you'll be in the shed of Halliday Winemaker of the Year 2021, Brett Grocke. He's the 6th generation of Barossa winemakers, carrying on his forefathers' legacy from the 1840s.
Another winery rooted in traditional methods and family legacy, Rusden Wines has 7 generations of winemaking up their sleeves. A visit to this winery will treat you to a terroir of deep white sand over the red clay of Vine Vale. Taste masterfully crafted museum-aged wines in the warm and inviting atmosphere of the Den as you savour the unique character of their traditional Barossa variety of wines.
Next up, we have Langmeil Winery… With a history that dates back to 1842, it is home to what are believed to be the oldest surviving Shiraz vines in the world! The Freedom 1843 vineyard embodies the ideals and experiences passed down from Barossa winemakers throughout the generations—and their wines are quite literally a taste of vino history. Their cellar door is open all days of the week for limited guests at a time, so we advise booking in advance.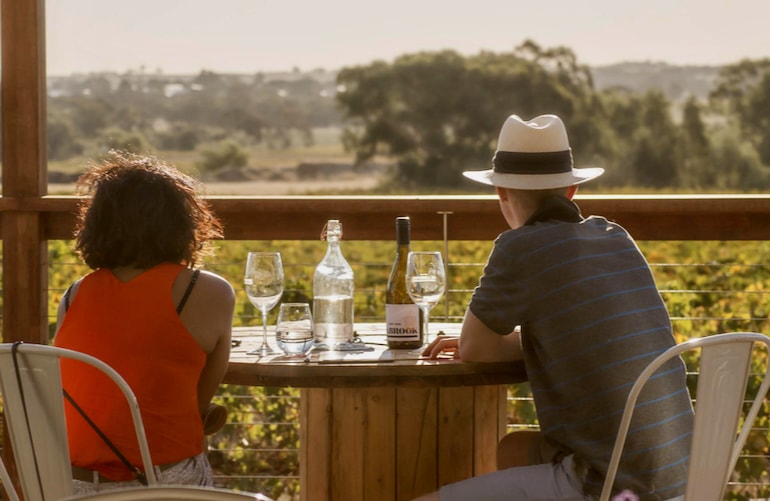 Family plays a big part in Barossa vineyards, and in 2005, the 5th generation of the Seabrook family revitalised the storied 1878 label championed by Tom, Doug and Iain Seabrook of Seabrook Wine Merchants on Lonsdale Street, Melbourne in the '70s. Today, this young brand with a lot of history remains a family-owned small-batch producer of Barossa wines. Their philosophy of sourcing top-quality grapes from the best regions of Australia is still carried on by the family today. And for those who love Mataro, you'll find one of the best ones right here.
Another record holder, Hart of the Barossa is an artisan and family-owned wine brand that is home to the oldest certified organic vineyard in the region. Dating back to 1902, the philosophy of this winery remains true: sustainable farming practices and vines sustained naturally by the soil resulting in terroir most representative of where they are grown. All organic, better for nature, our bodies, and future generations!
Last but definitely not least, Ubertas—home of the best merlot in the valley if I may say so myself. Built from scratch by the Liu brothers who immigrated from Taiwan in 2007, Ubertas has expertly crafted and sustainably-farmed wines from hundred-year-old vines. Their modern cellar door is open for tastings from Wednesday to Sunday, and you get to enjoy local produce while overlooking the serene vineyards.
Lunch, anyone?
For hearty and delicious lunches, we have three favourites to share with you…
Harvest Kitchen is a great introduction to the Barossa. Just outside the township of Tanunda and surrounded by old buildings, it has an airy dining hall and outdoor dining deck that's great for couples and families alike. While enjoying amazing views overlooking the Calabria Winery, you'll get to enjoy generous portions perfect for sharing. Go for the "Feed me like a Barossan" for the ultimate experience. Trust me, you won't regret it.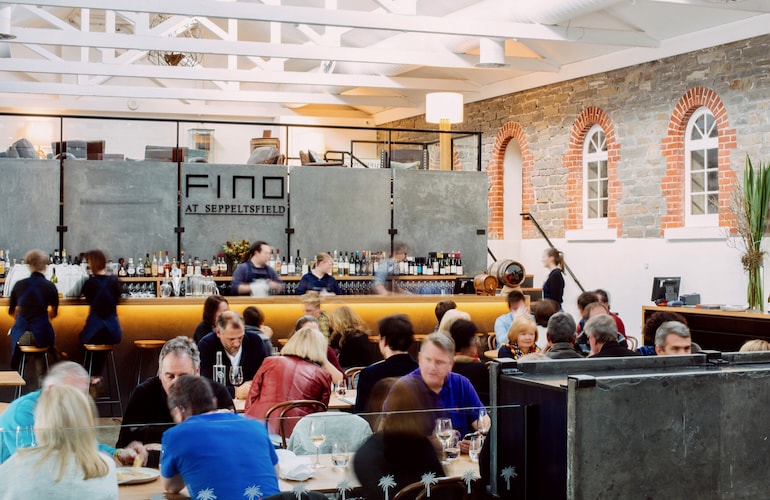 For an incredible degustation located on the grounds of the gorgeous Seppeltsfield, try out FINO. This fine-dining restaurant offers delectable menu items made from locally sourced seasonal produce in a beautiful setting. From Mondays to Fridays, they have a "choose your journey" sharing menu, and on weekends, they offer multi-course (4 to 6-course) set menus for sharing. Great for when you're out with friends or family!
Another one of our favourites is St. Hugo, which offers a stunning venue and is also known for its strong and elegant wines. Floor-to-ceiling walls treat you to views of the surrounding vineyard while its gorgeous fireplace sets the mood for a perfect dining experience. They offer an a-la-carte menu that changes with the seasons, and if you want to go for something even more special, book the private dining experience personally hosted by their chef.
Winner dinners
Planning a Barossa date night or simply looking for great dinner spots? Here are our absolute faves for amazing ambience and great food.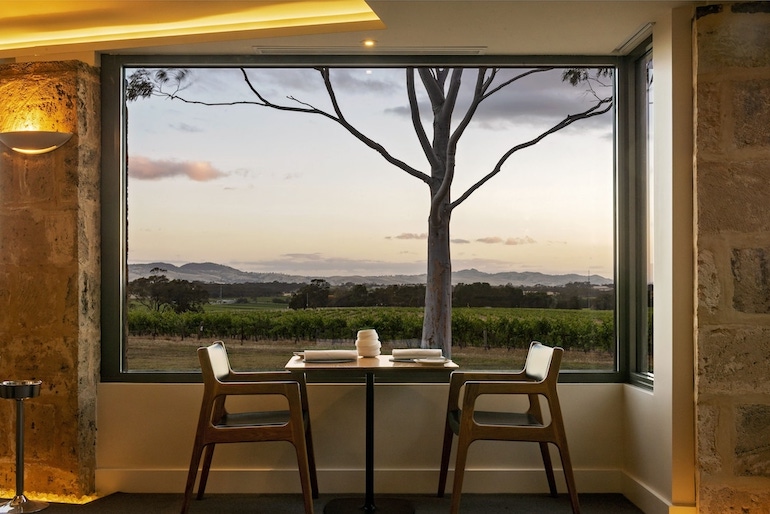 Appellation, inside the ultra-luxe lodge The Louise, is regarded as one of Australia's finest regional restaurants. The dishes tell the story of the moment using seasonal produce as you enjoy an enchanting experience inside award-winning spaces. If you prefer something more relaxed, Contour, which is right next door, serves everyone's favourites with a more chilled atmosphere and fun cocktail list. You'll love the views from the big windows.
Next, feel like a local at Otherness and Vintners Bar & Grill. Just outside of Angaston, Vintners Bar & Grill has both al fresco and formal indoor dining options to suit the occasion. Loved by a lot of us locals, it's one the oldest restaurants in the Barossa and continues to serve outstanding food paired with amazing wines. Otherness, on the other hand (all puns intended), opened its doors in February of 2022. This wine producer has a wine bar and cellar door, offers premium wines, and plenty of flavourful delights. What's not to love?
A name that nods to the naming origins of Barossa and its European heritage, Vino Lokal is my newest favourite spot in Tanunda. The wine bar menu features a beautiful range of wines from across the region and their seriously tasty food can be enjoyed individually or shared (I always recommend sharing though). Vino Lokal is only open from Thursdays to Mondays, and it's a must to book in advance!
If you're looking for something different from the dining spots above, try out FermentAsian. This contemporary and award-winning Southeast Asian restaurant will take your taste buds to Southeast Asia while simultaneously infusing it with Australian flare. Chef and owner Tuoi Do shares that since they moved to the Barossa, her parents have transformed their gardens to grow all sorts of vegetables that help her create the wonderful and mostly Vietnamese-inspired dishes served at FermentAsian.
More than just wine!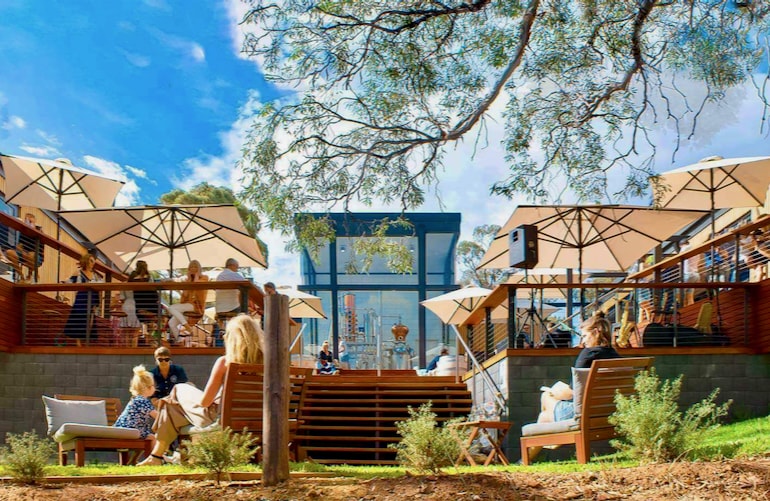 Our foodie recommendations wouldn't be complete without some chill spots for drinks. Whether you're catching up with friends or if you've just had enough of wine, go and get yourself a gin cocktail (or a gin tasting!) at Seppeltsfield Road Distillers. It's a cool spot made from shipping containers—a lovely casual setting with open-air seating while you enjoy your fresh and bright handcrafted gin. My favourite cocktail? The Shiraz Gin with dark soda.
Love gin as much as you love wine? At Bar Musque in Tanunda, you can choose from over 300 gins from around the world! This bar serves great food and has a fun casual atmosphere. Just next door to Bar Musque, you'll find Z Wines. It's an eclectic bar/cellar door on the corner of Murray Street & Basedow Road and they usually offer live music on Friday/Saturday nights. What's great about this spot is that apart from the beautiful vintage styling, they offer a special inspired tasting option for kids (fruit juices and milk). It's a win for everyone!
Where to stay
Here at View Retreats, we love luxurious getaways and the first that comes to mind is The Louise. Offering spectacular vineyard views, The Louise is one of the best places to stay in the Barossa. This all-inclusive luxury getaway has 15 private villa-style suites with airy high ceilings, generous living spaces, and outdoor seating where you can take it slow and enjoy the peaceful surroundings. And, the pool overlooking the vineyard is our favourite.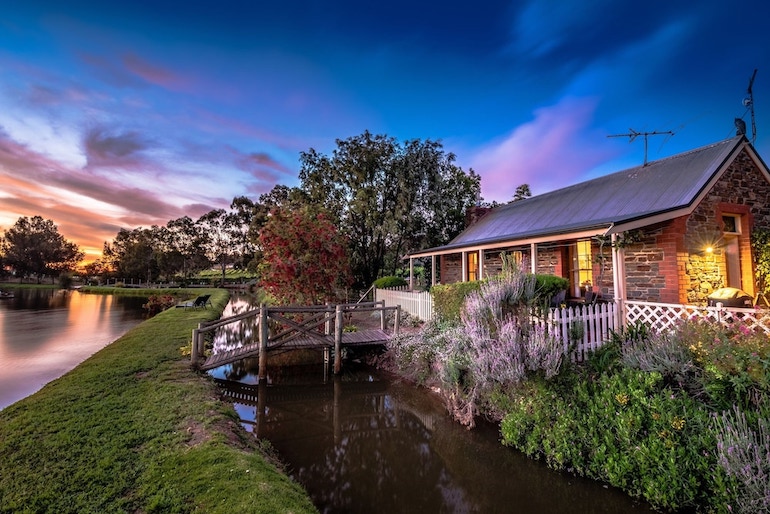 Looking for something more intimate and romantic? Stonewell Cottages has 4 well-appointed cottages with suites overlooking the lake. Another idyllic vineyard retreat, we love its boutique vibe and homely country atmosphere.
For a romantic getaway with a classic charm, we highly recommend Kingsford The Barossa. After multi-million-dollar renovations, this heritage luxury hideaway has beautiful rooms, a wonderful on-site restaurant called Orleana, and two amazing cellars—the historic 1856 cellar and the newer 6-vault tunnel. The signature experiences like the Bush Bath and playing KegelBahn make a stay here extra special too!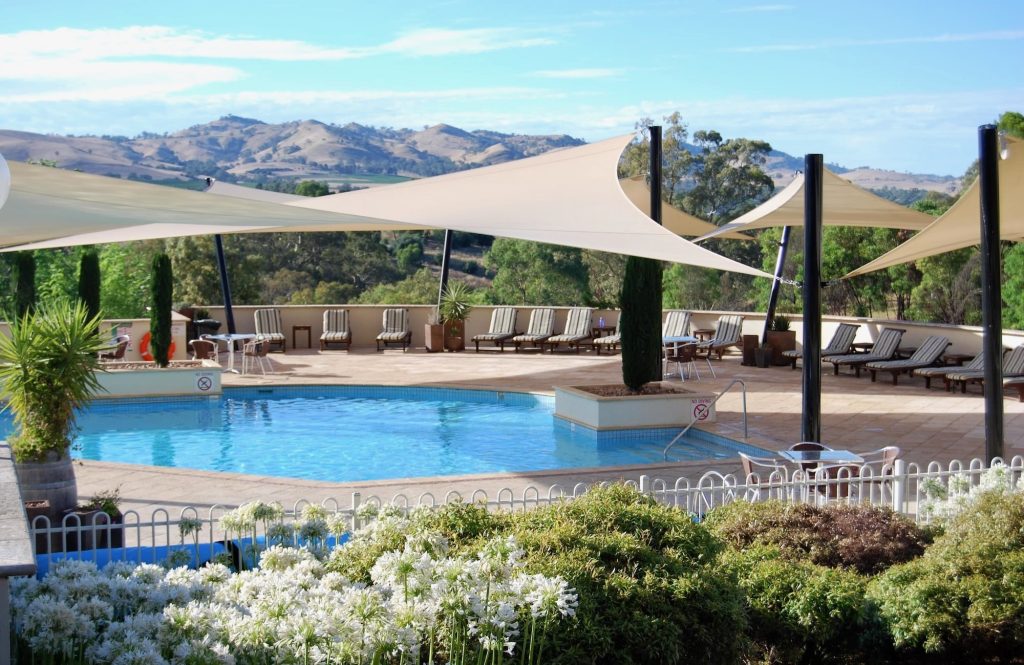 If you're travelling with the fam, Novotel Barossa Valley has everything you need for a comfy and luxurious getaway. This family-friendly getaway has almost 150 rooms to choose from, an on-site restaurant called Cellar Kitchen, a pool with a poolside bar, and amazing views of Jacob's Creek vineyards and the Barossa Valley Ranges.
There's so much to discover and enjoy in the Barossa—and I'm still checking off my winery list (there are so many!). I hope this inspires you to come and explore this beautiful region. If you have any questions or would like more ideas for your upcoming getaway, just email us at [email protected] and I'll be sure to personally respond with further recommendations.
---
For our full collection of amazing Barossa Valley accommodation, visit viewretreats.com.
Image credit: Gibson Wines
What's your luxury?
Luxury means different things to different people. Is your luxury a glamorous hotel in downtown Manhattan, a private island hideaway on the Great Barrier Reef, or a safari camp on the plains of the Serengeti? We'll help you find your perfect version of luxury in some of the world's most beautiful places.