The former city of churches is transforming into Australia's rising lifestyle capital. Adelaide and its network of laneways offer a flourishing bar and restaurant scene, thriving art and music venues, and plenty of patches of lush greenery. It's the ideal destination for any kind of adventure. Whether you're visiting for a quick weekend or a longer stay, our list of the best luxury hotels in Adelaide offers the perfect base for exploring this wonderful city.
---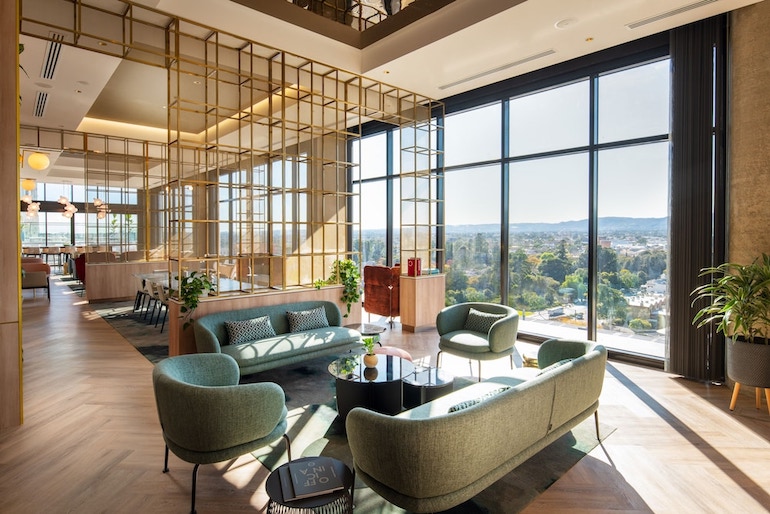 Crowne Plaza Adelaide
Whether in town for business or leisure, the Crowne Plaza Adelaide takes your stay to all new heights. Take advantage of panoramic views of the city, rooms that provide uncomplicated comfort, a prime location in the East End, and rejuvenating amenities. Guest rooms are light-filled, modern, and furnished to take you from work to rest and back again. The hotel also features an in-house restaurant specialising in Japanese cuisine, a casual cafe, a gym, an infinity pool, and bar.
---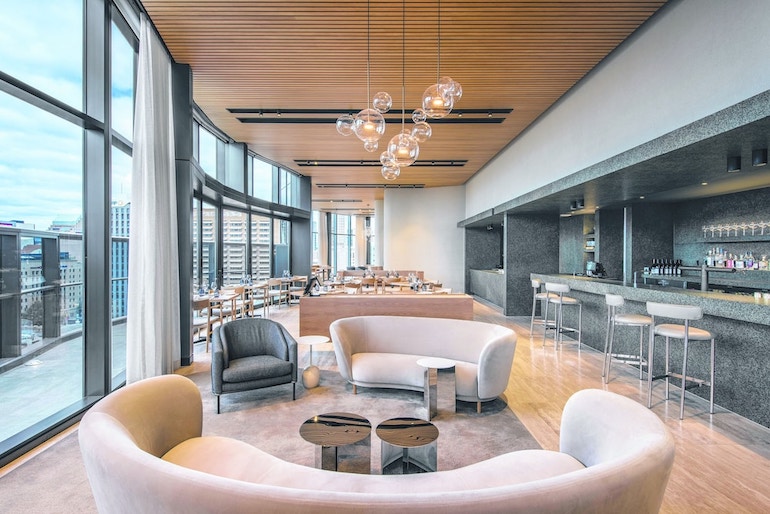 Eos by SkyCity
A luxury hotel with a personalised touch, Eos by SkyCity puts you within the vibrant Adelaide city centre. It's only steps away from the bustle of the local laneways, the Riverbank entertainment precinct, and Rundle Mall. Meanwhile, behind the doors of Eos, you'll find 120 modern guest rooms with state-of-the-art entertainment, luxe amenities, and views of the city, hills, or river. A hotel that considers your every need, Eos offers three restaurants, a spa, and a leisure deck for a truly extraordinary city stay.
---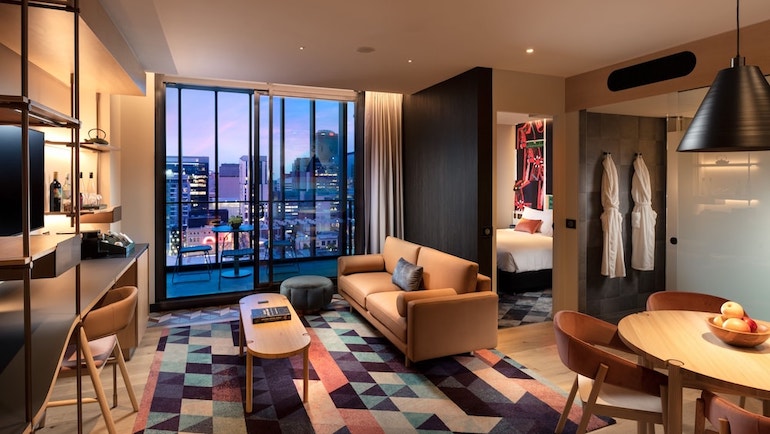 Hotel Indigo Adelaide Markets
Set near the popular Adelaide Central Market precinct, Hotel Indigo celebrates its locale's food culture and legendary festivals. Rooms sport modern colourful artworks, a vibrant palette, and spa-inspired bathrooms. The restaurants and bars craft innovative fare from the best of nearby Adelaide Market along with local beer and wine. Enjoy recreational amenities including an outdoor pool and a 24-hour fitness centre. Outside, the vibrant hub of the Market Precinct — Rundle Mall, trendy bars, cafes, and galleries — are all just a stone's throw away.
Find your perfect hotel in Adelaide
Discover over 25 handpicked luxury hotels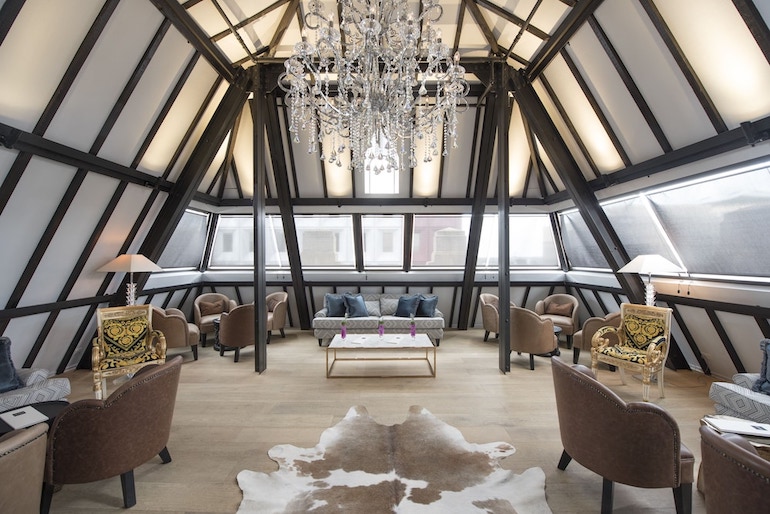 Mayfair Hotel
Setting a new standard for boutique accommodation in Adelaide, Mayfair Hotel offers an unparalleled location in the heart of the city. A stay here means easy access to popular destinations such as Rundle Mall, Adelaide Casino, North Terrace, and Adelaide Botanic Gardens. You'll also find 170 elegant rooms furnished with custom-made beds and all the mod cons a modern business and leisure traveller wants. With upscale bar and dining experiences at Mayflower Restaurant, Hennessy Rooftop Bar, and THE DEN Bistro, Mayfair Hotel sets you up for a holiday like no other.
---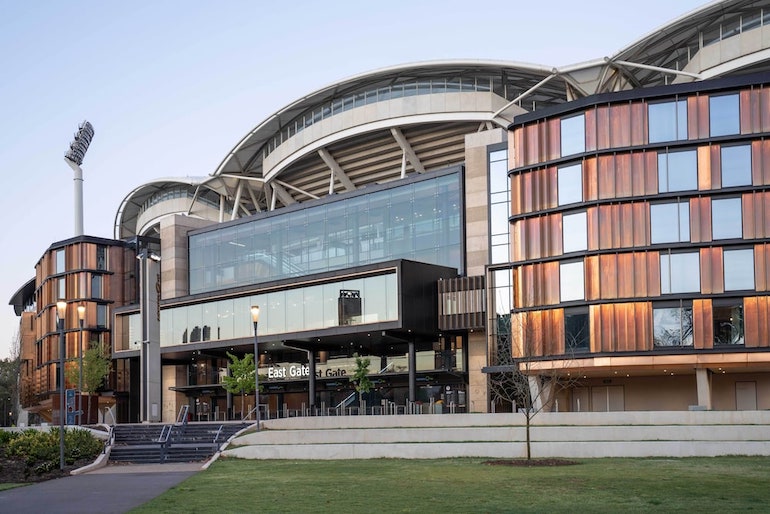 Oval Hotel, North Adelaide
Offering a stylish escape at the iconic Adelaide Oval, Oval Hotel is a premium boutique accommodation designed for relaxation. Rooms are fitted with intuitive technology, private bathrooms with designer toiletries, and breathtaking views of the surrounding parklands. Grab a bite to eat and enjoy some world-class wine at Bespoke Wine Bar & Kitchen and Five Regions, or stay in and take advantage of the 24-hour room service. With the Oval Hotel's prime location, the pleasure and leisure of Adelaide's art galleries, shops, restaurants, and museums are just a short stroll away.
---
Sofitel Adelaide
Located in the heart of Adelaide and in the midst of what the city has to offer, Sofitel Adelaide is a luxury hotel championing French elegance and vintage decor. Overlooking Adelaide's skyline, this beautiful hotel has its own indoor pool, gym, and French restaurant — Club Millésime where you can enjoy some fine dining. The rooms are stylishly furnished, combining old-world elegance with new world aesthetics, lending it a current and luxuriously relaxing feel. Wide glass windows offer panoramic views of the beautiful city while you enjoy some peace and quiet in your own plush bed.
---
With so much to enjoy in Adelaide — culture, cuisine, events, entertainment — these hotels will provide you with luxurious comfort and fuel to explore the city and beyond. Discover all of our luxury accommodation in Adelaide.
Image credit: Hotel Indigo Adelaide Markets
What's your luxury?
Luxury means different things to different people. Is your luxury a glamorous hotel in downtown Manhattan, a private island hideaway on the Great Barrier Reef, or a safari camp on the plains of the Serengeti? We'll help you find your perfect version of luxury in some of the world's most beautiful places.