Ah, Roma! An enchanting destination that effortlessly blends ancient wonders with modern delights and mouthwatering cuisine, this world-famous city is steeped in history and brimming with architectural marvels. The city is a treasure trove of iconic landmarks and world-class museums and galleries. With streets adorned with magnificent fountains, such as the Trevi Fountain and beautiful piazzas boasting timeless masterpieces, having your own relaxing hideaway is the perfect way to end a day of exploring. Discover the best luxury hotels in Rome for an unparalleled stay in the eternal city.
---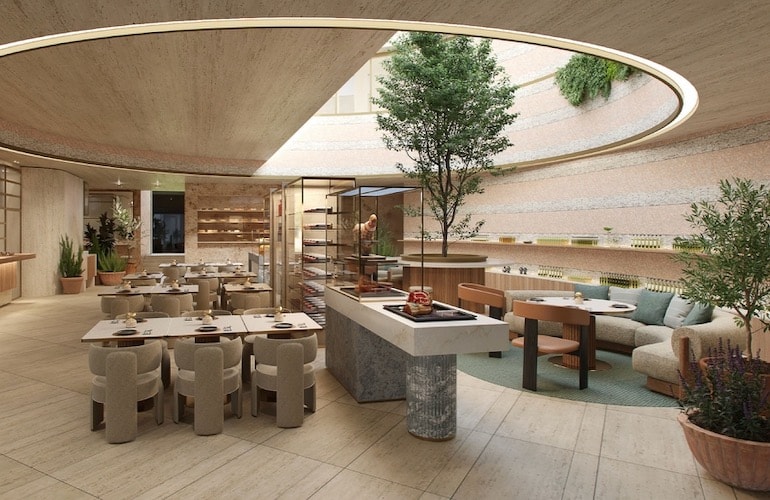 Six Senses Rome
The first Six Senses hotel to open in Italy, Six Senses Rome, is a remarkable addition to the vibrant cityscape, offering a luxurious and refined retreat that captures the essence of la dolce vita. Nestled within the heart of Rome, this elegant city hideaway immerses its guests in a world of timeless beauty, where history and modernity seamlessly blend. The interiors of Six Senses Rome have been meticulously designed to pay homage to the city's rich history and every corner of the hotel showcases exquisite craftsmanship and artistic details. On-site, guests can enjoy fine Italian cuisine from the hotel's selection of dining spots, but our favourite is NOTOS—the rooftop terrace where you can dine with panoramic views of Rome. Six Senses Rome's Experience Curators will also treat you to a personalised exploration of the city's wonders and after a day out, Six Senses Spa will be your space for recovery and restoration.
---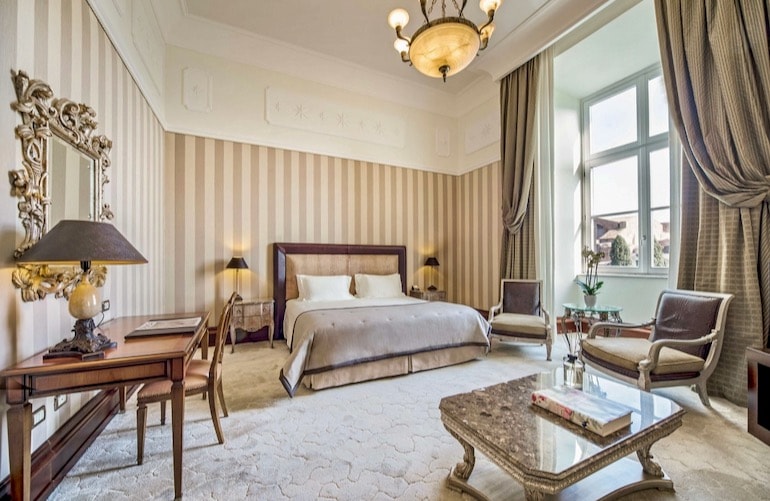 Anantara Palazzo Naiadi Rome Hotel
Housed in a magnificent 19th-century palace, Anantara Palazzo Naiadi Rome Hotel is a five-star hotel that seamlessly blends classic elegance with modern style. Located near the iconic Trevi Fountain and the Roman Forum, the hotel offers an ideal location for exploring Rome's historic treasures. Its rooms and suites exude refined luxury and are adorned with lavish furnishings and contemporary amenities. Guests can indulge in the hotel's wellness facilities, which include a rejuvenating spa, a state-of-the-art fitness centre, and a stunning rooftop terrace with a pool boasting panoramic views of the city! It also has a variety of restaurants and bars serving delectable Italian and international cuisine.
---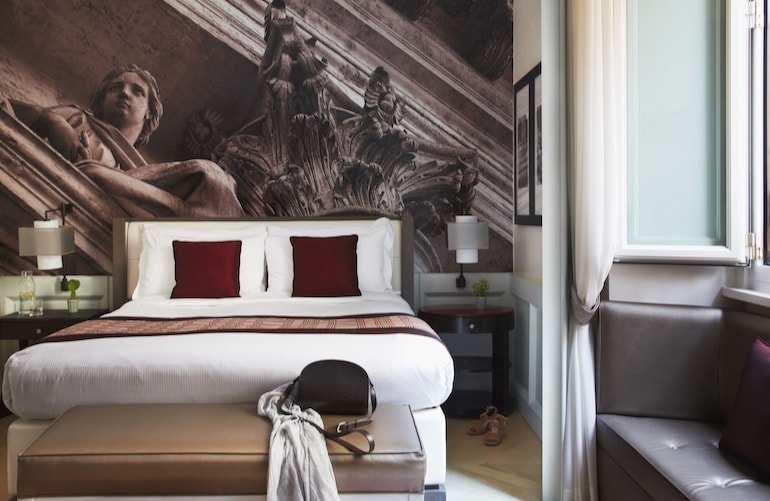 Hotel Indigo Rome
A luxurious boutique hotel located in the heart of Rome, Hotel Indigo Rome is situated in the vibrant neighbourhood of St. George, placing you within walking distance of many popular attractions. Known for its contemporary design, Hotel Indigo Rome blends modern aesthetics with elements inspired by the city's rich history and culture, as seen in the artworks featured as prints inside the suite walls. The hotel's restaurant and bar— I Sofà Bar Restaurant & Roof Terrace—offers a delightful culinary experience, serving a combination of traditional Italian dishes and innovative international cuisine. Guests can unwind on the rooftop terrace with panoramic views of the city, providing a perfect spot to relax and take in the sights.
---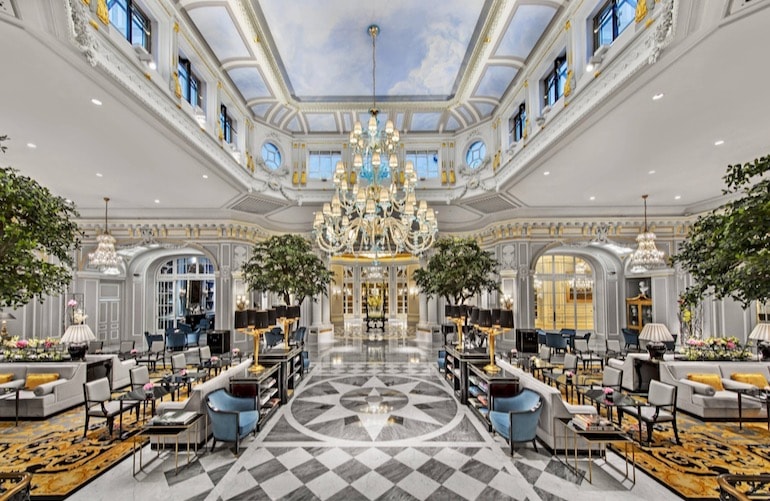 The St. Regis Rome
Part of the St. Regis Hotels collection, St. Regis Rome is an iconic luxury hotel that exudes elegance and grandeur in central Rome. Originally opened in 1894, this luxury hotel is located on Via Vittorio Emanuele Orlando, just a heartbeat away from the famous Via Veneto and the Spanish Steps. Its rooms and suites are exquisitely designed, featuring lavish decor, plush furnishings, and state-of-the-art amenities to ensure a luxurious and comfortable stay. During your stay, you can indulge in the hotel's opulent spa, where a range of rejuvenating treatments and therapies awaits. The hotel also boasts a selection of restaurants and bars offering a variety of exquisite cuisine and fine dining. We especially love the atmosphere at Lumen Garden—an intimate urban have serving Italian cuisine.
---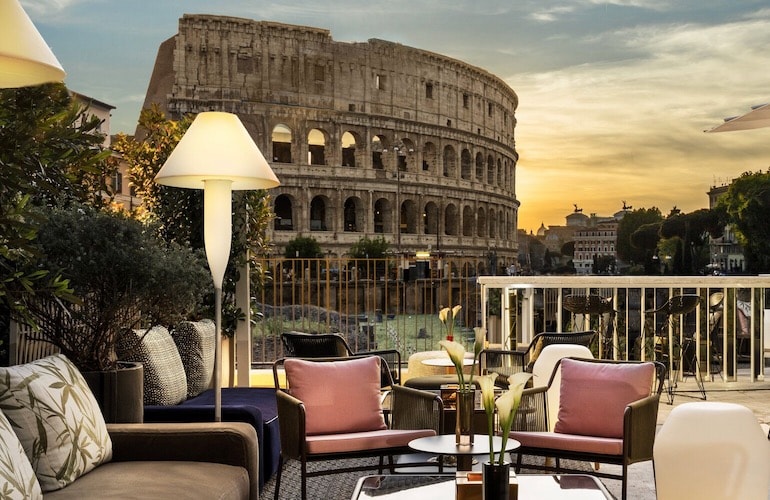 Palazzo Manfredi
A 5-minute walk away from The Colosseum, Palazzo Manfredi boasts up-close and personal views of this architectural wonder. This 17th-century residence turned 5-star hotel in the heart of Imperial Rome has elegant contemporary suites merging classic and modern design elements and two al fresco dining spots with unbeatable views of The Colosseum! We love the grand marble bathrooms and views from the suites, but the view and inspired cocktails from The Court Mixology Bar just make us want to spend the night out under the stars.
---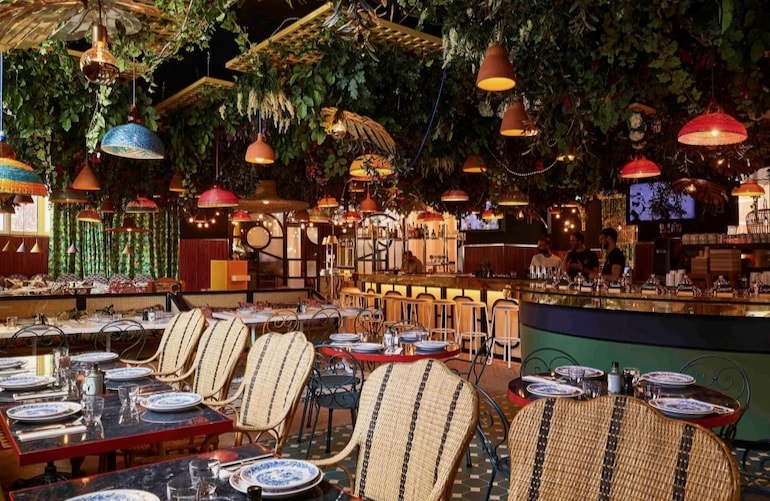 Mama Shelter Roma
We love luxurious boutique hotels and Mama Shelter Roma is one of the first that comes to mind when we think of luxe boutique hotels in Rome. Its rooms and suites are colourful and vibrant, adding a zesty atmosphere to your stay. On-site, this eye-catching hotel has lush areas and playful interiors, an indoor pool and gym, a rooftop terrace offering panoramic views of the city, and a vibrant restaurant serving a delightful fusion of Italian and international cuisine. From homemade meals to original cocktails, Mama Shelter Roma has a lot of pleasant surprises up its sleeve.
---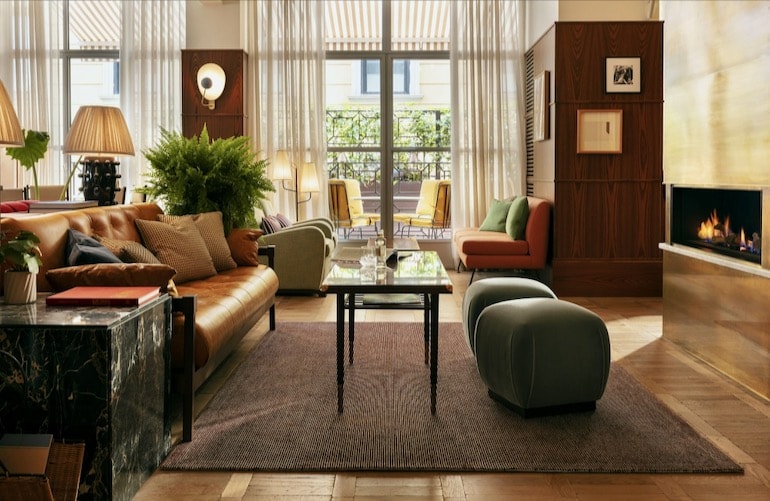 The Hoxton Rome
The interior design style and colour palette of The Hoxton Rome put us in a calming autumn state of mind and we love it. This luxe boutique hotel perfectly channels the warmth of Italy and adds that local touch to your experience. This lovely hideaway has its own coffee bar, takeaway counter, spacious and light-filled restaurant, and a beautiful outdoor terrace where you can enjoy coffee, cocktails, or small bites. Eclectically furnished, The Hoxton Rome has masterfully combined colours and textures that highlight vintage Italian pieces and the beautiful terrazzo floors. From its looks to its relaxed ambience, this hotel is a wonderful choice for those looking to experience 'dolce far niente'—relaxation in carefree idleness.
---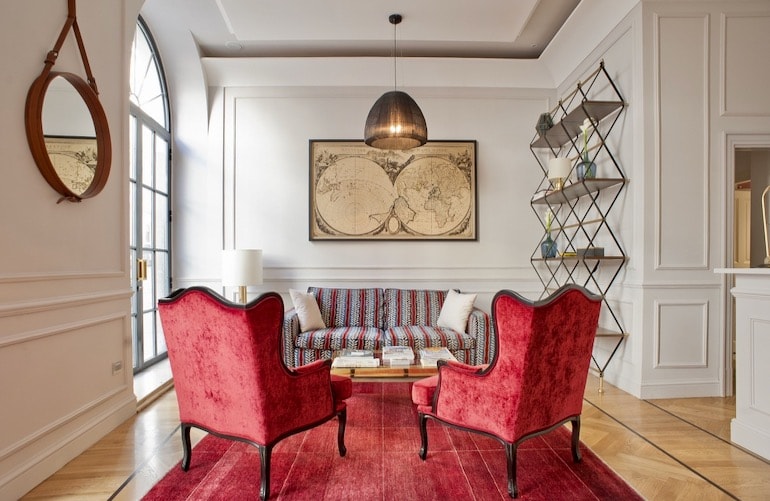 Fifteen Keys
Nestled between the Colosseum and Termini Station, Fifteen Keys is a stylish and intimate boutique hotel located in the vibrant Monti neighbourhood of Rome. It offers a tranquil retreat amidst the bustling city while featuring an interior design style that combines contemporary aesthetics and vintage elements, creating a charming and inviting atmosphere. Each room is individually decorated and features a fusion of modern comforts and retro-inspired furnishings. On-site, the hotel's common areas include a cosy lounge and courtyard garden where guests can enjoy and socialise. The in-house bar offers a selection of signature cocktails, wines, and spirits, providing a perfect spot for a pre-dinner drink or evening relaxation before you retreat to your quiet suite.
---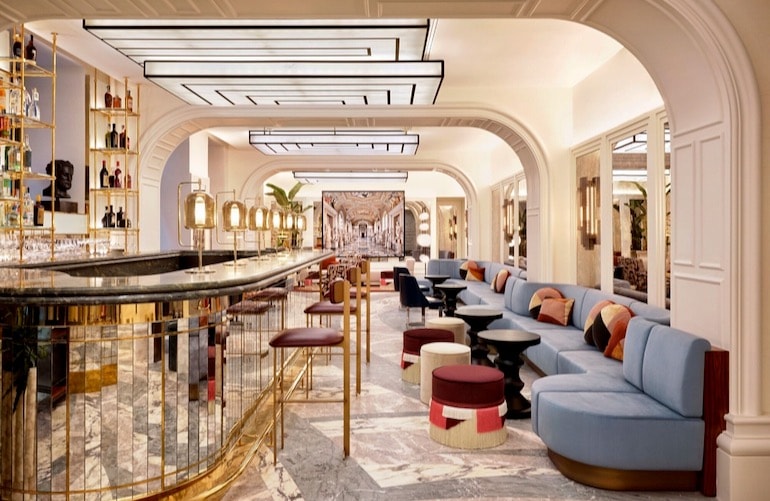 W Rome
A historic palace on the outside and a luxury hotel inside, W Rome is a celebration of the Italian way of life with a healthy dose of indulgence and relaxation. Experience authentic Sicilian cooking at its on-site restaurant—Giano Restaurant—and lively music at W Lounge. If you prefer live entertainment, head on over to Giardino Clandestino, or enjoy a relaxing time and panoramic views of the city at Otto Rooftop Bar. This luxury hotel in Rome also has a pool and gym on-site! W Rome is hip and happening, a perfect hub for lively Italian culture and a fun-filled getaway that's especially great for a group of friends. If you're looking for a luxurious stay with a bit of party atmosphere, this is definitely the place to be.
---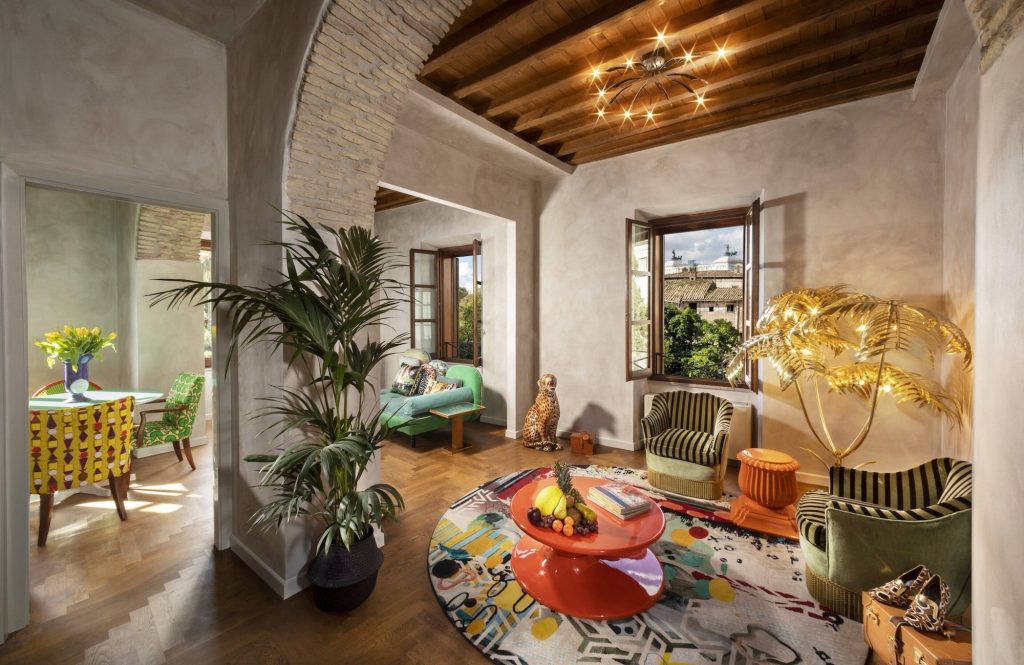 Palm Suite
Daring and unique, Palm Suite brings a touch of the exotic to the classic atmosphere you'll usually experience in Rome. Set in an 18th-century building, each suite features a playful and whimsical style—a play of lights and colours that set a free-spirited mood. Its mismatched and bold-coloured chaises and poofy pillows perfectly complement one another while tropical patterns and geometric prints provide a pop of colour and life against the stark walls. Its enviable location places you close to the top attractions of Rome: the Pantheon, the Forum, Capitoline Hill, St. Peter's Basilica, and the Colosseum—all within less than ten minutes away!
---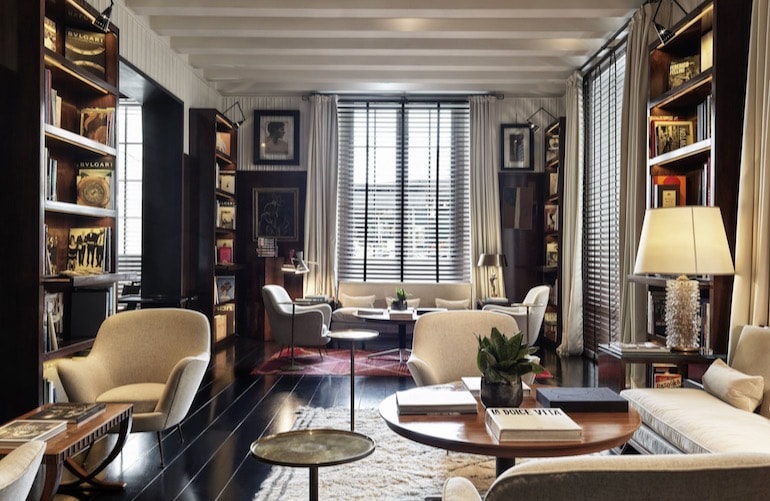 J.K. Place Roma
Set inside a historic 17th-century building, J.K. Place Roma is one of the best hotels in Rome and combines classic Roman architecture and contemporary interior design. This luxury hotel offers a selection of beautifully appointed rooms and suites, each individually designed with meticulous attention to detail. The accommodations feature modern amenities, plush furnishings, and tasteful artwork, providing a peaceful sanctuary for guests. We love the mood at JKCafe, a perfect setting for a nightcap after exploring the beautiful city. For those who enjoy classic luxury, this is a wonderful choice as its rooms exude timeless elegance and superior comfort.
---
Looking for more options? View our full collection of the best hotels in Rome at viewretreats.com
Image credit: Palazzo Manfredi
What's your luxury?
Luxury means different things to different people. Is your luxury a glamorous hotel in downtown Manhattan, a private island hideaway on the Great Barrier Reef, or a safari camp on the plains of the Serengeti? We'll help you find your perfect version of luxury in some of the world's most beautiful places.