Nestled in the lush, serene countryside of the Mornington Peninsula is one of Australia's newest and most acclaimed destinations, the inimitable Jackalope Hotel. The dark and angular design of this boutique hotel is a stark contrast to its surrounds of verdant rolling hills and blue skies. Yet it doesn't feel foreboding… instead it feels somewhat mysterious and just a little bit exciting.
As you drive up to the hotel, it feels as though you've entered another world. You are greeted by a shiny black, 7-metre tall sculpture of a Jackalope, a mythical creature from Western North American folklore that's part jackrabbit, part antelope. Beside it, a beautifully restored heritage cottage with a red-brick facade stands, yet this is all just a taste of what's to come.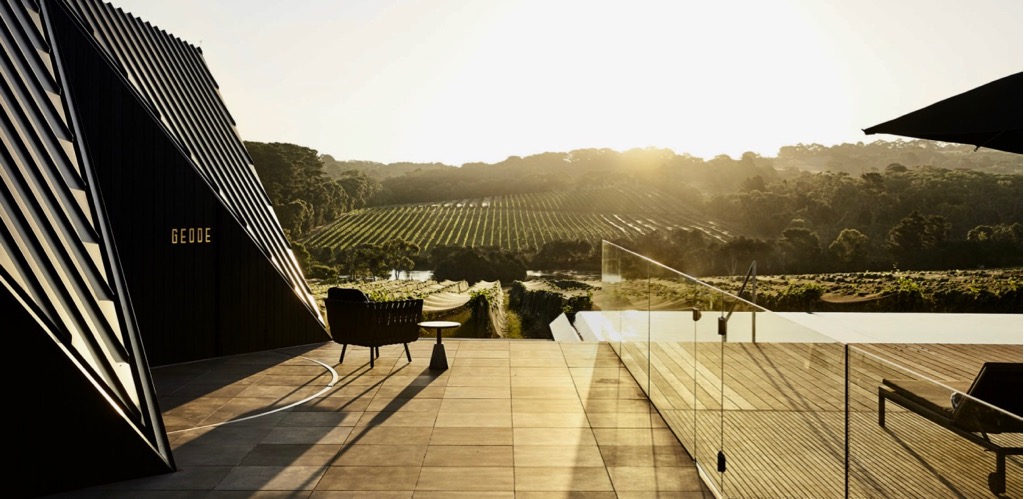 Tucked within the 27-acre grounds of Willow Creek Vineyard, Jackalope creates a stunning, sensorial journey that's easily among the grandest and most audacious in Australia. It's no wonder that, in just a few years of opening its doors, the hotel has already won a host of awards and praise from industry peers.
Inside, the hotel is even more visually arresting. And this is where the alchemy really happens. Jackalope captivates with its masterful blending of unusual and curious elements – transforming them into works of art. Designed by a team of creative visionaries such as Carr Design Group, Zuster, and Fabio Ongato Design, Jackalope offers a space that redefines hospitality standards and takes Australian luxury accommodation to a whole new level.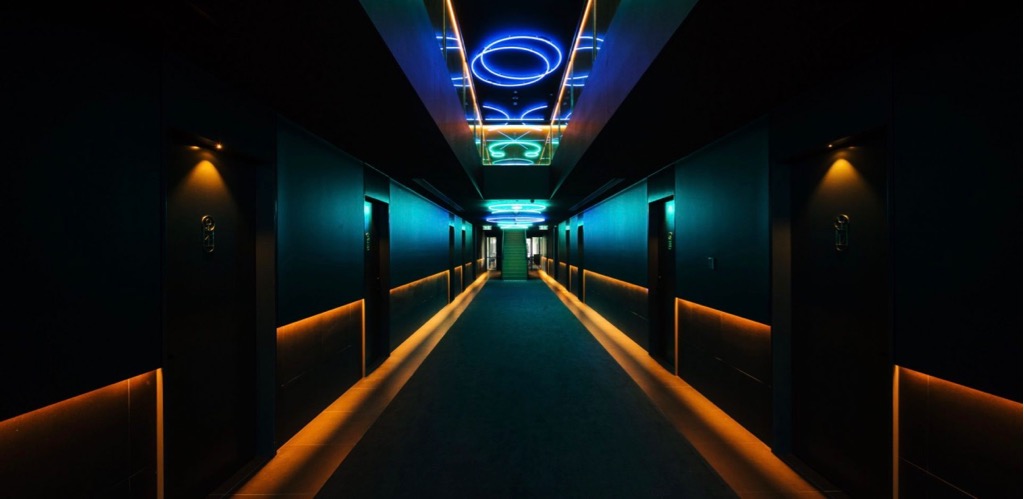 All of the 46 rooms in the hotel deliver absolute ease and relaxation. From the colour-sapped palette of black, grey, and ivory to the polished concrete and minimalist furnishing, there's no doubt that comfort and minimalist style were top of mind during ideation.
No detail has been left to chance either as each room is lavished with custom-made furniture from local designer Zuster. Meanwhile, floor-to-ceiling windows and private terraces allow you to enjoy the enchanting outdoor views whenever the mood strikes.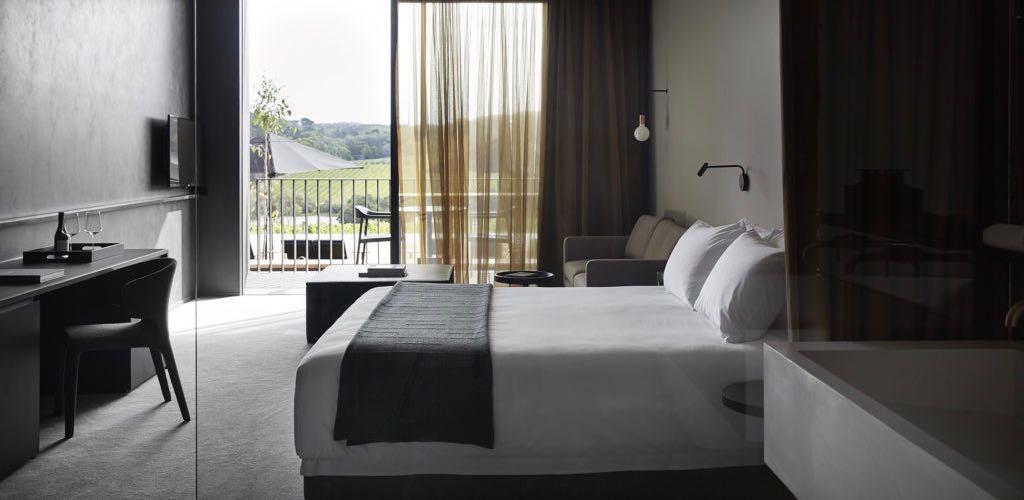 Depending on the room type you choose, bathrooms have either double rain showers or gorgeous deep-soak Japanese baths. You'll also find exclusively crafted bath and grooming products from Hunter Lab, well-known for their use of provocative scents and textures.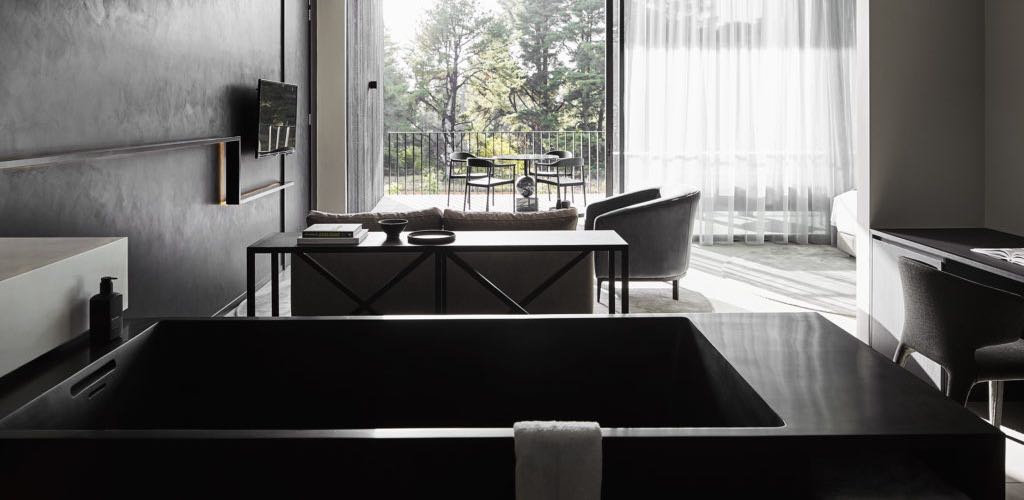 Upgrade to the extravagant Lair suites and enjoy 85 square metres of open-plan living space, an indoor-outdoor fireplace, and deliciously comfortable king size beds. All rooms also come with a complimentary mini-bar, on-demand entertainment, and free Wi-Fi Internet making each a haven of comfort.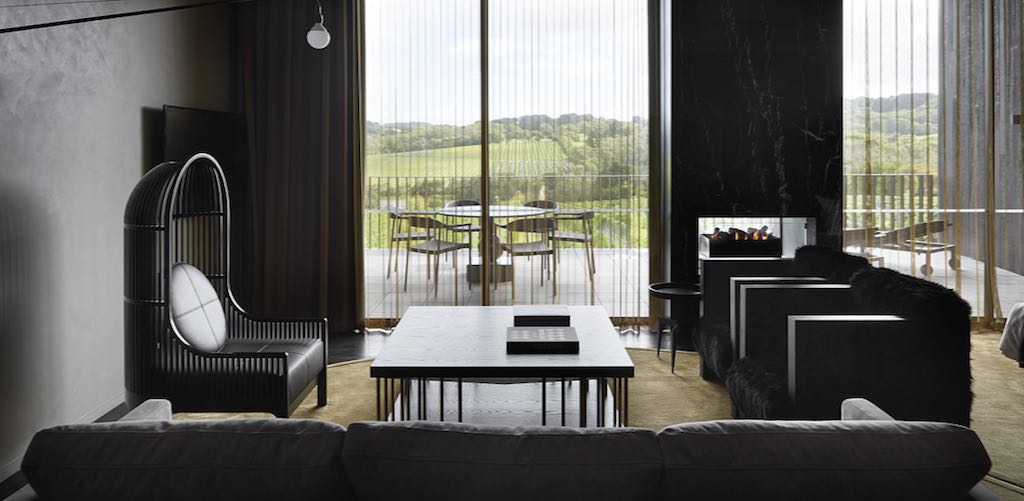 As you venture outside of the rooms the colour scheme gets bolder with more bronze and copper accents, as well as pops of blues and reds. The feel is urban contemporary with touches of the mythical in the one-off art installations and statement-piece furniture. All from the very best local designers, of course.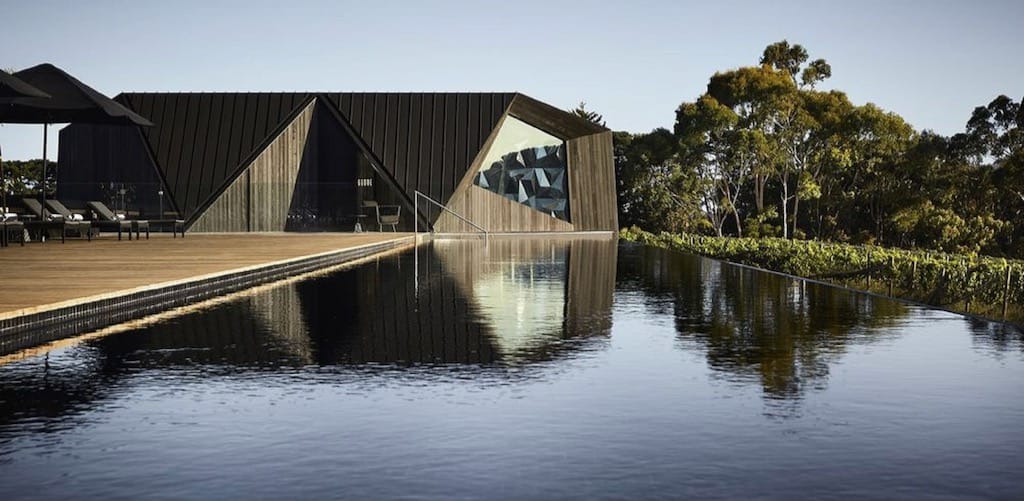 During the warmer weather, you can enjoy the stunning 30-metre black infinity pool, which overlooks the vineyard. A spacious deck with a heated plunge pool and comfy sun loungers makes the perfect spot for enjoying a book or a glass of the local drop.
Alternatively, spend the afternoon indulging with a massage at the Geode, aptly named for its uniquely angular-shaped walls. A must-try is the hotel's signature oil-based massage, which blends the sweeping motions of Swedish and deep-tissue techniques.
The hotel also offers two dedicated spaces for private events. These impressive spaces are ideal for an off-site boardroom meeting, private dining engagement or intimate wedding.
If you're not at Jackalope to marvel at its art and architecture, then you're here to savour the food. And this is where Jackalope really sets itself apart. Two ultra-chic restaurants surprise with sumptuous delights and a feast for the eyes.
The Rare Hare pays homage to the property's roots as a homestead and winery. With a cellar-door concept, this restaurant features small plates and a casual ambience that is perfect for long lunches. All ingredients are sourced from the 900-sqm kitchen garden and nearby farms, and the wine served here is all made on site along with choice craft beers from local breweries.
Rare Hare boasts indoor and outdoor seating for up to 90 people along with spectacular views over the vineyard. A large, wood-fired oven takes centre stage, adding warmth and character to the space.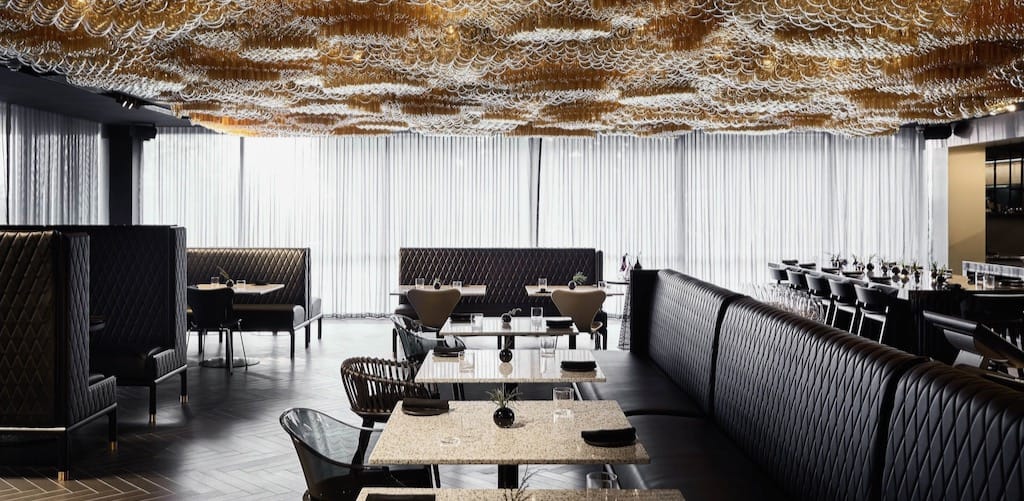 For a more formal dining experience, head to Doot Doot Doot, Jackalope's pride and joy. This restaurant offers an ever-changing five-course degustation menu served under the golden glow of Ten Thousand Light Bulbs. This installation by Melbourne's local artist, Jan Floor, is a reference to the fermentation bubbles in winemaking. It is also a nod to the hotel's theme of alchemy, or transformation, which permeates every detail and space of the hotel.
As striking as the lights above you are, the exquisite culinary offerings at Doot Doot Doot are second to none. Under Executive Chef Guy Stanaway's direction, the restaurant highlights regional and artisanal produce that adds a depth of flavour to each meal, ensuring an exquisite culinary experience and delight in every bite.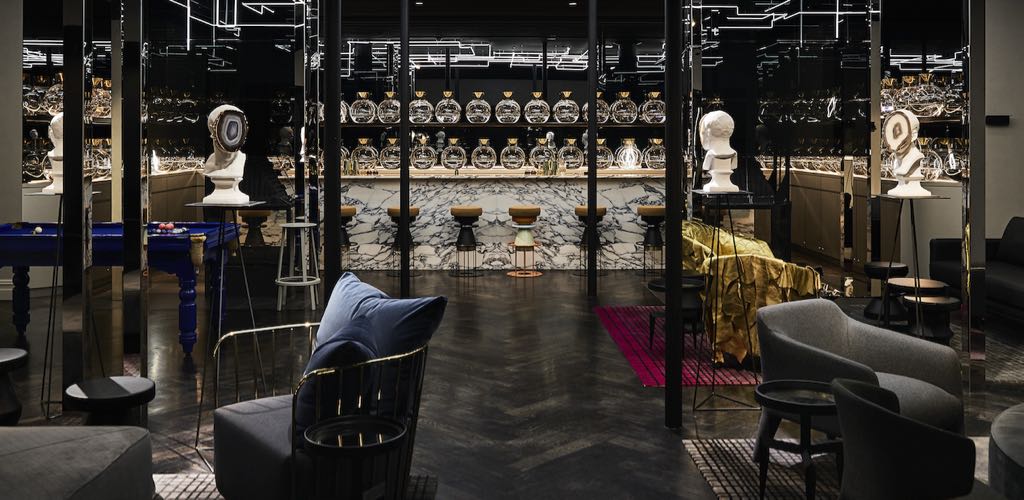 For cocktails, Jackalope's funky, club-like bar is a must. Housed in the restored Edwardian homestead next to the hotel's reception, Flaggerdoot offers a selection of whiskey, gin, and speciality cocktails. A marble bar with an illuminated installation of rounded chemistry flasks imbues the space with an alchemist's laboratory vibe.
Of course, there's a reason why the Mornington Peninsula is often referred to as "Melbourne's weekend playground" and there's a huge amount to explore beyond Jackalope. Over 50 cellar doors and restaurants can be found close to the hotel, offering an array of world-class wines. There are also 20 different golf courses to choose from, three of which are included in Australia's top 10. For family-friendly fun, the Mornington Peninsula is fringed by two coastlines,  presenting you with options for leisure from natural hot springs, pristine beaches, and national parks.
The Peninsula has always been a great choice for a fun-filled getaway but now, with the addition of Jackalope Hotel, you can plan a truly magical and unique getaway that you will definitely remember for years to come.
For more information, rates & availability visit Jackalope Hotel.