As soon as we hear about a retreat that's away from the crowds, it draws us in. Marramarra Lodge located at Fisherman's Point on the Hawkesbury River raised the bar several notches and ticked all of our boxes for an amazing escape. Here's why…
---
Exclusive Luxe From the Get-Go
Only accommodating a maximum of 28 guests at any given time in its 14 residences, there's a sense of exclusivity from the moment you book your all-inclusive stay to when you set foot on Marramarra Lodge's private jetty… or helipad. By seaplane taking off from Palm Beach or Rose Bay and by helicopter from Sydney Airport or Bankstown, it takes only 15-25 minutes. You can also get to the island by car by private chauffeur or by taking the Mooney Mooney exit along the M1. You'll be collected at Deerubbun Reserve Boat Ramp (where there's free parking) before taking a short boat ride to the lodge.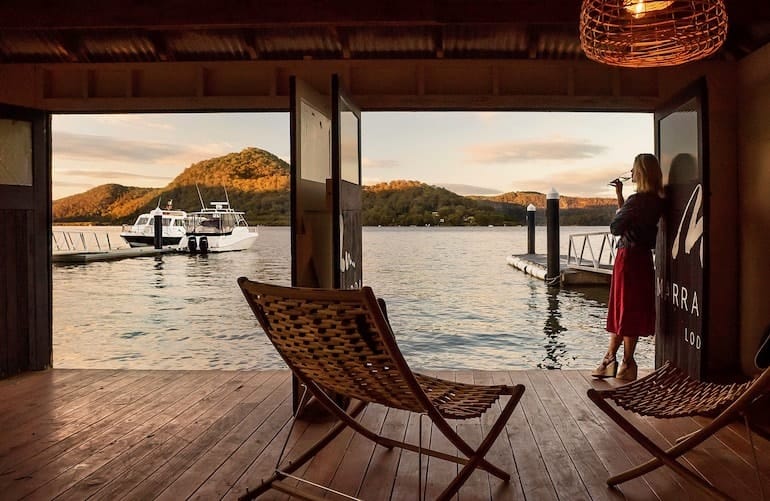 We suggest staying at least 2 nights and booking well in advance to secure your preferred accommodation type to ensure a hassle-free journey to this riverside retreat. The all-inclusive rates include boat transfers, gourmet breakfast, light lunch, and dinner paired with wine, mini-bar access, and a 60-minute champagne and oyster cruise upon arrival.
Unique Wilderness Accommodation Styles
There are 3 types of accommodation at Marramarra Lodge and we love that the 14 residences are named after the Dharug indigenous words for native plants and wildlife and how they blend into the natural surroundings. A wonderful sense of calm envelopes the residences—just unpacking your bag feels therapeutic!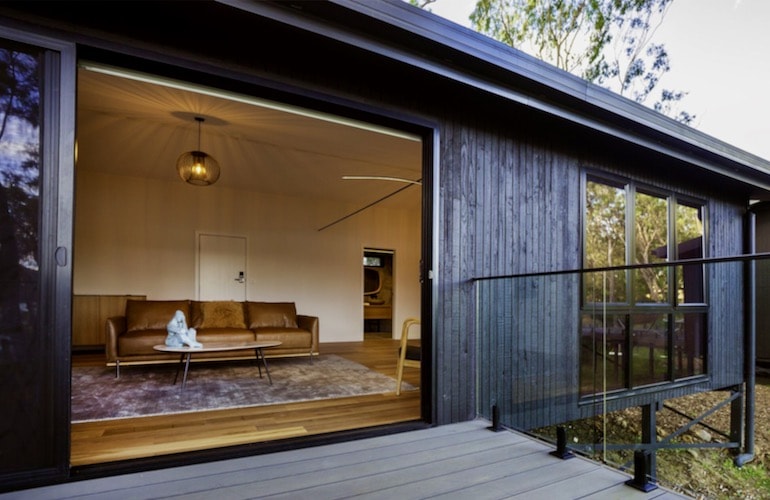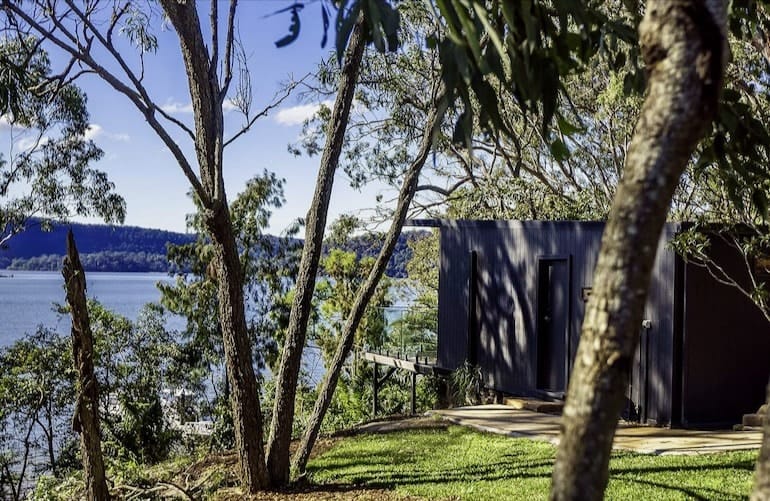 All 3 accommodation types have warm and stylish minimalist interiors, natural river stone bathrooms, and furnished private decks. Our favourite though is the Hawkesbury Bungalow. It's kind of a more spacious version of the cosier, more romantic Bay Bungalow which is a favourite among honeymooners. If you're up for more of a glamping type of getaway, however, we'd recommend the Peninsula Tent for you. This reverse-cycle air-conditioned residence has an open-plan layout and luxurious lounging area that opens out to the large outdoor balcony facing the river, truly letting the outside in.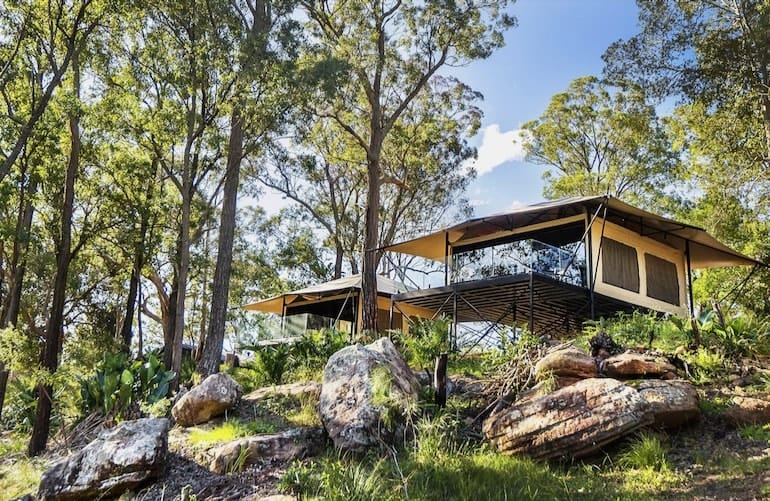 Both the Hawkesbury Bungalow and Peninsula Tent can sleep up to three guests. While children are not allowed, guests over 16 years old are very much welcome, making these bungalows ideal for a family or group of 3.
Thoughtful Dining and Soulful Relaxation
Lounging in your bungalow and taking in the views while waiting for dinner is already relaxing, but wait… there's more! Iyora Day Spa's restorative body treatments and massages will awaken your senses. There's a nice range of facials, body treatments, and enhancement rituals to choose from, but it's particularly hard to resist the "Focus Massage"—a 45-minute acupressure massage targeting tight muscles. Highly personalised, Marramarra Lodge's experienced therapist will customize the massage to your needs after a thorough consultation.
After a relaxing spa treatment, head on over to Budyari Restaurant in the lodge's main house where a world of flavour awaits. The menu features dishes using locally sourced and house-crafted produce. The dinners are paired with a curated selection of local and international wines, the perfect way to cap off your first night. Come sunrise, enjoy a warm a la carte breakfast and choose from a selection of house-made baked goodies and fresh fruits with the dewy bushland and glistening river as your backdrop.
Exciting and Meaningful Activities
A restful night's sleep paves the way for adventures, and Marramarra Lodge is a wonderful base from where you can explore the Hawkesbury River surrounds. True to Marramarra style, guests are encouraged to experience and unwind through bespoke land and water tours. Our favourite? The Champagne and Oyster Cruise aboard the lodge's luxury vessel. Glide over the calm river and enjoy the freshest oysters paired with bubbles as you leisurely watch eagles soar overhead. This luxurious hour-long guided tour is definitely worth it!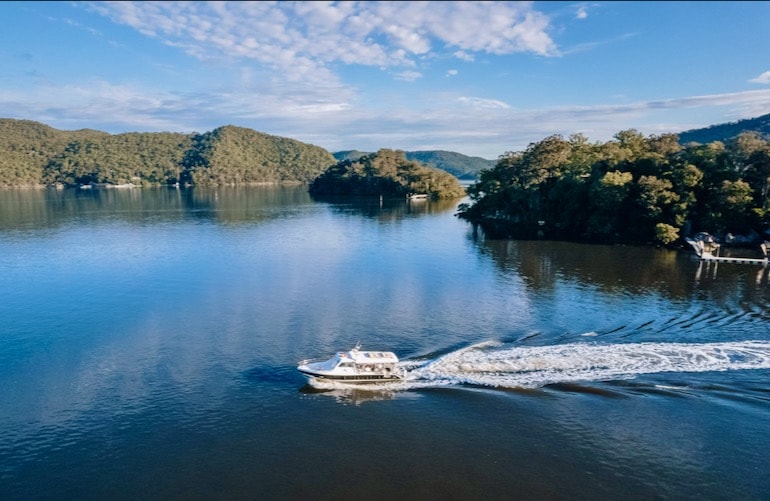 For those with a heart for more hands-on adventure, the self-guided Historic Bar Island and Heritage Walk or Mud Crabbing and Fishing experiences would be great ways to connect with nature and local history. An even more enriching and meaningful indigenous cultural tour can also be arranged. This 2.5-hour tour with a local guide is a one-of-a-kind experience where you'll learn about medicinal plants, rock carvings, stories and songs, and local Koori Art.
Quiet Time Means Exactly That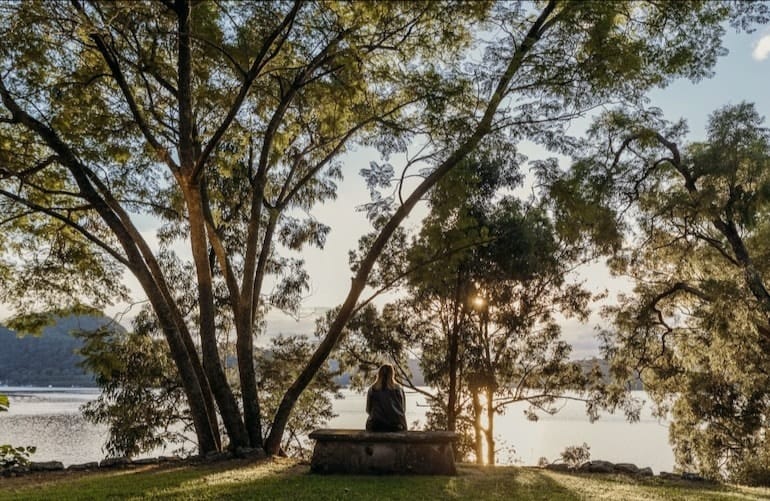 After an immersive day of local exploration, you can take a refreshing dip in the outdoor pool while enjoying the serenity of the surroundings. As the sun sets while you float in the pool, notice how the stars seem to shine brighter while you're away from the bright lights of the city. This is another thing we love about this retreat; the peace and quiet is unmatched. It's conveniently close yet it makes you feel like you're much farther away.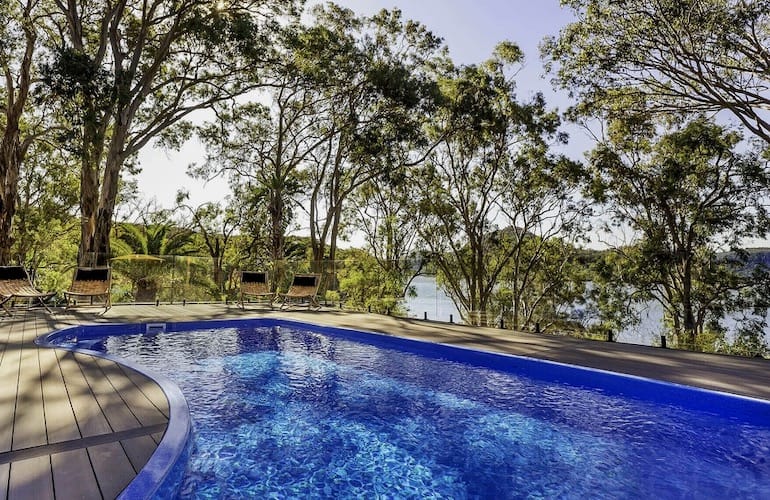 Whether you're chilling by the pool, cuddling by the sleek outdoor fire pit, or lounging from the comfort of your private deck, slowing down and getting another good night's sleep at Marramarra Lodge becomes second nature. With the minimalist interiors channelling that "less is more" vibe, you'll definitely be able to experience more from your getaway. Less clutter, more breathing space for your thoughts, right? No wonder a stay here feels so invigorating.
Book your luxury escape at Marramarra Lodge today and enjoy everything the lodge has to offer.
*Details in the blog post are accurate at the time of publishing the article.
---
What's your luxury?
Luxury means different things to different people. Is your luxury a glamorous hotel in downtown Manhattan, a private island hideaway on the Great Barrier Reef, or a safari camp on the plains of the Serengeti? We'll help you find your perfect version of luxury in some of the world's most beautiful places.