Go on an extraordinary adventure on the wild coast of Australia's Cape Range National Park in Western Australia. Reconnect with nature, breathe in the fresh air, and meet the animals that live in this unique part of the country. A holiday here promises to be an exhilarating experience that you'll remember forever.
But if you think that an adventure like this means stepping out of your comfort zone, you haven't been to Sal Salis. A haven nestled in the dunes of the park and on the shores of Ningaloo Reef, this luxury beachside safari camp is as remote as it is decadent, and one of Australia's best kept secrets.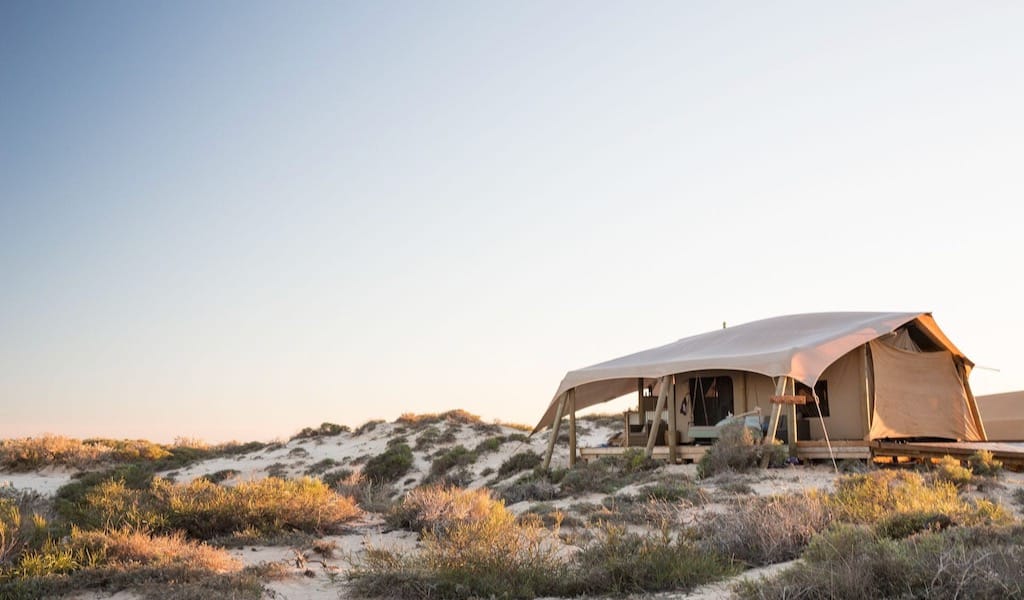 With only 15 tents on the property, this retreat is the image of tranquillity, affording you with all the privacy you want but still within access of company. But that's not all. Sal Salis Ningaloo Reef embraces you and your party in a world of indispensable comforts that only serves to highlight the resplendent beauty of your getaway.
This luxury seaside safari camp comes with key conveniences to make your stay relaxing and memorable. Each tent is perched on a wooden platform with a shaded private deck out the front. Lodgings are further furnished with ultra-plush, king-size beds draped with 100% cotton linen in 500 thread count, a pillow menu, soft bath towels, and an en suite bathroom.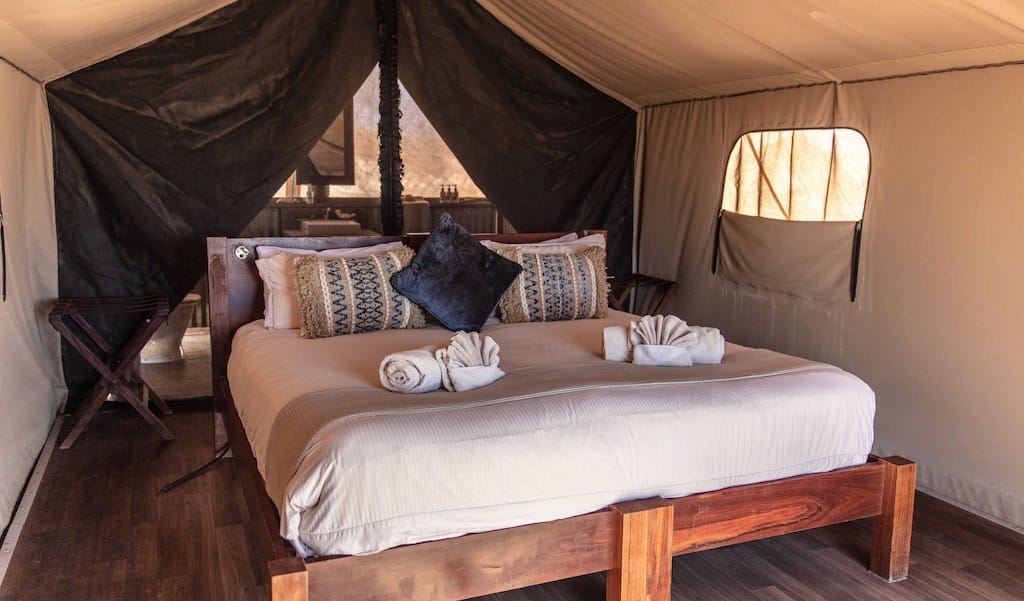 And even though you won't find the usual hotel room amenities such as TV, phone, mini-bar, or air-conditioning, you will find that what you do have more than meets your needs. After all, the focus is the beautiful Ningaloo Reef, its amazing inhabitants, and the wilderness around you. But don't worry; tents face the ocean so you'll have the cooling natural breeze to ward off the heat, as well as spectacular views of the sea to feast your eyes on.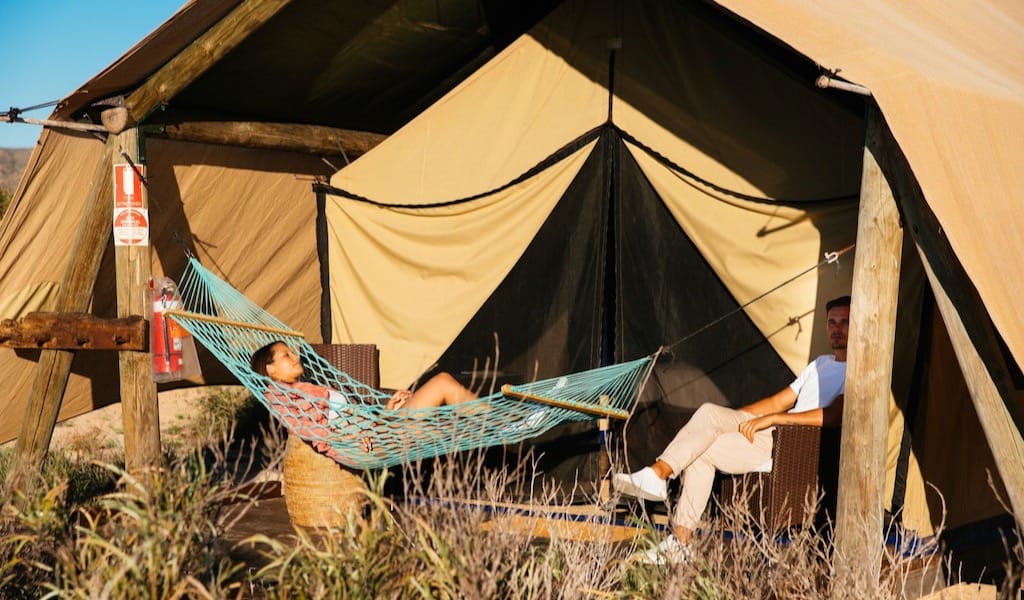 To further preserve the natural beauty that surrounds it, Sal Salis has been designed to leave as minimal a footprint on the environment as it can. That is why bathrooms are fitted with a natureloo (or a composting toilet), and water supply is meticulously managed to minimise waste. Toiletries are made of natural ingredients and all power is solar-generated, including the showers.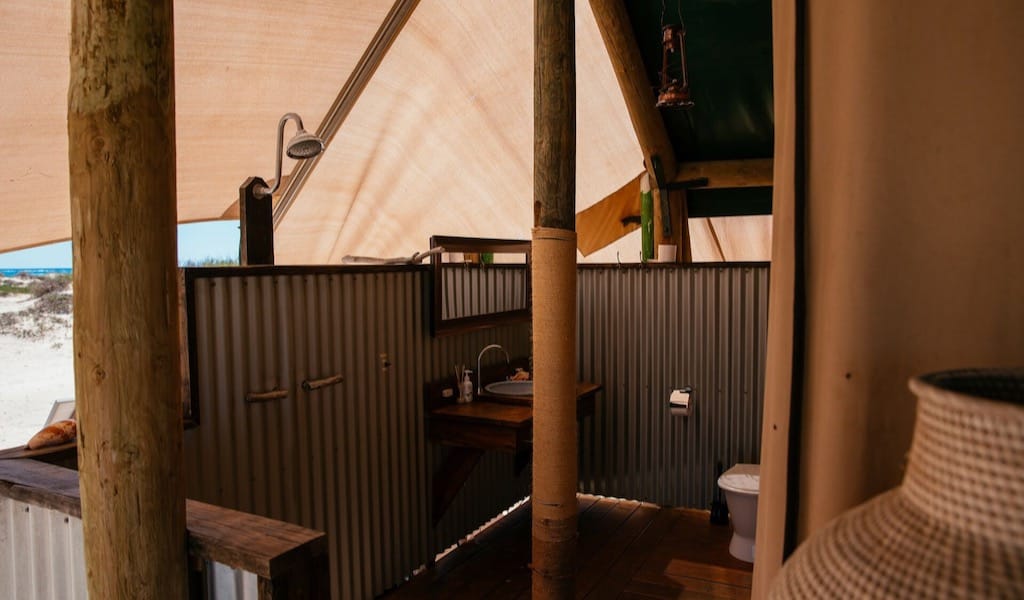 One of the luxury bush camp's biggest attractions is its access to the waters of Ningaloo Reef and the terrain of Cape Range National Park. The aim is to provide you with an exclusive, natural, and quintessentially Australian Outback experience. In fact, the sand dunes attract the kangaroos and wallaroos where they graze; making for wonderful views you will never get tired of.
Spend the day on an enriching and enchanting tour of Ningaloo Reef. This 280-km long underwater haven teems with marine life that can be found just below the surface. The reef is also known for being one of the best places on earth to swim with manta rays and whale sharks, as well as being a breeding area for loggerhead, hawksbill, and green turtles.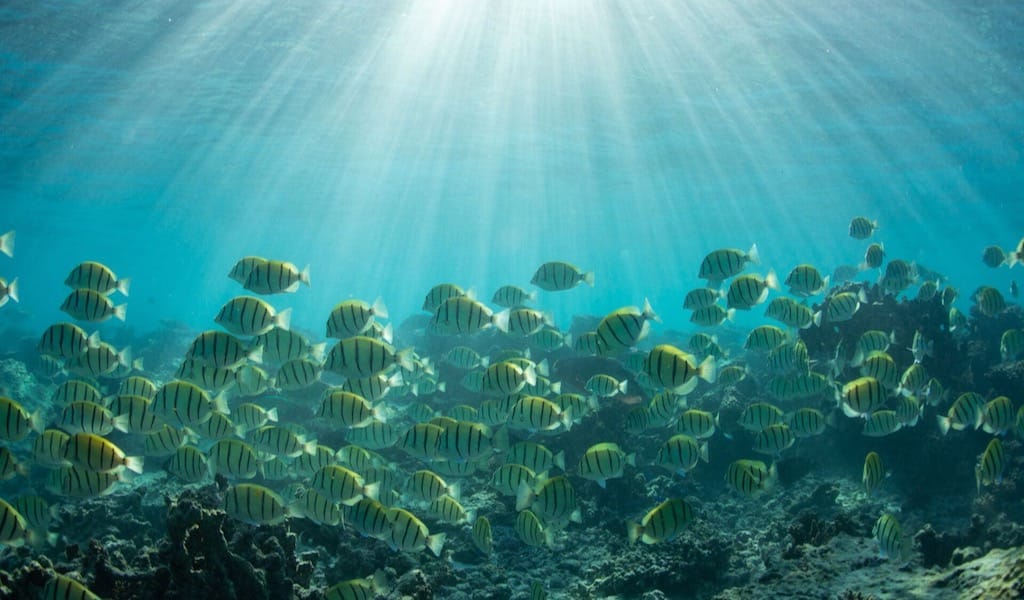 Don't want to get soaking wet? Stay partially dry and still see the colourful creatures of the sea on a kayak. Sal Salis guides will take you to secret spots on the reef where you can enjoy a parade of reef sharks, schools of fish, and coral formations. Back on land, you can explore the National Park by going on a guided walk at Mandu Mandu Gorge, wildlife and bird spotting adventures, or a boat ride up Yardie Creek to look for the Black-footed Rock Wallabies.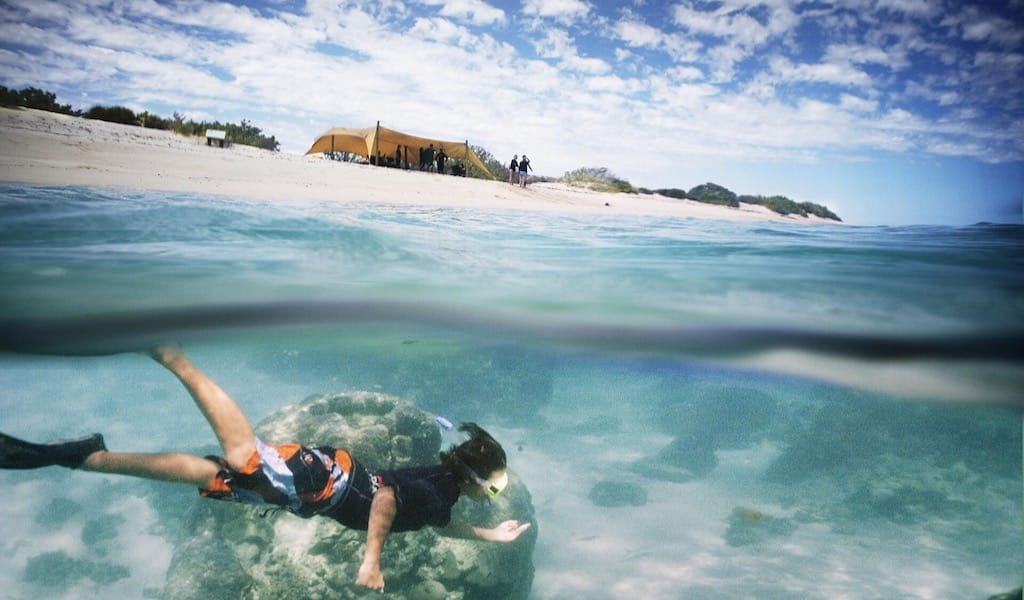 If you want to stay close to your camp, you will find sun lounges under shaded areas down by the beach. Or if you just want to laze around, head to Sal Salis' main lodge. Here, you can further relax in luxurious comfort. Pull out a book from the small library or continue where you left off from your own book. It also provides the perfect spot to get away from the heat or to wind down after a full day of activities.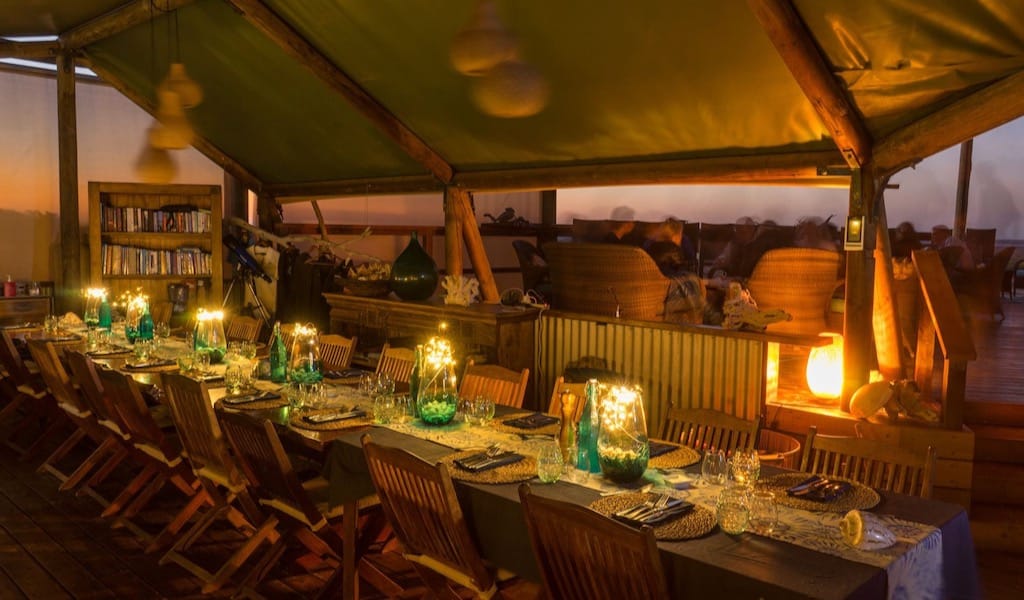 Come dinner time, feast on scrumptious Australian cuisine and just enough bush food to make you remember you are still in the outback. Meals include a 3-course dinner, a hot breakfast with a selection of freshly baked pastries, and a light lunch. You can help yourself to beverages, such as Australian wine and beers, from the self-service bar.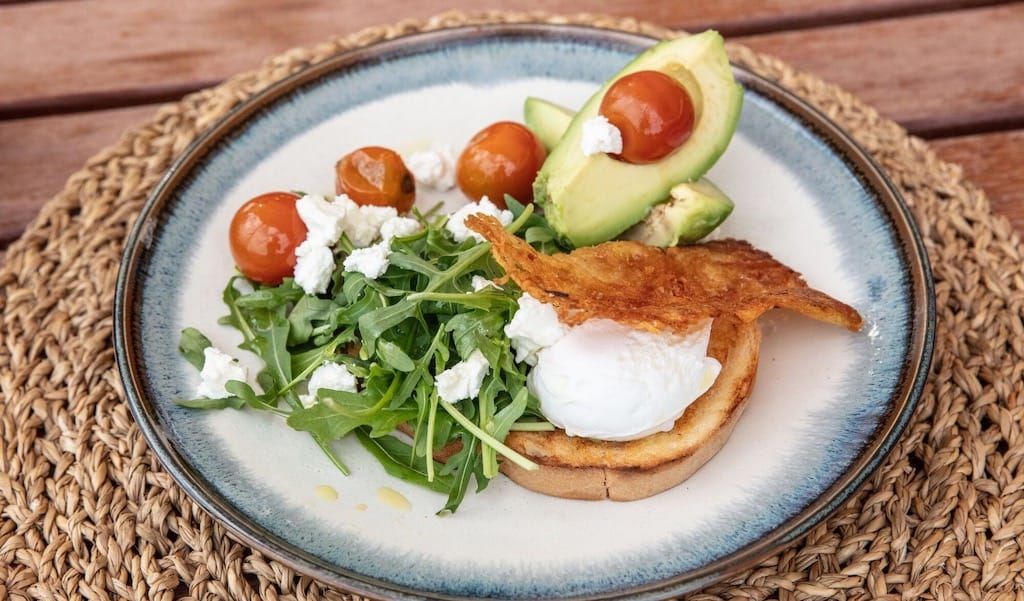 With all this on hand, it's easy to go on an Australian coastal adventure and enjoy the numerous outdoor activities in style. Here, you can spend days dining under the stars, walking through rugged terrain, and mingling with the wild animals that call this remarkable place home. And you know that when it's time to retreat to a relaxing and convenient space, Sal Salis Ningaloo Reef will more than meet your needs.
Find out more about Sal Salis Ningaloo Reef.
What's your luxury?
Luxury means different things to different people. Is your luxury a glamorous hotel in downtown Manhattan, a private island hideaway on the Great Barrier Reef, or a safari camp on the plains of the Serengeti? We'll help you find your perfect version of luxury in some of the world's most beautiful places.