It's a special feeling—having a beach all to yourself. If, like us, you also prefer secluded and intimate retreats, you'll love these secret beach escapes in Australia and New Zealand. Blessed with beautiful islands, coves, and bays, these neighbouring countries offer intimate getaways that let you enjoy seaside tranquillity well away from the crowds. We've curated luxurious getaways where you can enjoy not just private beach access but stylish accommodation too!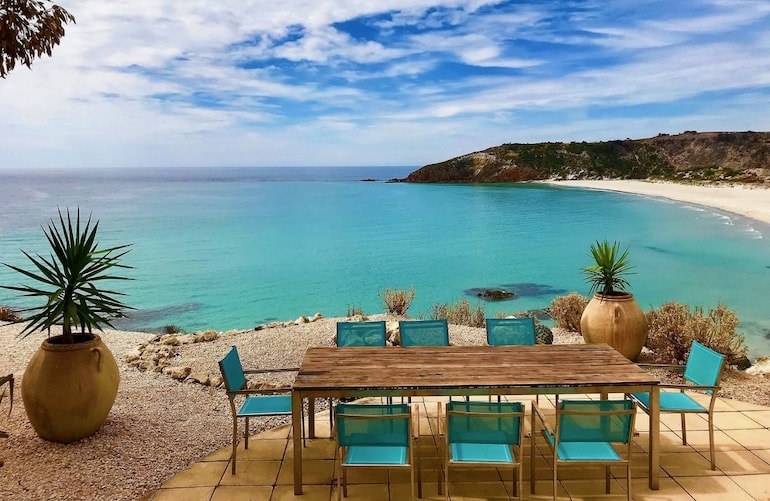 LifeTime Private Retreats, Kangaroo Island, SA
A wonderful spot where you can go surfing, swimming, and fishing, Snelling Beach is easily accessible from LifeTime Private Retreats. This cliffside getaway has only 4 luxury houses and villas set away from each other so you can enjoy maximum privacy while all being a short way away from the shoreline. Inside any of the houses and villas, you'll hear the surf-worthy waves crashing on the shore while you chill out on the terrace or balcony. The wilderness views are just stunning! The interiors are homely, inviting, and great for intimate getaways where you can disconnect and spend quality time with your special someone. From the shoreline or your villa, make sure to keep an eye out for dolphin pods that grace Snelling Beach!
---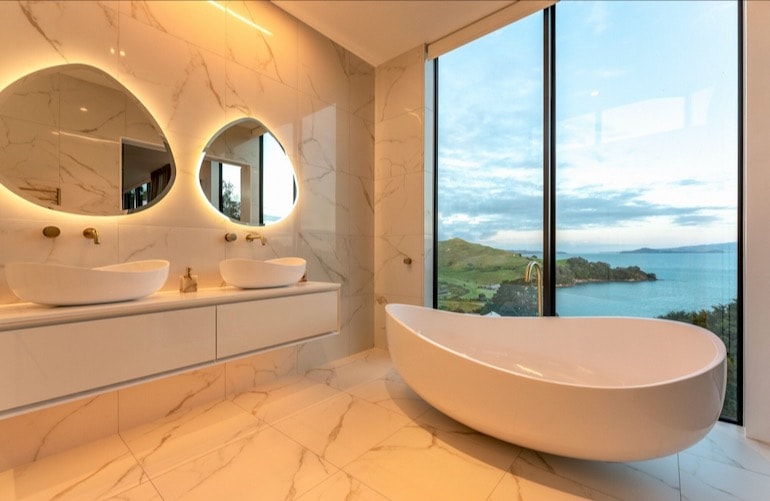 Omana Luxury Villas, Waiheke Island, NZ
One of Waiheke's hidden gems, Omana Luxury Villas exude style and luxury and we're all for it. When you book a stay at this intimate haven of relaxation, you get to enjoy light-filled rooms with panoramic views of the sea and forest. Its 4 self-service villas have spacious layouts, furnished decks, and gorgeous bathrooms with oversized baths. The little crescent-shaped private beach definitely lends a feel of having a world of your own as it's tucked in by the soft waves meeting the golden shoreline. If you're up for more exciting pursuits, snorkelling, biking and hiking are on the table—as well as premium wine and gin tasting. Oh, and this getaway is also only just a short ferry ride from Auckland!
---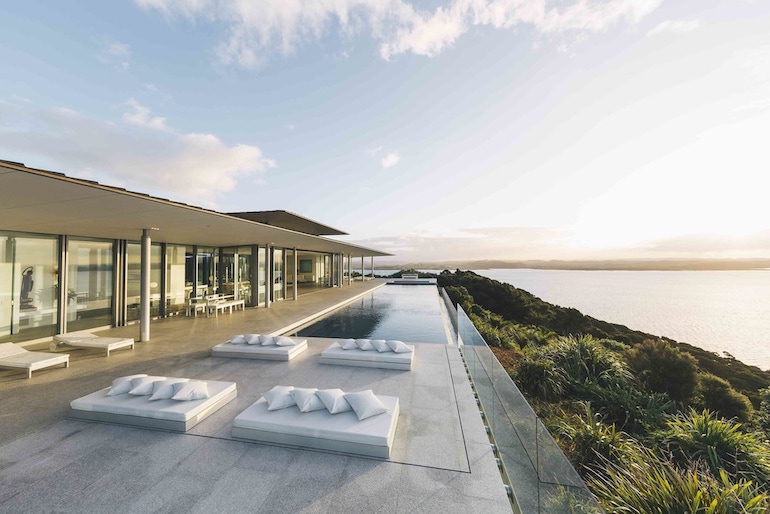 Eagles Nest, Bay of Islands, NZ
Ready to feel that main character energy in a super luxe escape? We have the perfect place for you: Eagles Nest on the North Island of NZ. Sleek, luxurious, modern, and stylish, it will definitely make you feel like the star of a movie! It has only 5 villas and all are equipped with modern amenities that leave nothing to be desired. Think Jacuzzis, fireplaces, heated private pools, gourmet kitchens, theatre systems, expansive viewing decks, and uber-spacious living areas that are all impeccably styled. Revel in amazing views of the Bay of Islands from one of the multi-award-winning villas or head on to the private beach where you can enjoy the calm and cool water on the shore.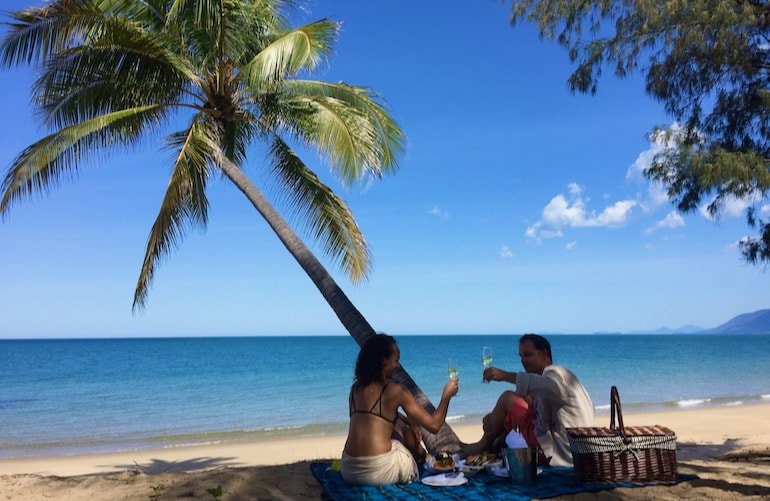 Thala Beach Nature Reserve, Oak Beach, QLD
Only 15 minutes off the south of Port Douglas, an eco-resort set within 145 acres of lush forests await. Near the secluded shoreline of Oak Beach, Thala Beach Nature Reserve is a boutique getaway nestled in trees with bungalows set on high stilts. An award-winning escape that will win any nature lover's heart, this private nature reserve invites you to let your worries melt away and be swept off your feet by the beauty of your surroundings. Choose from a range of complimentary tours such as the Coconut Odyssey, guided nature and garden walks, as well as bird and butterfly walks with an expert. If you prefer to just unwind, Thala Beach Nature Reserve's Oak Beach has approximately 2 kilometres of pristine sand lined with palm and sheoak trees. Sounds like the perfect setting for an idyllic beachside experience.
---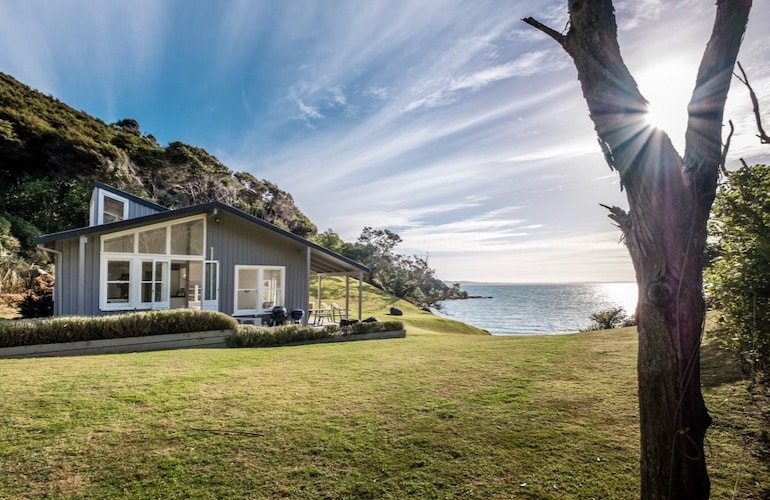 Circular Bay, Waiheke Island, NZ
Imagine having your own cottage by the bay for your next holiday… Circular Bay turns this into reality and gives you a private place to unwind and relax while having access to a private beach! This 3-bedroom family cottage is a stone's throw away from 800 metres of unspoilt coastline lined with Pohutukawa trees (such lovely red blooms!). Located on the eastern end of Waiheke Island, Circular Bay takes you away from your routine and allows you to enjoy an unhurried pace. This coastal escape is perfect for couples or families who prefer absolute privacy while having everything needed for an extended stay. The spacious cottage has a fully-equipped kitchen, a shared bathroom with a bath and shower, a living room, a gas barbeque, and a furnished outdoor deck.
---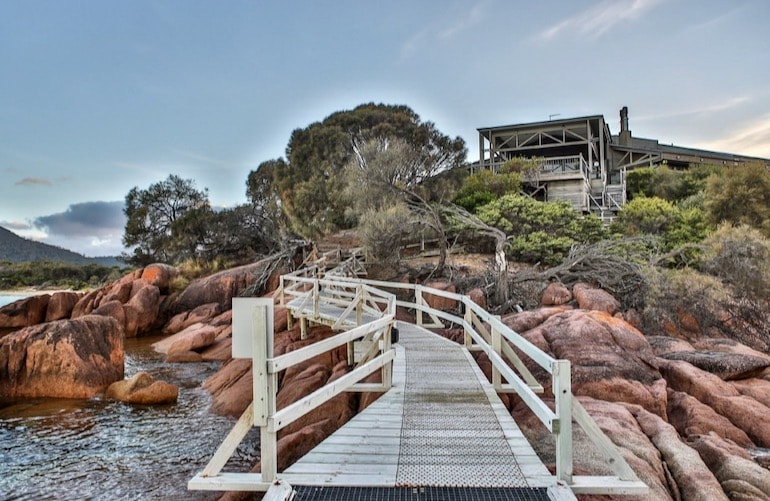 Freycinet Lodge, Coles Bay, TAS
Overlooking the Great Oyster Bay, Freycinet Lodge is an ecolodge set in the Freycinet National Park. A quiet escape on Tasmania's East Coast, this seaside hideaway not only spoils you with ocean views but has the mountains and bushlands as its backdrop too! Freycinet Lodge has a range of cabins and pavilions, making it a great choice whether you're travelling solo or with your loved ones. On-site, there's a bistro, bar, and restaurant serving the freshest seafood and Tasmanian cuisine. There are plenty of spots to take it slow and enjoy your quiet time away—whether it's by the beach or in the cosy comfort of your cabin.
---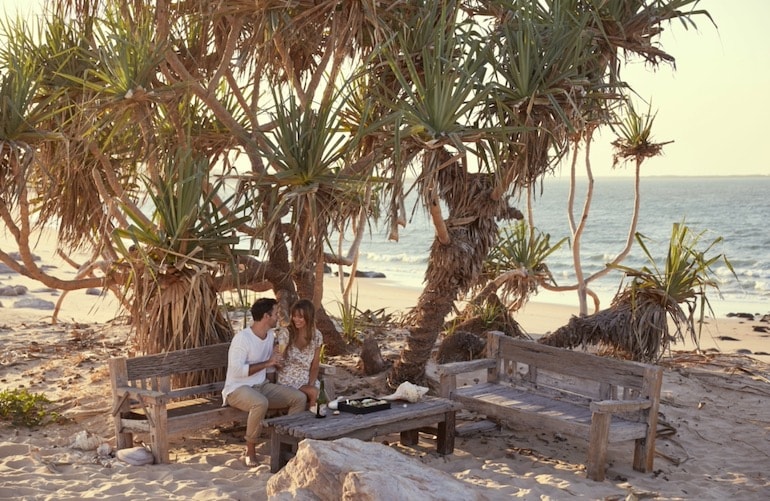 The Berkeley River Lodge, Kimberley Coast, WA
One of the most remote getaways, The Berkeley River Lodge is only accessible via air or sea travel. This secluded all-inclusive escape on the Kimberley Coast has only 20 villas with freestanding outdoor bathtubs and furnished balconies, an outdoor pool, and an on-site restaurant with views of the Timor Sea. Only the guests have access to the long stretch of golden coastline, just a short walk away from the villas. During your stay, you can also go on helicopter tours, river cruising and fishing, nature walks, and 4WD adventures.
---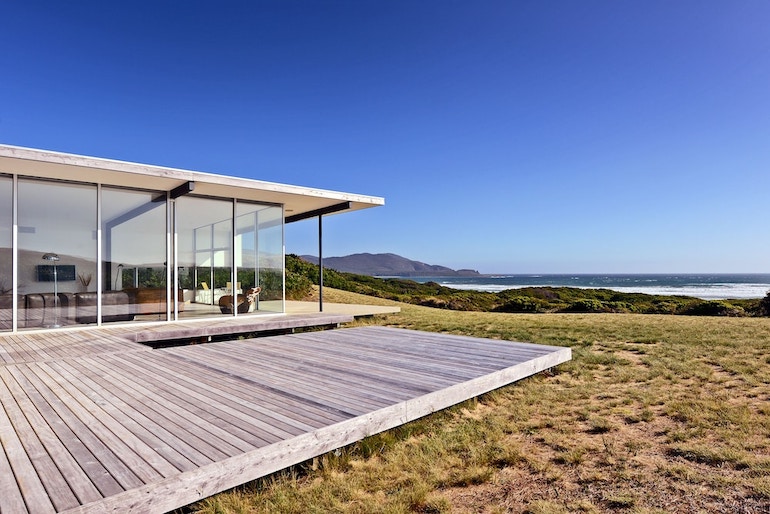 Cloudy Bay Beach House, South Bruny, TAS
Located on Bruny Island's Southern end, Cloudy Bay Beach House is a secluded and award-winning luxury home with private beach access. The spacious modern home can accommodate up to 6 guests, has a large living space, three bedrooms with en suite bathrooms, and a north-facing deck perfect for drinks and barbecue nights. There's also a private deck from the master bedroom for when you want a more intimate space to enjoy the view. With no neighbouring infrastructures nearby, you're sure to have the coastline to yourself at this luxurious and remote escape.
---
If you loved our curation of private beach escapes, you'll definitely enjoy our full collection of amazing getaways at viewretreats.com
Image credit: Circular Bay
What's your luxury?
Luxury means different things to different people. Is your luxury a glamorous hotel in downtown Manhattan, a private island hideaway on the Great Barrier Reef, or a safari camp on the plains of the Serengeti? We'll help you find your perfect version of luxury in some of the world's most beautiful places.