Secluded beaches, untouched wilderness, and majestic snow-capped mountains – New Zealand promises the perfect backdrop for a romantic getaway. If you're planning a holiday or weekend escape with your significant other, we've handpicked a collection of the top romantic getaways in New Zealand. Boasting magnificent views, relaxing spa baths, cosy fireplaces and plenty of privacy, these idyllic properties offer all the ingredients for an amazing romantic getaway.
---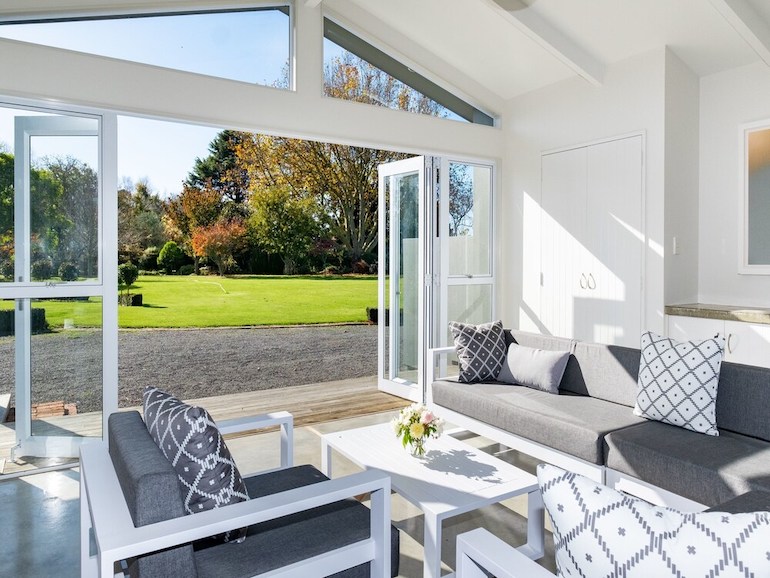 14. Amuri Villas, Napier, North Island
Breathe in the fresh air at Amuri Villas, a property boasting 3 self-contained villas on 2 acres of beautifully landscaped grounds with plenty of trees and flower gardens. For couples, we suggest The Loft which is the cosiest of the three villas on-site and has a bathtub in the private detached bathroom. If you want more space though, Amuri Villas 1 and 2 offer more living areas, with Amuri Villa 1 coming equipped with a deep soaking bathtub. All of the villas come with a furnished patio and relaxing garden views. Amuri Villas is only a 10-minute drive from Napier, Havelock North, and Te Awanga, and a 20-minute drive from Napier Airport.
---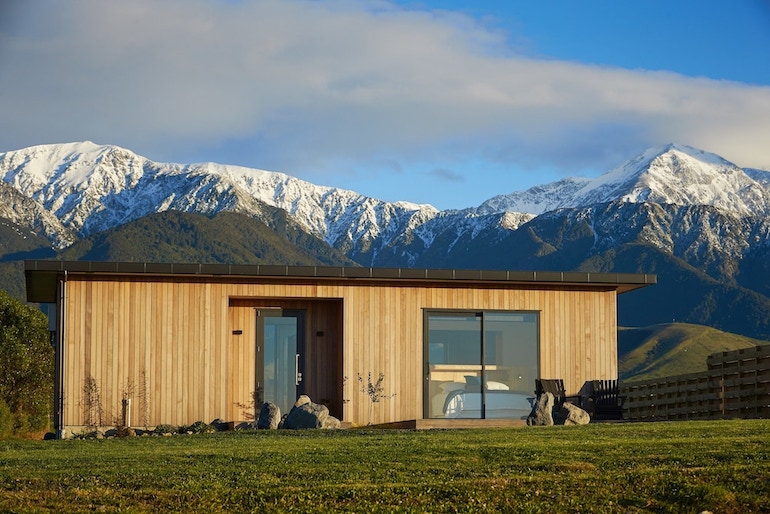 13. Glenburn Coastal Retreat, Canterbury, South Island
Set on vast, verdant farmland overlooking the dazzling Kaikoura Coast, just 7 km from Kaikoura Township, Glenburn Coastal Retreat offers luxuriously appointed self-contained suites featuring contemporary design style. You can relax out on the furnished deck, in the living room by the cosy fire, or in the deep soaking tub as you enjoy views tranquil mountain views. The suites come equipped with a full kitchen and a Weber gas BBQ if you feel like going for a date night grill session. Don't feel like cooking? Kaikōura Eats is just a phone call away.
---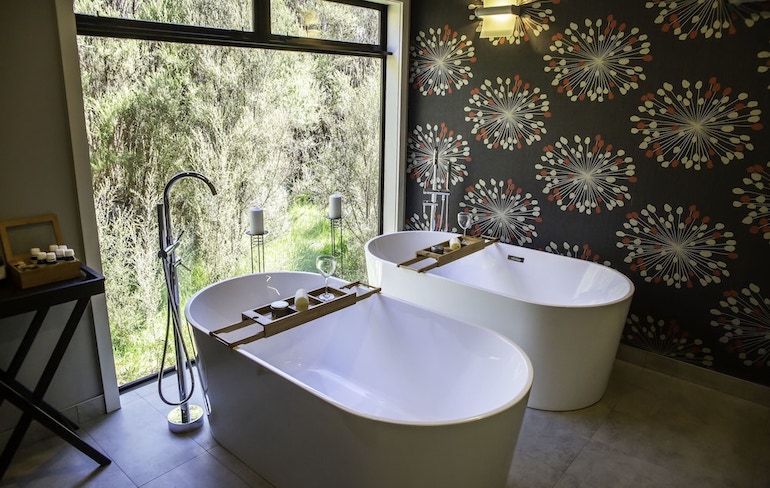 12. Night Sky Cottage, Ohakune, North Island
Night Sky Cottage is a luxury couples' accommodation set amongst a hectare of protected Manuka and native beech trees. Both cottages at this getaway have stunning views of the Ben Ohau Range and the captivating night sky views of the Aoraki Mackenzie International Dark Sky Reserve. This romantic eco-retreat in Ohakune connects you to nature with boardwalks through the bush, large picture windows and skylights so you can cuddle under the stars. If you're in luck, you might even catch the Aurora Australis! This romantic getaway in NZ is just 2.5 km from Twizel Village and is set in the heart of Canterbury's Mackenzie Country.
---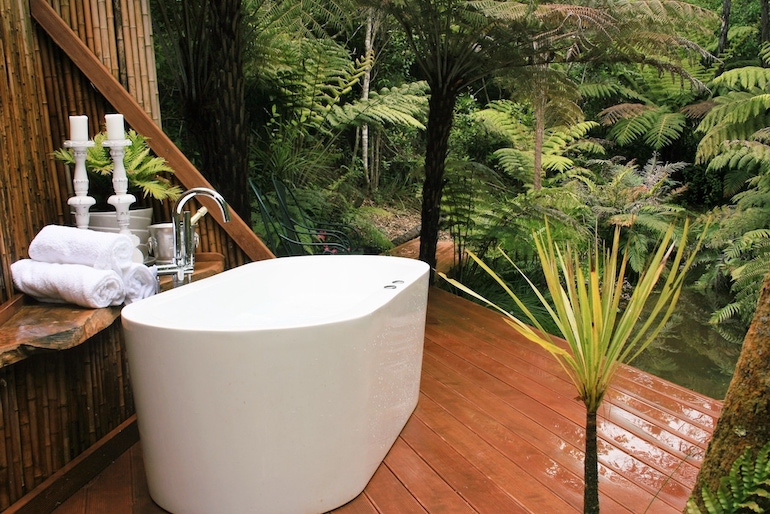 11. Warblers Retreat, Albany (Auckland), North Island
Escape the city crowds with a stay at the gorgeous Warblers Retreat, a luxurious nature-based retreat just outside of Auckland. If you're looking for an intimate place where you can have total seclusion, you're going to love this hidden gem. Created with couples in mind and surrounded by lush vegetation, you'll instantly feel relaxed the moment you arrive. For a chance to reconnect not just with each other but with nature too, we suggest booking the Romantic Cottage where an outdoor bath lets you have a relaxing soak in the forest's embrace. If you prefer a more modern hideaway after experiencing the Romantic Cottage, Keruru Studio suite offers apartment-style accommodations for your future romantic getaways in New Zealand.
---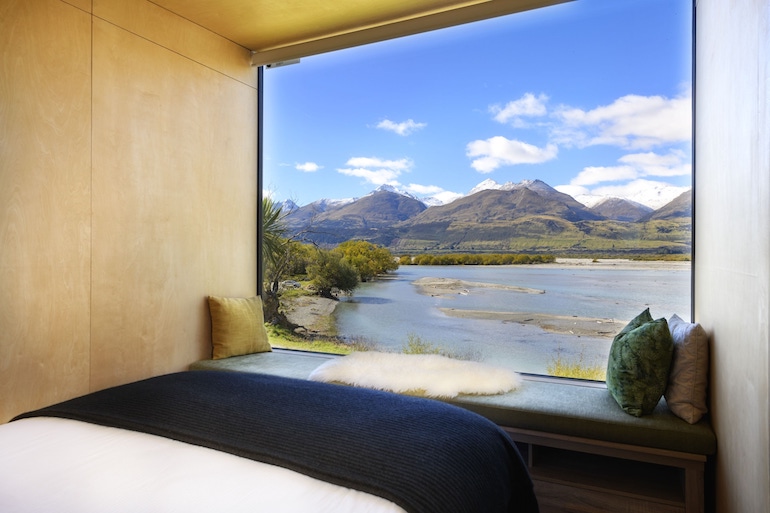 10. EcoScapes, Kinloch, South Island
If you and your special someone are looking for an eco-friendly escape, EcoScapes in Kinloch is an excellent choice. This luxury lakefront accommodation features self-contained low-energy pods that will spoil you with serene views of the Southern Alps and Lake Wakatipu. Offering only 2 private pods, privacy and intimacy are guaranteed. Each pod has an ensuite bathroom, an in-room projector for movie-like date nights, and a verandah with outdoor furniture so you can drink in the majestic nature views. Sustainably designed, the pods offer guests shared access to the outdoor hot tub, and are just an hour away from Queenstown.
---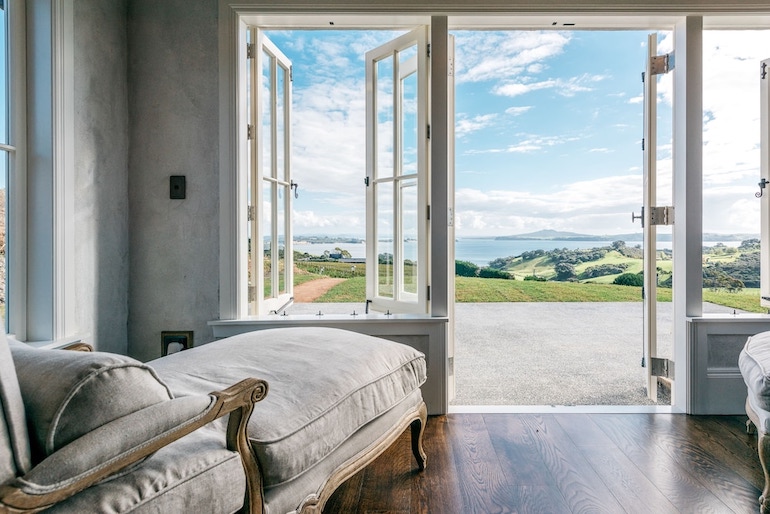 9. Mudbrick Cottages, Waiheke Island, North Island
Boasting a romantic fairytale vibe, the gorgeous Mudbrick Cottages are nestled within the iconic Mudbrick vineyard on Waiheke Island. From crystal chandeliers to plush beddings and cushioned headboards, you'll feel as if you've stepped back in time to when things were simpler. Both cottages offer king-sized beds, a bathroom, a kitchenette, a gas BBQ, and washing facilities if you intend on having a longer stay. Oh, and there's a private spa pool too! Here you can enjoy plenty of privacy whilst taking in the spectacular panoramic views of the ocean and the vines while just being a 3-minute taxi ride away from Matiatia Ferry Terminal or 20 minutes if you're driving your car from Kennedy Point Ferry Terminal.
---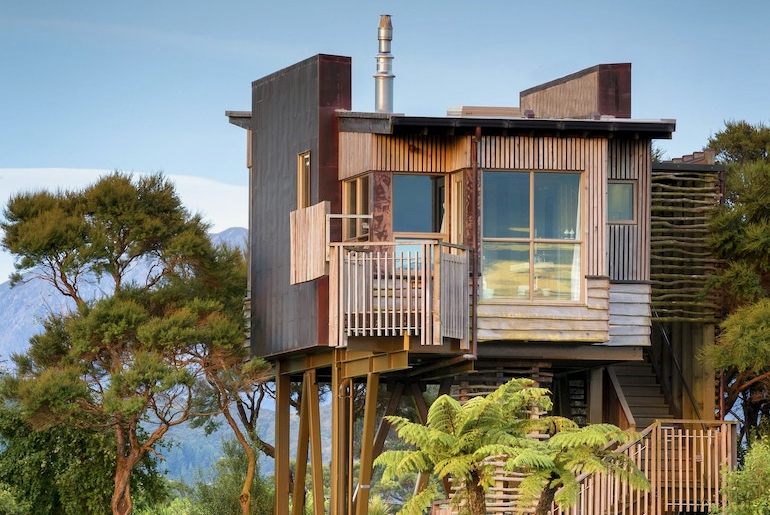 8. Hapuku Lodge & Tree Houses, Canterbury, South Island
In a rural area between the Kaikoura mountains and the Pacific Ocean, Hapuku Lodge & Tree Houses is a modern, country-style hotel nestled on a deer breeding farm in Canterbury set on the foot of the Kaikoura Seaward Mountain Range. Featuring a distinct and cosy design, this luxurious accommodation offers 12 individually furnished guestrooms complete with intimate indoor and outdoor facilities, allowing its guests to explore the beautiful landscape. During your stay, explore the local flavours at the Lodge where you can watch as your food is prepared and feel nourished with ingredients harvested fresh from the garden.
Find your perfect holiday in New Zealand
Discover over 225 handpicked hotels, resorts & private villas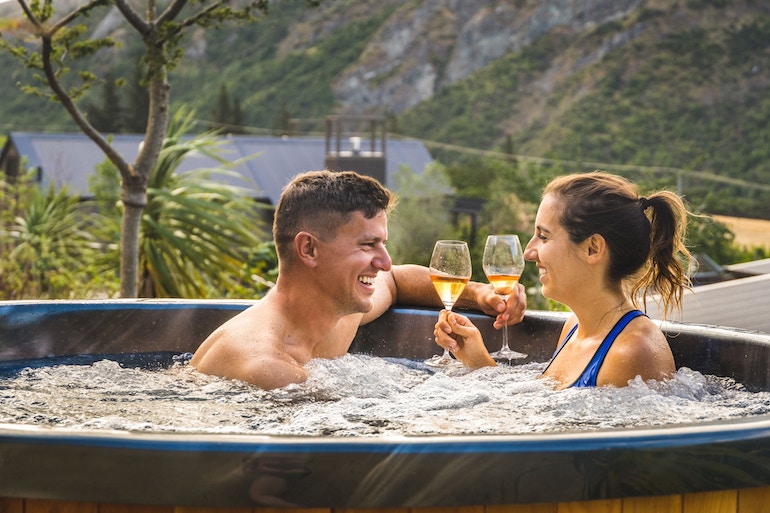 7. Gibbston Valley Lodge & Spa, Otago, South Island
Nestled in a pinot noir vineyard, Gibbston Valley Lodge & Spa has 24 villas where you can rest and recharge. Each villa has heated bathroom floors, a bathtub, and a covered deck with a dining area where you can enjoy the afternoon sun or a selection of Gibbston Valley wines. Out of the many amazing romantic getaways in New Zealand, Gibbston Valley Lodge and Spa is home to New Zealand's Best Resort Spa of 2023, where you can experience a wide array of relaxing therapies. Our favourite though is the special "vinotherapy" treatments. How unique and indulgent! For a full sensory experience, be sure to try the delectable offers at The Lodge Restaurant and the Private Wine Cellar too.
---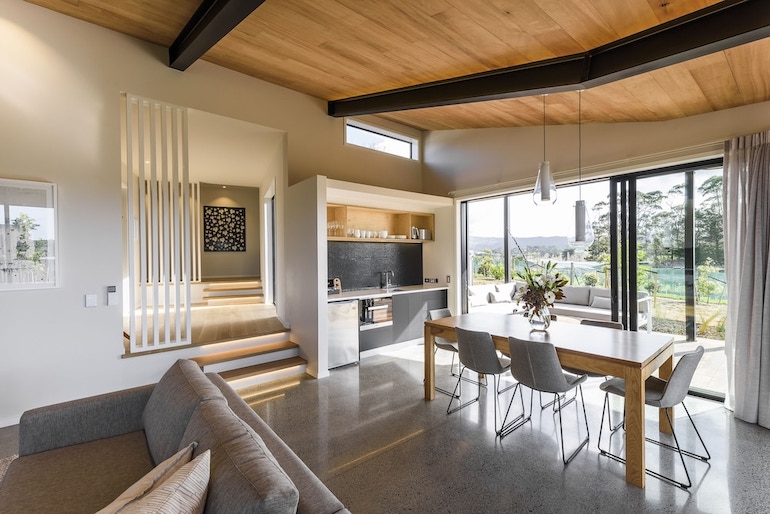 6. Plume Villas, Auckland, North Island
Set in lush, manicured gardens an hour from Auckland, Plume Villas is a tranquil vineyard retreat comprising 12 private villas, a cellar door, and a world-class restaurant and cafe, all designed to deliver an exceptional romantic escape with a laid-back country style. All villas are equipped with king-sized beds and indulgent ensuite bathrooms with heated floors. Basic kitchen amenities are available too if you'd like to fix yourself a quick snack. Featured above is the luxurious Kiwi Suite which has a spacious furnished deck and 3 bedrooms. For your romantic getaway, one of the 1-bedroom Tui Suites or Deluxe Villas have more intimate spaces with the same modern amenities. This boutique luxury getaway also features an outdoor seasonal pool, is just a short drive away from Matakana and Warkworth, and just an hour away from Auckland.
---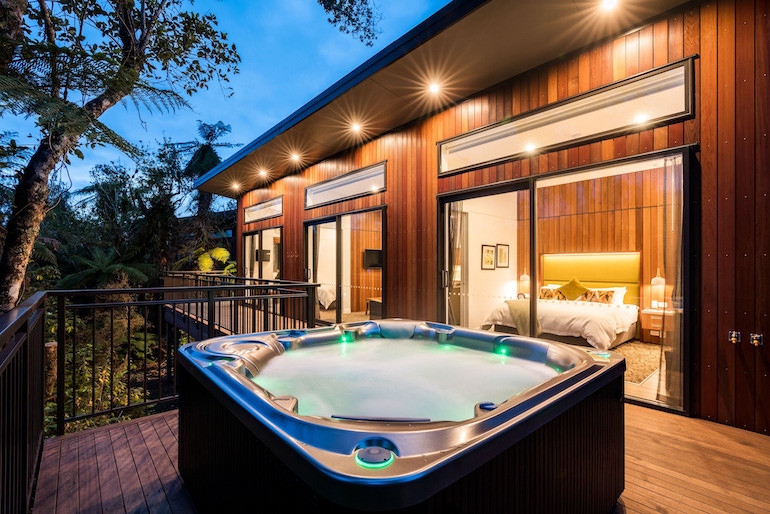 5. Rainforest Deluxe, Franz Josef Glacier, South Island
If romantic getaways in New Zealand make you and your special someone think of mountainside stays, imagine this… Crisp alpine air and soft sunlight through the forest canopy. A perfect scene for your intimate getaway, right? Rainforest Deluxe set on the Franz Josef Glacier in Westland Tai Poutini National Park lets you enjoy the lush surroundings as you take a dip in your private outdoor Jacuzzi. Offering only 19 guest spaces, you'll enjoy an exclusive atmosphere at this alpine stay. Supremely spacious and plush inside, you can relax in your king bed or sofa while enjoying the comforts of a modern home. Enjoy a full kitchen, a separate private shower, dining and lounge areas and a comfy king bed.
---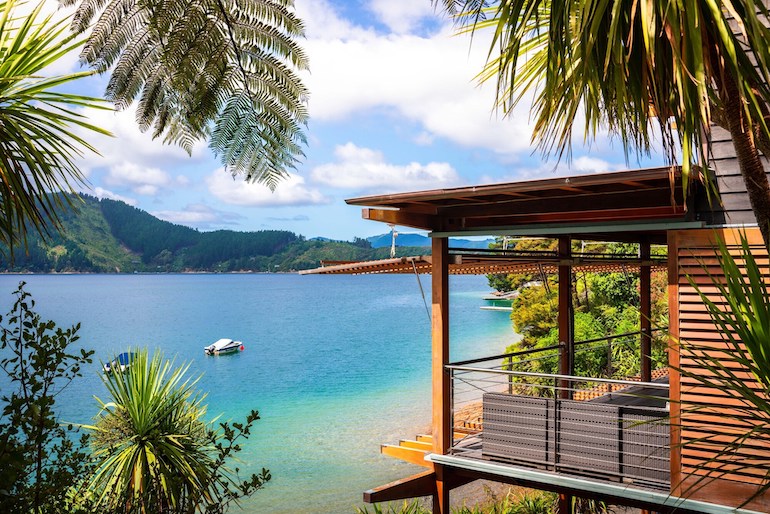 4. Bay of Many Coves, Marlborough, South Island
Set in a secluded bay in the Marlborough Sounds near Picton, Bay of Many Coves gives you a luxurious escape with exceptional accommodation and services. The suites and apartments perched atop the peak of NZ's South Island exude a warmth brought by the timber ceilings and floors, and are accentuated with stylish modern furniture. Whether you arrive by road or boat, their 1- or 3-bedroom suites will immediately make you feel relaxed and comfortable. On-site you can choose from 3 dining spots; The Foredeck, The Kumatage, and The Quarterdeck—all in stunning settings to add that romantic mood to your dining experience.
---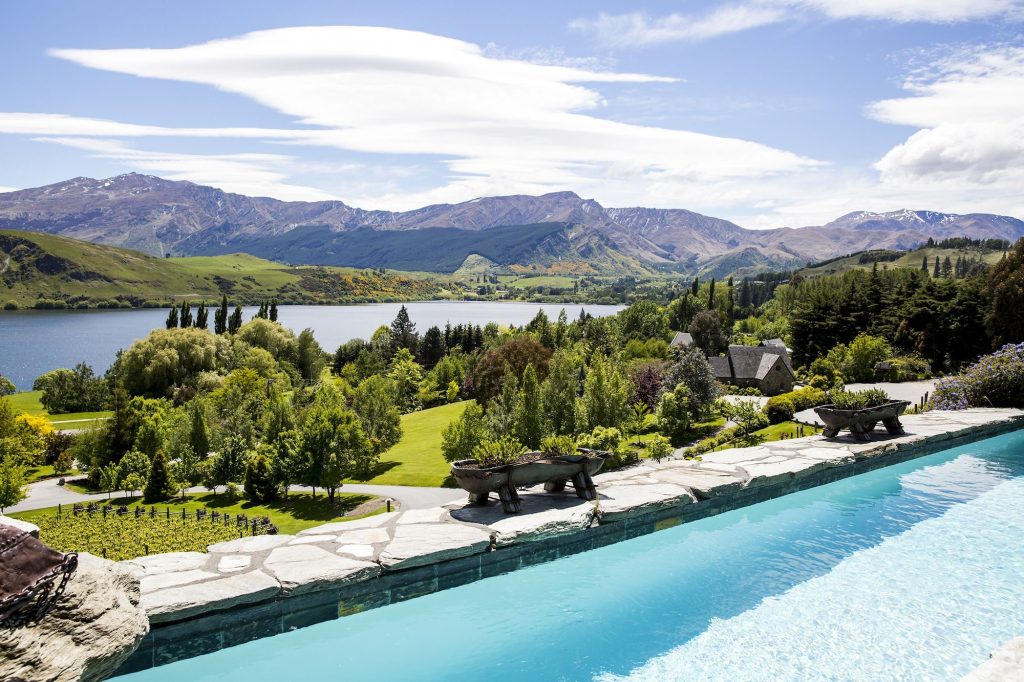 3. Stoneridge Estate, Otago, South Island
Nestled on the shores of Lake Hayes amidst acres of sprawling gardens and vines, Stoneridge Estate is a luxury lodge boasting sublime scenery coupled with five-star facilities and personalised service. Make yourself at home in one of the 3 spacious suites with private balconies that offer awe-inspiring lake and mountain views. Featured above is the outdoor pool of "The Retreat" overlooking landscaped gardens and Lake Hayes. Complete with a host of lavish amenities, this getaway's choice of 3 accommodations promises a remarkable & memorable experience.
---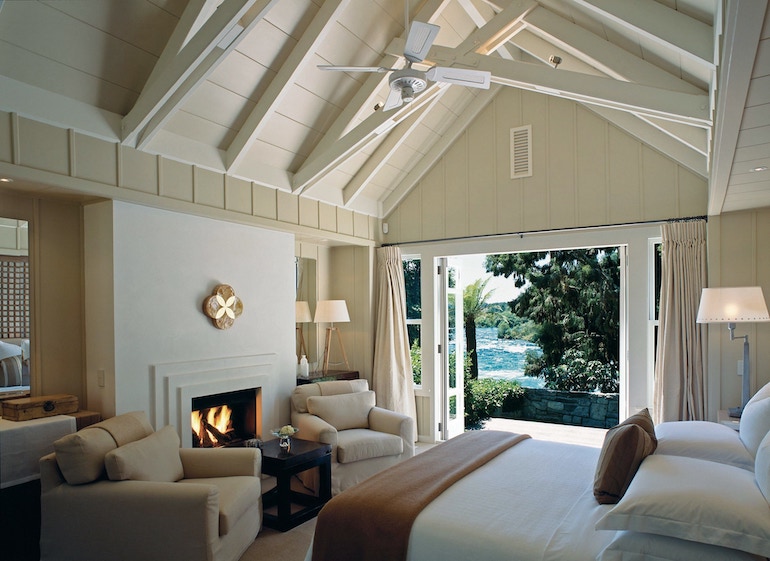 2. Huka Lodge, Wairakei, North Island
Set on 17 acres of countryside on the banks of the Waikato River, Huka Lodge in Taupo is a luxurious lodge just a 10-minute walk from Huka Falls. Find peace and tranquillity in the sound of flowing water as you unwind in one of 25 elegant guestrooms, complete with lounges and private patios looking over serene river views. During your romantic getaway, treat yourself to the well-appointed amenities including an outdoor swimming pool, tennis court, and an exquisite wine cellar. Dining can be enjoyed in the privacy of your guestroom or various dining areas dotted all over the property's carefully curated surrounds. Every meal will have that special first date feel!
---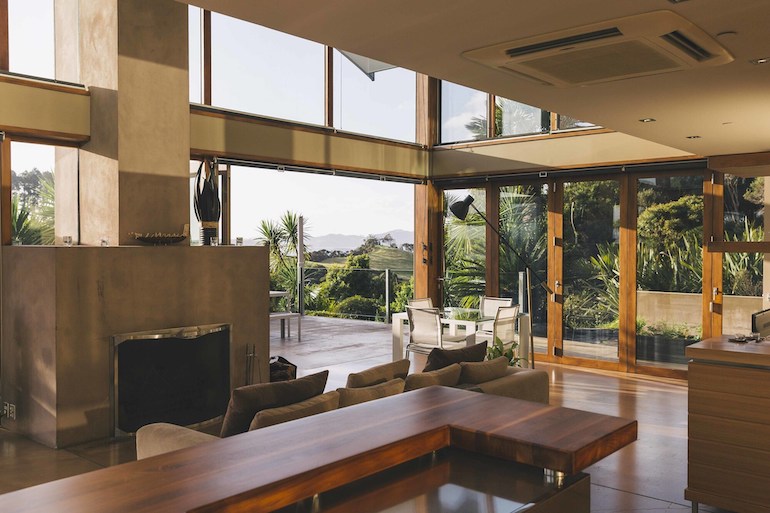 1. First Light Villa @ Eagles Nest, Russell, North Island
Sat atop a private peninsula overlooking New Zealand's Bay of Islands with magnificent views of sea and landscapes, First Light Villa at Eagles Nest in Russell, is the perfect idyllic escape for two. There are two fireplaces—indoor and outdoor, an outdoor private spa tub in the garden, an en-suite bathroom, and a full kitchen which makes it great for even longer stays. The mezzanine bedroom will greet you with morning sunshine streaming through the skylight, allowing the villa to live up to its name. Relax in the living room while enjoying the views, or go for the ultimate pampering experience by calling for an in-room massage. Eagles Nest's villas are regarded as some of the most luxurious romantic getaways in New Zealand and are perfect for celebrating anniversaries and milestone occassions.
---
Looking for travel inspiration and more romantic getaways in New Zealand? View our entire collection of luxury accommodation in NZ.
Image credit: Gibbston Valley Lodge & Spa
What's your luxury?
Luxury means different things to different people. Is your luxury a glamorous hotel in downtown Manhattan, a private island hideaway on the Great Barrier Reef, or a safari camp on the plains of the Serengeti? We'll help you find your perfect version of luxury in some of the world's most beautiful places.