Secluded beaches, untouched wilderness, and majestic snow-capped mountains – New Zealand promises the perfect backdrop for a romantic getaway. If you're planning a holiday or weekend escape with your significant other, we've handpicked a collection of the top romantic getaways in New Zealand. Boasting magnificent views, relaxing spa baths, cosy fireplaces and plenty of privacy, these idyllic properties offer all the ingredients for an amazing romantic getaway.
---
---
---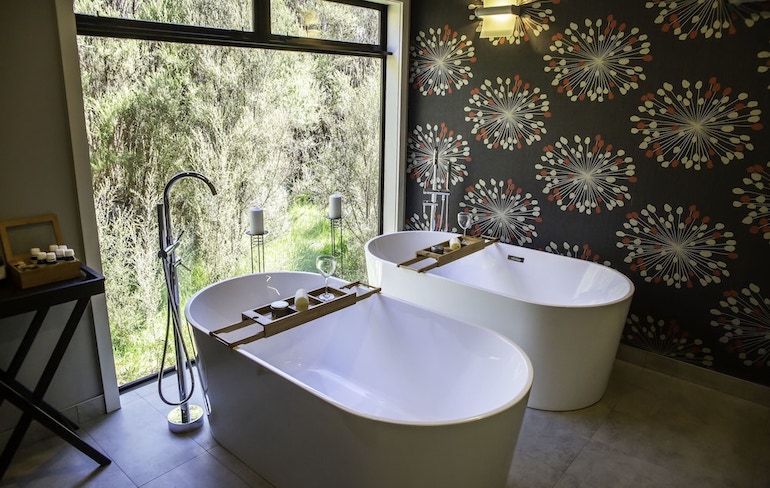 12. Night Sky Cottage, Ohakune, North Island
Night Sky Cottage is a luxury couples accommodation set amongst 1-hectare of protected Manuka and native beech trees. This romantic eco-retreat in Ohakune connects you to nature with boardwalks through the bush, large picture windows and skylights so you can cuddle under the stars.
---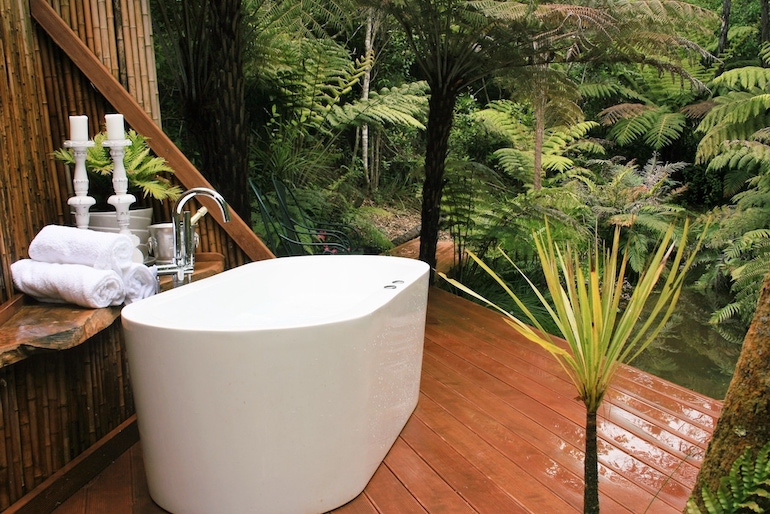 11. Warblers Retreat, Albany (Auckland), North Island
Escape the city crowds with a stay at the gorgeous Warblers Retreat, a luxurious nature-based retreat just outside of Auckland. Created with couples in mind and surrounded by lush vegetation, you'll instantly feel relaxed the moment you arrive.
---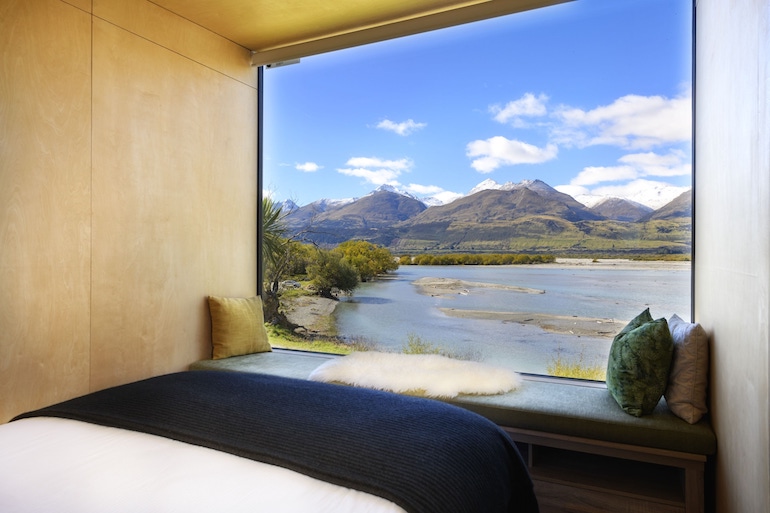 10. EcoScapes, Kinloch, South Island
The view says good morning to you! Wake up to a picture window with magnificent views of the Southern Alps and Lake Wakatipu. The luxurious self-contained pods of EcoScapes in Kinloch are just an hour away from Queenstown. Sustainably designed, the pods boast a sleek modern design and shared access to the outdoor hot tub.
---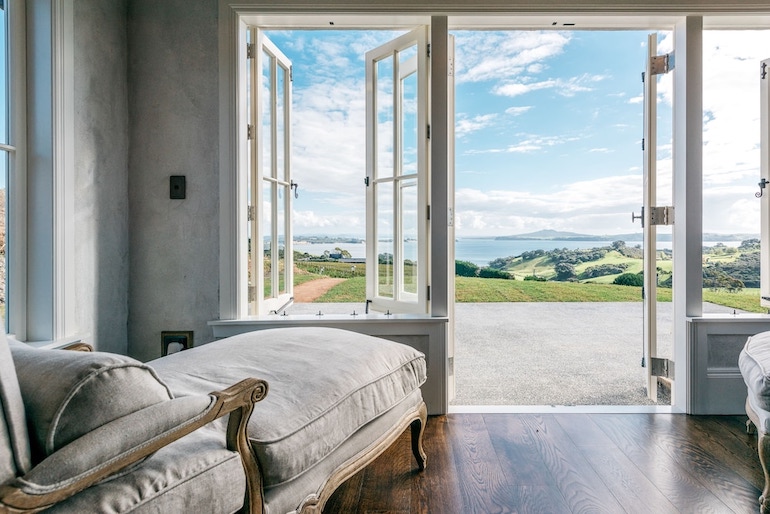 9. Mudbrick Cottages, Waiheke Island, North Island
Boasting a romantic fairytale vibe, the gorgeous Mudbrick Cottages are nestled within the iconic Mudbrick vineyard on Waiheke Island. Here you can enjoy plenty of privacy whilst taking in the spectacular panoramic views of the ocean and the vines.
---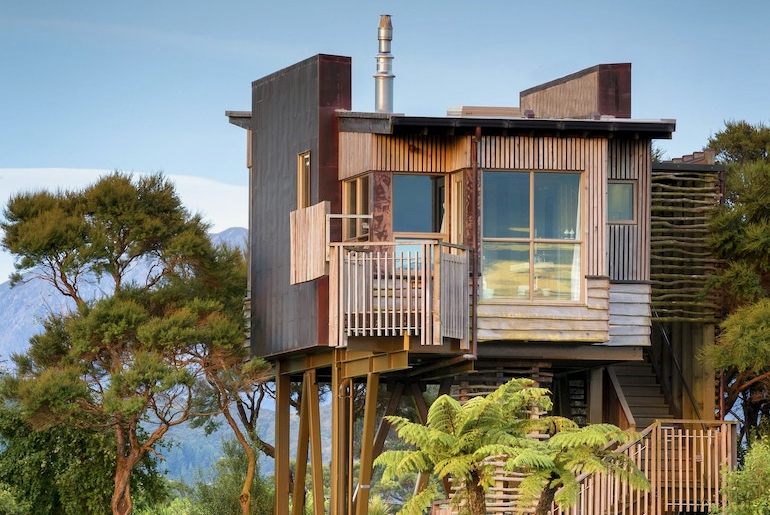 8. Hapuku Lodge & Tree Houses, Canterbury, South Island
In a rural area between the Kaikoura mountains and the Pacific Ocean, Hapuku Lodge & Tree Houses is a modern, country-style hotel nestled on a deer breeding farm in Canterbury. Featuring a distinct and cosy design, this luxurious accommodation offers 12 individually furnished guestrooms complete with intimate indoor and outdoor facilities, allowing its guests to explore the beautiful landscape.
Find your perfect holiday in New Zealand
Discover over 225 handpicked hotels, resorts & private villas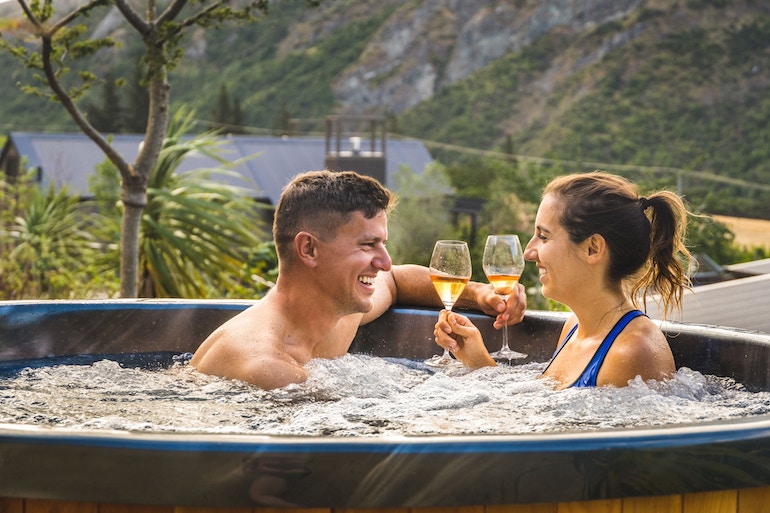 7. Gibbston Valley Lodge & Spa, Otago, South Island
Nestled in a pinot noir vineyard, Gibbston Valley Lodge & Spa has 24 villas where you can rest and recharge. Each villa has heated bathroom floors, a bathtub, and a covered deck with a dining area where you can enjoy the afternoon sun or a selection of Gibbston Valley wines. Did we say they have special "vinotherapy" treatments in the spa? How indulgent!
---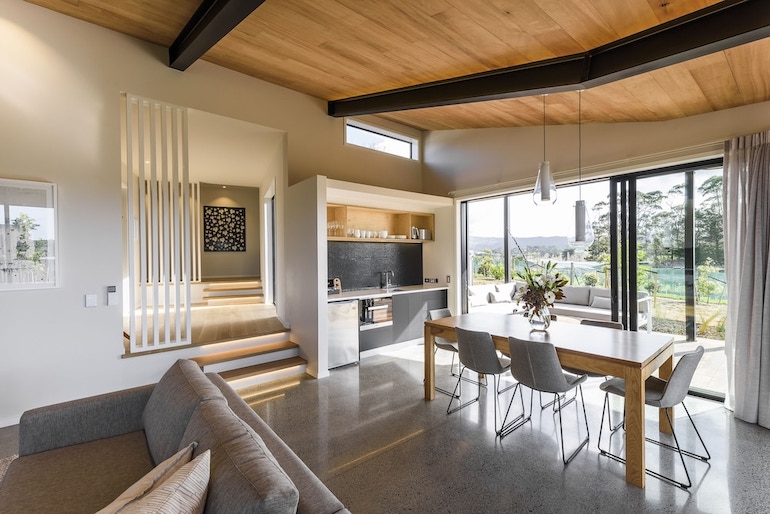 6. Plume Villas, Auckland, North Island
Set in lush, manicured gardens an hour from Auckland, Plume Villas is a tranquil vineyard retreat comprising of 12 private villas, a cellar door, and a world-class restaurant, all designed to deliver an exceptional romantic escape with laid-back country style.
---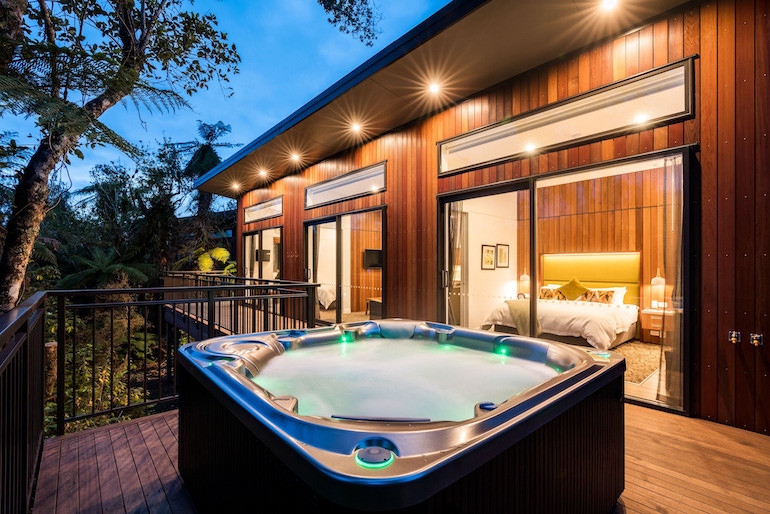 5. Rainforest Deluxe, Franz Josef Glacier, South Island
Crisp alpine air and soft sunlight through the forest canopy. A perfect scene for a romantic getaway, right? Rainforest Deluxe lets you enjoy the lush surroundings as you take a dip in your private outdoor Jacuzzi. Supremely spacious and plush inside, you can relax in your king bed or sofa while enjoying the comforts of a modern home.
---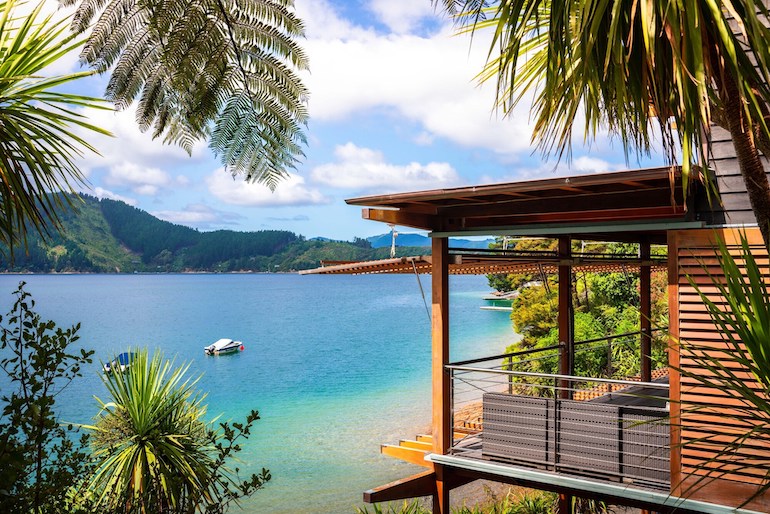 4. Bay of Many Coves, Marlborough, South Island
Set in a secluded bay in the Marlborough Sounds, Bay of Many Coves gives you a luxurious escape with exceptional accommodation and services. The suites and apartments have a warmth brought by the timber ceilings and floors, and are accentuated with stylish modern furniture. Whether you arrive by road or boat, their 1- or 3-bedroom suites will immediately make you feel relaxed and comfortable.
---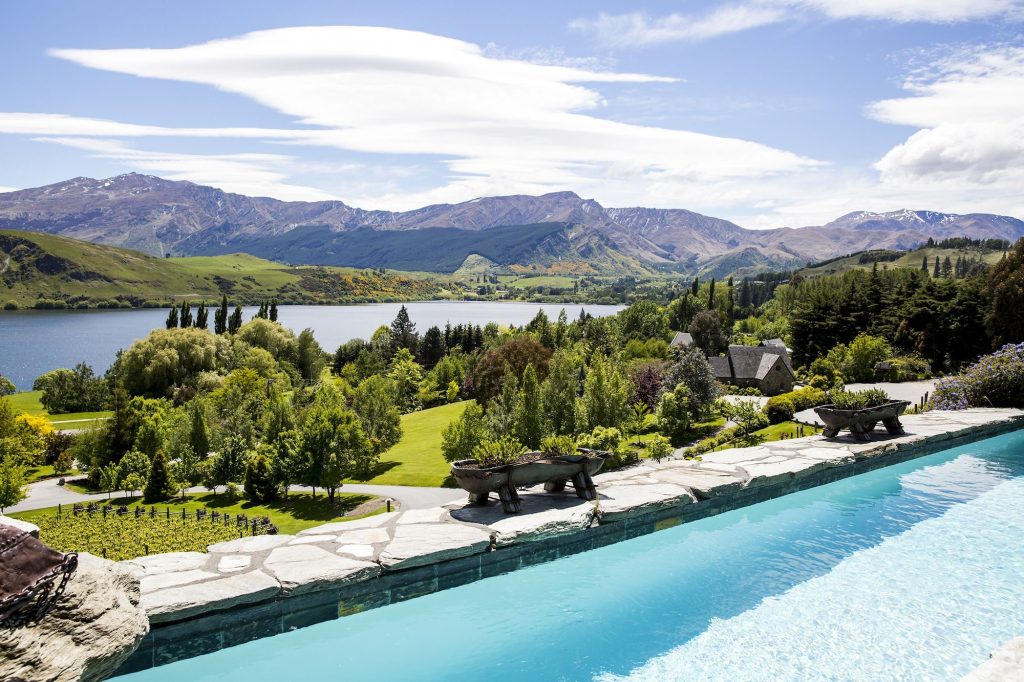 3. Stoneridge Estate, Otago, South Island
Nestled on the shores of Lake Hayes amidst acres of sprawling gardens and vines, Stoneridge Estate is a luxury lodge boasting sublime scenery coupled with five-star facilities and personalised service. Make yourself at home in one of the 4 spacious suites with private balconies that offer awe-inspiring lake and mountain views. Complete with a host of lavish amenities, this lodge promises a remarkable & memorable experience.
---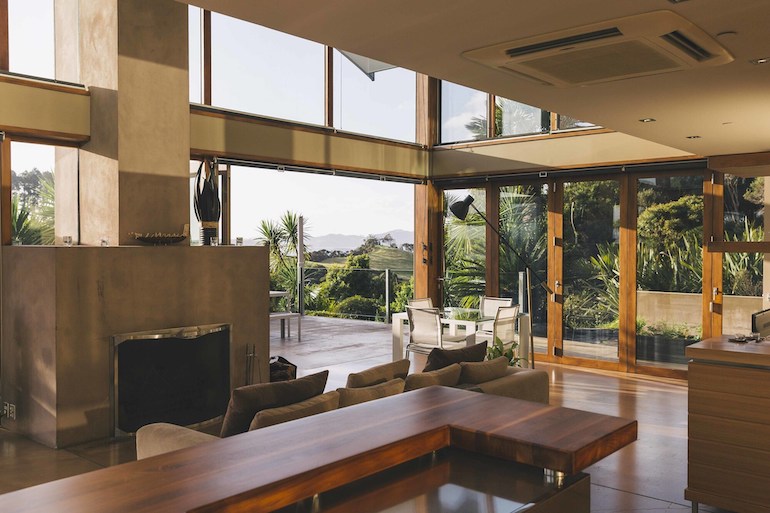 2. First Light Villa @ Eagles Nest, Russell, North Island
Sat atop a private peninsula overlooking New Zealand's Bay of Islands with magnificent views of sea and landscapes, First Light Villa at Eagles Nest in Russell, is the perfect idyllic escape for two. There are two fireplaces – indoor and outdoor, an outdoor spa tub in the garden, an en-suite bathroom, and a full kitchen which makes it great for even longer stays. The mezzanine bedroom will greet you with morning sunshine streaming through the skylight, allowing the villa to live up to its name.
---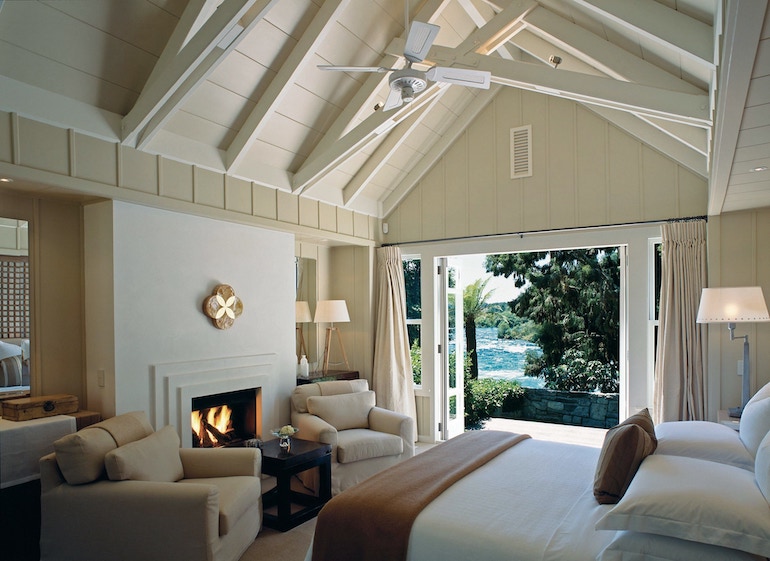 1. Huka Lodge, Wairakei, North Island
Set on 17 acres of countryside on the banks of the Waikato River, Huka Lodge in Taupo is a luxurious lodge just a 10-minute walk from Huka Falls. Find peace and tranquillity in the sound of flowing water as you unwind in one of 25 elegant guestrooms, complete with lounges and private patios looking over serene river views. Treat yourself to the well-appointed amenities including an outdoor swimming pool, tennis court, and an exquisite wine cellar.
What's your luxury?
Luxury means different things to different people. Is your luxury a glamorous hotel in downtown Manhattan, a private island hideaway on the Great Barrier Reef, or a safari camp on the plains of the Serengeti? We'll help you find your perfect version of luxury in some of the world's most beautiful places.