Out of Indonesia's over 17,500 islands, Bali is the most famous—and with many great reasons. From its ancient temples, rice terraces, lush forests, and dreamy tropical shores, it is no wonder that travellers flock to experience the island's rich culture and beautiful surroundings. We absolutely love it, which is why we've rounded up our favourite Bali resorts and hotels for you. Read on to discover beautiful Bali hotels where you, your family, and friends can escape into luxurious comfort.
---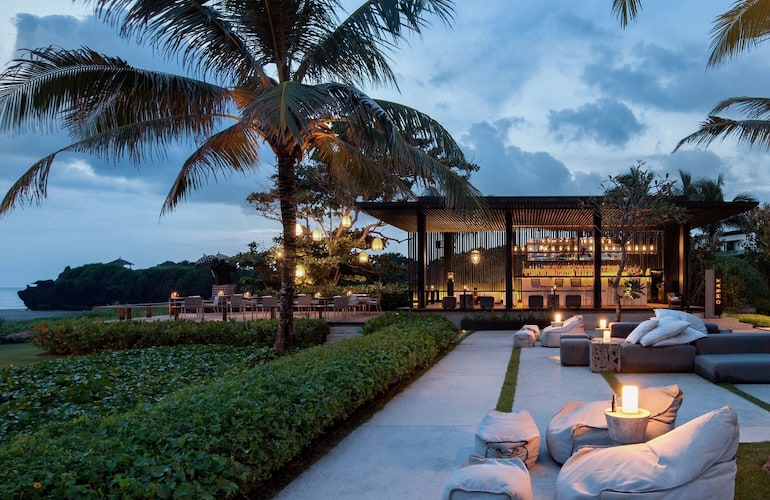 Soori Bali, Tabanan
Soori Bali has chic, modern, and sleek interiors we just can't resist. It inspires a zen-like feeling with its analogous colour palette and clean lines. This hidden refuge in Tabanan is a blissful paradise just steps away from the beach and has a gorgeous mountain backdrop.
What we love: The magazine-worthy interiors are sublime, and the equally gorgeous restaurants Cotta and Ombak echo the beautiful design and calming atmosphere while you dine on breakfast favourites and premium Western Cuisine. We also love the temple-like rejuvenating setting at Soori Spa!
---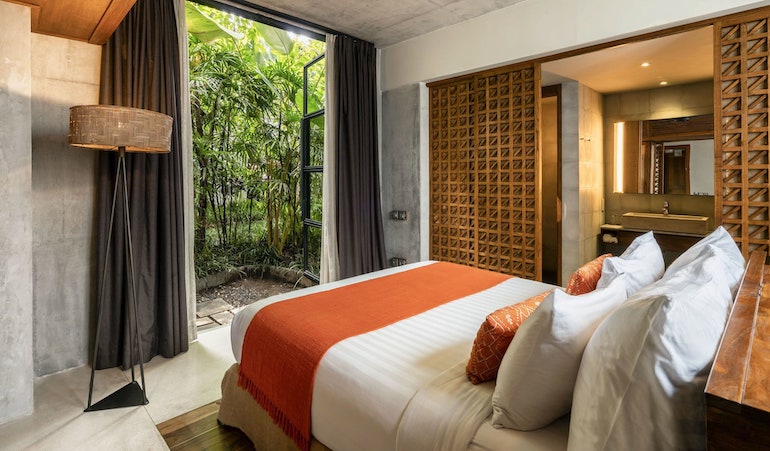 Bisma Eight Ubud
Bisma Eight is in the heart of Ubud and is one of the most beautiful Bali resorts we've set our eyes on. It oozes sophistication and a discerning taste while staying true to its Balinese roots. Its 38 suites and villas exude a modern Balinese flair with fine artisanal pieces that add a bespoke feel to the room.
What we love: The hotel's restaurant, Copper, puts the legacy of Balinese cuisine at its forefront, delighting guests with rich flavours in a cosy setting. Library Café, on the other hand, combines two things we love—books and coffee. That combination in this island paradise? We can't say no to that.
---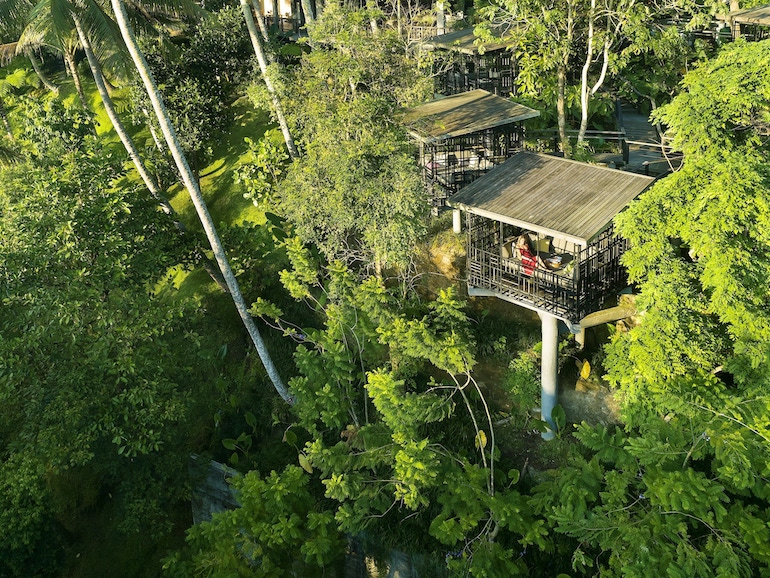 HOSHINOYA Bali, Ubud
Nestled in the vibrant green canopy of leaves… Hoshinoya Bali in Ubud has 30 air-conditioned rooms surrounded by a lush forest. All villas are thoughtfully decorated with Balinese art, and the on-site restaurant has a flavourful mingling of local, French, and Japanese cuisine.
What we love: Bulan—the garden pool villa, has a private pool, second storey gazebo, and twin beds on a platform elevation with views of the garden. It can sleep up to 3 guests, making it an excellent choice for a small family or couples wanting a beautiful home away from home atmosphere. Make no mistake though, ALL of the villas are gorgeous and luxurious.
---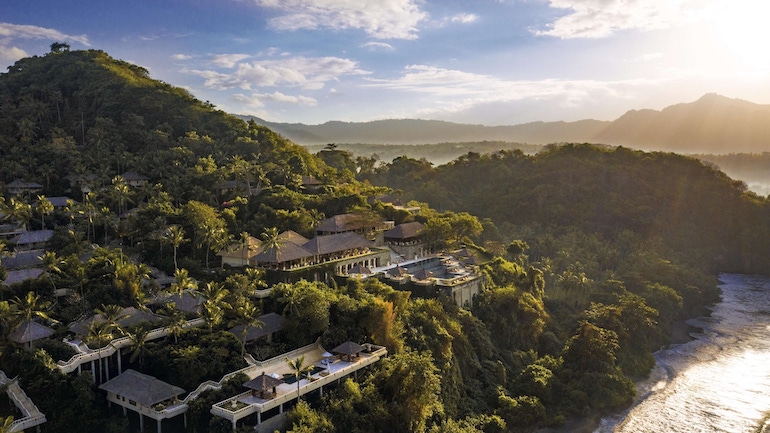 Amankila, Manggis
Set on a lush hillside beneath the sacred Mount Agung in Manggis, Amankila is a luxurious coastline hotel with 31 suites fashioned as Balinese beach houses. Elevated on stilts, enjoy sweeping views of Lombok Strait and the surrounding forest from the privacy of your warm wood suite.
What we love: It's like a jungle treehouse deluxe with magnificent ocean views. Sounds like paradise to us! We recommend you try their cinta therapy—a full-body rejuvenating experience that starts with an exfoliating cleanse and ends with an aromatherapy massage.
---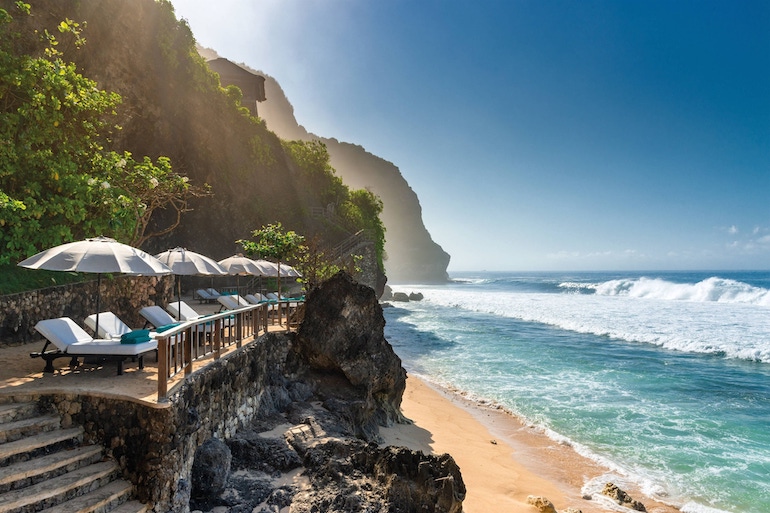 Bulgari Resort Bali, Pecatu
We can almost hear the waves just by looking at this photo! Bulgari resorts are some of the most luxurious resorts in the world, thus making Bulgari Resort Bali one of the most stunning Bali resorts as well. It is in one of the most exclusive locations in Pecatu and the villas and mansions are all so luxe and dreamy. Perfect for honeymooners!
What we love: The private beach, Il Ristorante – Luca Fantin's fine dining atmosphere, and The Bulgari Bar's relaxing terrace mood. Oh, and… make sure to try the Herbojito cocktail at La Spiaggia after enjoying some freshly grilled seafood.
---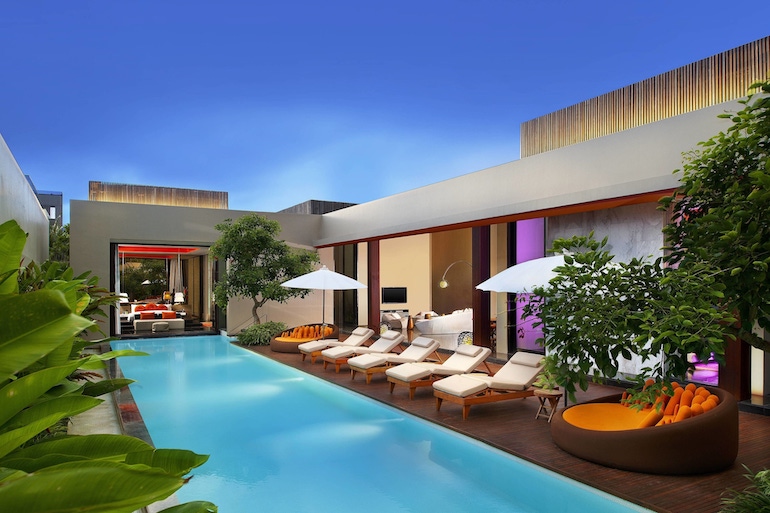 W Bali, Seminyak
One of the hippest Bali resorts, W Bali in Seminyak is as alive as Seminyak gets. The vibrant (neon, really!) colours are the perfect backdrop for fun times with friends at WET, the resort's outdoor pool, or at WOOBAR for drinks in an edgy neon-lit setting.
What we love: Fun and modern spacious rooms and villas with private balconies and pools if you and your friends want a private space to unwind. FIRE also serves a mean dry-aged ribeye and wagyu among others, while STARFISH BLOO offers Pan-Asian cuisine with a Balinese twist.
---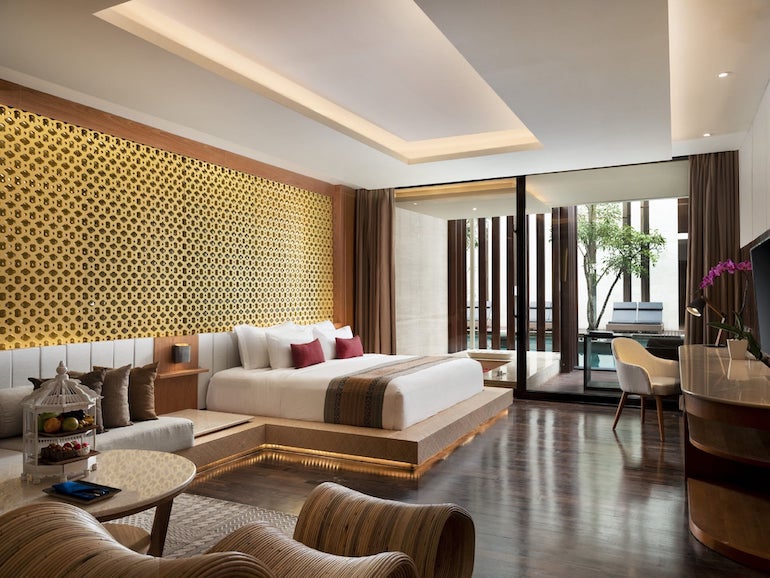 Grand Seminyak, Seminyak
A captivating blend of modern and traditional, Grand Seminyak's 59 garden and ocean view rooms are as luxurious as they are gorgeous. There are suites with private pools and deep soaking tubs, perfect for romantic flower petal baths. The beachside dining options and private dining setups make it ideal for newlyweds or romantic escapes.
What we love: The in-suite massages and Kerokan Therapy where the therapist rubs warm cloth balls of essential oils down the neck and back… yes, please!
---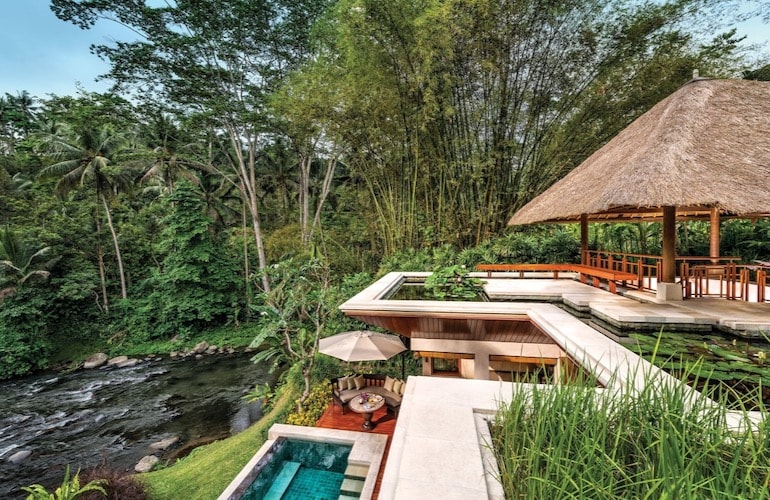 Four Seasons Resort Bali at Sayan, Ubud
Perfect for a family retreat, Four Seasons Resort Bali at Sayan has sixty 1- to 3-bedroom suites and villas to choose from. A truly luxurious stay that makes a grand first impression, its circular lotus pond and dramatic jungle setting will make you feel like you're worlds away from everything and everyone.
What we love: Ayung Terrace's open-air dining and sumptuous traditional Indonesian food, and Sokasi, where Balinese feasts are grilled right in front of guests. A treat for the senses indeed!
---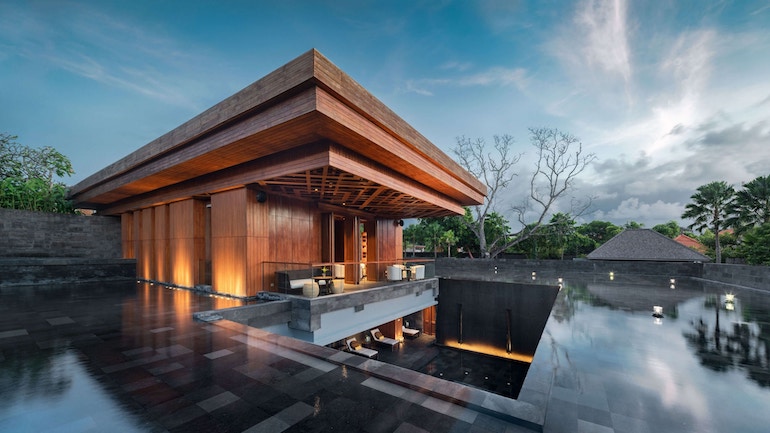 Hotel Indigo Bali Seminyak Beach, Seminyak
Hotel Indigo has a casual and sophisticated vibe that we love. With many suites and villas to choose from, it is perfect for groups of friends or families. The Balinese vibe from the traditional accents and weavings is ever-present, lending an elevated homely atmosphere to its interiors.
What we love: Sava Spa has a stunning façade and offers uncomplicated head to toe indulgence. We also love Tree Bar's locally inspired cocktails and unique setting, and the casual dining atmosphere at Makase and Pottery Café.
---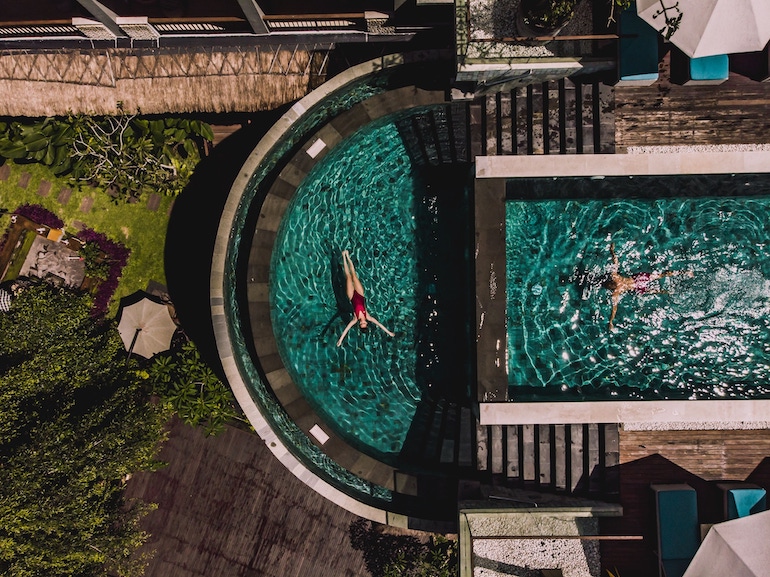 Sthala, Ubud
Sthala's 143 deluxe rooms and suites provide a safe haven for all travellers but can be particularly attractive for those travelling for business because of the hotel's meeting venues and function halls. This resort hotel also has 2 pools, a gym, a restaurant, and a rooftop bar and lounge.
What we love: The rafting brunch. Its unique setting certainly makes for a memorable dining experience. Guests can enjoy savoury Indonesian food while sitting on a luxury raft and being serenaded by the relaxing flow of Wos River.
---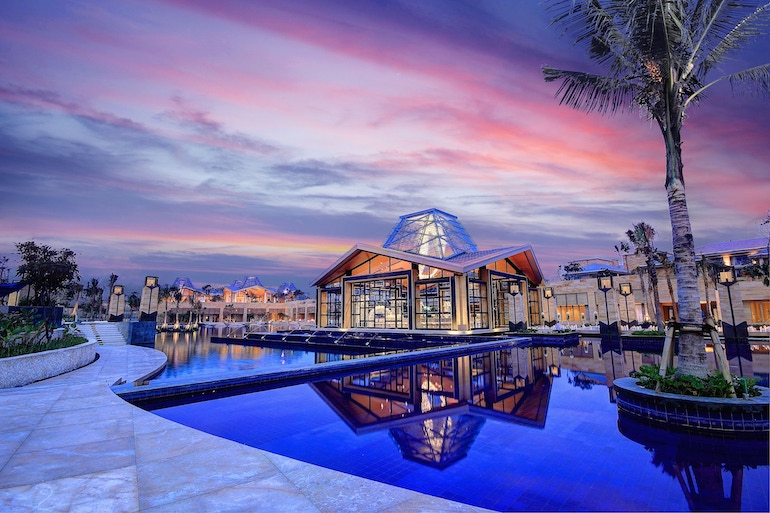 The Mulia Bali, Nusa Dua
One of the most luxurious hotels in Nusa Dua with 111 suites, The Mulia is a beachfront hotel with 9 restaurants and bars, 2 pools (one of which is the longest infinity pool on the island) a spa, and a fitness centre. The spectacular beachfront suites provide maximum privacy and elegant modern Balinese interiors.
What we love: They have a spa, fitness centre, on-site tennis court, and Mulia Kidz. Everyone in the family has something enjoyable to engage in while enjoying the most luxurious treatment and Balinese hospitality.
---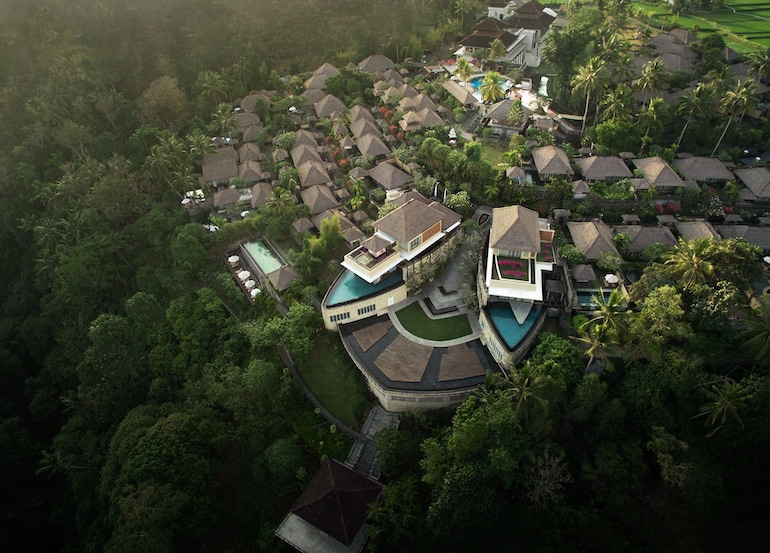 Kamandalu Ubud
Kamandalu Ubud captures the essence of a Balinese village while treating guests to modern luxuries in a beautiful jungle setting. The resort is known to have one of the largest swimming pools in Ubud and it also has a kiddie pool, making it perfect for a family holiday.
What we love: The Forest Deck for their 6-course outdoor dining, Chaya Spa, and the Forest Spa. It's so hard to choose where to relax and that's a dilemma we love dealing with.
---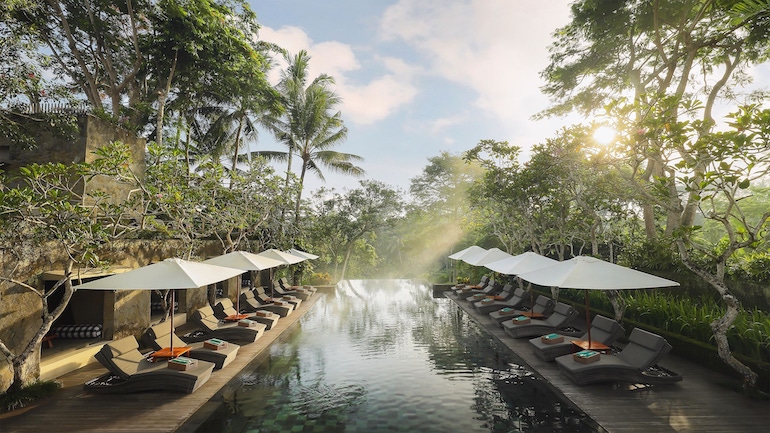 Maya Ubud Resort and Spa, Ubud
Spread beautifully over 10 hectares of lush tropical landscape, Maya Ubud Resort & Spa beautiful combines Balinese heritage and luxury. Its hidden river valley setting makes for an enchanting atmosphere that will surely relax you and your loved ones.
What we love: The infinity forest pool and how the afternoon sun softly shines through the surrounding foliage, and the gorgeous flower petal baths and pampering treatments from Spa at Maya. Oh so relaxing!
---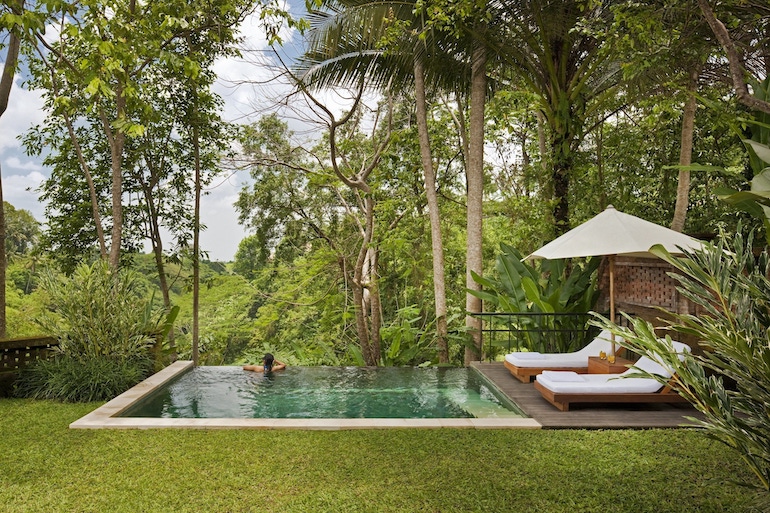 COMO Uma, Ubud
Undoubtedly one of the best Bali hotels, COMO Uma Ubud boasts contemporary Asian design in its 46 light-filled suites and villas. It captures the feeling of a traditional village nestled in between hills and rivers, giving it a sanctuary atmosphere perfect for honeymoons or romantic getaways.
What we love: Calming neutral interiors in minimalist chic style. Rooms and suites have semi-outdoor living areas overlooking the gardens, forest, or pool, while villas have private pools with views of the valley or the forest. Como Shambhala's koi carp pond and yoga pavilion are top spots for that zen feeling!
Find your perfect holiday in Bali
Discover over 195 handpicked hotels, resorts & private villas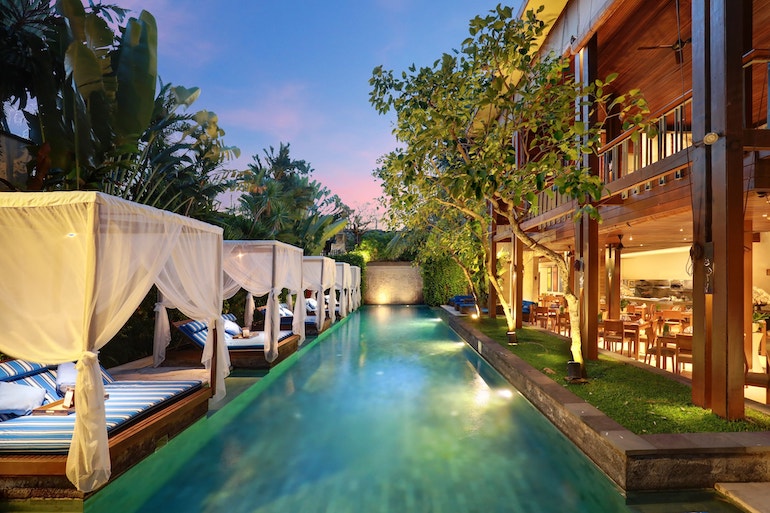 The Elysian Boutique Villa Hotel, Seminyak
Whether it be lounging poolside with a cool drink or enjoying the breeze from the terrace, The Elysian Boutique Villa Hotel has a spot for you. It has 27 individually furnished guest rooms with private pools and living areas so you can enjoy the fresh air coming in from Seminyak Beach which is a 15-minute stroll away.
What we love: The Elysian has babysitting services, a full-service spa, and a restaurant-cum-poolside bar, making it a great choice for a family holiday. They also have a dedicated events space that makes it a top choice when planning an event in Seminyak.
---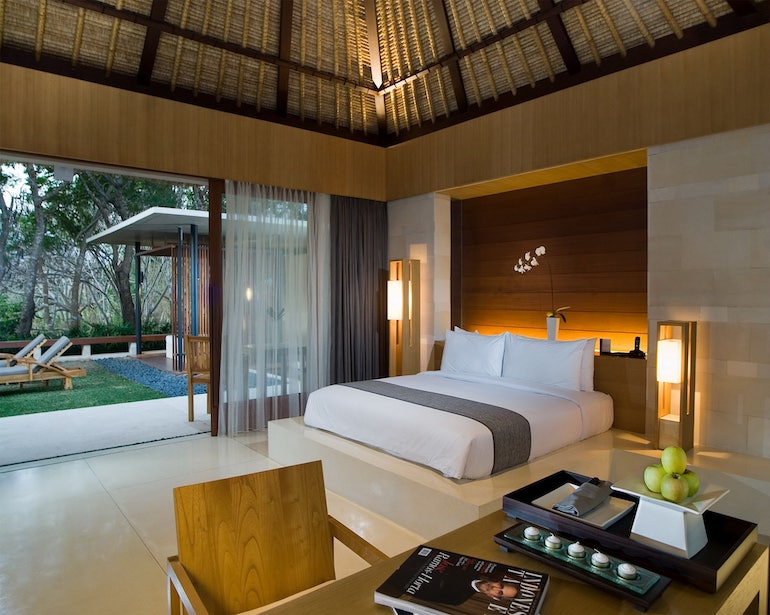 The Bale, Nusa Dua
The Bale in Nusa Dua is one of the more intimate yet luxurious Bali resorts with its 29 pool pavilions. The minimalist contemporary interiors still reflect Balinese design with its thatched roof and wooden accent pieces.
What we love: The Spa has a wide range of wellness and detox treatments you and your significant other can enjoy. Faces Restaurant has one of the most comprehensive wine cellars in Bali and TAPA Bistro serves modern East and West fusion dishes. Lastly, the beach is just 100 meters away!
---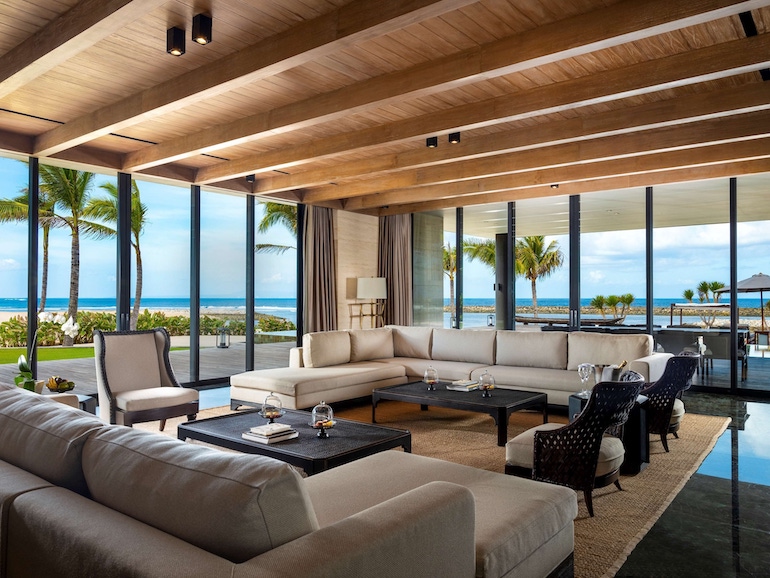 The Apurva Kempinski Bali, Nusa Dua
There's something about floor-to-ceiling glass windows, and The Apurva Kempinski Hotel in Nusa Dua takes full advantage of them in their stylish rooms. Set atop a cliff, it embodies Indonesian elegance and the height of beachfront luxury.
What we love: Over half of its 475 guest rooms have private pools and the dark wood interiors are simply stunning. They have a wide range of restaurants and bars, and also have the gorgeous Luxury Spa showcasing ornately carved walls in the receiving areas—nothing short of WOW.
---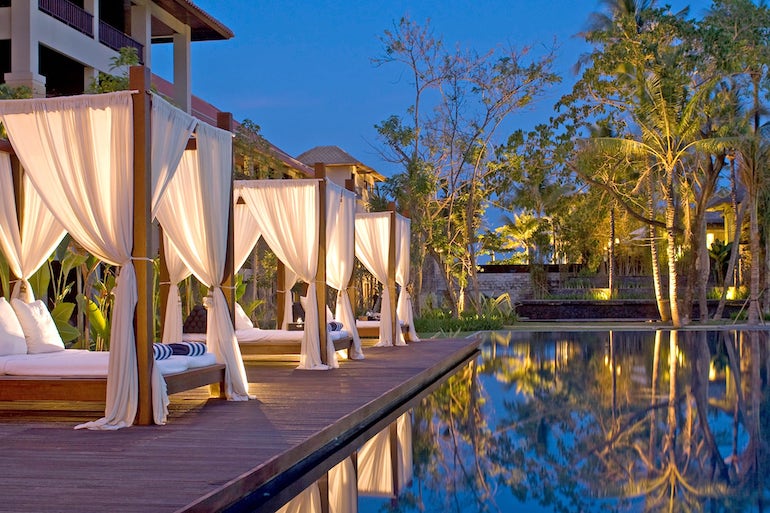 Conrad Bali, Nusa Dua
Conrad Bali is a classic beachfront resort in Nusa Dua and has rooms and suites with pool or ocean views fit for all types of globetrotters. Families in particular will enjoy the child-friendly atmosphere and services.
What we love: There's an activity for everyone—from activities in the Kids' Club to cooking classes, golfing, diving, hiking, cycling, or simply unwinding by the pool or in the spa… The buffet is child-friendly too, and there is on-site children's entertainment like books and toys available.
---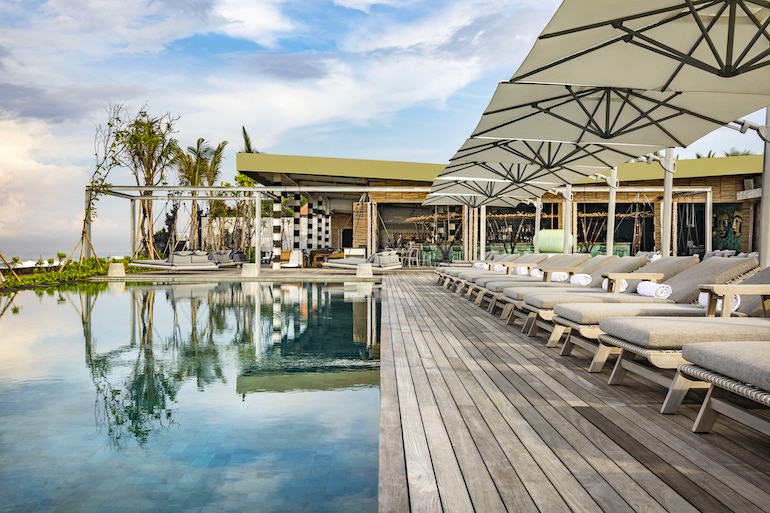 COMO Uma, Canggu
Our list of the best Bali hotels would not be complete without COMO Uma in Canggu. On the south coast of Bali, its waves are perfect for surfing and its laid-back vibe paired with stylish accommodation is especially attractive to younger travellers and couples.
What we love: We love the pulsing energy from COMO Beach Club's live entertainment. Also, Glow Juice Bar's healthy smoothies and juices are the perfect re-energising drinks after catching some waves.
---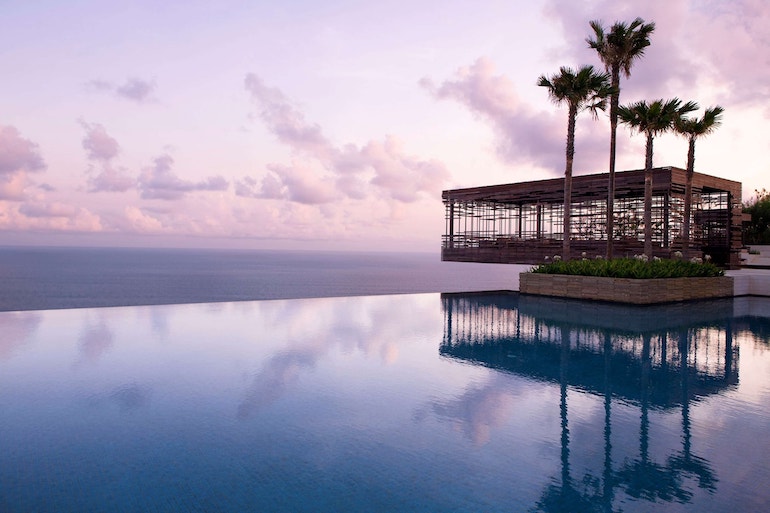 Alila Villas, Uluwatu
The ever stylish Alila hotels have a spot in our hearts and it would be remiss on our part not to include them in our list of the best Bali hotels. Strongly committed to sustainability, this contemporary design-led hotel with 64 guestrooms seamlessly blends in with its natural environment.
What we love: The panoramic views of the ocean from the serene infinity pool? Stunning. The sleek and modern minimalist interiors? Absolutely gorgeous. On top of that, exotic flavours at The Warung and indulgent holistic treatments at Spa Alila await. Dreamy, and we're all for it.
---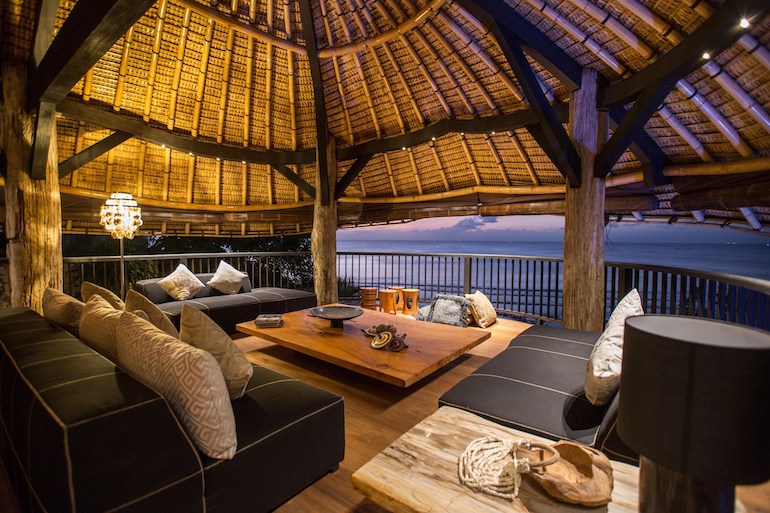 Suarga Padang Padang
Suarga Padang Padang gives its guests access to exceptional surf breaks on the southern shores of Bali. It is a consciously designed boutique resort that combines modern luxury while minimising its environmental impacts.
What we love: All 36 rooms have their own rustic-luxe character perfect for adventurous souls. Some rooms have an open-air structure for natural cooling and some villas have cool air-conditioned bed systems replacing traditional AC setups. All guest rooms and villas have private balconies—perfect for intimate quiet time while enjoying ocean views.
---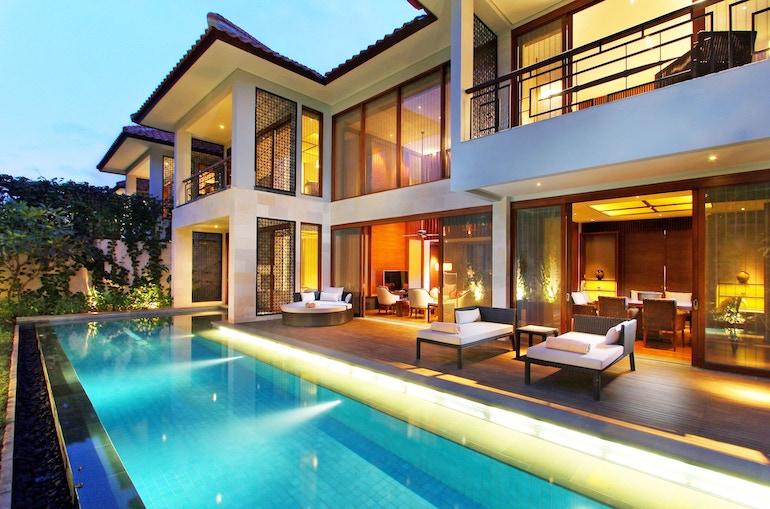 Intercontinental Bali Sanur Resort, Sanur
Set amidst 4 hectares of lush manicured gardens, Intercontinental Bali Sanur Resort offers classic Balinese luxury accommodation for all travellers. The 120 spacious suites and villas evoke stylish Bali interior design and maintain an irresistible modern appeal.
What we love: Layang Layang Restaurant's clay cauldrons add such authenticity to the dishes they serve, and Pier Eight is the perfect spot to chill and sip on tropical drinks while enjoying the ocean breeze.
---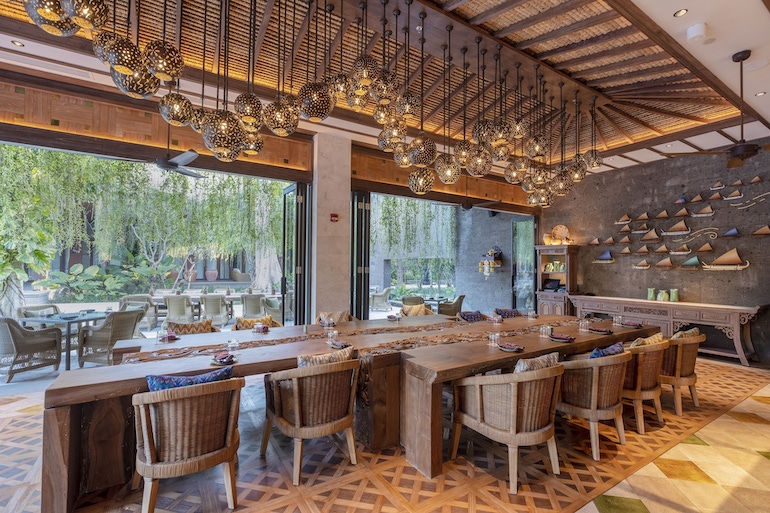 Andaz Bali, Sanur
Andaz Bali in Sanur is a representation of a modern Balinese village with its 149 guestrooms. Carefully built around the natural landscape, this beachfront hotel is in the embrace of a lush forest, enveloping guests in nature's serenity.
What we love: The rooms and villas, grouped in clusters, have warm hardwood furniture and feature detailed accents that give life and character to each of the beautifully furnished rooms. The resort has 3 distinct swimming pools and 4 dining spots, our favourite being Wok Wok where you can sample Indonesian comfort food in a playful and ambient setting.
---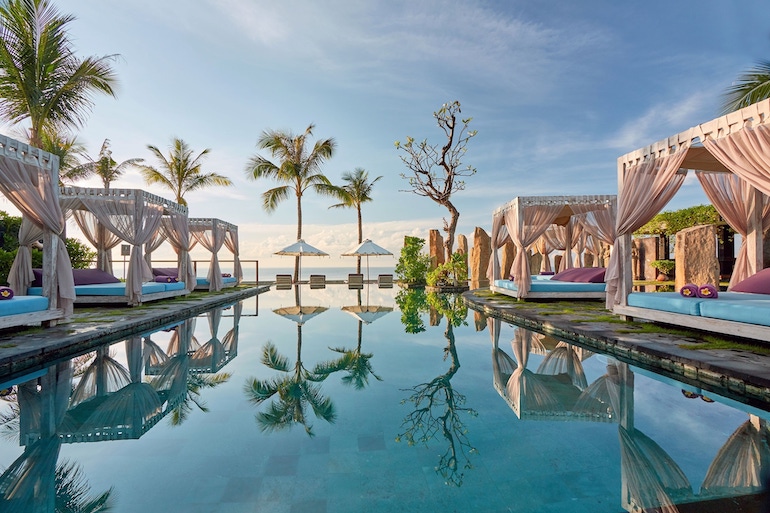 The Royal Purnama, Sukawati
Ideal for romantic getaways, The Royal Purnama in Sukawati has a calmness brought to it by the surrounding rice fields and the ocean. Tucked away from the busier spots in Bali, the serene atmosphere and its 49 villas make it a perfect escape for those looking for a quiet retreat.
What we love: Black Sand Spa honours ancient island remedies and draws from natural healing elements—we feel relaxed just imagining their treatments… Standing Stones Restaurant and Beach Lounge on the other hand is an open-air beach lounge that mingles Western classics with Asian favourites.
---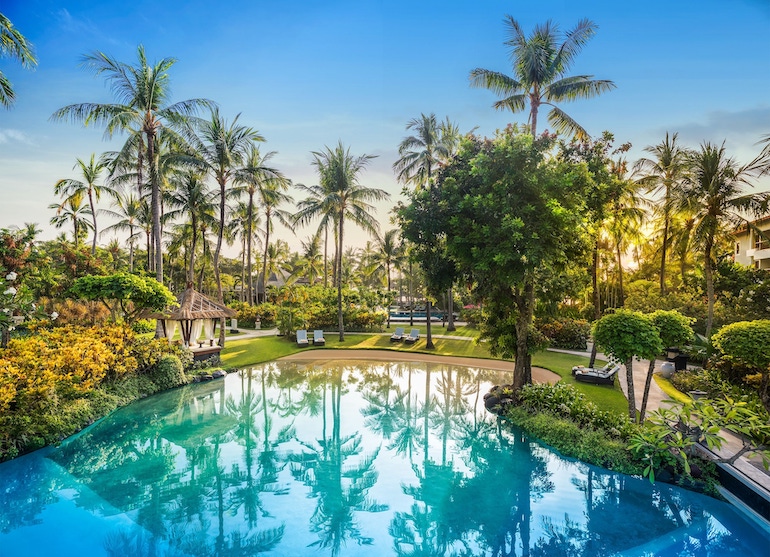 The Laguna, Nusa Dua
The Laguna in Nusa Dua draws its name from its 7 large lagoon-style pools. All the rooms are furnished with warm wooden furniture and have a balcony from which you, your family, and friends can enjoy views of the Indian Ocean.
What we love: The dining options! Banyubiru serves Western dishes while Arwana, the beachside restaurant, serves super fresh seafood. Yum! Light refreshments and cocktails are available from 3 poolside bars too.
---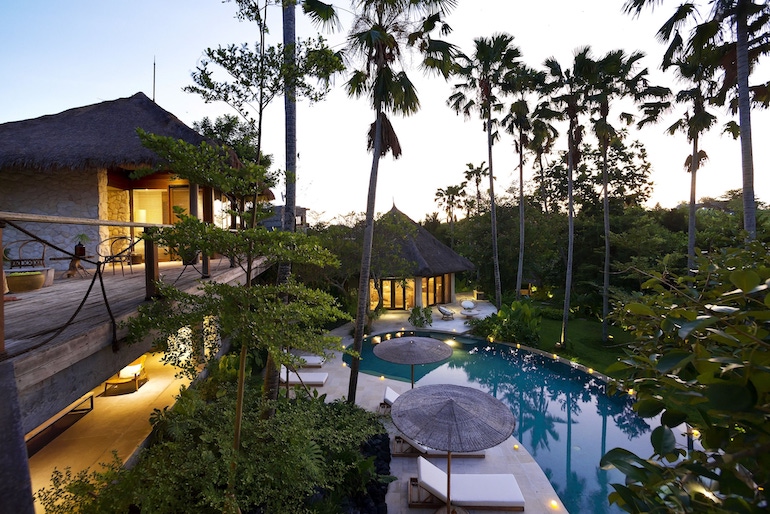 Planta Luxury Boutique Resort, Canggu
Can you imagine yourself in one of those poolside loungers? Planta Luxury Boutique Resort in Canggu is comprised of 5 spaced out villas, all exuding a touch of elegance enhanced by natural design elements—a perfect blend of modern sophistication and traditional Balinese design.
What we love: The little massage huts, the pool, and their 180 Overlooking Deck where you can chill and enjoy the peaceful surroundings. We love how intimate everything feels too!
---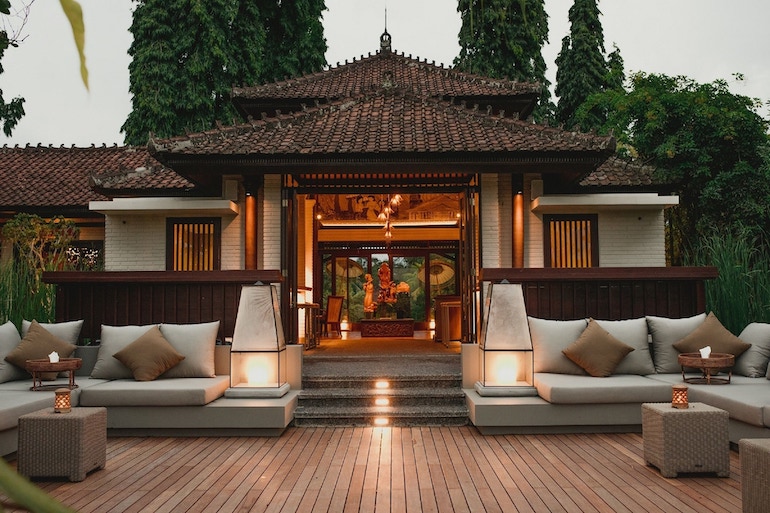 Tanah Gajah, Ubud
Tanah Gajah is like a fairy tale set in Ubud. This artistic luxury resort has only 20 rooms with traditional Balinese design elements echoing temple-like details. Surrounded by rice paddies like most Bali resorts in Ubud, it is a romantic retreat with all the modern comforts you could wish for.
What we love: The Tempayan's grand and airy dining hall with unobstructed views of the surrounding greenery and the Panen Padi Lounge which provides an elevated tapas bar experience.
---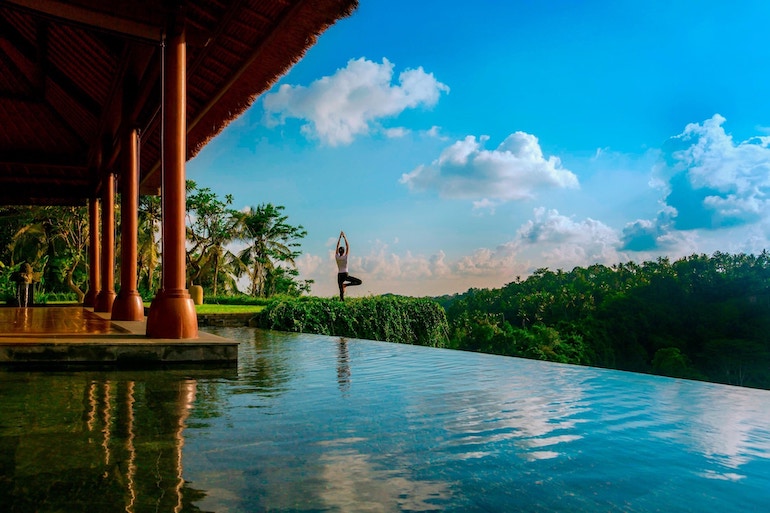 Mandapa, Ubud
Mandapa is a Ritz-Carlton Reserve hotel in Ubud, and isn't that view just stunning? The suites and villas have private pools and 24-hour butler service—perfect for when you want to just stay in and have everything you need taken care of.
What we love: Sawah Terrace's open-air Indonesian dining overlooking the Ayung River, and the traditional Balinese healing experiences at the spa. Oh, and the Volkswagen convertible tours around the village. A sweet treat for an afternoon date with your special someone!
---
Looking for more options? Check out our entire collection of luxury accommodation in Bali.
Image credit: Soori Bali
What's your luxury?
Luxury means different things to different people. Is your luxury a glamorous hotel in downtown Manhattan, a private island hideaway on the Great Barrier Reef, or a safari camp on the plains of the Serengeti? We'll help you find your perfect version of luxury in some of the world's most beautiful places.