There are a growing number of eco-hotels around the world that are taking measures to become more carbon neutral. Some of the things that make these hotels eco-friendly include using energy-efficient lightbulbs and appliances, recycling and composting programs, using organic materials whenever possible, and installing solar panels. By choosing to stay at an eco-friendly hotel, guests can help reduce their environmental impact and support sustainable practices while enjoying luxurious accommodations while on holiday. Here are our favourite eco-hotels all over the world.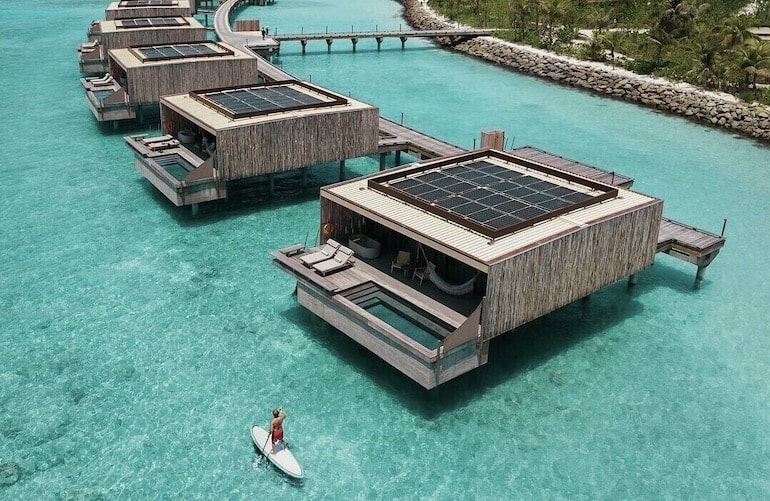 Patina Maldives
Patina Maldives is a luxury eco-resort in the Maldives' Fari Islands that features island and over-water villas with stunning ocean views and an extensive range of environmentally friendly amenities. Some of the resort's green features include solar panels, a grey water recycling system, an organic garden that works in tandem with the zero-waste kitchens, and a waste management program that includes recycling marine plastic. Patina Maldives aims to expand their Swimsol solar plant so that it can provide 50% of the resort's energy needs by 2030. Cool!
---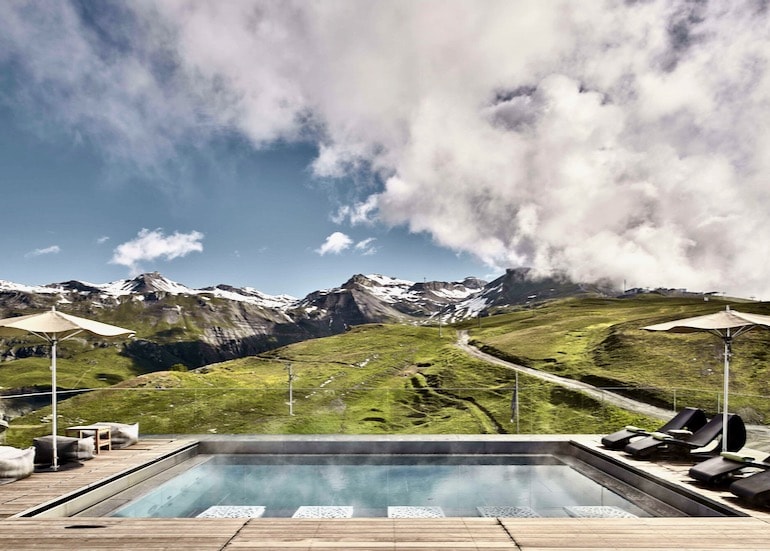 Chetzeron, Switzerland
Chetzeron is a former gondola lift in a peaceful and secluded location in the Crans-Montana ski area of Switzerland. Today, it's a luxury eco-resort that features stunning views of the mountains and pristine forests where you can ski in and out of during the winter season. Built with the environment in mind, it features a host of green amenities such as solar panels, pellet heating, and highly-efficient glass wool insulation. The water used in the hotel is taken from a nearby dam and filtered on-site. We love how the modern and luxurious rooms have no coffee machines and by extension, no coffee sachets and capsules that add to plastic waste.
---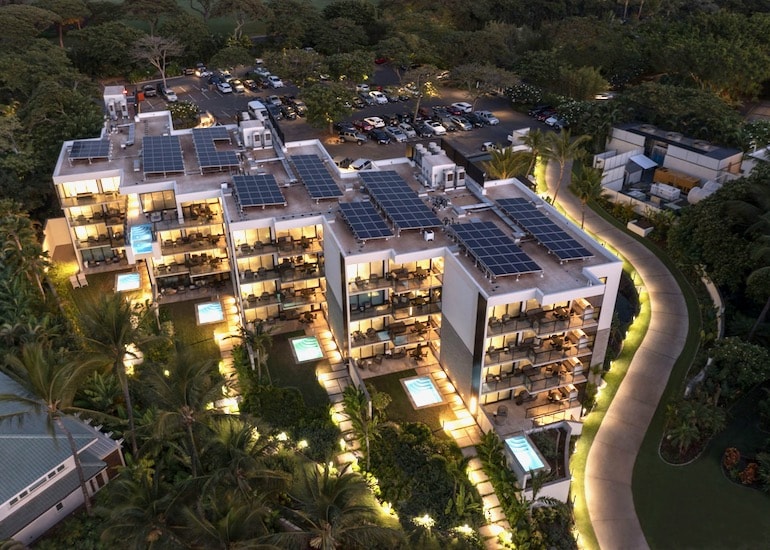 Andaz Maui, U.S.A.
Andaz Maui on Mokapu Beach is the first LEED-certified (Leadership in Energy and Environmental Design-certified) resort in Hawaii. Its eco-conscious efforts started from construction—93% of its structural walls, flooring, and roofing, are reused materials and what wasn't recycled was replaced with low-emission materials. To improve its energy efficiency, the thermal system is solar-powered and is responsible for water heating needs. Other green features include motion sensor light controls, variable speed chillers, and low-flow plumbing features. Green practices continue to its luxurious rooms where temperature control is set to automatic, and glassware is made out of recycled wine bottles!
---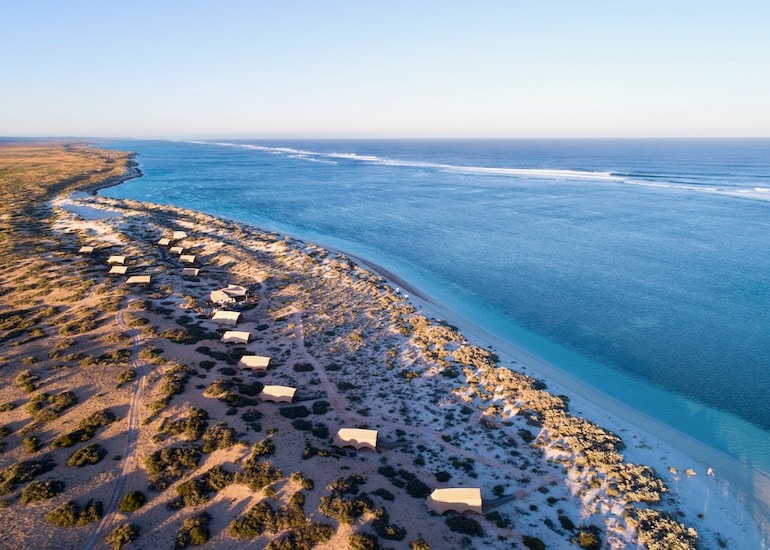 Sal Salis, Australia
One of our favourite glamping escapes, Sal Salis is a luxury getaway nestled in the dunes of the park and on the shores of Ningaloo Reef in Western Australia. It has only eco-tents designed for maximum privacy and to bring you close to nature. A truly immersive glamping escape, your luxe eco-tent does not have the hotel room amenities such as TV, phone, mini-bar, or air-conditioning, but is naturally ventilated by the fresh ocean breeze. Designed to have the least environmental impact, the bathrooms are fitted with composting "natureloos" and the water supply is meticulously conserved to help minimize waste. All power is solar generated too!
---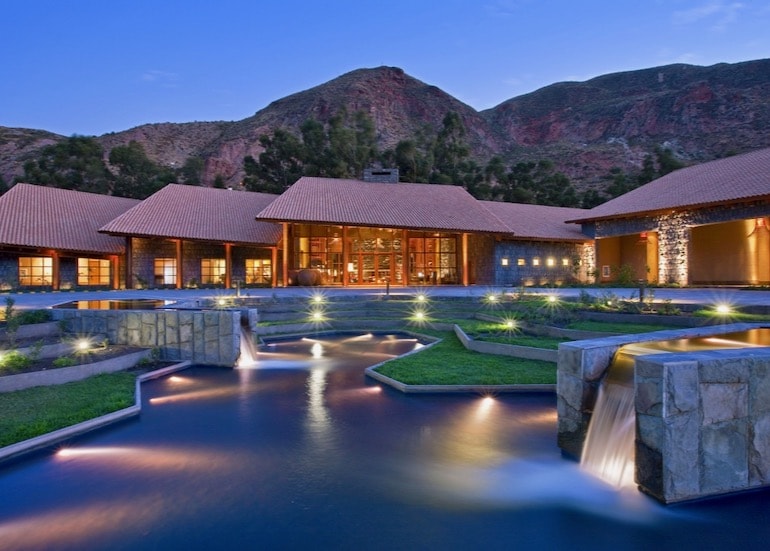 Tambo del Inka, Peru
Nestled in the heart of the Andes, Tambo del Inka is the first LEED-certified hotel in Peru. This luxury eco-hotel is part of the JW Marriott Hotels collection and it combines personalized service, luxury, and sustainability. Right in the middle of Valle Sagrado, it is a celebration of Peru's Incan culture, pristine location, and ecological wonders. Rooms boast undisturbed views of the Andes and Vilcanota River, and the entire hotel was thoughtfully constructed to ensure that local flora and fauna remain undisturbed. Its eco-friendly features include its own water treatment plant, indoor climate monitors and lighting control systems. Their green program encourages guests to reuse towels while hotel employees are encouraged to carpool or bike on their way to work. We'd love to bike to work too with that view!
---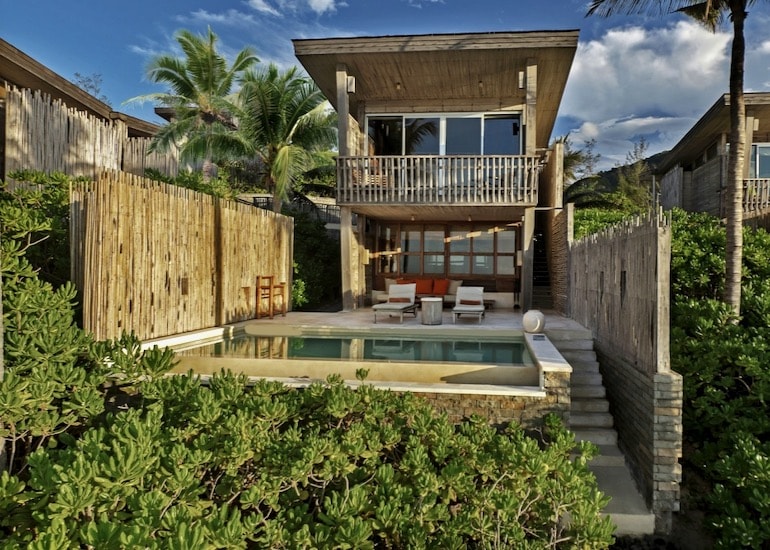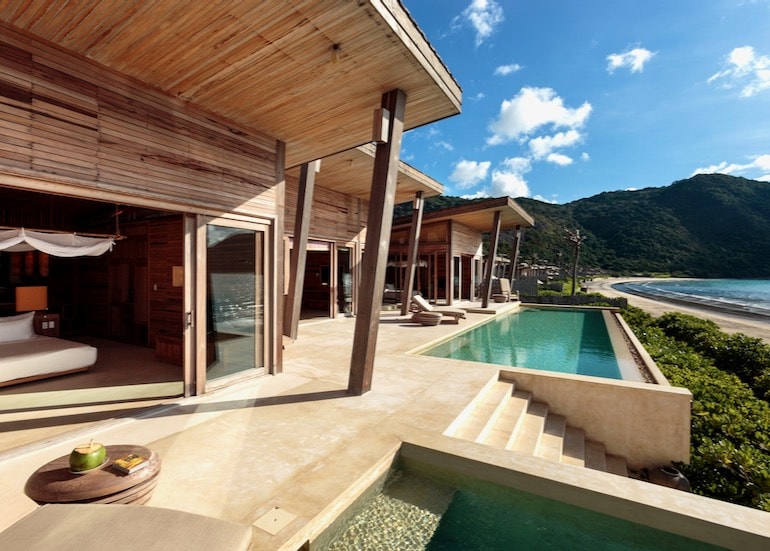 Six Senses Con Dao, Vietnam
Six Senses Hotels operate with sustainable ecotourism in mind, and Six Senses Con Dao in Vietnam is a wonderful example of their eco-hotels. On-site, they have the "Sense of Gardening" organic garden that grows over 30 types of plants—fruits, herbs, and vegetables which are all part of their plant-to-plate menu. Organic food scraps are then turned into compost, and coupled with the greywater treatment, water is re-used to irrigate the soil in the garden. On top of that, Six Senses Con Dao also has a reverse osmosis plant that they use for the production of in-house sparkling water which is then stored in reusable glass bottles. The beach is extra special too—optimized for egg laying for green turtles, and guests can have the special experience of helping hatchlings!
---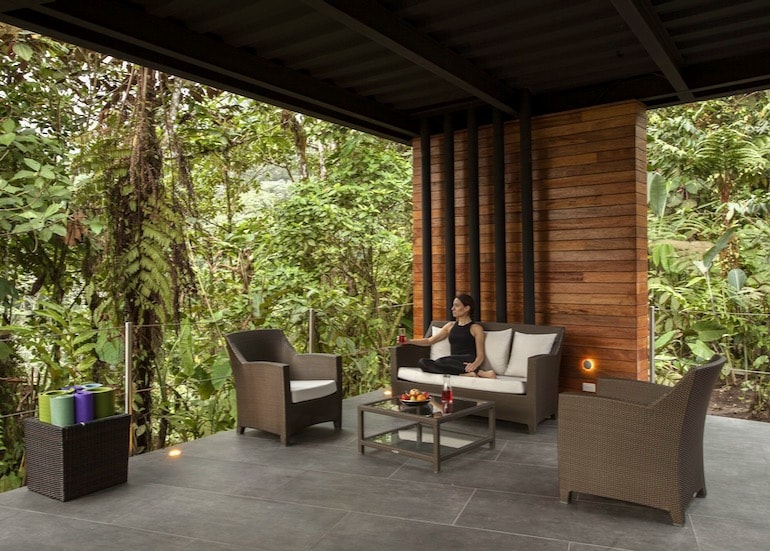 Mashpi Lodge, Ecuador
Sleek, modern, and tucked in Ecuador's rainforest, Mashpi Eco Lodge is an eco-hotel that prides itself on its sustainable practices. Located at a former lumber mill, the lodge was built with reclaimed and recycled materials, and it was designed to work around the topography of the private forest reserve. What's amazing is how Mashpi Lodge has its own silent and waste-free hydroelectric plant that uses a stream, thereby not disturbing local wildlife and not producing harmful emissions. Food practices include hyperlocavorism where the chefs forage for fruits and edible resources nearby such as chocolates from cacao and other edible fruits. No trees were cut down to construct the hotel, and an aerial tramway is used to get to and from the hotel. Amazing!
---

Song Saa Private Island, Cambodia
Built with local materials and crafted by local masters of their craft, Song Saa Private Island in Cambodia is an evolved tropical getaway with a stunning private beach and preserved coral reef. Each villa is made of recycled timber while furniture has been crafted from driftwood carefully handpicked from the beaches. Its remote location resulted in its own sewage and irrigation system that's responsible for ensuring no sewage waste enters the sea and that non-sewage water is recycled in the wastewater plant. Recycled water is used in watering the organic garden which supplies a vast majority of the herbs and vegetables used in the locally-sourced seasonal menu. We love it when eco-hotels have a thriving garden! This makes their vegan dishes especially flavourful and we're all for it.
---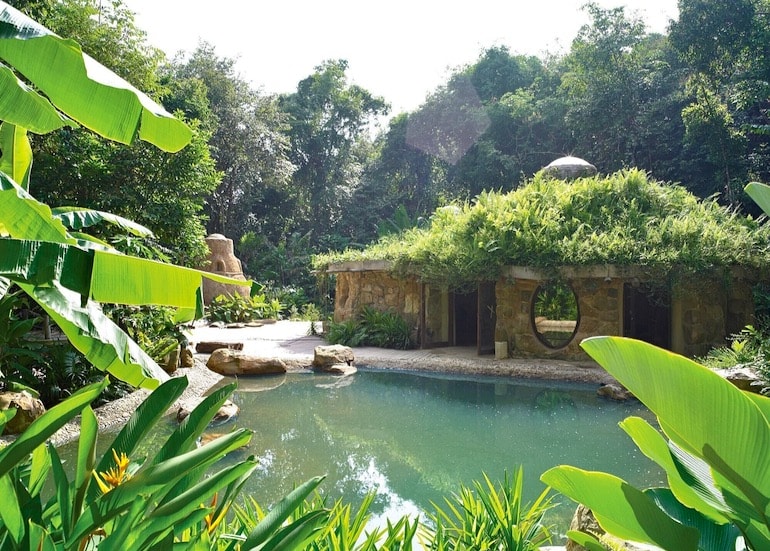 Soneva Kiri, Thailand
Soneva Kiri is a secluded luxury eco-friendly resort located in Thailand. It features eco-conscious accommodations, including treehouses and tents, that are made from sustainable materials. What we love about Soneva Kiri is its solar reef garden that attracts numerous marine life. Although this is an artificial structure with corals grafted onto it, it attracts fish who then choose to stay and reproduce there. Soneva hotels have a commitment to sustainability and with a stay at any of their hotels, there's a 2% environmental levy that goes to the Soneva Foundation responsible for a variety of environmental projects offsetting carbon emissions.
---
If you enjoyed our favourite eco-hotels and are looking for more luxurious getaways, you'll find more amazing options when you view our full collection at viewretreats.com
Image credit: Mashpi Lodge
What's your luxury?
Luxury means different things to different people. Is your luxury a glamorous hotel in downtown Manhattan, a private island hideaway on the Great Barrier Reef, or a safari camp on the plains of the Serengeti? We'll help you find your perfect version of luxury in some of the world's most beautiful places.