Glamping is a great way to experience the outdoors without having to rough it. Here in Australia, we have some of the best glamping spots in the world. Whether you want to be by the beach, in the hinterlands, or in some other beautiful and secluded location, there's an escape for you.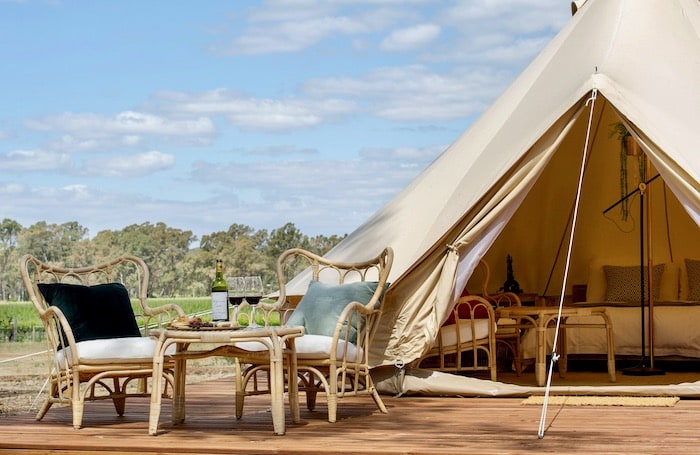 What is glamping?
Glamping, coined from "glamorous camping," is a style of camping that combines the best of both worlds–the comforts of home with the beauty of nature. Compared to traditional camping tents, glamping tents are usually more luxurious and they come equipped with all the amenities you need for a comfortable stay. More often than not, electricity and running water are available in these luxury camping tents. No need to pitch them by yourself as they're all ready and waiting for you!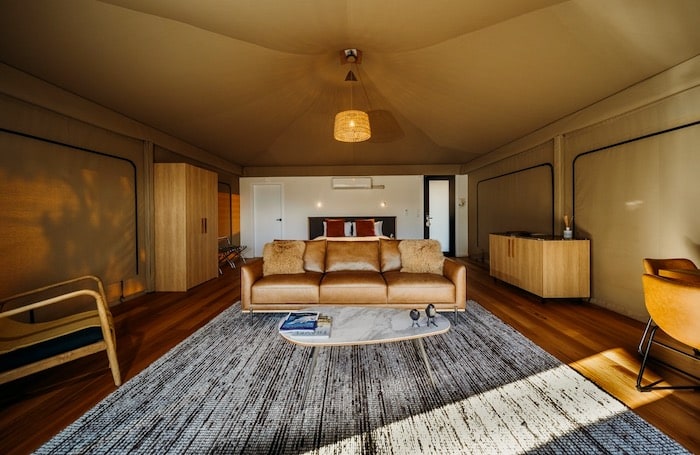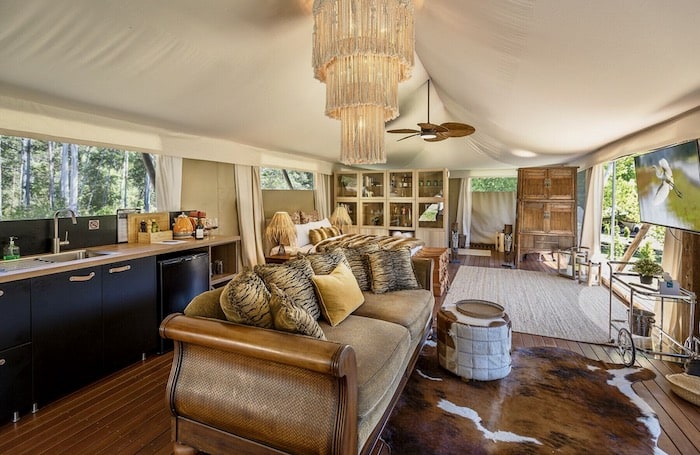 If you love the outdoors but don't quite like the challenges that come with traditional camping… i.e., sleeping on the floor of your tent, uncomfortable makeshift bathrooms, and no electricity, glamping is definitely for you. It's a great way to experience the outdoors without having to rough it. Luxury camping allows you to enjoy all the benefits of traditional camping such as fresh air, peace and quiet, and close proximity to nature without sacrificing your comforts. Furthermore, glamping sites are often located in stunning natural locations. This means that you can enjoy incredible views from the comfort of your glamping tent. When glamping in Australia, you'll be spoiled for choice! Here are some amazing getaways we've handpicked for you…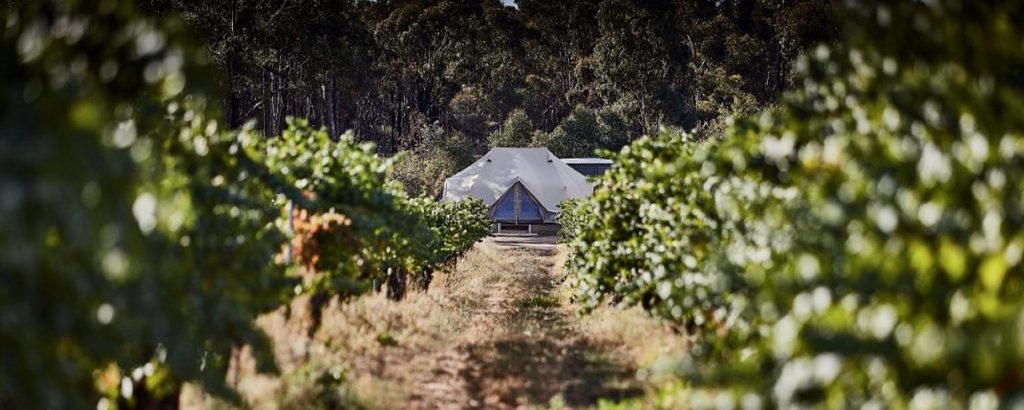 In the Vines
Famous for an abundance of wine regions, luxury camping in Australia means spending a night in the vines. If you're planning a unique romantic getaway, glamping is a way to change things up a little while still being able to enjoy a luxurious escape. At these vineyard hideaways, you won't just enjoy the beautiful surroundings, but indulgent wines made from the very vines around you!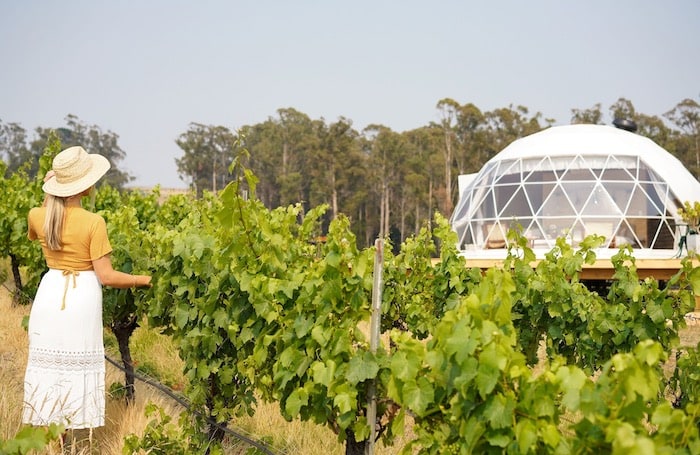 Down in Tasmania, you'll find your private haven in one of the bespoke geodesic domes at Domescapes in the Vines. The domes have en suite bathrooms as well as outdoor baths where you can enjoy sweeping views of the vineyard or the night sky. These crystal-like domes are made to withstand Tasmanian weather, are energy-efficient, and have double insulation and solar vents for maximum comfort. Everything inside the domes looks so comfy and cosy!
You'll find something much closer to the look of traditional camping tents at Balgownie Estate—Bendigo's oldest winery. The estate, established in 1969, is famed for its Cabernet and Shiraz which you can enjoy at Balgownie Estate Winery Retreat & Restaurant. You can wine and dine before retreating to your cosy glamping tent. These private glamping tents set on elevated decks are spread out through the vineyards and surrounding bushland so you can enjoy some quiet R and R.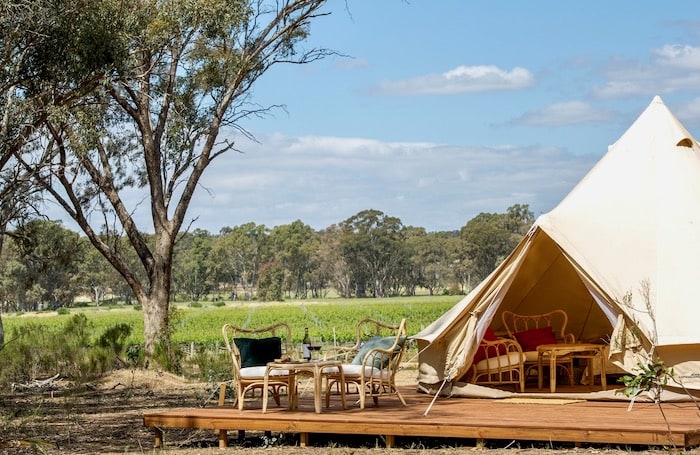 Waterfront Glamping
If you love the tranquillity that comes with being near a body of water or enjoy the fresh ocean breeze, luxury camping lakeside or beachside would be perfect for you!
Olio Bello Lakeside Glamping is an intimate escape in Cowaramup, WA. A boutique retreat set in a romantic 320-acre olive farm, it has spacious open-plan luxury camping tents architecturally designed for maximum comfort. These are equipped with a private ensuite, kitchenette, minibar, and spacious sunset viewing decks. You really wouldn't feel like it's a camping tent at all!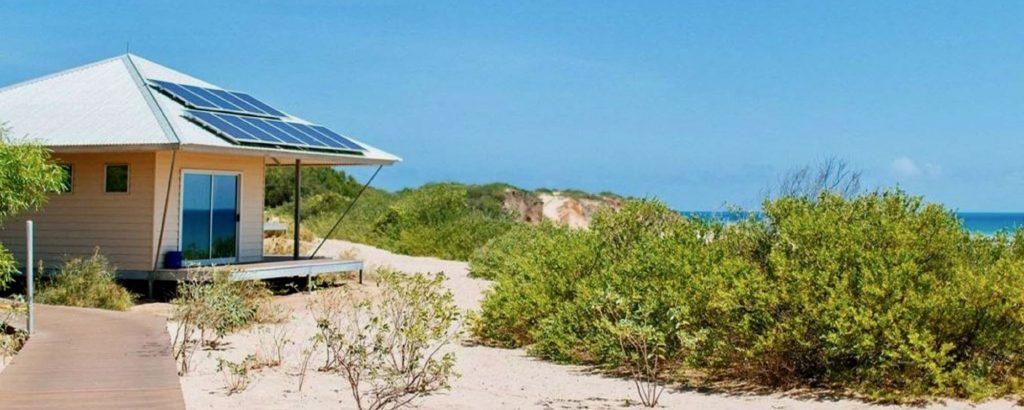 Wanting to escape the crowds and be steps away from the beach? Stay in one of Eco Beach Resort's 30 glamping tents! Enjoy the beautiful golden sands of Eco Beach and let the sound of the waves lull you to a peaceful sleep.
One of Australia's best-kept secrets, Sal Salis is a luxury beachside safari camp nestled in the dunes of Cape Range National Park and on the shores of Ningaloo Reef. Remote, peaceful, and with the essentials you need while you take some time away from the hectic city life, Sal Salis allows you to slow down, focus on the beauty of the wilderness, and take your time recharging without distraction. (Discover more about Sal Salis in this blog post.)
Island Campsites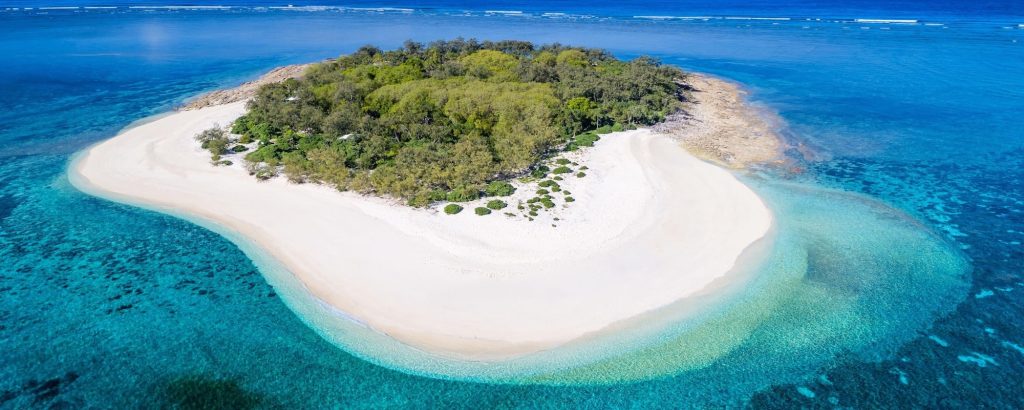 We have two island campsites where you can live your island life daydreams…
Wilson Island is a one-of-a-kind Great Barrier Reef getaway that accommodates a maximum of only 18 guests at a time. Experience that castaway-style island life inside comfortable glamping tents spread throughout the island where one step off your deck leads to the fine white sand and the crystal clear waters beyond.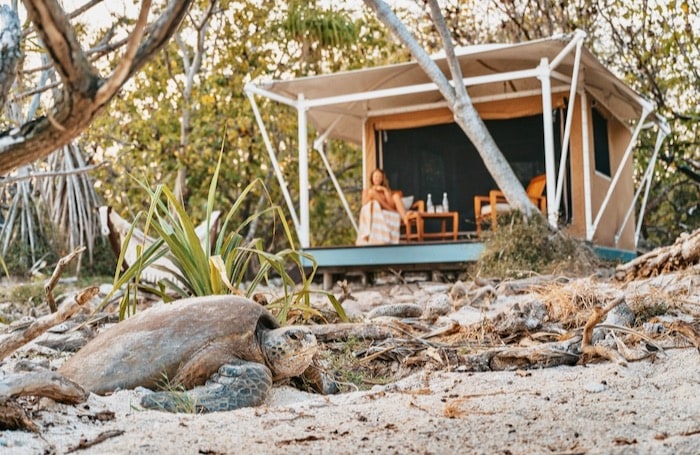 Discovery Rottnest Island behind the sand dunes of Pinkie Beach on the other hand is a delightful destination with luxury camping tents suitable for all types of travellers. These low-impact tents are spacious, comfy, and set in a beautiful beachside location where you might also have the chance to see the happiest animals on earth—the quokkas!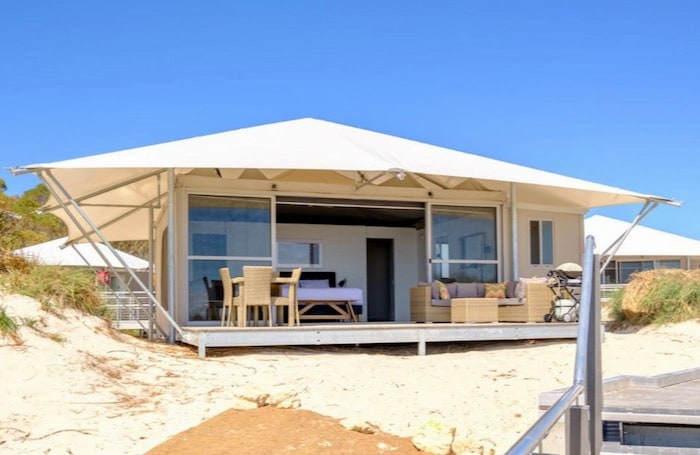 Ultra-Luxe Camping
Perhaps some of the most luxurious accommodations that offer glamping in Australia, Longitude 131 and Marramarra Lodge are set in equally picturesque locations–each with a different appeal… Both have amazing fully-furnished accommodations and peaceful spots where you can unplug and lose yourself in the beauty of your surroundings…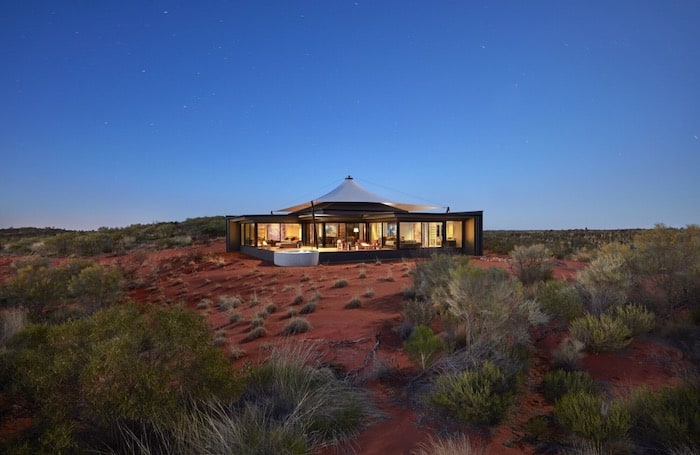 Longitude 131's 16 tented pavilions dotted on the red desert take glamping to the next level, treating you to a luxurious outback getaway. Find yourself in the vast expanse of the Northern Territory and in the Red Centre with Uluru in the distance. Apart from spacious interiors and a furnished private deck where you can enjoy the surrounds, you can also cool off in your private plunge pool when you opt for the Dune Pavillion.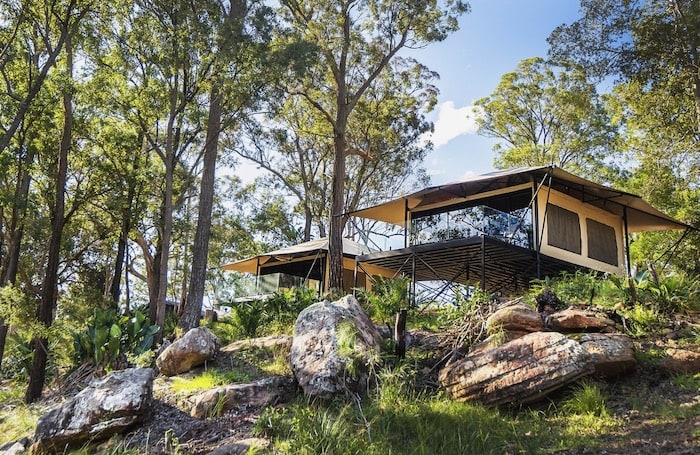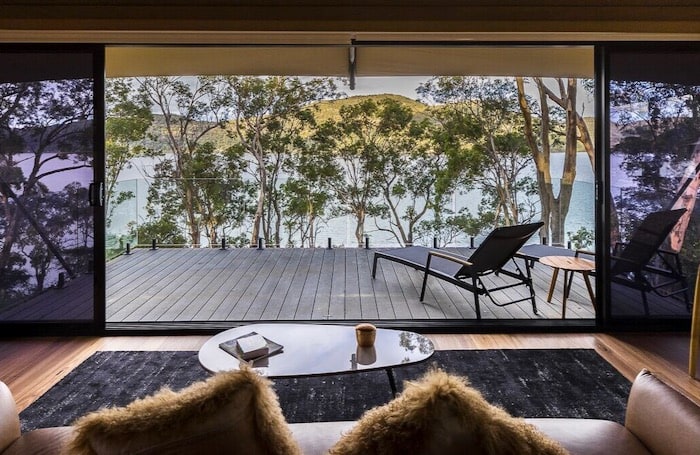 At Marramarra Lodge, there are 3 types of accommodation, but for those going after the glamping vibe, we recommend one of their Peninsula Tents. This reverse-cycle air-conditioned luxury tent has an open-plan layout and luxurious lounging area that leads out to the large outdoor balcony facing the Hawkesbury River, truly letting the outside in. We can already imagine the dewy mornings out on that beautiful balcony! (Get to know Marramarra Lodge more in this blog post.)
If you're looking for a unique and memorable holiday, glamping in Australia is a great option. For more amazing getaways, check out our full collection.
Image credit: Kanimbia Luxury Glamping
What's your luxury?
Luxury means different things to different people. Is your luxury a glamorous hotel in downtown Manhattan, a private island hideaway on the Great Barrier Reef, or a safari camp on the plains of the Serengeti? We'll help you find your perfect version of luxury in some of the world's most beautiful places.