Bali is an amazing destination for a family holiday in Indonesia. There are plenty of activities to keep kids entertained, and a range of luxurious accommodation options that will make parents feel pampered. Some resorts have kids' clubs and offer guided activities like cooking, swimming, and surfing lessons, or even more unique local activities the whole family can enjoy. Get the most out of your holiday with the fam at the best family-friendly hotels in Bali and make new memories with the little ones!
Conrad Bali
Conrad Bali is a luxurious family-friendly resort that offers spacious accommodations, state-of-the-art amenities, and stunning views of the ocean. With friendly staff that will help you with personal requests, a range of dining options on-site, and a spa that offers traditional Balinese pampering treatments, Mom and Dad can enjoy some luxurious downtime. One of the most popular family activities is biking around the villages of Nusa Dua and Sawangan. Guided tours are available too!
---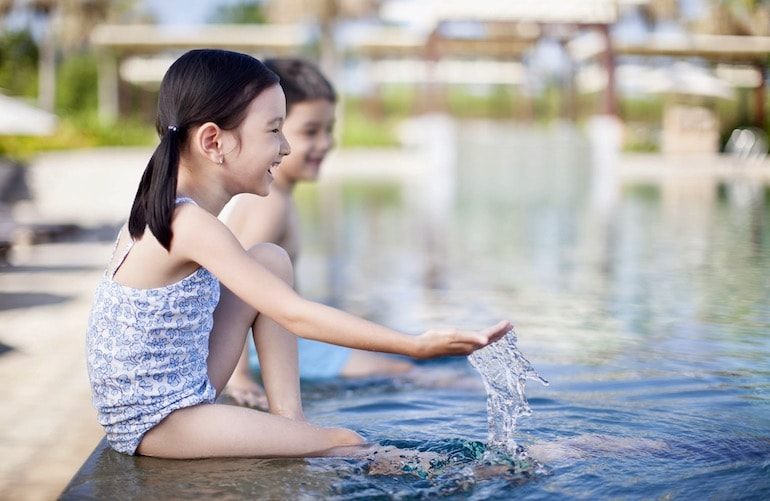 Andaz Bali
With the kids club and plenty of activities and amenities geared towards children, Andaz Bali is easily one of the best family-friendly resorts in Bali. Child-friendly amenities include a swimming pool, playground, and dedicated games room. This boutique-style luxury hotel has direct beach access, 5 restaurants, 3 pools, and is home to Sanur's biggest wellness complex—Shankha Spa where you can enjoy the sauna, hydrotherapy pools, and pampering treatments.
---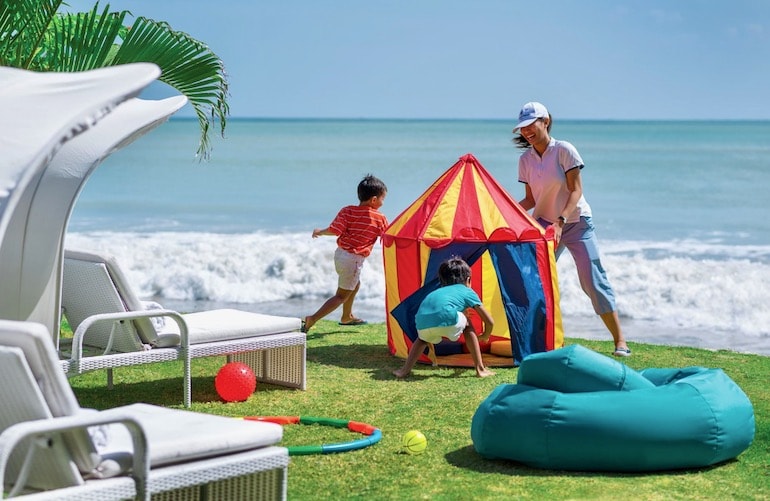 Four Seasons Resort Bali at Jimbaran Bay
Nestled in a calm bay, Four Seasons Resort Bali at Jimbaran Bay places your family in nature's embrace. The accommodations are arranged in a Balinese village style and blend into the lush surroundings. Kids won't run out of things to do! A variety of beach toys, family surfing lessons, and local activities like traditional kite making and the fishing net throw experience are included in the activities at Jimba Kids Club. We love the marshmallows and bonfires that the whole family can enjoy!
---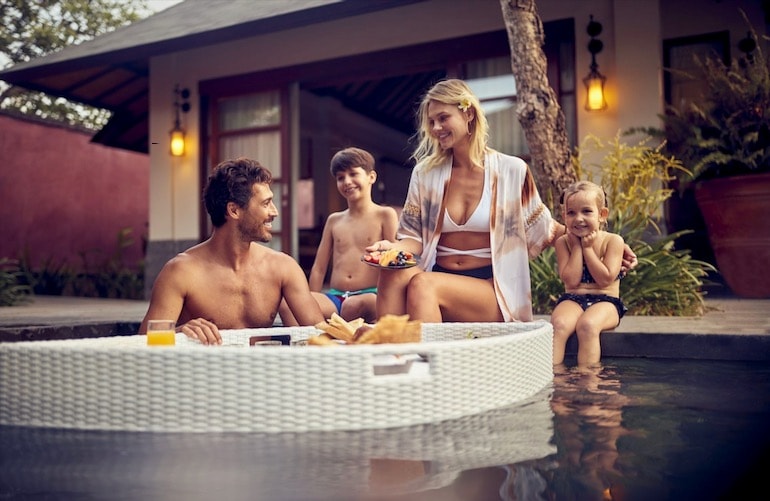 Hilton Bali
Hilton Bali is a cliffside resort overlooking Nusa Dua's Sawangan Beach. Jungle Kids Club is an active kid's paradise, with activities and child-friendly structures such as treehouses, wall climbing, and tunnels to explore. There's a dedicated indoor games room and a sandbox-style outdoor playground too. You can play too! There's an on-site tennis court, a fitness centre, and a pool for some laps. The beachside loungers are there to welcome you if you opt for some quiet time while the children are out having guided playtime. Choose from any of the spacious rooms and villas that can sleep 3 to 6 guests.
---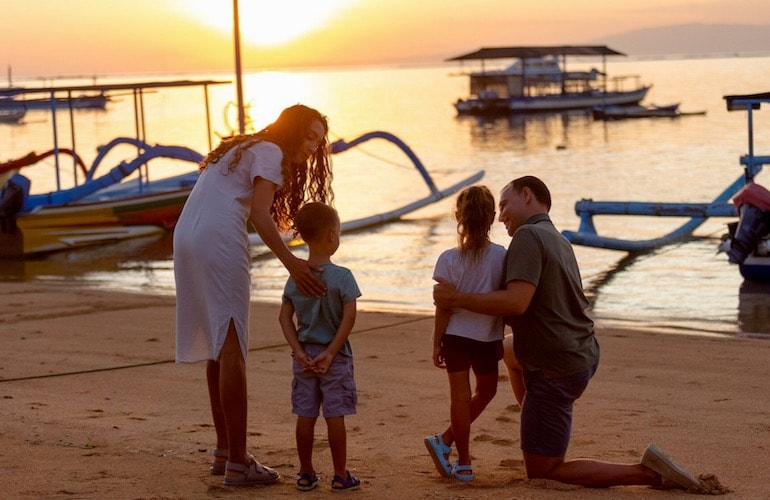 InterContinental Bali Sanur Resort
Set in the lush forests of Southeast Bali, InterContinental Bali Sanur Resort is a luxury beachfront hotel in the heart of Sanur. Its expansive suites and villas offer restful sanctuaries for travelling families, and are conveniently located less than half an hour away from Ngurah Rai International Airport. It has an indoor airconditioned kids club and 2 kiddie pools for some splashing fun! With butler, babysitting, and nanny services available, you can enjoy the open-air Lobby Lounge and other on-site dining options while experiencing personalised care.
---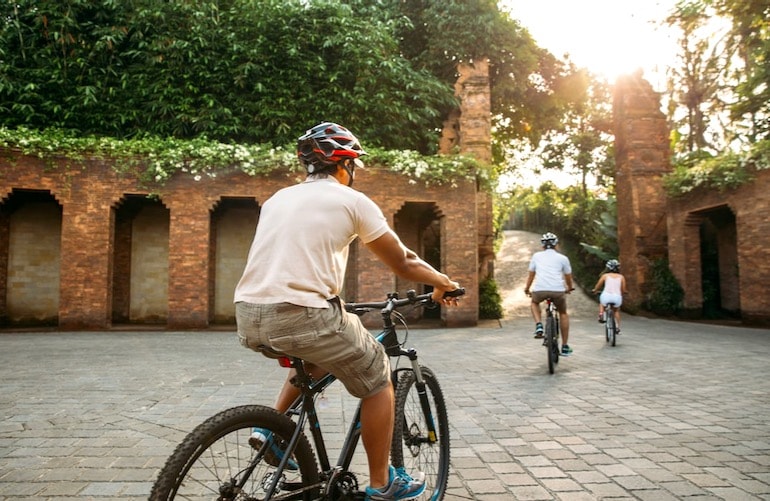 Mandapa
We love how Mandapa's Mandapa Camp plans a day of discovery for the kids. It has immersive nature-centric activities that encourage your children's inquisitiveness while giving them unforgettable experiences in Bali's rice paddies and fields. With art camp, an introduction to healing traditions, and other eco-discovery activities (you can join in on the biking!), keeping the kids happily occupied is a breeze. Oh, and, while the kids are busy exploring, indulge in the traditional Balinese healing therapies in the spa.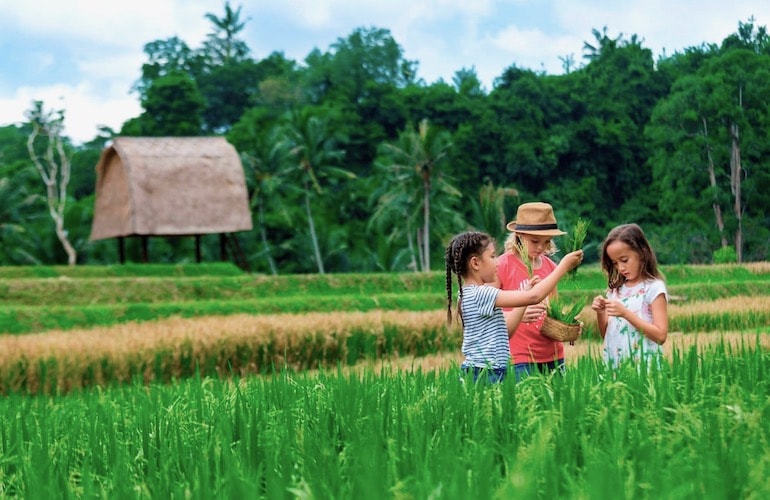 ---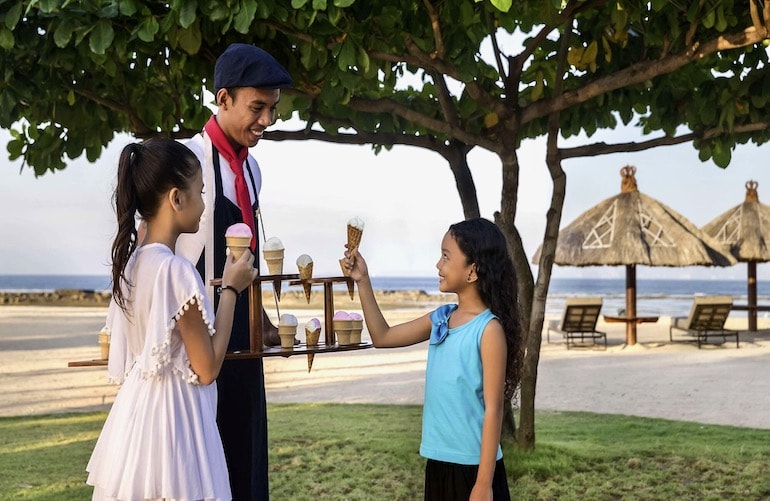 Sofitel Bali Nusa Dua Beach Resort
A 5-star luxury resort and one of the most family-friendly hotels in Bali, Sofitel Bali Nusa Dua Beach Resort has dedicated indoor and outdoor kids club spaces for the little ones to enjoy. The reading room is stocked with enjoyable and educational reading materials while the outdoor play area is spacious enough to accommodate several little guests. The kids club has a nap area too! You too can enjoy deep slumber in your comfy suite or villa after relaxing signature treatments from SoSPA or comforting meals from any of the 5 on-site luxe restaurants.
---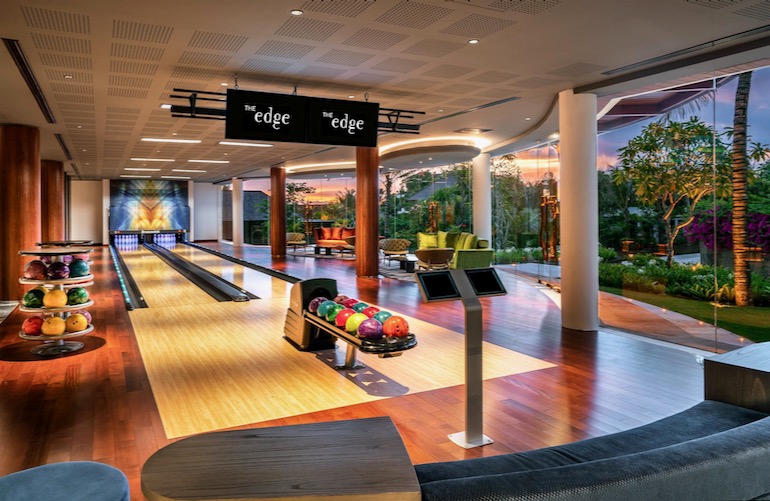 The Edge Bali
Set on a stunning cliffside location in Uluwatu, The Edge Bali has facilities and activities for the whole family to enjoy. The Club has a two-lane bowling alley, private cinema, karaoke room, and a rooftop tennis court great for families travelling with teens. For smaller children, The Playroom has an indoor kiddie slide, board games, television, and other child-friendly toys they can play with. Your family can choose from a number of pools, but most notable of all is ONEEIGHTY—the cliffside glass bottom pool set 160 metres above the ocean!
---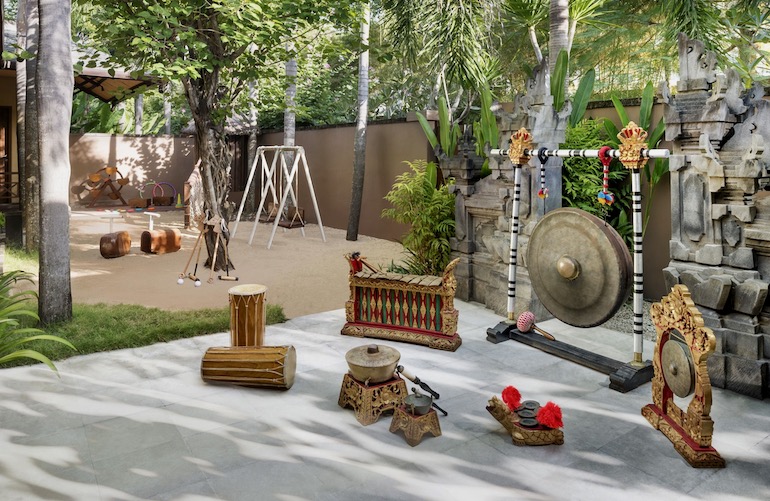 The St. Regis Bali
It's adorable how The St. Regis Bali has incorporated local musical instruments into the playground's amenities. With direct access to the white sand beach and several pools (adult and kiddie ones) to choose from, there is no shortage of water-themed fun. The St. Regis Learning Centre takes the spotlight though, with its locally-inspired interiors and action-packed programs for children 4 to 12 years old. They offer a complimentary 2-hour use of the learning centre, and private half- and full-day experiences can be arranged too so you can unwind and have some quiet time as the kids explore.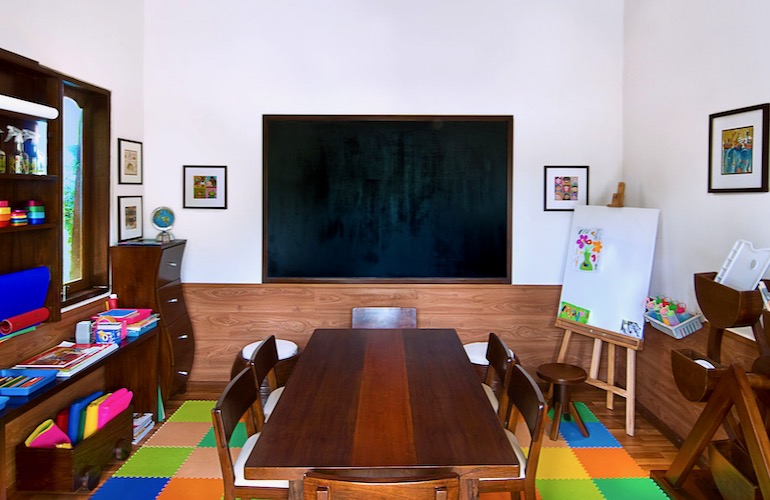 ---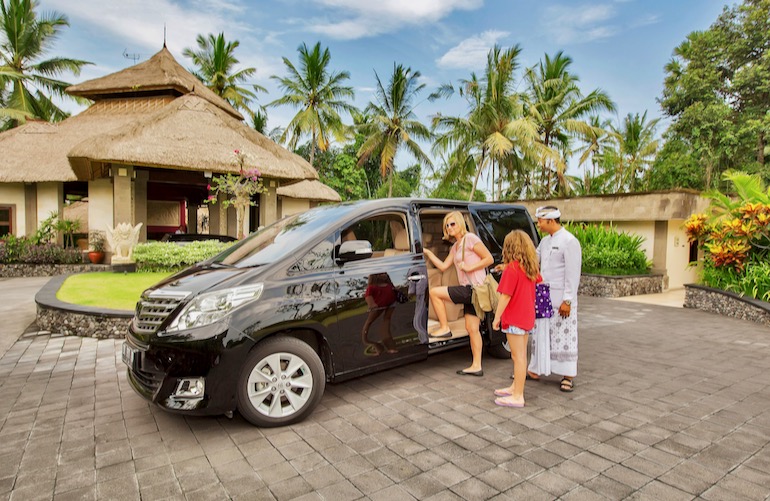 Viceroy Bali
Viceroy Bali is a dreamy hideaway in the heart of Ubud. Attentive service paired with Balinese hospitality and nature's beauty makes this a wonderful destination for your family. Activities everyone can enjoy include biking, cooking classes, Balinese dance lessons, and rice paddy trekking. For the kids, kite-making lessons are available too! After a day of exploration, your spacious villa—all with heated pools and amazing views—awaits…
---
The Ritz-Carlton Bali
We can already imagine the hours flying by as the kids enjoy the pool's slide, explore the playground, and fly their kites on the shore. Beach toys are available for some sand castle building and there are weaving and cooking classes too. For older kids, they may take an interest in learning how to play traditional instruments, fish feeding, and learning more about the local sea turtle preservation efforts. You can join in on the fun… they have the Night Safari experience where kids can set up camp in your room! Whether you go for a romantic beachside dinner at Beach Grill or enjoy room service in the privacy of your villa, Ritz Carlton Bali has you covered.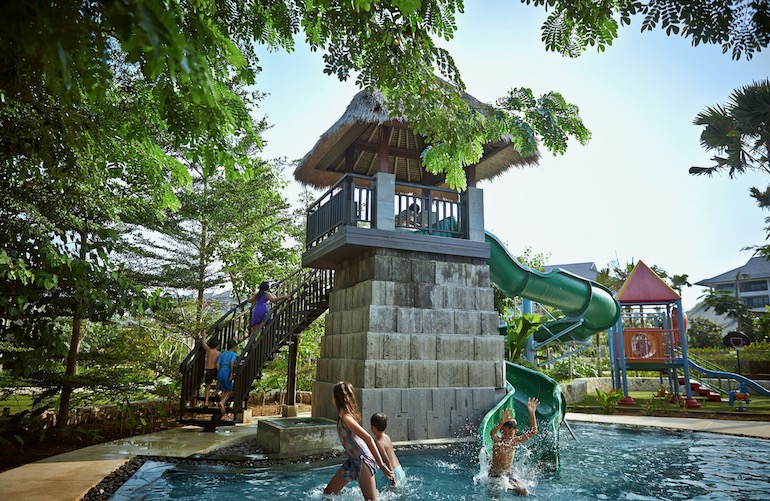 ---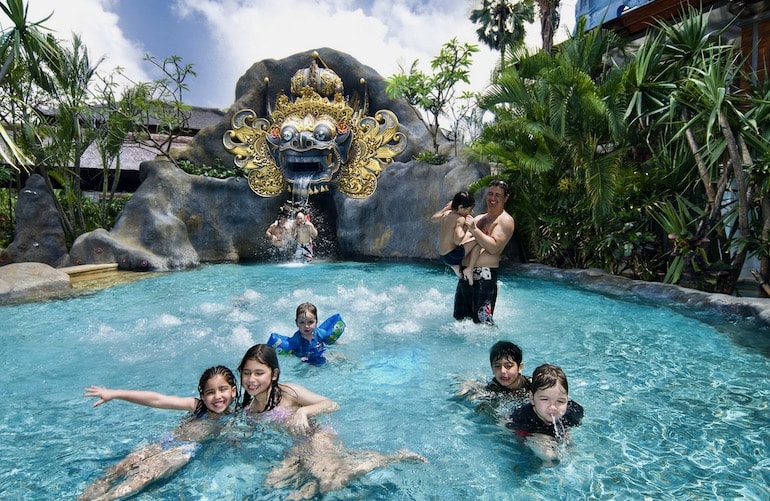 Padma Resort Legian
Have you ever tried a foam party? At Padma Resort Legian, your kids can (you can too if your child is under 4 years old)! Supervised by the Kids' Club Team every Monday and Friday, young guests of Padma Resort Legian can dance to fun tunes while having lots of fun in the foam. Another fun activity is the mermaid swimming class! For older kids and adults alike, there's archery, cycling, yoga, and good old splashing around the pool and enjoying the extra wide slide. From indoor activities to outdoor adventure, Padma Resort Legian has a lot of activities for the whole family.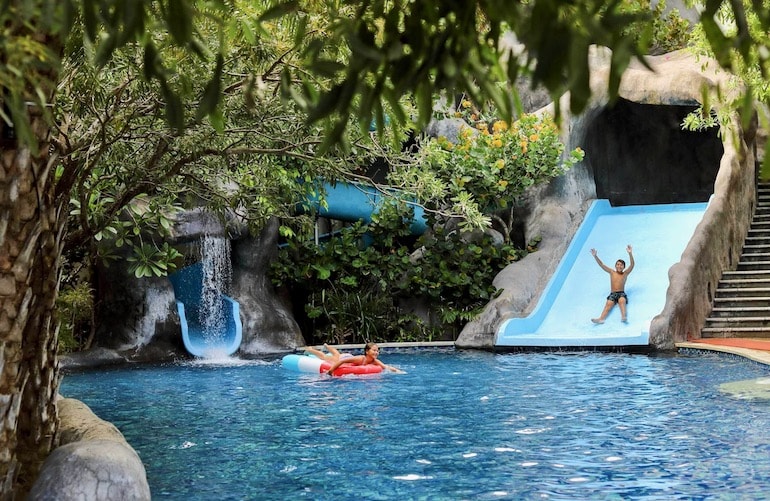 ---
Looking for more family-friendly options? Discover our full collection of family-friendly accommodation in Bali at viewretreats.com.
Image credit: Four Seasons Resort Bali at Jimbaran Bay
What's your luxury?
Luxury means different things to different people. Is your luxury a glamorous hotel in downtown Manhattan, a private island hideaway on the Great Barrier Reef, or a safari camp on the plains of the Serengeti? We'll help you find your perfect version of luxury in some of the world's most beautiful places.