Home to almost two million residents, Auckland is New Zealand's largest city. It boasts a diverse range of offerings for travellers from sophisticated urban pleasures to exhilarating country experiences. It is also a food-lovers paradise dotted with trendy cafes and world-class restaurants. For those who love the outdoors, Waiheke Island, Mount Eden, and Rangitoto Island are all spectacular and only a short trip from the city centre. But before you plan too many adventures, make sure to book the right accommodation for your stay. Say "kia ora" to our collection of the best luxury hotels in Auckland.
---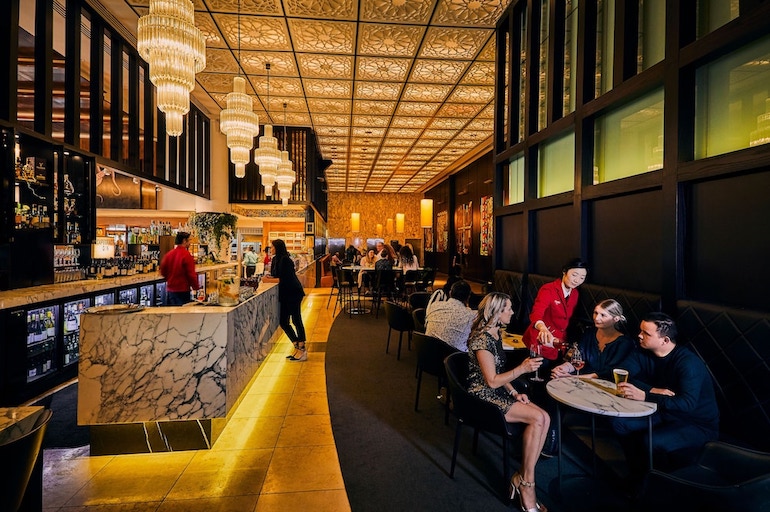 8. The Grand by SkyCity
Relish a stay at The Grand by SkyCity, a lavish luxury hotel in the heart of Auckland. It's a place of warm hospitality where travellers can relax in spacious modern guest rooms. Here you can also enjoy rejuvenating treatments at the award-winning East Day Spa, sweat it out at the gym, or cool down in the lap pool. Getting around is easy at The Grand, making it one of the best luxury Auckland hotels. You will be just a stone's throw from Sky Tower and SkyCity Casino, or a short drive from Queen Street, University of Auckland, and Princes Wharf.
---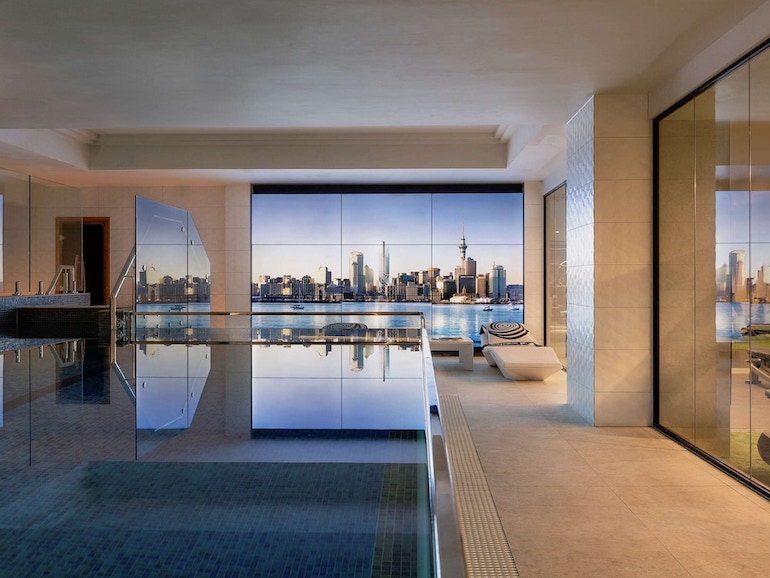 7. SO/ Auckland
SO/ Auckland is a luxurious city hotel located in the downtown Britomart District. Inspired by Auckland's volcanic origins, the rooms and suites feature avant-garde design, magnificent views, and all the modern technologies travellers need. With an enviable location in the heart of the city, SO/ puts you in the perfect position to explore Queen Street, Princes Wharf, and top tourist attractions. Or you could always choose to wine and dine at Harbour Society or relax at its sister property Sofitel Auckland Viaduct's day spa.
---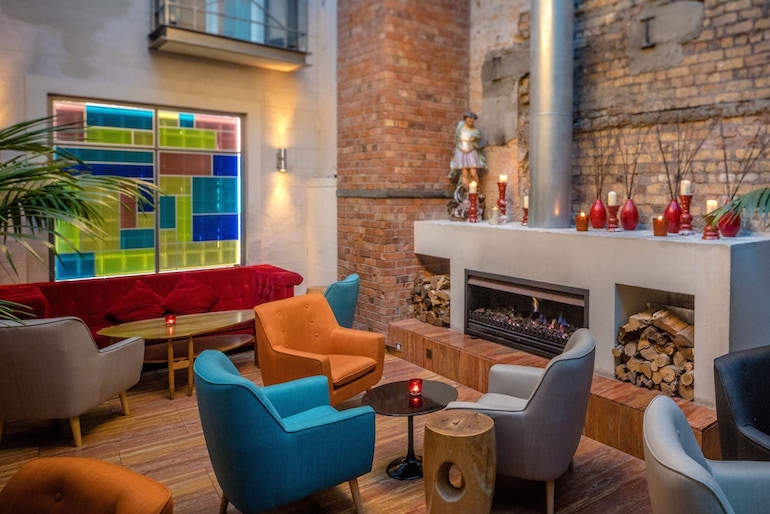 6. Hotel DeBrett
Nestled within the happy bustle of Auckland's High Street, just minutes from Britomart and the city's famous waterfront is Hotel DeBrett. This colourful art-deco boutique hotel is perfect for the hip urban adventurer. It features 25 rooms decked in contemporary comforts, modern furniture, and New Zealand art — all designed to impress the senses. Connect with fellow travellers at the Cornerbar or savour scrumptious Kiwi cuisine at DeBretts Kitchen.
---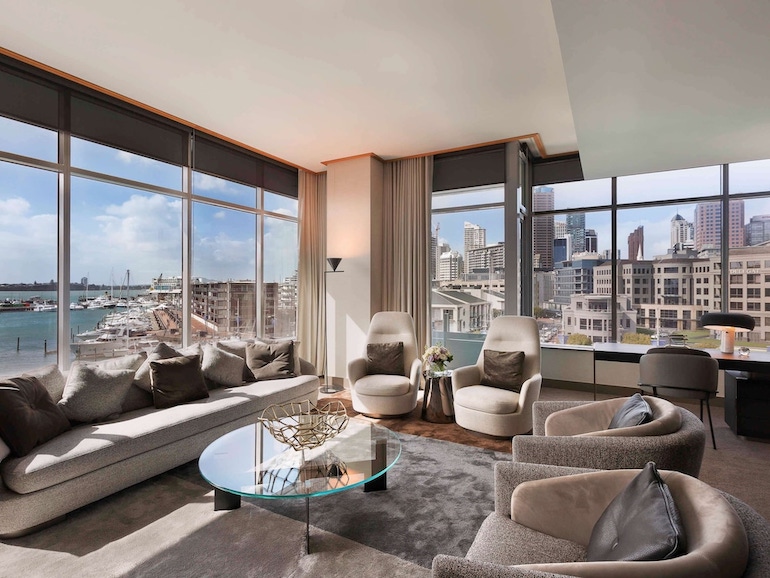 5. Sofitel Auckland Viaduct Harbour
Experience the very best of modern luxury at Sofitel Auckland Viaduct Harbour. Take pleasure in superb facilities including a wellness spa, French restaurant, cafe, and champagne bar. Rooms are sophisticated but comfy, featuring floor-to-ceiling windows, oversized bathrooms, and Sofitel's signature plush MyBed — guaranteed to give you a restful night's sleep. This French-inspired hotel is located in the CBD, placing you within a 15-minute walk of Viaduct Harbour, Sky Tower, and the attractions of Wynyard Quarter.
Find your perfect holiday in New Zealand
Discover over 225 handpicked hotels, resorts & private villas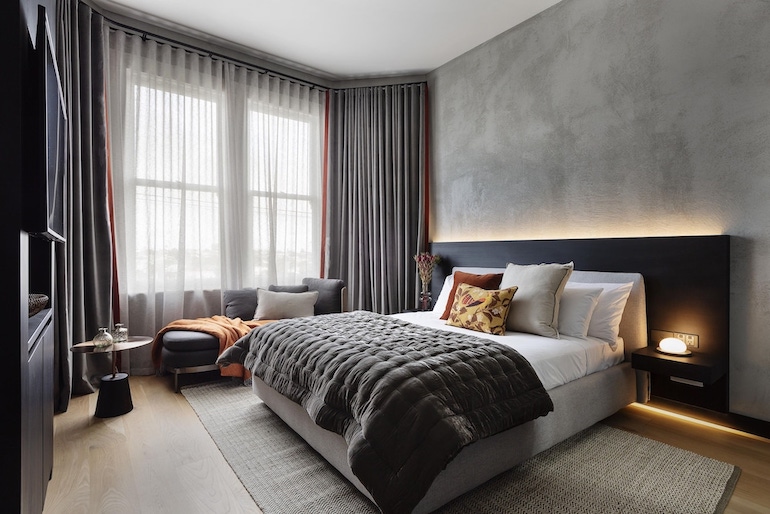 4. Hotel Fitzroy curated by Fable
Immerse yourself in the old-world charm and contemporary living offered at the Hotel Fitzroy curated by Fable. This carefully restored boutique hotel offers just 10 unique and spacious guest rooms with high-tech entertainment, a large ensuite, and contemporary furnishings. Immerse yourself in indulgent treats like cocktails and hors d'oeuvres in the library. Located amid Auckland's hip and trendy district, Hotel Fitzroy is only a 5-minute stroll from vibrant Ponsonby Road and a short drive to Auckland Zoo and Eden Park.
---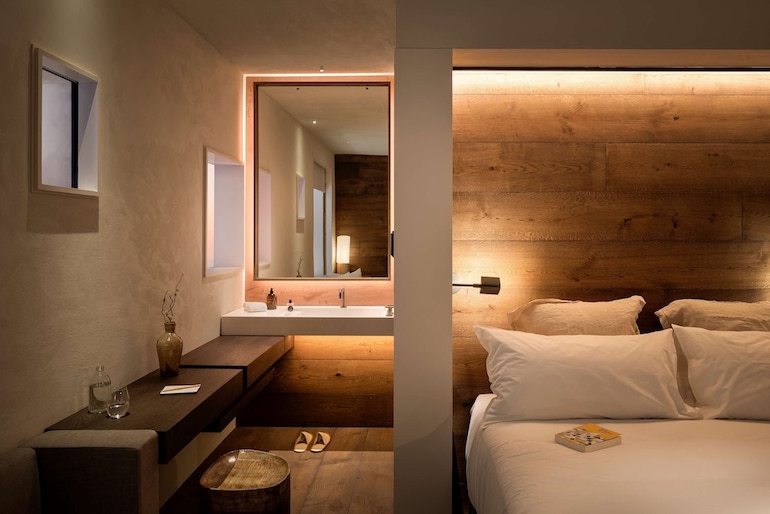 3. The Hotel Britomart
The Hotel Britomart recently won Conde Nast Traveler's 2021 Hot List — and for good reason. It spared no detail, from its gorgeous brick exterior to its stunning timber-lined rooms. Each beautifully designed room features hand-made ceramics, plush beds and sofas, and mini-bars filled with local treats. Plus, you get to savour the best of New Zealand's produce and wines at the restaurant. The best part? Just outside is a dynamic nine-block precinct of historic warehouses and the city's finest shopping and dining spots.
---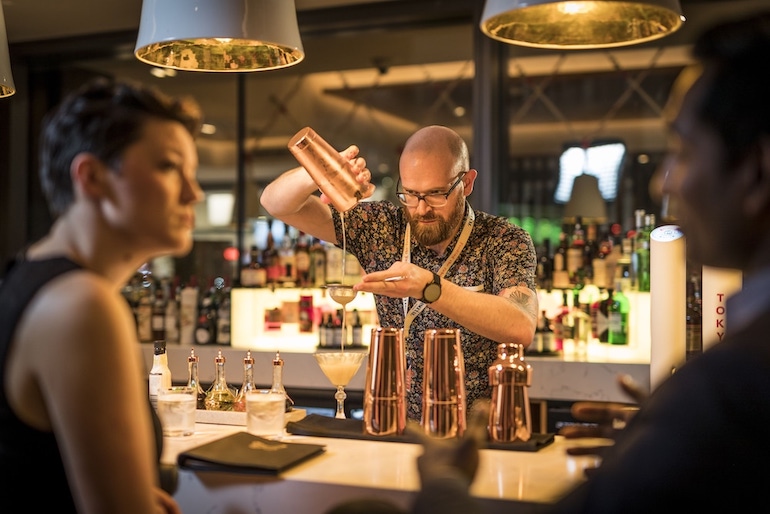 2. M Social Auckland
M Social Auckland is a modern luxury hotel made for the curious, who love to explore and discover new experiences. It has 190 guest rooms that feature superb views of Princes Wharf and offer 5-star comfort with a modern twist. There's also a signature restaurant and bar where you can lounge after a long day exploring Auckland. M Social is just a few minutes from La Cigale Market at Britomart, the New Zealand National Maritime Museum, and the Auckland Ferry Terminal.
---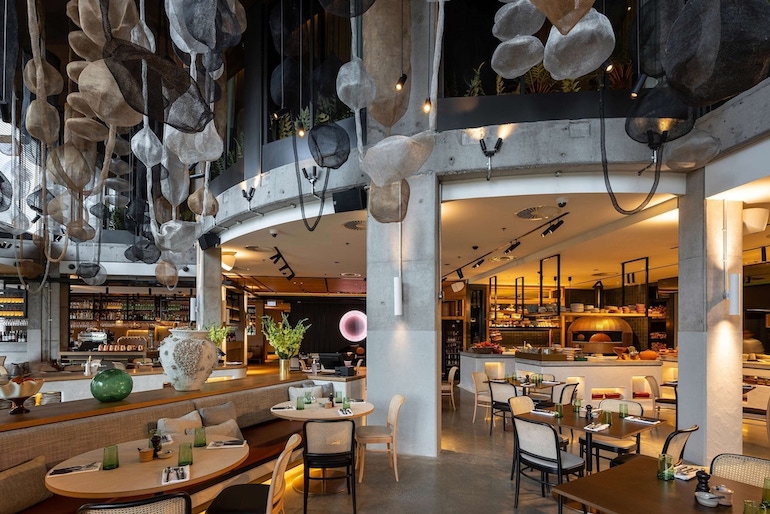 1. QT Auckland
QT Auckland invites you to celebrate dramatic style and unearth luxurious comfort inside their bold and mesmerising hotel. The rooms draw inspiration from the oyster, featuring smooth, clean textures, modern amenities, and designer baths to calm the body and revitalise the mind. Guests can enjoy the gym, the bar, and the in-house restaurant, Esther. You're also a mere 4-minute walk to the Viaduct Harbour and 7 minutes by foot to Victoria Park.
---
Pick one out of our list of the best luxury hotels in Auckland (there's no wrong choice!), pack your bags, and have a grand time in the "City of Sails". Or, check out our full collection of all luxury accommodation in Auckland.
Image credit: SO/ Auckland
What's your luxury?
Luxury means different things to different people. Is your luxury a glamorous hotel in downtown Manhattan, a private island hideaway on the Great Barrier Reef, or a safari camp on the plains of the Serengeti? We'll help you find your perfect version of luxury in some of the world's most beautiful places.