Also known as the "island of the gods," Bali makes us think of lush forests, beautiful coastlines, and peaceful relaxation while surrounded by nature. There's just something about secluded rainforest getaways and beachside escapes that we can't resist, and Bali offers the best of both worlds… and more. When it comes to indulgence, the Balinese have masterfully combined traditional hospitality and modern luxuries for an unforgettable stay. We've handpicked the best luxury villas in Bali where you can experience Balinese accommodation at its finest. From modern interiors to more traditional with some Bali flair, these luxury villas will surely paint a smile on your face.
---
---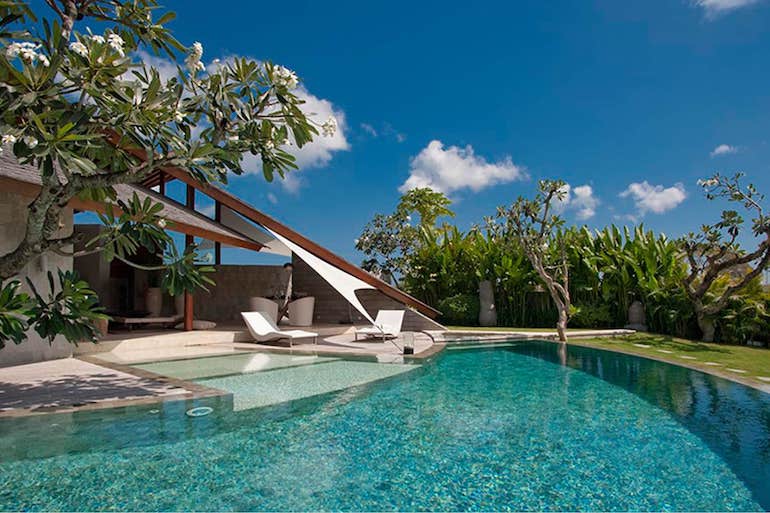 The Layar – Designer Villas & Spa, Seminyak
If you're looking for contemporary yet tropical interiors, The Layar Designer Villas & Spa in Seminyak perfectly captures this balance. Each of the 23 villas displays the architect's signature sloped roof lending it a sleek and edgy look. You can choose from 1- to 4-bedroom villas—all with private pools and beautifully landscaped tropical gardens, and enjoy dining in your villa or at Settimo Cielo where Italian flavours are complemented by the freshest ingredients grown on the island of the gods. The design-led interiors and personalised service make it one of the best luxury villas in Bali.
---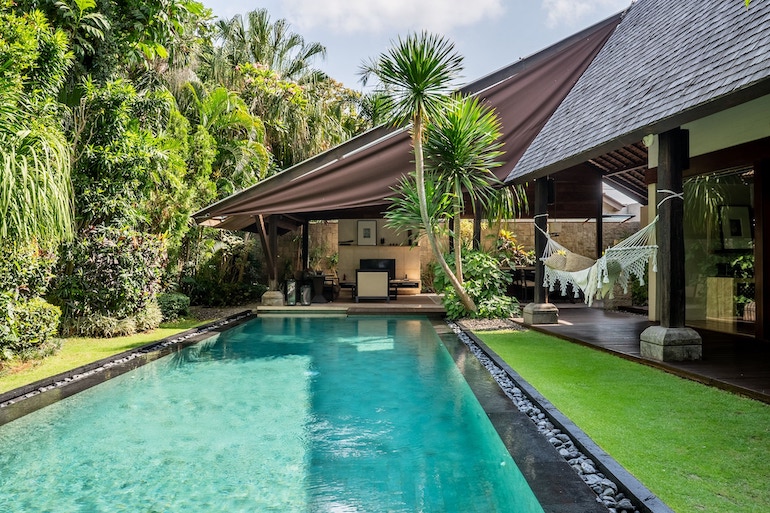 Ametis Villas, Canggu
Named after the crystal amethyst, Ametis Villa aims to enrich its guests' experience with home-style luxury in its 14 private villas offering 1-3 bedrooms each. When you book a stay, you will be assigned a personal butler who will anticipate your every need. Talk about living a luxe life, right? The intimate tropical setting away from busy Seminyak makes Ruby Spa—the on-site spa—an even more alluring experience where you and your special someone can indulge in nurturing wellness practices for the mind and body. After a zen pampering session, you can retreat to your private villa where you can enjoy some quiet time on the deck or in the integrated semi-outdoor living spaces that give you views of the lush gardens.
---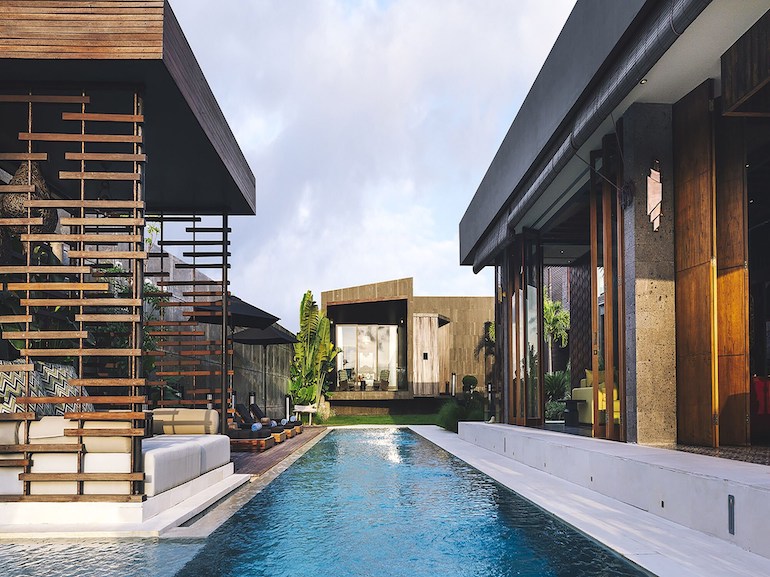 Villa Kayajiwa, Canggu
Villa Kayajiwa in Canggu is a modern oasis, easily earning its spot on our list of best luxury villas in Bali. Combining natural design elements with a modern and cubist approach, this stunning 4-bedroom villa is the perfect contemporary getaway for a group of friends or families. Inside, delight in the colourful rooms rich with local textiles and artwork, impressing the spirit of the island during your stay. The 25-metre lap pool provides a cool blue visual break from the otherwise warm and dark colour palette that gives this villa its sleek look. The dedicated staff provide personalised service, ensuring you, your friends, and family have all you need for a luxurious Balinese holiday.
---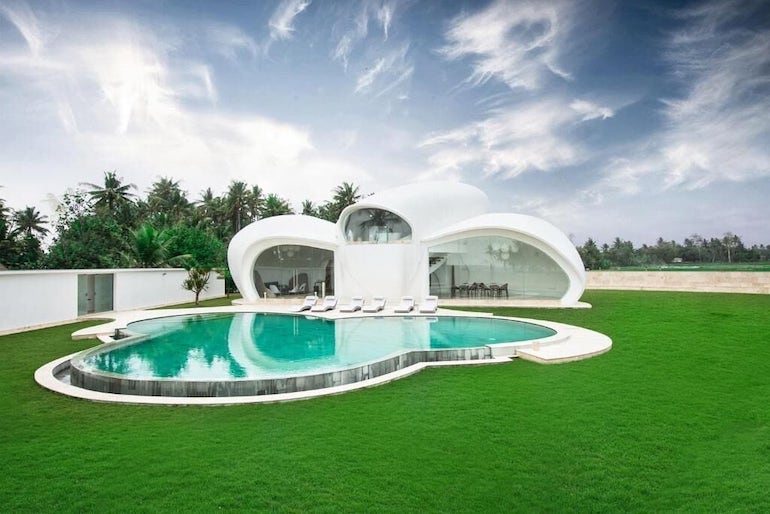 Beachfront Villa The Cloud, Tabanan
Beachfront Villa, The Cloud in Tabanan is a whimsical cloud-like villa just steps away from Pasut Beach. Consisting of 5 dome-like shapes and one of the more architecturally unique luxury villas in Bali, this 3-bedroom villa can sleep up to 7 guests. Inside, the villa has a minimalist futuristic vibe owing to the neutral-coloured natural stone and wood elements, and is equipped with a kitchen, dining area, laundry area, and a bathroom with a freestanding tub. You can relax on one of the loungers near the private pool whose outline echoes the curvaceous shape of the villa itself.
---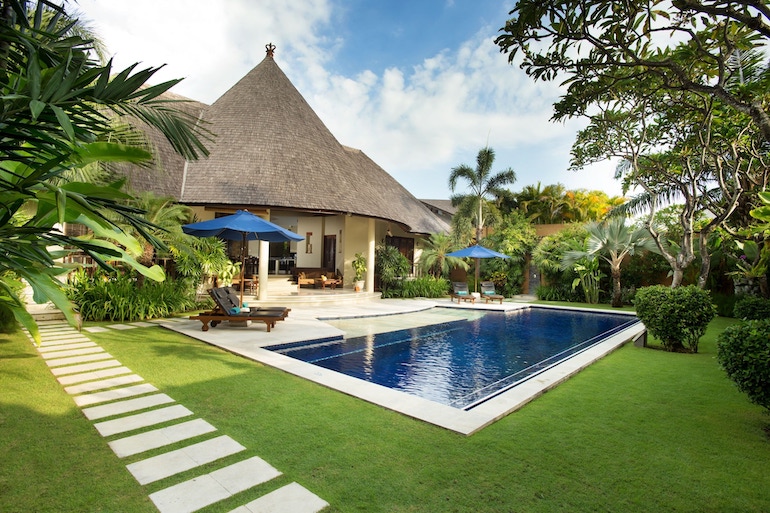 The Kunja, Seminyak
Just a few minutes away from the trendy Seminyak area are The Kunja Villas & Spa's 18 fully-serviced villas. Ideal for family getaways or a tropical escape with a group of friends, you can choose from 1- to 3-bedroom villas that have spacious living rooms, fully-equipped kitchens, bathrooms, and king or 2 twin bed setups. You can enjoy relaxing spa treatments or order in-room dining from The Kunja Kitchen while the kids have fun in your private pool with on-site toys provided. The Kunja truly offers enjoyable spaces and activities for all members of the family, making it one of the best luxury villas in Bali.
---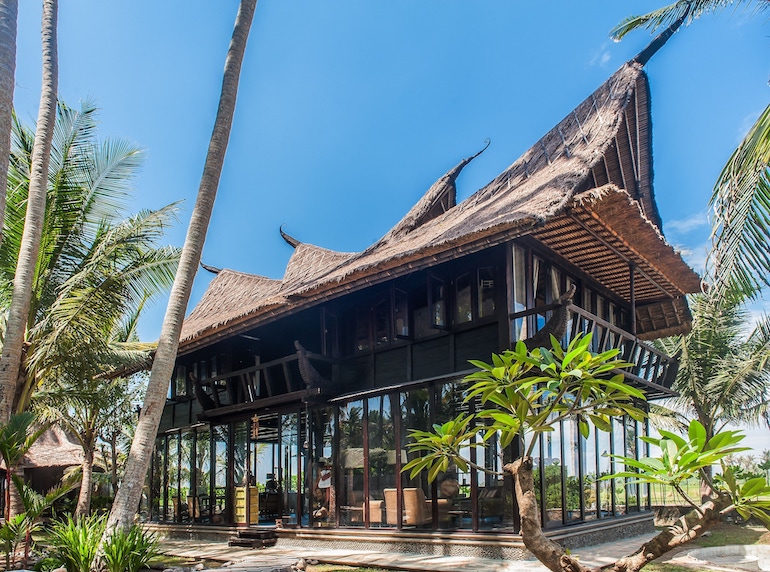 Most Exotic Beachfront Villa Keong, Tabanan
Each corner of Most Exotic Beachfront Villa Keong in Tabanan lives up to its name with its ornately carved doors and walls, an abundance of dark hardwood furniture, traditional thatch roofing, and stone dragons guarding the outdoor spa tub. The maximalist interior design is made cohesive by a consistent use of natural elements reflecting Balinese heritage and is seen throughout the Luxury Villa that sleeps 2, the 2-bedroom Superior Villa that sleeps 5, and the 3-bedroom Exclusive Villa that can sleep up to 10 guests. The Luxury Villa has the dragon-guarded spa tub, while the Superior and Exclusive Villas each have a private pool. This is a great choice for intimate private events!
Find your perfect holiday in Bali
Discover over 195 handpicked hotels, resorts & private villas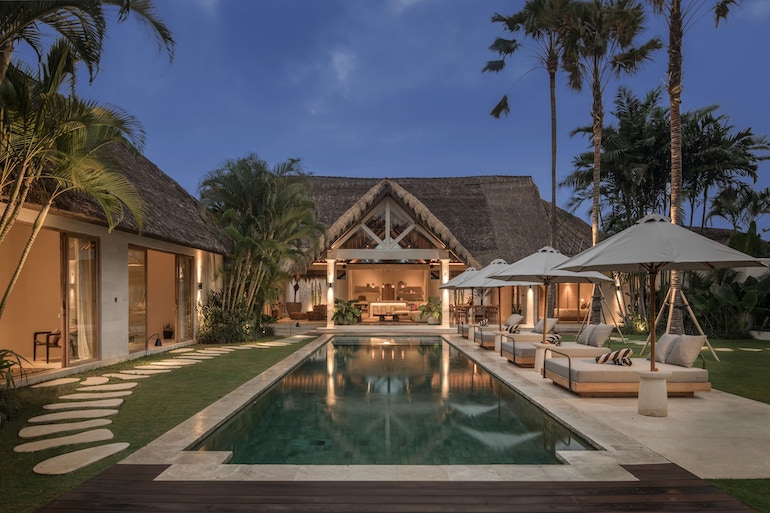 Villa Massilia, Seminyak
Airy and light, Villa Massilia in Seminyak is comprised of 3 spacious villas rich in natural textures and local patterns. It boasts a combination of traditional design elements—woven roofs and lamps, and wooden furniture—and industrial chic, with its rough plaster-style walls and gravel-floored bathrooms. The Luxury Villa has a sunken living room area with a plush velvet couch, while the Design Villa has a high-ceiling open-plan layout where the living room, kitchenette, and dining area meet. Two of the 3 villas have 3 bedrooms and can sleep up to 6, and the Design Villa has 4 bedrooms that can sleep up to 8. All villas have private pools, king beds, kitchenettes, and open-air bathrooms—everything you need for a luxurious extended stay with your family or friends.
---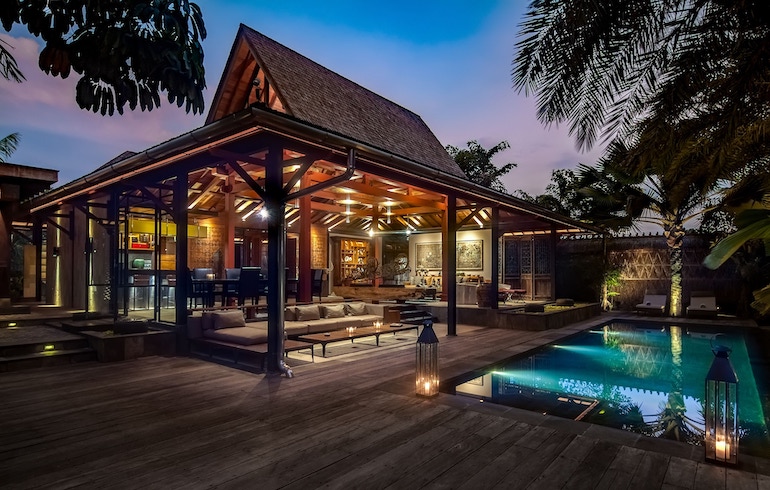 Villa Conti, Canggu
Villa Conti in Canggu has seamlessly combined traditional architecture from Indonesia, China, and the West to give its guests a luxurious Balinese getaway. This fully-staffed 5-bedroom, 6-bathroom villa features art and antique collections, giving character to its interiors. The exterior sports the traditional Javanese roof silhouette and is complemented by matte black steel frames, giving the villa a touch of 21st-century sophistication. It has three pools and can accommodate 10 adults and 2 children in its spacious living areas.
---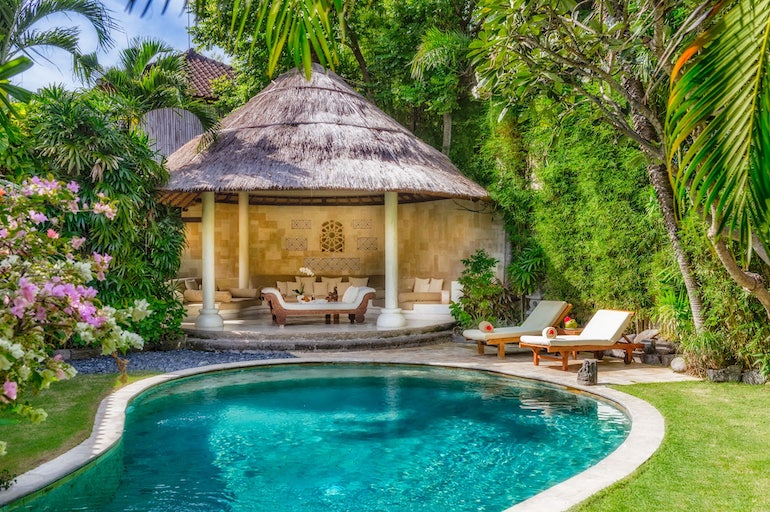 Villa Kubu, Seminyak
Wouldn't it be lovely to read a book or take a nap on that Recamier couch as you feel the breeze circulating through the gazebo? Villa Kubu in Seminyak combines traditional and hand-carved furnishings with modern luxuries such as deep-soaking tubs, private pools, and coffee-making essentials. Primarily cream-coloured interiors are livened up with warm hardwood bed boxes and furnishings, and rooms are thoughtfully adorned with art pieces that lend the space a Balinese vibe. Villa Kubu has 17 fully self-contained villas, ranging in size from 1 bedroom up to 8 bedrooms, that all exude an atmosphere of tropical serenity.
---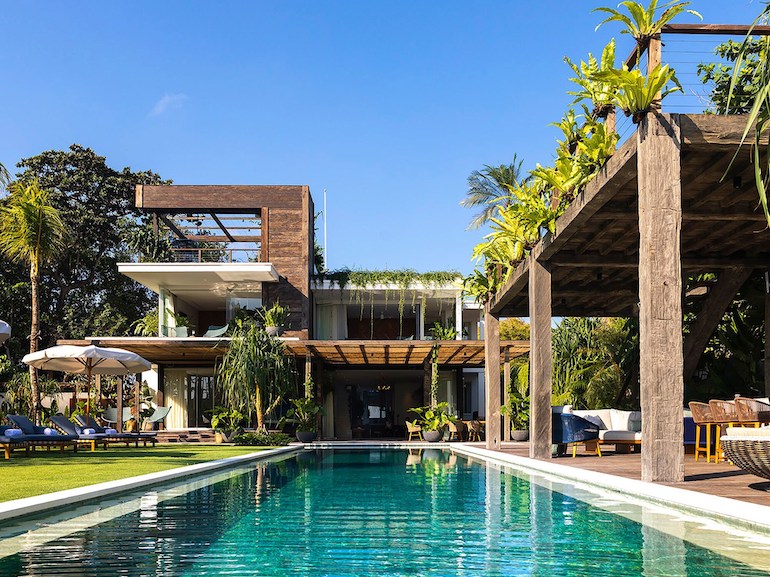 Noku Beach House, Seminyak
Noku Beach House, Seminyak feels like a luxe resort—only, it is all yours. This beachside residence has 2 storeys, 6 bedrooms and ensuite bathrooms with 3 king beds and 6 twin beds, and can sleep up to 12 guests. You can while away your time and enjoy undisturbed views of the ocean from two rooftop areas—one above the pool and the other on the main villa building, or you can cool off in one of 2 pools. Noku Beach House has a private spa and treatments are carried out by professional therapists; you will also be assisted by personal butlers and housekeepers, and babysitters are also available upon request. Worry-free relaxation for you and all members of the family in one of the best luxury villas in Bali. Doesn't that sound like a dream?
---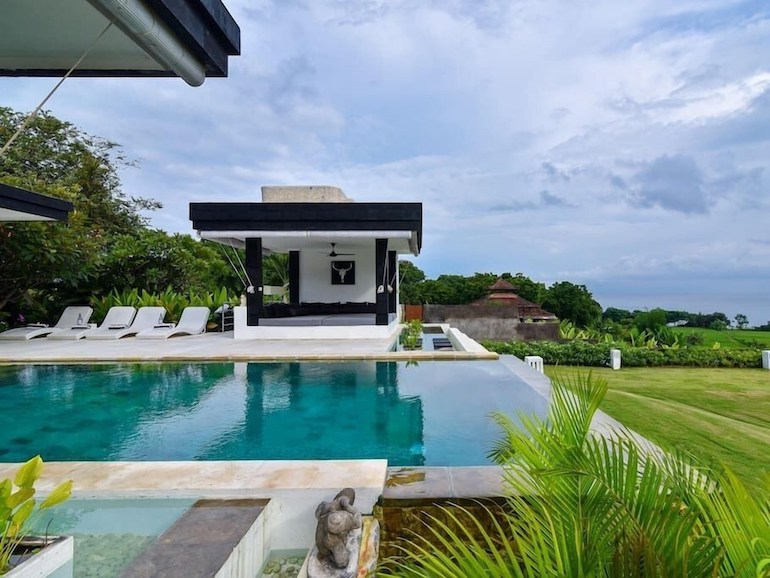 Villa Pondok Wahyu Sedana, Seririt
Uncomplicated luxury. It's black and white at Villa Pondok Wahyu Sedana, and you'll love how effortless your holiday will be when you book a stay in this intimate 2-bedroom, 2-bathroom villa. The private infinity pool overlooks the garden that leads out onto the ocean, and the outdoor spa tub treats you to magnificent views of the sunset. There is an indoor and semi-outdoor living area, while the dining area that can seat up to 6 overlooks the pool. Rooms have sliding glass doors with garden or ocean views, and have blackout curtains for that sleep-inducing darkness in your cool air-conditioned room.
---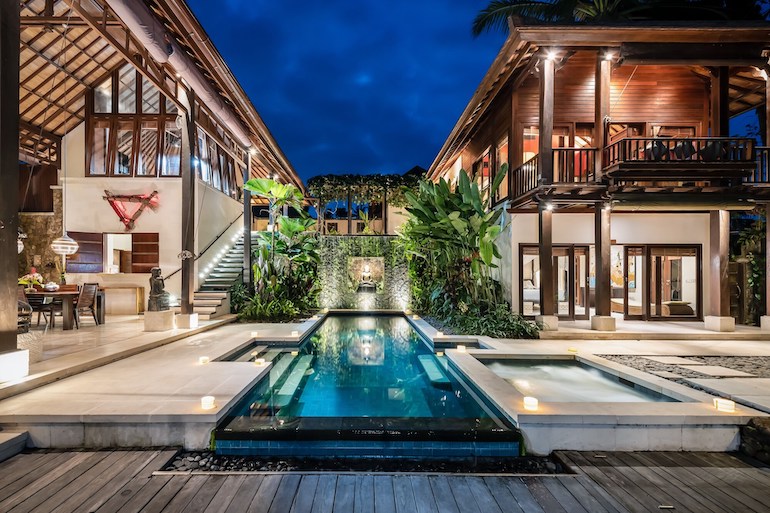 Villa Vajra, Ubud
Perfect for couples, families, or small groups of friends looking to stay in Ubud, Villa Vajra, nestled in lush fields is a 2-building villa; one with 3 bedrooms and the other with 2, and has a central pool with a waterfall feature. We can just imagine how the soft trickling of water here will help us fall into a deep sleep… The 3-bedroom villa has an open-air living and dining area, and can sleep up to 10 guests in its light-filled rooms with glass sliding doors. The 2-bedroom villa on the other hand can sleep up to 6 guests. Relax in the deep-soaking bathtub, or enjoy the day out on the second-floor balcony with views of the surrounding fields.
---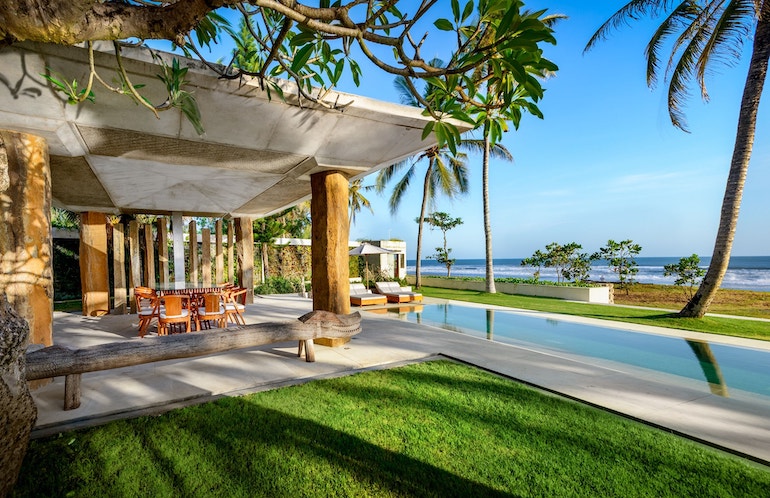 Villa Vedas, Tabanan
From its warm wooden slat accent walls to its grand central staircase, Villa Vedas in Tabanan wows guests with Balinese grandeur. The minimalist pieces of furniture set on natural stone flooring is given life by the traditional décor—towering brass lamps, ornate candelabras, and detailed rugs in the living areas that contrast with the deliciously modern and spacious kitchen. The floating platform beds are consistent in style with the sleek multi-levelled floors, and the recessed lighting throughout the villa bathes the interiors with a soft glow that makes for ambient and relaxing nights. Multiple cushioned loungers shaded by umbrellas surround the L-shaped pool outlining the main building.
---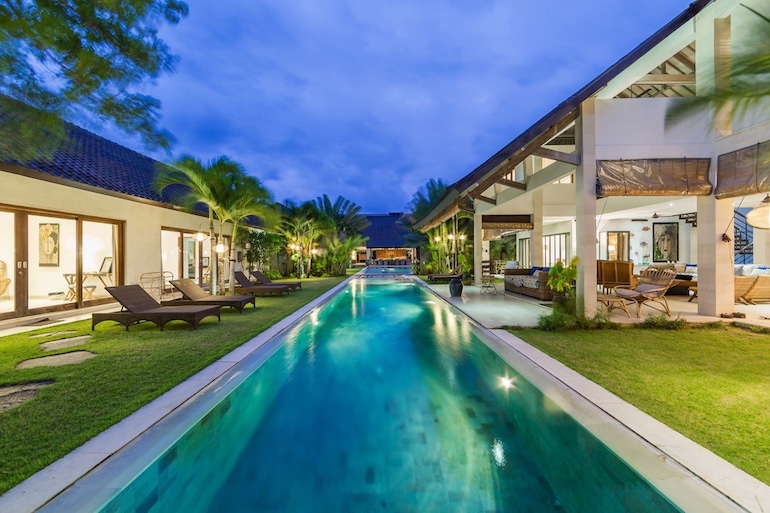 Abaca Villas, Seminyak
Abaca Villas is a villa complex in Seminyak that can sleep up to 41 guests in total. It has 4 swimming pools and an undeniable luxe atmosphere. You can choose from 3 private villas; Villa Kadek and Villa Nyoman with 5 bedrooms each, or Villa Iluh with 6 bedrooms. All villas have their own private pool, with Villa Nyoman as the exception having two—plus, a yoga pavilion. This exclusive luxury retreat is great for hosting events or bringing your family and friends together for a deluxe getaway just a few minutes away from Seminyak hotspots.
---
Wow, that definitely makes us want to hop on a plane to Bali! Discover our full collection of luxury accommodation in Bali for your next holiday.
Image credit: Villa Kayajiwa
What's your luxury?
Luxury means different things to different people. Is your luxury a glamorous hotel in downtown Manhattan, a private island hideaway on the Great Barrier Reef, or a safari camp on the plains of the Serengeti? We'll help you find your perfect version of luxury in some of the world's most beautiful places.