There's no doubt that New York City is one of the most popular tourist destinations in the world. With its towering skyscrapers, vibrant nightlife, and endless cultural attractions, it's easy to see why. But what if you're looking for something more edgy during your stay? Check out our list of some of the coolest luxury hotels in New York City allowing you to enjoy all that the Big Apple has to offer in style!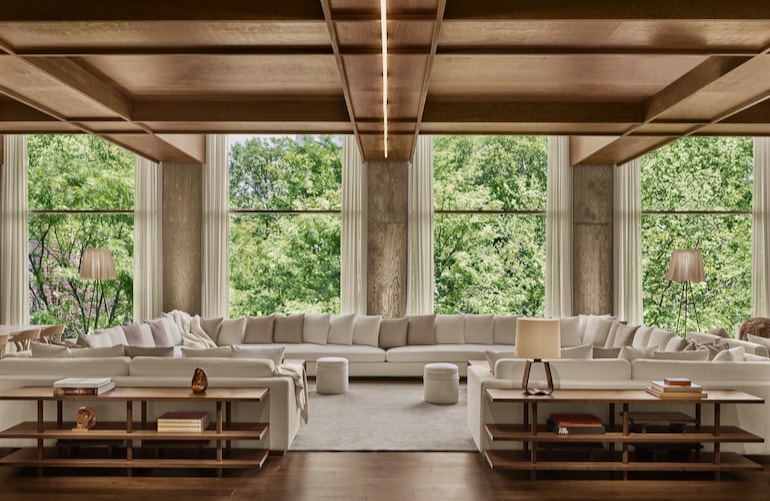 PUBLIC – An Ian Schrager Hotel – Stylish Boutique Hotel
Ian Schrager's PUBLIC Hotel offers super stylish hotel rooms designed with your every need in mind. With refined sophistication, smart simplicity, and a touch of flamboyance, PUBLIC is perfect for anyone looking for a unique NYC boutique hotel experience. The hotel's sleek design and integrated smart technology make everything you need easily accessible – from streaming your favourite shows to ordering room service. And, with exceptional bars and restaurants under one roof, PUBLIC is the perfect place to stay whether you're in New York City for business or pleasure.
---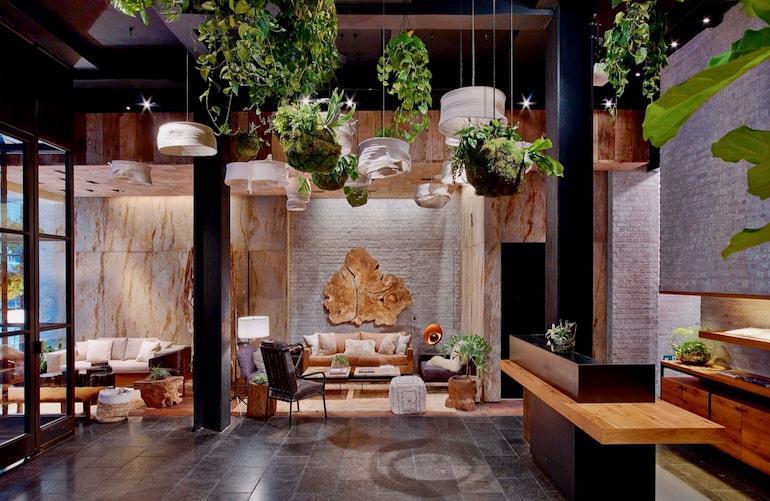 1 Hotel Central Park – An Urban Retreat
Experience luxurious, nature-inspired accommodation at 1 Hotel Central Park. This 229-room hotel is located in the heart of Manhattan, just steps away from Central Park. Each room features stylish reclaimed wood furniture, recycled cardboard hangers, hemp Keetsa mattresses, and organic cotton sheets. In addition, each guest has access to a Google Nexus tablet that tracks their carbon footprint. The three-story living-wall exterior is composed of recycled materials and helps to conserve water. Guests can enjoy a variety of eco-friendly amenities such as a daily market stand, bicycles, and an exceptional farm-to-fork restaurant. All of the amenities, its visual appeal, and interior design make it one of the coolest luxury hotels in New York!
---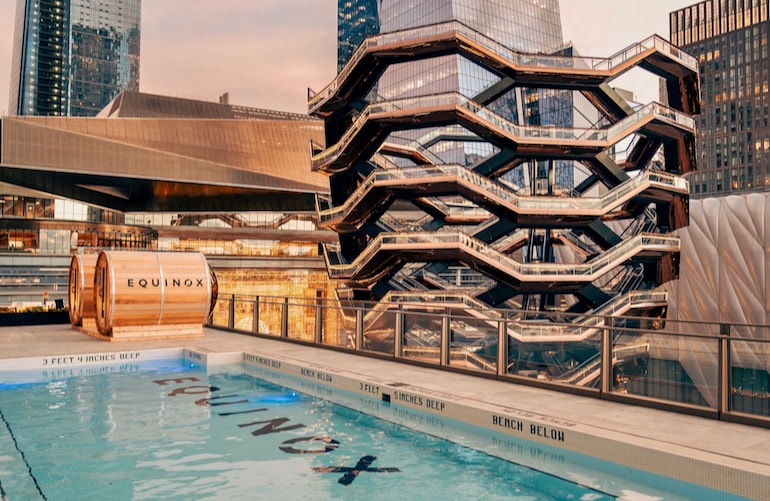 Equinox Hotel New York – A Haven of Regeneration
Redefining luxury, the Equinox Hotel New York is now open in the city that never sleeps. This 5-star hotel features a regenerating spa, an on-site restaurant, and full access to the Equinox Club. The product of top designers and architects, each hotel room is a temple to total regeneration with every detail finely crafted for your needs. The hotel's proprietary sleep system ensures that every night is a dream come true, leaving you primed to perform in ways you never thought possible. Wind down or wake up by streaming a series of stretches from your in-room media library developed to get you moving in the morning and to promote a more restful night's sleep.
---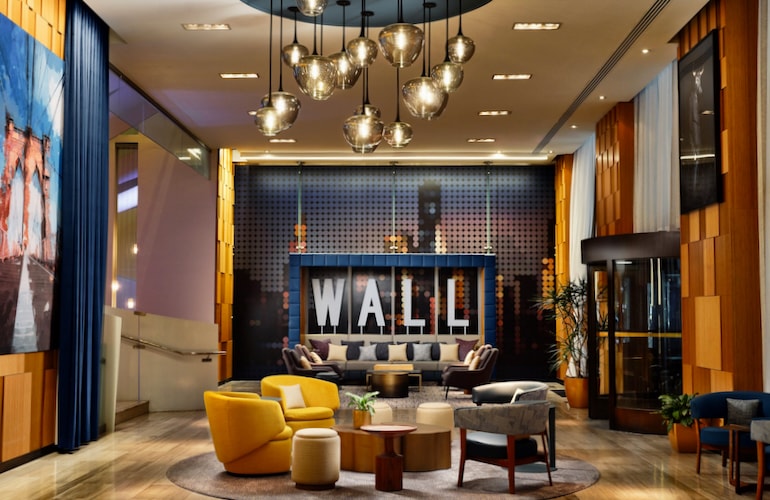 Hyatt Centric Wall Street New York – Your Haven in the Midst of Action
Our selection of the coolest luxury hotels in New York won't be complete without a spot at the iconic Wall Street. Hyatt Centric Wall Street is a pet-friendly, luxury hotel in the heart of New York's financial district. The hotel's spacious and sun-filled rooms boast 12-foot ceilings, walk-in rain showers, and high-end finishes. Savor global cuisine inspired and crafted by the multicultural kitchen team at the signature on-site restaurant, Wall & Water. Or, chat with neighborhood locals at the lively Centric Bar & Grill. With its stunning design and location, just steps away from lower Manhattan's waterfront, Hyatt Centric Wall Street is the perfect place to stay in NYC.
---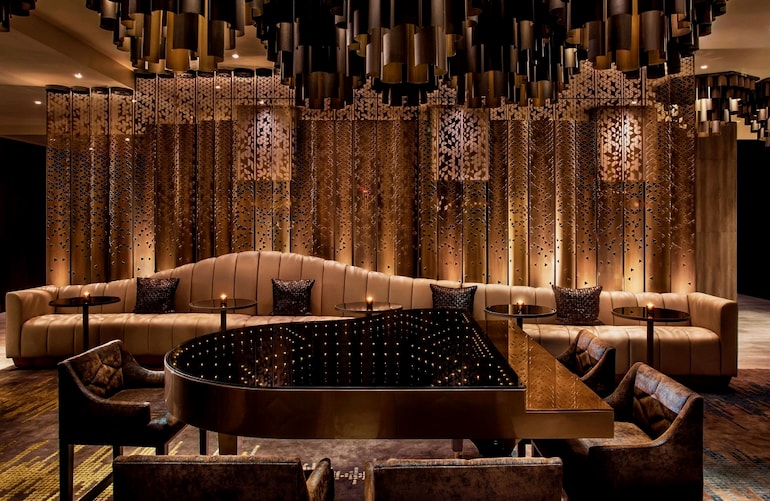 W New York – Times Square – Luxe and City Glam
At W New York, you'll be in the heart of all the action. This vibrant luxury hotel is located above Broadway in Midtown Manhattan and boasts unbeatable views of the cityscape. The sleek check-in area flows into the Living Room Bar, where a 39-foot neon masterpiece designed by New York studio Lite Brite Neon awaits. Guests enjoy spacious accommodations with unique art panels and geometric-patterned carpets that set the tone for a fun and unforgettable stay in NYC. Whether enjoying drinks at the bar, dining in one of the restaurants, or making use of the 24/7 fitness center, W New York – Times Square is sure to leave a lasting impression. You can also check out our W Hotels collection…
---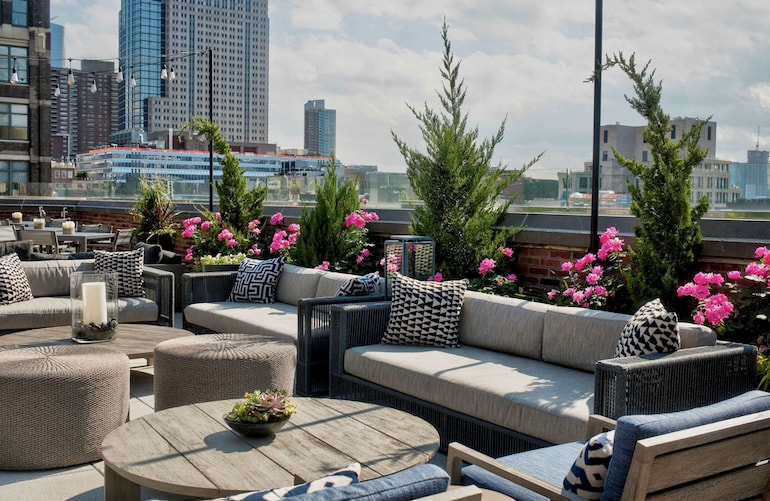 Arlo SoHo – Hip Homebase
If you're looking for a peaceful home base in the heart of New York City, look no further than Arlo SoHo. This sleek micro-hotel offers stunning views of the river and the city skyline, as well as all the amenities you need to make your stay comfortable and enjoyable. From the rooftop cocktail lounge to the fitness center and private meeting rooms, Arlo SoHo has everything you need to make the most of your time in New York. And thanks to the hotel's location in the trendy Soho neighborhood, you'll be right in the middle of all the action!
---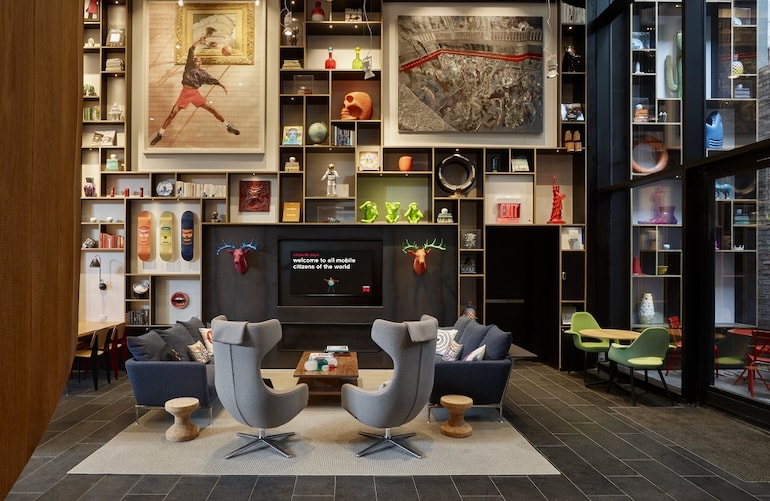 citizenM New York Bowery – Affordable Art Hotel
citizenM New York Bowery is a hip boutique hotel in lower East Side of New York City. The hotel offers guests affordable luxury with vibrant interiors and an impressive Museum of Street Art on-site beginning at the rooftop bar and continuing 20 floors down to the lower level. The Living Room, located downstairs, is a social space where guests can work, relax, eat and drink and there is a well-equipped fitness center onsite. citizenM New York Bowery is the perfect choice for travellers who want stylish NYC accommodation at an affordable price.
---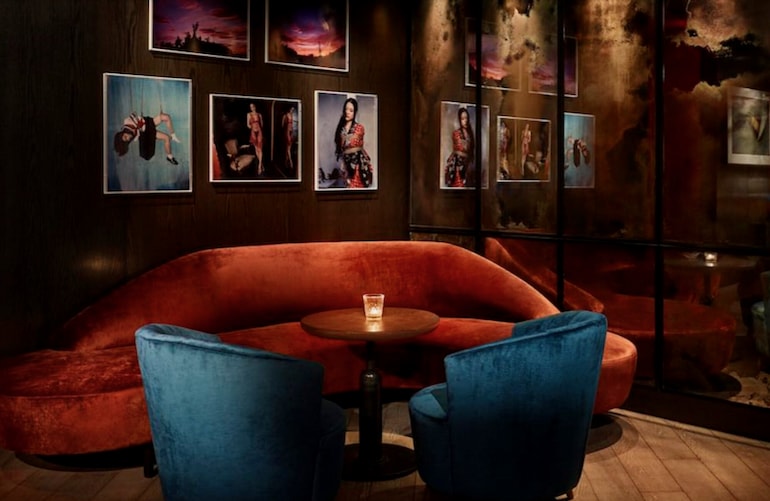 11 Howard – Socially Conscious Design Hotel
At 11 Howard, you'll find a boutique design hotel that fuses cutting-edge Scandinavian design with socially conscious hyperlocalism. From the furniture to the art on the walls, everything has been carefully curated to provide a unique and special experience which is why it's one of the coolest luxury hotels in New York for us. The rooms have high ceilings, light oak wood floors, Danish-inspired modern furniture and bamboo area rugs. You'll love the attention to detail in every piece of this cool and polished hotel that is nested in the fashionable SoHo district of NYC.
---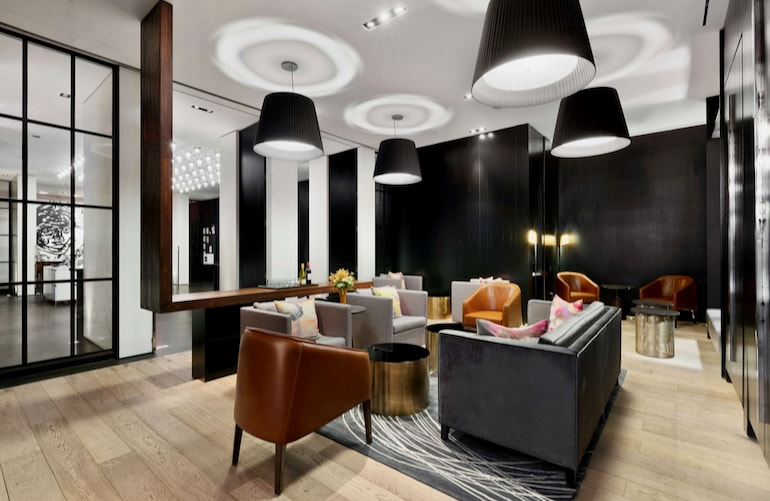 Andaz 5th Avenue – Sleek Stylish Stay
Andaz 5th Avenue (part of the Andaz Hotels collection) is a luxe design hotel located nestled in Midtown Manhattan. The 184 stylish rooms and suites are generous in size and offer guests zen-inspired, minimalist décor with fabulous dreamy beds and pillows. The on-site restaurant transforms from a trendy eatery by day to a speakeasy-type space serving tapas at night. But the best perk is the complimentary wine hour in the lobby each evening. Andaz 5th Avenue is perfect for style-conscious guests who want to experience all that New York City has to offer.
---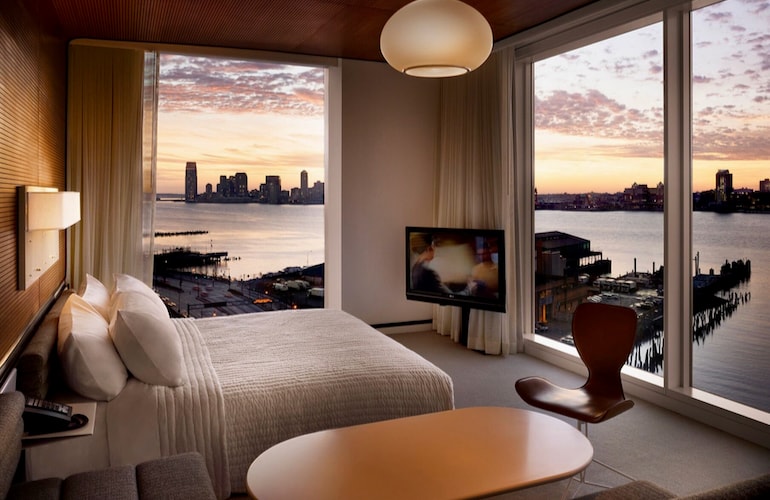 The Standard High Line – Amazing Hudson River Views
The Standard High Line is a super sleek and stylish hotel in the heart of the Meatpacking District overlooking the High Line, New York's linear elevated park. The hotel features an edgy but playful design, as well as a lively rooftop bar and nightclub that are popular with the locals making it one of the coolest luxury hotels in New York. The hotel's Standard Grill is also a great option for dinner. Guests can enjoy stunning views over the Hudson River from their mid-century modern-inspired rooms, which boast a more neutral design scheme than other areas of the hotel.
---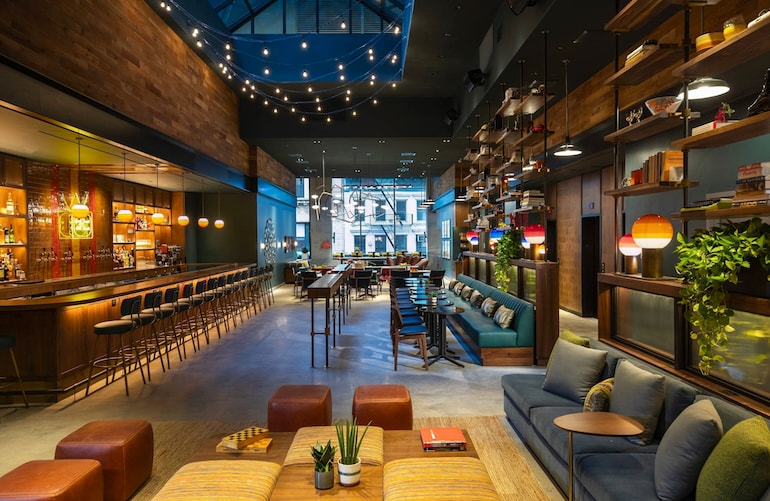 Moxy NYC Downtown – Fun and Vibrance in Lower Manhattan
Moxy NYC Downtown is perfect for young urban explorers looking for a new and exciting hotel experience. This boutique hotel in Lower Manhattan offers guests a loft-like communal living room on the third floor, complete with a restaurant, bar and arcade games. The décor is eclectic and fun, with mixed materials such as wood, concrete, metal and leather creating a vintage feel. During the day, this is the perfect spot for co-working. Then, in the evening, it morphs into something more nightclub-meets-arcade where guests can enjoy an impressive range of cocktails. Moxy NYC is also close to the Calatrava-designed Oculus – the World Trade Center transportation hub.
---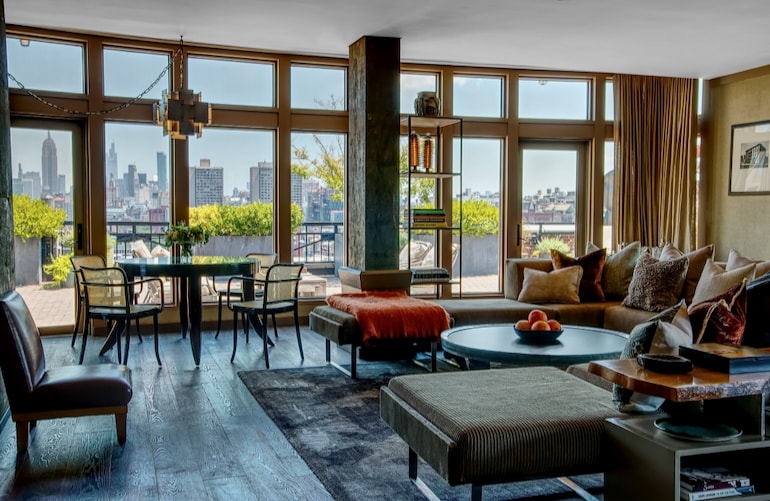 Soho Grand Hotel – Industrial Elegance
The Soho Grand Hotel is a boutique hotel in New York City that epitomizes the industrial elegance that defines SoHo. From its bottle-glass staircase to its majestic masonry columns, the hotel is a luxurious and stylish gathering place for travelers who appreciate sophistication and creativity. The newly-renovated guest rooms and terrace suites reflect the luxury and energy of the neighborhood, while the two sprawling penthouse lofts provide plenty of space to relax and enjoy your stay. Whether you're tucked away at the Grand Bar & Lounge or out on the town exploring all that New York has to offer, Soho Grand Hotel is sure to please.
---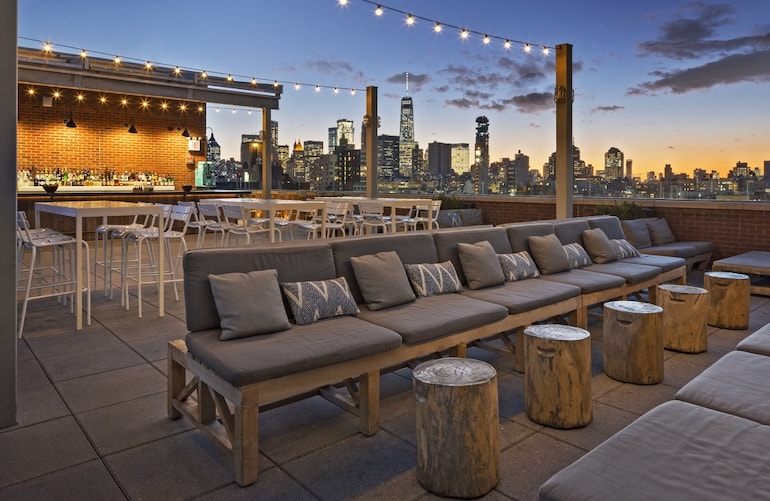 Hotel Indigo Lower East Side – Art Hotel
Hotel Indigo Lower East Side is a boutique hotel in the heart of Manhattan's most magnetic neighbourhood. The hotel embraces art for art's sake, with street art and fine art installations throughout the property. Guests can enjoy panoramic views from the Sky Lobby on the 14th floor, as well as revel in the lively atmosphere at Mr Purple on the 15th floor. The hotel also offers sharply designed rooms with skyline views, making it perfect for those looking to stay like a local in one of New York City's most popular areas. Your furry friend is also welcome at Hotel Indigo Lower East Side.
---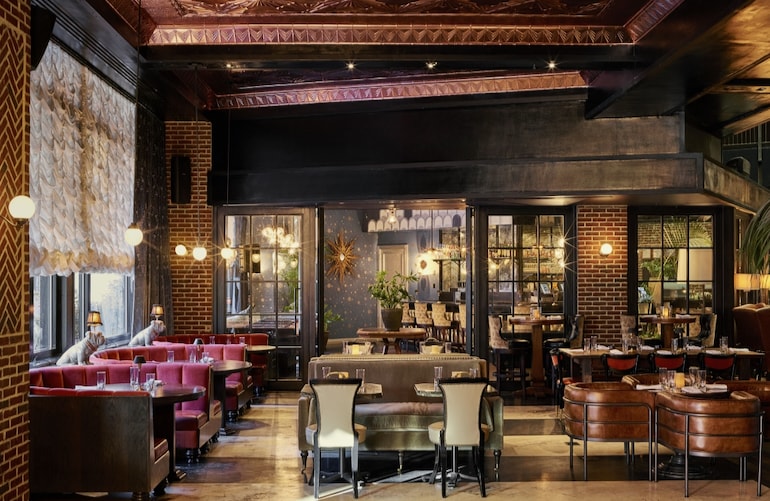 Roxy Hotel New York – Classic Meets Contemporary Style
If you're looking for a unique and vibrant hotel experience, look no further than The Roxy Hotel New York. This luxury boutique hotel features 201 stylish and comfortable rooms with a mid-century modern aesthetic that nods to Art Deco and Regency styles. The surrounding neighborhood is known as a hotspot for creativity, so you can always expect an energetic and lively atmosphere at The Roxy. The classic American menu is available all day long, but be sure to check out Sunday's renowned brunch buffet – it's an iconic NYC staple. And when it comes time to let loose, The Roxy is one of the most electric destinations for music, film, and art in the city.
---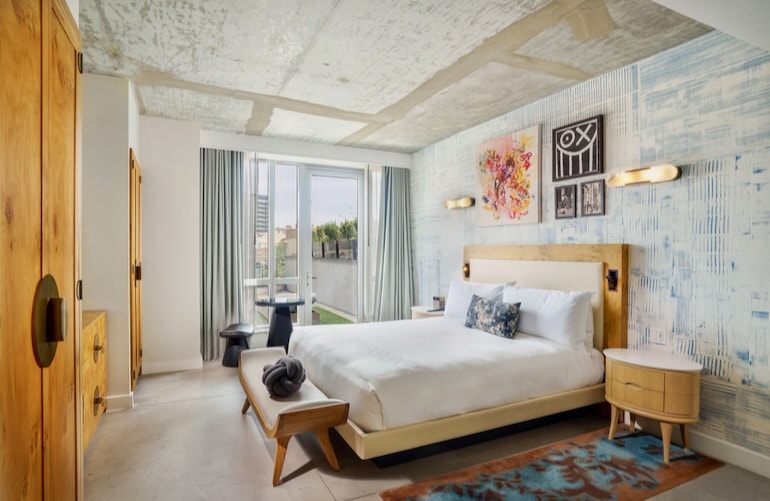 Hotel 50 Bowery NYC – Charming Boutique Hotel
Sat among the banks, shops and restaurants of Chinatown, Hotel 50 Bowery is a luxury boutique hotel that offers guests a unique and stylish experience. With plenty of hipster design cred and stylish rooms adorned with artworks, Hotel 50 Bowery is a perfect place close to all that New York City has to offer. The rooftop bar, Crown, boasts a terrace with stunning views of the New York skyline and serves classic and seasonal cocktails and globally-inspired small bites. This pet-friendly hotel also has a 24-hour fitness centre and communal living room with desks and cosy couches.
---
Ready to plan your trip to New York? Book the best luxury accommodation in NYC on viewretreats.com.
Image credit: PUBLIC – An Ian Schrager Hotel
What's your luxury?
Luxury means different things to different people. Is your luxury a glamorous hotel in downtown Manhattan, a private island hideaway on the Great Barrier Reef, or a safari camp on the plains of the Serengeti? We'll help you find your perfect version of luxury in some of the world's most beautiful places.