If you're looking to escape the daily grind and spend some quality time with your girl friends, what better way to do it than by having a girls' getaway filled with relaxation and fun. From sipping cocktails on the beach, pampering at luxury spas and natural hot springs, or taking on an epic mountain adventure, you are definitely spoilt for choice.
However, it can be hard work to plan a group getaway – especially if you draw the short straw as the organiser. In this list, we've done all the research for you and scoured the state to bring you some of the best attractions and accommodation options all within a few hours of Melbourne.
---
DAYLESFORD PAMPERING
Situated only an hour and a half drive northwest of Melbourne is Australia's spa country. In fact, Daylesford and Hepburn Springs are the perfect destination for the ultimate in pampering and relaxation. With a myriad of mineral spas and bathhouses across the region, you and your crew will have plenty of options for indulgence and rejuvenation, such as the Hepburn Bathhouse & Spa and The Mineral Spa.
Daylesford is also home to a host of award-winning restaurants and cafes offering a wide range of fine dining and more casual options with many of them serving fresh, locally grown produce. The local favourites include [email protected], Kazuki's and the Lake House. You can also spend the afternoon wine tasting in some of the finest boutique wineries in the Macedon Ranges. Take your pick from a variety of exceptional chardonnay, pinot noir and other cool-climate wines.
If you feel like a day of shopping, wander along Vincent Street in Daylesford and you will find an amazing array of bookshops, boutique clothing stores, and vintage items. There is also no shortage of nature activities in Daylesford. Choose to stroll around the edge of picturesque Lake Daylesford with your group or visit the Hepburn Regional Park for some of the best bushwalking trails in the area.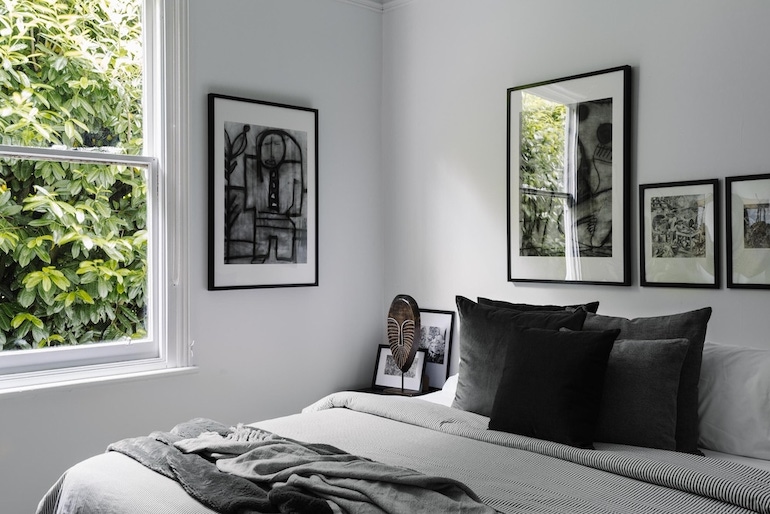 Hotel Bellinzona, Hepburn Springs
Freshly renovated, this gorgeous boutique hotel in Hepburn Springs is the perfect getaway destination for small groups. Hotel Bellinzona features stunning art and interior design, along with an onsite restaurant, heated indoor swimming pool, spa and sauna. It's also only a short stroll from the Hepburn Bathhouse where you can relax and rejuvenate.
View all luxury accommodation in Daylesford
---
COASTAL COOL MORNINGTON PENINSULA
Only an hours' drive south of Melbourne but feeling like a million miles away, the Mornington Peninsula is certainly one of the favourite weekend destinations for Melbournians. Ideally loved for its cool breezes, hill-side vineyards, and diverse array of activities, this region boasts a blend of Mediterranean coastal life and quintessential Aussie charm that make for an amazing R&R experience.
Grab your girl friends and spend the day in the sun. See the iconic beach boxes dotted along the peninsula, wander along the gorgeous coastline of Sorrento, or dare each other to dive into a natural plunge pool from the Blairgowrie Jumping Rock at Bridgewater Bay. You can also choose to dial it up with snorkel tours in Port Phillip Bay for an amazing aquatic experience.
The Mornington Peninsula is a gourmand's paradise featuring some of the finest restaurants in Victoria, including Doot Doot Doot, Cellar & Pantry Red Hill, and The Deck at Flinders Hotel. Along the coast, you'll also find plenty of funky cafes and bustling bistros overlooking the sea. Complete your weekend getaway on the Mornington Peninsula by sampling their world-renowned cool climate wines. With over 50 cellar doors across the region — many clustered in the hills, it will be easy for your group to visit several in a day.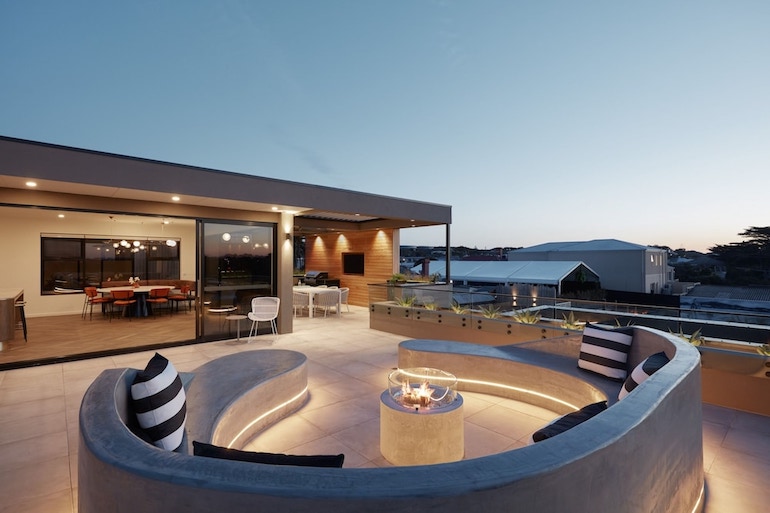 Carmel At Sorrento, Sorrento
Set in a charming limestone house on the Mornington Peninsula, Carmel At Sorrento is a sleek hotel offering luxury in the heart of Sorrento. This luxe escape hosts six fully-appointed 3 bedroom apartments just a short stroll from the beach, perfect for soaking up the relaxed vibe of this seaside village. Enjoy delicious local cuisine, or explore Sorrento's art galleries and boutiques, all within easy access from this one of a kind holiday destination.
---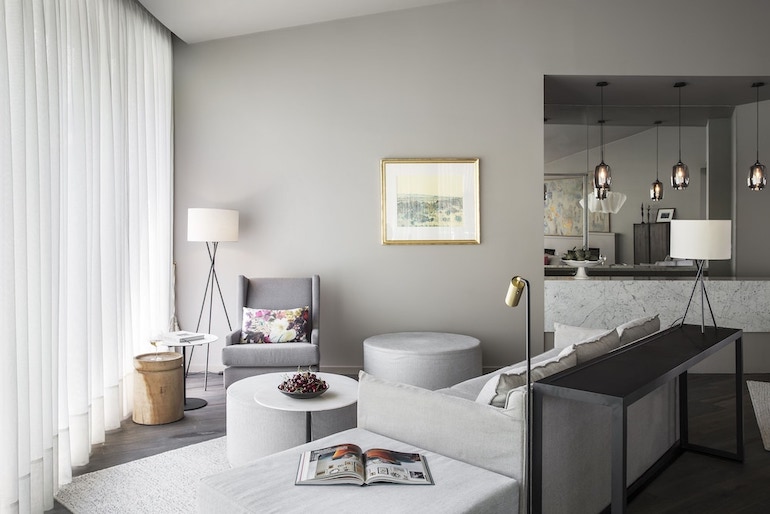 Lancemore Lindenderry Red Hill, Red Hill
Nestled amongst 34 stunning acres of gardens and vines, Lancemore Lindenderry Red Hill is an intimate boutique hotel that is the ideal base from which to explore the spectacular Mornington Peninsula. That said, with vineyard picnics and garden walks on offer, plus an onsite cellar door and restaurant – you might not want to leave.
View all luxury accommodation on the Mornington Peninsula
Find your perfect getaway in Victoria
Discover over 200 handpicked hotels, resorts & private villas
MOUNTAIN HIDEAWAY DANDENONG RANGES
Head less than an hour east of Melbourne and discover a haven of lush mountains, towering forests and eclectic villages. Whether you and your friends are up for hiking, shopping in quaint boutiques, or tasting local produce, the beautiful Dandenong Ranges has it all. With stunning natural scenery and a refreshing cooler climate, the Dandenongs is the ideal weekend getaway to beat the heat of the Melbourne summer or to reconnect with nature.
In the Dandenong Ranges, your group can experience a wide variety of things to do such as picking your own fresh berries, browsing local art galleries, taking on several bushwalking trails, or wandering around the 75-hectare Birdsland Reserve to spot native wildlife. Another must-do experience is a ride on the Puffing Billy steam railway, which is a 25 km historic train journey through the forests and ferns.
For a real village feel, head to the winding mountain roads of Olinda, which is best known for its spectacular gardens, quality locally made goods and the Olinda Falls picnic site. After a day of exploring, treat your group to a sumptuous meal to remember at Wild Oak Restaurant, Burnham Bakery and Piggery Cafe on the fringes of Sherbrook Forest, or Sky High Mt Dandenong — a lookout point on the uppermost reach of the Dandenong Ranges with an unrivalled view of Melbourne's city skyline.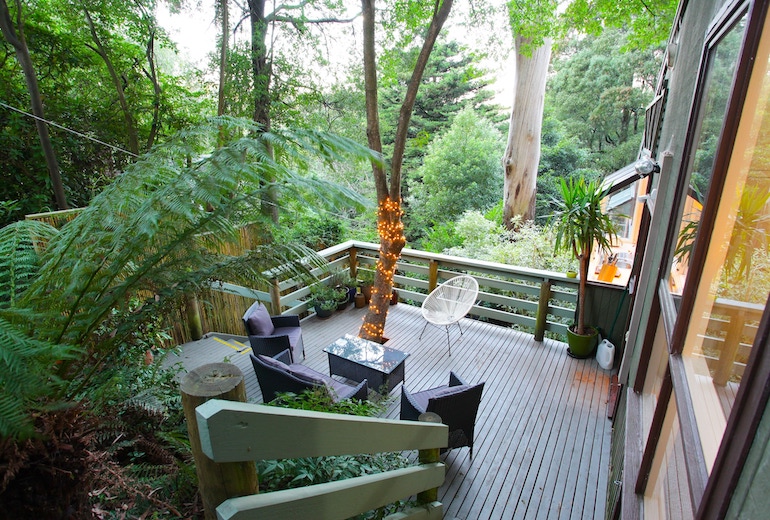 Treetop Stay, Sassafras
Relax amongst the trees and enjoy the lush view during your girls' getaway at Treetop Stay! A 3-bedroom house set on stilts, you and your girl friends can have all the modern comforts of a fully-furnished home while enjoying a novel treehouse experience. You can catch up, enjoy some cocktails, or dine out on the balcony, or get pampered with a massage or spa treatment in the privacy of your accommodation.
---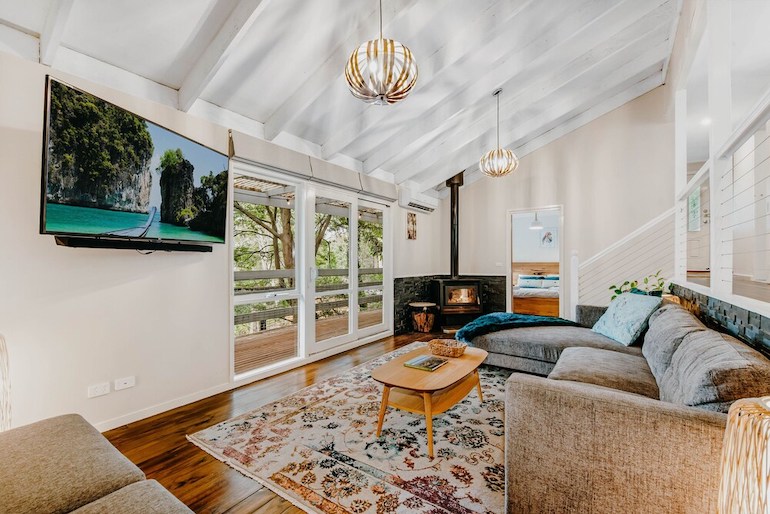 Steep Creek Retreat, Belgrave
Bright and full of warmth, Steep Creek Retreat is a beautiful holiday home located on a garden property in Belgrave. This luxe escape offers 3 bedrooms with lovely outdoor views, accentuated by large floor to ceiling windows that bring in copious amounts of natural light. Enjoy utmost peace and privacy in a secluded garden setting, perfect for a group of friends.
View all luxury accommodation in the Dandenong Ranges
---
Wine and Dine Yarra Valley
Your perfect weekend getaway with your squad may just well be in the Yarra Valley. Drive an hour northeast of Melbourne CBD and you'll find yourself in rolling green hills dotted with cow paddocks and neat rows of vineyards. You'll also be on your way to enjoying some of Australia's finest wines and gourmet delights. With more than enough wineries and restaurants to last a few weekends plus a good dose of outdoor activities, the Yarra Valley is perfect for indulging in the good life with friends.
Take to the skies and view the wineries from above in a hot air balloon. Make it a sunrise trip to see the Yarra's magnificent beauty under a golden light. Then hit some of the region's acclaimed restaurants such as Zonzo Estate and Coombe, both offering a menu of seasonal and locally grown produce. Don't forget to pair it with the region's famous Pinots and Chardonnays to complete your meal. For dessert, you and the girls might just want to stop by Kennedy & Wilson or the Yarra Valley Chocolaterie & Ice Creamery.
End your girls-only holiday with a winery and tasting tour. We recommend Coombe, Dominique Portet, and Tarrawarra Estate for starters. You can also mix it up and explore Yarra Valley's Cider and Ale Trail map.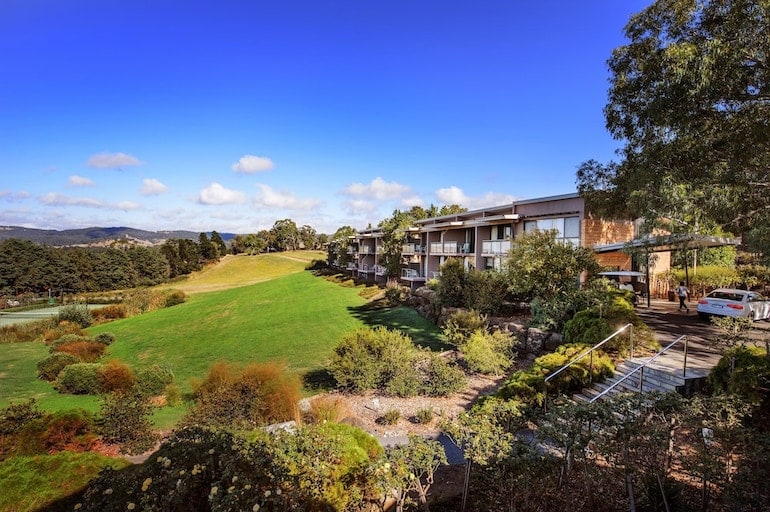 Balgownie Estate Vineyard Resort & Spa, Yarra Glen
Balgownie Estate Vineyard Resort & Spa is nestled in the heart of the Yarra Valley, less than an hour from Melbourne's CBD. Here you can enjoy the extensive resort facilities such as the health club, day spa, sauna, steam room or spa, or simply enjoy the panoramic country views from the privacy of your balcony.
---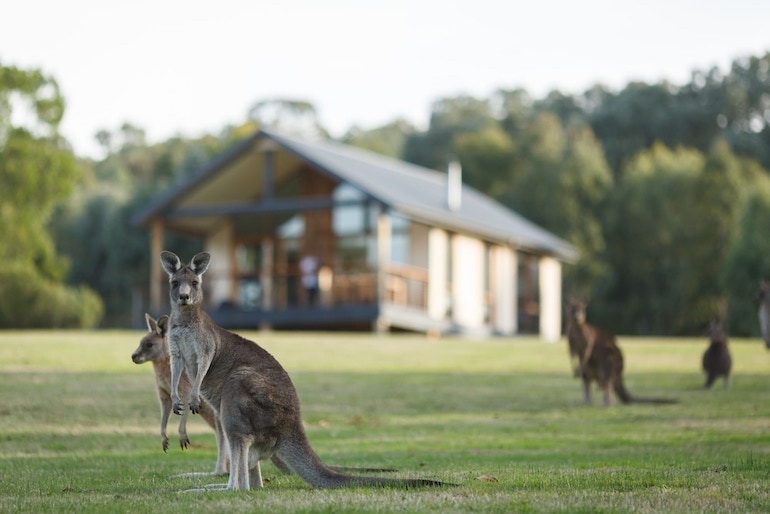 Yering Gorge Cottages, Yering
Set on the edge of The Eastern Golf Club and surrounded by wildlife, the self-contained Yering Gorge Cottages are ideal for a getaway with friends. Each cottage has a cosy wood fireplace, a relaxing corner spa bath, a large private deck and a generous continental breakfast hamper.
View all luxury accommodation in the Yarra Valley
---
Great Ocean Road Trip
There's nothing more fun than driving along the Great Ocean Road enjoying the fresh air, scenery, your ultimate playlist, and the company of your gal pals. Just an hour and a half drive from Melbourne (if you start in Torquay), the region offers plenty of options for outdoor activities, great food, and a bit of pampering to keep you busy.
Get off to a fabulous start in Torquay with some shopping at Surf City Plaza and lunch or snack at The Esplanade. Soak up some more sunshine by hiring a canoe at Anglesea or hiking and biking through the rainforest trails at The Otways. Up the girl power level with some surfing at Bells Beach or ride the waves on a stand-up paddleboard. Dial it down and lay a picnic spread of local delights on the beaches of Lorne or Apollo Bay and just feel the sand between your toes.
Don't miss the impressive sight of the 12 Apostles, one of the most popular attractions in the state. We recommend an early morning visit to avoid the hordes of tourists. The rest of the day can be spent wining and dining in Brae, Otway, or Lorne — and toasting to a lasting friendship and good times.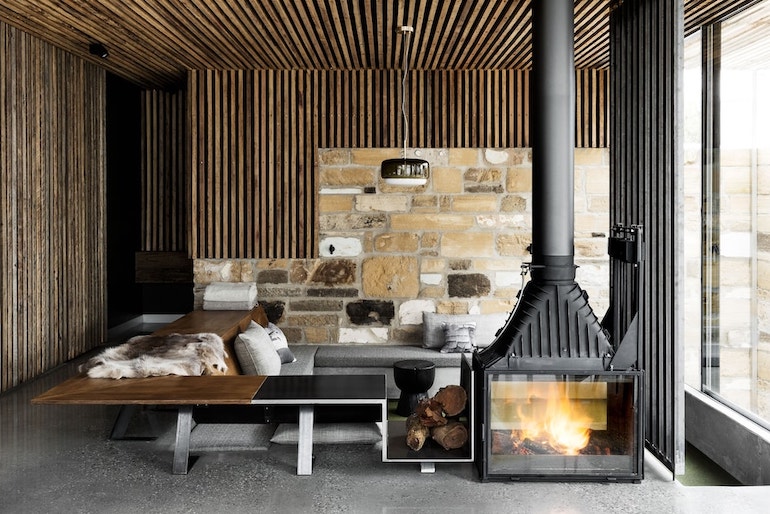 Drift House, Port Fairy
Set in Port Fairy on the Great Ocean Road, Drift House offers 6 very private guest suites spread over heritage buildings and beautiful contemporary extensions. This stunning boutique accommodation is a place where you can disconnect, relax and unwind in absolute luxury.
View all luxury accommodation on the Great Ocean Road
---
Looking for more options? We've handpicked a fabulous collection of spectacular accommodations across Victoria. View our entire collection of luxury hotels & holiday homes in Victoria.
Image credit: Balgownie Estate Vineyard Resort & Spa
What's your luxury?
Luxury means different things to different people. Is your luxury a glamorous hotel in downtown Manhattan, a private island hideaway on the Great Barrier Reef, or a safari camp on the plains of the Serengeti? We'll help you find your perfect version of luxury in some of the world's most beautiful places.