It's always a little heartbreaking going on a family holiday and leaving your pets behind. Fur babies are family too! While there are ways to have them taken care of while you're on holiday, being able to take your pets with you to a pet-friendly hotel will rid you of that worrisome feeling that your pet might be feeling lonely back home.
Worry no more! We've come up with a list of the best luxury pet-friendly hotels in Australia so that no member of the family gets left behind. Pack up your pet accessories and get ready for a pawsome vacay.
Pet-Friendly Hotels in NSW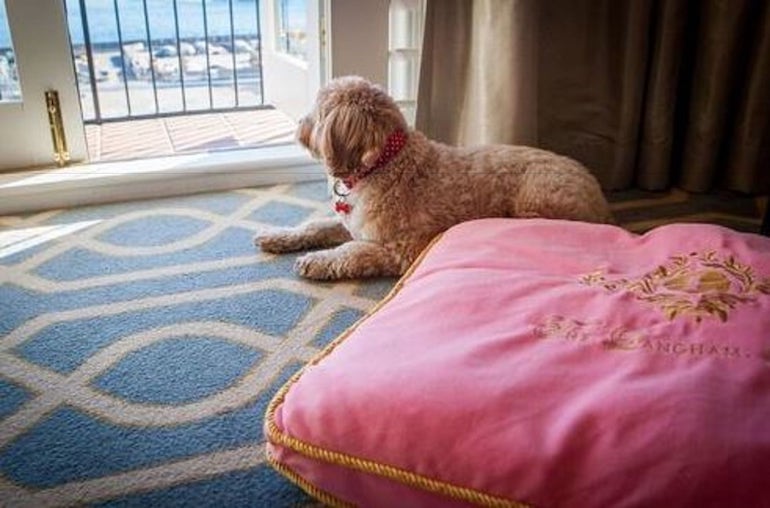 You know those movies where perfectly trained dogs walk alongside their fabulously dressed owners while entering a hotel? You and your pet will absolutely feel like stars at The Langham Sydney. Their Pampered Pets Program extends their 5-star service to your pets, and with the pet sitting and pet walking services that are available upon request, you can relax worry-free at the day spa or enjoy sumptuous menu items at the Langham Supper Club. Oh, and… they also have a snazzy Pet Gift Guide so you can take that Langham style home with you.
---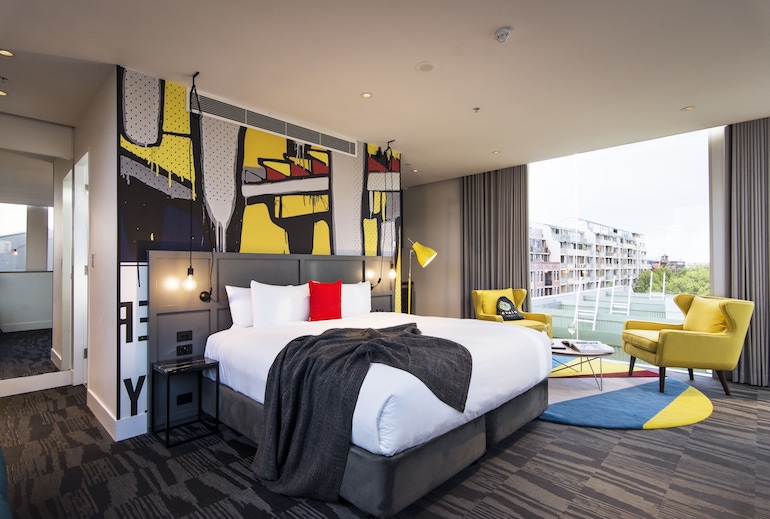 Next, let's talk about The Woolstore 1888 by Ovolo V.I.Pooch package. From the name of the pet package itself, we're already getting good pet-friendly vibes! Ovolo Hotels offer the V.I.Pooch package as part of their luxury pet-friendly accommodation. This furtastic package ensures your pet has food and water bowls with accompanying eating/drinking mat, a doggy bed, and a thoughtfully put together doggy bag with treats that will help your dog (or up to 2 dogs) have a great time. You and your pooches will have a great time at this wool store converted into an edgy hotel!
---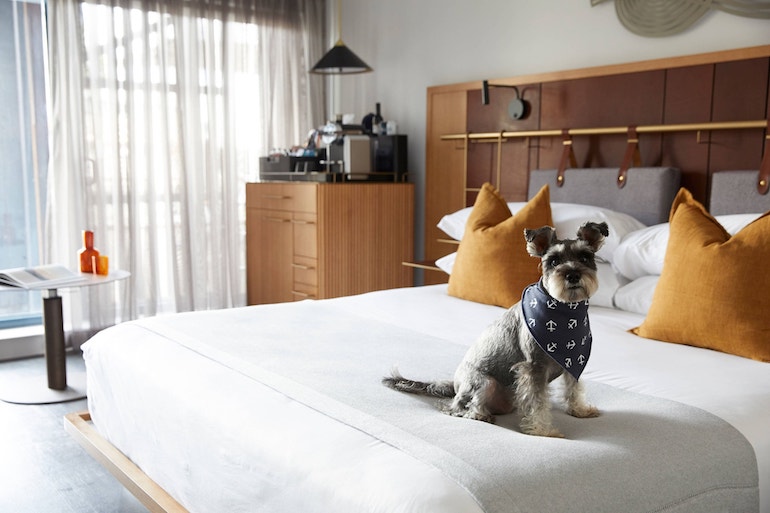 Over at Pier One, Sydney Harbour, canine guests are spoiled with the Puppy Package that includes an eco-friendly dog bed, food and water bowls, and optional access to the doggy minibar filled with dog-friendly snacks. The Gantry Restaurant also caters to canine palates with their "Doggy Degustation" and canine friends can dine in the outdoor area. A maximum of 2 dogs per room is allowed, and this includes a $5 donation to the RSPCA NSW. Sweet! With Welsh Bay just a few paces away, you can enjoy a stroll along Sydney Harbour and make new travel memories with your furry companion.
---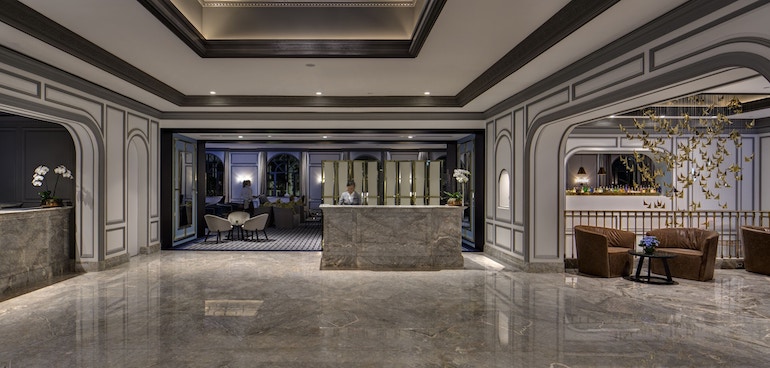 At InterContinental Sydney, Double Bay, their Pet Stay package has designated spots for your pet; there's a dog bed in the lounge room while the water and food bowls are in the bathroom. All the rooms and suites have spacious layouts, and the monochromatic colour palette is brought to life by some splashes of darker tertiary colours. What we particularly love about the InterContinental Sydney's Pet Package is the peanut butter ice cream. For your pet. That's right, their in-room pet menu is specially designed to appeal to your pet's tastes! Dogs and cats are welcome too!
---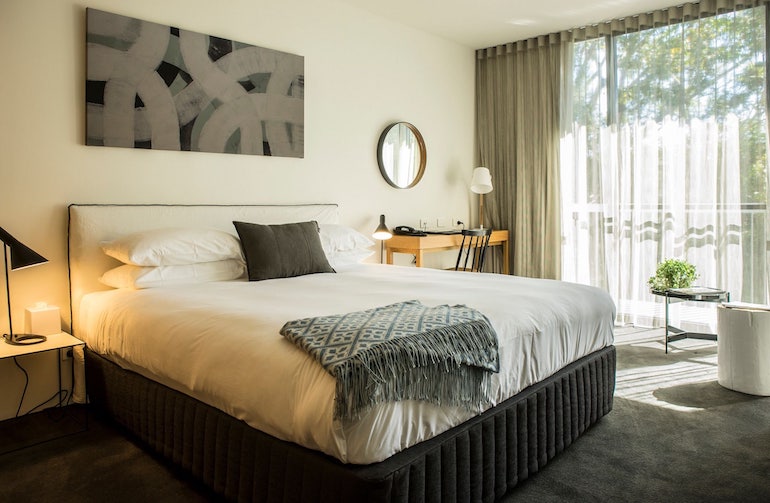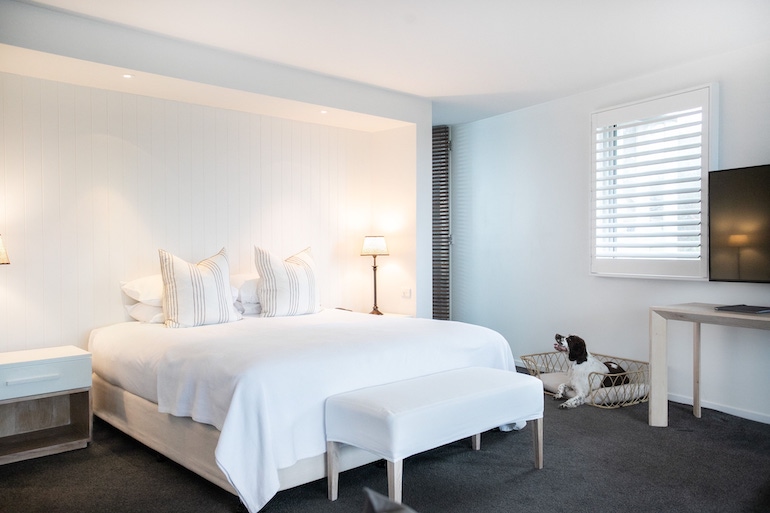 Next up, down at Mollymook, we have Bannisters Pavilion and Bannisters by the Sea. At Bannisters Pavilion, they have two 30-sqm Pet-Friendly Classic Rooms available. Both rooms are spacious and feature modern bathrooms. At Bannisters by the Sea, you get even more space to play and have fun inside the 70-sqm Terrace Suite which has access to a private 30-sqm garden your dog or cats will enjoy. The coastal chic rooms give you that relaxing seaside vibe while you enjoy some downtime with your pets.
---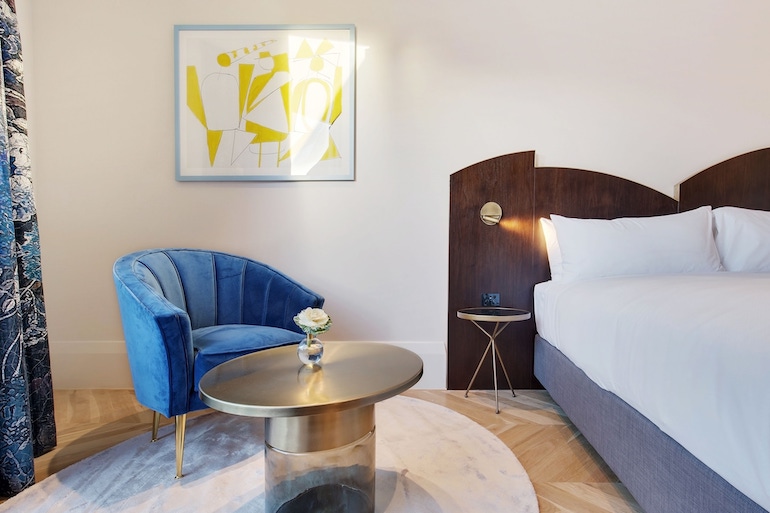 Crystalbrook Albion's Urban Rooms on the ground floor are designated for fur parents so your pet can have easy access to the outdoors. A pet bed along with food and water bowls are provided so your pet can dine in style too. What's great about this pet-friendly hotel is how close it is to pet parks and surrounding pet-friendly cafes where you can get puppaccinos!
---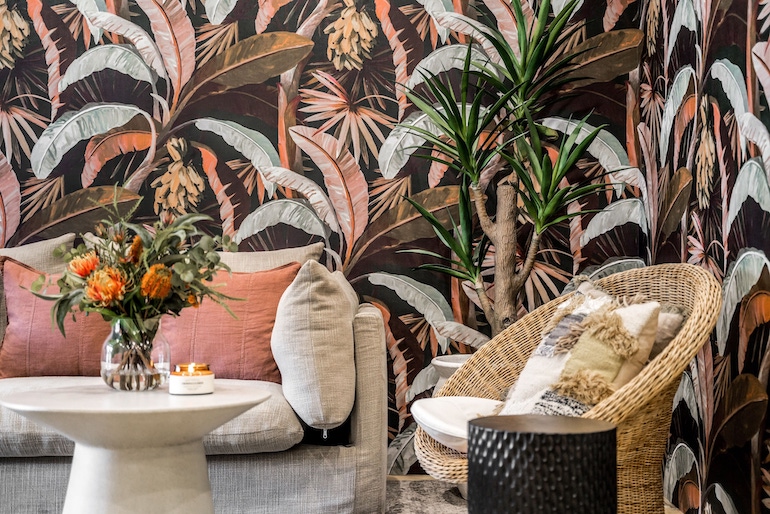 Located in the heart of Byron Bay and surrounded by restaurants, cafes, and fashion boutiques, Byron Bay Hotel & Apartments is a pet-friendly hotel that will give you and your pet time to explore and relax at your own pace. Main Beach is just a few minutes away, and after you're done playing fetch or maybe trying to get your feline friend to play in the waves, you can enjoy the privacy and relaxing mood of your room with timber furniture soothing tones.
---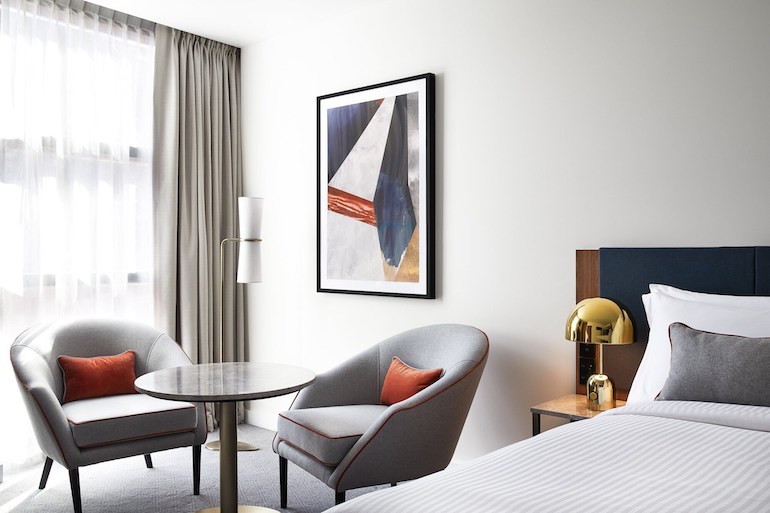 If you're travelling with just your best fur-iend, Crowne Plaza Sydney, Darling Harbour allows one pet per room. Enjoy a stroll together along the nearby Darling Harbour foreshore or around the city centre. After a day of exploring the nearby sights, relax inside your minimalist room and maybe even sneak out for a drink or two at the bar when your pet catches some ZZZs.
---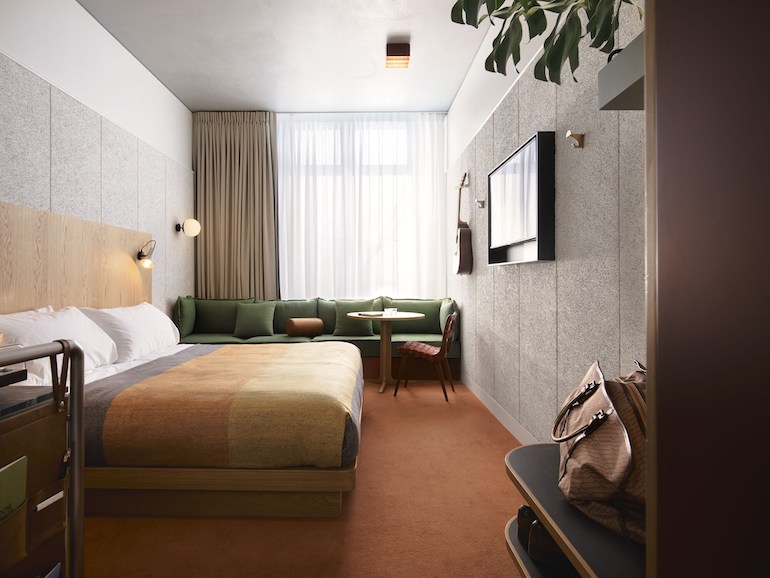 Last but not least in our pet-friendly hotels in NSW is Ace Hotel Sydney where the rooms have a warm, mid-century modern vibe. The memory foam bed makes it extra comfy, and when you take a look out of your window, you'll have sweeping views of Sydney City. Be in the middle of it all while enjoying your own quiet time with your furry friend!
---
Pet-Friendly Hotels in VIC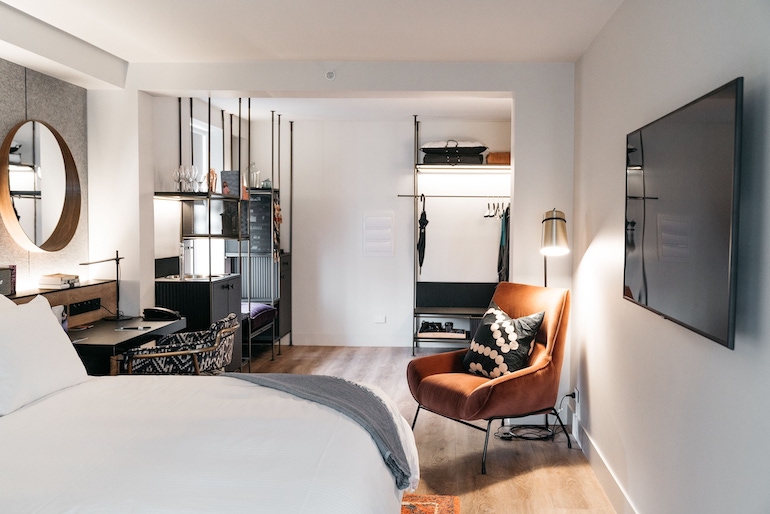 Perhaps the pet-friendly accommodation with most pets specified on their pre-furred animals list, Zagame's House does not discriminate and opens its doors to: dogs, sloths, chipmunks, raccoons, polar bears, unicorns, pandas, Iberian goats, Tasmanian tigers, a phoenix, dusky flying foxes, and the ever so lovable quokkas. The list gets a little crazy, but in a good and all-inclusive kind of way, don't you think? You can bring up to 2 pets per room, and with five contemporary soundproof rooms to choose from, you and your pets can enjoy an elevated feeling of relaxation. With the "Treat Yo Fur-Baby" treats bag, room service, and 1851 Coffee+Kitchen—their streetside café—both you and your furry pals can enjoy tasty treats while on holiday.
Find your perfect holiday in Australia
Discover over 915 handpicked hotels, resorts & private villas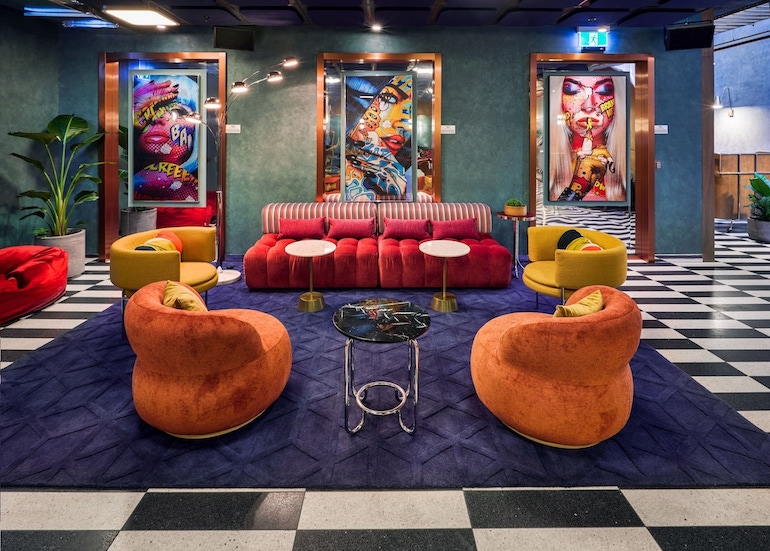 If you're looking for pet-friendly accommodation in South Yarra, Ovolo South Yarra will treat you and your pets (you can bring up to 2 dogs) to a vibrant, disco-themed stay. The V.I.Pooch package Ovolo Hotels offer ensures your pet has all of the things they need—a plush bed, food and water bowls, and their own treats bag, for a relaxing time away from home. Set in a cosmopolitan corner of Melbourne, you and your pets can enjoy walks in the areas nearby filled with food, art, and fashion surprises.
---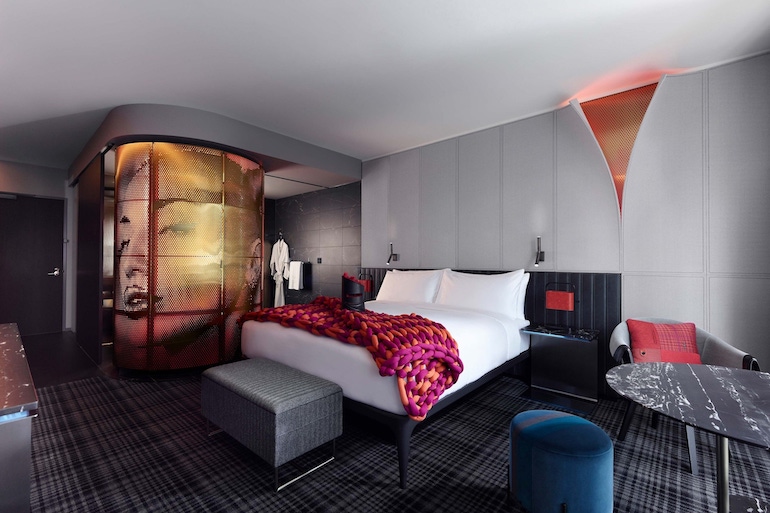 If you're travelling with a smaller dog or cat, (18 kg maximum), W Melbourne is a great pet-friendly choice. We're sure you and your pet will enjoy the lights and modern luxe at W Melbourne in Flinder's Lane—a hotspot for fine dining, boutique bars, and art galleries. The interiors are jaw-droppingly electric and will make for wonderful backdrops for you and your pet's travel photos!
---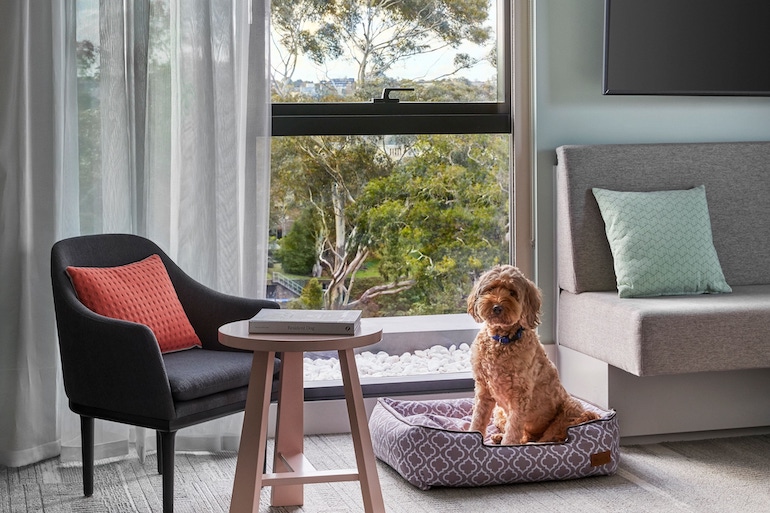 Element Melbourne, on the other hand, lets you take up to 2 dogs with you in their dog-friendly rooms. Located near the Yarra River where you can go for morning walks, the light-filled guest rooms offer you and your pets a peaceful pet-friendly space where you can relax and enjoy each other's company. Experience Asian fusion at Mint Lane Restaurant and bar, or opt for in-room dining in the comfort of your own room as you and your pets enjoy some time away while everything is taken care of for you.
---
Pet-Friendly Hotels in QLD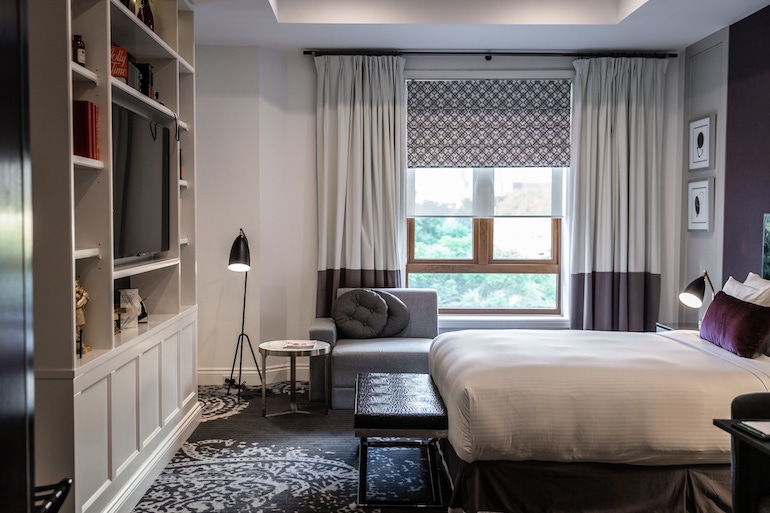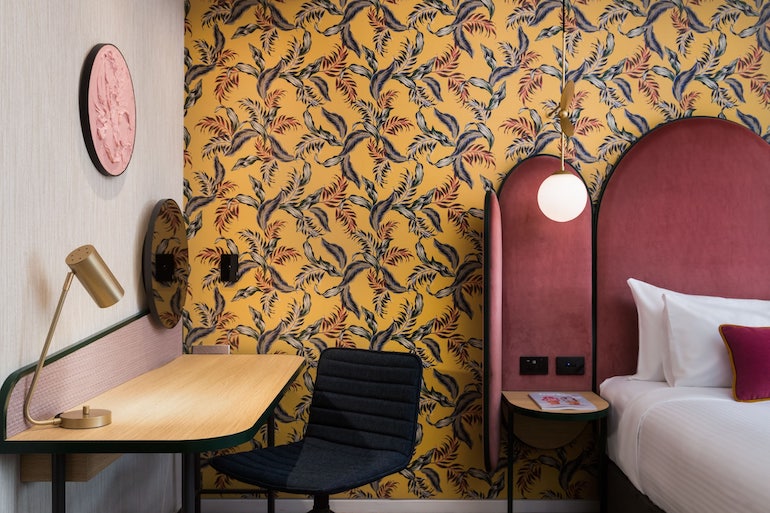 If you're looking for pet-friendly accommodation in QLD, your dogs can also experience the V.I.Pooch package offered by Ovolo Hotels. The Inchcolm by Ovolo and Ovolo The Valley Brisbane will make sure your best-fur-iend (or two of them) has its own dog bed, food and water bowls, and pet treats. Their pet-friendly staff will ensure your pet has everything they need for a luxe and comfy stay.
---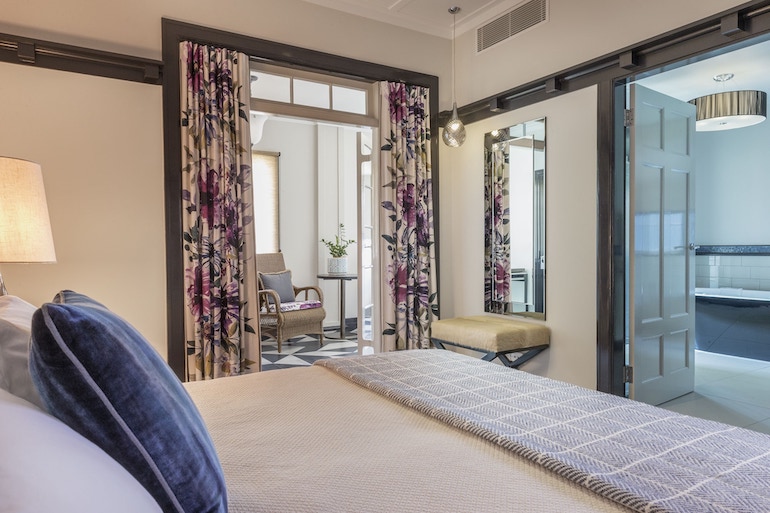 Spicers Balfour also offers dedicated Pooch Packages specifically for suites 10 and 11. This includes a plush dog bed, doggie bowls, and daily a la carte breakfast for the 1 pet that is allowed per room. If you have a bigger dog, you're in luck with their 25 kg weight limit for your beloved pooch! This luxurious hotel is just a few minutes away from Brisbane city centre and is known for the Vietnamese restaurant, Balfour Kitchen & Bar.
---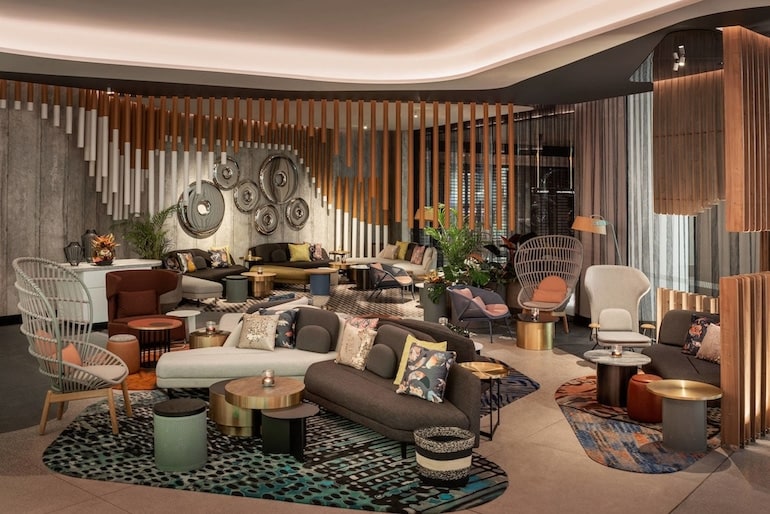 Similar to W Melbourne, W Brisbane is your modern luxe pet-friendly accommodation in Brisbane. Treat yourself and your pet to colourful interiors which showcase touches of Australian living such as river water level counters and artwork depicting local subjects. The "Whatever/Whenever" service they have also makes it easier for fur parents who may have specific requests. Whatever you want, whenever you want, just ask, they say. Isn't that a treat for you and your fur baby?
---
Pet-Friendly Hotels in WA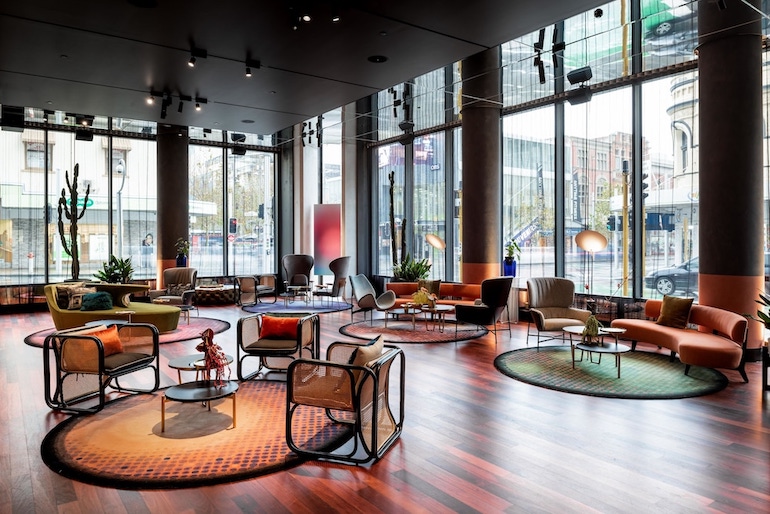 QT Perth says "Pup Yeah!" Treat your pet to a mini bar (wow, your canine friends will really be in for a great snacking time!), dinner menu, and grooming when you choose QT Perth as your pet-friendly accommodation. Pets deserve special treatment too, right? Think of it as a designer dog sleepover while you, too, get the luxuries of QT Perth's eye-catching rooms, rich with luxurious black and gold colour palettes for that touch of glam. They allow 1 pet per room at 20 kg maximum.
---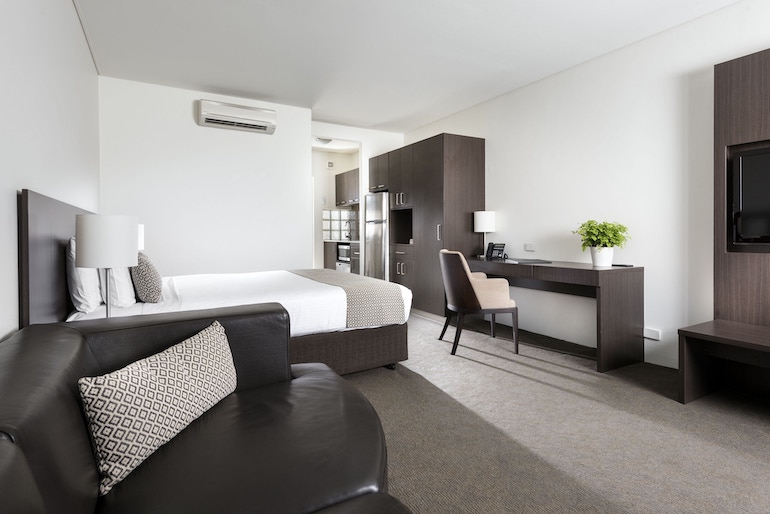 Pier 21 Apartment Hotel Fremantle boasts luxe bedrooms, suites, and apartments where you and your pet can sit… and stay still. With in-room cooking facilities, your pet won't feel left behind as you grab a bite to eat. You can also enjoy poolside barbeques and fresh seaside air as you and your pet walk along nearby Leighton Beach.
---
Pet-Friendly Hotel in SA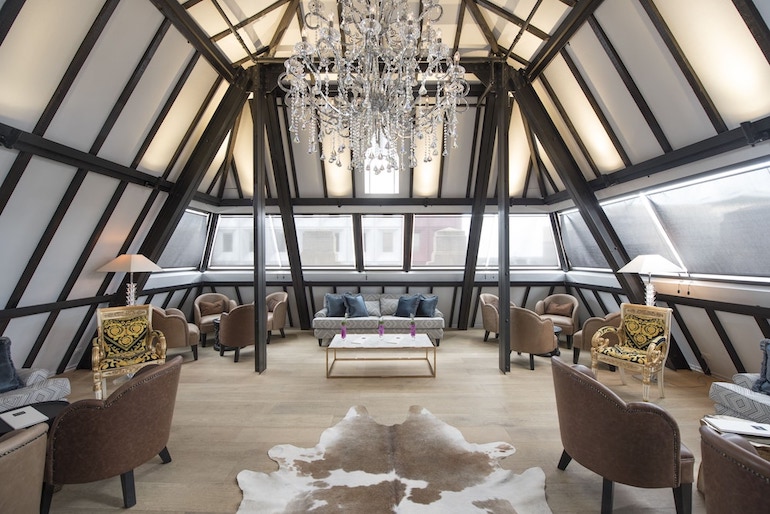 Canine and feline pets are welcome to stay at Mayfair Hotel in Adelaide! With the Luxe Pets program, your fur baby gets food and water bowls, a pet bed, pet toys, (dry and wet) pet food, and waste bags—everything your pet needs for a purrfect stay. You and your pet can enjoy public spaces together as long as you have them in their carrier or on a leash. Mayfair Hotel allows 2 pets per room with a 20 kg limit, and larger dogs are allowed upon the hotel's discretion.
---
PLEASE NOTE
Most hotels have specific room types that are designated for guests with pets. Most hotels also charge additional fees for bookings with pets. Please check the terms and costs provided on the hotel detail page for more information. You may also be required to confirm details of your pet(s) directly with the hotel using the details provided in your confirmation email. All of these hotels allow registered service animals at no additional cost.
---
Looking for more pet-friendly accommodation for your next family holiday? Check out our full collection of pet-friendly accommodation in Australia.
Image Credit: Pier One Sydney Harbour
What's your luxury?
Luxury means different things to different people. Is your luxury a glamorous hotel in downtown Manhattan, a private island hideaway on the Great Barrier Reef, or a safari camp on the plains of the Serengeti? We'll help you find your perfect version of luxury in some of the world's most beautiful places.