After recent events, you may be yearning to get away from the daily grind, take time out, and indulge in some much-needed luxury and pampering. If you're looking for a well-deserved relaxing weekend or some inspiration for your next getaway, we've done the hard work for you and compiled the best spa retreats the country has to offer. Discover these world-class luxurious retreats that have a day spa on-site, where utmost rest and relaxation is the primary goal.
Daintree Wellness Day Spa
Daintree Ecolodge, Queensland
Daintree Wellness Day Spa is an idyllic hideaway situated within the oldest rainforest in the world. Here, you can indulge your senses and enhance your well-being with rejuvenating spa therapies and beauty treatments. The crystal clear water of the pristine on-site waterfall creates a healing environment like no other, making it a true one-of-a-kind experience.
This unique day spa highlights traditional methods of Aboriginal healing and powerful properties of nourishing botanical products to nurture and reinvigorate. With approval from the local Kuku Yalanji tribe elders, the distinct and effective spa treatments combine the wisdom of their culture, healing, and spirituality.
Read more at www.viewretreats.com/retreat/daintree–ecolodge
---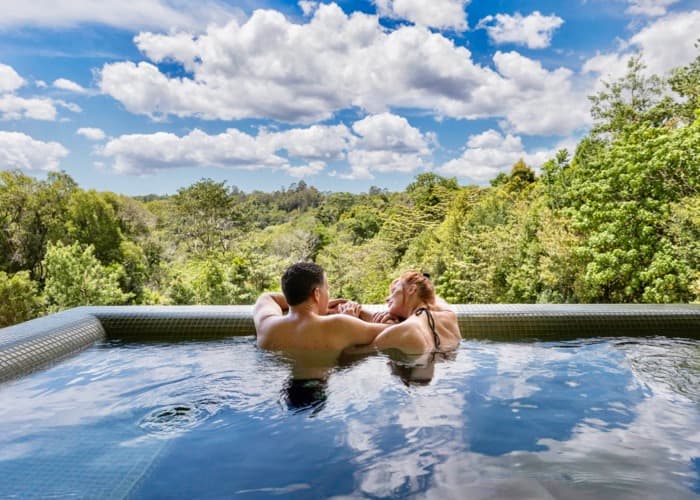 Spa Anise
Spicers Tamarind Retreat,

Sunshine Coast
A private oasis in the lush green rainforest and rolling hills of the Sunshine Coast hinterland, Spa Anise features beautifully appointed double rooms so that you and your special someone can indulge in rejuvenating treatments together. This luxurious day spa also boasts a spacious lounge with open fireplace and private relaxation chambers, foot therapy and hydrotherapy rooms, steam room and mineralised spa.
Spa Anise has a tailored spa menu that is designed to relax the mind and body, including unique treatments like the Glace Ginger Sugar Smoother with a hydrating full body massage. They can also cater for your special occasions and other specific needs, making it the perfect destination for groups, girls' getaways, and corporate events.
Read more at www.viewretreats.com/retreat/spicers-tamarind-retreat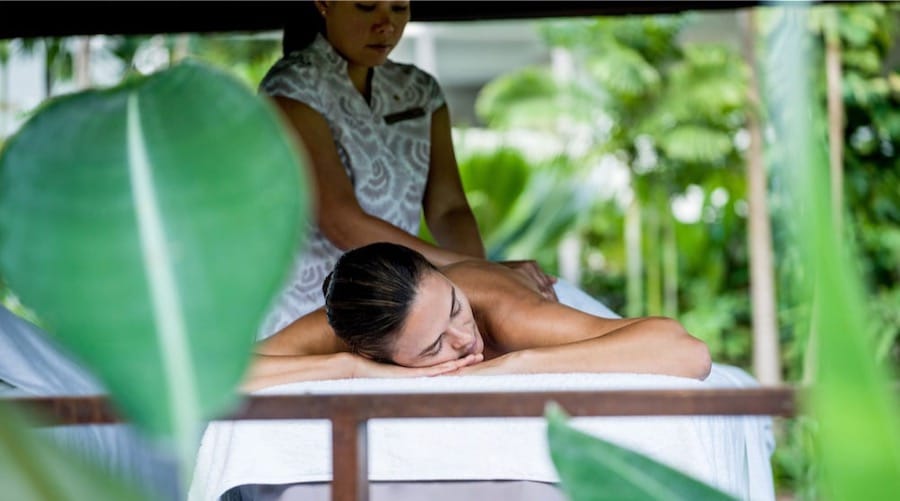 Hayman Spa
InterContinental Hayman Island Resort, Hayman Island
Located in the exclusive InterContinental Hayman Island Resort in the Whitsundays, Hayman Spa's aim is to nurture and celebrate each individual's unique beauty. Offering a range of rejuvenating Sodashi Skincare treatments, you can enjoy soothing massages and revitalizing clay wraps in one of their 11 treatment rooms before sinking into the cooling plunge pool. Sodashi takes a holistic approach to beauty that transcends skincare, promising a total experience that works to nurture the mind, body and spirit.
Hayman Spa also boasts a selection of wellness experiences such as meditation and energy healing, as well as signature treatments with transformative capabilities. Immerse into the stunning tropical island surrounds with sunrise yoga sessions, clean eating concepts and detoxing body wraps. Embark on your own journey, waking at dawn to take on the island's two-hour walking trail, or finding your inner zen with a stroll on Langford Island's sand spit as it emerges amidst Coral Sea blues at high tide.
Read more at www.viewretreats.com/retreat/intercontinental-hayman-island-resort
---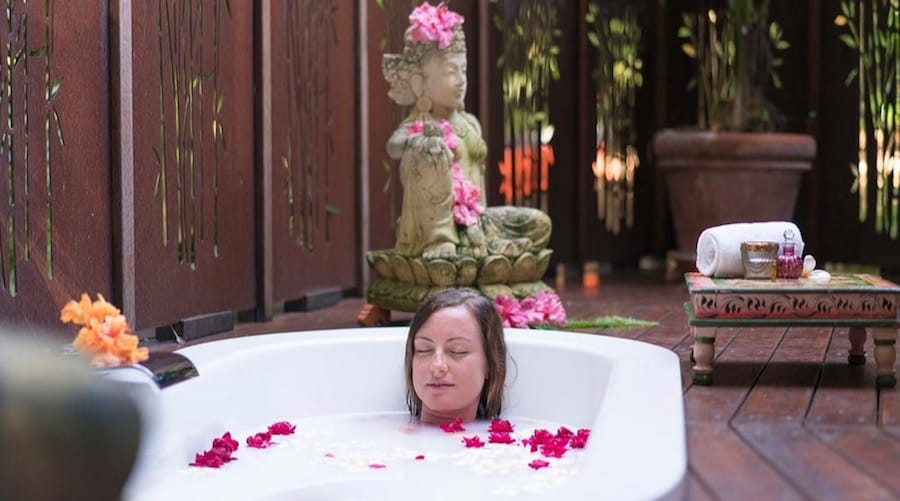 Ayurvedic Day Spa
Arajilla Retreat, Lord Howe Island
Housed in a traditional yurt under Banyan tree forests, the Ayurvedic Day Spa at Arajilla Retreat is one of the best settings to relax and unwind on the secluded Lord Howe Island. Here, the massages and spa treatments are done in total serenity, backdropped with the gentle ambient sounds of nature. Every treatment offered is therapeutic in nature and focused on connecting your mind, body, and soul on all levels.
Incorporating a holistic approach to beauty and an entire philosophy that encourages the pursuit of a healthy lifestyle in their treatments, Ayurveda Spa uses Ayurda skincare products and the highest grade of ingredients possible. If you're looking to relax & unwind in style and experiencing the very essence of the island, a trip to this day spa is definitely what you need.
Read more at www.viewretreats.com/retreat/arajilla-retreat
---
The Spa at Lake House
Lake House, Daylesford
Set on the shores of beautiful Lake Daylesford, The Spa at Lake House is nestled amongst the lush gardens of the renowned Lake House hotel. This award-winning day spa is surrounded by peaceful waterfall fed streams and offers nine treatment areas set over three levels. Large windows offer tranquil lake and garden views from inside while outdoor balconies and lounges provide a lovely setting to relax and rejuvenate.
The Daylesford region boasts the largest concentration of naturally occurring mineral springs in Australia, so consider starting your treatment with a hot mineral water spa in one of the gorgeous treehouses. Later, try a signature treatment such as the Woodlands Bliss Ritual that will conjure up images of wild woodlands and fragrant country gardens. The Spa utilises their own small batch, luxury bath and body products using the best ingredients sourced from and inspired by this beautiful region.
Read more at www.viewretreats.com/retreat/lake-house
---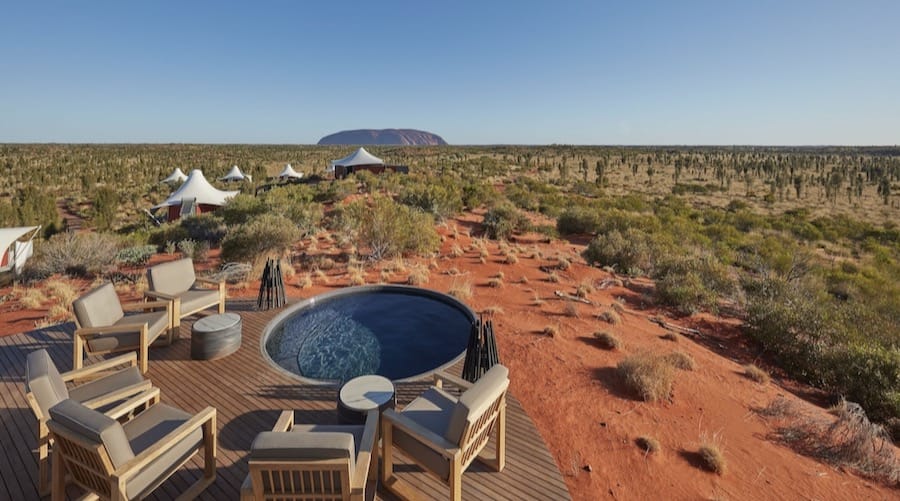 Spa Kinara
Longitude 131, Uluru
Nestled in the sand dunes at Longitude 131, Spa Kinara is a physical and spiritual refuge in Australia's red centre, offering travellers a range of healing rituals and spa treatments that integrate the ancient aesthetics of the Australian earth and spirit. This tradition-inspired sanctuary will imbue you with a sense of true calm and of being grounded in the landscape.
Spa Kinara features its own signature menu of rejuvenation and relaxation treatments that highlight the region's resource of native beauty products, including Kakadu plum, desert lime, quandong, irmangka-irmangka, and Australian yellow clay and desert salts. If you find yourself planning a trip to Uluru, this exquisite day spa promises to be a welcome retreat.
Read more at www.viewretreats.com/retreat/longitude-131
---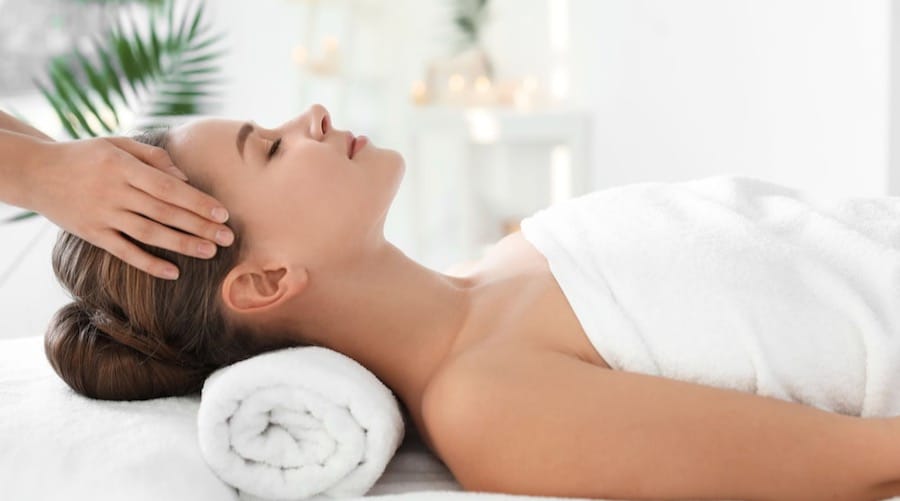 Jala
Elysian Resort, The Whitsundays
Awaken your senses, rebalance your mind and body and rejuvenate your spirit at Jala, the Ayurveda inspired day spa at Elysian Resort on the Great Barrier Reef. Peace and serenity are the guiding principles of the spa and all treatments aim to restore balance and wellness. The treatments at Jala are designed to reflect the tranquillity and uninterrupted beauty of the Whitsundays and its ocean treasures.
The indulgent and rejuvenating spa treatments at Jala utilise an organic range of products from Edible Beauty & Subtle Energies. The Edible Beauty philosophy is based on illuminating your natural beauty using pure, wildcrafted and botanical ingredients that are literally good enough to eat. Meanwhile, Subtle Energies creates results-based aromatherapy, natural skincare and wellness solutions founded on authentic Ayurveda principles.
Read more at www.viewretreats.com/retreat/elysian-retreat
---
If you're in need of a lot more pampering options on your next getaway then look no further. Check out our Spa Retreats Collection consisting of hotels, lodges, boutique resorts, and intimate retreats that offer luxurious spa treatments.
Image Credit: Daintree Ecolodge
What's your luxury?
Luxury means different things to different people. Is your luxury a glamorous hotel in downtown Manhattan, a private island hideaway on the Great Barrier Reef, or a safari camp on the plains of the Serengeti? We'll help you find your perfect version of luxury in some of the world's most beautiful places.