If you're looking to rekindle romance, there's no better place than Queensland for a romantic getaway. Fall in love all over again while strolling golden beaches, exploring the ancient Daintree Rainforest, or diving undersea on the Great Barrier Reef. Or, for somewhere a little quieter, head to the beautiful hinterlands where you can enjoy plenty of privacy while surrounded by lush tropical greenery. Whichever region in Queensland you choose for your next escape, you're sure to find the best couples retreats, romantic rainforest resorts, and luxury villas right here in our list of the Top Romantic Getaways in Queensland.
---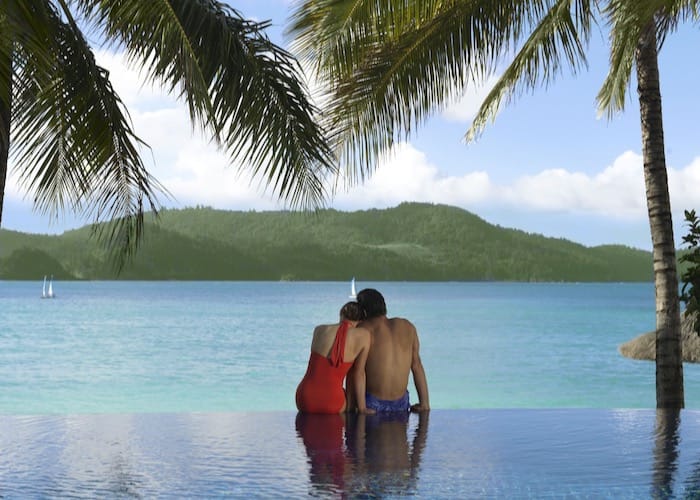 37. Beach Club, Whitsundays
An adults-only getaway set on Hamilton Island, Beach Club's ocean-view infinity pool and private patios paint a picture of idyllic island life. It's only steps away from the pristine sands of Catseye Beach! Grab a bite to eat at Beach Club Restaurant, relax at the full-service Spa Wumurdaylin, have some refreshing drinks at the exclusive bar, or simply enjoy the peaceful surrounds.
---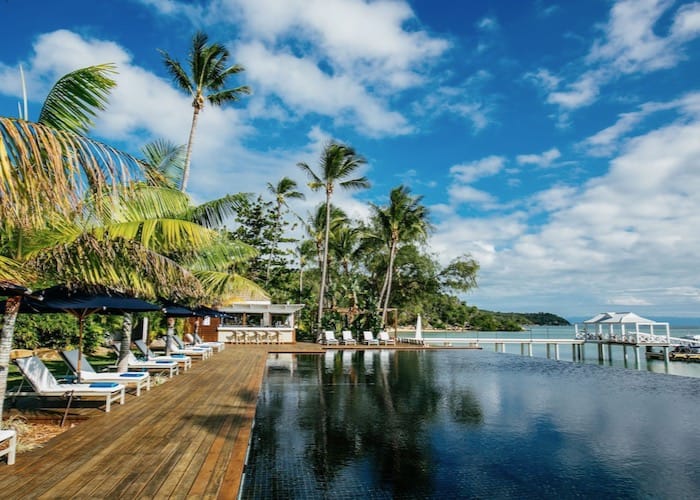 36. Orpheus Island Lodge, Palm Island
Accommodating only a maximum of 28 guests at a time, Orpheus Island is a secluded tropical island on Australia's World Heritage-listed Great Barrier Reef. It has only 14 minimalist contemporary suites making it one of the more exclusive romantic getaways in Queensland. Indulge in 3 gourmet meals daily, unlimited use of water sports equipment, and access to an amazing on-site drink selection. For the ultimate romantic experience, opt for a private dinner on the pier backlit by the sun setting over the Coral Sea.
---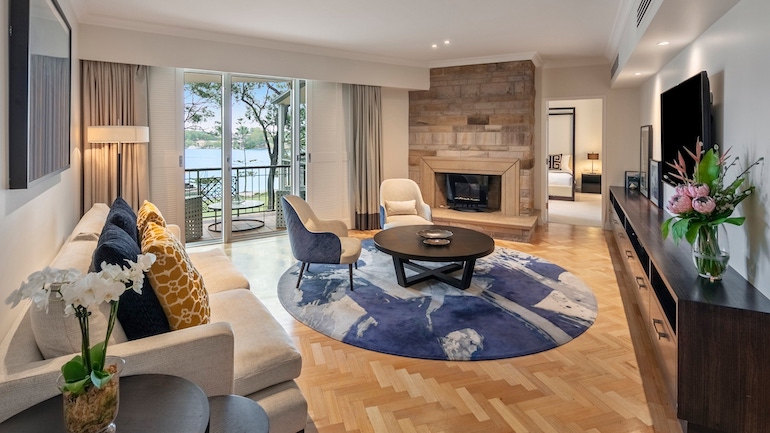 35. InterContinental Sanctuary Cove, Hope Island
With its grand façade and gardens to welcome you, the InterContinental Sanctuary Cove Resort effortlessly sets the mood for a romantic getaway. It has a variety of suites and rooms with spectacular views of the gardens or Lagoon Beach. While you can choose from several dining spots on site, we suggest you try their weekend "High Coffee" experience for that special first date kind of feeling.
---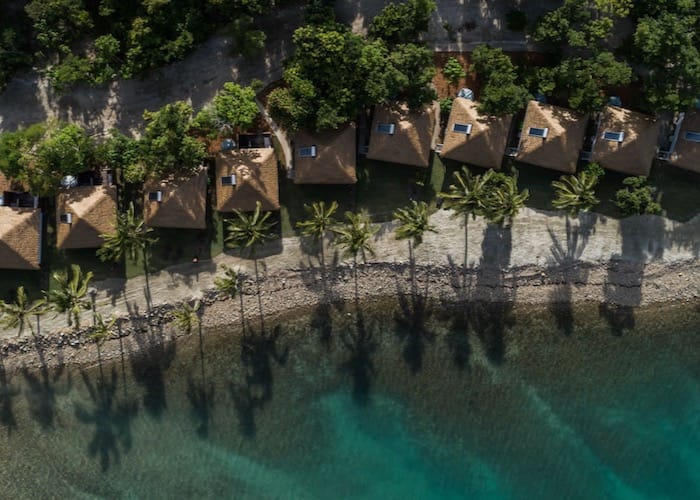 34. Elysian Retreat, Whitsundays
If you're looking for secluded, relaxing, and romantic getaways in Queensland, Elysian Retreat is a must-add to your list. Peace and serenity are the guiding principles of the Elysian Retreat's Jala Spa where you and your special someone can experience rejuvenating treatments. All treatments from this island resort spa aim to restore balance and wellness while echoing the tranquillity and uninterrupted beauty of the Whitsundays.
---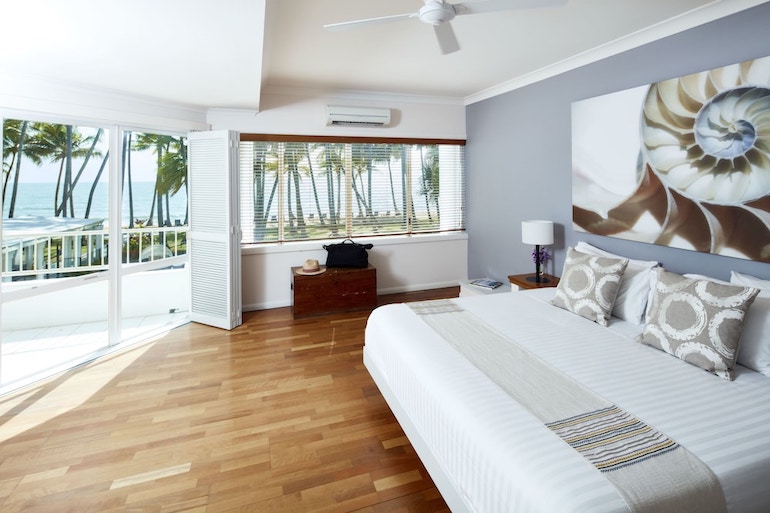 33. Alamanda Palm Cove, Cairns
Alamanda Palm Cove is a bright and beautiful destination hotel situated in Palm Cove, a gateway to the Great Barrier Reef and the oldest living rainforest, the Daintree Rainforest. This luxury hotel has the on-site L.M. Spa where you and your special someone can indulge in the 3.5-hour whole-body pampering experience. Alamanda Palm cove lets you enjoy the best of modern beachside living, with luxurious suites designed for the ultimate holiday experience.
---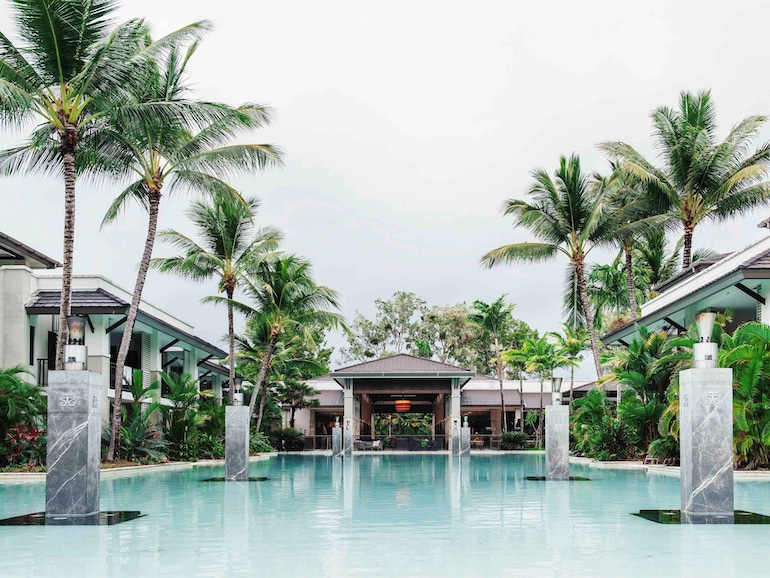 32. Pullman Port Douglas Sea Temple Resort and Spa
Staying at Pullman Port Douglas Sea Temple Resort and Spa feels like home but with an elevated feeling of being in a tranquil sanctuary. Take your special someone to the on-site Vie Spa and luxuriate in uninterrupted peace and quiet. It promises personalized care and individually-tailored spa experiences that combine science and nature—leaving you feeling rejuvenated, inspired, and in pure bliss. The serene atmosphere easily makes it one of the most romantic getaways in Queensland.
---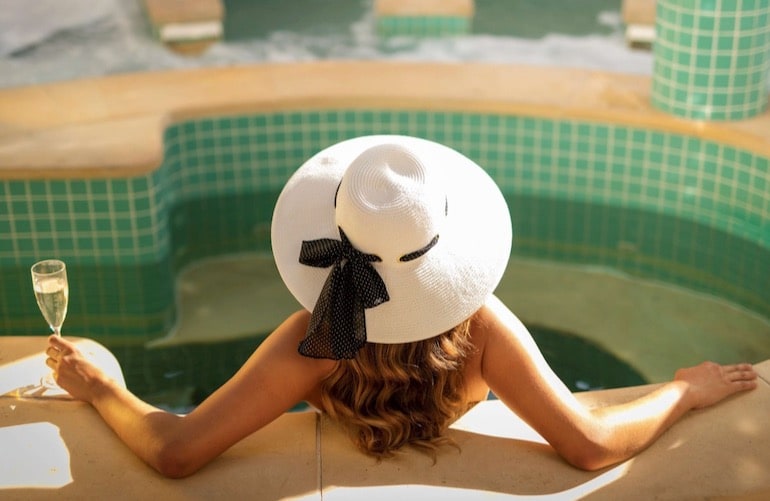 31. Sofitel Noosa Pacific Resort, Noosa Heads
Sofitel Noosa Pacific Resort on Hastings Street is a luxury accommodation with a relaxed beach ambience in the heart of Noosa Heads. Situated in the bustling shopping district yet just minutes by foot from the beach, this 5-star hotel features the best of both worlds, offering coastal tranquillity and urban sophistication. Explore the nearby cafes and restaurants while having easy access to the relaxing coast.
---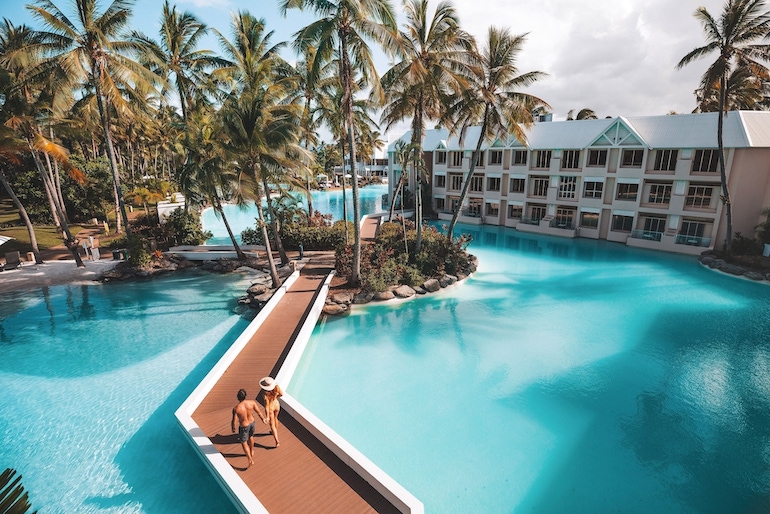 30. Sheraton Grand Mirage Resort, Port Douglas
Located in the paradise that is Port Douglas, Sheraton Grand Mirage Port Douglas is an awe-inspiring luxury resort set among 147 hectares of tropical gardens, sparkling saltwater lagoons, and a golf course. It's your perfect romantic hideaway after exploring the nearby Great Barrier Reef and Daintree Rainforest.
---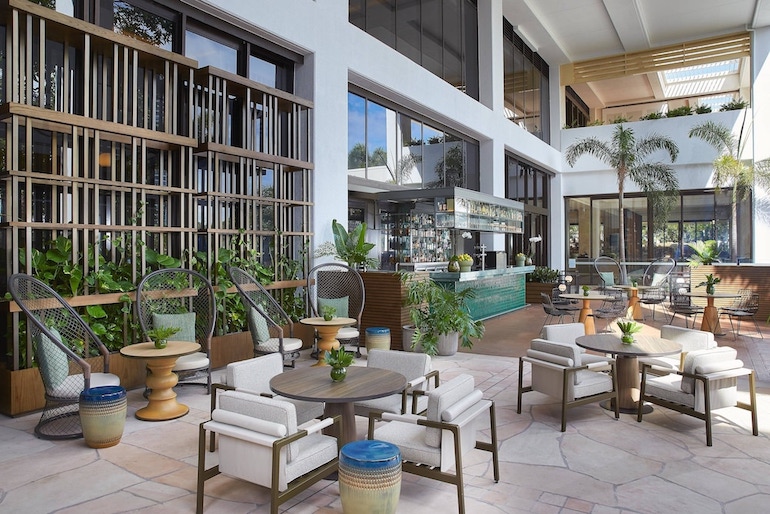 29. JW Marriott Gold Coast Resort & Spa, Surfers Paradise
JW Marriott Gold Coast Resort & Spa offers the perfect base to explore all that the Gold Coast has to offer. With its prime location, brand new guest rooms and superb amenities including peaceful lagoons and an outdoor resort pool, a modern fitness centre, and a relaxing day spa. The hotel has everything couples need for a relaxing and romantic getaway.
---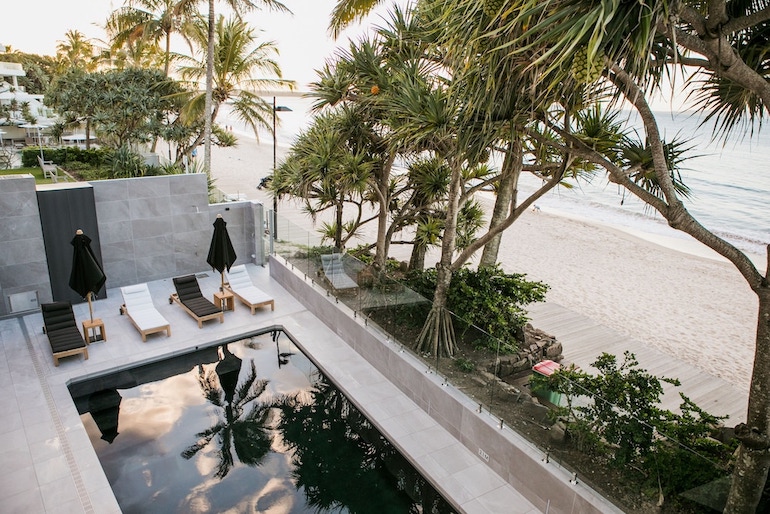 28. On The Beach Noosa, Noosa Heads
With interior design that takes inspiration from its coastal surroundings, On the Beach Noosa's exclusive luxury beachfront apartments and penthouses will refresh your senses. All apartments have stunning ocean views, private balconies, and spa baths! We love how it has an exclusive feel and has direct access to the less crowded shores of Noosa Heads. On The Beach Noosa earned its spot in our list of romantic getaways in Queensland because of its chic style and idyllic location.
---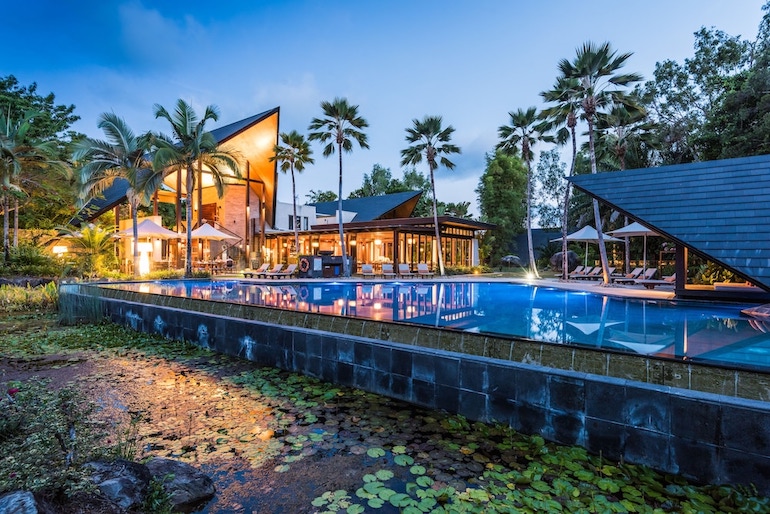 27. Niramaya Villas and Spa, Port Douglas
Be enveloped in calmness. Niramaya Villas & Spa is nestled in lush tropical surrounds and is the perfect getaway where you can recharge and reconnect with your loved one. The luxurious villas are close to both the beach and rainforest, treating you to magical natural escapes. The lush surroundings will make you feel like you're worlds away!
---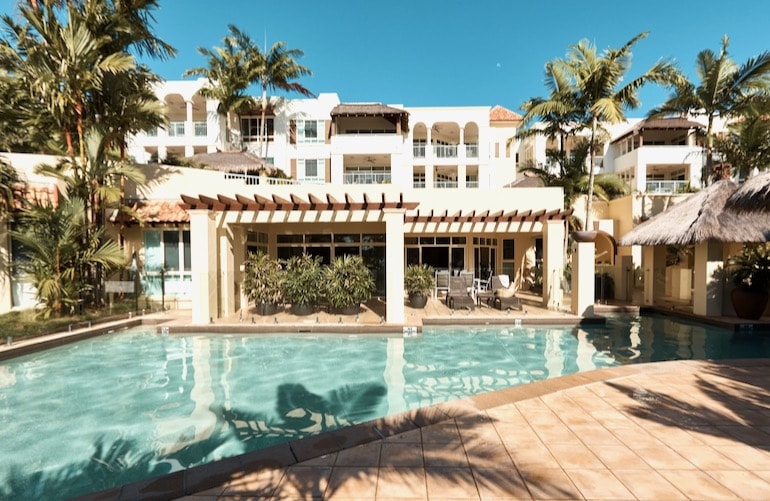 26. Sea Change Beachfront Apartments, Trinity Beach
Luxurious warmth facing the Coral Sea awaits. Sea Change Beachfront Apartments' generous, fully-furnished indoor spaces are designed for maximum privacy. Guests have access to airy semi-outdoor areas with ocean views or direct pool access easily set the mood for tropical romance and relaxation.
---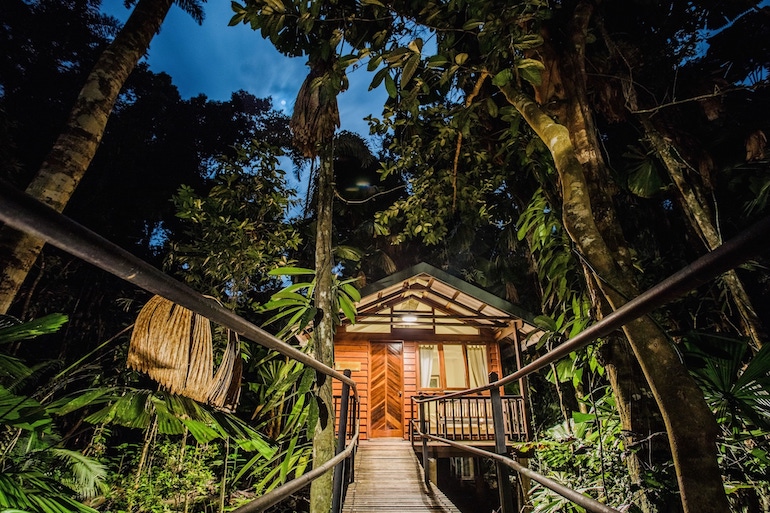 25. Daintree Wilderness Lodge, Diwan
Looking for a secluded, romantic, and exclusive getaway? With just seven elevated cabins hidden within fan palms in Kuku Yalangi country, Daintree Wilderness Lodge is perfect for you. Set in a landscape like no other and nestled in between the Daintree National Park and the Great Barrier Reef Marine Park, each of the air-conditioned cabins has an en-suite bathroom, a mini-fridge, coffee-making necessities, and queen or twin beds to relax in while enjoying the lush tropical setting.
---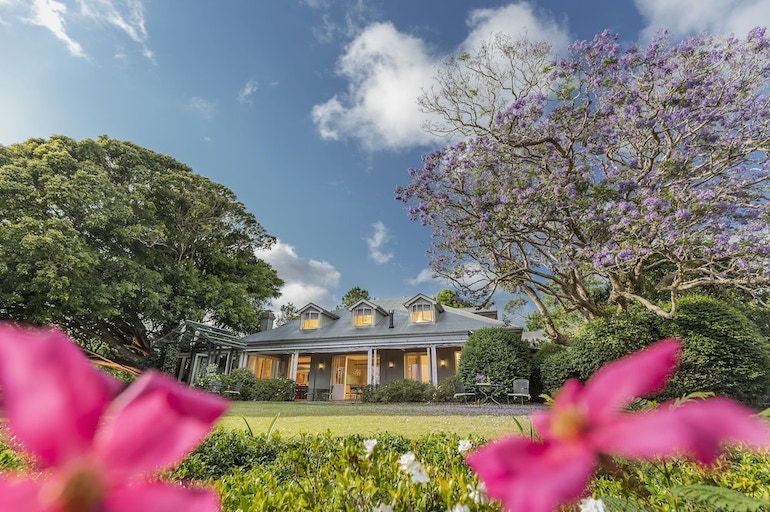 24. Spicers Clovelly Estate, Montville
Spicers Clovelly Estate is a boutique hillside retreat located in the gorgeous Sunshine Coast hinterland. Surrounded by grand figs, shaded jacarandas and groves of magnolias and gardenias, Spicers Clovelly Estate is the perfect place to celebrate everything that's special in life. A stroll through the gardens before relaxing in your comfy bedroom will make any romantic getaway even more special.
---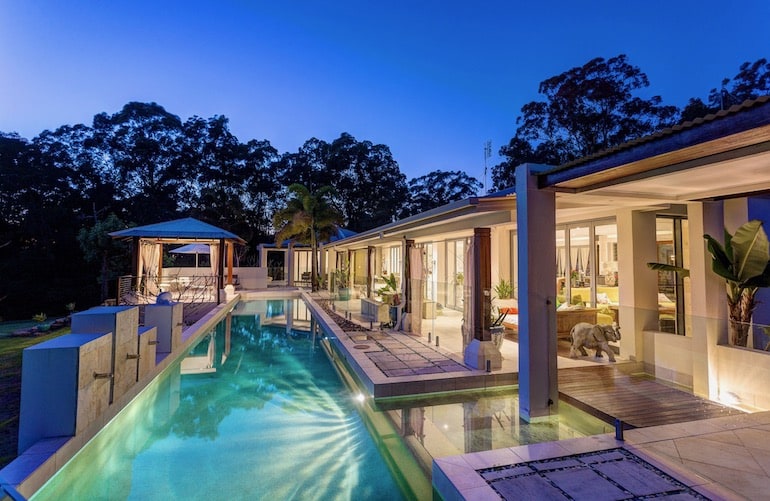 23. Alaya Verde, Ringtail Creek
Find tranquillity and experience an exclusive romantic escape in one of Alaya Verde's private luxury pavilions, complete with everything you need even for an extended romantic getaway. It has only 3 spacious self-contained apartments designed for ultimate privacy. From the moody lighting to the jaw-dropping outdoor bath area, there's a sense of luxe and romance you won't find elsewhere.
---
---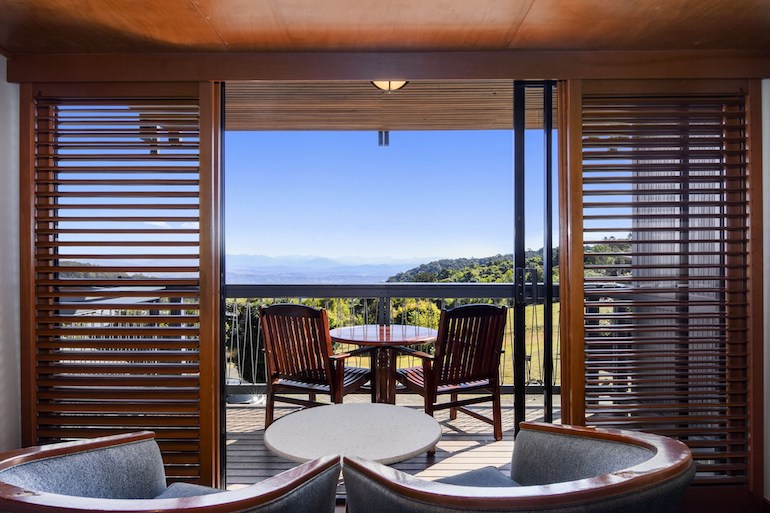 21. O'Reilly's Rainforest Retreat, O'Reilly
Recharge in the midst of Lamington National Park's pristine rainforest at O'Reilly's Rainforest Retreat. With plenty of different accommodation options to choose from, we highly recommend the self-contained 1- and 2-bedroom villas where you can enjoy a barbecue or spa bath on your balcony and wake up to expansive mountain or rainforest views.
---
---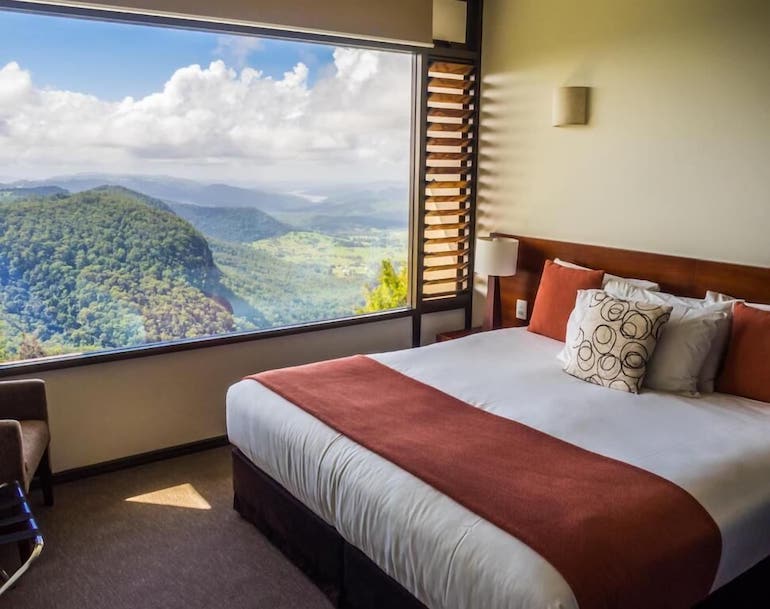 19. Binna Burra Sky Lodges, Binna Burra
Experience a magical stay at Binna Burra Sky Lodges when you wake up to a stunning view of the misty mountains. Eighteen cosy and crisp studio apartments seemingly float above the clouds and the surrounding greenery. With a kitchenette, bar fridge, en suite spa bath, and fireplace, you'll have everything you need for a romantic weekend getaway or a longer holiday.
---
---
---
---
---
---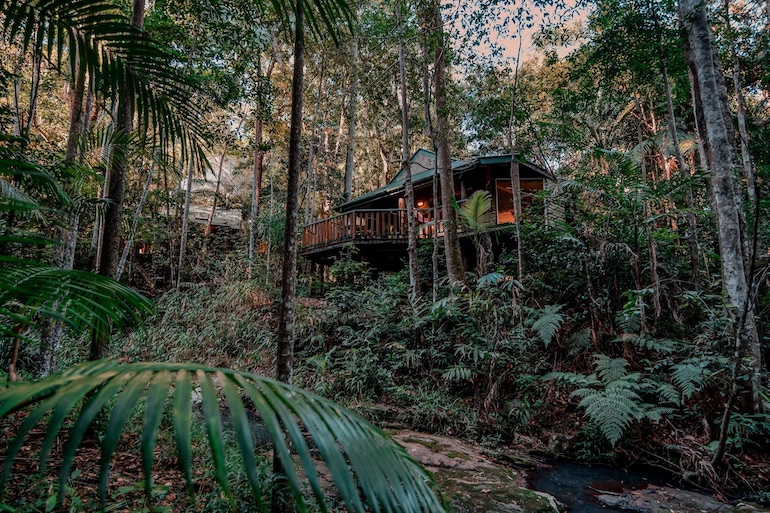 13. Narrows Escape Rainforest Retreat, North Maleny
Secluded in the Sunshine Coast Hinterland and on the edge of Kondalilla National Park, Narrows Escape is a luxury rainforest retreat that will immerse you in your own lush paradise. You can forget about your worries and take a relaxing soak in a spa bath made for two. Treat your auditory senses too with the sounds of chirping birds while enjoying the warmth of your crackling fire.
---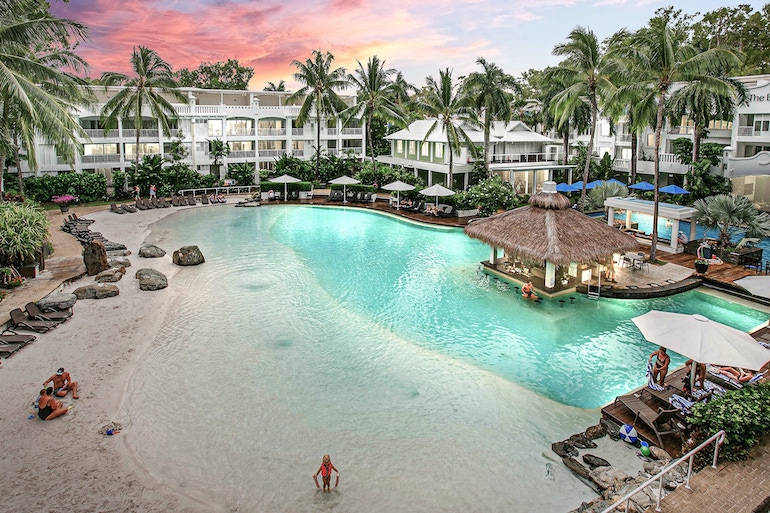 12. Elysium The Beach Club, Palm Cove
Light and airy with a soothing neutral colour scheme, Elysium The Beach Club is only a few steps away from Palm Cove Beach and close to the Great Barrier Reef. The beach-style pool is a highlight of this romantic getaway, allowing you to get that beach vibe with more comfort (and a swim-up bar!). After a day of exploring, you can treat yourself in the day spa or take a relaxing dip in your private spa bath.
---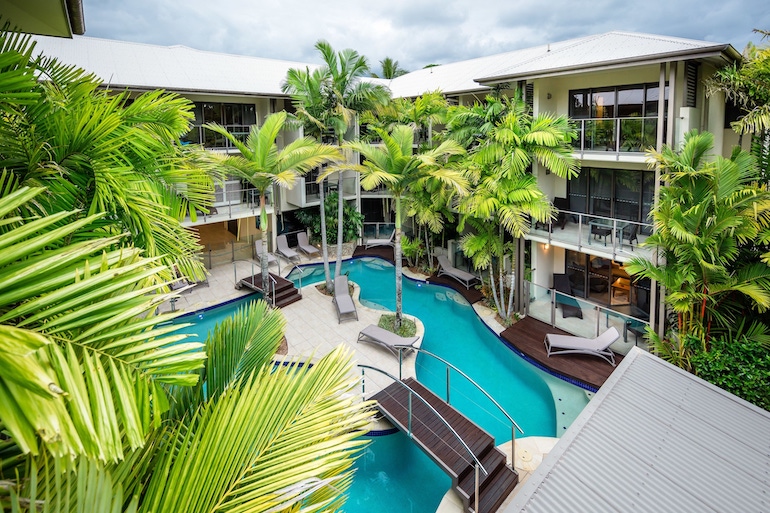 10. Shantara Resort Port Douglas, Port Douglas
Just 5 minutes away from Four Mile Beach and providing easy access to the Daintree Forest and the Great Barrier Reef, Shantara Resort Port Douglas is an adults-only resort with a day spa, a gym and two beautiful lagoon-style pools. The self-contained apartments with kitchenettes combine tropical and coastal interior design that is stylish, comfortable and relaxing.
---
---
---
---
---
---
---
---
---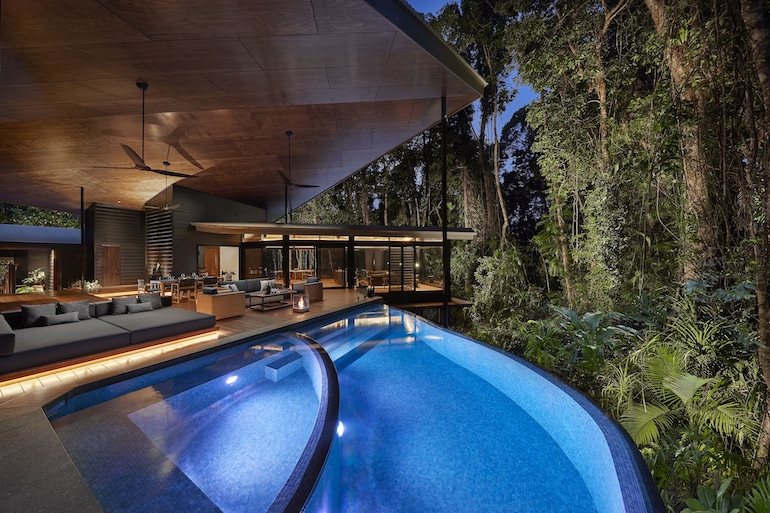 1. Silky Oaks Lodge, Finlayvale
Fresh from a multi-million dollar makeover, Baillie Lodges brings its luxurious touch to the renowned Silky Oaks Lodge, easily landing its spot as #1 in our list of romantic getaways in Queensland. Here you can enjoy a rejuvenating stay in one of their 40 treehouses nestled in the ancient Daintree Forest. The natural hues of the interiors and the warm-coloured local timbers add to the romantic ambience, making it even more fairytale-like. Relax in the gentle sway of the hammocks made for two and indulge in the seclusion of your own treehouse.
---
Looking for more options? Check out our collection of romantic getaways in Queensland or our entire collection of luxury escapes in Queensland.
Image credit: InterContinental Hayman Island Resort