If you've only got a few days for a well-deserved getaway in South Australia, then you definitely want to make the most of them. This means keeping travelling time to an absolute minimum. To help maximise your relaxation time, we've created a list of the best luxury getaways from Adelaide that are all within a few hours of the city. Each of these luxury hotels, lodges or holiday homes is perfect for a short trip away from Adelaide with a group of family or friends, or for a romantic weekend getaway.
---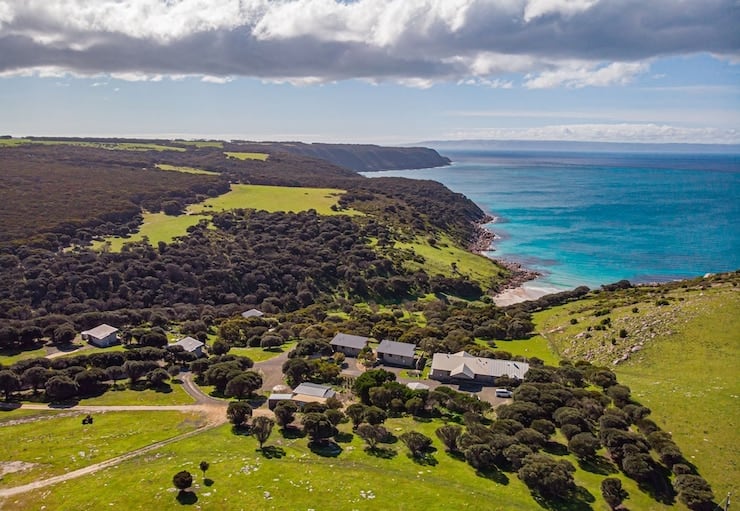 Sea Dragon, Kangaroo Island
Sea Dragon is a stunning boutique accommodation set on the majestic Kangaroo Island. Make yourself at home in one of the 8 architecturally designed villas with varying sizes and amenities to suit your holiday needs. This adults-only retreat boasts an experiential stay, with breath-taking vistas and a private sandy beach, making your holiday truly remarkable.
---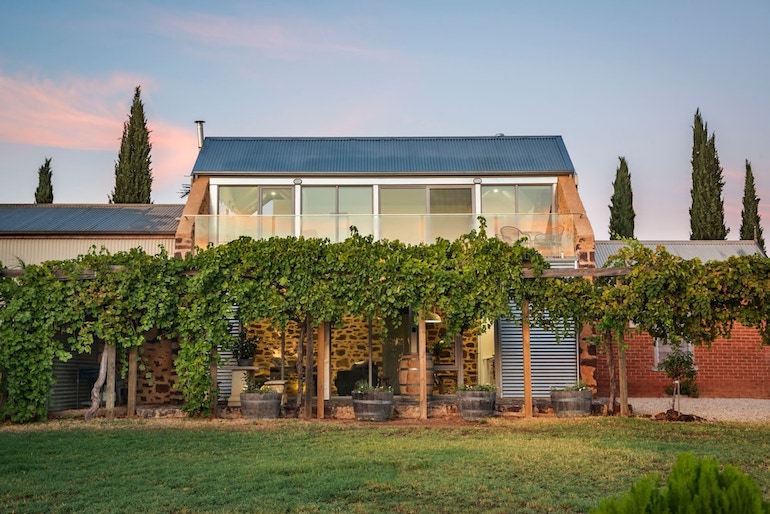 Barossa Shiraz Estate, Lyndoch
Surrounded by exquisite vineyards and sweeping views of the Barossa Valley, Barossa Shiraz Estate features a selection of stylish cottages that are self-contained and private, providing the perfect venue for some much-needed rest and relaxation. This dreamy estate is the ideal base from which to explore the Barossa, with many renowned wineries and world-famous fine restaurants nearby.
---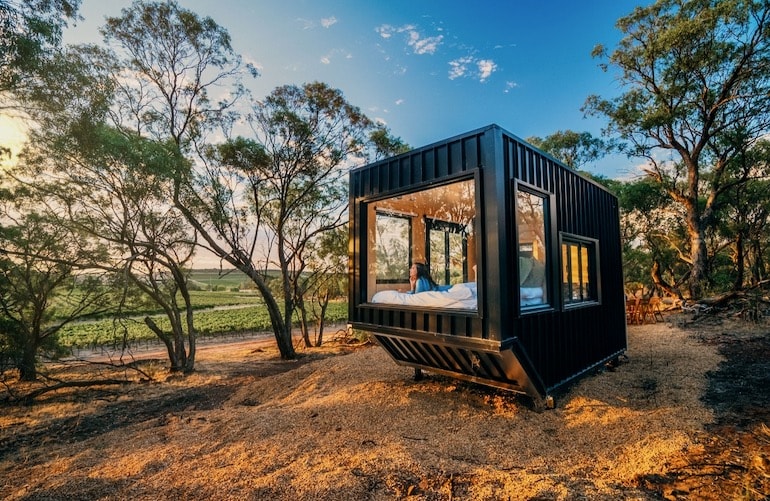 CABN Barossa Valley
Surprise your favourite person with an intimate romantic getaway that has all the privacy and seclusion you need. CABN Barossa is a minimalist escape with a queen-sized bed tucked amidst trees with views of the vineyard in the distance. You'll be surprised by how complete this self-contained stay is! Despite its compact appearance, it has its own indoor bathroom, outdoor seating area, and coffee fresh from your kitchenette during your stay. It's just an hour away from Adelaide too!
---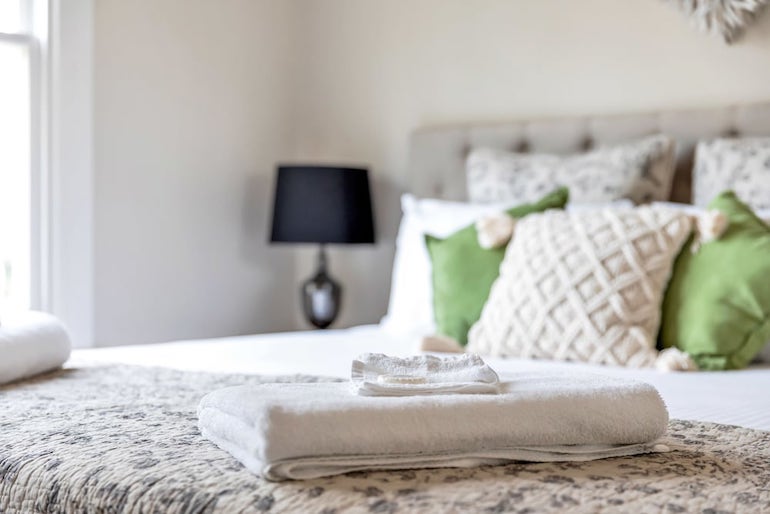 Grandview Accommodation – The Flaxley Apartments, Mount Barker
The Flaxley Apartments are beautifully crafted luxury accommodations offering a 'home away from home' and bespoke service right in the heart of Mount Barker. With a classic country feel, the apartments each offer 2-bedrooms and are situated just a short walk from the main shopping area, close to beautiful parkland views and great walking trails.
---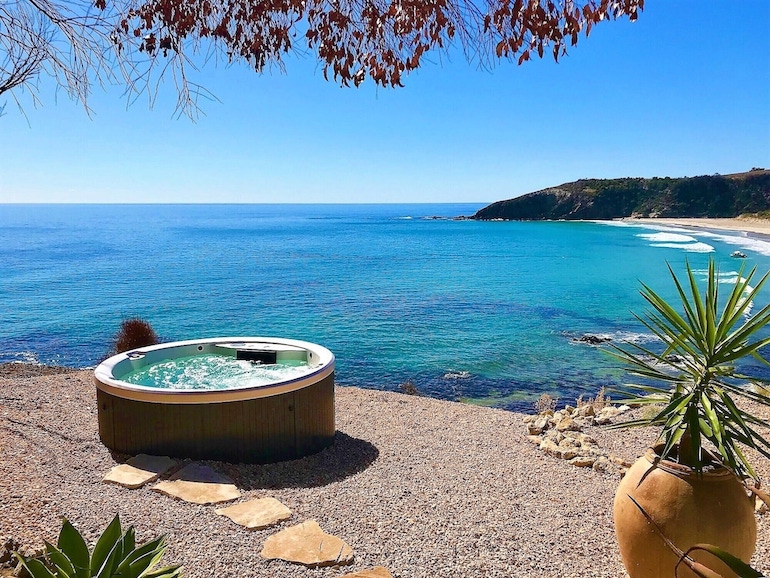 LifeTime Private Retreats, Kangaroo Island
Perched on a cliff overlooking the magnificent Snelling's Beach, LifeTime Private Retreats is an idyllic holiday getaway located in the secluded Middle River on Kangaroo Island. With a cliff-edge bath, circular tower bedroom and cushioned sunken pit with open fire, this intimate destination indulges you in style and luxury. Select from 5 individual villas and enjoy sweeping views of the sea and sky.
---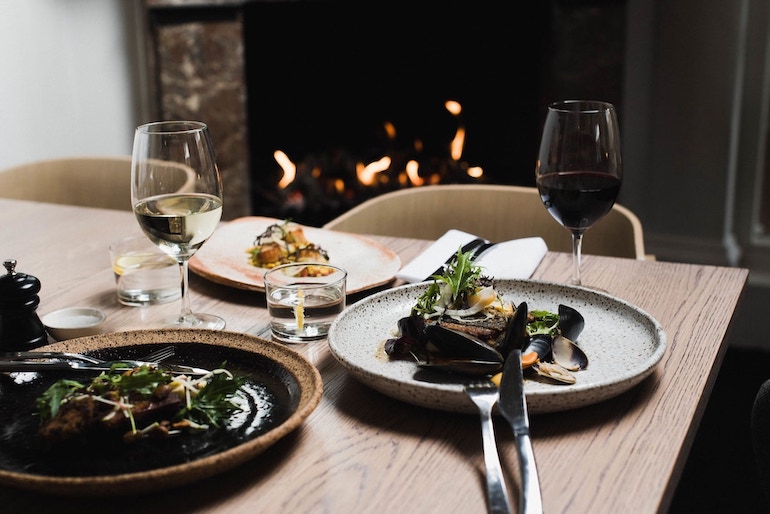 5 Rooms At The Stirling Hotel, Adelaide Hills
Located in the lovely 'garden village' of Stirling, 5 Rooms at the Stirling Hotel is a beautiful boutique retreat conveniently nestled just 20 mins from the CBD, making it a popular destination for visitors to and from Adelaide. As the name suggests, this luxe hotel features 5 opulent rooms, along with a selection of well-designed hotel amenities that ensure a lively but relaxed ambience.
---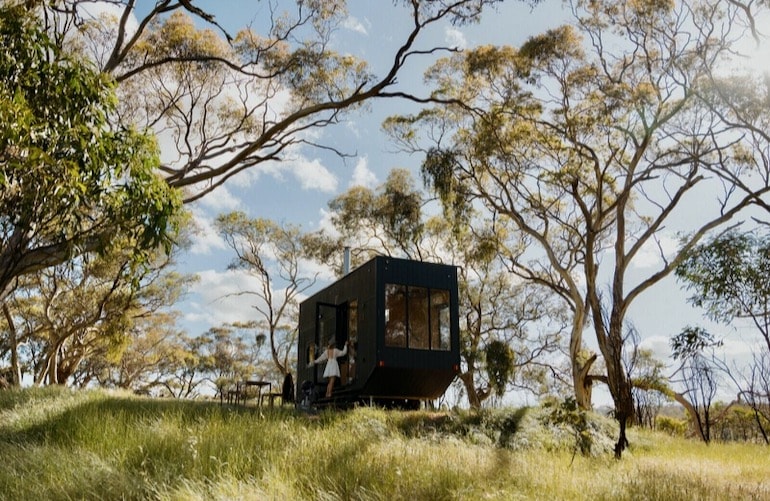 CABN Clare Valley
Looking for something a bit more secluded and further away? Venture 1.5 hours from Adelaide to CABN Clare Valley, a quiet hideaway that spoils you with views of the rolling countryside. With options that can sleep 2-4 guests, these contemporary cabins equipped with kitchenettes and modern bathrooms are great for couples or small families on a weekend escape.
---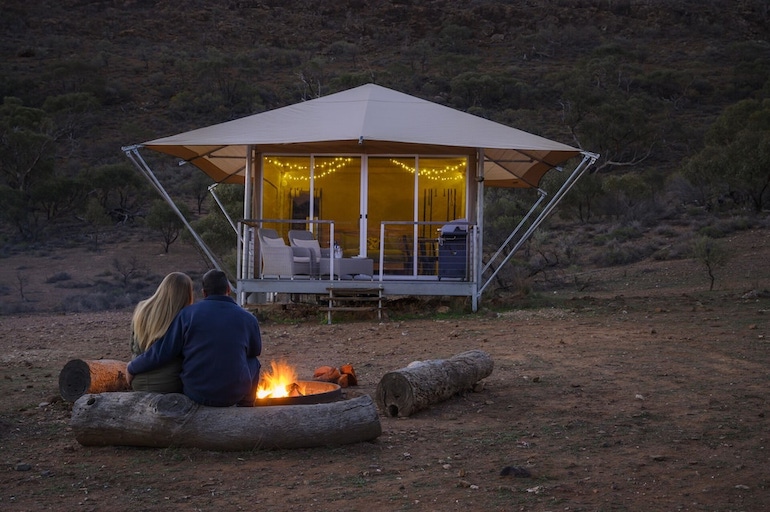 Flinders Bush Retreats, Flinders Ranges
Enjoy the Australian outback in comfort at Flinders Bush Retreats, a multi-award-winning private escape located in Hawker, nestled within 11,000 acres of ancient rugged bushland. There are two self-contained houses, each accommodating 6-8 guests, that are well-appointed with fully equipped kitchens, open plan living rooms, and large bedrooms. There is also a romantic eco-tent if you fancy a bit of glamping.
---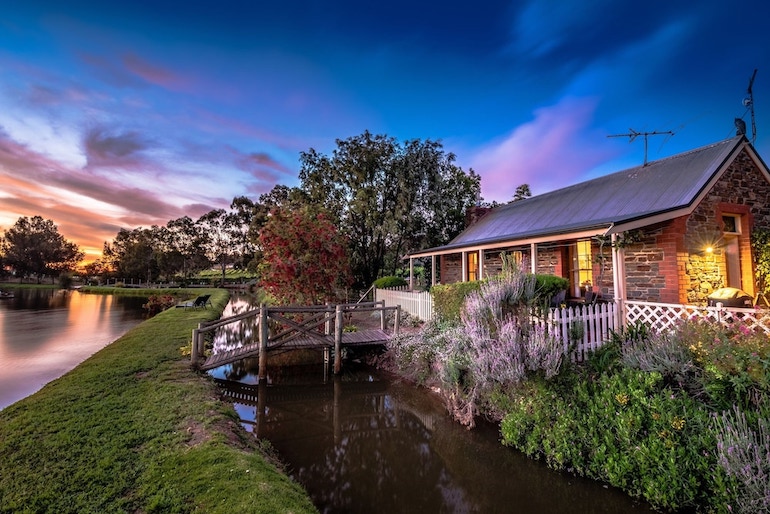 Stonewell Cottages & Vineyards, Barossa Valley
Nestled in the heart of the Barossa Valley, Stonewell Cottages & Vineyards offers luxurious and secluded accommodation, ideal for a couple's romantic getaway. With 4 well-appointed cottages and suites all overlooking the lake, this boutique waterfront vineyard retreat provides the perfect setting for a relaxing and rejuvenating escape, whilst being the perfect starting place to discover the best of the Barossa.
Find your perfect getaway in South Australia
Discover over 60 handpicked hotels, resorts & private villas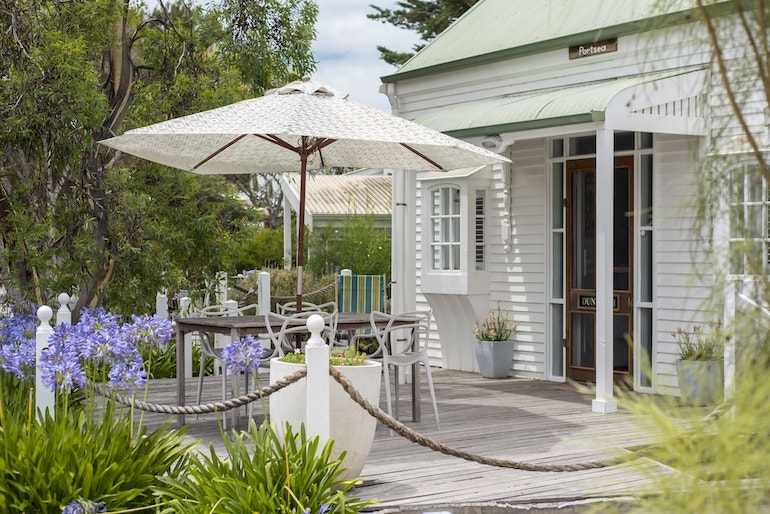 Beach Huts Middleton, Fleurieu Peninsula
Offering boutique accommodation in a village-style atmosphere, the award-winning Beach Huts are located near Middleton on the beautiful Fleurieu Peninsula. Charming and bright, this coastal retreat boasts 12 unique huts, surrounded by picturesque grounds and beautiful gardens, creating a unique and intimate setting perfect for any special occasion.
---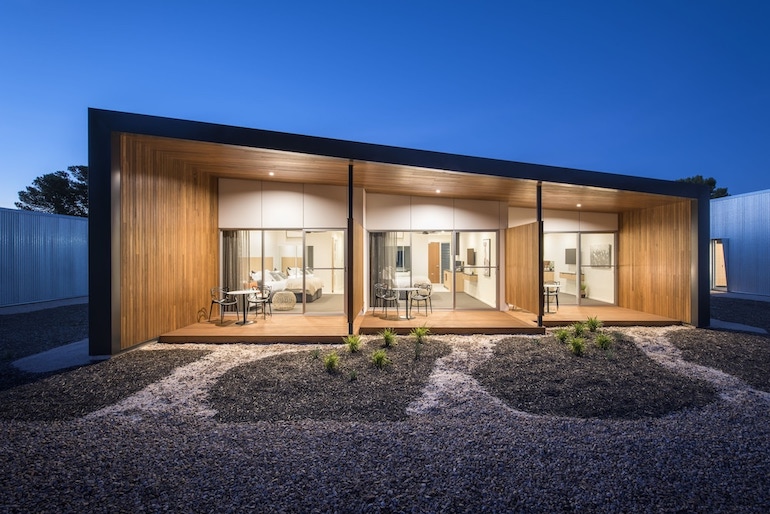 The Villas, Riverland
Architecturally designed, The Villas offer exceptional luxury accommodation at the beautiful Waikerie Golf Club in the Riverland. Ideal for a golf holiday with plenty to explore nearby, this retreat is perfect for a romantic couples getaway or even a weekend escape with friends and family. To make your stay more memorable, complimentary golf and continental breakfast are included in all bookings.
---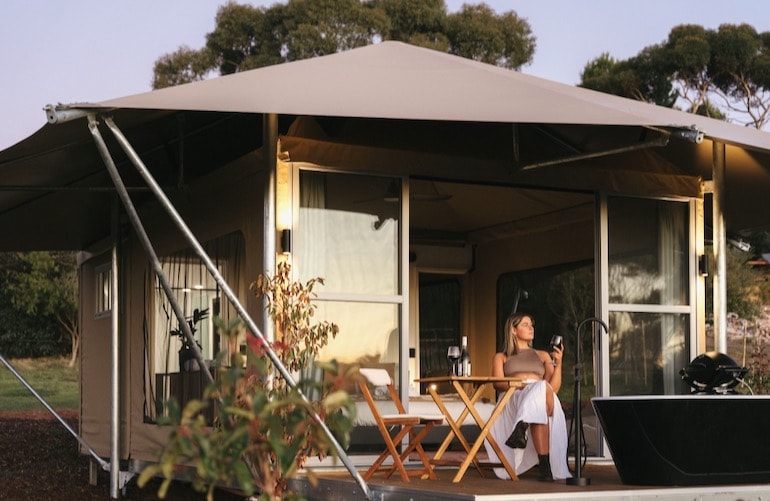 CABN CANVS Seppeltsfield
Just an hour away from Adelaide, CABN CANVS in Seppeltsfield is an eco-friendly experience akin to glamping that invites you to relax in a tranquil spot in the Barossa Valley wine region. Complete with its own kitchenette, furnished deck, modern bathroom and king-sized bed, it's a lovely escape whether you're travelling solo or on a trip for two. We love the outdoor deep soaking tub with expansive views of the garden and nearby vineyards.
---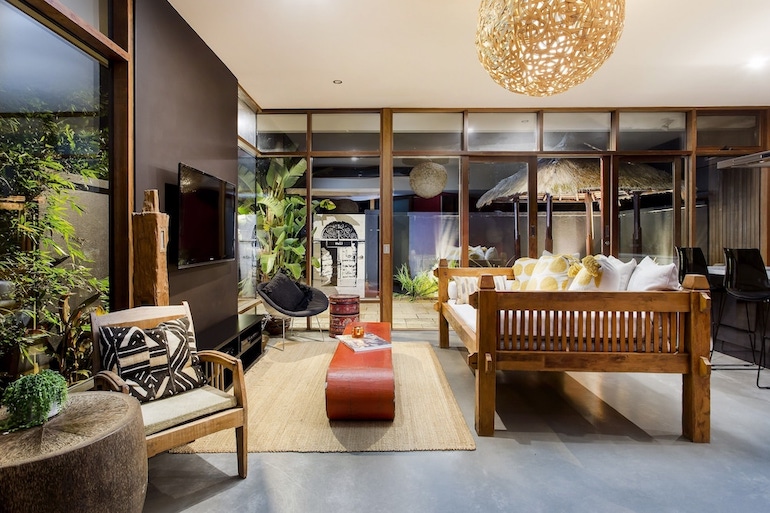 Sticky Rice Villas, Adelaide Hills
Just 20 minutes from Adelaide city centre are the award-winning Sticky Rice Villas, three Asian-inspired retreats offering the ultimate in luxury & romance. Balinese, Japanese, and Thai aesthetics influence the architectural design of these luxe villas, creating seamless indoor and outdoor living. Also conveniently found on site is the iconic Sticky Rice Cooking School, where you can enjoy culinary adventures to elevate your stay.
---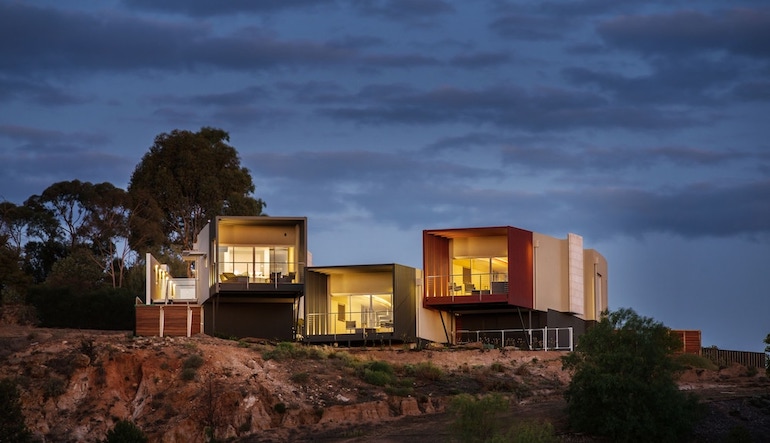 The Frames, Riverland
Situated on the River Murray, The Frames is a luxury retreat that boasts three private and self-contained resident hideaways for couples. Architecturally designed, this awarding-winning 5-star destination offers world-class luxury and personal hospitality in a romantic and exclusive setting with stunning views of the Mighty Murray.
---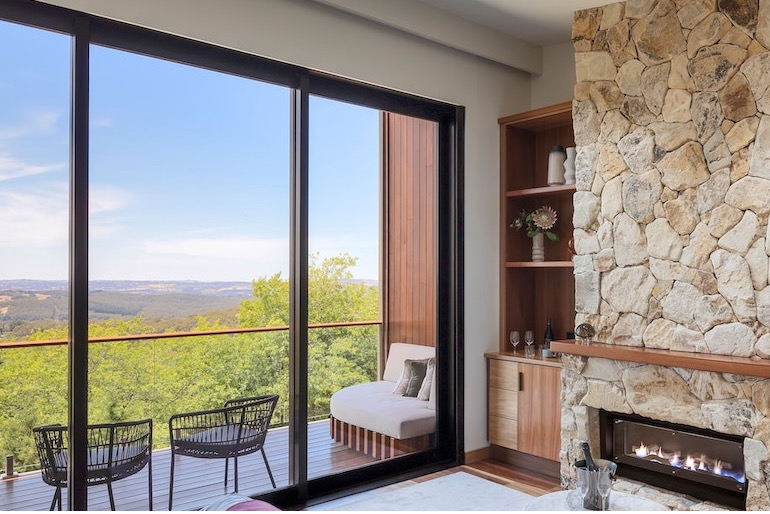 Sequoia Lodge, Crafers
Architecturally designed to celebrate the history of the region, Sequoia Lodge is an intimate luxury retreat set in the highlands of the Adelaide Hills. Complete with exclusive amenities and surrounded by nature, this getaway is designed as a private sanctuary, offering utmost comfort and luxury with overlooking views of the Piccadilly Valley.
---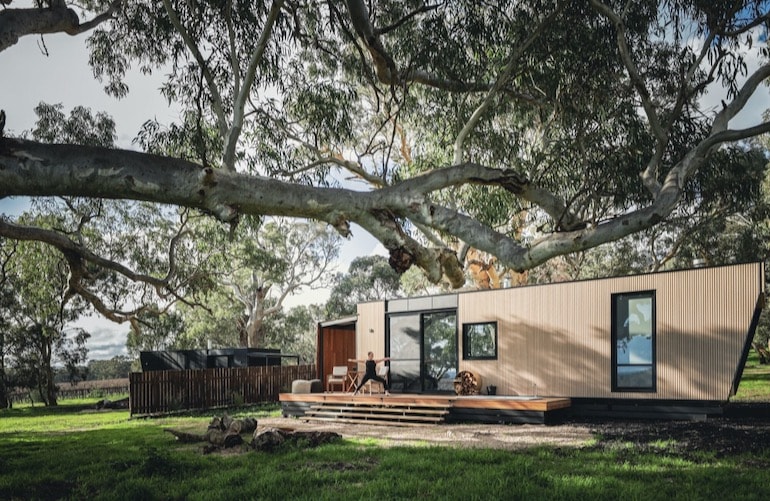 CABN X McLaren Vale
One of the most luxurious cabin types offered by CABN, CABN X McLaren Vale will treat you to an elevated experience. Located in the beautiful McLaren Vale wine region and set underneath the shade of trees, this gorgeous and more spacious cabin has its own private wood-fired sauna, indoor fireplace, spacious furnished deck, en-suite with a full-sized bath, and an outdoor bath too! Perfect place to recharge with your special someone, only 45 minutes from Adelaide.
---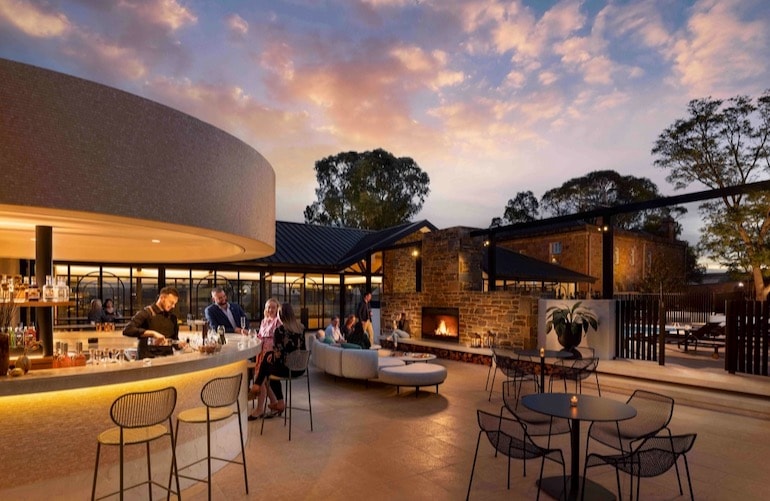 Kingsford The Barossa, Barossa Valley
Kingsford the Barossa is a beautifully restored heritage building from 1856 that now boasts ultra-luxe suites with scenic views and unique ensuites. The on-site wine cellar and 6-vault tunnel hold a fine collection of wines and champagnes, perfect for pairing with the delicious menu at Orleana. Signature experiences guests can try include the outdoor Bush Bath, 9-pin KegelBahn lane, walking trails, and a fire pit area perfect for stargazing and enjoying the fresh night air.
---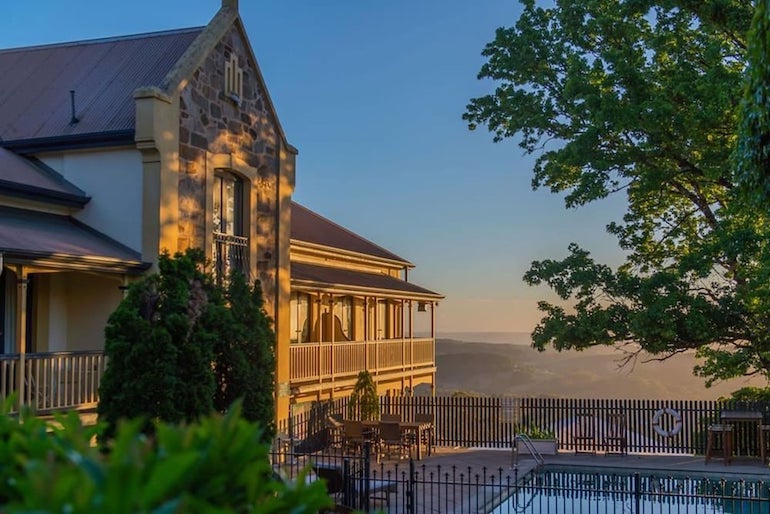 Mount Lofty House, Adelaide Hills
Formerly the manor of politician & businessman Arthur Hardy, Mount Lofty House is a luxurious historic retreat just 15 mins from Adelaide City. This iconic designer 5-star boutique hotel is beautifully perched in the Adelaide Hills, providing stunning vistas of the Piccadilly Valley and Adelaide Hills wine region. Choose from a delightful selection of rooms and fit-outs, masterfully designed for a memorable and iconic getaway.
---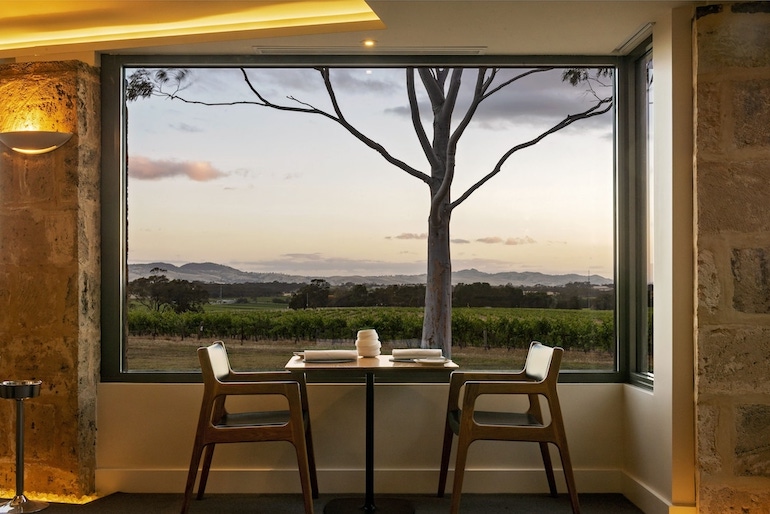 The Louise, Barossa Valley
Located in the Barossa Valley, The Louise is a renowned vineyard retreat boasting 15 luxurious suites and a world-class restaurant called Appellation. As a professional meeting venue with dedicated event staff, private dining, and luxury accommodation, this stunning retreat is the perfect getaway for any occasion while offering the opportunity to explore one of the world's top vineyard regions.
---
Looking for more getaway options? Check out our complete collection of luxury accommodation in South Australia.
What's your luxury?
Luxury means different things to different people. Is your luxury a glamorous hotel in downtown Manhattan, a private island hideaway on the Great Barrier Reef, or a safari camp on the plains of the Serengeti? We'll help you find your perfect version of luxury in some of the world's most beautiful places.