If you're in Auckland and only have a weekend for a well-deserved break, then you want to ensure you make the most of it. So that you can discover all of the delights of the North Island, we've created a list of the best weekend getaways and luxury escapes that are within a few hours' drive of Auckland. From gorgeous luxury holiday homes in the Bay of Islands to beautiful boutique hotels in Lake Taupo, these are our favourite weekend getaways from Auckland.
---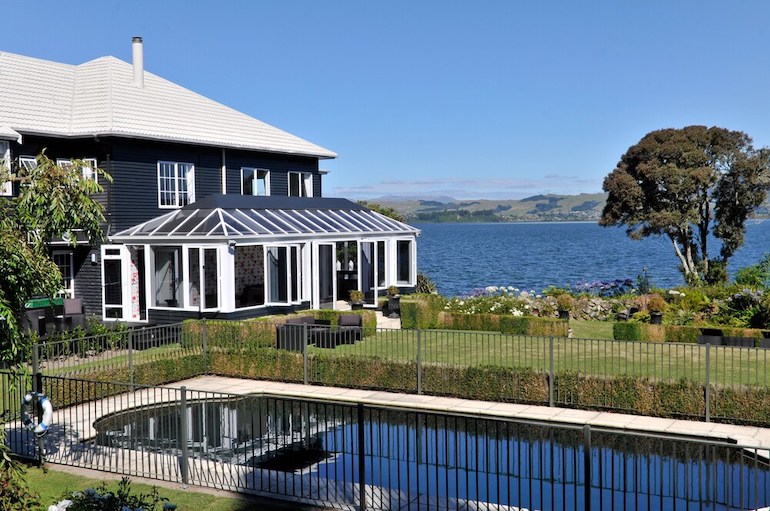 10. Black Swan Lakeside Boutique Hotel, Rotorua
Nestled along the banks of Lake Rotorua among lush rose gardens and sweeping lawns, Black Swan Lakeside Boutique Hotel is a stylish retreat offering the best of lakeside luxury at Kawaha Point. This unique hotel boasts 9 fully-appointed rooms overlooking a serene lakeside setting, complemented by luxurious amenities such as a swimming pool, sauna, secret grotto, private jetty, and a superb restaurant.
---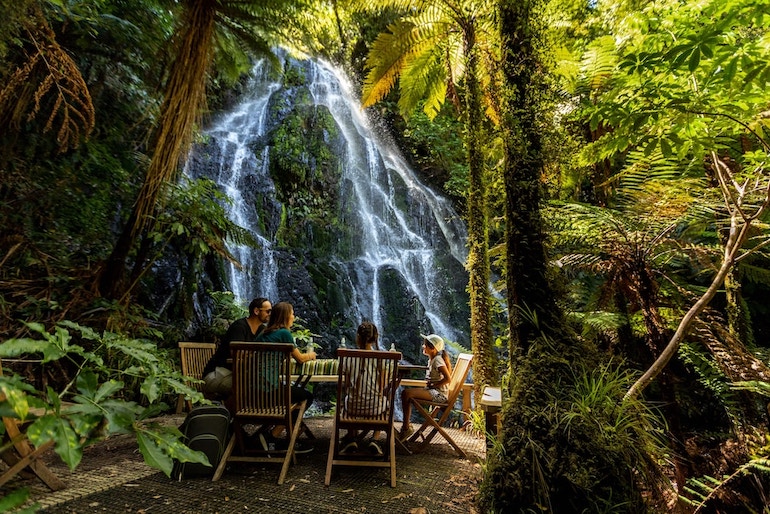 9. Treetops Lodge & Estate, Rotorua
Disconnect from earthly cares and unwind at Treetops Lodge & Estate, a beautiful hotel set on 2,500 acres of native forest in Rotorua. This wildlife sanctuary and retreat is nestled within breathtaking terrain, offering outdoor activities centred around streams, lakes, and adventure trails. Treat yourself to a stay in one of 13 guestrooms complete with modern conveniences and spa amenities – perfect for both couples and families.
---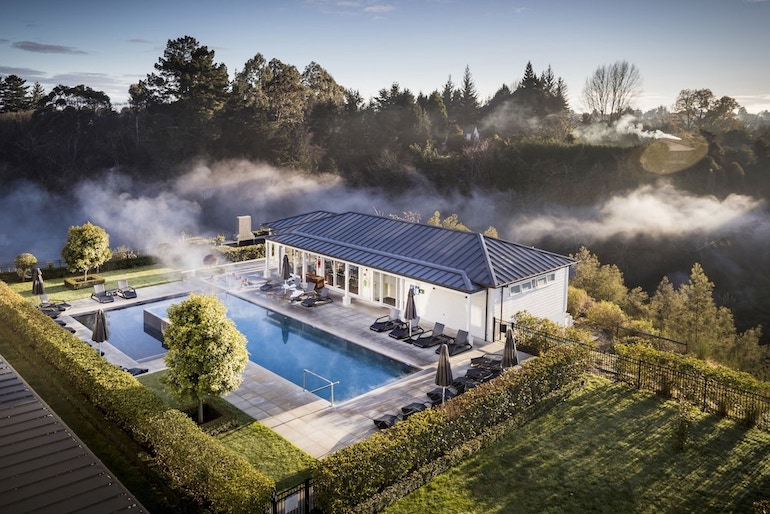 8. Hilton Lake Taupo, Taupo
Just 10 minutes from Taupo town centre, Hilton Lake Taupo is a 5-star hotel on New Zealand's North Island. Set in a 19th-century building, this distinguished hotel offers a wide range of room types, with interiors that combine modern styling and Victorian charm. Here you can enjoy the outstanding location, breathtaking panoramas, exceptional service, intimate ambience, and contemporary luxury of the highest standard.
---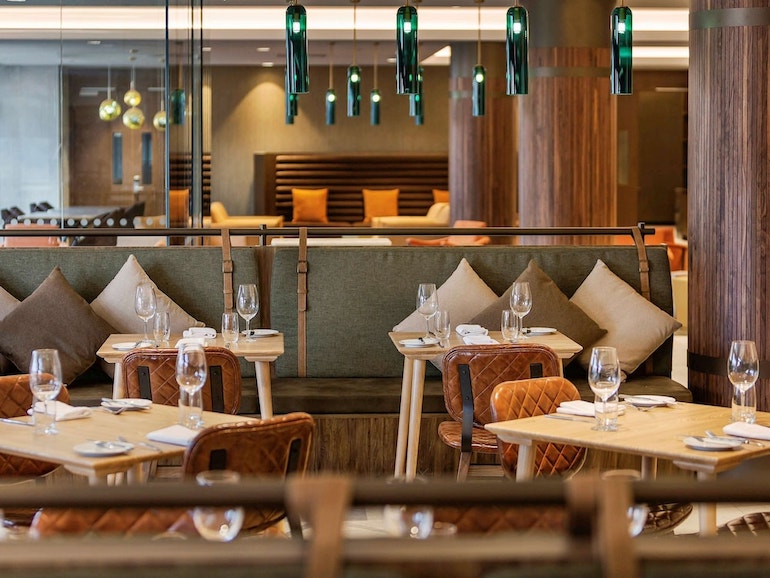 7. Pullman Rotorua, Rotorua
Modern and stylish, Pullman Rotorua offers guests a contemporary stay with luxurious flair. Located in the city centre and only minutes from the lakefront, this stunning 5-star hotel boasts 130 comfortable rooms and suites, an executive lounge, a state-of-the-art gym, and vibrant dining and bar. Surrounded by surreal scenery and iconic attractions, this hotel is the perfect base to explore and enjoy the region's highlights.
---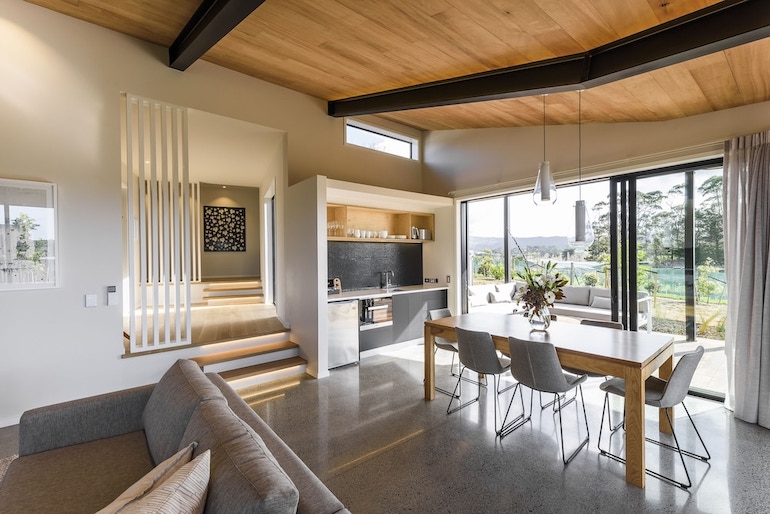 6. Plume Villas, Matakana
Located in picturesque Matakana, Plume Villas offer boutique luxury where guests can relax and rejuvenate in a peaceful country setting. Twelve villas are set in a beautifully landscaped environment, offering comfortable accommodation amidst vineyards and native bushland. Guests have access to an array of wine centred amenities, highlighted by cuisine and hospitality on hand at Plume Restaurant.
Find your perfect holiday in New Zealand
Discover over 225 handpicked hotels, resorts & private villas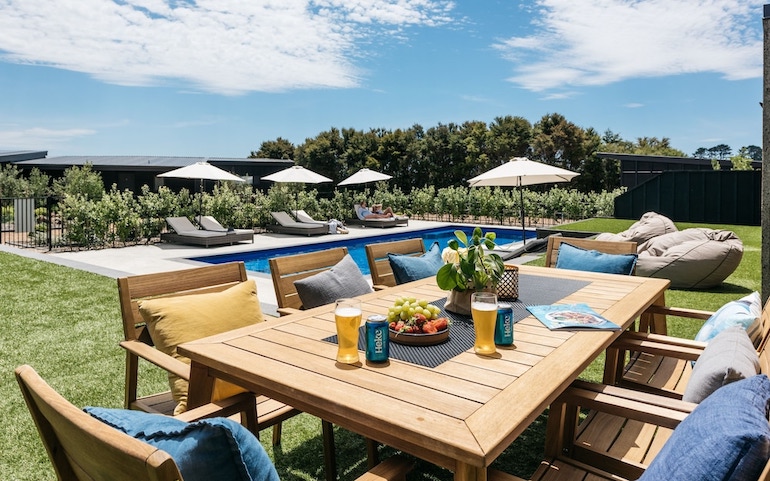 5. Villas Waiheke, Waiheke Island
Located on Waiheke Island, Villas Waiheke is a 4.5-star luxe resort within a 10-minute drive of Wild on Waiheke and Te Motu Vineyard. Escape to paradise in one of 5 well-appointed villas designed with privacy and exclusivity in mind, complete with modern conveniences and recreational facilities. Views are centre stage – each villa commanding a personal panorama of Waiheke Island and the Hauraki Gulf.
---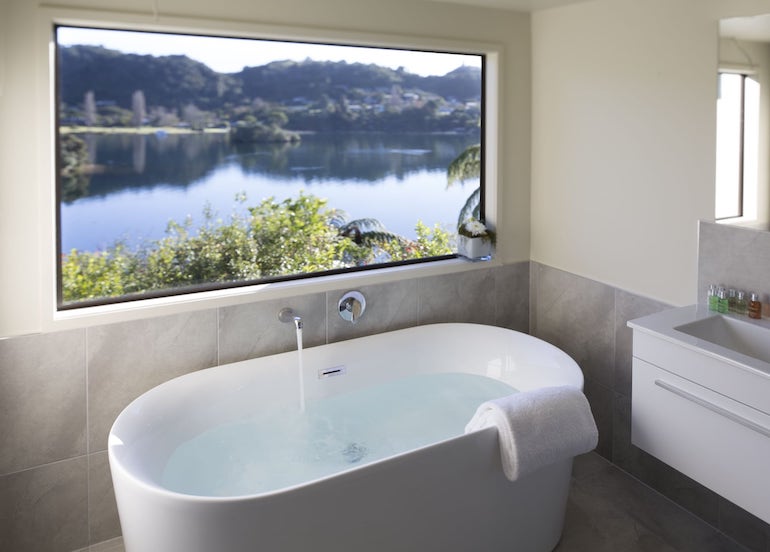 4. Solitaire Lodge, Lake Tarawera
Nestled on a private peninsula overlooking Lake Tarawera, Solitaire Lodge is a luxurious lodge located in Rotorua. This luxe retreat features a contemporary and subtle design, bringing the majesty of the outdoors in, and inviting its guests to soak up the peace and quiet of the tranquil setting. Styled with comfort in mind, all nine suites feature panoramic views over the lake and are equipped with modern conveniences making it one of our favourite weekend getaways from Auckland.
---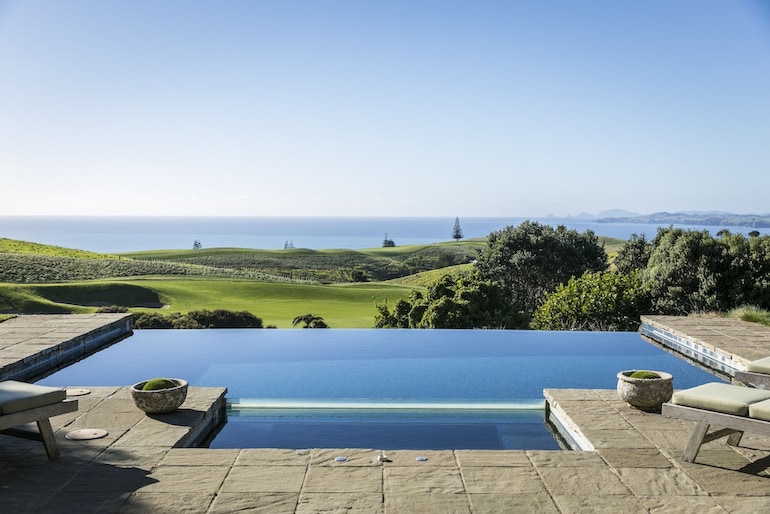 3. Kauri Cliffs, Matauri Bay
Amongst the rolling hills and gorgeous sea views, Kauri Cliffs is an elegant boutique hotel nestled in 6,000 acres of private land in Matauri Bay. With jaw-dropping vistas of Cape Brett and the offshore Cavalli Islands, this luxe getaway offers 24 guestrooms with private porches overlooking the sea. The epitome of refinement, this luxury lodge brings a new level of comfort along this untouched coastline.
---
---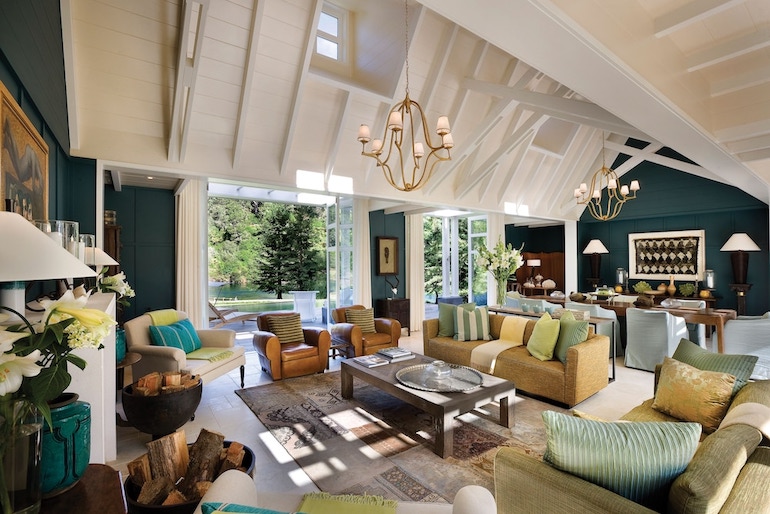 2. Huka Lodge, Taupo
Set on 17 acres of countryside on the banks of the Waikato River, Huka Lodge in Taupo is a luxurious lodge just a 10-minute walk away from Huka Falls. Find peace and tranquillity in the sound of flowing water as you unwind in one of 25 elegant guestrooms, complete with lounges and private patios looking over serene river views. Treat yourself to the well-appointed amenities including an outdoor swimming pool, tennis court, and an exquisite wine cellar.
---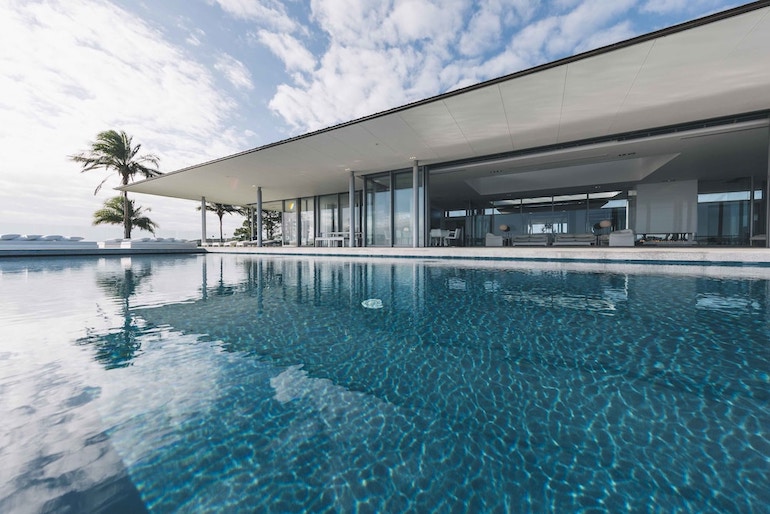 1. Eagles Nest, Bay of Islands
Sat atop a private peninsula overlooking New Zealand's Bay of Islands, Eagles Nest is an award-winning luxury estate located in Russell. Featuring sleek contemporary interiors, this boutique retreat offers 5 individually designed villas that blend seamlessly into the natural landscape. Here you can enjoy total relaxation with a selection of luxurious comforts that provide the ultimate in exclusivity and five-star hospitality.
---
Looking for more weekend getaways from Auckland? Check out our complete collection of luxury accommodation in New Zealand.
What's your luxury?
Luxury means different things to different people. Is your luxury a glamorous hotel in downtown Manhattan, a private island hideaway on the Great Barrier Reef, or a safari camp on the plains of the Serengeti? We'll help you find your perfect version of luxury in some of the world's most beautiful places.