Sometimes you need to plan an occasion that is next level – a unique experience that won't easily be forgotten with the passing of time. The good news is that there is a host of luxury lodges in Australia that are a cut above a regular 5-star hotel. These lodges offer an experience that is fit for those special occasions, such as a proposal, an anniversary or a milestone birthday. Lodge life is like living in your own private luxe bubble with absolutely everything that you need for a memorable holiday. Set in some of the most iconic locations around the country, we have hand-picked our favourite luxury lodges in Australia where you can enjoy exceptional accommodation, stunning surrounds, attentive service and one-of-a-kind experiences.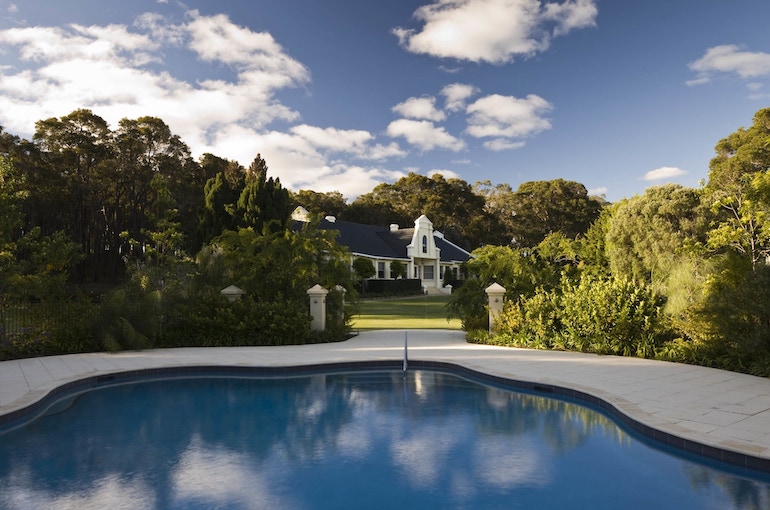 Cape Lodge, Margaret River
Cape Lodge treats guests to a quiet, country-style vineyard retreat in WA's Margaret River. Perfect for families, Cape Lodge's Private Residence has open plan living spaces, 3 bedrooms, and 2 bathrooms set on 3 acres of beautiful lawns and bush with views of the lake. It also has 22 spacious guest rooms with sitting areas and views of the garden or the lake. The lakeside restaurant adds a sense of calm to each dining experience, and guests can also take advantage of in-room dining.
---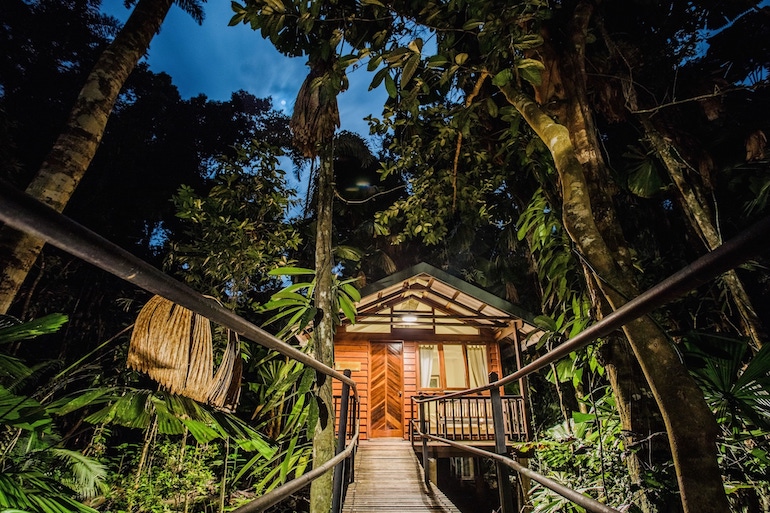 Daintree Wilderness Lodge, Daintree Rainforest
With just seven elevated cabins hidden within fan palms in Kuku Yalangi country, Daintree Wilderness Lodge is a luxury rainforest experience that is perfect for romantic getaways. Set in a landscape like no other and nestled in between the Daintree National Park and the Great Barrier Reef Marine Park, each of the air-conditioned cabins has an en-suite bathroom, a mini-fridge, coffee making necessities, and queen or twin beds to relax in while enjoying the lush tropical setting.
---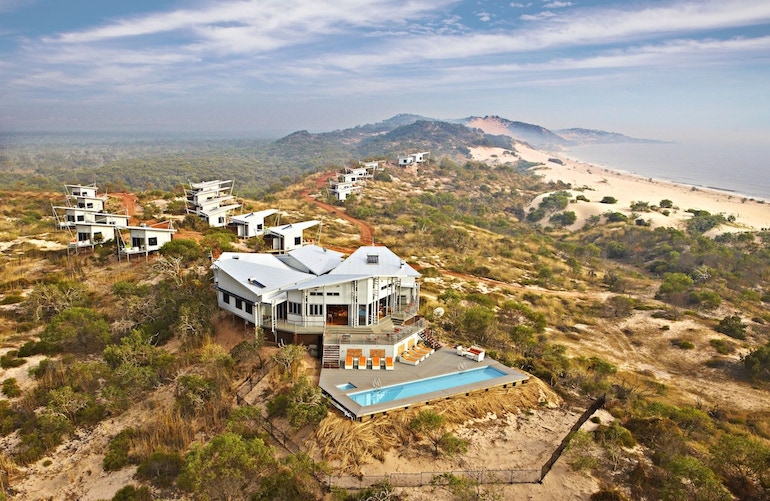 The Berkeley River Lodge, Kimberley Coast
The Berkeley River Lodge in Western Australia is the most remote luxury lodge in the country and is also included in our list of unique escapes in Australia. Enjoy magnificent views of Timor Sea sunsets from your private balcony in one of only 20 villas or while taking a dip in your outdoor tub. At Dunes restaurant you can savour the flavours of oak barrel smoked salmon and a great selection of fine European and Australian cheeses among other gastronomic delights. Perfect for a one-of-a-kind romantic getaway.
---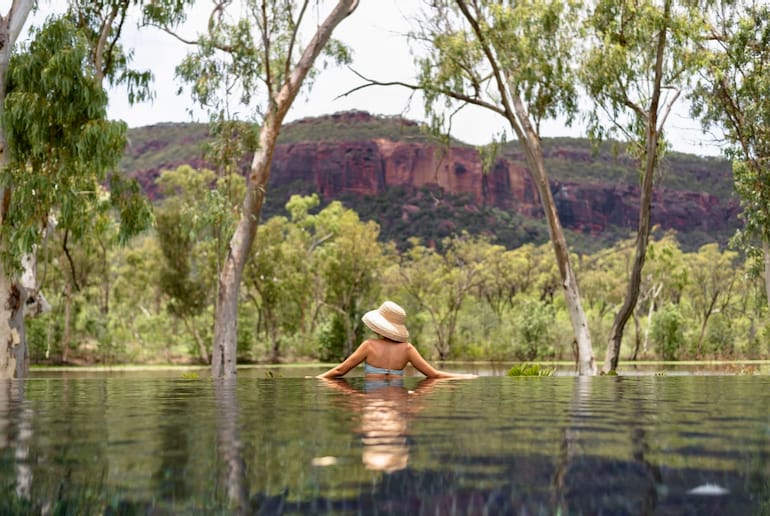 Mt Mulligan Lodge, Central Queensland
Discover a unique Australian outback experience at Mt. Mulligan Lodge, an all-inclusive luxury lodge on a private 28,000-hectare property in Central Queensland. Set in the shadow of the majestic Mt. Mulligan, this unique wilderness getaway offers a curated boutique experience for romantic couples in dramatic and rugged outback surroundings.
---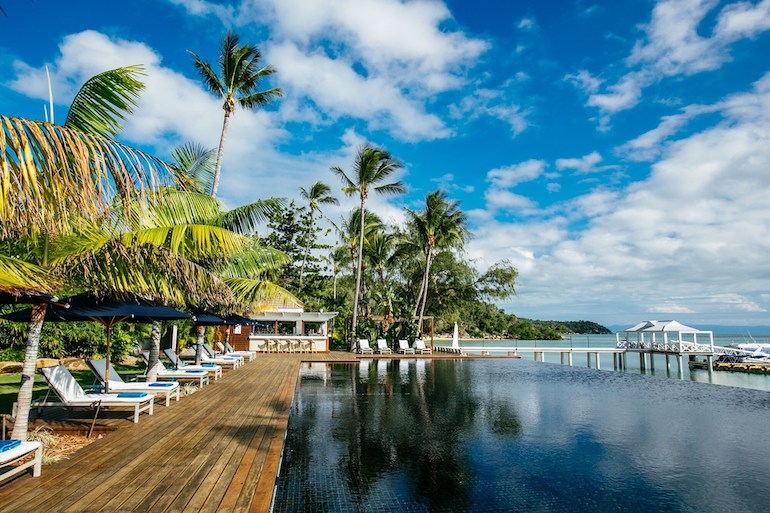 Orpheus Island Lodge, Great Barrier Reef
Expansive views of the Great Barrier Reef are always a wonderful sight to behold! Orpheus Island Lodge is an island getaway set on the reef with 14 minimalist chic contemporary suites that can accommodate up to 28 people, making it perfect for intimate events or a getaway with friends and family. The all-inclusive accommodation includes 3 gourmet meals daily, unlimited use of on-site water sports equipment, and access to quality Australian beer, wine, and drinks.
Find your perfect holiday in Australia
Discover over 915 handpicked hotels, resorts & private villas
The Louise, Barossa Valley
Located in the beautiful Barossa Valley, The Louise is a renowned vineyard retreat boasting 15 luxurious suites and a world-class restaurant called Appellation. As a professional meeting venue with dedicated event staff, private dining, and luxury accommodation, this stunning retreat is the perfect getaway for any occasion while offering the opportunity to explore one of the world's top vineyard regions.
---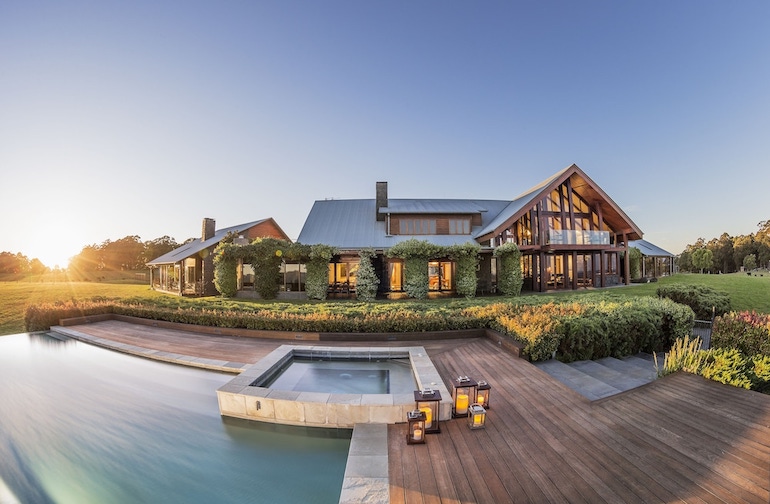 Spicers Peak Lodge, Scenic Rim
Australia's highest non-alpine lodge, Spicers Peak Lodge is set on 8,000 sprawling acres with a spectacular backdrop of a World Heritage-Listed national park. At this luxury lodge, you can enjoy award-winning gourmet food, rejuvenate with an indulgent treatment at Spa Anise, reconnect with nature on a self-guided walk or simply relax and take in the stunning views.
---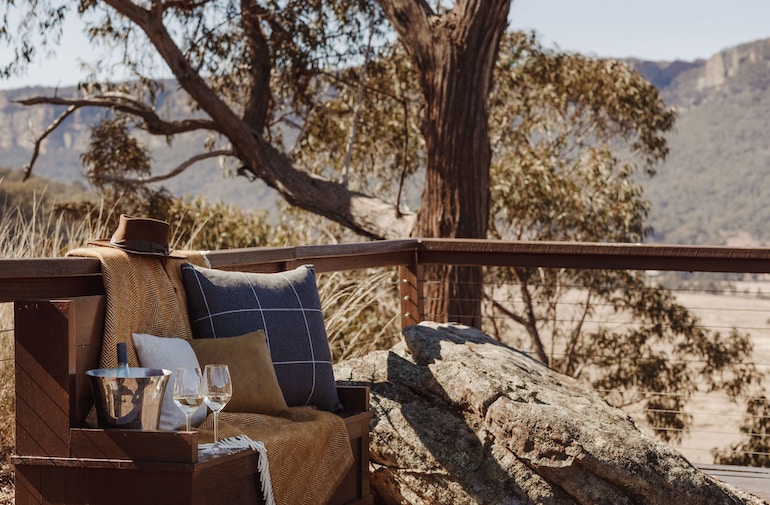 Emirates One&Only Wolgan Valley, Blue Mountains
If you're celebrating a special occasion, you really can't go past Emirates One&Only Wolgan Valley in the Blue Mountains. This ultra-luxe, all-inclusive resort offers a unique blend of luxury, wildlife, natural beauty, and conservation that is hard to beat. You'll love the rustic-chic villas that feature private pools, verandahs, fireplaces, bathtubs, and plenty of onsite activities.
---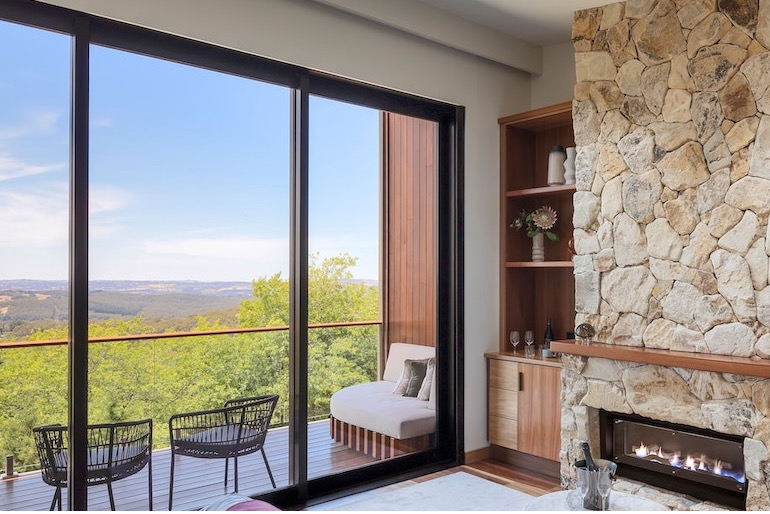 Sequoia Lodge, Adelaide Hills
Architecturally designed to celebrate the history of the region, Sequoia Lodge is an intimate luxury retreat set in the highlands of the Adelaide Hills. Complete with exclusive amenities and surrounded by nature, this getaway is designed as a private sanctuary, offering utmost comfort and luxury with views overlooking the picturesque Piccadilly Valley.
---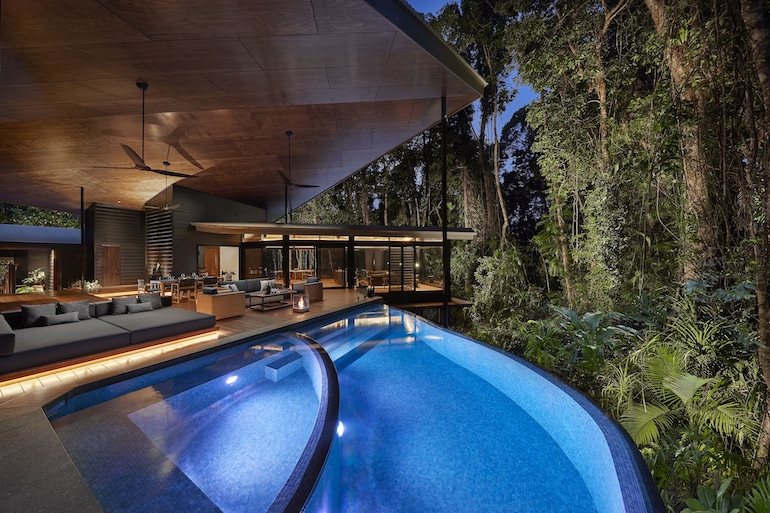 Silky Oaks Lodge, Daintree Rainforest
After a multi-million dollar makeover, Baillie Lodges brings its luxurious touch to the renowned Silky Oaks Lodge. Here you can enjoy a romantic stay in one of their 40 treehouses nestled in the ancient Daintree Forest. The natural hues of the interiors and the warm-coloured local timbers add to the romantic ambience, making it even more fairytale-like. Relax in the gentle sway of the hammocks made for two and indulge in the seclusion of your own treehouse.
---
We hope you enjoyed our selection of the best luxury lodges in Australia. Looking for more? Check our entire collection of luxury accommodation in Australia.
Image credit: Emirates One&Only Wolgan Valley
What's your luxury?
Luxury means different things to different people. Is your luxury a glamorous hotel in downtown Manhattan, a private island hideaway on the Great Barrier Reef, or a safari camp on the plains of the Serengeti? We'll help you find your perfect version of luxury in some of the world's most beautiful places.