History and luxury meet at Capella Sydney's elegant spaces. The first Capella Hotel in Australia, Capella Sydney opened its doors to guests on March 15, 2023 and has since been offering world-class luxury on Bridge Street. Discover more about this gorgeous new getaway in Sydney…
Capella's Hidden Luxe Inside an Icon
Capella Hotels are known for having a beautiful vision and realisation of tradition combined with luxurious accommodation and hospitality. Its inspired interiors foster discovery and individuality while adding a fresh twist to make each guest's stay a memorable experience. Beloved local buildings are reimagined into beautiful havens of relaxation that take guests on an immersive and inspiring escape.
The first Capella Hotel in Australia, Capella Sydney breathes new life into the heritage-listed former Department of Education building which was constructed in the early 20th century in the Sandstone Precinct of New South Wales. After the multi-million dollar restoration that took seven years, Capella Sydney has retained the original Edwardian Baroque architectural style of the building with stylish refreshed spaces within.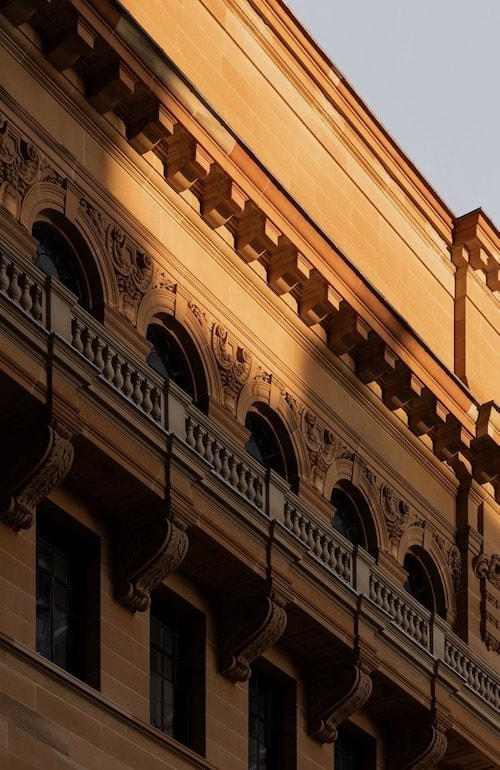 The Rooms and Suites
From the outside, the building's iconic golden sandstone façade welcomes guests with its timeless appeal. Step inside though, and you'll be immersed in a balance of classic architectural features paired with contemporary design aesthetics. The spaces are adorned with carefully curated and specially commissioned artworks that complement and add character to the warm neutral interiors.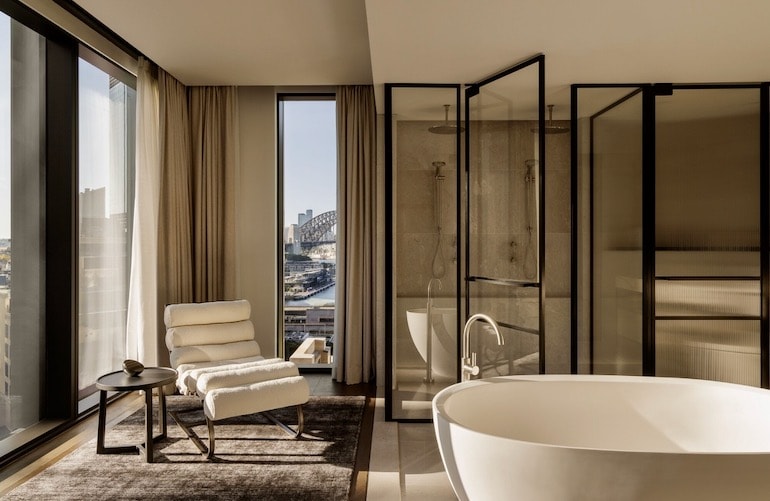 Comprising 192 spacious suites spanning 8 levels, this luxury hotel has a stylish city retreat for all travellers. The Deluxe, Premiere, and Skyline rooms that start at 46 square metres offer plenty of space to relax and are filled with natural light streaming through expansive windows. Each room features thoughtfully selected artwork, chic furnishings, a plush bed custom-fitted with Italian Frette linens, and delightful personal care products from Haeckels.
Despite being inside an iconic building, Capella Sydney has completely modern fittings; intuitive technology control from a tablet that allows guests to control lighting, the curtains, and temperature. In-room dining is also accessible via tablet control, while the personal bar comes with a tasteful curation of locally-sourced goodies to enjoy in-room.
What to Expect
Guests at Capella Sydney have exclusive access to the Living Room–a Capella signature space which is a tranquil sanctuary hosted by attentive Capella Culturists. The hotel also offers a top-notch wellness space on Level 6. It has a 20-metre heated indoor swimming pool, vitality pools, and the Auriga Spa where even more luxurious treatment rooms for individuals or couples can be enjoyed. On-site, there is also a well-appointed modern fitness centre, steam and sauna rooms, experiential showers, and a yoga platform set in beautiful and tranquil surrounds. The clean lines and minimal design aesthetic pave the way for an enveloping sense of calm and we love how serene the overall atmosphere is.
When it comes to dining and refreshments, this luxe Sydney getaway showcases 3 food and beverage outlets that celebrate its Australian heritage. Brasserie 1930 highlights produce from small-batch growers and creates delectable brasserie classics paired with an extensive wine list. McRae Bar—named after the building's original architect, lets guests experience a contemporary take on a Victorian-style drinking den with its elegant cocktail experiences.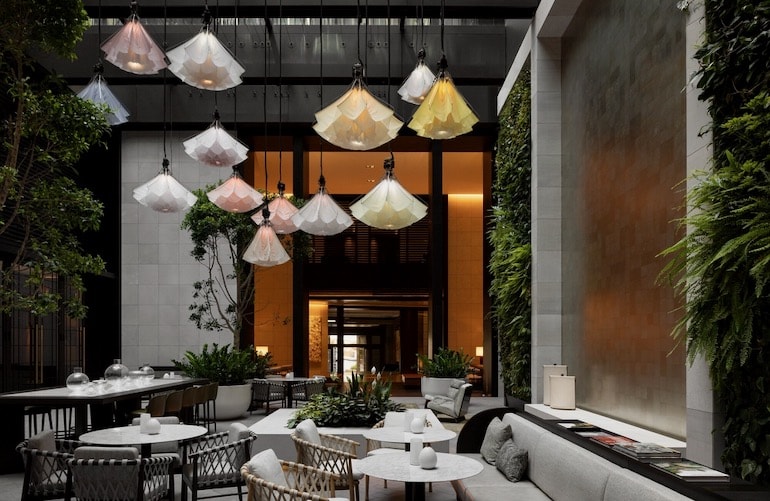 Lastly, Aperture boasts a verdant space shaded by two indoor weeping figs and a seven-metre-high living wall featuring almost 70 local species of flora. Guests can unwind and enjoy Capella Sydney's signature food and drinks under "Meadow," a bespoke kinetic sculpture by Amsterdam-based Studio Drift that adds an otherworldly touch to the space. The flower-shaped lanterns mimic the relaxing movements of Australian wildflowers as they gently open and close underneath the glass ceiling. All on the ground level, the dining venues are just steps away from the Sydney Opera House and Harbour Bridge.
From its art-filled rooms to its serene wellness space, Capella Sydney has taken luxury and heritage to a new level. Despite being close to world-renowned destinations in the heart of Sydney, it gives its guests a place to let go, take it easy and indulge in the finer things that this beautiful getaway has to offer.
---
If you enjoyed this featured property, you'll enjoy our full collection of luxury accommodation in Sydney at www.viewretreats.com. You'll also find more inspired spaces in our curation of the best art hotels in Australia.
Image credit: Capella Sydney
What's your luxury?
Luxury means different things to different people. Is your luxury a glamorous hotel in downtown Manhattan, a private island hideaway on the Great Barrier Reef, or a safari camp on the plains of the Serengeti? We'll help you find your perfect version of luxury in some of the world's most beautiful places.