Sandy white shores and crystal clear waters surrounding secluded atolls… these elements paint the picture-perfect Maldives honeymoon. Home to some of the best beaches in the world, it's easy to see why the Maldives is a popular romantic getaway, but apart from its beautiful setting and amazing overwater villas, there's so much more to enjoy. Here are our favourite cool activities in the Maldives.
Watching a movie… Maldives style
Bring back the feeling of cinema date nights and getting to know each other, but make it more luxe. In the Maldives, you don't just go to the cinema… you get a sea-nema experience. Ha! Lay back, relax, feel the ocean breeze on your skin as you munch away on popcorn (or your chosen tropical treats). We especially love the amazing setup at The Nautilus.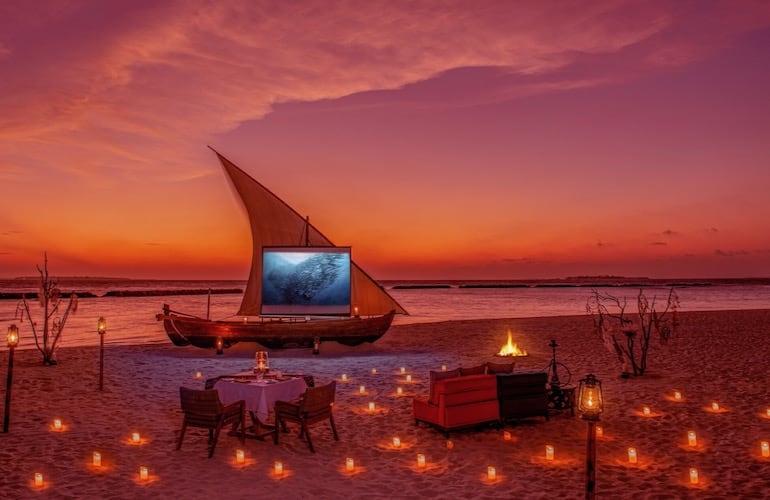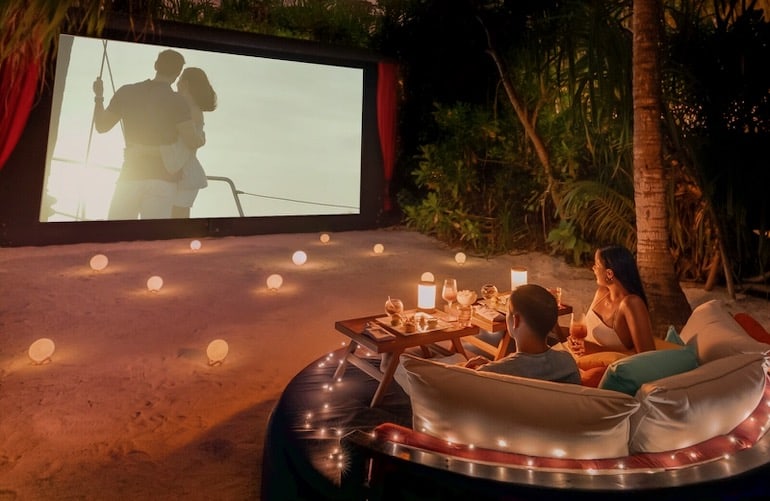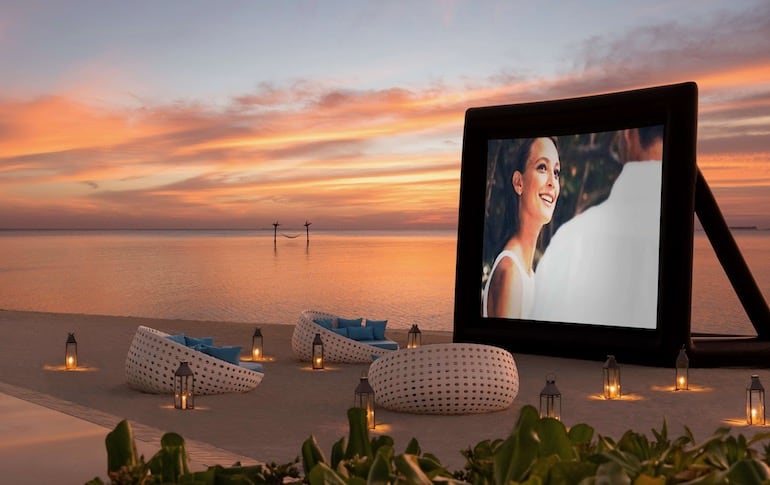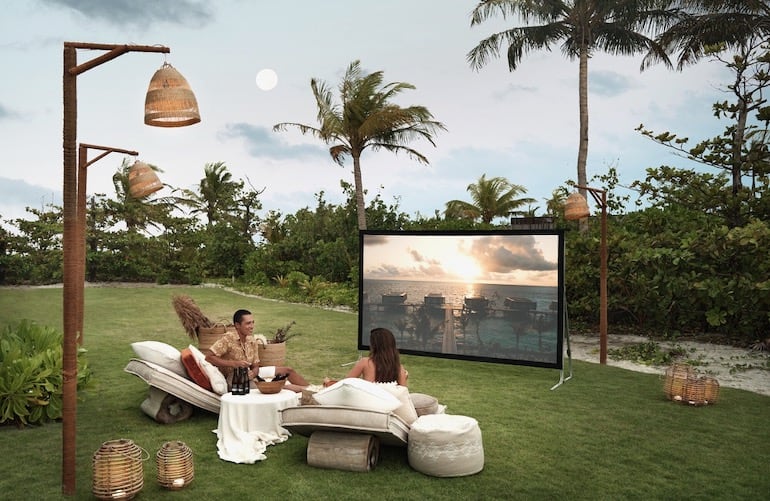 Dining With a Twist

Luxury hotels especially in the Maldives have the freshest seafood and tropical fruits. But the wonder doesn't stop there. The dining experiences are set in such unique spots that it won't only be a feast for your palate but for your eyes too! From a floating breakfast in your overwater villa pool to a romantic torch-lit dinner on the shore (or in the middle of the ocean!), there's a dreamy setup waiting for you. Snack on fruits and cheeses picnic style or hop on a boat and be greeted by dolphins as you enjoy your meal. For a truly surreal experience, Conrad Maldives Rangali Island and Anantara Kihava Maldives Villas have underwater restaurants!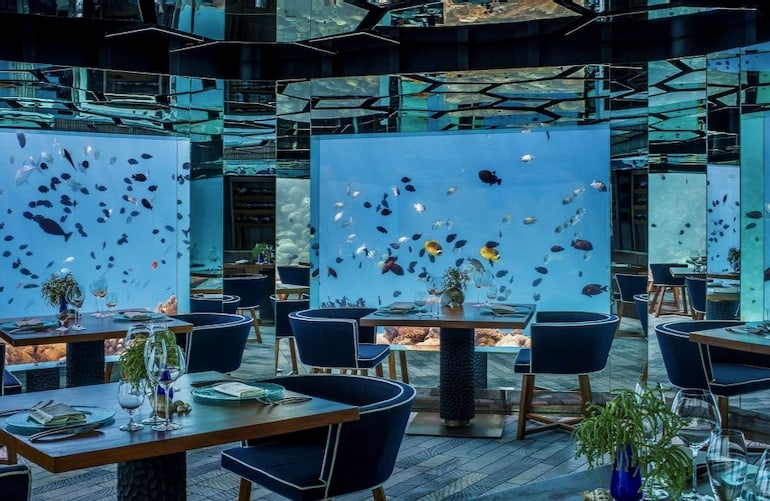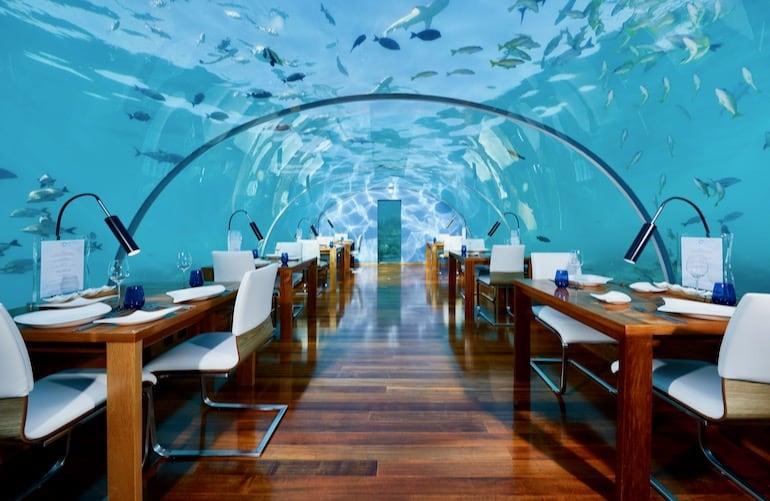 Exploring!
Your Maldives honeymoon presents you with the perfect opportunities to make new memories, and what better way to do this than explore the beauty of the islands? Some of the best beaches in the world are here and with these come the most amazing reefs and a bounty of marine biodiversity. Whether you choose to snorkel or SCUBA dive, the Maldivian seas' will spoil you with amazing encounters. Gentle whale sharks and manta rays are known to frequent the atolls, and the plethora of colourful reef fish makes the Maldives a marine wonderland.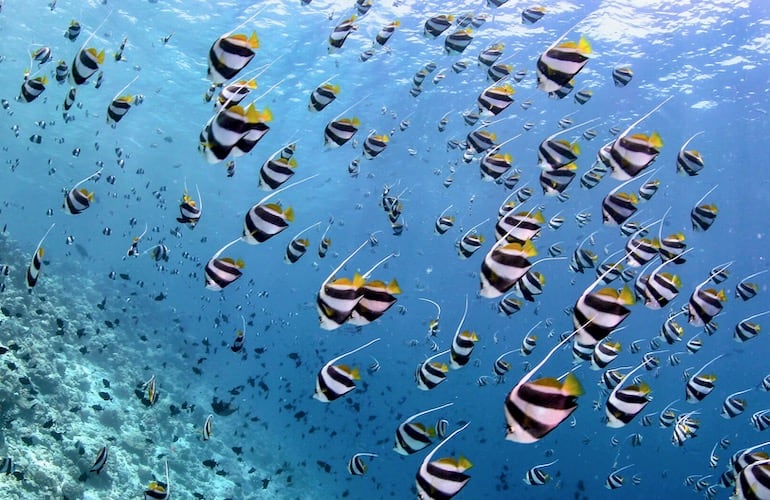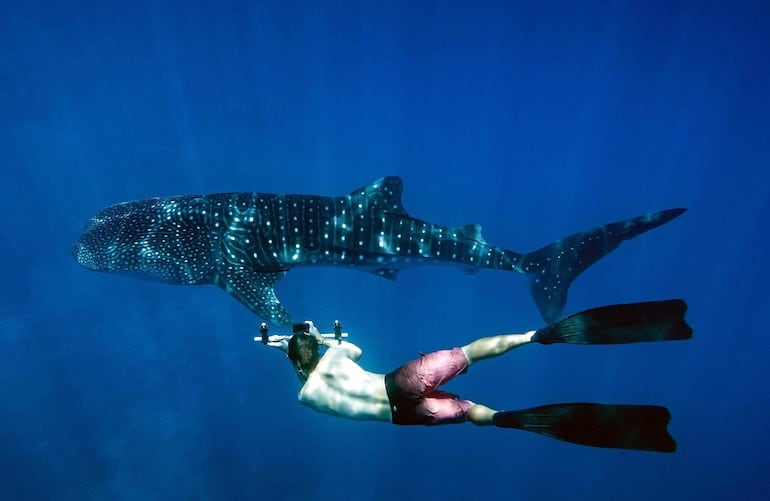 Biking around the island and to your overwater villa is another must-try!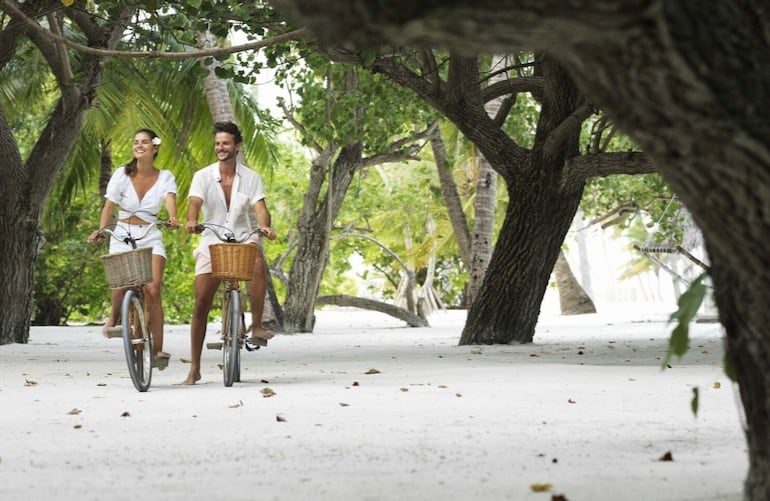 We recommend kayaking or jet-skiing to discover nearby sandbars that you can have all to yourself, or going for a romantic cruise aboard a doni, or the traditional Maldivian sailboats. Sunset cruises are particularly delightful when the winds get cooler and sky shifts from fiery oranges to mesmerizing purples.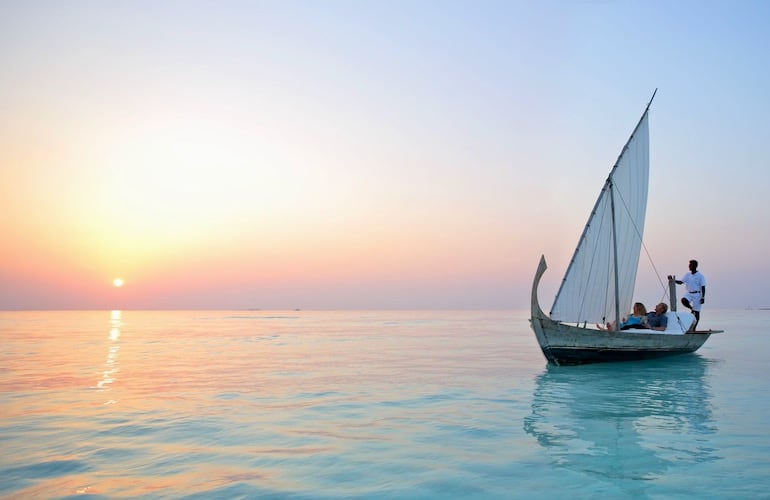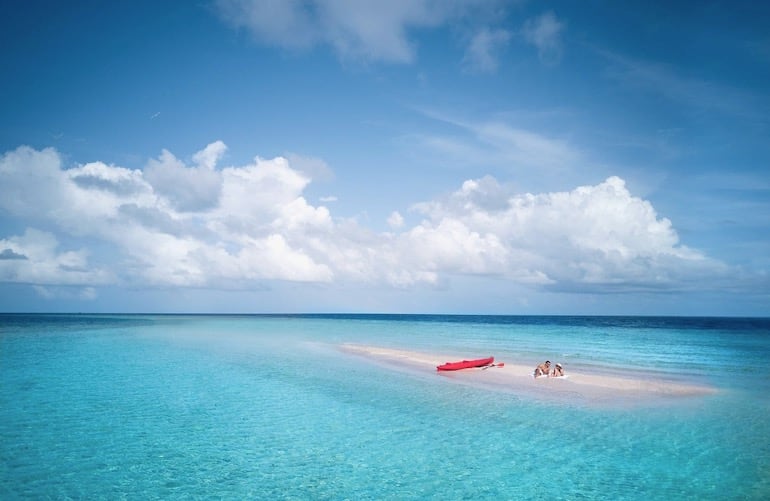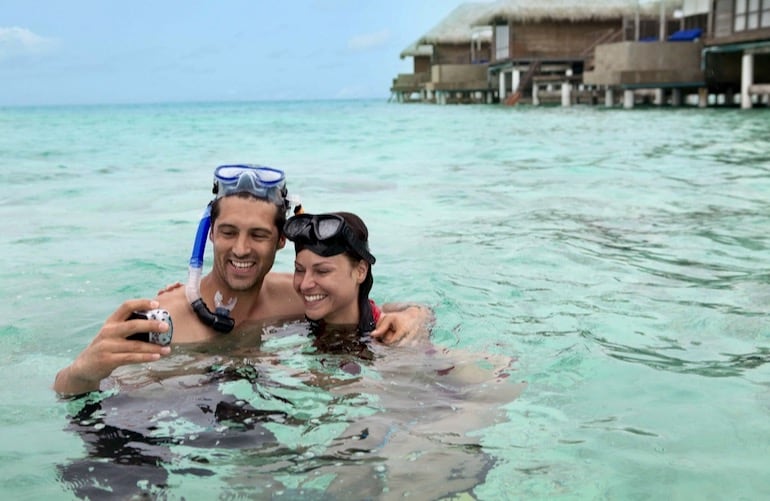 Stargazing
Speaking of the sky, the Maldives is one of the best places in the world to go stargazing. Away from the lights of Male—its capital, clear skies overhead twinkle with a thousand stars. Gili Lankanfushi has the Sleep Under the Stars experience where you can cosy up on a rooftop bed. For a full-blown dark sky experience though, Anantara Kihava Maldives Villas' Sky Bar sets you up with their Sky Guru for an in-depth session where you'll get to know more about the beautiful night sky. This romantic experience will definitely make your Maldives honeymoon one for the books.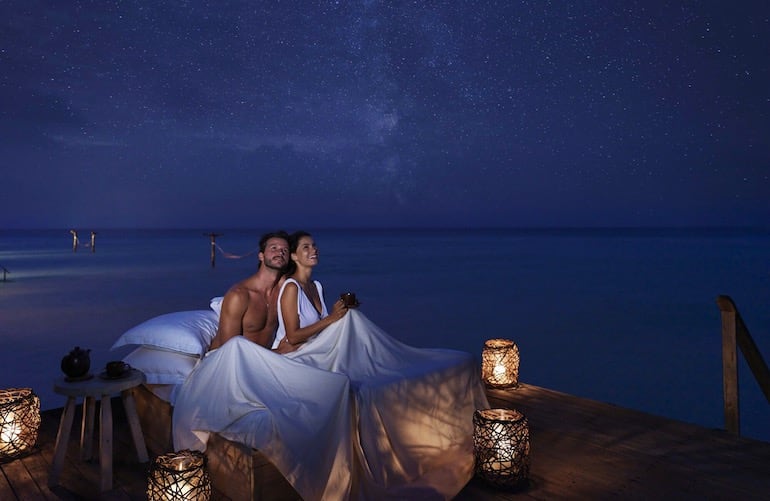 Getting a massage—not just any massage…
You can get a massage anywhere in the world, but trust us when we say that a massage in the Maldives hits different. Huvafen Fushi Maldives has an underwater spa with a 2-hour rejuvenating "Underwater Rendezvous." This top-to-toe treatment takes place in a futuristic underwater space where on-site therapists relieve tension and set you up for a wonderful night's sleep. We also love the deep relaxation care of Watsu hydrotherapy at FLOW, Patina Maldives!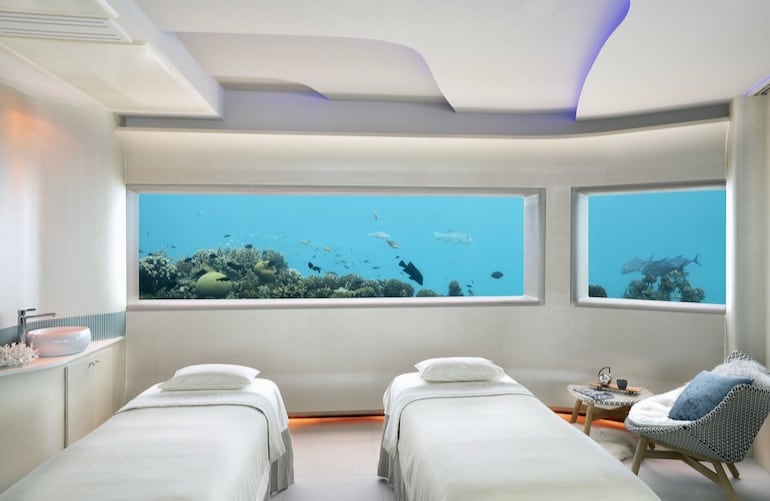 These activities make the Maldives even more magical and we can't wait for you to experience it! For our full collection of luxury retreats, click here. Looking for more amazing honeymoon destinations? Click here.
Image credit: Gili Lankanfushi
What's your luxury?
Luxury means different things to different people. Is your luxury a glamorous hotel in downtown Manhattan, a private island hideaway on the Great Barrier Reef, or a safari camp on the plains of the Serengeti? We'll help you find your perfect version of luxury in some of the world's most beautiful places.