After the last couple of crazy years, most of us are in desperate need of a holiday with plenty of rest and relaxation. To help you plan your getaway, we've created this comprehensive list of the best luxury accommodation and unique escapes across Australia. At each of these wonderful properties, you're guaranteed a luxurious and indulgent experience and memories that will last a lifetime. From sophisticated beachside getaways to luxe bush lodges, our handpicked collection of the Top 50 Luxury Getaways in Australia in 2023 will truly inspire you.
(If you're after the best couple's retreats, check out our Top 50 Romantic Getaways in Australia in 2023.)
---
50. Spicers Tamarind Retreat, Maleny, QLD
Spicers Tamarind Retreat is an Asian-inspired getaway in a rejuvenating rainforest setting in Maleny. A sanctuary of stillness and elegance, this luxe retreat is truly a convergence of western luxury and Asian tranquillity. Fall in love with the unique accommodations that feature private verandahs and decks, cedar hot tubs, and lush rainforest views all around, perfect for any occasion.
---
49. A by Adina Canberra, ACT
Located in one of the most famous addresses in Australia, A by Adina is a luxe hotel perched along the famed Parliamentary Triangle in Canberra. Whether for work or leisure, this stunning accommodation offers the perfect opportunity to explore the nation's capital and some of Australia's most significant buildings and landmarks.
---
---
47. QT Canberra, ACT
Situated in the heart of New Acton, QT Canberra combines boutique-style vibrancy and classic luxury in its rooms and suites. We love the on-site restaurant, Capitol Bar & Grill where bold modern flavours meet Australian dining. Enjoy prime-cut steaks and a nod to Italian cuisine as you sip on fine vino.
---
46. The Louise, Barossa Valley, SA
Located in the Barossa Valley, The Louise is a renowned vineyard retreat boasting 15 luxurious suites and a world-class restaurant called Appellation. A haven for foodies, this stunning retreat is the perfect getaway for any occasion and comes with the opportunity to explore one of the world's top wine-producing regions.
---
---
---
---
---
---
---
39. QT Sydney, NSW
Housed in the landmark State and Gowings buildings, QT Sydney is an exquisite luxe retreat located in the heart of the city. 198 luxurious rooms are thoughtfully designed to engage the senses, complete with modern features and excellent amenities. Artsy and theatrical, this hotel boasts eclectic interiors and a curious selection of furniture, perfectly capturing the spirit of this harbour city while simultaneously being one of the top luxury getaways in the area.
---
---
---
---
---
---
---
---
---
---
---
---
---
---
---
---
---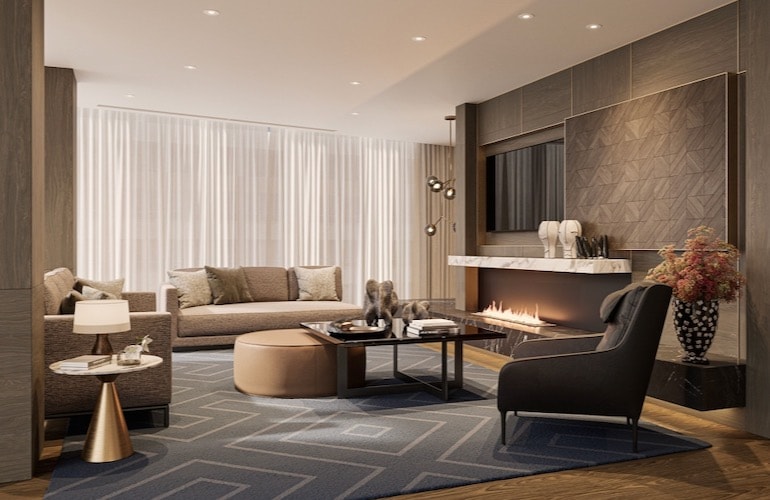 ---
---
---
---
---
---
---
---
---
---
---
---
---
---
---
7. The Sebel Yarrawonga Silverwoods, VIC
Boasting designer studios and apartments, The Sebel Yarrawonga is a gorgeous boutique hotel set on the Murray River near the shores of Lake Mulwala. Here you can enjoy an array of outdoor activities including water skiing, swimming, boating and fishing – all conveniently close to your luxurious private haven.
---
6. InterContinental Sorrento Mornington Peninsula, VIC
Fresh and vibrant, Intercontinental Sorrento Mornington Peninsula blends contemporary design and classic touches in its rooms and suites. Choose from one of four restaurants where you can experience fine dining with magnificent ocean views and al fresco seating options. You can also take a dip in the outdoor pool or rejuvenate your senses with luxurious spa treatments at the Aurora Spa & Bathhouse.
---
---
---
---
---
---
Hungry for more luxury getaways? Check out our entire range of luxe accommodation in Australia.
NOTE: The Top 50 list of luxury getaways in Australia is compiled by the View Retreats team. We've used a combination of website traffic, enquiry levels, booking data, and customer feedback.
Image credit: Spicers Sangoma Retreat
---