Say goodbye to boring hotels and experience the beauty of "boutique". We believe that a hotel should be brimming with style, have plenty of character, and a strong sense of place…. somewhere you can expect a warm welcome and impeccable service with a personal touch. As such, we've compiled a list of the top boutique Hotels in Australia in 2023 that feature impressive architectural design, glamorous interiors, fascinating amenities, and a little something up their sleeve that will make for a truly memorable experience. Perhaps you'd find some new boutique hotels for your next escape. Enjoy!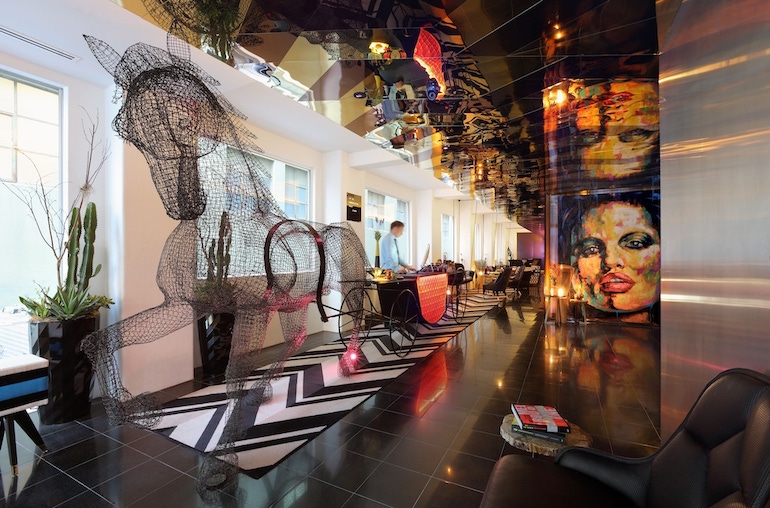 Adelphi Hotel, Melbourne, VIC
Situated in the heart of the vibrant Flinders Lane shopping and dining precinct, Adelphi Hotel is a stunning boutique accommodation in Melbourne's CBD. This award-winning retreat offers 34 exclusive rooms and world-class amenities with cool, modern interiors. Here you can dine at the famous Om Nom Kitchen and find culinary surprises in their à la carte menu or check out their bar with its wide selection of drinks and fancy cocktails.
---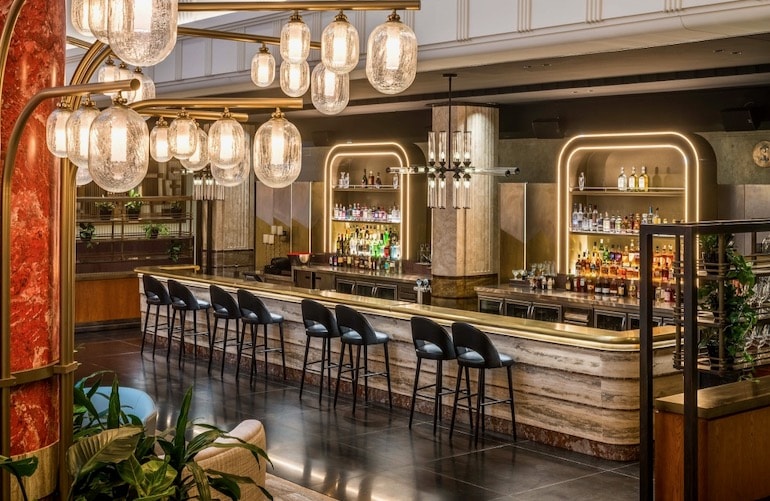 Kimpton Margot, Sydney, NSW
Enjoy the ambient mood inside Kimpton Margot Sydney when you need some R&R in the city. Located in the heart of Sydney in an edgy corner of the city, the best entertainment, shopping, and fashion-forward neighbourhoods are just a few paces away. As comfortable as they are stylish, the light-filled interiors will take you back to the Art Deco era with a more cosy homey vibe versus the standard hotel feel. The Kimpton Margot's interior design coupled with the sun-soaked rooftop pool and bar lets you experience an interesting mix of old world glamour with a hint of modern flair.
---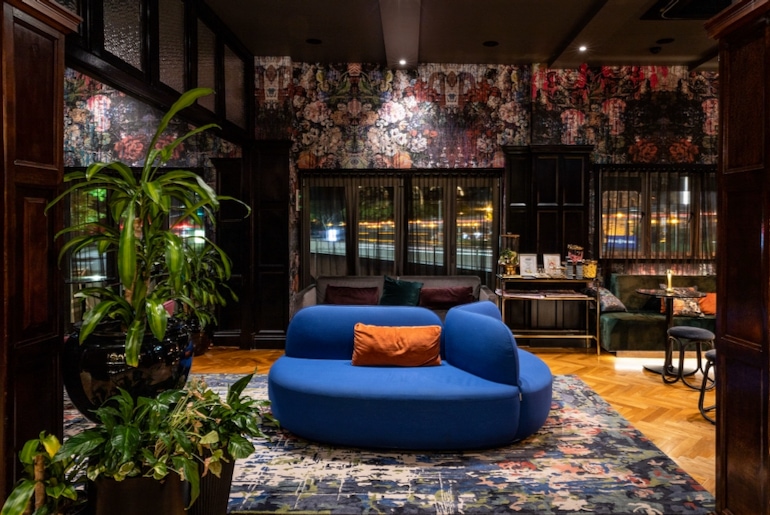 Inchcolm by Ovolo, Springhill, QLD
This boutique hotel perched above Brisbane's CBD pays homage to the structure's glory days by maintaining the building's architectural heritage. The Inchcolm by Ovolo fuses contemporary elements with the design style of the early 1900s. Unwind in its unique spaces where your eyes will be drawn by curious little oddities that add character and wonder to the space.
---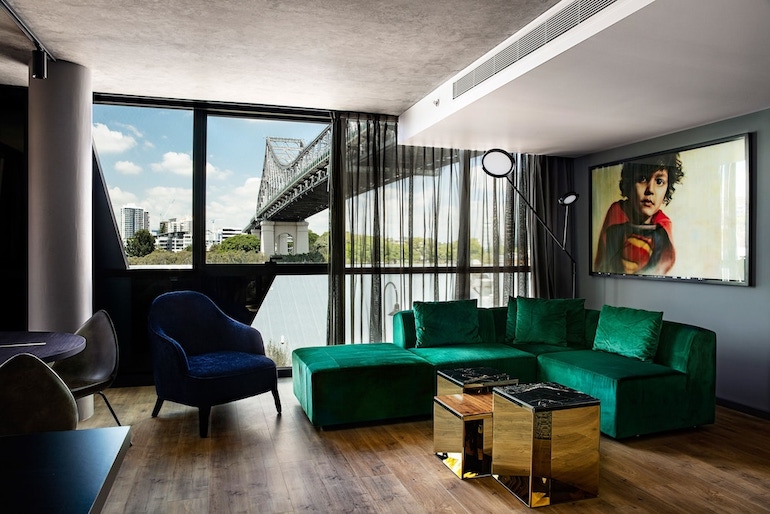 Crystalbrook Vincent, Brisbane, QLD
Formerly known as The Fantauzzo, Crystalbrook Vincent is a boutique hotel nestled under the Story Bridge at Brisbane city's Howard Smith Wharves. Overlooking Brisbane River, this stylish retreat boasts 166 rooms that showcase renowned contemporary artist Vincent Fantauzzo, with interiors full of elegance and modern sophistication.
---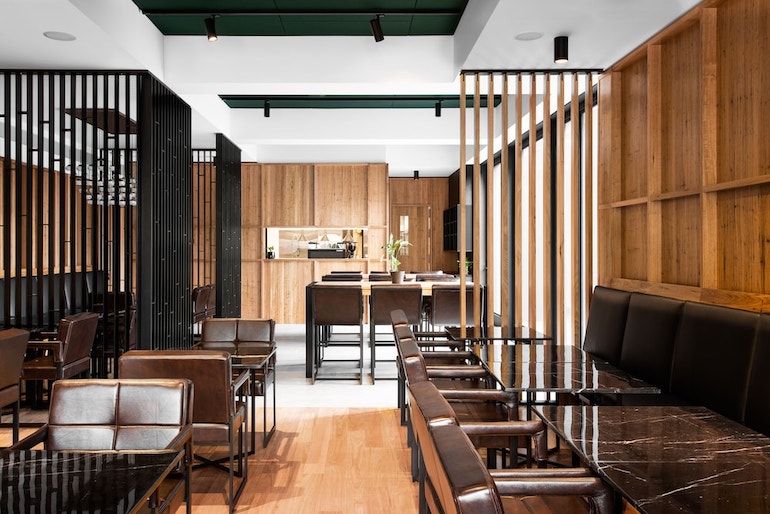 Hotel Verge Launceston, Launceston, TAS
Taking comfort and sophistication to a new level, Hotel Verge is a lovely boutique hotel positioned centrally in Launceston. Cosy and relaxing, this classy escape boasts contemporary design features and tastefully fitted hotel rooms with an industrial luxe persona. Offering exceptional service coupled with the ideal CBD location, this unique hotel is the perfect choice for a romantic getaway.
---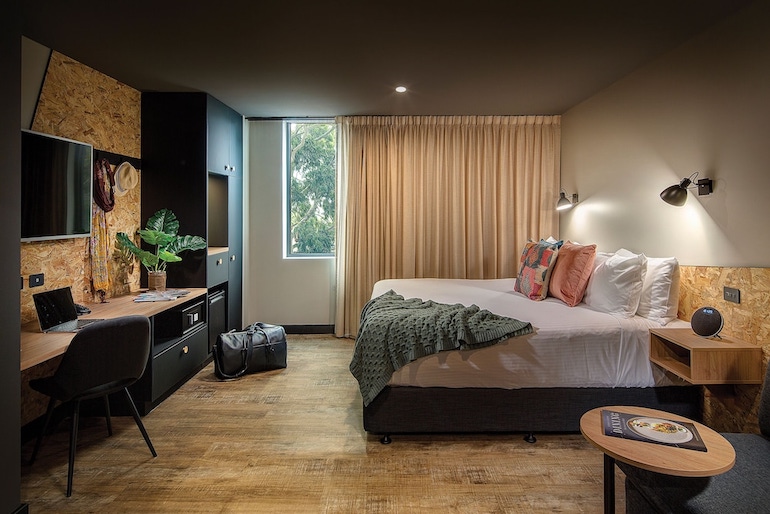 Marion Hotel, Mitchell Park, SA
Marion Hotel bills itself as the hub of hospitality in Adelaide's suburban south. Known for its great location and superb hospitality, this refurbished boutique hotel features a chic industrial interior design style across its 62 guestrooms. Relax and unwind in one of three bars or the garden bistro, serving a modern menu curated to impress every palate.
---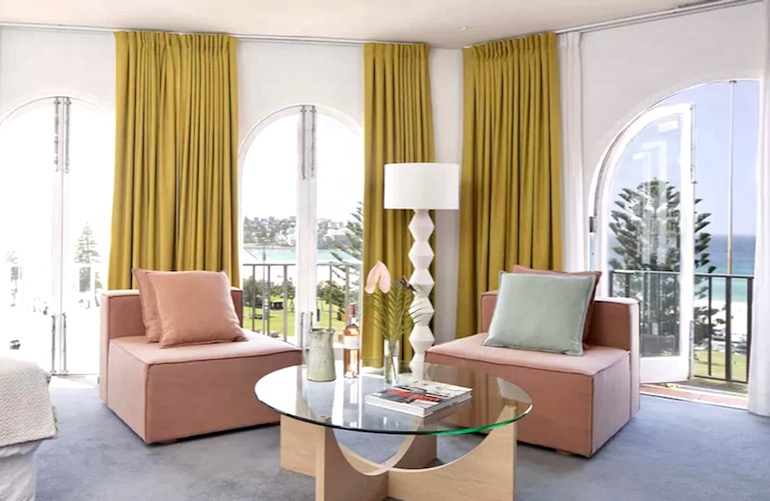 Hotel Ravesis, Bondi Beach, NSW
A Bondi Beach icon, Hotel Ravesis is a 2-storey boutique hotel offering guests uninterrupted ocean views from their private Juliet balconies. The king beds, open-plan design, pastel-coloured interiors and boho chic elements in the airy rooms set the mood for that relaxed oceanside getaway. Enjoy one of only 12 air-conditioned rooms in the property, an on-site semi-open restaurant, and that idyllic beach lifestyle.
---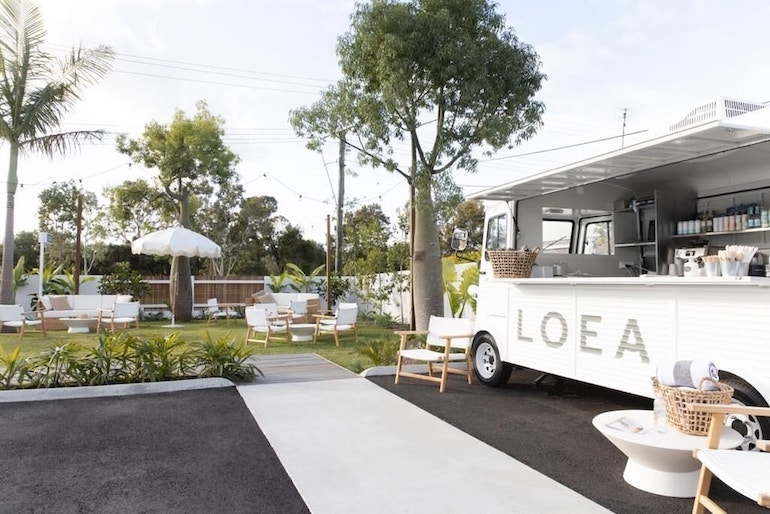 Loea Boutique Hotel, Maroochydore, QLD
Charming and vibrant, Loea Boutique Hotel is a stylish, laid back, coastal retreat sat opposite the tranquil Maroochy River on the Sunshine Coast. With 10 elegantly appointed rooms, this boutique hotel offers an intimate walled garden with a magnesium pool, and a number of outdoor relaxation areas to cosy up and unwind.
---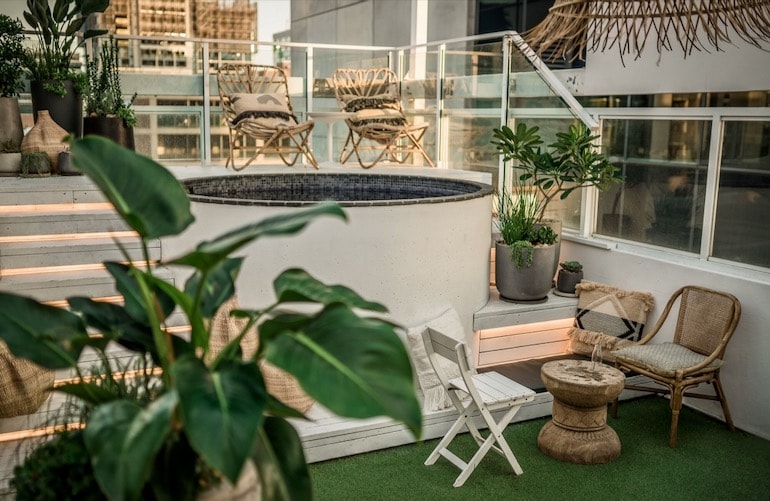 Limes Boutique Hotel, Fortitude Valley, QLD
Leisure and business travellers alike will find relaxing accommodations at Limes Boutique Hotel in the Fortitude Valley. Its thoughtfully designed interiors and cosy rooms have everything you need for a refreshing stay in Brisbane. This charming boutique hotel has also taken steps to lessen its carbon footprint by not using plastic water bottles and swapping out single-use toiletries. Sweet!
---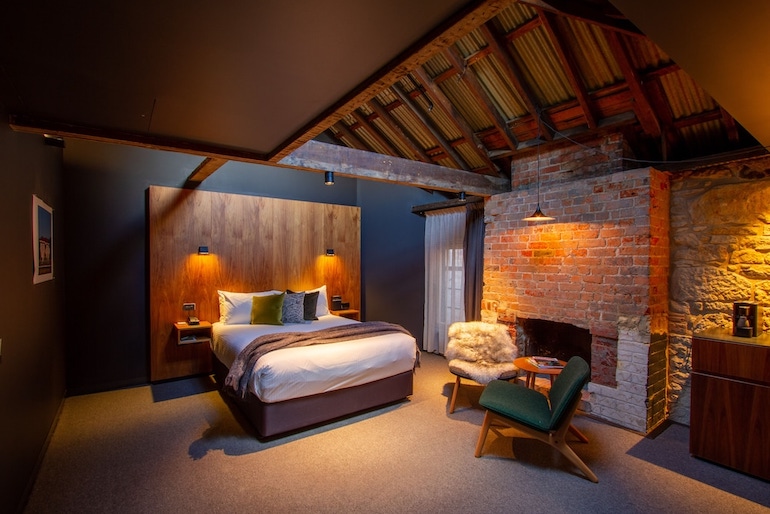 Moss Hotel, Battery Point, TAS
Nestled in a prime location at Hobart is the Moss Hotel in Battery Point right by the famous Salamanca market. Paying homage to the rich culture and history of the area, this hotel features dark interiors with beautiful stone walls and original rough-sawn timber trusses, giving that warm and immersive vintage feel and that uniquely endearing atmosphere boutique hotels are known to have.
---
Find your perfect holiday in Australia
Discover over 915 handpicked hotels, resorts & private villas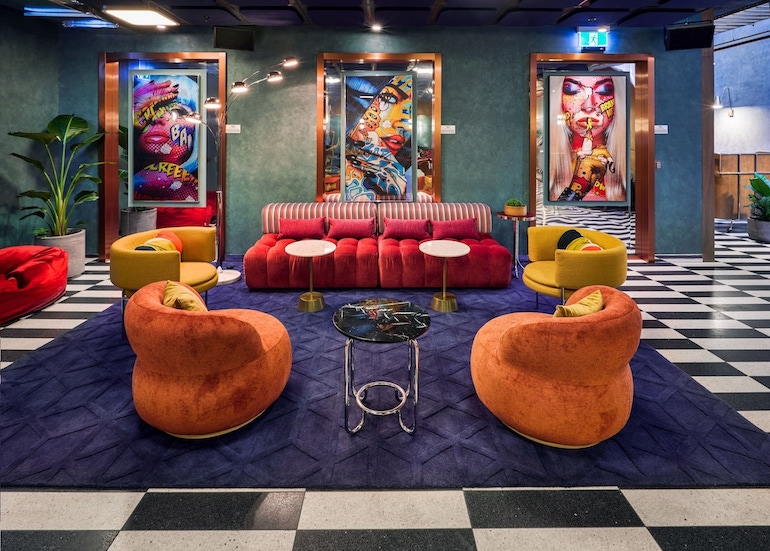 Ovolo South Yarra, VIC
Taking its design cues from the days of disco, rock gods and retro glamour, Ovolo South Yarra is a boutique hotel located in the bustling South Yarra. With interiors full of pop-art and funky accent colours, this hotel offers 123 stylish rooms with well-appointed amenities, connecting the extraordinary hotel experience to the eclectic and artsy city culture.
---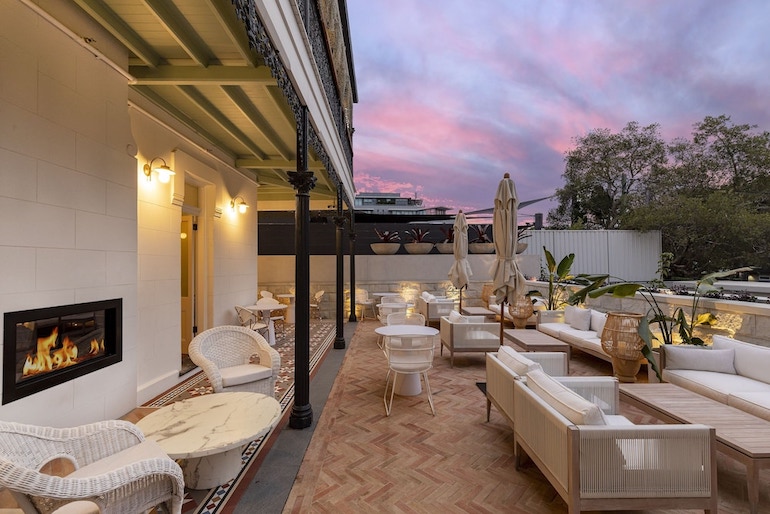 The Albert Hotel Mosman, Mosman, NSW
Originally built in 1886 as a stately home, The Albert Hotel is reborn as a luxurious boutique hotel located in the lively suburb of Mosman. Designed to maintain the original Victorian features of the house, this hotel boasts 26 exclusive and cosy rooms, fully equipped with modern conveniences including a chef-cooked breakfast and onsite bar.
---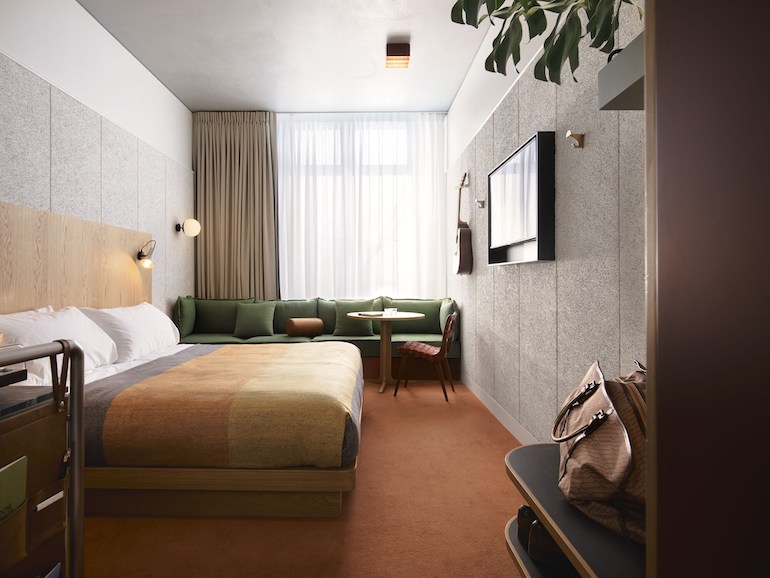 Ace Hotel Sydney, NSW
One of our picks for pet-friendly hotels, Ace Hotel is one of the boutique hotels with a distinct aesthetic that takes us back a few years without sacrificing modern luxuries. We love the memory foam beds that elevate your sleep quality and the sweeping views of Sydney when you look out your window. Its room décor gives the guestrooms a modern studio vibe while having older elements like turntables and leather pouch organisers.
---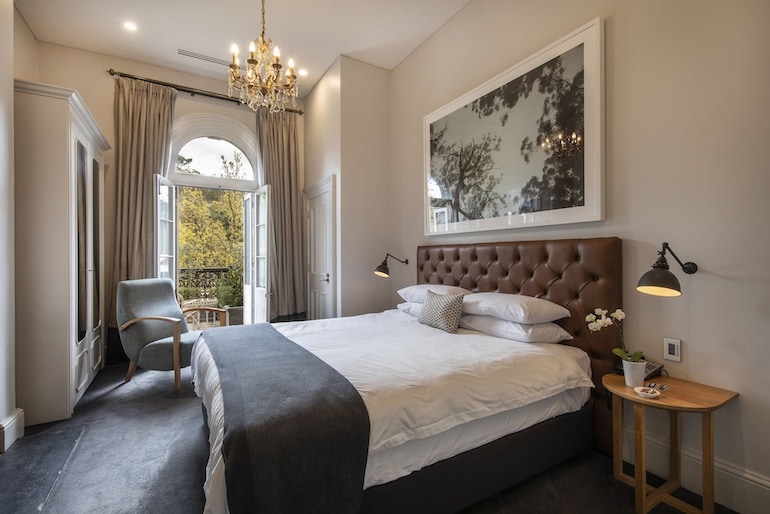 The Crafers Hotel, Crafers SA
Carefully renovated from a historically known local pub, The Crafers Hotel is conveniently located in Crafers, just 20 minutes from Adelaide's CBD. Boasting 7 luxurious rooms, each accommodation has been designed and appointed with great respect to the 1830's heritage of the building, complemented by modern additions to comfort and luxury.
---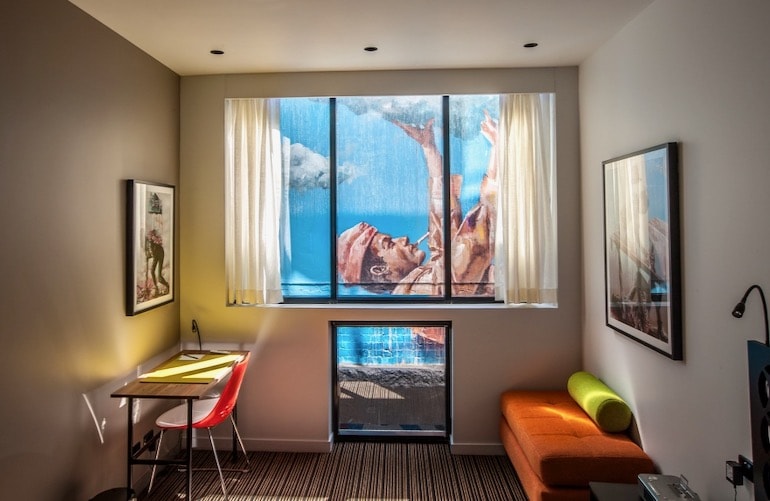 The Constance, Fortitude Valley, QLD
Home to one of our rooftop bar favourites—The Dirty Sultan, The Constance in the Fortitude Valley is Brisbane's only street art hotel. Definitely an eye-catcher, its façade has a vibrant mural and so do its rooms. The artwork and splashes of colour make for a refreshing and uplifting feeling, something we love whenever we stay at boutique hotels.
---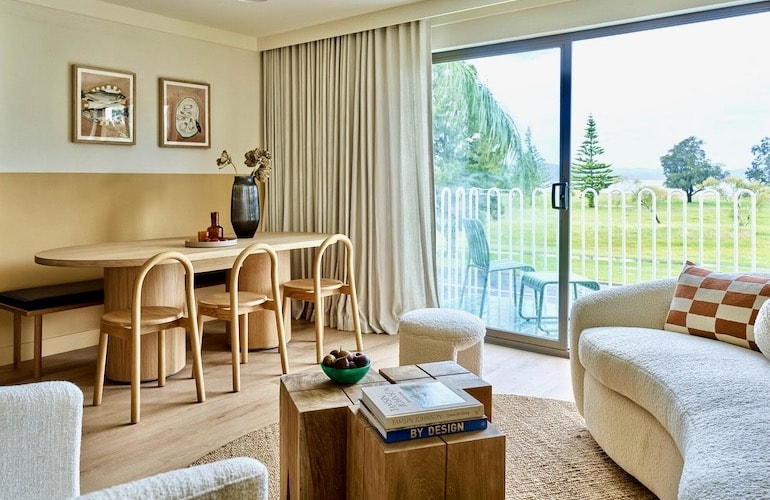 The Isla, Batehaven, NSW
A chic design-led boutique motel, The Isla places you in the midst of stunning beaches, charming cafes, and well-loved destinations on the South Coast of NSW. Its suites have king-sized beds, bespoke oak furnishings, and brushed brass accents—all together setting a warm and inviting mood. The casual and relaxing mood at this boutique getaway makes it perfect for a recharging weekend escape!
---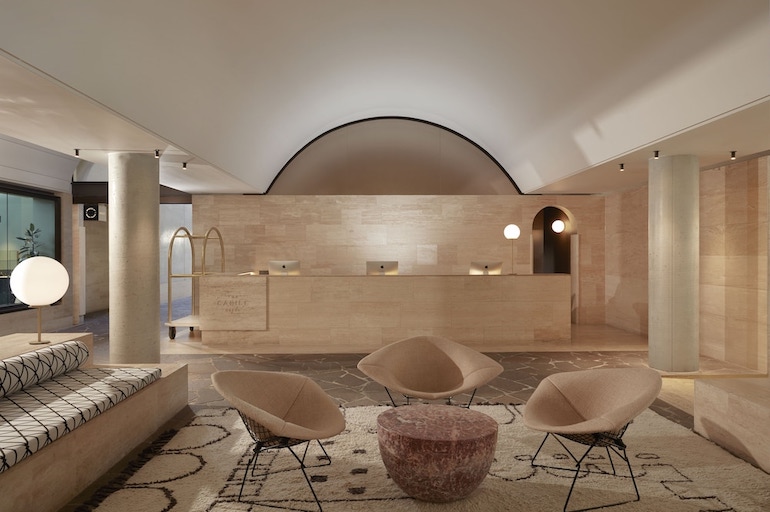 The Calile Hotel, Fortitude Valley, QLD
The Calile Hotel is a luxe accommodation in an enviable location in Fortitude Valley, giving access to one of Australia's most distinguished lifestyle precincts. This hotel features a subtropical design that stands out from the ordinary cityscape, highlighted by 175 generous guest rooms and an equally well-appointed array of hotel facilities.
---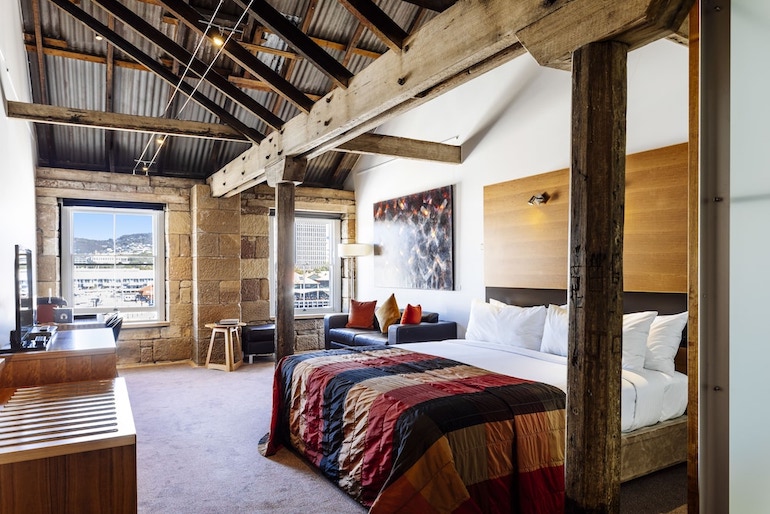 The Henry Jones Art Hotel, Hobart, TAS
The Henry Jones Art Hotel is where art and history collide. Ideally located in the Hunter Street Precinct overlooking Hobart Harbour, this modern industrial hotel was repurposed from a former factory, combining its industrial past with stylish modernity. Fall in love with the indulgent guest suites, with old rough-sawn timber accents complimenting the well-appointed contemporary interiors.
---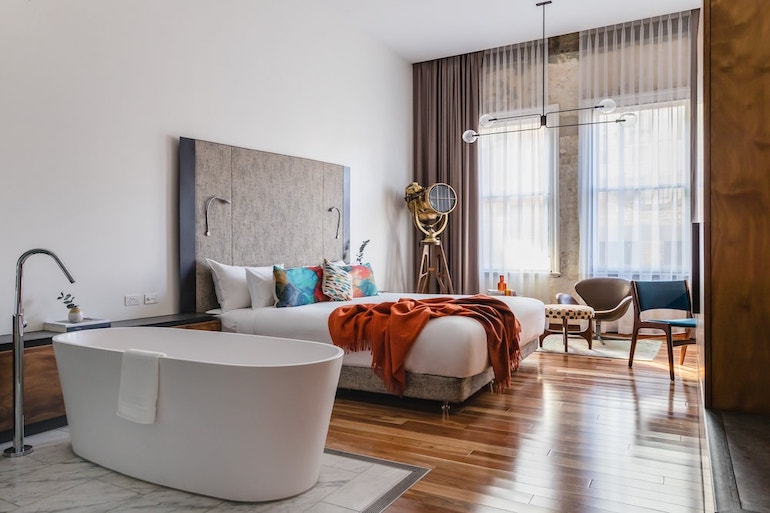 The Old Clare Hotel, Chippendale, NSW
Located in central Sydney, The Old Clare Hotel is a unique designer hotel built across two iconic heritage-listed buildings in Chippendale. Constructed to retain much of the buildings' elegant heritage, this retreat features 62 exquisite rooms that are carefully designed to highlight its vintage aesthetics amidst distinctively modern interiors.
---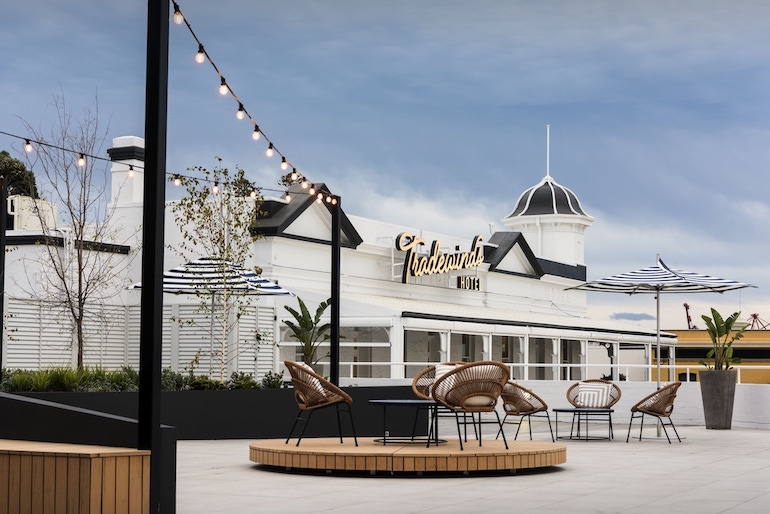 Tradewinds Hotel, East Fremantle, WA
Overlooking the tranquil waters of the Swan River in East Fremantle, Tradewinds Hotel is a boutique hotel conveniently located just 30 minutes from Perth. Combining great location with an equally great hotel experience, this iconic retreat boasts 83 comfortable rooms in addition to a wide range of function rooms and the very popular Tradewinds Bar & Bistro.
---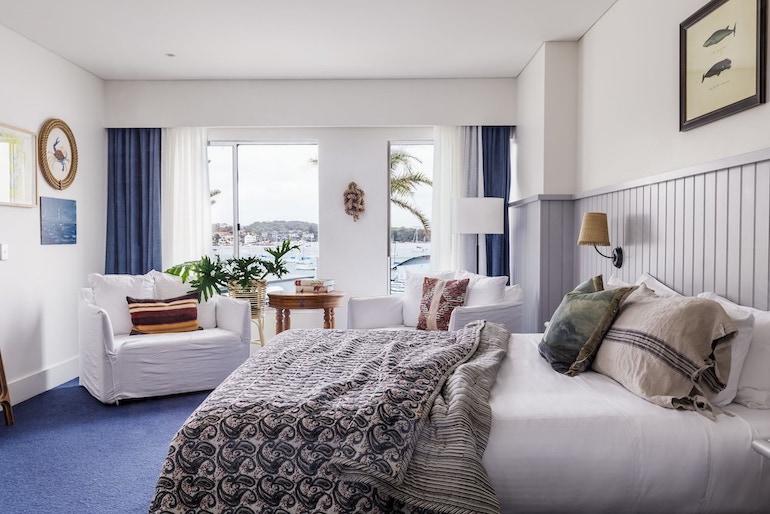 Watsons Bay Boutique, Watsons Bay, NSW
Watsons Bay Boutique is a gorgeous boutique hotel situated on Sydney's iconic Watsons Bay. Sophisticated yet quaint, this retreat is positioned perfectly with panoramic views over Sydney Harbour. Escape to this exclusive seaside oasis and enjoy its 32 cosy rooms in a relaxed Yacht Club ambience and awe-inspiring views.
---
If you love this list of boutique hotels, you'll definitely fall in love with our Top 50 Romantic Getaways in Australia in 2023
Image Credit: Adelphi Hotel, Melbourne, Australia
What's your luxury?
Luxury means different things to different people. Is your luxury a glamorous hotel in downtown Manhattan, a private island hideaway on the Great Barrier Reef, or a safari camp on the plains of the Serengeti? We'll help you find your perfect version of luxury in some of the world's most beautiful places.