It's always a good time to plan a getaway and to get the family or your friends together for a holiday. And because a getaway is never complete without the perfect accommodation, we have selected the top luxury holiday homes in Victoria for groups. Whether you're looking for a quiet place to relax, a place to hit the beach, a tranquil countryside escape, or a mountain hideaway, we've got you covered.
(For smaller couples retreats, check out our list of the Top Romantic Getaways in Victoria.)
Sky High, Mount Franklin, Daylesford
Sat on top of a ridge of 50 acres with 360-degree panoramic views, Sky High is an ultra-modern home located in Mount Franklin. This stunning retreat is purposely built with the views in mind, with floor to ceiling windows carefully positioned to take in the idyllic landscape. The arrival point is via a central courtyard around which the other spaces radiate, including 4 bedrooms with flexible bedding arrangements that effortlessly cater to groups of friends or families.
---
Arya, Lyonville, Spa Country
Unwind and relax at Arya, a stylish home nestled in the little hamlet of Lyonville. This secluded retreat features six bedrooms with modern interiors and full-length windows, allowing its guests to marvel at the beautiful landscapes and enjoy an abundance of natural light. Situated on the fringe of the Wombat State Forest, this home is the perfect base to explore the Domino Trail and the ever-gorgeous Daylesford spa region.
---
Yandoit Church, Yandoit, Spa Country
Built in 1884 by Swiss-Italian settler, Giacomo Satori, the Yandoit Church is a beautifully refurbished, award-winning country retreat in the Victorian countryside. This gorgeous family home was made in addition to the remnants of the old church, retaining most of its interiors but now modernized, and features 3 luxurious bedrooms, perfect for those looking for the idyllic country getaway.
---
Breakneck Gorge Oikos, Elevated Plains, Spa Country
Perched on top of a hill with perfect sunset and mountain views, Breakneck Gorge Oikos (pronounced eekos) is an exquisite retreat located in Elevated Plains. Bold and angular in exterior design, this luxe home features an imaginative and inspiring aesthetic, perfectly complementing the modern open plan interiors. A stunning bedroom with ensuite completes the experience, boasting huge picture windows overlooking the grand vistas.
---
Moulton Park Homestead, Sassafras, Dandenong Ranges
Refined and stately in every detail, Moulton Park Homestead is a gorgeous retreat nestled on a 3-acre estate in Sassafras. Originally built in 1910, this refurbished luxury villa features classically inspired interiors with contemporary furniture pieces, creating a warm and inviting atmosphere. Three stylish bedrooms await, along with a selection of well-appointed amenities including an open wood fire, half tennis court, and verandah.
---
Cooinda, Trentham, Daylesford
Located in Trentham, across the famous Trentham Golf Club and within walking distance of the town centre and Trentham Falls, Cooinda is a spacious luxe home offering 8 bedrooms in a homey and peaceful garden setting. Boasting expansive outdoor spaces, this holiday retreat features a pristine pool, heated spa, and a floodlit tennis court nestled in the shade of established pine trees.
---
Big Sky on Walkers Lane, Bright, High Country
Located in Bright, Big Sky on Walkers Lane is a beautiful vacation home set amongst pristine mountain views in High Country. The ground floor is home to the main features of the property, including a fully-equipped kitchen and three elegant lounge spaces, providing plenty of room for friends and family. This luxe retreat offers 4 bedrooms, complete with modern conveniences including a fireplace and a private pool.
---
Lumella, Bullarto, Spa Country
Located on Dolphins Hill in Bullarto, Lumella is an architecturally-designed getaway overlooking the majestic valleys of the Great Dividing Range. Commanding panoramic views as far as the eye can see, this one bedroom luxury home boasts modern interiors with large picture windows, along with a luxurious selection of amenities including a free-standing bath and spacious outdoor deck.
---
Barwidgee, Hepburn Springs, Spa Country
Barwidgee is an impressive holiday home born from a vintage house in Hepburn Springs. During the refurbishment, the historical significance of the property was carefully maintained, retaining the original features but with seamless incorporation of ultra-modern design, blending old and new. This has resulted in a stunning three bedroom villa with luxurious spaces designed for the ultimate holiday escape.
---
Skyview Pavilion, Eganstown, Spa Country
Set on a cosy 20-acre property just minutes from Daylesford is Skyview Pavilion, a fully contained holiday destination in Eganstown. This stylish pavilion is perched on sprawling land, with great views of the horizon through glass doors that open up to the spacious outdoor living area. Relax and unwind as you marvel at the beauty of nature, stroll through nearby native woodlands or have fun with curious and friendly free-ranging alpacas and kangaroos.
---
Paul Bangay The Farmhouse, Denver, Spa Country
Ideally located just minutes from Daylesford and surrounded by some of Victoria's best wineries, dining, shopping, and awe-inspiring landscapes, The Farmhouse is an exquisite vacation home masterfully curated by famous landscape designer, Paul Bangay. Boasting nine stunning gardens, this four bedroom villa features an eclectic design, complemented by the gorgeous landscaping that looks straight out of a storybook.
---
Orchards At Spring Vale Farm, Weatherboard, Goldfields
Find serenity at the Orchards At Spring Vale Farm, a fabulous homestead just fifteen minutes from Ballarat. Set in picturesque landscapes with stunning water features and apple trees all around, this beautiful destination offers 5 bedrooms that can accommodate up to 10 guests. To complete the experience, guests have access to the tennis court, gym, pool table room, and the gardens to roam and frolic.
---
The Pond House Trentham, Trentham, Spa Country
Expansive and stylish, The Pond House Trentham offers a unique luxury escape for people wanting the ultimate country experience. Just 2 km from the centre of town, this 4 bedroom luxe home is nestled in a tranquil setting, the star of the show being the two-acre lake that sits harmoniously in the property. The open-plan kitchen, dining, and lounge have a relaxed contemporary feel with large windows, blending the interior with the magnificent outdoor environment.
---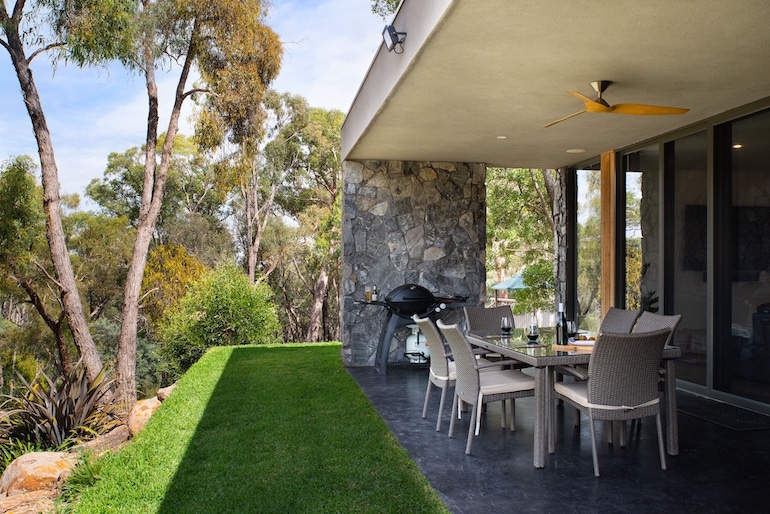 Two Ducks, Daylesford, Spa Country
Located in Daylesford, Two Ducks is an architecturally designed property overlooking Doctor's Gully. Modern, mid-century inspired design with earthy textures makes this home a unique escape, featuring 3 generous bedrooms, an open-plan living area, and alfresco dining. This child-friendly retreat offers all the conveniences for a comfortable stay, including wifi, Netflix, and a 100″ projector, perfect for the family to enjoy.
---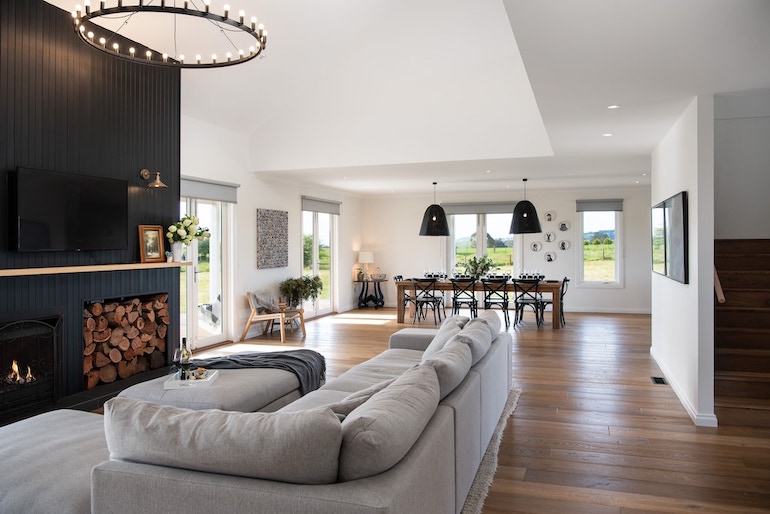 Mapledurham, Newlyn North, Spa Country
Designed to capture the essence of modern country life, Mapledurham is a beautiful home nestled in the picturesque countryside town of Newlyn North in Victoria's Spa Country. This indulgent getaway features modern and cosy interiors, with oversized furnishings that remind you to rest and relax. With 4 bedrooms complemented by a lavish array of amenities, this home offers all the modern luxuries you would expect for the perfect holiday escape.
---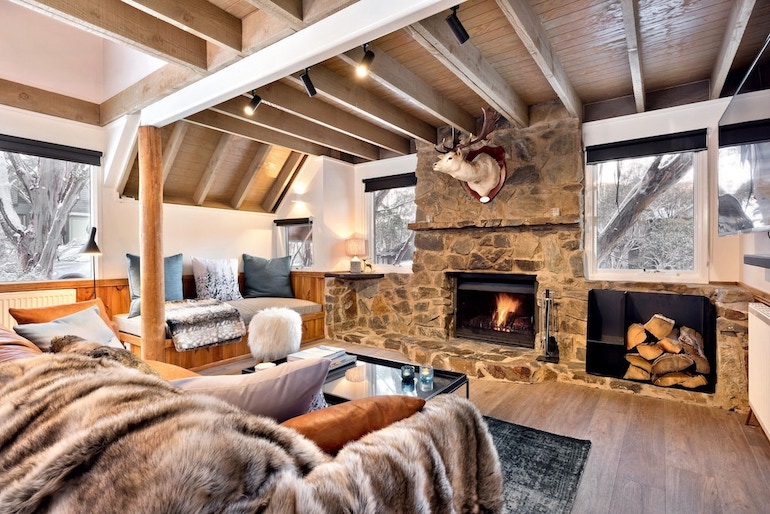 Pension Mauritz, Dinner Plain, High Country
With striking dark exteriors juxtaposed with the light and earthy interiors, one can't forget an experience at Pension Mauritz, a luxury escape situated in Victoria's High Country. This vacation home pampers its guests with warm and cosy interiors, and can comfortably sleep 10 across 4 bedrooms. Featuring a contemporary design with beautiful wood accents, this home comes complete with a private balcony, a fireplace, and hydronic heating throughout the house.
---
Looking for something else? Check out our full collection of luxury accommodation in Victoria.
Image Credit: Sky High