Are you looking for a romantic stay that will both surprise and impress your special someone at the same time? We understand how daunting the selection process for that can be, but the good news is that we've lightened the load by shortlisting the finest romantic getaways in Victoria in 2024. If you're looking for a swoon-worthy hideaway, these expert-approved intimate escapes will help you achieve that idyllic romantic escape.
---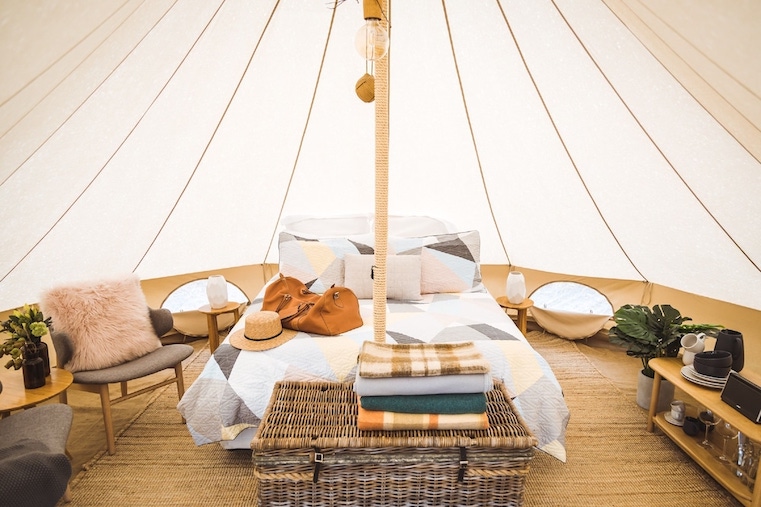 Cosy Tents, Daylesford
Fall in love with the outdoors all over again at Cosy Tents, an off-grid private luxury campsite just 15 minutes from Daylesford town centre. Surrounded by nature and boasting all the conveniences and comforts of a luxury hotel room, these fully-furnished bell tents are definitely our kind of camping. There are only 14 glamping tents on-site, and while there, you'll also have access to bathroom facilities, BBQ facilities, and a fire pit too.
---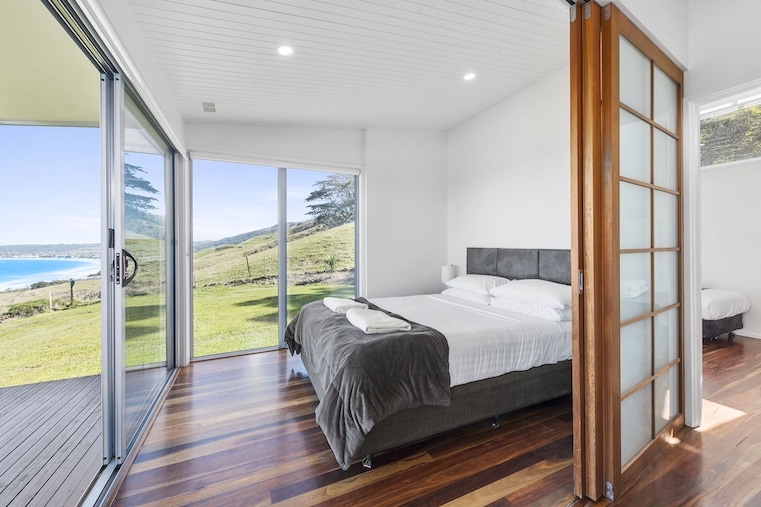 Seafarers Getaway, Great Ocean Road
Set on 8 private hectares just outside of Apollo Bay, Seafarers Getaway offers a range of stylish accommodation options on the Great Ocean Road. These rooms offer furnished private balconies or patios, and you can choose from lofty hillside lodges or beachside guestrooms. Here, you can enjoy stunning ocean views while cooking up a BBQ on your private balcony. After you've fed yourself, you can hand-feed the cute resident alpacas. Not just one of our favourite romantic getaways in Victoria, Seafarers Getaway is a crowd favourite among View Retreats members too!
---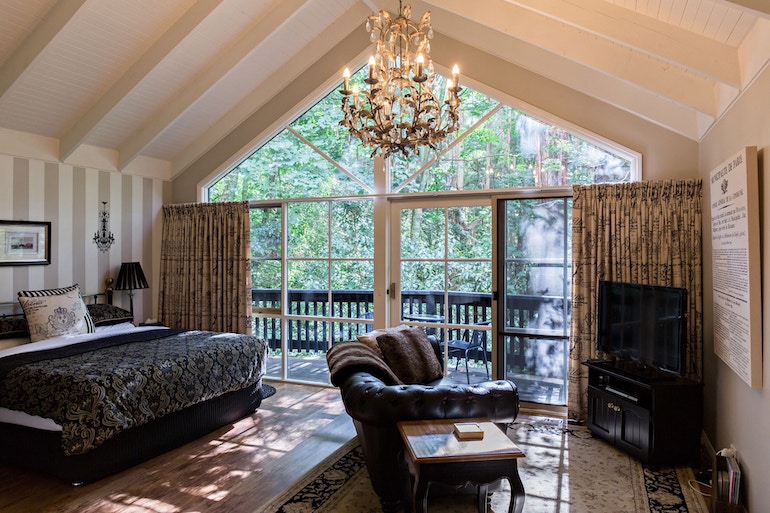 Belle Le Vie, Dandenongs
Belle Le Vie transports you to the other side of the globe with its French country bed & breakfast-style accommodation. The self-contained cottages have the texture and warm colour of oak timber, wrought iron details, and plush leather chesterfield couches perfect for cuddling. Along with the cottages, all of the suites have their own character and distinct colour palettes that make you feel as if you're in a different place each time you visit.
---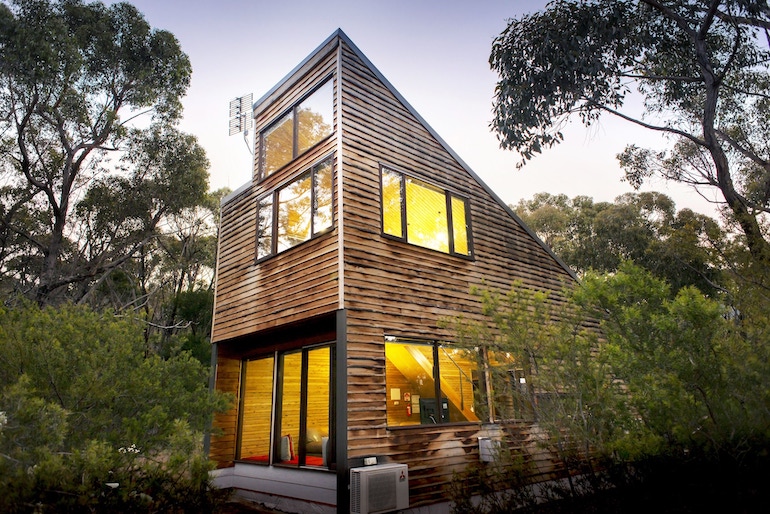 DULC Cabins, Grampians
Tucked away within the breathtaking Grampians National Park, DULC Cabins, short for Down Under Log Cabins, provide an ideal haven for a romantic getaway. Surrounded by pristine bushland and featuring rustic timber, sleek polished concrete, warm wooden floors, and expansive floor-to-ceiling windows, these charming self-contained cabins have been thoughtfully crafted to harmonize with the surrounding natural beauty. You can select from either single or double-level cabins, offering one or two beds to suit your preferences.
---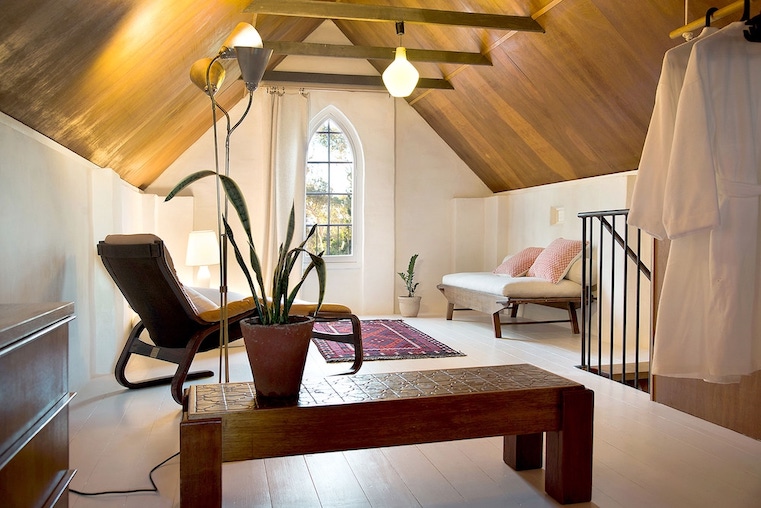 be&be, Castlemaine
Perched on the highest hill in town, the gorgeous be&be offers only 2 intimate self-contained studios that boast magnificent views over Castlemaine and the countryside beyond. Studio-One (aka Romantic House) is a 2-storey stay complete with a full kitchen and has interiors that blend mid-century elegance with seventies funk, delivering a super-chilled vibe that is perfect for a romantic weekend away. Studio-Two (aka Deluxe Villa) on the other hand has a more zen and minimalist appeal with its bespoke timber furniture and wooden slat accents, and comes equipped with a kitchenette. Have a furbaby with you? Both studios are pet-friendly!
---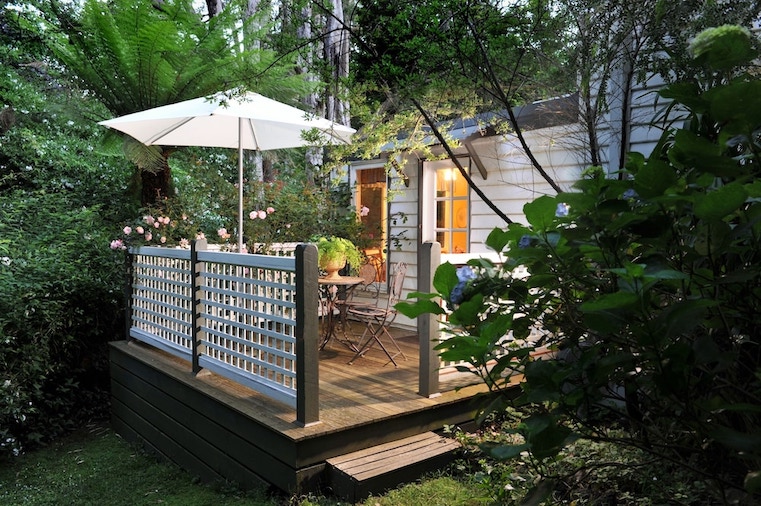 Clarendon Cottages, Dandenong Ranges
Only a 15-minute stroll from the heart of Sassafras in the gorgeous Dandenong Ranges, Clarendon Cottages is a peaceful garden retreat; the ideal escape from the city. Choose from 3 gorgeous cottages that all offer breakfast provisions. Whilst Dovecote Cottage is cute and cosy, Camellia Cottage and The Stables Cottage are larger and both offer fireplaces and spa baths. If you're looking for a charming and intimate escape, Clarendon Cottages is one of the romantic getaways in Victoria that has multiple options waiting for you.
---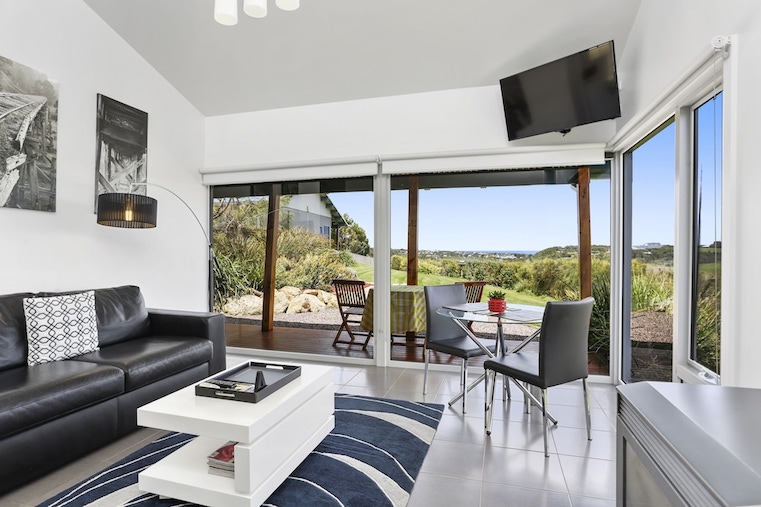 Anchors Port Campbell, Great Ocean Road
An award-winning luxury rural retreat, Anchors Port Campbell is perfectly nestled on 30 acres of private land in the serene hills above Port Campbell, along the breathtaking Great Ocean Road. This romantic hideaway beckons with only 3 self-contained open-plan villas, each carefully designed to provide full seclusion. These meticulously positioned villas grant unhindered beach views that stretch as far as the eye can see. In your villa, you'll find a spa bath, where you can savour a glass of your preferred drink while basking in the panoramic surroundings. For added privacy and comfort, the windows feature glass tinting and blinds. Additionally, Anchors ensures a home-away-from-home experience with fully equipped kitchens, boasting complete cooking facilities. As evening sets in, cosy up by the inviting gas log fire, setting the stage for your romantic retreat.
---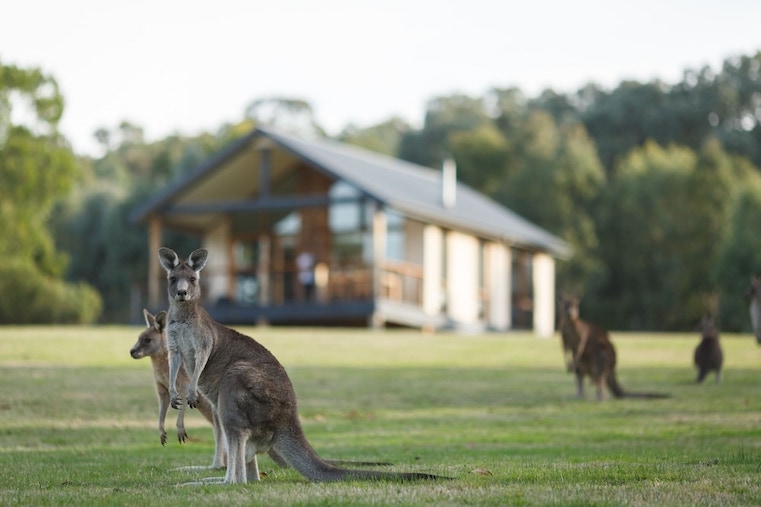 Yering Gorge Cottages, Yarra Valley
The Yering Gorge Cottage beckons guests with an elegant one-bedroom escape nestled in the Yarra Valley. Each self-contained cottage features a cosy wood fireplace, a corner spa bath, and a private deck, offering multiple spots where you can relax and reconnect. Less than an hour from Melbourne, the cottages provide the perfect blend of luxury and nature, making it an ideal escape for couples who enjoy the rustic luxe vibe. Here, you can explore the surroundings with bushwalks, connect with wildlife, and savour breathtaking views. The on-site dining room serves Yarra Valley's finest produce, complemented by the Members' Lounge and Bar. Yering Gorge Cottages invites you to discover a true connection to Australia's wildlife, while enlivening your mind, body, and soul in one of the most romantic getaways in Victoria.
---
Find your perfect getaway in Victoria
Discover over 200 handpicked hotels, resorts & private villas
---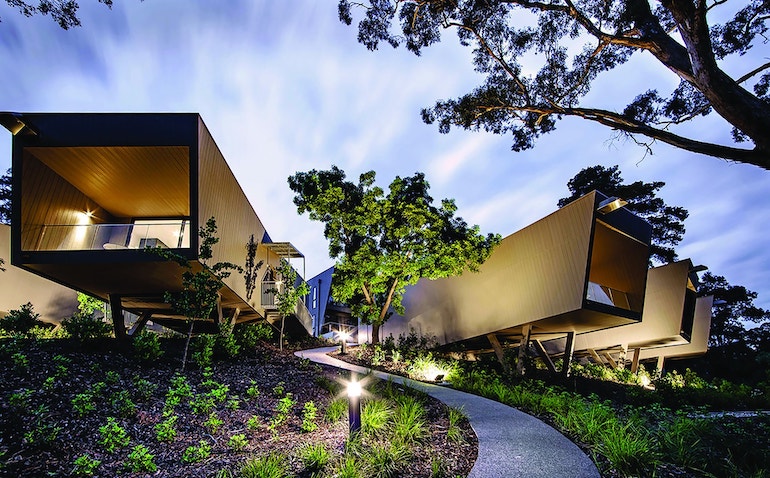 Hepburn Escape Villa, Daylesford
Embrace a luxurious escape at Hepburn Escape Villa, where spacious 75-square-meter villas along Mineral Springs Reserve provide a modern romantic escape. Each villa boasts a marble spa bath, a cosy fireplace, a private balcony with Spring Creek views, and a king-sized bed. Here, you and your special someone will enjoy refined boutique styling, a gas log fire, a double spa bath, and super comfy beds ensuring your comfort. Explore the history of the Mineral Springs Reserve while in the area, and after walking around, you can easily relax at Hepburn Bathhouse & Spa, which is directly adjacent to the villas. Sounds like a plan, right?
---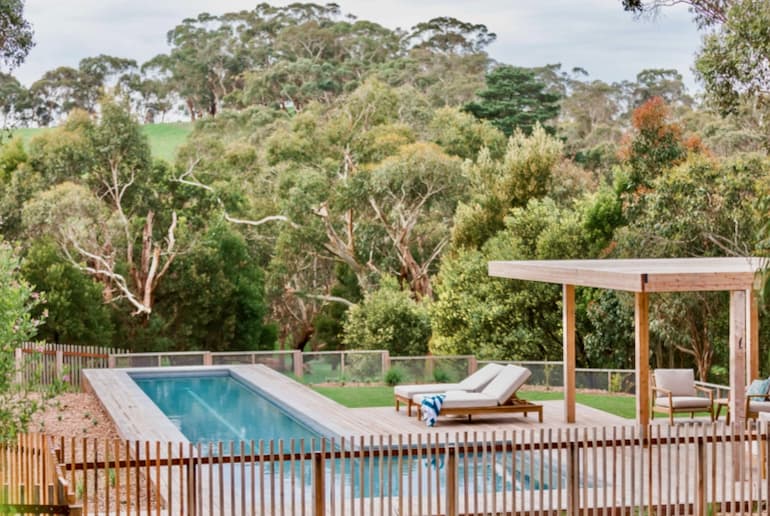 Haven Red Hill, Mornington Peninsula
With 3 beautiful suites to choose from, Haven Red Hill is nestled in a stunning valley on the Mornington Peninsula, making it one of our top picks for a romantic getaway in Victoria. Here you can immerse yourself in natural beauty, help yourself to the organic fruit and fragrant herbs around the property, soak up the views, or sit around the log fire under the stars, away from the busy world. We love its laid-back charm and amenities that just beckon you to sit back, relax, and enjoy each other's company.
---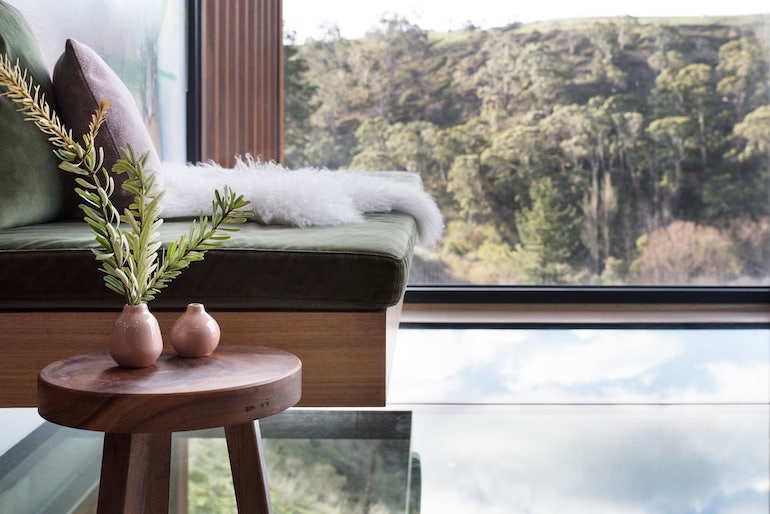 Clifftop at Hepburn, Hepburn Springs
If you have a fondness for architectural masterpieces, you're going to love the range of accommodations offered by Clifftop at Hepburn. Perched high amid lush bushland, these luxury villas offer breathtaking views and a blend of indoor and outdoor living areas. Each villa is thoughtfully equipped with a kitchenette, a fireplace, deep soaking tubs, and stylish furnishings. Choose from villa styles like Samurai, Sahara, or Solitude, with design elements that capture each aesthetic's essence. These architect-designed villas, adorned with exquisite interior design, have won multiple awards and provide a cosy wood fire, allowing you to revel in the mesmerizing country views. From location to accolades, you and your significant other will be wowed by this escape.
---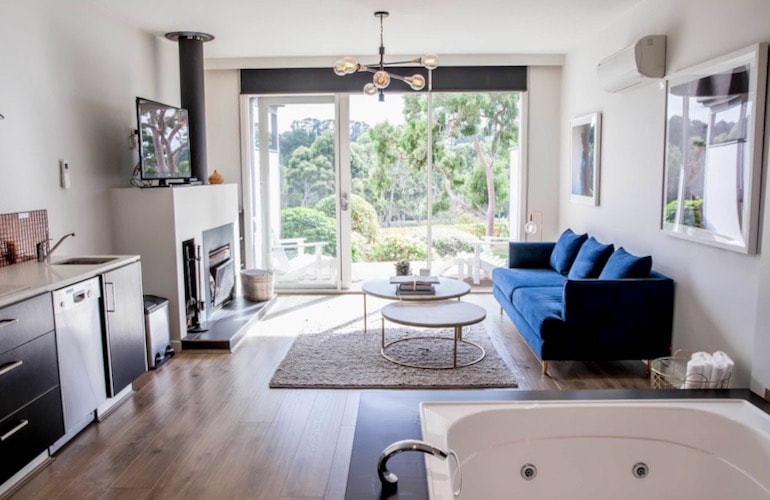 Polperro Villas, Red Hill South
If the atmosphere you're looking for is a stylish home away from home where you can escape and unplug, the understated elegance of Polperro Villas will charm you and your loved one. Here, you get to enjoy a tranquil and luxurious wine getaway experience on the Mornington Peninsula. Its spacious villas let plenty of light in through the floor-to-ceiling glass doors, and spoil you with views of the 25-acre Talland Hill Vineyard. Think slow days, lazy mornings, and wine nights. Doesn't that just sound amazing? This getaway also has its own restaurant that serves carefully crafted seasonal dishes, making it an amazing choice for your next tranquil romantic escape.
---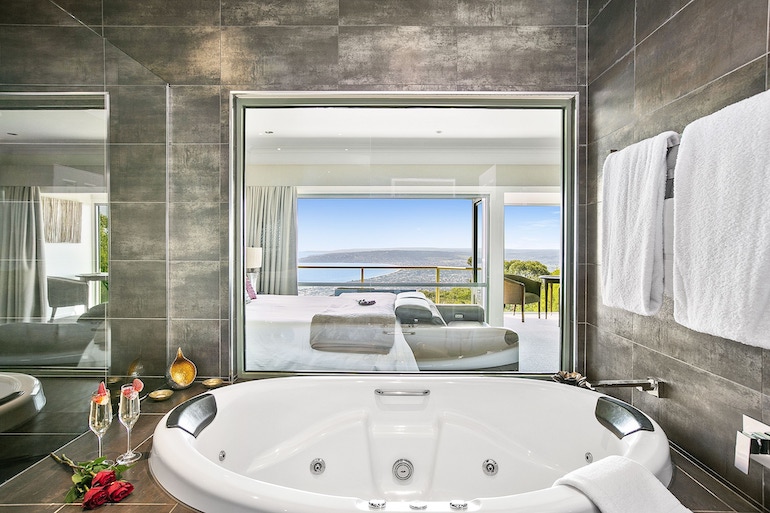 Arthurs Views, Mornington Peninsula
Escape to the serenity of Arthurs Views nestled just below the summit of Arthurs Seat on the Mornington Peninsula. Might we suggest The Flinders Penthouse for your ultimate romantic haven? Also known as the Luxury Penthouse this self-contained sanctuary is the most luxurious of the property's only 5 accommodation offerings. Within its spacious living and dining area, you can revel in sweeping views of Port Phillip Bay and the coastline. If you prefer something a bit cosier though, the other equally stylish suites provide king beds, private balconies with stunning bay views, and light-filled interiors thanks to the expansive sliding glass doors. Above, we've featured one of 2 spa suites that boast these luxurious spa tubs. Rest assured that blackout curtains are at your disposal in all rooms and suites ensuring your complete privacy.
---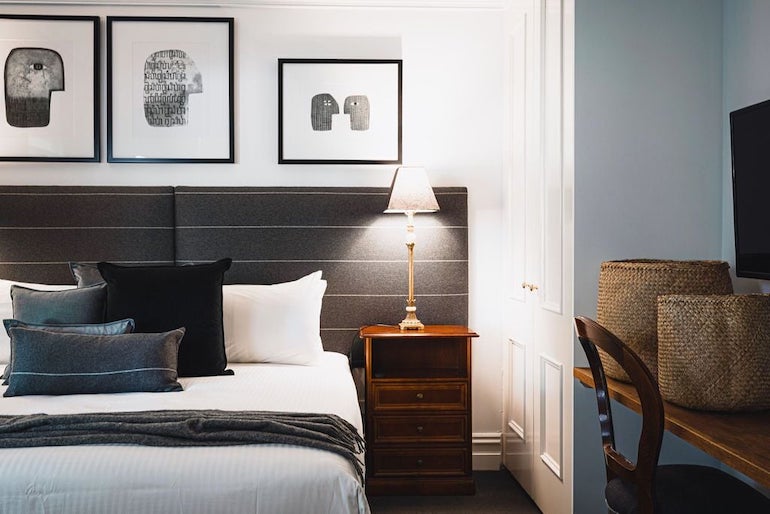 Hotel Bellinzona, Hepburn Springs
Surrounded by the historic towns of Hepburn Springs and Daylesford, you'll find yourself in a picturesque setting at the renovated Hotel Bellinzona, a charming boutique hotel that boasts 43 meticulously designed bespoke king rooms. The hotel's stunning art and interior design create a captivating ambience, setting the stage for a special and romantic experience. You can also savour exceptional dining options with private dining rooms, The Lobby Bar, and The Virgin Kitchen, all right on-site. As if that's not enough, Hotel Bellinzona also features additional luxuries, including an inviting heated indoor swimming pool, a rejuvenating spa, a relaxing sauna, and the convenience of being a short stroll away from the Hepburn Bathhouse—the perfect oasis for relaxation and rejuvenation.
---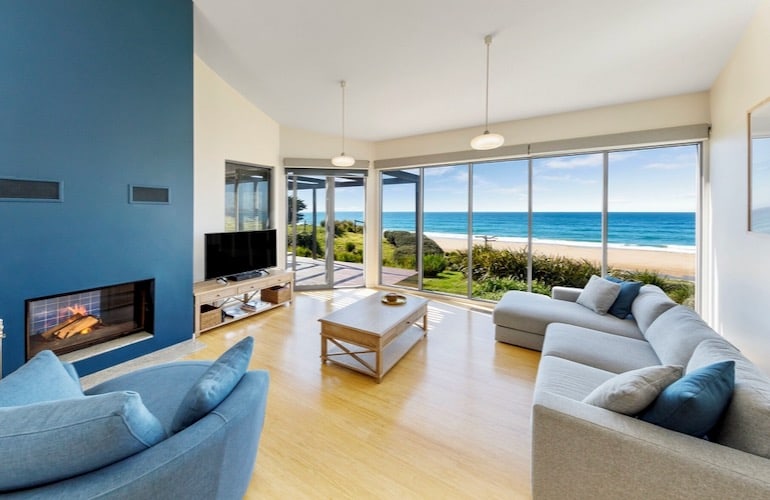 Chocolate Gannets, Apollo Bay
Perched on the picturesque shores of Apollo Bay, Chocolate Gannets is a tranquil haven known for its luxurious spa baths panoramic ocean views. If you're a beach lover looking for a romantic and serene retreat, you're sure to have an indulgent time here. Whether you opt for the Beachfront Villa, where the gentle rhythm of the ocean serves as your backdrop and the chance to spot playful dolphins is a mere gaze away, or choose the Luxury Villas, where the harmonious melodies of visiting wattlebirds and cockatoos serenade you, your senses are in for an extraordinary treat. With four luxurious 2-bedroom villas to choose from, Chocolate Gannets is your gateway to an idyllic coastal escape that promises to paint the perfect backdrop for romantic R&R.
---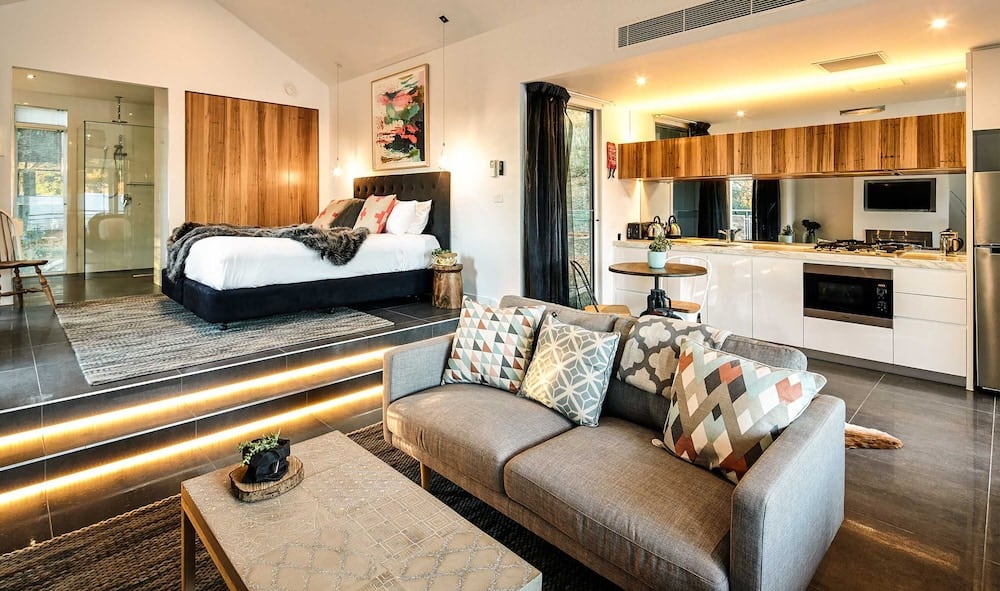 Hepburn Spa Retreat, Daylesford
Elegant, contemporary, and designed for wellness, Hepburn Spa Retreat has 10 beautiful suites with views of the serene bushland. Warm natural light softly fills the space through various pendant and wall lamps, and even under the steps—all carefully chosen to help with your circadian rhythm. The spa tub and fireplace are cherries on top of this stylish and relaxing retreat.
---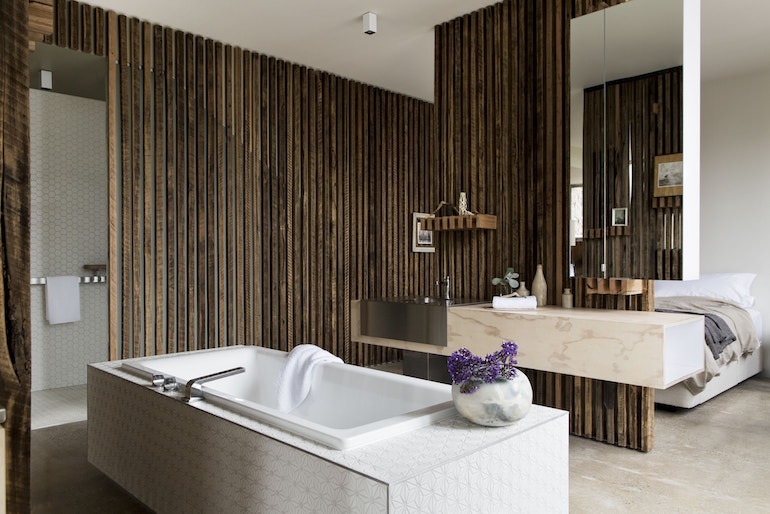 Drift House, Great Ocean Road
Rounding up our list of romantic getaways in Victoria, our top choice is set in Port Fairy on the Great Ocean Road. Boasting stunning interiors, Drift House is an award-winning luxury hotel that offers 6 very private guest suites spread over heritage buildings and beautiful contemporary extensions. Offering intimate design-led accommodations, a stay at this escape offers you that feeling of exclusivity, that has helped it earn the top spot in our list of romantic getaways in Victoria. On-site, there is a dedicated team behind the inspired menu, and you can enjoy one of a kind aperitifs and a la carte offers made with ultra-local produce. Make sure to check out what's cooking and brewing at The Salon and Honesty Bar too. This stylish and intimate boutique hotel is a place where you and your special someone can disconnect, relax, and unwind in absolute luxury.
---
If you're looking for more romantic getaways in Victoria, view our full collection of luxury accommodation in Victoria.
Image credit: Haven Red Hill