Planning a secluded romantic getaway can be time-consuming, especially if you're looking for the very best romantic getaways in NSW. Luckily, we've done the hard work for you with our list of the best romantic getaways in New South Wales. These intimate couples retreats right across the state have been carefully curated to ensure that your romantic escape is a memorable one. If you're looking for the best couples' accommodation in NSW, you've come to the right place.
---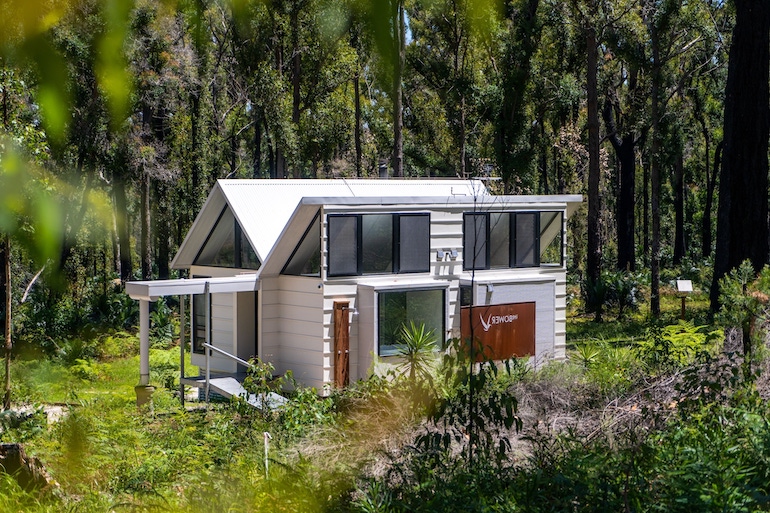 20. The Bower at Broulee, South Coast
The Bower at Broulee has 5 free-standing bowers or guest rooms designed for couples to enjoy maximum privacy in the midst of nature. In these stylish self-contained cabins, you can enjoy relaxing in-room massages, a spa tub for two, and snuggling up by the fireplace. The quiet surroundings make it one of our top romantic getaways in NSW; a perfect place to reconnect and spend quality time with your loved one.
---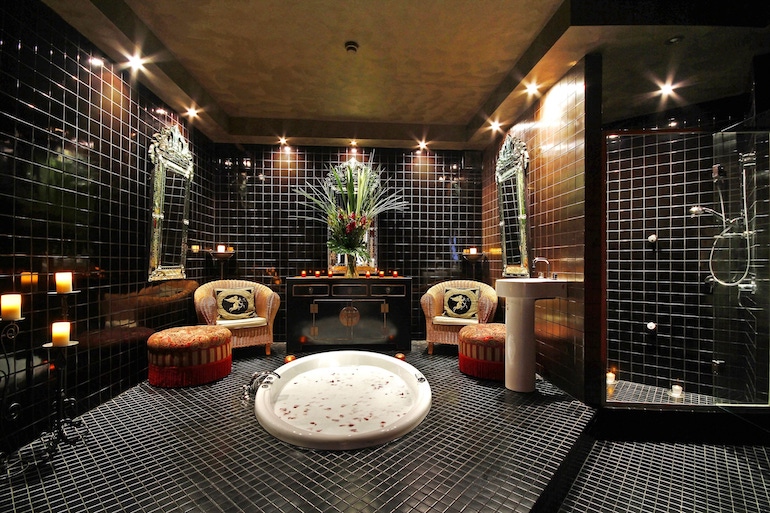 19. Echoes Boutique Hotel and Restaurant, Blue Mountains
Sat above the Jamison Valley, Echoes Boutique Hotel and Restaurant offers stunning views of the National Park from each of the 14 guestrooms. Refresh your senses at Echoes Spa where they offer body treatments as well as facial and massage therapies. You can also indulge in romantic fine dining at the restaurant and bar while enjoying mountain views.
---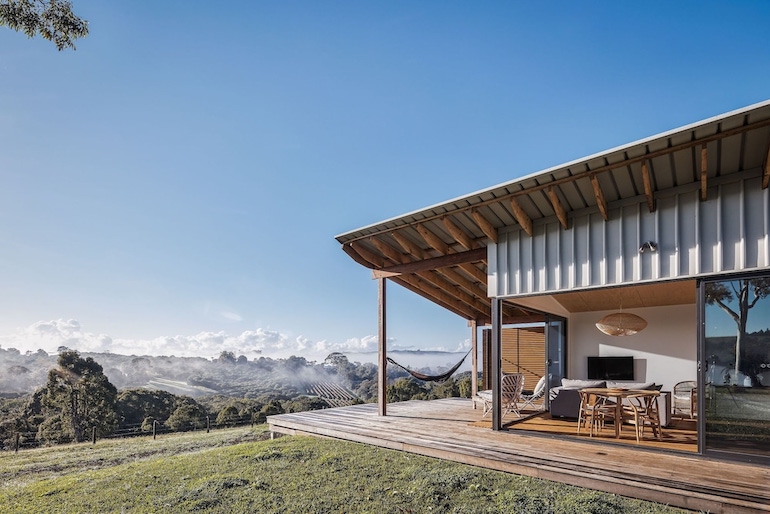 18. 99 Acres Bangalow Retreat, Northern Rivers
Situated upon one of the highest ridges in Bangalow, 99 Acres Retreat is a stylish and wonderfully secluded romantic getaway. Away from the maddening crowds yet still close enough to everything you need, this is the perfect base from which to explore the Byron Hinterland and beyond. There are 5 rooms in the main guesthouse, or you can choose one of the four individual villas for more privacy.
---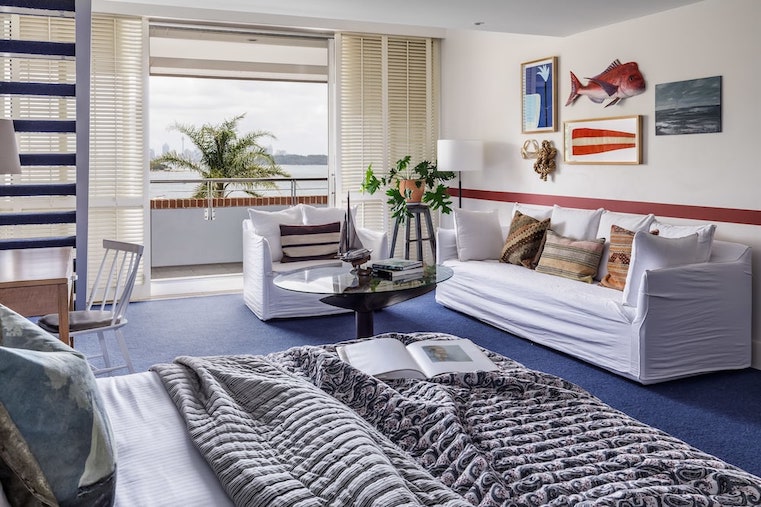 17. Watsons Bay Boutique Hotel, Sydney
If you're looking for something close to Sydney, Watsons Bay Boutique Hotel is perfect for those in search of endless summers, postcard panoramas, and unhurried happiness. Here you can spend chilled afternoons by the waterfront before retiring to your elegant room with beautiful water views.
---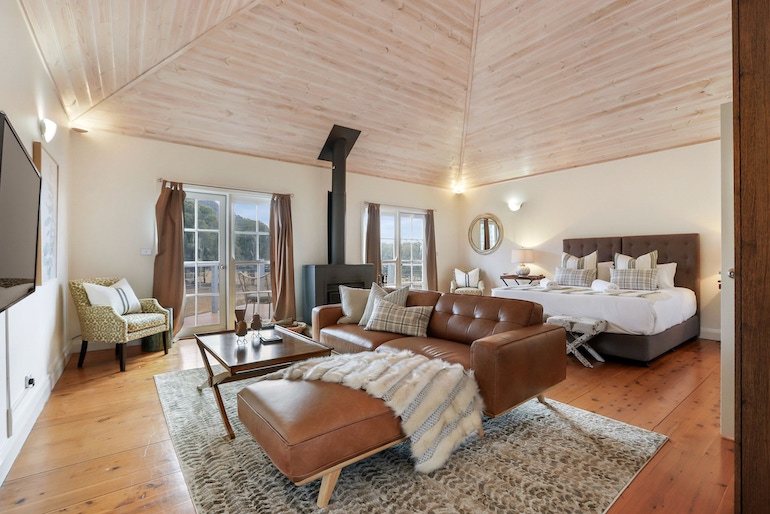 16. Brokenback Views Country Estate, Hunter Valley
Located centrally in Pokolbin near Roche Estate, Brokenback Views Country Estate is a place to relax, revitalise and rejuvenate, while being close to all the attractions of the Hunter Valley. The estate is comprised of individually designed, luxury self-contained villas surrounded by spectacular country views across the lake and the Brokenback Ranges.
---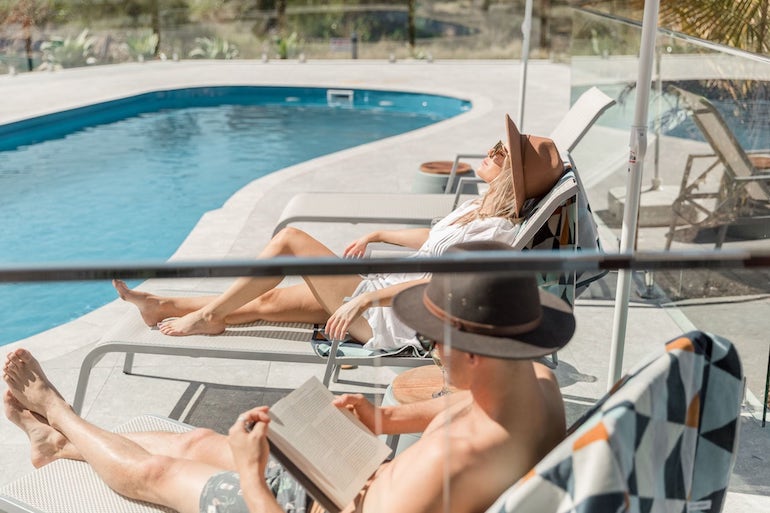 15. Salt at South West Rocks, Mid-North Coast
Neutral, bright, coastal chic? Sounds wonderful to us! At Salt, South West Rocks, the calming colour palette combined with wood accents set the mood for relaxation. When you make yourself at home in one of the 9 villas on the private gated grounds, you'll immediately feel that sense of tranquillity. Each of the villas has fully-furnished kitchens, a private deck, access to the pool and BBQ areas, and great views of Macleay Island.
---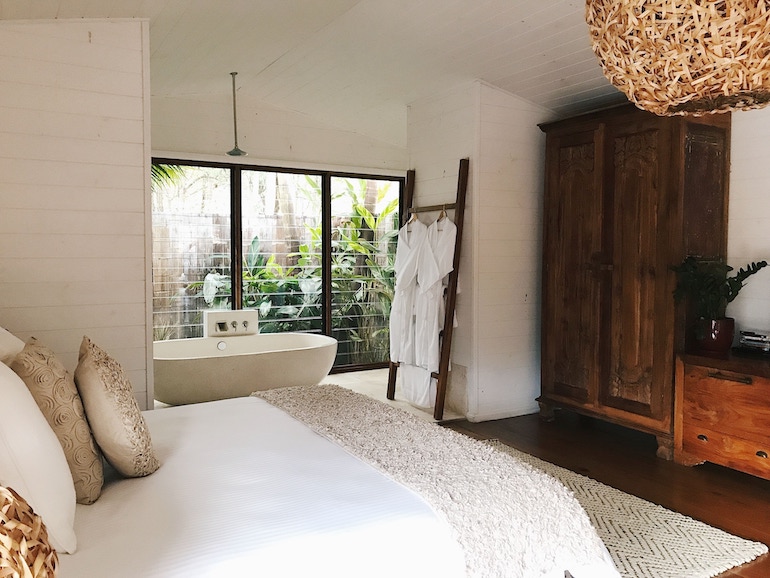 14. The Boathouse at Leaves & Fishes, Hunter Valley
A 15-minute drive away from Hunter Valley Gardens, The Boathouses at Leaves & Fishes has 4 private boathouses with decks overlooking a serene pond. This romantic retreat in wine country has opulent timber furnishings coupled with fine linens on the king-sized beds. The double showers and natural stone baths make for a relaxing and romantic experience without losing that country-style charm.
---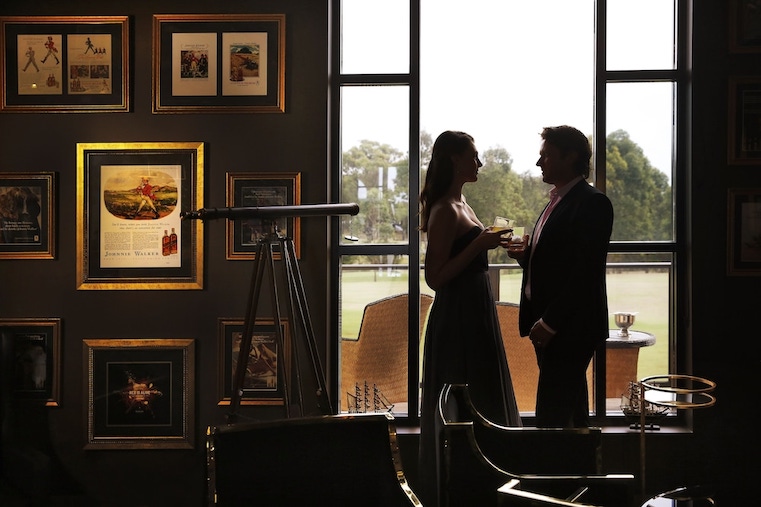 13. Chateau Elan at The Vintage, Hunter Valley
Surrounded by rolling vineyards and overlooking manicured fairways, Chateau Elan at The Vintage is an award-winning golf and spa resort in the beautiful Hunter Valley. Choose from luxury spa suites and self-contained villas that promise absolute comfort, privileged spa access and total privacy.
---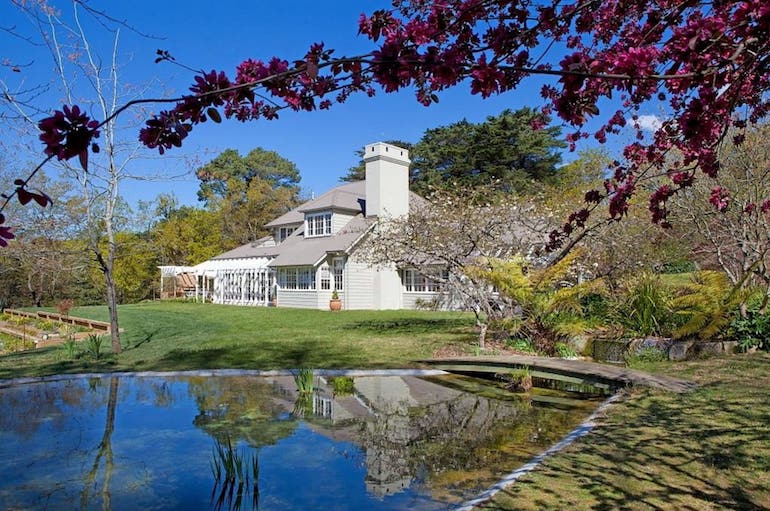 12. Parklands Country Gardens and Lodges, Blue Mountains
Reminiscent of a European estate with charming country interior design, Parklands Country Gardens and Lodge is your cosy home away from home. An hour and forty-five minutes away from Sydney, you will be greeted by the picturesque Grose Valley and the sounds of wildlife around you. Try Parklands Day Spa's packages for pampering and ultimate relaxation.
---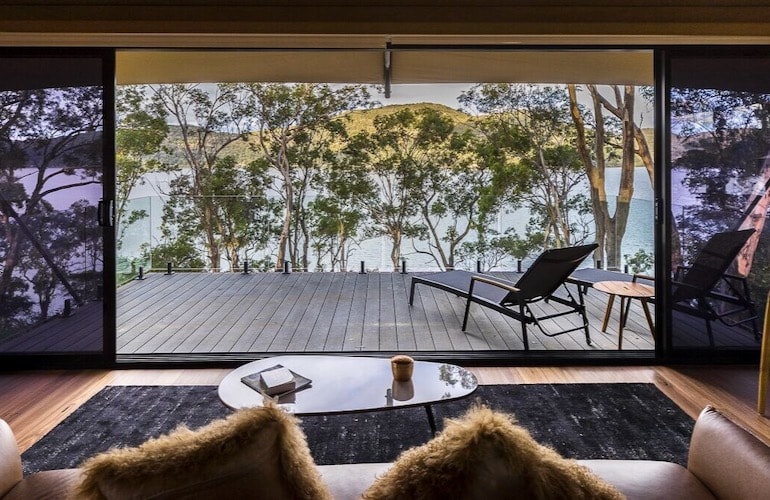 11. Marramarra Lodge, Berowra Waters
A luxurious bushland getaway located at Fisherman's Point on the Hawkesbury River, Marramarra Lodge is an all-inclusive hideaway that accommodates a maximum of only 28 guests at a time. There are 3 types of accommodation styles to choose from, but for the ultimate romantic getaway, we suggest the Bay Bungalow which has its own furnished private deck and is nestled in the surrounding foliage. On-site, indulge your senses at Budyari Restaurant and in the pool—perfect for a nighttime dip.
Find your perfect getaway in New South Wales
Discover over 250 handpicked hotels, resorts & private villas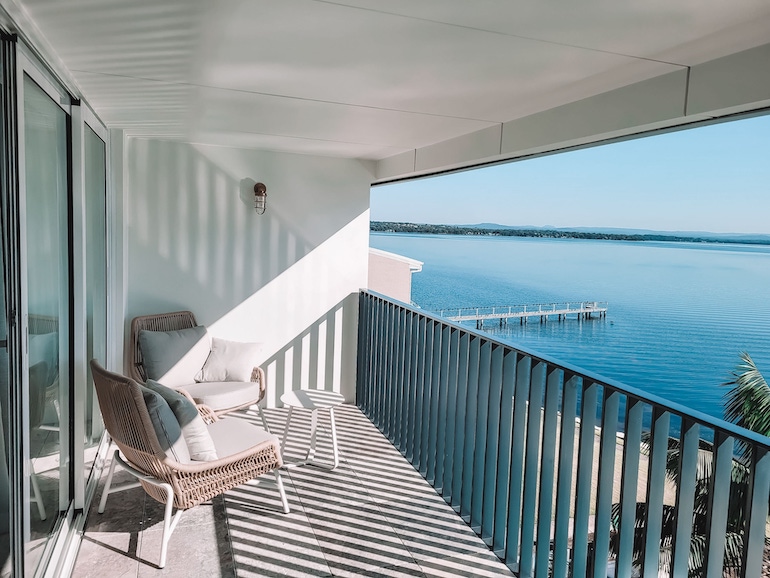 10. The Beachcomber Hotel & Resort, Central Coast
Only 5 minutes away from the beach, The Beachcomber Hotel and Resort has clean and modern Hampton-inspired interiors giving it that beachy holiday vibe. Speaking of beachy, Beachie, the resort's restaurant is considered a Central Coast foodie hotspot for pub classics with a contemporary twist. Enjoy yummy dishes with great views of the ocean!
---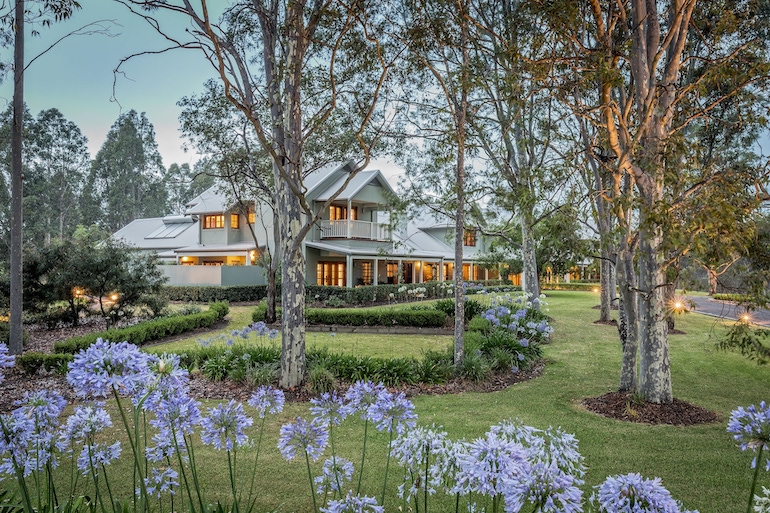 9. Spicers Vineyard, Hunter Valley
Known as the most-awarded destination for romance in the Hunter Valley, Spicers Vineyards Estate has 12 luxury suites, each equipped with its own fireplace. Find solace in one of the King Spa Rooms, Luxury Spa Rooms or Vineyards House that are all nestled in the 8-acre vineyard. Dine at Restaurant Botanica overlooking the private vineyard, and enjoy a hot stone massage and other full-body treatments at Spa Anise.
---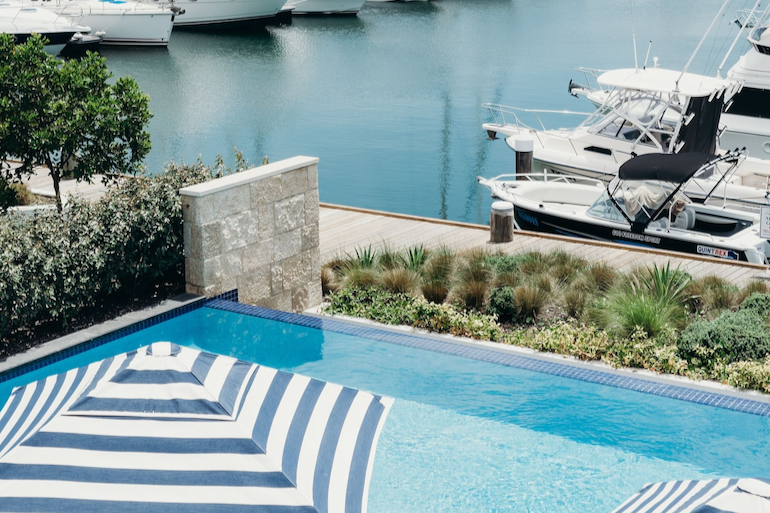 8. The Anchorage Hotel & Spa, Port Stephens
Experience Hamptons chic luxury and seaside style at its finest at The Anchorage Hotel & Spa in Port Stephens. With gorgeous guest rooms to choose from, a renowned restaurant serving world-class food, and an insanely luxurious day spa, this is the stuff romantic dreams are made of.
---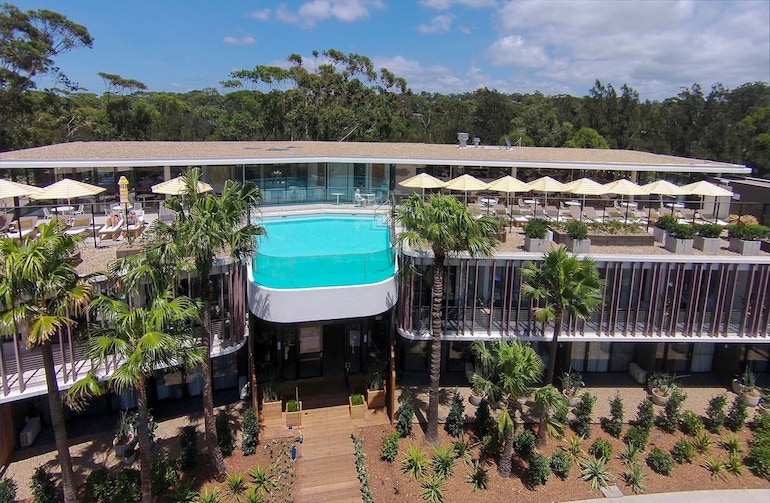 7. Bannisters Pavilion Mollymook, South Coast
Situated just 80 metres from the shores of Mollymook Beach on NSW's South Coast, Bannisters Pavilion boasts stylish, beach-chic rooms and suites that are the perfect choice for a coastal getaway. The Pavilion promises a laidback escape where you can spend sunny days poolside or casual dining and drinking in the relaxed tree-top atmosphere of The Rooftop Bar & Grill.
---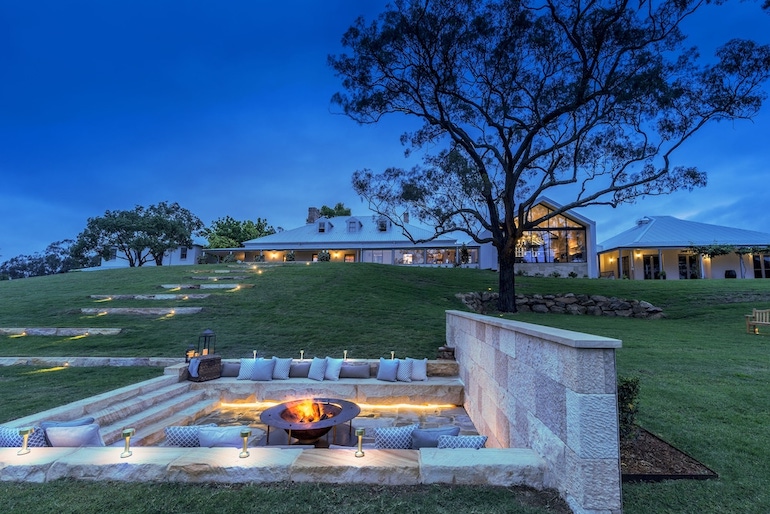 6. Spicers Guesthouse, Hunter Valley
A luxe boutique hotel located in the heart of the Hunter Valley, Spicers Guesthouse is a favourite for those looking for relaxed, laid-back luxury. Here you can enjoy world-class food and wine against a backdrop of rolling vineyards and mountain ranges before retiring to your luxuriously appointed guest room.
---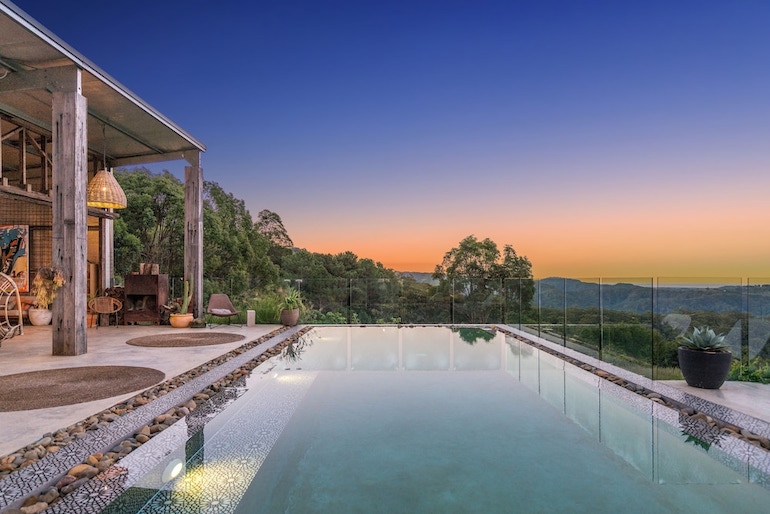 5. Blackbird, Northern Rivers
Pause and reconnect at Blackbird Byron. Situated in the Byron Hinterlands, this adults-only getaway is your lovely patch of rustic-luxe. Located on the side of Mount Koonyum, Blackbird Byron offers access to an infra-red sauna, a magnesium pool, or in-room massages. The pavilions have king beds, open out to a private furnished balcony with ocean views, and have climate-controlled air-conditioning. Its seclusion (it's on a private road) and overall vibe make it one of our top romantic getaways in NSW.
---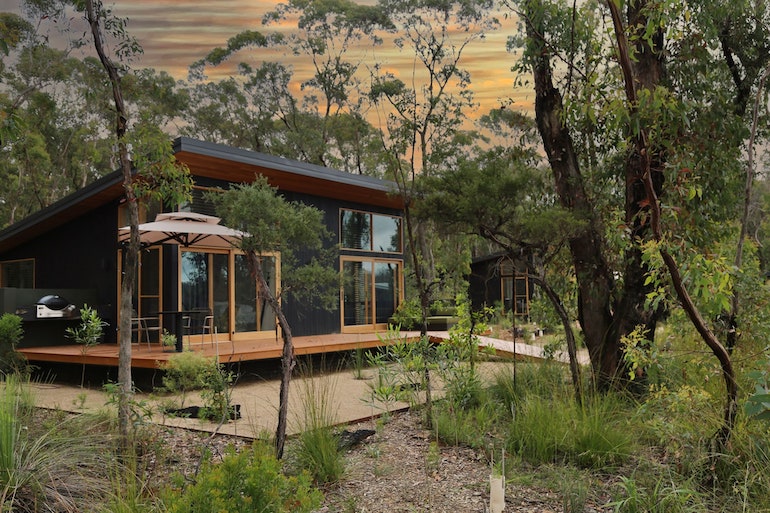 4. Chalets at Blackheath, Blue Mountains
Perched atop the highest point of the Blue Mountains, Chalets at Blackheath will treat you to intimate views of rugged sandstone formations, surrounding eucalyptus forests, and the wonder of ancient aboriginal sites. Featuring an almost cubist look, think of it as a deluxe cabin-like getaway with beautiful natural stone interiors blending perfectly with the warm wooden floors and metal accents. The self-contained chalets are bright and airy, offer maximum privacy, and have personalised concierge service. Enjoy the scenery from your private deck, or even while you take a dip in the freestanding tub.
---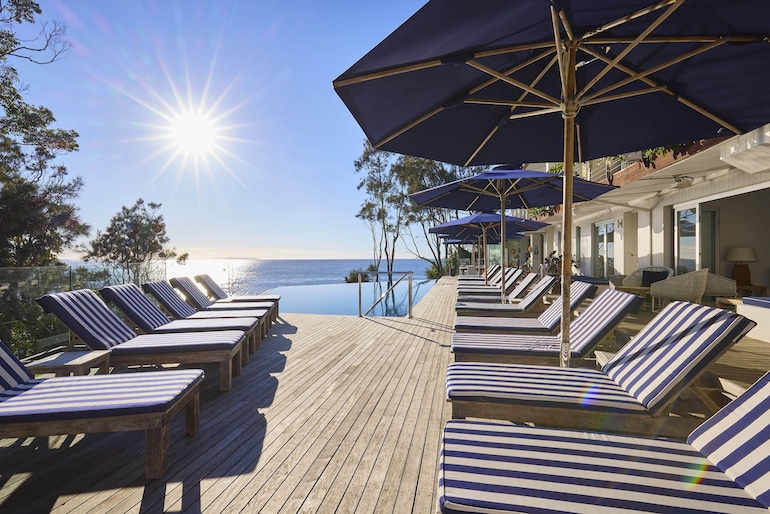 3. Bannisters by the Sea Mollymook, South Coast
Enjoy breathtaking panoramic ocean views from the edge of the cliffside infinity pool at Bannisters by the Sea, Mollymook. The charming, airy, and bright boho-coastal interiors of the rooms and suites coupled with the distant sounds of crashing waves and ocean breeze make for a totally relaxing experience. At the hotel's Spa by the Sea, you can unwind and restore balance while surrounded by nature.
---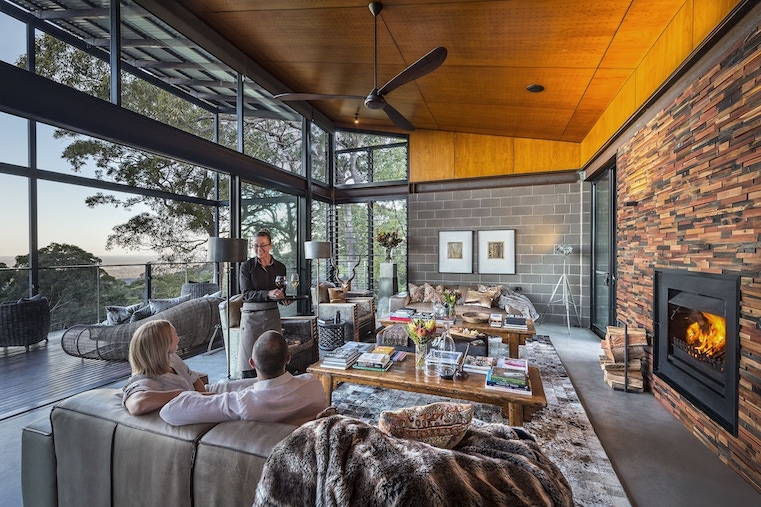 2. Spicers Sangoma Retreat, Blue Mountains
Nestled on the edge of Blue Mountains National Park, Spicers Sangoma Retreat is an intimate boutique hotel with only 5 luxurious suite types to choose from. Catering to adults only, the rates at Sangoma are all-inclusive, which means that your breakfast, lunch and dinner are all included along with drinks and minibar access.
---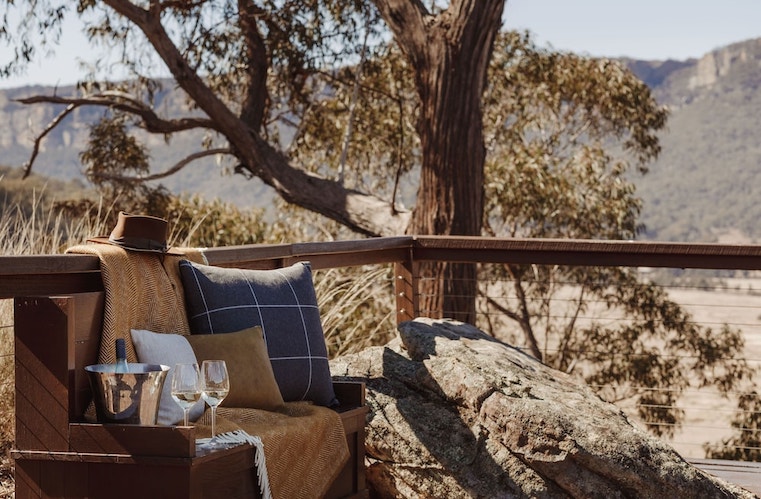 1. Emirates One&Only Wolgan Valley, Greater Blue Mountains
If you're celebrating a special occasion, you really can't go past Emirates One&Only Wolgan Valley. This ultra-luxe, all-inclusive resort offers a unique blend of luxury, wildlife, natural beauty, and conservation that is hard to beat. You'll love the rustic-chic villas that feature private pools, verandahs, fireplaces, bathtubs, and plenty of onsite activities.
---
Looking for more romantic getaways in NSW? View all luxury accommodation in New South Wales.
Image credit: Chalets at Blackheath
What's your luxury?
Luxury means different things to different people. Is your luxury a glamorous hotel in downtown Manhattan, a private island hideaway on the Great Barrier Reef, or a safari camp on the plains of the Serengeti? We'll help you find your perfect version of luxury in some of the world's most beautiful places.