Why wait for an anniversary or special occasion to plan a romantic getaway? With summer on the horizon, it's the perfect time to whisk away your significant other for some quality time together before the silly season.
The great news is, you don't need to drive far to find an enchanting romantic escape. New South Wales offers a plethora of idyllic couples retreats, complete with open fires, private spa baths, candlelit dining, and indulgent spa treatments. Whether you prefer luxury retreats, boutique hotels, stylish chalets, or a bit of glamping, our favourite getaways below promise plenty of romance on your next escape.
If you need any help booking your perfect romantic escape, our team is here to help. Get in touch
---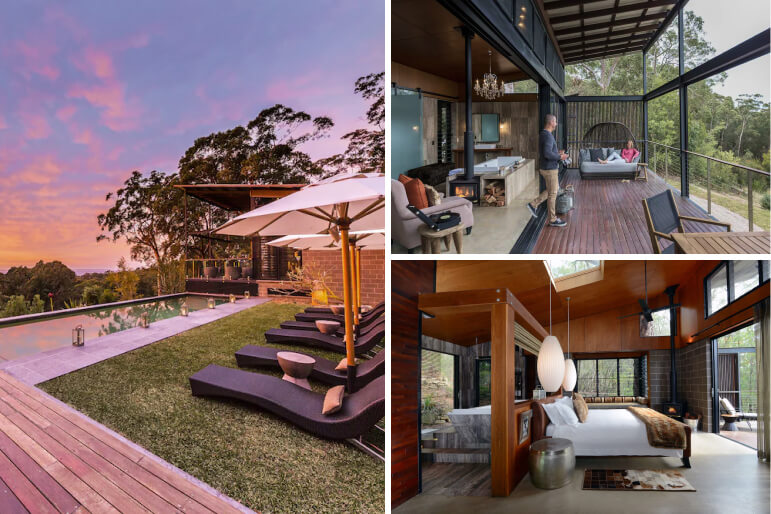 Spicers Sangoma Retreat, Blue Mountains
Set against the breathtaking backdrop of the Blue Mountains, Spicers Sangoma Retreat offers a luxurious adults-only escape. The retreat features eight uniquely designed and self-contained suites, all carefully crafted to provide a tranquil atmosphere.
Design enthusiasts will be captivated by the meticulous attention to detail throughout the property, a testament to the collaboration of local and international talents. Guests can also enjoy a rejuvenating spa experience, complete with a sauna and steam room. But the best part is that the rates here include all meals, drinks, and your minibar which is restocked daily. Book your stay at Spicers Sangoma Retreat.
---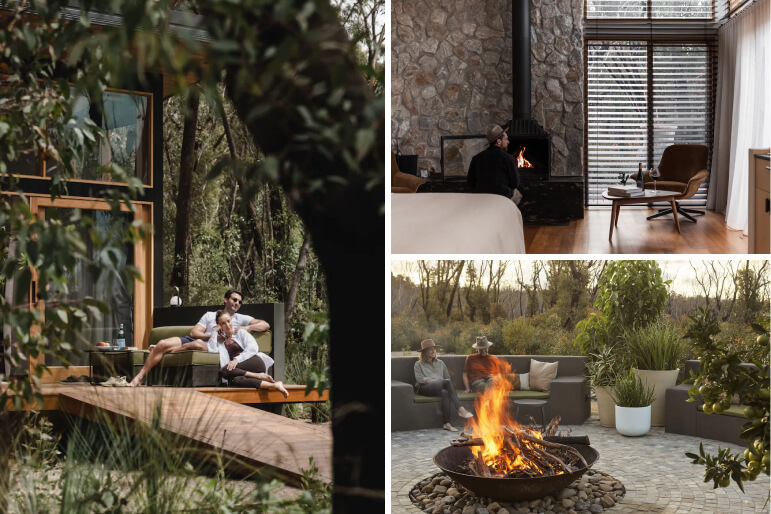 Chalets at Blackheath, Blue Mountains
Also in the Blue Mountains, perched at the highest point overlooking over a million hectares of pristine wilderness on Darug and Gundungurra Country, the Chalets at Blackheath are one of the most renowned luxury retreats in the region. Enveloped by dramatic sandstone formations, eucalyptus groves, and ancient Aboriginal heritage sites, guests have direct access to explore these captivating local landmarks right from the resort gates.
As a member of the Small Luxury Hotels of the World collection and a preferred partner for Blue Mountains stays under the Hyatt banner, Chalets at Blackheath is known for its distinctive blend of style, impeccable service, and refined sophistication. Amidst this extraordinary natural setting, you can revel in an unparalleled alpine experience within the heart of the UNESCO world-heritage-listed national park. Book your stay at Chalets at Blackheath.
---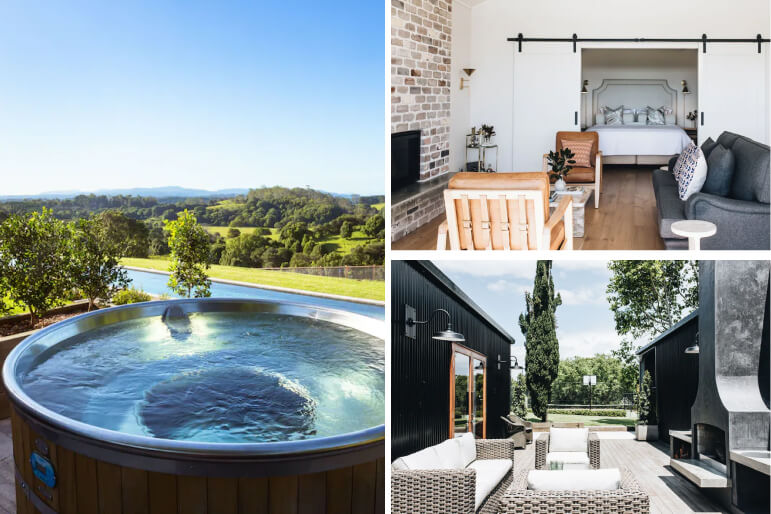 The Brooklet, Byron Bay Hinterland
The Brooklet is an enchanting enclave of luxe villas, wellness, and hospitality near Byron Bay. Here you can unwind surrounded by the sprawling expanse of the tranquil Byron Bay hinterland, where rolling hills, breathtaking sunsets, serenity, and pure country air await.
Perched high on the hinterland crest, this sprawling 125-acre estate offers a harmonious blend of sumptuous accommodation options, wellness amenities, and communal spaces. It's a place where you'll find not only the comforts of home, but also a heightened sense of boundless potential and discovery, comfortable in the knowledge that your every need has been catered for. Book your stay at The Brooklet.
---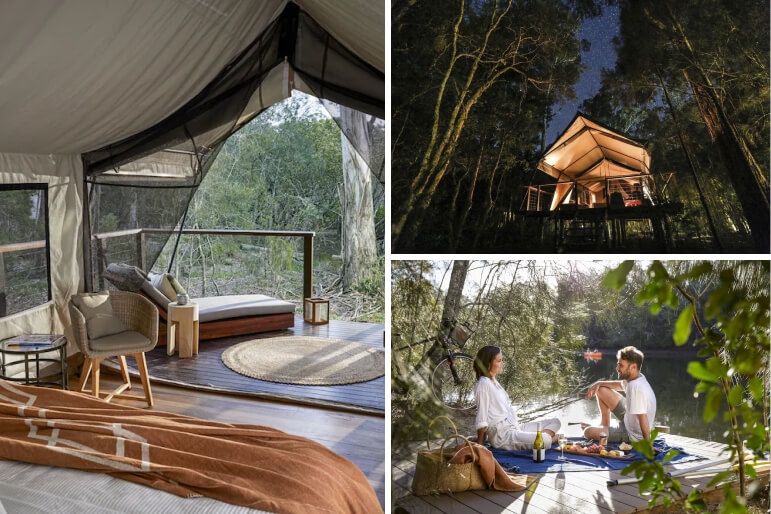 Paperbark Camp, South Coast NSW
An acclaimed eco-friendly glamping haven nestled in the heart of enchanting Jervis Bay, Paperbark Camp is always a favourite for couples. Spread across sprawling acres of pristine bushland, an array of luxe safari-style tents await your selection.
For those seeking the ultimate romantic indulgence, the "King Deluxe" safari tent beckons. It boasts two spacious king beds, inviting outdoor lounges, an ensuite with a double vanity and a sunken bath, along with a separate al fresco bush shower. And if complete rejuvenation is on your agenda, don't miss the opportunity to indulge in one of Paperbark's massage or beauty treatments. Book your stay at Paperbark Camp, or discover more glamping spots in Australia for a more unique intimate escape.
---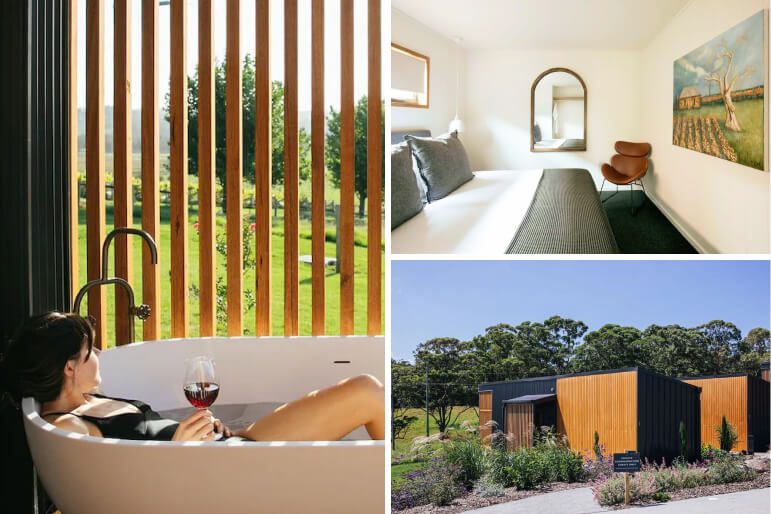 Cupitt's Estate, South Coast NSW
Cupitt's Estate is a hidden gem nestled on the picturesque NSW South Coast, between historic Milton and the renowned Mollymook Beach. This relaxing haven combines an award-winning restaurant, a boutique winery, a brewery, and a collection of luxe one-bedroom villas, providing everything you need for a romantic country getaway in the one spot.
The villas promise an unrivalled experience, featuring inviting interiors, top-tier amenities, elegant furnishings, and captivating rural vistas. We highly recommend the Estate Villas with an outdoor bath on the deck for an added touch of romance. Book your stay at Cupitt's Estate.
---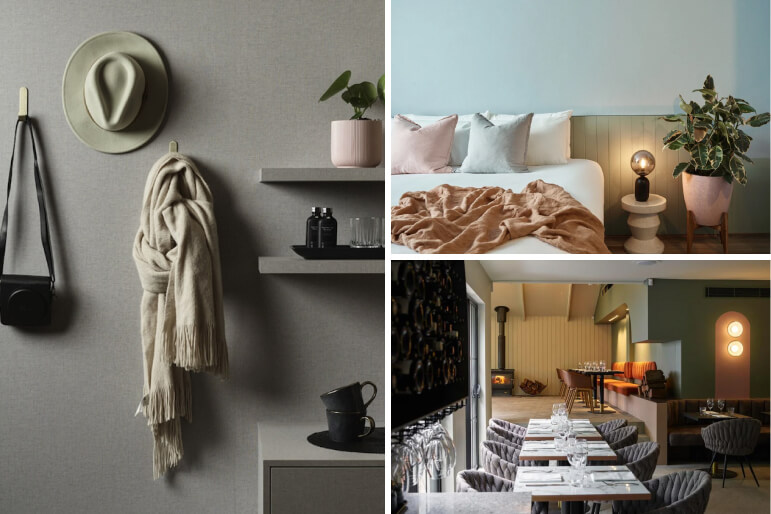 Kyah Boutique Hotel, Blue Mountains
Experience a fresh perspective on Blue Mountains accommodation at Kyah Boutique Hotel. Infused with the spirit of Palm Springs, Kyah is a sanctuary of adventure, tranquillity, excitement, and romance.
From its humble motel roots, the property has been transformed with a fresh contemporary aesthetic and a touch of old Hollywood allure—striking the perfect balance between minimalism and playful charm. Nearby there are plenty of beautiful walks and hikes, ensuring you can surround yourself in the stunning mountain vistas. Book your stay at Kyah.
---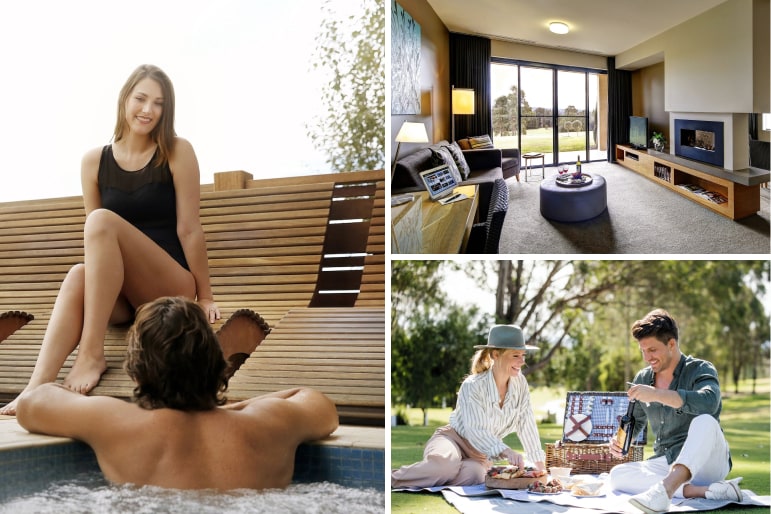 Chateau Elan at The Vintage, Hunter Valley
Surrounded by rolling vineyards and overlooking manicured fairways, Chateau Elan at The Vintage is an award-winning golf and spa resort in the beautiful Hunter Valley. Make your stay even more relaxing with pampering treatments at the day spa that has 17 treatment rooms, or perhaps visit the Hydro Lounge and Deck Area where 2 outdoor mineral spas await. These mineral spas help reduce muscle aches and aid with detoxification, paving the way for sweet slumber in your suite.
Here, you can choose from luxury spa suites and self-contained villas that promise absolute comfort and total privacy. Book your stay at Chateau Elan.
---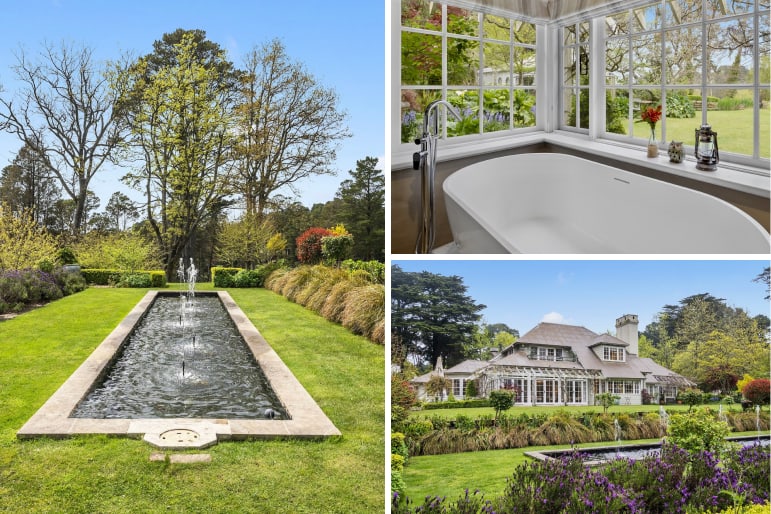 Parklands Country Gardens and Lodges, Blue Mountains
If you feel like channelling a European holiday without leaving the country, we have just the escape for you. Just an hour and forty-five minutes from Sydney, Parklands Country Gardens and Lodge offers a warm and inviting escape reminiscent of a European estate, adorned with charming country interior design. As you arrive, the picturesque Grose Valley unfolds before you, accompanied by the soothing sounds of wildlife, and you can choose from 28 spacious guestrooms spread across seven garden cottages.
Each room boasts expansive views of the beautifully landscaped grounds, soft furnishings, elegant decor, and a spacious bathroom featuring a double shower with a rain shower and a gas fireplace for added cosiness. The lodge provides three dining spots, including the award-winning restaurant, Darley's, and a bar too. Our favourite spot? The on-site Parklands Day Spa. Here you can experience pampering and ultimate relaxation inside one of two spacious double treatment rooms or two single treatment rooms, and the private steam room. Book your stay at Parklands Country Gardens and Lodge.
---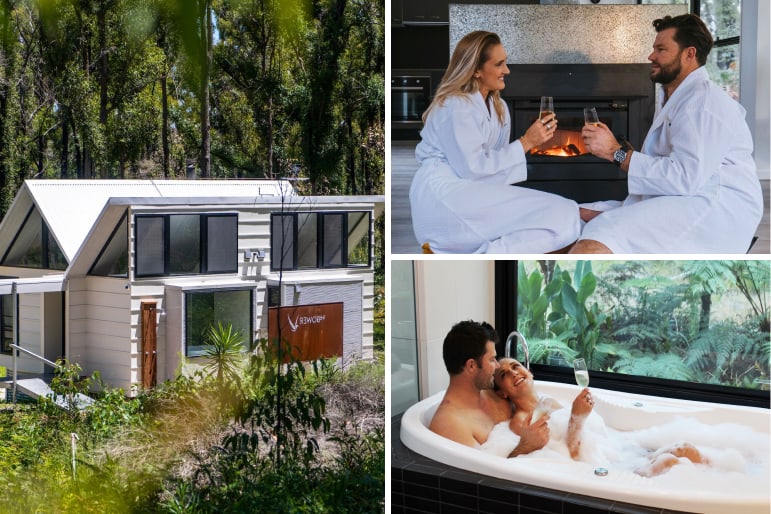 The Bower at Broulee, South Coast
The Bower at Broulee offers an intimate bushland retreat with five free-standing bowers, thoughtfully designed for couples seeking maximum privacy in the heart of nature. These stylish self-contained cabins provide the ideal setting for a romantic getaway, complete with in-room massages, a spa tub for two (with outdoor views), and a cosy fireplace. The tranquil surroundings make it one of our top picks for romantic getaways in NSW, allowing you to reconnect and create cherished moments with your loved one.
While here, prepare to be surprised by a wonderful array of avian visitors flitting around the area and enjoying the birdhouses thoughtfully placed for them. Plus, you're just a little over a kilometre away from the picturesque Broulee Beach, offering the perfect blend of nature and relaxation. Book your stay at The Bower at Broulee.
---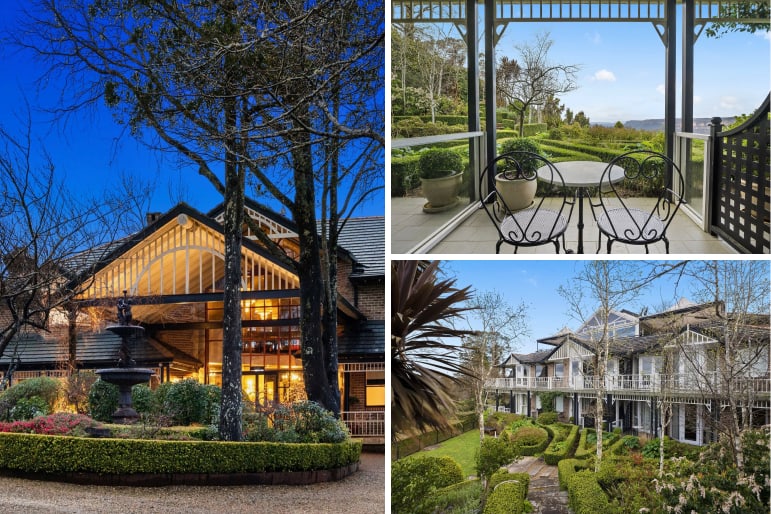 Echoes Boutique Hotel and Restaurant, Blue Mountains
Perched above the picturesque Jamison Valley, Echoes Boutique Hotel and Restaurant invites you with breathtaking views of the Blue Mountains in each of its 14 guestrooms. Apart from the awe-inspiring scenery, you can also rejuvenate your senses at Echoes Spa, where you can indulge in an extensive range of therapies and pampering treatments, from body treatments to facial and massage therapies.
Savour romantic fine dining with mountain views at the on-site restaurant and bar that features semi-open areas and panoramic views of the mountain ranges beyond. For a deeper connection with nature, take a short 15-minute walk to Katoomba Falls or revel in the majestic beauty of the Three Sisters Walk, a popular spot to soak in the sights. Book your stay at Echoes Boutique Hotel and Restaurant.
---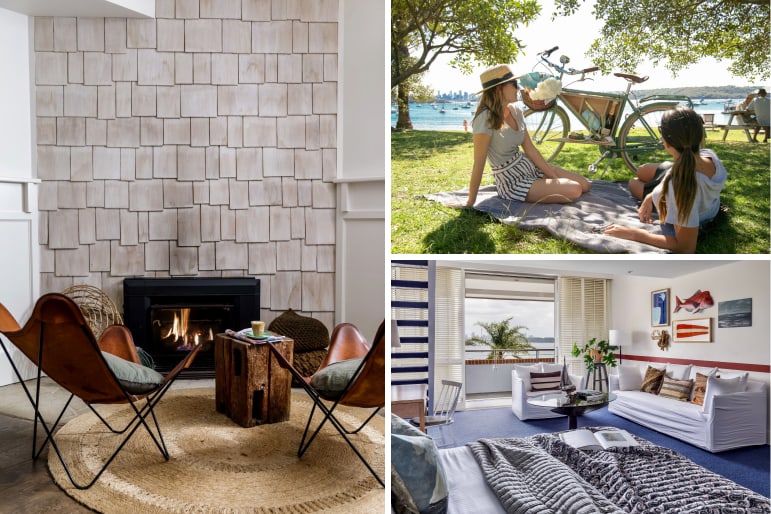 Watsons Bay Boutique Hotel, Sydney
For those seeking an idyllic escape close to Sydney, Watsons Bay Boutique Hotel offers a slice of endless summer, postcard-perfect panoramas, and unhurried happiness. This boutique accommodation nestled on the shores of stunning Sydney Harbour boasts only 32 rooms. For longer romantic escapes, we recommend the apartment-style suite, perfect for up to two guests, with a king bed, a fully equipped kitchen, a spacious lounge and dining area, and an elegant marble ensuite bathroom featuring a separate bath and shower. Another indulgent choice is the Grand Harbour Suite, perched on the top level and offering a wrap-around balcony with unrivalled panoramic views of Watsons Bay and the Sydney CBD skyline, a king bed, a separate lounge area, and a lavish marble ensuite with double basins, and a separate bath and shower.
While at Watsons Bay, you can enjoy picnics by the scenic waterfront, with nearby parks and walking trails. Savour delightful cuisine either by ordering from the hotel's takeaway kiosk or indulging in all-day dining on-site. It's the perfect destination for those seeking elegant rooms with beautiful water views and a tranquil atmosphere. Book your stay at Watsons Bay Boutique Hotel.
---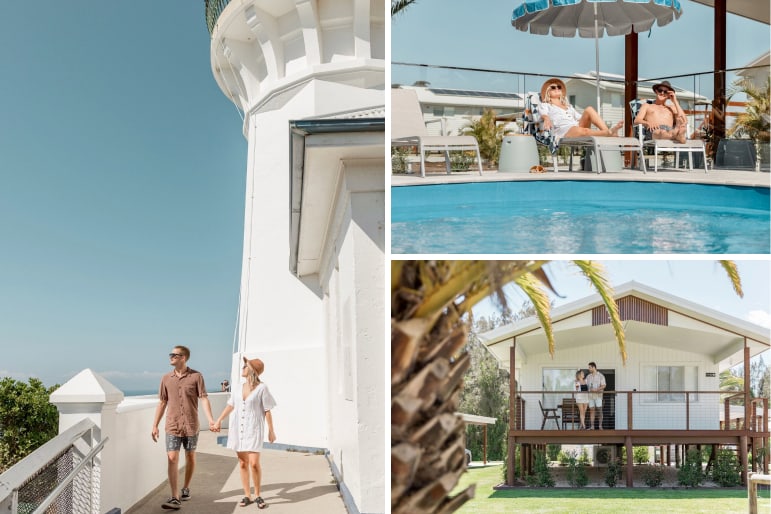 Salt at South West Rocks, Mid-North Coast
Neutral, bright, coastal chic? Sounds wonderful to us! At Salt at South West Rocks, the calming colour palette combined with wood accents set the mood for relaxation. When you make yourself at home in one of the 9 villas on the private gated grounds, you'll immediately feel that sense of tranquillity. Each of the villas has fully-furnished kitchens, a private deck, access to the pool and BBQ areas, and great views of Macleay Island.
During your romantic getaway, make some time to visit the nearby Smoky Cape Lighthouse—a heritage-listed and active lighthouse which is just a short drive away. Book your stay at Salt at South West Rocks.
---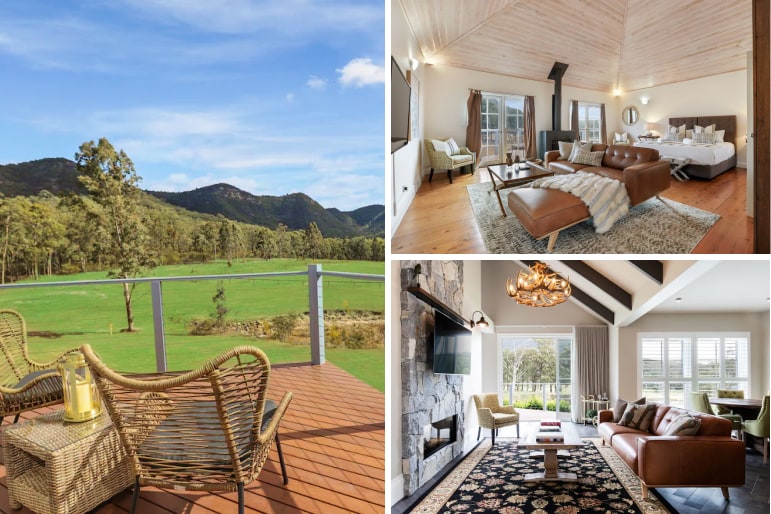 Brokenback Views Country Estate, Hunter Valley
Set in the heart of Pokolbin, near Roche Estate and the Hunter Valley's renowned wineries such as Roche Estate, Hope Estate, Audrey Wilkinson, Brokenwood, Lakes Folley, and Tulloch Wines, Brokenback Views Country Estate boasts nine individually designed luxury villas that offer self-contained accommodations with breathtaking views of the lake and the picturesque Brokenback Ranges. Each villa features a well-equipped kitchenette with a microwave, toaster, and kettle, as well as a modern bathroom with a separate deep-soaking bath, providing guests with ultimate relaxation.
Whether you're here to unwind and enjoy undisturbed mountain views or explore the wine country, Brokenback Views offers a tranquil haven close to all the region's attractions. Set on 47 acres and spaced out for privacy, you'll have plenty of space to enjoy tranquillity and each other's company. Book your stay at Brokenback Views Country Estate.
---
Find your perfect getaway in New South Wales
Discover over 250 handpicked hotels, resorts & private villas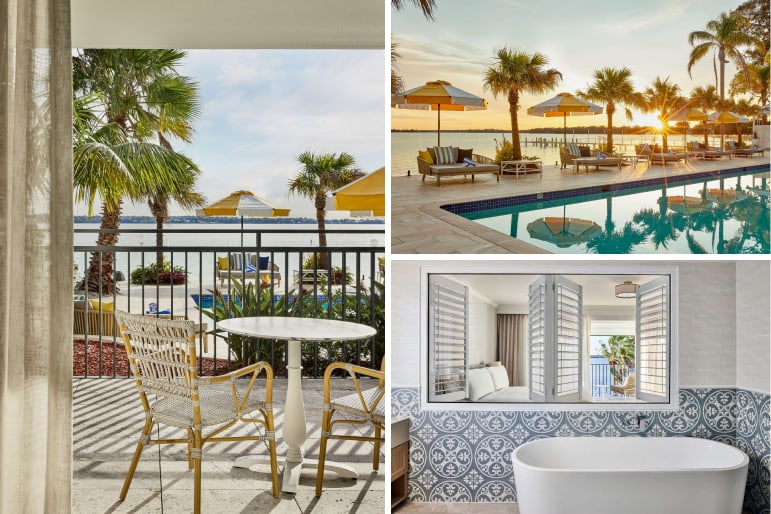 The Beachcomber Hotel & Resort, Central Coast
The Beachcomber Hotel and Resort is an iconic waterfront destination on the Central Coast in Toukley, just 5 minutes from the beach. With clean and modern Hampton-inspired interiors that exude a beachy holiday vibe, this resort offers a delightful seaside experience perfect for your romantic escape. The hotel goes beyond the ordinary with its exclusive pool club, offering a refreshing escape, and multiple eateries and bars to suit your mood, including bistro dining at The Beachie and laid-back drinks at Peachie's Bar. Plus, you'll have the pleasure of gazing out over the serene Budgewoi Lake, completing the perfect coastal getaway.
Whether you choose to relax by the outdoor pool or revel in the views from your room, The Beachcomber Hotel and Resort promises a comfy haven where you can recharge. Book your stay at The Beachcomber Hotel and Resort.
---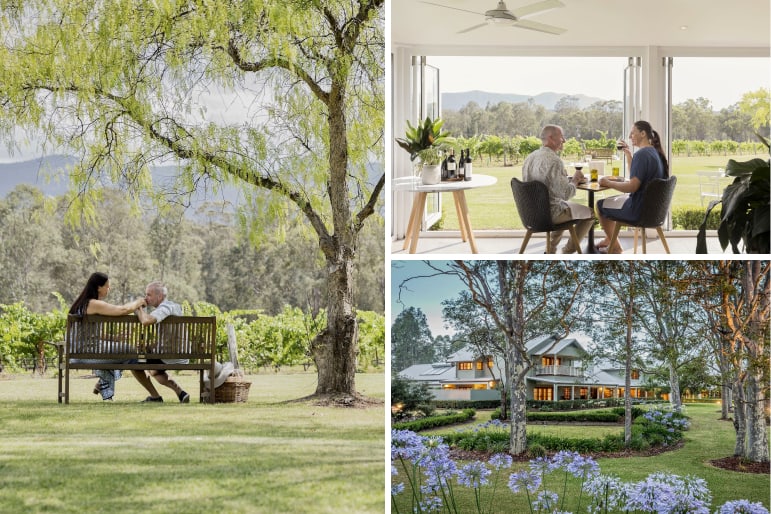 Spicers Vineyards Estate, Hunter Valley
Distinguished as the most-awarded haven for romance in the heart of the Hunter Valley, Spicers Vineyards Estate is an enchanting retreat that will captivate your senses. This idyllic estate boasts a selection of 12 luxurious suites, each thoughtfully designed with its own fireplace, setting the stage for intimate moments and cosy evenings. Guests can choose from an array of enticing accommodations, including the sumptuous King Spa Rooms, the opulent Luxury Spa Rooms, or the secluded charm of Vineyards House, all discreetly nestled within the lush expanse of the estate's 8-acre vineyard.
Indulgence extends beyond your accommodation with a culinary journey at Restaurant Botanica, where every meal is an experience, accompanied by breathtaking views of the private vineyard. As the sun sets, the estate transforms into a romantic paradise. Retreat to Spa Anise, where hot stone massages and an array of full-body treatments promise to rejuvenate your body and spirit, allowing you to embrace the tranquil beauty of the region. Book your stay at Spicers Vineyards Estate or discover our full collection of Spicers Retreats.
---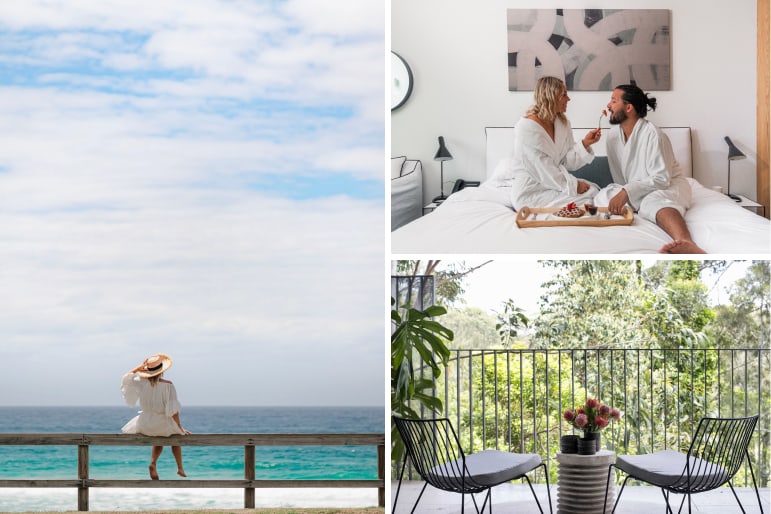 Bannisters Pavilion Mollymook, South Coast
Situated just 80 metres from the shores of Mollymook Beach on NSW's South Coast, Bannisters Pavilion Mollymook boasts stylish, beach-chic rooms and suites that are the perfect choice for a coastal getaway. The Pavilion promises a laidback escape where you can spend sunny days by the rooftop pool or casual dining and drinking in the relaxed tree-top atmosphere of The Rooftop Bar & Grill.
This NSW coastal escape is only footsteps away from the beach, and contemporary pavilions for that romantic coastal chic experience. It even has a pet-friendly option if you decide to bring your furbaby along. Book your stay at Bannisters Pavilion Mollymook.
---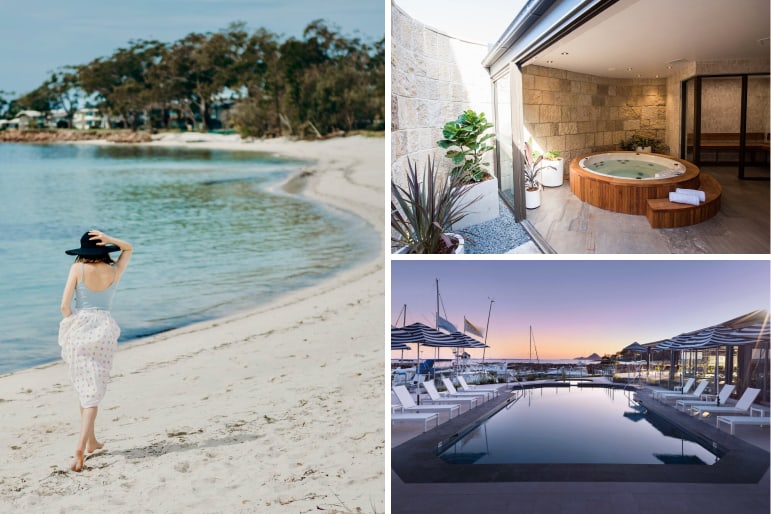 Anchorage Port Stephens
Indulge in Hamptons chic luxury and seaside elegance at Anchorage Port Stephens. Choose from a selection of exquisite guest rooms and savour world-class cuisine and all-day dining at The Galley Kitchen, Moby's Bar upstairs, and a Poolside bar that offers delectable small bites you can nibble on while relaxing on one of the sun loungers. Additionally, the insanely luxurious day spa called Spa Lucca, promises the ultimate indulgent escape, with its 2 single treatment rooms, 2 double treatment rooms, a lavish whirlpool, a steam room, and a private relaxation lounge (be sure to book ahead for your spa experience).
Corlette Beach is just a barefoot stroll away, making this a romantic destination where you can relax and reconnect with your significant other. Located 2.5 hours from Sydney, Anchorage Port Stephens is a chill coastal getaway where you can escape from it all. Book your stay at Anchorage Port Stephens.
---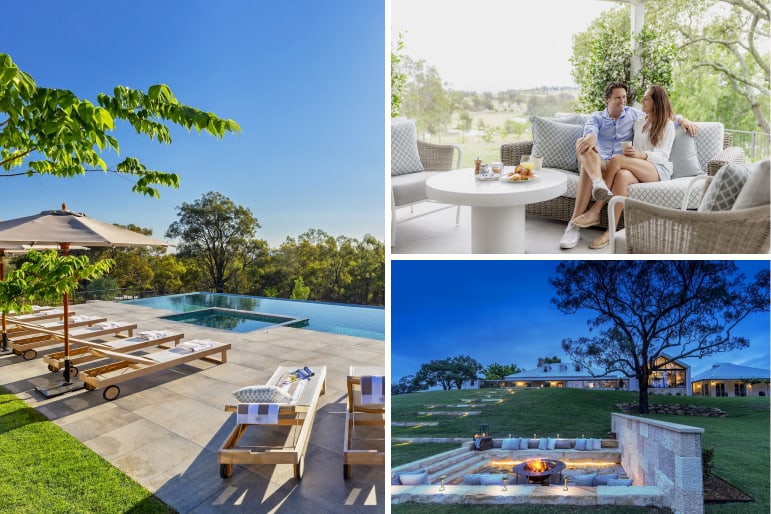 Spicers Guesthouse, Hunter Valley
Spicers Guesthouse is the epitome of laid-back, contemporary farmhouse-style luxury accommodation. With 45 rooms and five unique room types, this boutique hideaway offers a range of choices for you and your special someone while maintaining an intimate and more exclusive atmosphere. You can savour world-class food and wine and satisfy your culinary cravings at the modern Italian restaurant, èRemo while enjoying the backdrop of picturesque vineyards and rolling mountain ranges, or enjoy a range of activities during your stay. Explore the grounds with the complimentary bicycles, have a friendly tennis match on-site, relax in the swimming pool, or if you're up for a bit more adventure, thrilling helicopter and hot air balloon rides can also be arranged.
With Newcastle Airport just an hour away and Sydney Airport a convenient two-hour drive, Spicers Guesthouse provides an accessible escape in the heart of wine country. Book your stay at Spicers Guesthouse or discover our full collection of Spicers Retreats.
---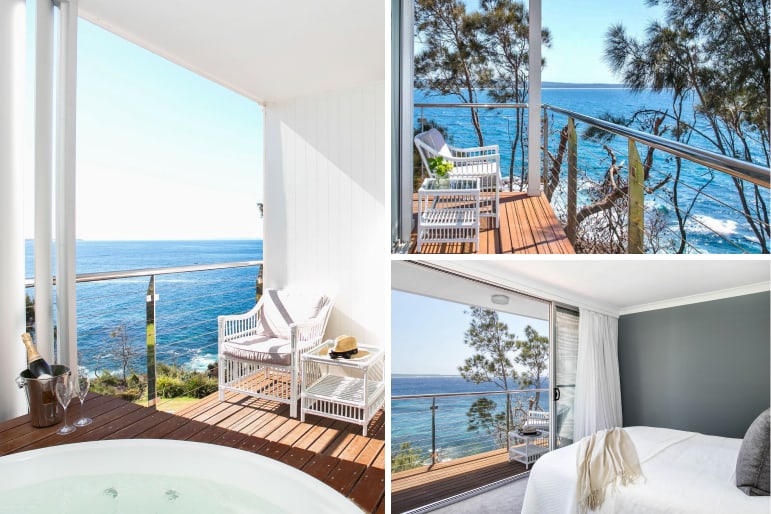 Bannisters by the Sea Mollymook, South Coast
Enjoy breathtaking panoramic ocean views from the edge of the cliffside infinity pool at Bannisters by the Sea, Mollymook. The charming, airy, and bright boho-coastal interiors of the rooms and suites coupled with the distant sounds of crashing waves and ocean breeze make for a totally relaxing experience. At the hotel's Spa by the Sea, you can unwind and restore balance while surrounded by nature.
Pictured above on the left is the Spa Retreat with the double spa bath, and on the right, the balcony and bedroom of the Luxury Suite. Book your stay at Bannisters by the Sea Mollymook.
---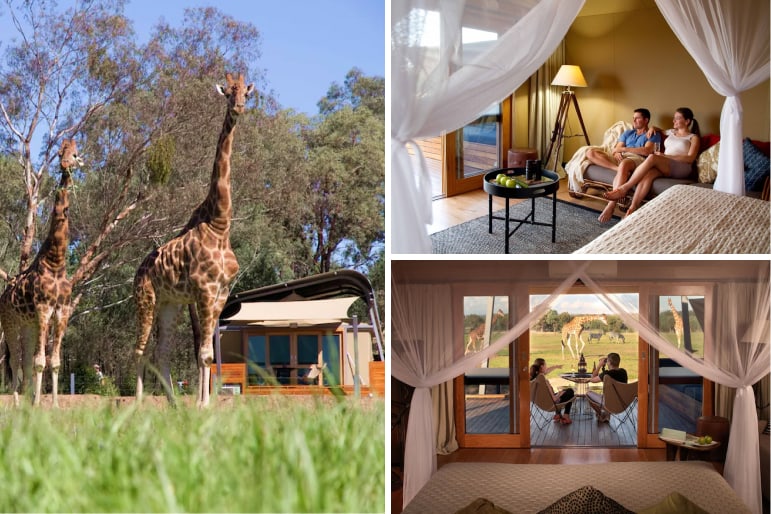 Zoofari Lodge, Taronga Western Plains
Looking for a more unique and a touch of wilderness for your next romantic getaway? Zoofari Lodge in Taronga offers an up-close-and-personal experience with giraffes, zebra, antelope and rhinos while treating you to a safari-style hideaway. Much like an African safari experience, you can wake up in the wild without leaving the country. The Zoofari Experience is inclusive of a 1-night stay inside a safari-style canvas lodge, dinner, and breakfast. Inside your tent, enjoy air conditioning and heating, and a private bathroom.
For a romantic getaway, we suggest the cosy Animal View Lodge (pictured above) which comes equipped with a relaxing deep soaking bathtub too. Book your stay at Zoofari Lodge and experience romance with a sprinkling of the wild.
---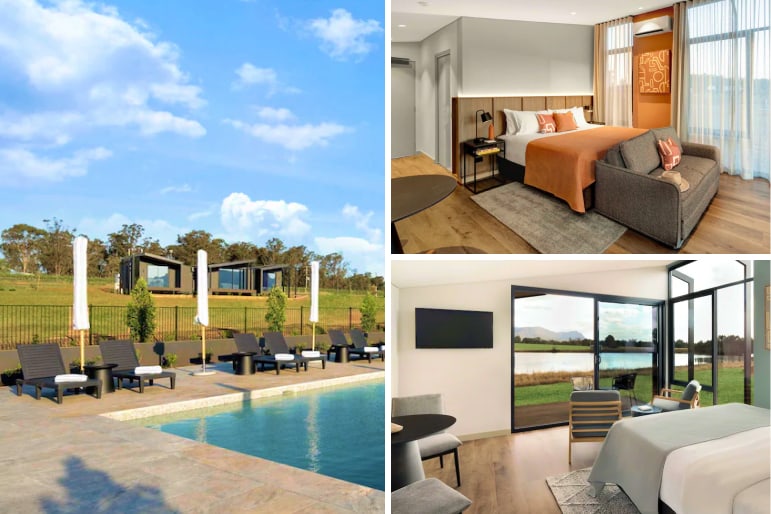 The Lane Retreat, Pokolbin
One of the newest accommodations in Pokolbin (opened in the spring of 2023), The Lane Retreat is a contemporary boutique accommodation that offers 60 contemporary studio rooms set on one of Bimbadgen's award-winning vineyards on Palmers Lane. You'll find yourself amidst 15 hectares of tranquil bushland with views of the Brokenback Ranges, and plenty of space and fresh air to enjoy. During your stay, you'll have access to the outdoor pool and you'll be within just 3 minutes away from award-winning restaurants in the area such as Esca Bimbadgen Restaurant and Bimbadgen Wood Fire Pizza and Cellar Door.
Sounds like a sweet escape in the wine capital of the Hunter Valley, right? Book your stay at The Lane Retreat.
---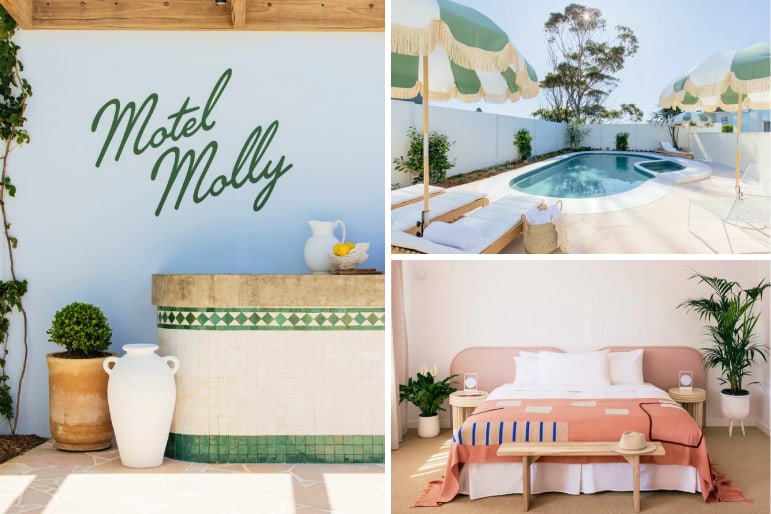 Motel Molly, Mollymook
If you love a laid-back boutique vibe that makes you think of endless summer, you're going to love the atmosphere and design style at Motel Molly. Only steps away from Mollymook's famous beach, Motel Molly is a charming escape with Moroccan-inspired décor and a pastel colour palette that helps set that relaxed and romantic mood. Here, you'll experience laid-back and playful luxury; from the choice of prints, textures, and furniture, Motel Molly captures that carefree feeling that will easily put you into holiday mode.
On-site, enjoy Moroccan-style sunken baths, outdoor dining under the cabana, BBQ facilities, an outdoor swimming pool, as well as a beverage and snack vending machine. After a stroll through the olive trees in the manicured gardens, spend quiet time with your special someone in your suite with ocean or garden views. Book your stay at Motel Molly.
---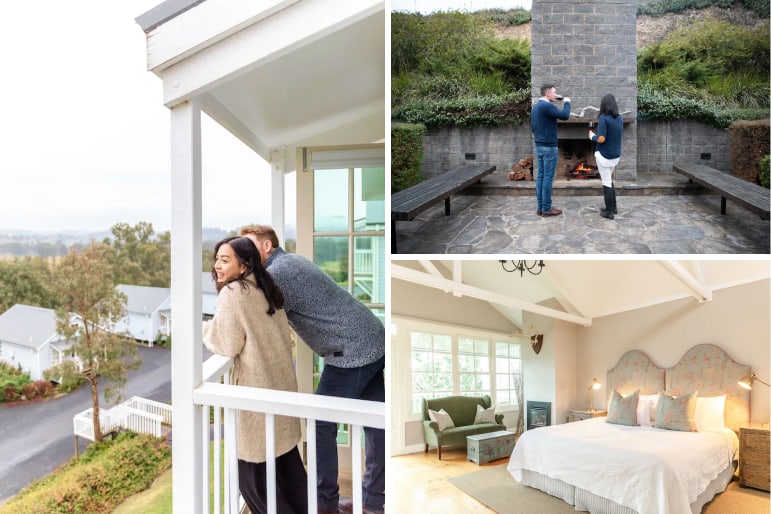 Nimbo Fork Lodge, Killimicat
Sometimes, it takes a little hideaway tucked in a national park to feel ask if you've escaped the world… Wake up to misty mornings and cosy up in your private cottage at Nimbo Fork Lodge at the northern end of Kosciuszko National Park. Here, you and your special someone can enjoy a serene location with an outdoor fireplace, lounge bar, and refined dining at Three Blue Ducks. During your romantic escape, you can also enjoy activities such as bushwalking, horseback riding, fishing, or simply having a picnic by the nearby river.
For your intimate getaway, we suggest booking one of the luxury riverside cottages which are standalone buildings for maximum privacy and a charming home away from home feeling. Book your stay at Nimbo Fork Lodge.
---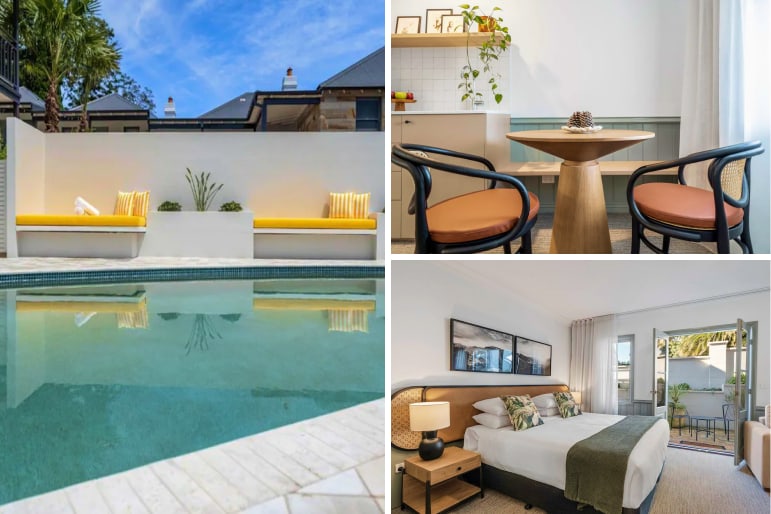 Wildes Hotel, Kangaroo Valley
If you and your significant other are wilderness lovers, you're in for a treat. Drive inland and find the perfect haven for relaxation after an adventure-filled day exploring the Kangaroo Valley. Wildes Hotel features 26 chic boutique-style studios and suites that channel a South Californian feel designed to indulge your adventurous spirit. Whether you prefer a leisurely stroll in the village or perhaps more adventurous excursions such as kayaking, gorge experiences, and mountain bike trails, there's an activity here for you.
Choose from a range of rooms and suites that this Kangaroo Valley escape has to offer and book your stay at Wildes Hotel.
---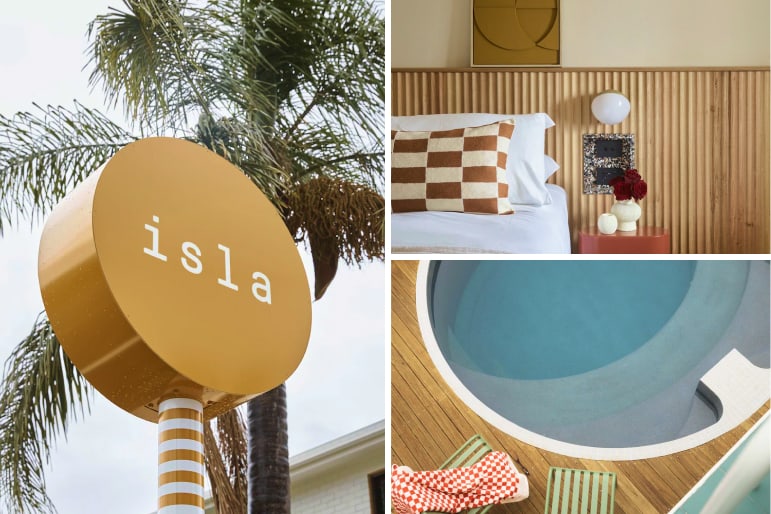 The Isla, Batehaven
A chic, design-driven boutique motel, The Isla immerses you in the stunning coastal vistas, delightful eateries, and iconic landmarks along the South Coast of NSW. Its suites boast regal king-sized beds, handcrafted oak furnishings, and subtly gleaming brass accents, collectively crafting a welcoming and cosy ambience. We're particularly fond of the laid-back and soothing ambience that characterizes this fashionable boutique inn and we think it's a wonderful choice for your next romantic getaway in NSW.
If you're inclined towards exhilarating surf adventures, nearby South Broulee Beach offers incredible waves to ride. For those seeking a more intimate and tranquil experience, McKenzie's Beach, a partially enclosed haven, is perfect for snorkelling and unwinding. Both destinations are conveniently within a 25-minute drive. Book your stay at The Isla.
---
Looking for more romantic getaways in NSW? View all luxury accommodation in New South Wales.
Image credit: Chalets at Blackheath