Standing in the shadow of Sydney and Melbourne no more, Brisbane offers a hip city escapade and boasts a thriving cultural and food scene. But if you are looking for weekend getaways from Brisbane with a less frenetic pace, drive only a few hours from Brisbane and the options become incredibly diverse. From serene hinterlands and charming countryside villages to sun-drenched beaches and coastal towns, take your pick from our list of the best weekend getaways from Brisbane.
Noosa
Want to spend your weekend with calming beach vibes and a refined, relaxed, and friendly atmosphere? Noosa is the place to be. There is a wide range of accommodation in Noosa, and we've selected the best ones for your weekend getaways. Be minutes (or seconds) away from the beach, a plethora of cafes and restaurants, and enjoy the laidback vibes and all the good things in life.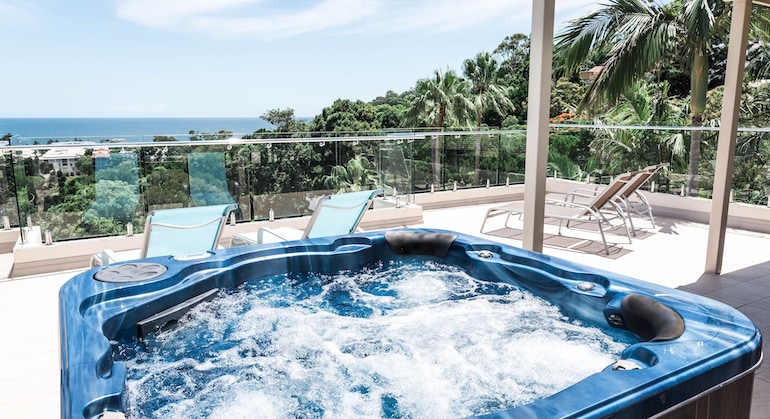 Noosa Crest, Noosa Heads
Relax in the serenity of a private rainforest on the edge of Noosa River with a stay at Noosa Crest. It's also just a short walk from Main Beach and Hastings Street where you can enjoy a selection of fine dining and al fresco cafes.
---
---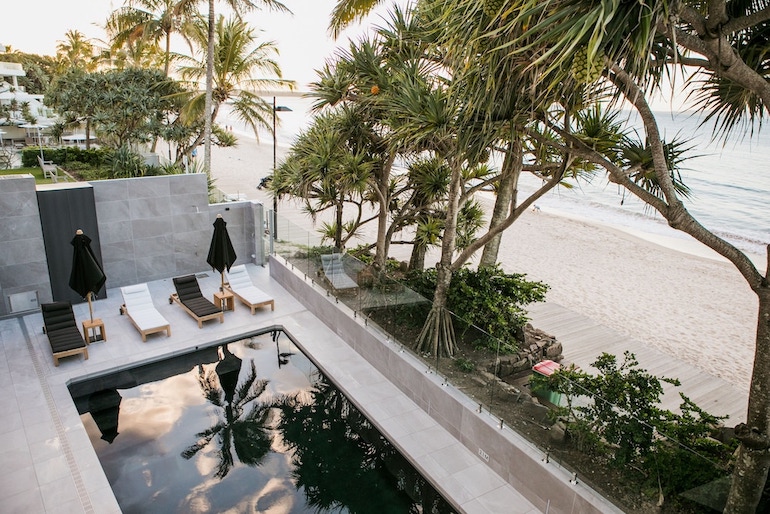 On The Beach Noosa, Noosa Heads
Coastal interior design taking inspiration from its surroundings, On the Beach Noosa has exclusive luxury beachfront penthouses and apartments that will refresh your senses. All have stunning ocean views, spa baths and private balconies!
---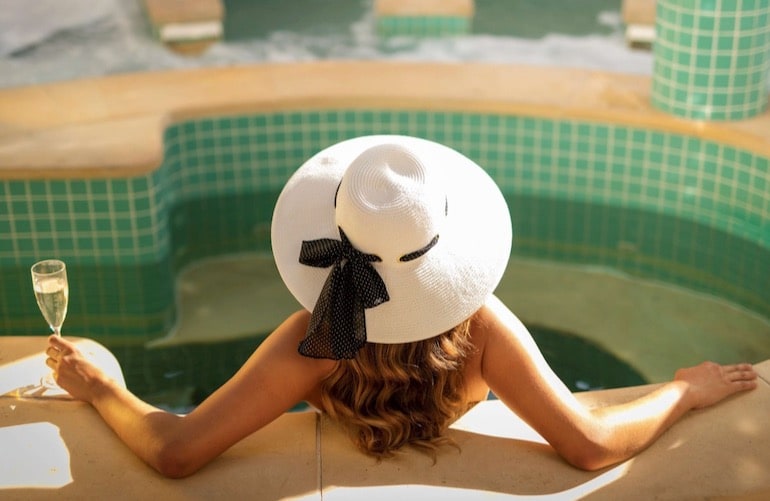 Sofitel Noosa Pacific Resort, Noosa Heads
Located on Hastings Street, Sofitel Noosa Pacific Resort is a luxe accommodation with a relaxed beach vibe in the middle of Noosa Heads. Only minutes away by foot from the beach, this 5-star hotel offers urban sophistication and coastal tranquillity.
---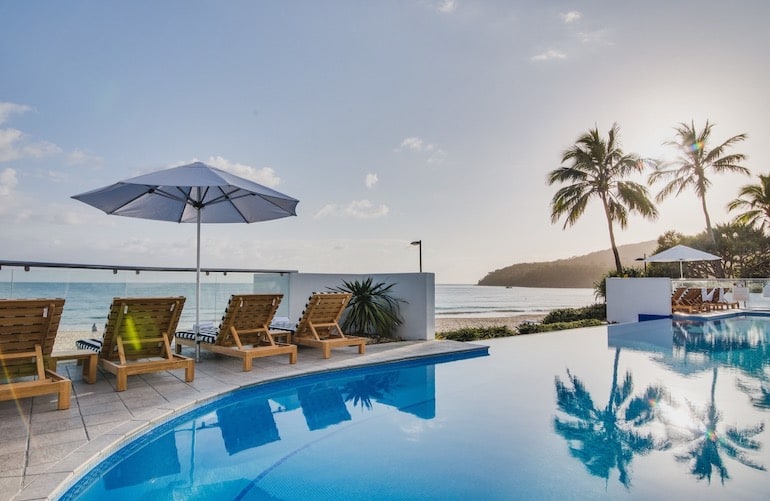 Tingirana Noosa, Noosa Heads
Situated between Hastings Street and Noosa Beach, Tingirana Noosa's luxury 1- and 2-bedroom apartments overlook the beautiful Laguna Bay. Enjoy a laid-back weekend getaway and have brunch at some of the best Noosa restaurants and cafes nearby.
---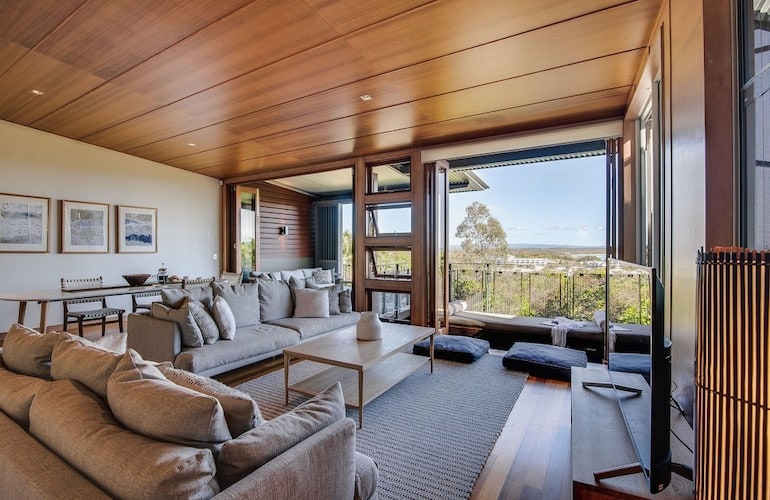 Noosa Residences, Noosa Heads
Spend your weekend in Noosa Residences, a stay nestled between the glittering ocean and the lush hinterland. Its cosy boutique charm will set the mood for that ultimate weekend relaxation. Chill out in the pool or enjoy quiet time on your balcony!
---
Sunshine Coast
The Sunshine Coast is dubbed "the most loved destination in the world" for many great reasons! Here, you can experience barefoot luxury on sandy golden shores, or be in the midst of the verdant rainforests—all within minutes away of the city's modern comforts. Elevate your weekend getaway with a stay at one of our handpicked retreats where you can indulge your senses and experience undisturbed peace and quiet.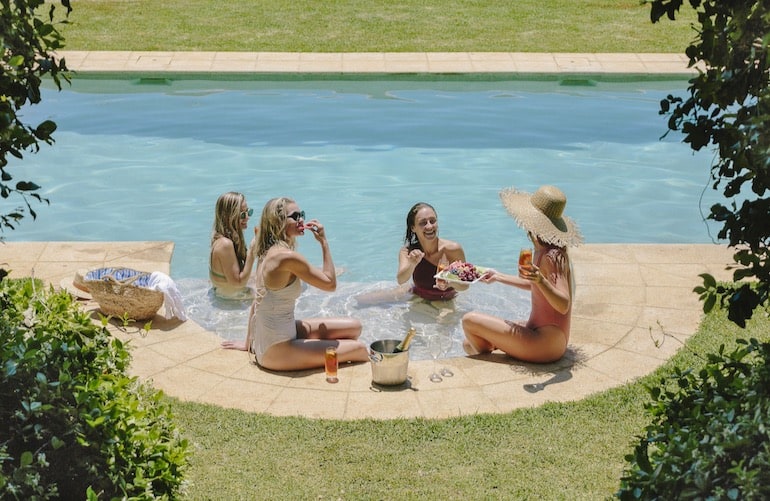 Spicers Clovelly Estate, Montville
Be surrounded by shaded jacarandas, grand figs, and groves of fragrant gardenias and magnolias at Spicers Clovelly Estate, a boutique hillside retreat with European-luxe-style interiors located in the serene Sunshine Coast hinterland.
---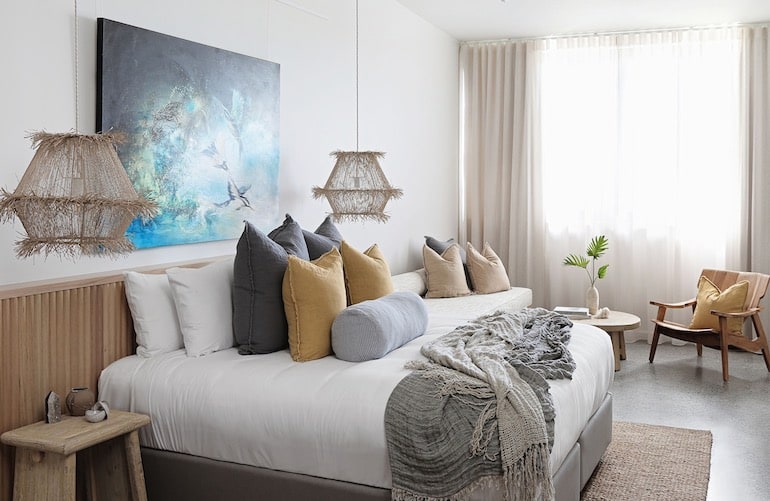 HOLA Eumundi
HOLA (House of Modern Art) Eumundi is a boutique getaway in the creative heart of the Sunshine Coast. Celebrating the talents of local artists, the interiors are adorned with unique pieces that give a rich character to its interiors. If you're looking for chill weekend getaways from Brisbane, HOLA Eumundi's neutral colour palette will set that relaxed vibe.
---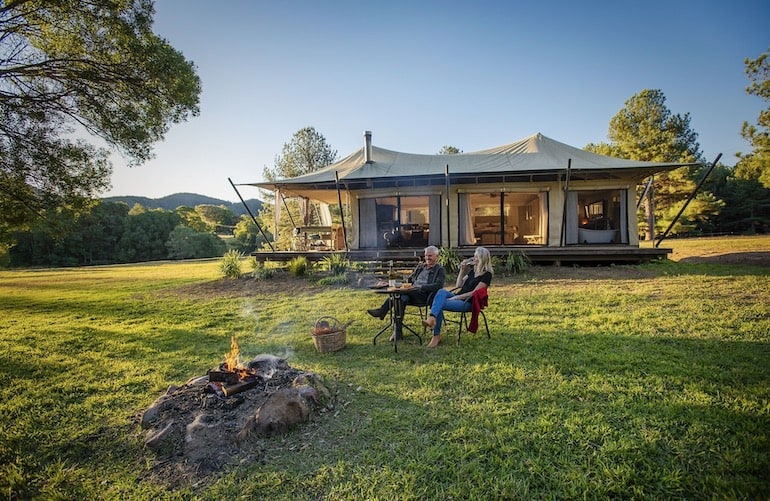 Kanimbia Luxury Glamping, Obi Obi
At Kanimbia Luxury Glamping, you'll feel like you're worlds away under a tent canopy while you relax and take in the sounds of nature surrounding you. Enjoy bespoke luxury and an elevated camping experience under the stars when you book a stay.
---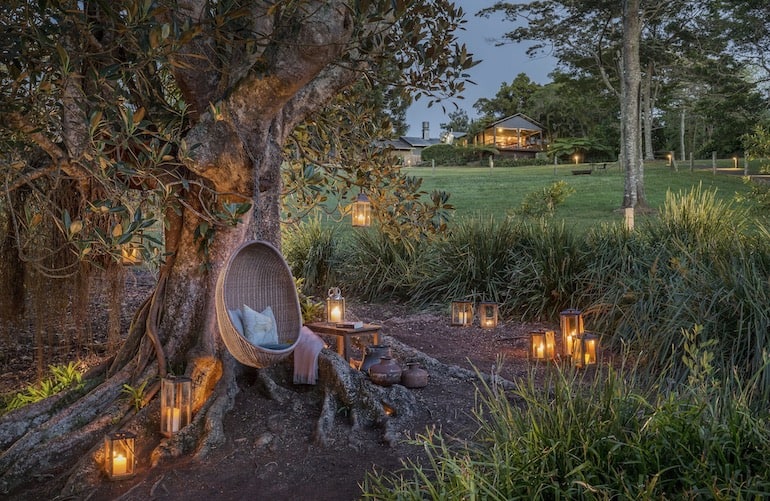 Spicers Tamarind Retreat, Maleny
An Asian-inspired getaway set in a quiet and rejuvenating rainforest in Maleny, Spicers Tamarind Retreat displays a convergence of Western luxe and Asian serenity. We love the cedar hot tubs and private verandas with lush rainforest views.
---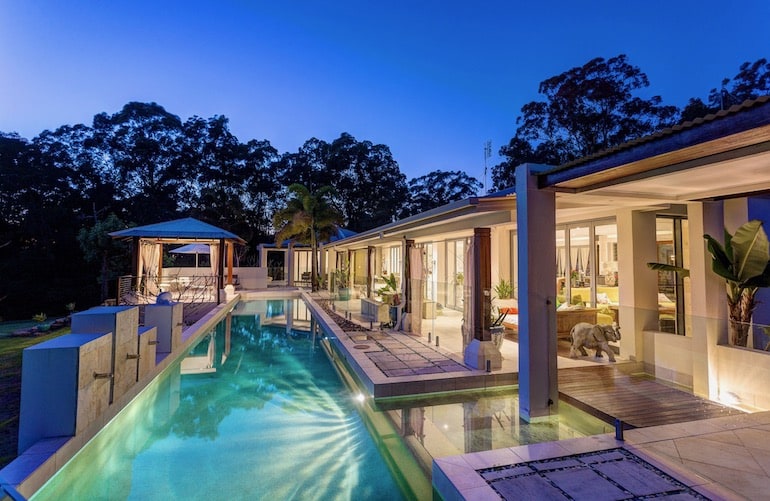 Alaya Verde, Ringtail Creek
Indulge in the tranquillity of Alaya Verde's private luxury pavilions. Enjoy exclusive luxe vibes in 1 of only 3 private pavilions with private outdoor bath areas where you can relax and reconnect with nature. It's one of the best weekend getaways from Brisbane and is only 15 minutes away from Noosa!
---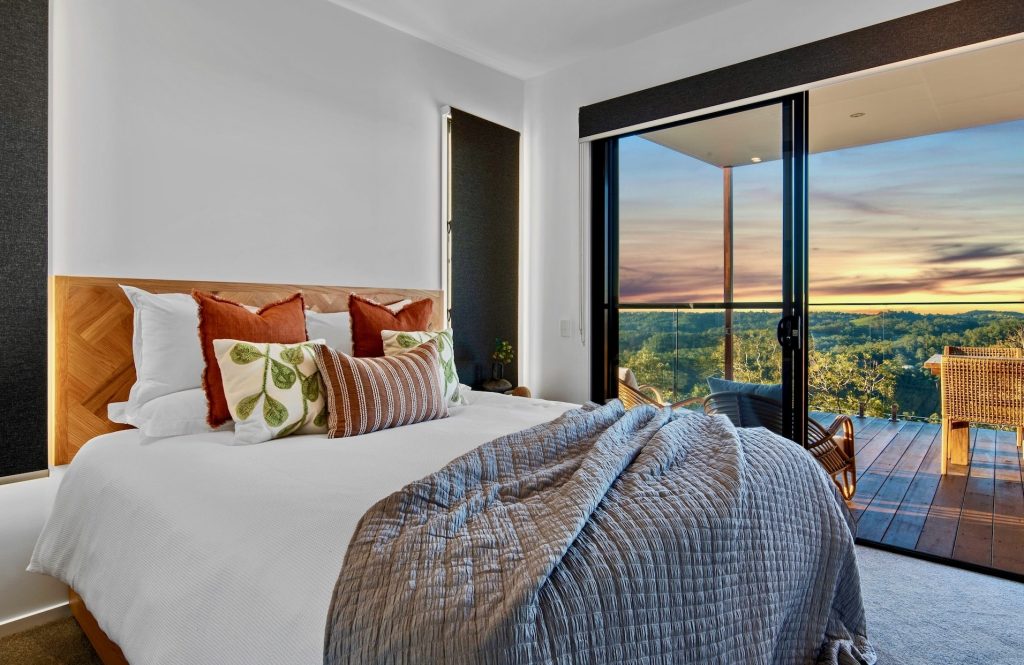 The Ridge at Maleny
The Ridge at Maleny is a serene mountain getaway that lets you enjoy intimate and luxurious villa and cabin accommodations. Set amidst the Sunshine Coast hinterland, this luxe boutique escape has 14 contemporary self-contained units, each with a cosy atmosphere, a fireplace, and a fully-equipped kitchen. The beautifully designed villas and cabins are perched on the ridge in a secluded location, giving guests plenty of fresh mountain air and undisturbed views.
---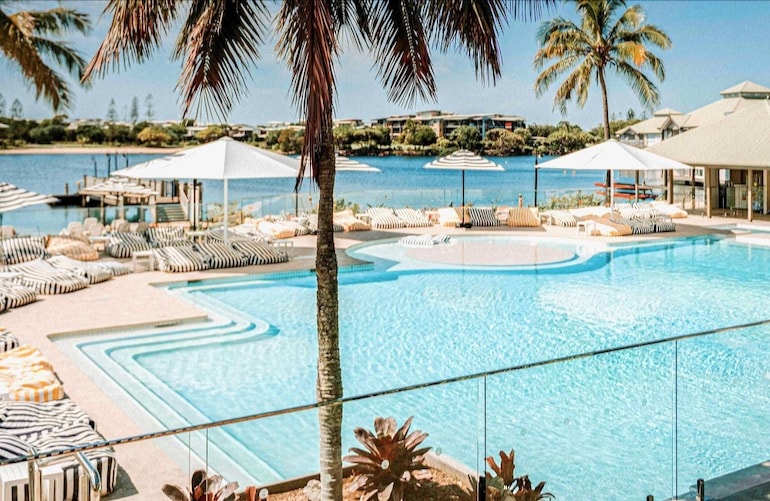 Novotel Sunshine Coast Resort Hotel, Twin Waters
Can't decide between the calming shorelines or quiet bushland? Novotel Sunshine Coast Resort Hotel has both! Chill out at the private beach-lined lagoon or enjoy the bushland surrounds from your bungalow. Psst! They have overwater bungalows!
---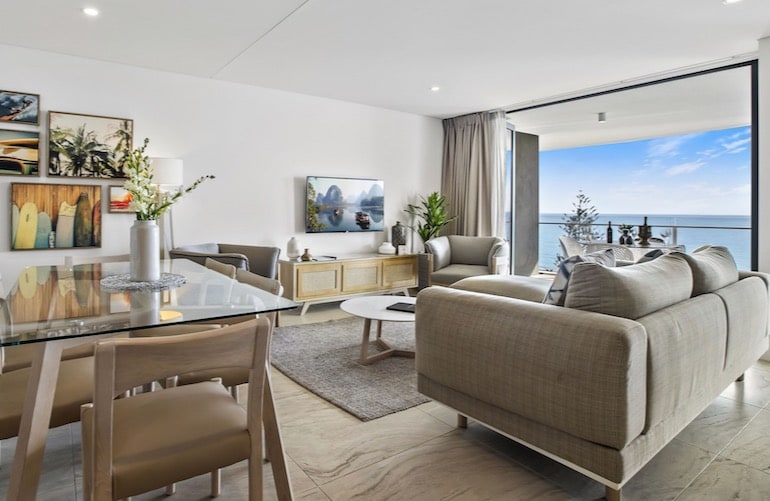 Breeze Mooloolaba
Breeze Mooloolaba offers a relaxing getaway close to the restaurants, cafés, shops and other attractions of Mooloolaba Esplanade. Only metres away from the beach, its sophisticated interiors and private balconies help you escape to ultimate relaxation.
---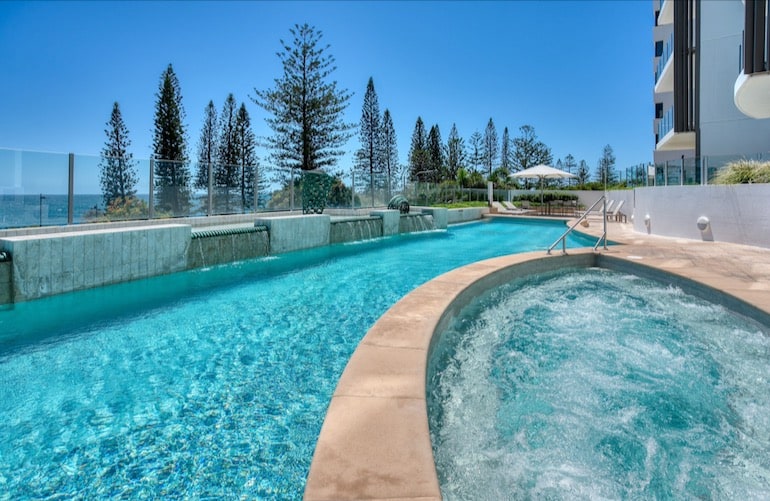 Oceans Mooloolaba
Feel the fresh ocean breeze on your next weekend escape at Oceans Mooloolaba. Enjoy expansive views of the ocean as you chill out on the roof deck or lounge by the pool. We love the theatre that can seat up to 14 people. Bring out the popcorn!
---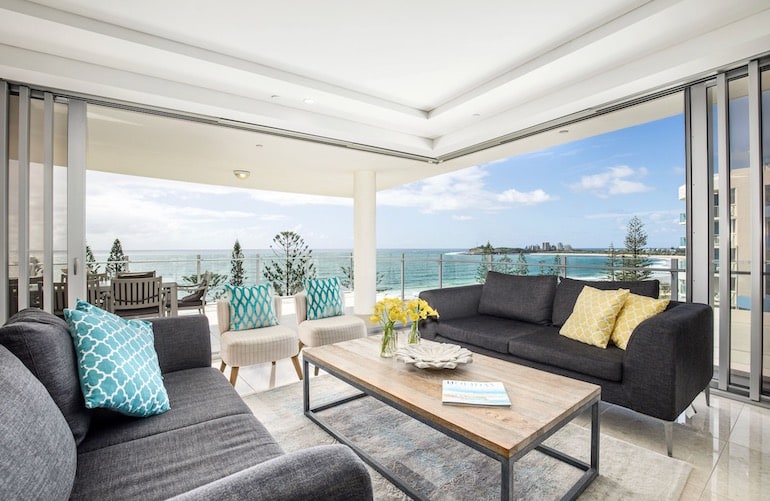 Sea Pearl Resort Mooloolaba
A 5-star getaway on the Sunshine Coast, Sea Pearl Resort Mooloolaba is a dreamy hotel by the sea with a heated pool, day spa, and private cinema. They also have a gym and sauna if you would like to sweat it out before relaxing on your plush bed.
---
Broadbeach
Broadie has a fun, vibrant, and upbeat energy perfect for when you're looking for a perky weekend getaway. We love exploring the many different bistros and brasseries so we can sample the latest offerings from up-and-coming dining spots. If you love surfing or simply hanging out by the beach for that relaxed Gold Coast vibe, you'll enjoy staying at any of our hand-picked hotels and residences in Broadbeach during your weekend getaways from Brisbane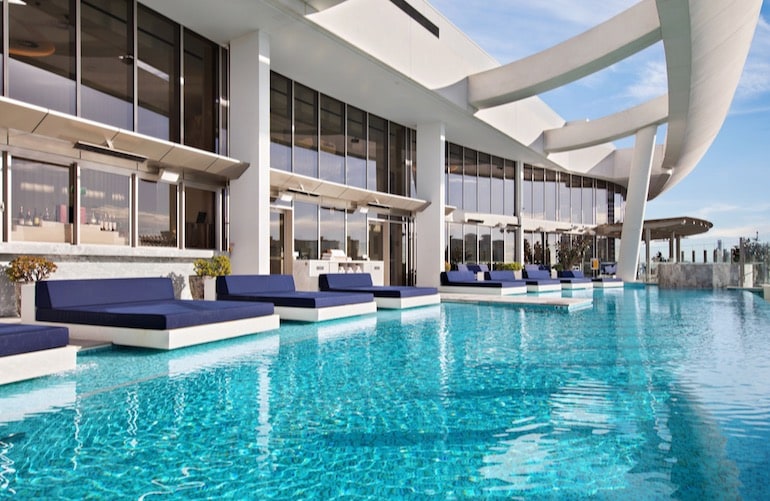 The Darling at The Star Gold Coast
Feel like royalty during your weekend trip! The Darling at The Star's bespoke fittings and world-class amenities with luxe finishes coupled with its regal palette of red, purple, gold, and blue will take your escape to a different level.
---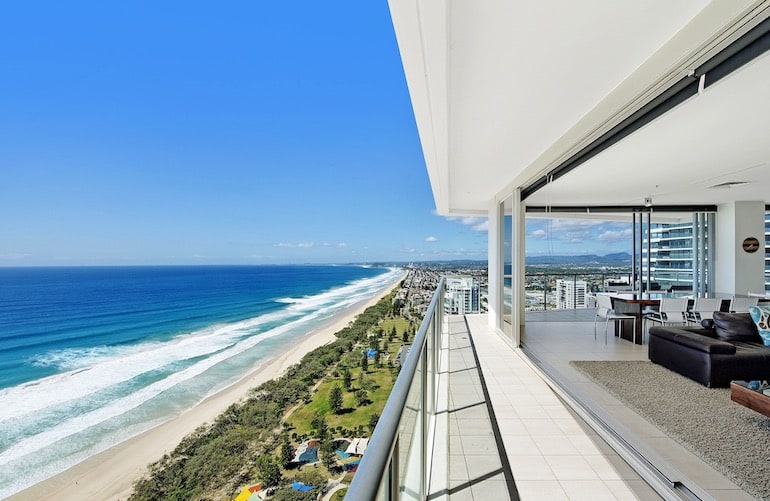 ULTIQA AIR on Broadbeach
Fancy a getaway with sand, sun, and shopping? ULTIQA Air on Broadbeach is in the cosmopolitan hub, giving you access to the ocean and a range of shopping and dining spots. Its light-filled apartments have amazing ocean views for a relaxing weekend!
---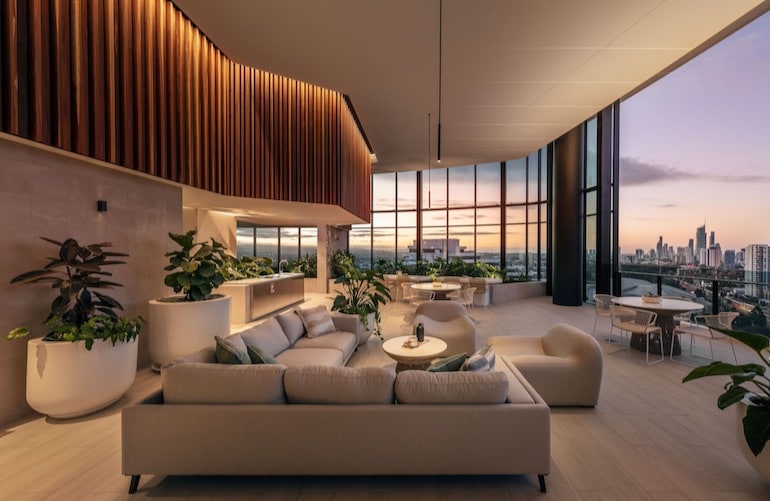 The Star Residences, Gold Coast
Experience hotel-style amenities and exclusive luxury when you book a stay in one of The Star Residences' chic apartments situated on the exclusive Broadbeach Island. Guests have access to the gym, sauna, lap pool, and outdoor BBQ area.
---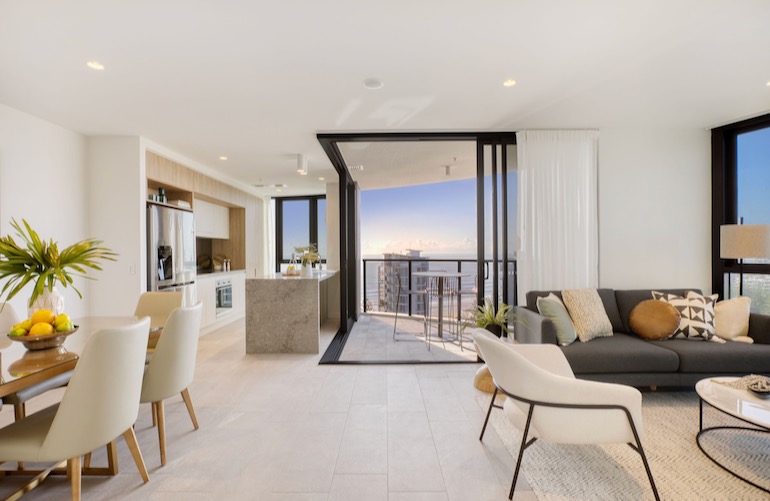 Vue Broadbeach
Relax on a sun bed by the pool or enjoy a fizzy drink on your private balcony while marvelling at the ocean view. Vue Broadbeach has a selection of stylish and spacious penthouses and apartments that can sleep 2 to 12 guests.
---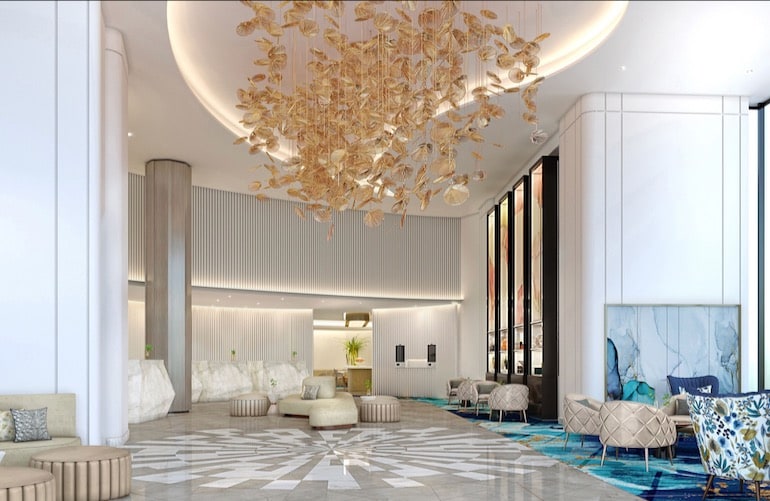 Dorsett Gold Coast
Effortlessly fun, modern, stylish, and only minutes away from the Pacific Fair Shopping Centre and the beach, you can enjoy ocean or hinterland views at Dorsett Gold Coast. The luxe rooms have supreme linens and relaxing en-suite baths.
---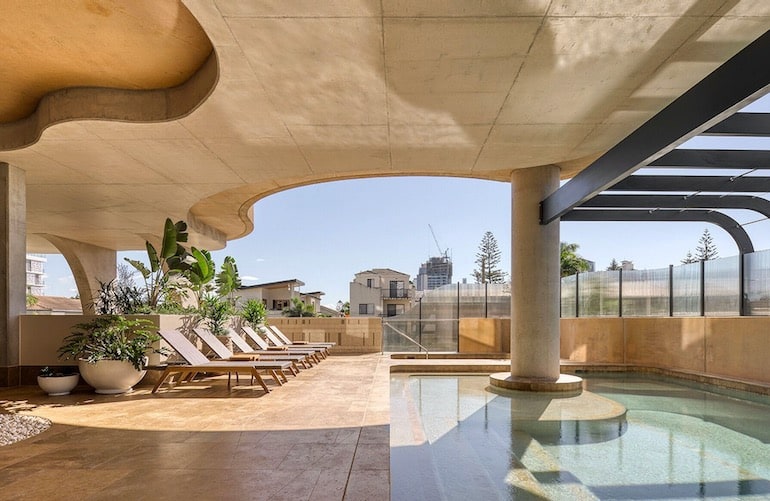 Encore Broadbeach
Encore Broadbeach displays a lovely union of luxury, style, and comfort. Its wonderful range of amenities (we love the sauna), carefully coordinated earthen colour palette and fine furnishings will make you feel that sense of luxe wherever you turn.
---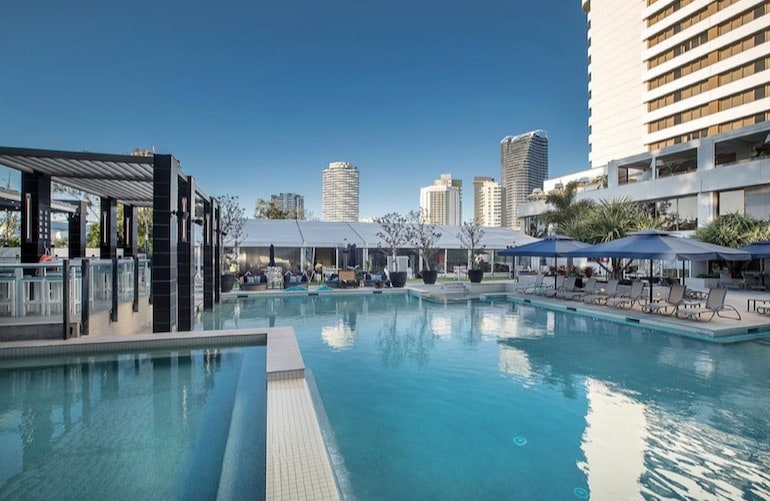 The Star Grand at The Star Gold Coast
Your slice of paradise on Broadbeach Island. Its luxurious rooms have sweeping views of the hinterland and the ocean, and with its array of award-winning restaurants and its 24-hour casino, you'll have a weekend of fun and indulgence!
---
Surfers Paradise
Surfers Paradise is known for that rush of excitement—may it be from a wave or an attraction on the shore! Apart from being a surfing hotspot, it is also known for its pulsing nightlife and entertainment. Whether you're in the area to enjoy the next swell or just looking for an escape on the Gold Coast, we've got you covered. We've reviewed and handpicked the best getaways where you can enjoy Surfers Paradise to the fullest while having your own luxurious retreat.
---
---
---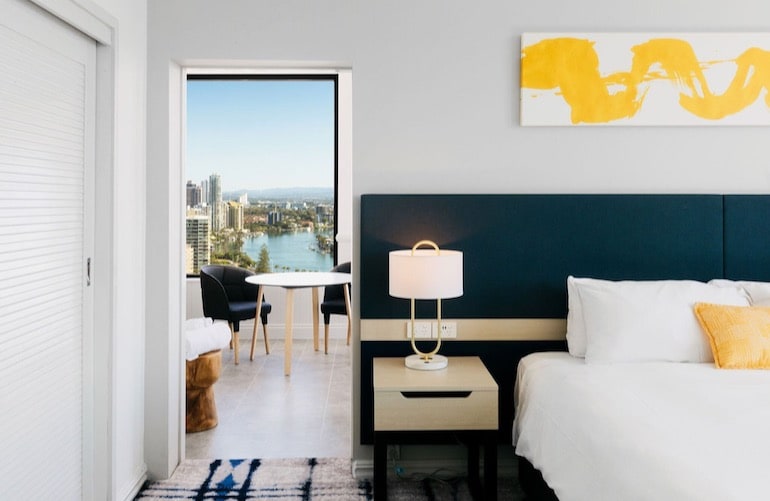 Voco Gold Coast
A sleek hotel situated in the heart of Surfers Paradise, Voco Gold Coast offers modern and stylish accommodation, 2 pools, a luxe spa, a cocktail bar, and superb dining. If you're looking for laid-back luxury, you're sure to find it here.
---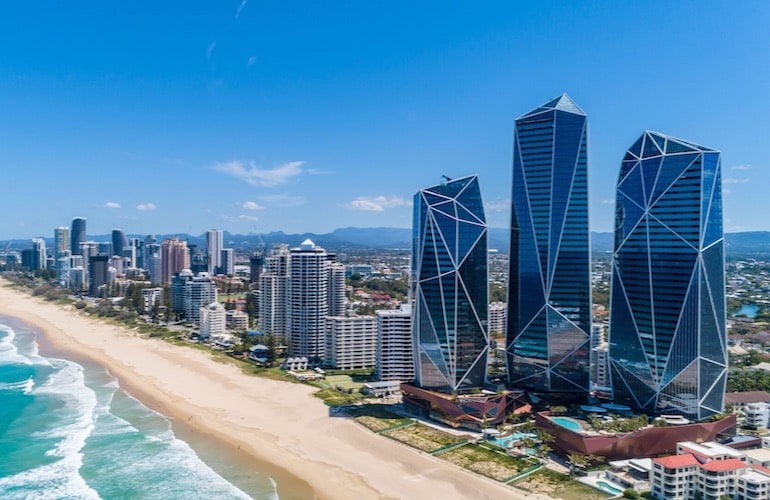 The Langham, Gold Coast
Be in the heart of Australia's holiday capital with a stay at The Langham Gold Coast—an elegant and refined beach escape with gorgeous rooms and residences whose balconies have uninterrupted views of the Pacific Ocean. We love the menu at Akoya!
---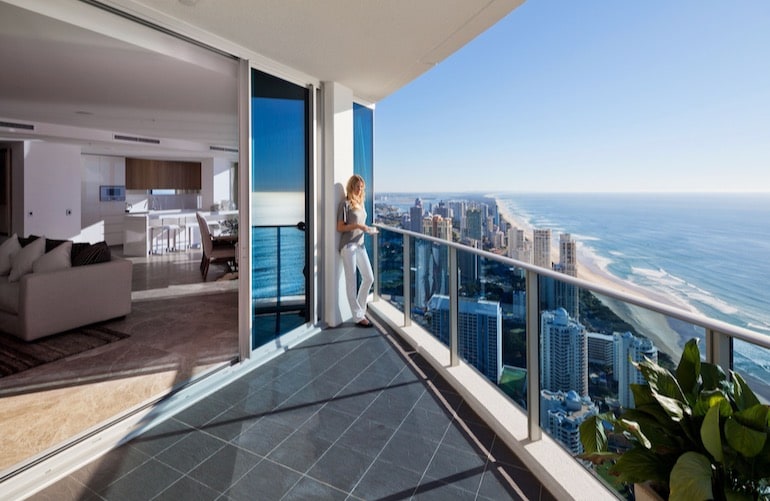 Hilton Surfers Paradise Hotel & Residences
Here, you can play, explore, and most importantly, relax in luxurious indulgence! In between Surfers Paradise Boulevard and Orchid Avenue, you'll find your sophisticated weekend escape where you can lean back and chill after a day of fun.
---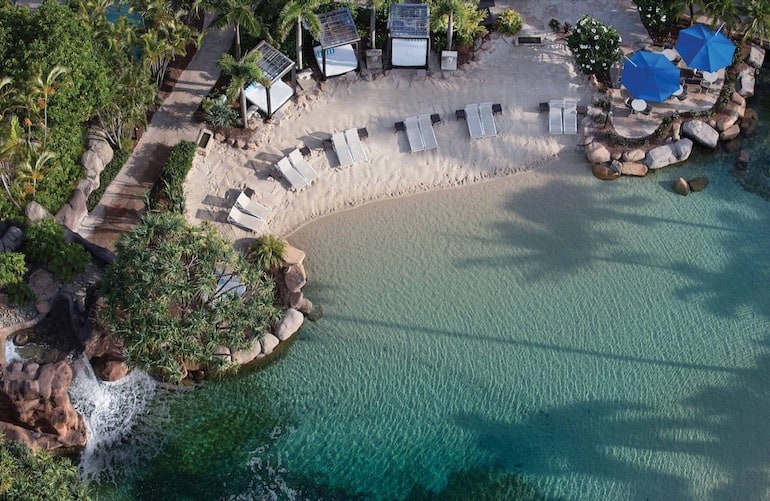 Marriott Vacation Club at Surfers Paradise
Be a heartbeat away from Gold Coast attractions while having full access to a lovely heated outdoor pool, tennis courts, and a wide range of restaurants. The spacious guestrooms and suites with kitchenettes are perfect for weekend or extended stays!
Find your perfect getaway in Queensland
Discover over 235 handpicked hotels, resorts & private villas
Gold Coast Hinterland
Wouldn't it be nice to immerse yourself in the calmness of the Gold Coast Hinterland and let your worries melt away… even just for the weekend? Allow the peaceful surroundings and relaxing birdsong to serenade you to sleep or brighten up your morning. We've handpicked the best hinterland getaways so you can enjoy a rejuvenating time away from it all. Relax in style and uncomplicated comfort at these beautiful stays.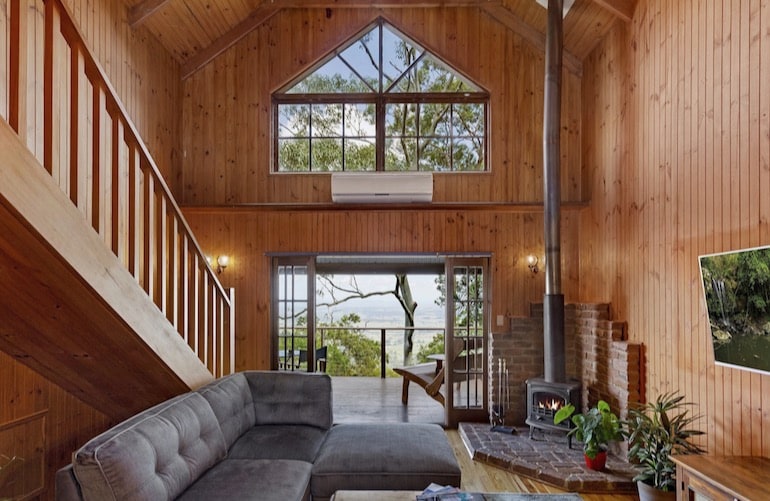 The Polish Place, Tamborine Mountain
How about a peaceful weekend by Tamborine Mountain? The Polish Place paints the picture of a magical escape with breathtaking views, stunning sunsets, and relaxation in beautiful homely cabins with wood log fireplaces and double spa baths.
---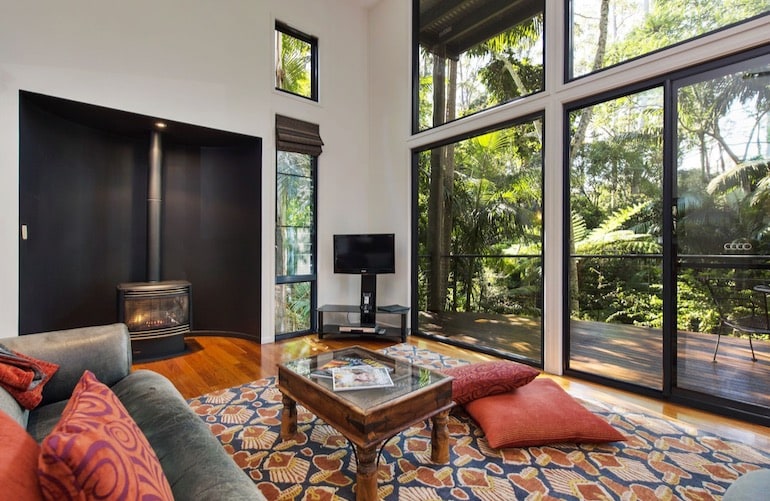 Pethers Rainforest Retreat, Tamborine Mountain
Relax and unwind in undisturbed luxury at Pethers Rainforest Retreat. An award-winning accommodation, it has 10 beautiful treehouses set on 5 hectares in the lush Gold Coast Hinterland. Treat yourself to this idyllic sub-tropical atmosphere!
---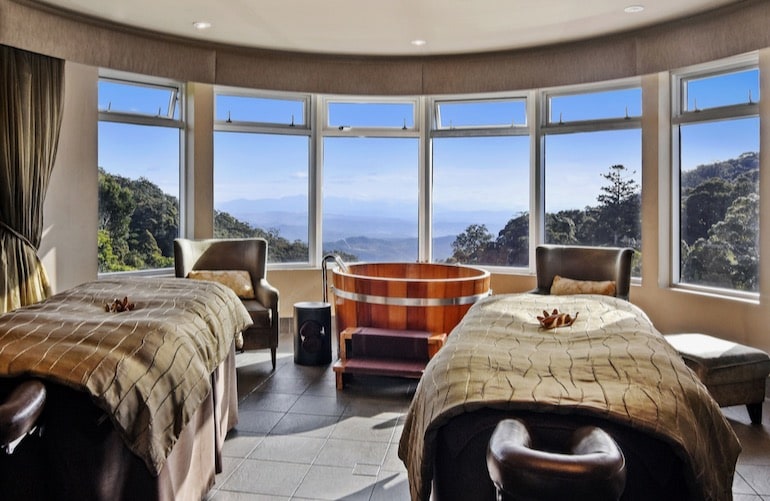 O'Reilly's Rainforest Retreat, O'Reilly
Escape to the peace and quiet of O'Reilly's Rainforest Retreat set in Lamington National Park's lush untouched rainforest. Take it slow, enjoy a barbecue, or zone out in your spa bath on the balcony with rainforest or mountain views.
---
Byron Bay
Have you explored the beautiful beaches of Byron Bay? What about its hinterlands? There is so much to discover and whether you're into the coastal lifestyle or the rainforest vibes, there's a spot in Byron Bay for you. Our curated selection of the best accommodation perfect for short (or extended!) getaways will place you close to the wonders of the area while treating you to stylish interiors and that relaxed North Coast vibe.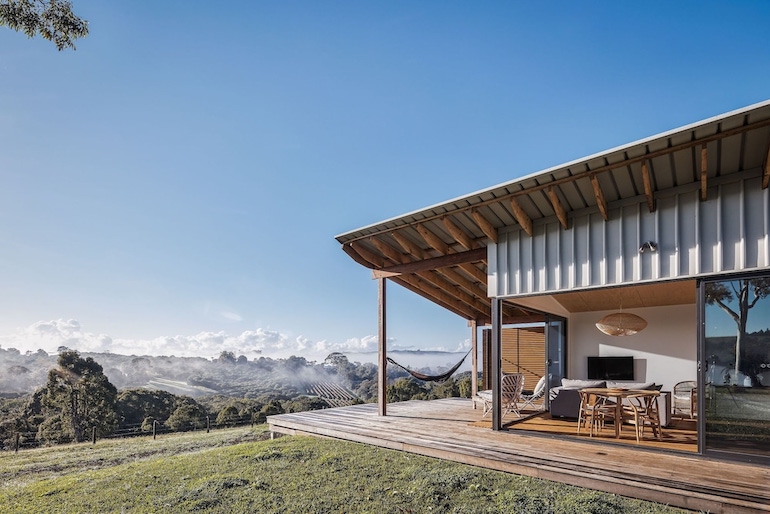 99 Acres Bangalow Retreat, Bangalow, NSW
Enjoy serene views from one of the highest ridges in Bangalow when you book 1 of 5 rooms in the main guesthouse or 1 of 4 villas at 99 Acres Retreat. This getaway has a pool by the main guesthouse, and all villas have fully-furnished kitchens!
---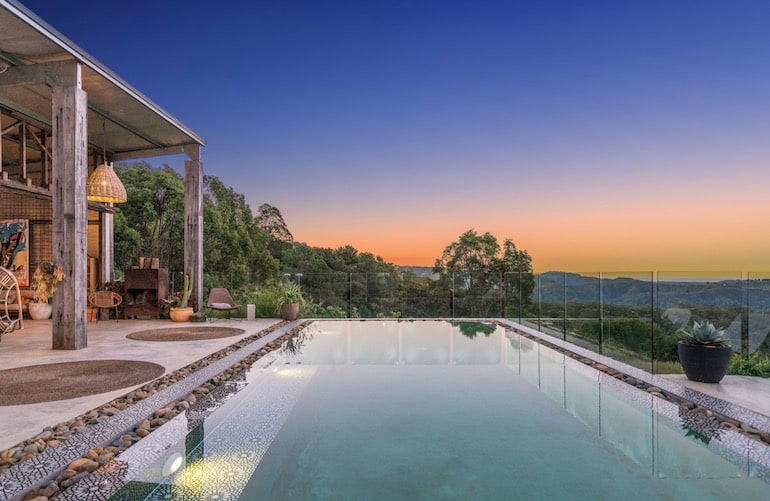 Blackbird, Mullumbimby Creek, NSW
Feel time slow down during your weekend getaways from Brisbane and let Blackbird Byron charm you with its rustic-luxe accommodation perched on the side of Mount Koonyum. Situated on a private road with just a few pavilions, this quiet escape has a magnesium pool and an infra-red sauna.
---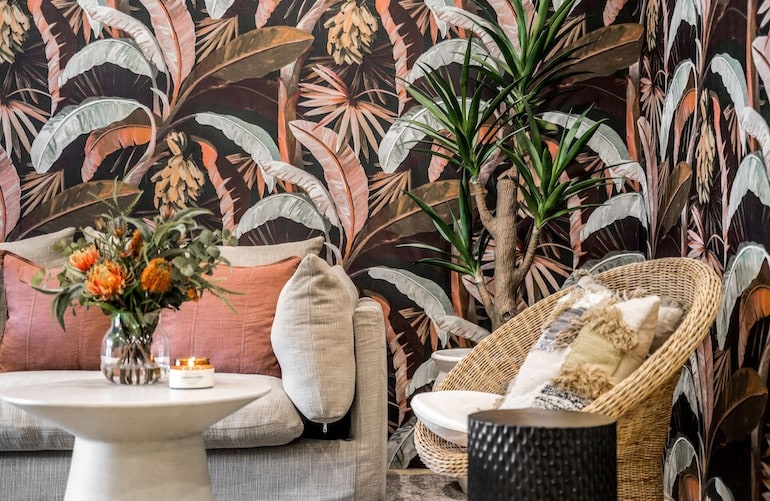 Byron Bay Hotel and Apartments, Byron, NSW
Just a short walk away from Main Beach, Byron Bay Hotel & Apartments has warm timber furnishings that set the mood for a homely and unencumbered getaway… We love the casual-luxe vibe, bright apartments, and proximity to cafes and restaurants.
---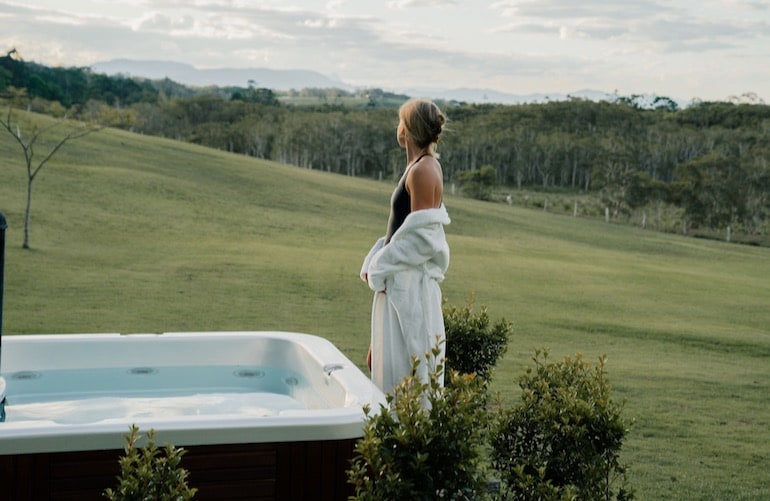 Cape Byron Retreat, Skinners Shoot, NSW
A secluded hinterland escape awaits you at Cape Byron Retreat. It has only 9 apartments and villas where you can enjoy complete privacy while surrounded by lush greenery. P.S. We love the relaxing and expansive views as we relax in the outdoor tub. A stay here would truly make for one of the best weekend getaways from Brisbane.
---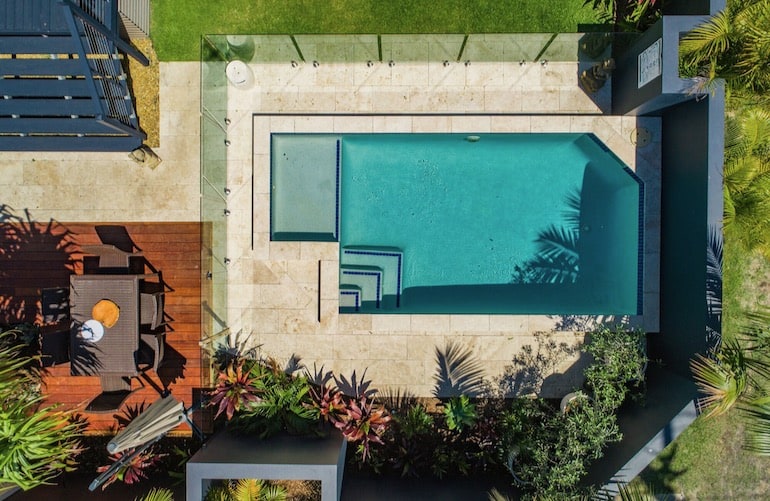 Aloha Byron Bay, NSW
Enjoy relaxed contemporary accommodation perfect for a weekend getaway at Aloha Byron Bay. Just a short walk away from town and the beach, its chic boutique-style accommodation treats you to stylish interiors and North Coast living.
---
Scenic Rim
Unmatched views of the Scenic Rim's natural wonders. From expansive landscapes to majestic mountain ranges, we have only the best quick escapes for you. Indulge in menus filled with fresh local produce and fine wines while surrounded by the grandeur of nature. We would love nothing more than to help you experience enchanting getaways, and once you experience a stay at any of our top picks, they'll be your favourites as well.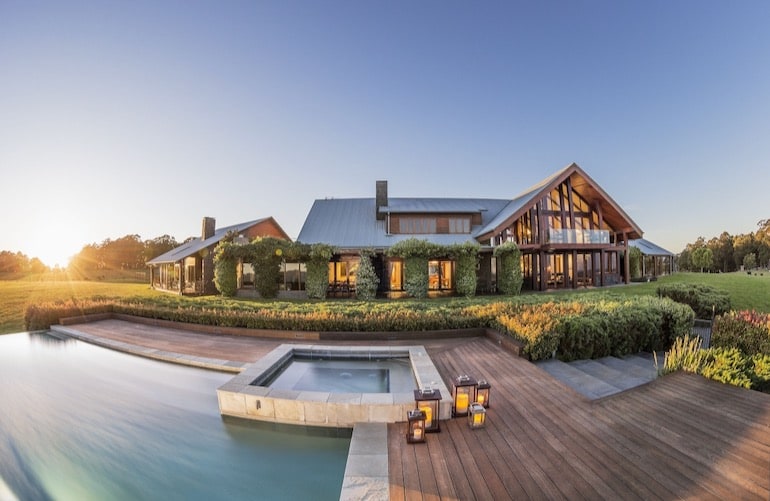 Spicers Peak Lodge, Swanfels
Revel in the beauty of World Heritage Site Main Range National Park—your backdrop when you stay at the luxurious Spicers Peak Lodge. Feast on sumptuous gourmet food, be pampered head to toe at Spa Anise, and relax while surrounded by nature.
---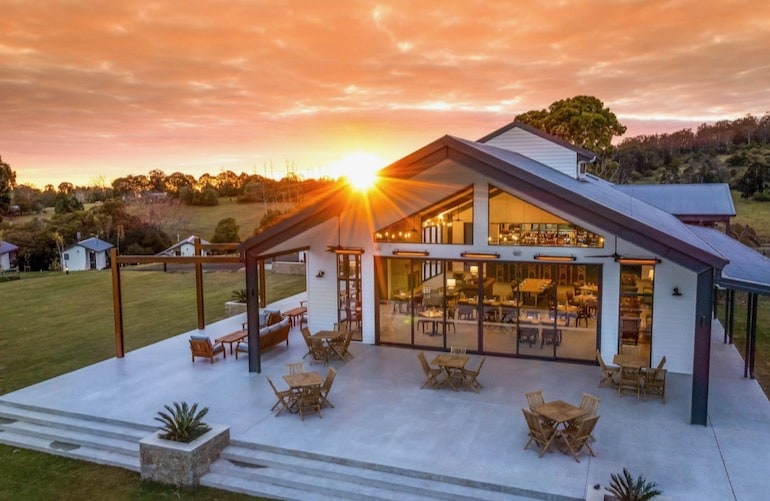 Beechmont Estate
Slow down and relax in this beautiful luxury country retreat. Take a quiet walk in Lamington National Park, go horseback riding with mountain range and ocean views, and retreat to the privacy of your very own luxury pavilion or cabin.
---
Brisbane Surrounds
You can easily escape Brisbane's hustle and bustle at any of our top picks for your next weekend getaway. We've done the work for you and narrowed down the best getaways in Brisbane surrounds where you can lean back and leisurely spend your downtime. Enjoy all the luxurious modern comforts of 5-star accommodation with a more exclusive atmosphere at any of our carefully selected getaways.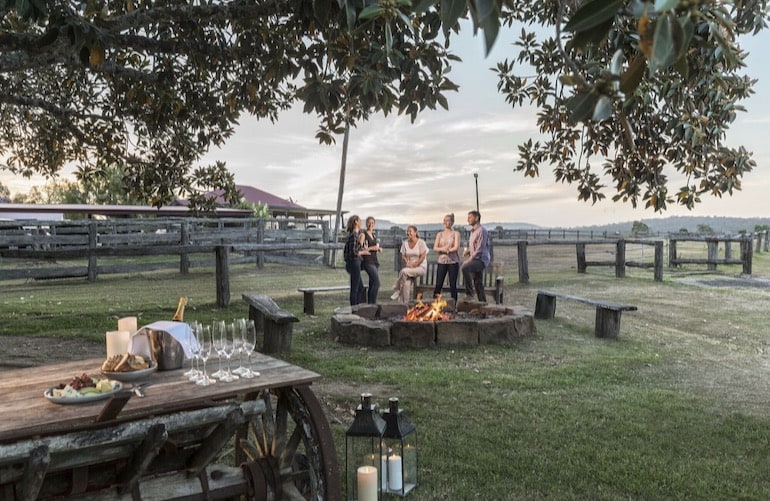 Spicers Hidden Vale, Grandchester
Spicers Hidden Vale is a luxurious and traditional Australian homestead just 1 hour from Brisbane. It combines style and comfort with the warmest of country welcomes. We love the "paddock to plate" dining at Homage, their award-winning restaurant.
---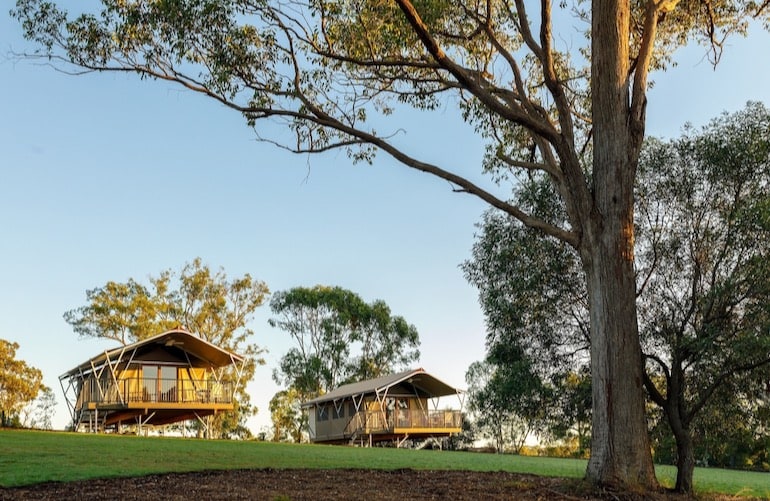 Sanctuary by Sirromet, Mount Cotton
Indulge in fine wine and dining when you stay at Sanctuary by Sirromet, a bushland retreat located on the grounds of Sirromet Winery. Have a sumptuous dinner at any of their three restaurants and sample their award-winning wines. Your weekend getaways from Brisbane can definitely be a glamping and wine tasting experience too!
---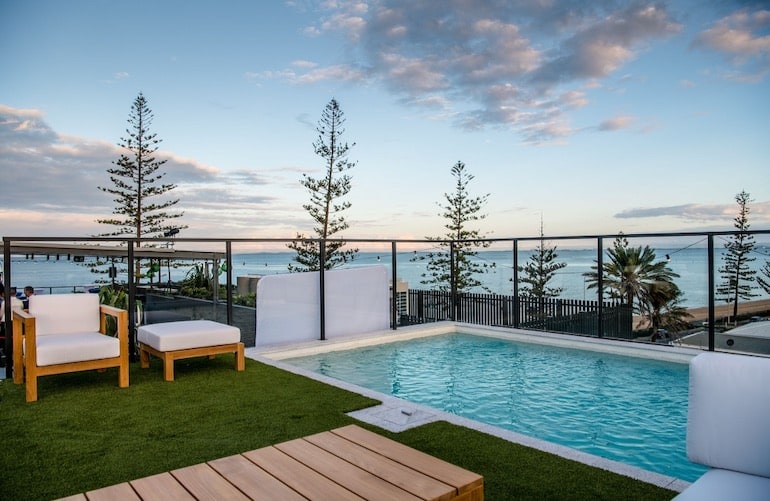 The Sebel Brisbane, Margate Beach
Chill out and enjoy the vibe at The Sebel's beachfront bar and bistro or relax in their outdoor pool. You can lean back and enjoy casual luxury in your stylish bedroom at this idyllic weekend getaway while enjoying panoramic views of Moreton Bay.
---
We have more than just the best weekend getaways from Brisbane… If you're happy to drive or fly a little further, we have some of the best holiday homes, boutique resorts and luxury hotels available across Queensland. Each of these amazing retreats promises a perfect weekend escape from Brisbane. View all luxury accommodation in Queensland.
What's your luxury?
Luxury means different things to different people. Is your luxury a glamorous hotel in downtown Manhattan, a private island hideaway on the Great Barrier Reef, or a safari camp on the plains of the Serengeti? We'll help you find your perfect version of luxury in some of the world's most beautiful places.