The charm of Melbourne isn't lost on anyone who visits. After all, it's meant to be one of the world's most liveable cities. But, if you're looking for a short escape from the bright lights of the city for a weekend away in country Victoria, you've come to the right place. We've handpicked a collection of the best weekend getaways from Melbourne that are perfect for a luxury escape. Each of these luxury retreats in Victoria promises plenty of rest and relaxation for your next weekend getaway, and all are within a few hours' drive of Melbourne's CBD.
---
Daylesford & Hepburn Springs
About a 90-minute drive from Melbourne, the Daylesford & Hepburn Springs region makes us think of cosy fireplaces, cute cafés, walks by the lake, and taking things slow. Perfect for a couples retreat or a weekend getaway with friends, here you can treat your mind and body to a relaxed pace, healing mineral spring waters, menus featuring fresh local produce, and the overall laid-back atmosphere of Australia's Spa Country.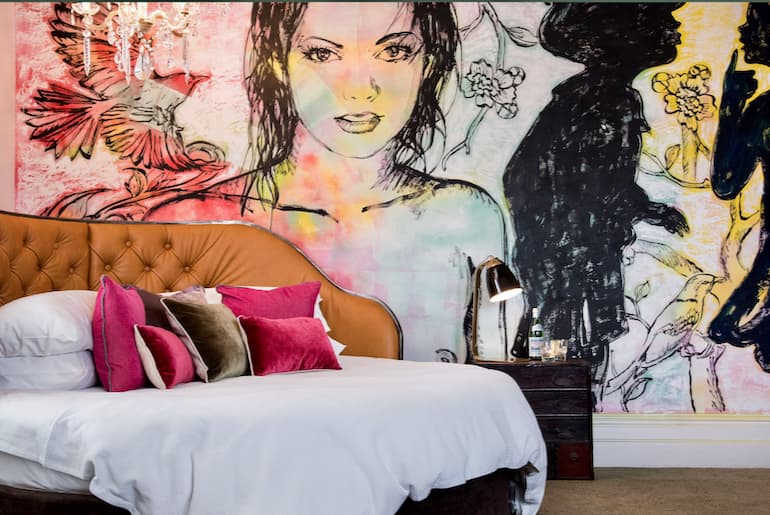 Hotel Frangos, Daylesford
A boutique hotel on iconic Vincent Street, Hotel Frangos has breathed new life into the 1800s building it occupies. It has only 15 individually styled suites, the Restaurant and Bar with views of the Agora Courtyard, and Koukla Café that serves breakfast, lunch, dinner… and pizza and cocktails or coffee. With eye-catching visually rich interiors and a menu with an offering for everyone, Hotel Frangos is a delightful weekend break.
---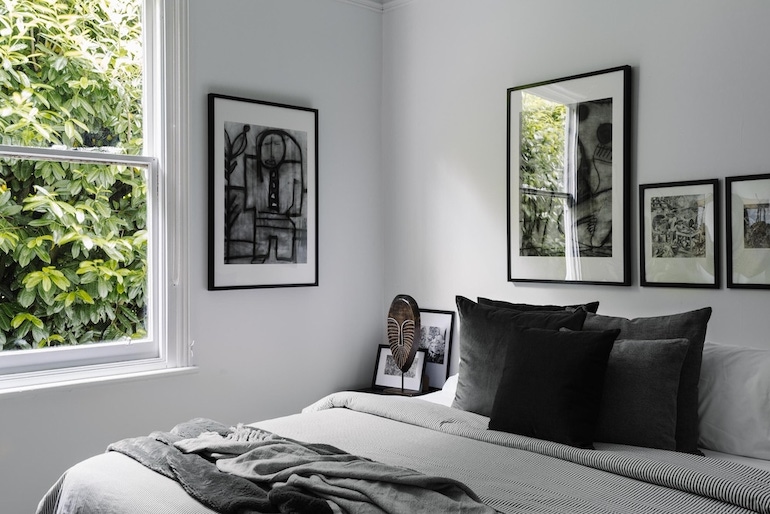 Hotel Bellinzona, Hepburn Springs
Freshly renovated, this gorgeous boutique hotel in Hepburn Springs is the perfect getaway destination for both couples and small groups. Hotel Bellinzona features stunning art and interior design, along with an onsite restaurant, heated indoor swimming pool, spa and sauna. It's also only a short stroll from the Hepburn Bathhouse where you can relax and rejuvenate.
---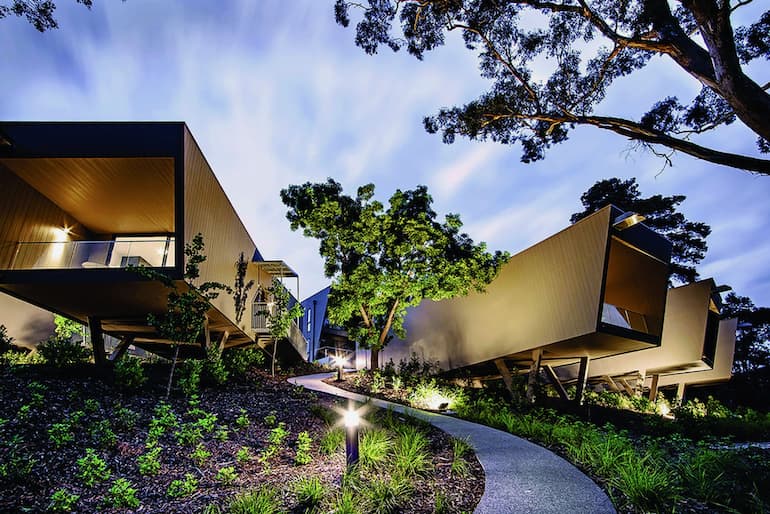 Hepburn Escape Villa, Hepburn Springs
How would you like to spend your weekend getaways from Melbourne in a luxe 75-square-meter free-standing villa? Hepburn Escape along the banks of Mineral Springs Reserve is a self-contained getaway that will treat you to a marble spa bath, an indulgent fireplace, your own balcony overlooking Spring Creek, and a comfy king-sized bed. Relaxing in this stylish space is the perfect weekend getaway in Daylesford!
---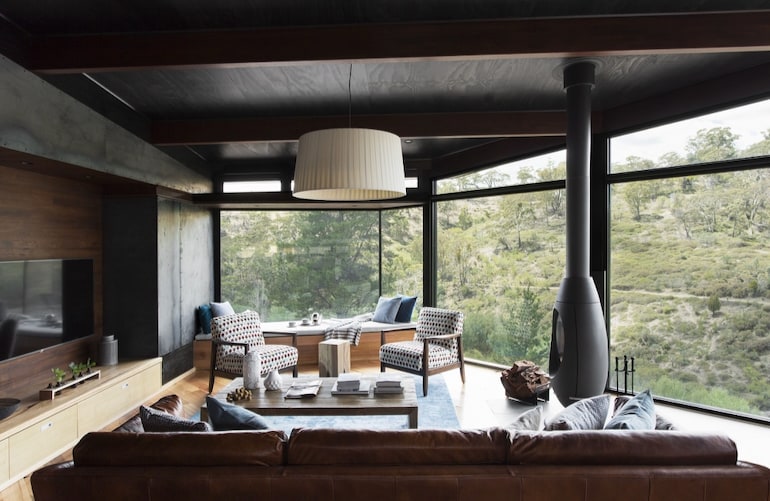 Clifftop at Hepburn, Hepburn Springs
If you're an architecture enthusiast looking for a perfect weekend getaway, Clifftop at Hepburn has luxury villas that you'll absolutely love. With breathtaking views of the lush bushland from a high elevation, these villas come equipped with kitchenettes, fireplaces, deep soaking tubs, and both indoor and outdoor living areas—fully furnished! You can choose from villa styles like Samurai, Sahara, or Solitude, and revel in the carefully selected design elements that perfectly capture the essence of each aesthetic.
---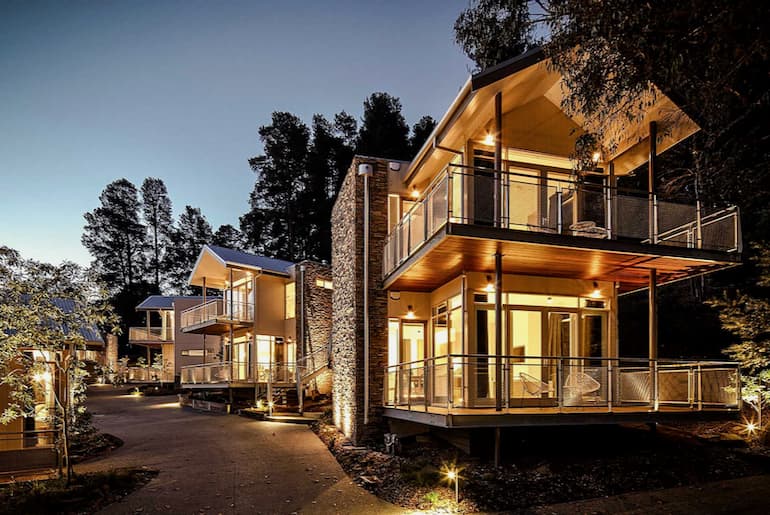 Hepburn Spa Retreat, Hepburn Springs
Elegant, contemporary, and designed for wellness, Hepburn Spa Retreat has 10 beautiful suites with views of the serene bushland. Warm natural light softly fills the space through various pendant and wall lamps, and even under the steps—all carefully chosen to help with your circadian rhythm. The spa tub and fireplace are cherries on top of this stylish and relaxing retreat.
---
Mornington Peninsula
With hot springs, historic seaside villages, Sorrento Beach, the famous colourful bathing boxes by Port Phillip Bay, and more, the Mornington Peninsula region offers a range of destinations and activities for everyone. However, we particularly love the classy chic vibes of the getaways in this beautiful region. After enjoying the wineries or a stroll by the bay, find your sanctuary in one of our handpicked retreats for your weekend getaways from Melbourne.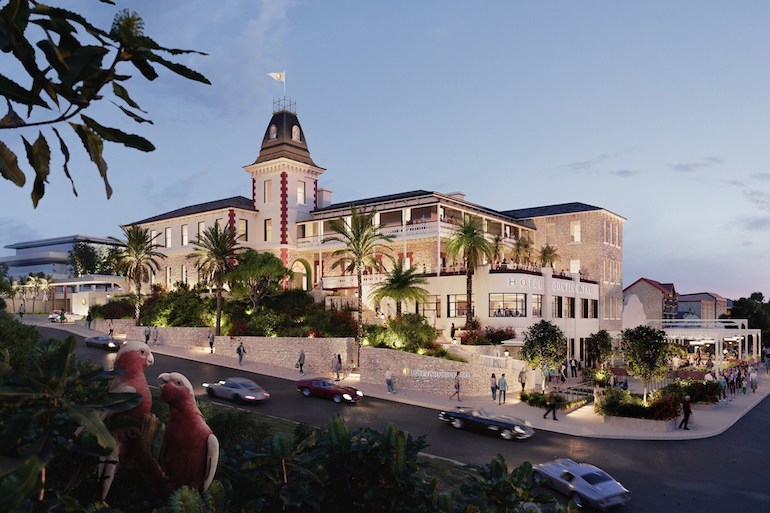 InterContinental Sorrento Mornington Peninsula
The InterContinental Sorrento Mornington Peninsula blends contemporary design and classic touches in its beautiful rooms and suites. This well-known and classic hotel in Sorrento has been given a new life and promises to be one of the best hotels in regional Victoria. Choose from one of four restaurants where you can experience fine dining with magnificent bay views and al fresco seating options. You can also take a dip in the outdoor pool or rejuvenate your senses with luxurious spa treatments at the Aurora Spa & Bathhouse.
---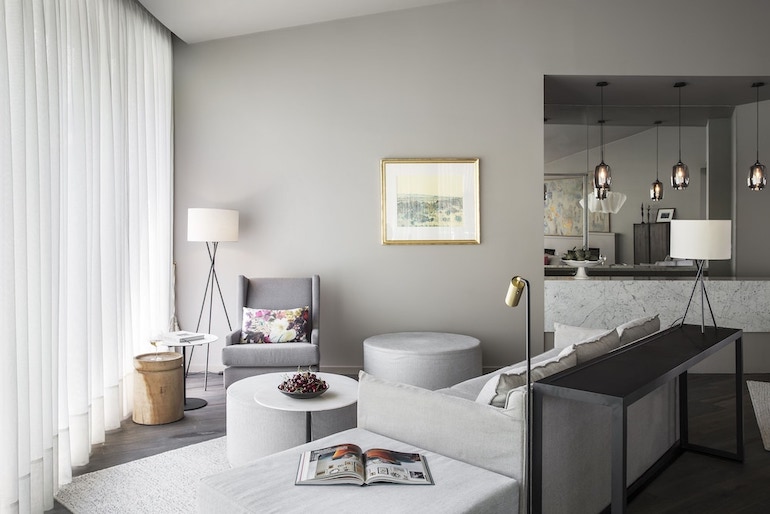 Lancemore Lindenderry, Red Hill
Nestled amongst 34 stunning acres of gardens and vines, Lancemore Lindenderry Red Hill is an intimate boutique hotel that is the ideal base from which to explore the spectacular Mornington Peninsula. That said, with vineyard picnics and garden walks on offer, plus an onsite cellar door and restaurant—you may not want to leave.
---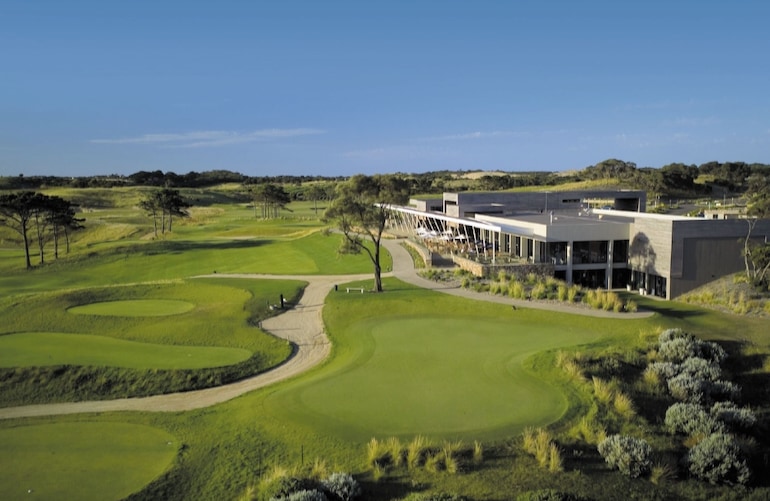 Peppers Moonah Links Resort, Fingal
Less than an hour and a half from Melbourne, Peppers Moonah Links is a stylish golf and leisure resort on the Mornington Peninsula. Here you can enjoy the exceptional resort facilities and world-class golf course, or treat yourself to a relaxing spa treatment or outdoor thermal hot spring bath at the neighbouring Peninsula Hot Springs.
---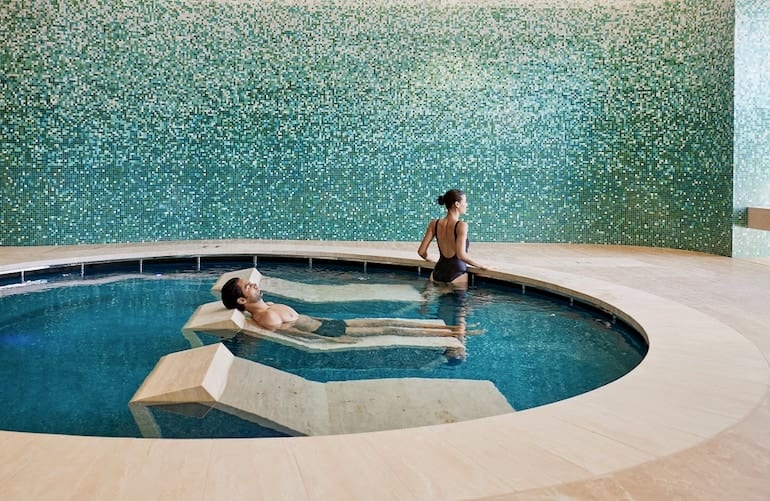 RACV Cape Schanck Resort
This elegant coastal retreat includes a luxury spa, a magnificent golf course and locally sourced food and wine at the resort's exceptional restaurants. RACV Cape Schanck Resort is perfectly positioned to explore the Mornington Peninsula's beautiful clifftop walks, world-class wineries, quiet beaches, and exhilarating ocean shores, making it a perfect base for fun-filled weekend getaways from Melbourne.
---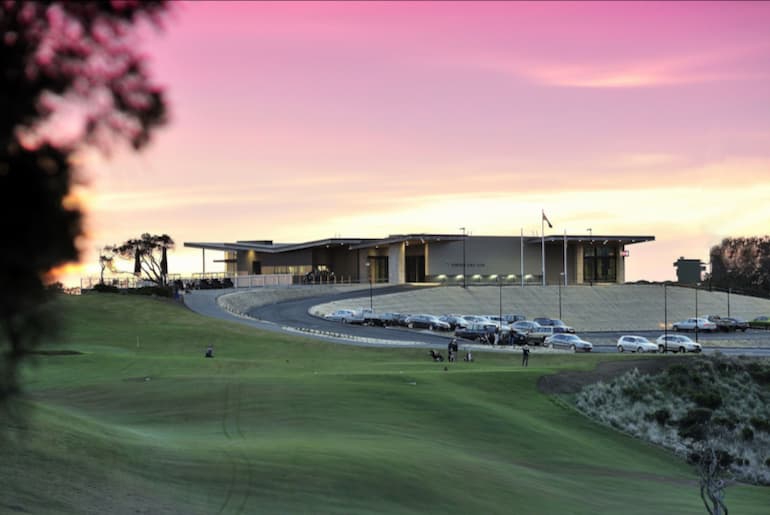 Mercure Portsea
Enjoy panoramic views of Port Phillip Bay from your private balcony when you stay at Mercure Portsea. Less than 2 hours away from Melbourne, the hotel has only 24 rooms, lending it a quieter atmosphere. The rooms have king or twin beds, a desk and coffee or tea-making facilities. Perfect for a getaway with family or friends, you can also enjoy golf club access and delicious meals from Spike Bar.
---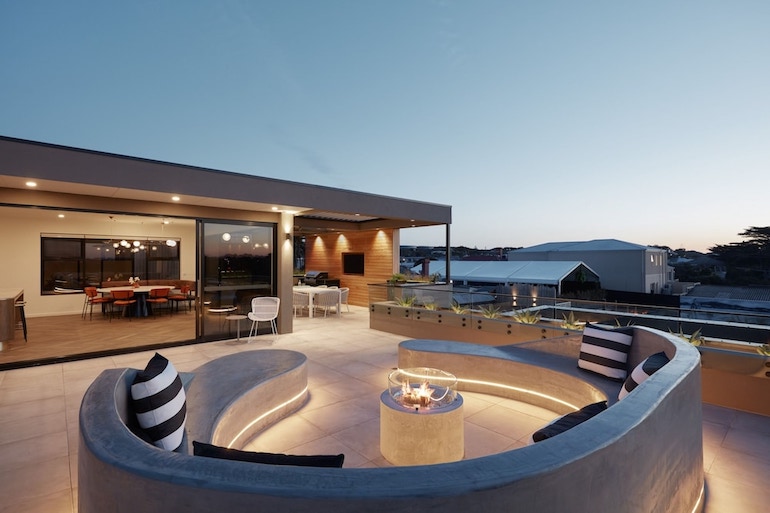 Carmel at Sorrento
Set in a charming limestone house, Carmel At Sorrento is a sleek boutique hotel offering self-contained luxury in the heart of Sorrento. This luxe escape hosts six fully-appointed 3-bedroom apartments just a short stroll from the beach, perfect for soaking up the relaxed vibe of this seaside village. This is one of the weekend getaways from Melbourne that is perfect for a short break with friends and family.
---
Great Ocean Road
Known as one of the world's most scenic coastal drives, the Great Ocean Road is where you'll see the iconic 12 Apostles, awesome surf breaks, and a plethora of artisanal food and wine. Experience the beauty of the nearby beaches and the fresh air swept in from the ocean when you plan a stay in this area. The views from the Great Ocean Road are sure to add a sense of wonder to your weekend getaways from Melbourne and the journey is a pleasure in itself.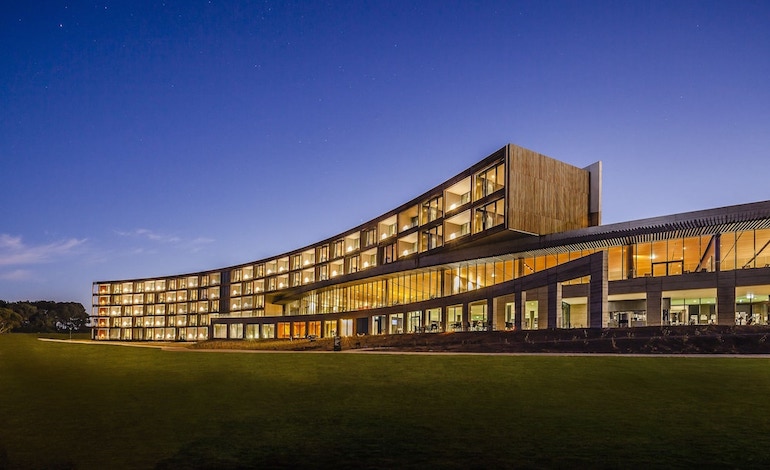 RACV Torquay Resort, Jan Juc
Located at the beginning of the Great Ocean Road, RACV Torquay Resort is set on an expansive golf course with spectacular ocean views and direct beach access. This award-winning resort is a great choice for families or groups of friends with its onsite day spa, gymnasium, golf, tennis, playground, and swimming pools. It's also the perfect base from which to explore the Surf Coast.
---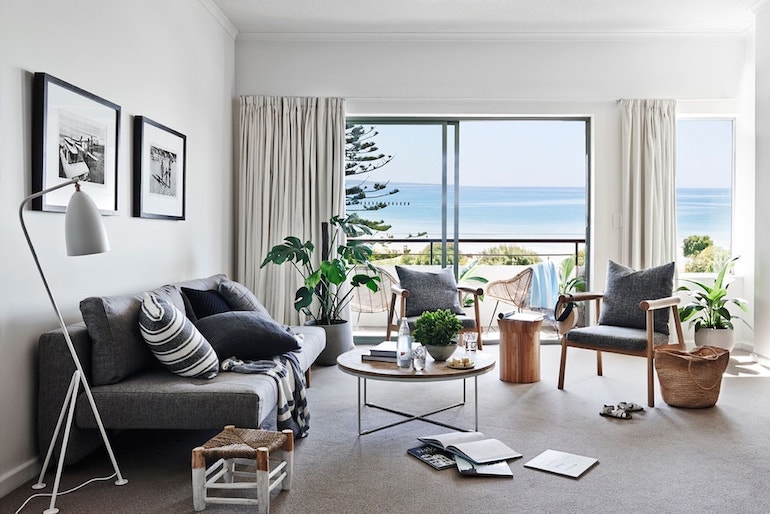 Cumberland Lorne
Located directly across from the beach in the heart of town, Cumberland Lorne Resort provides the perfect setting for your next weekend getaway. Offering a selection of self-contained apartments and penthouses, this is the perfect base from which to explore the Great Ocean Road. We highly recommend the Rennie Ellis Two-Bedroom Apartment, which boasts beautiful interior styling inspired by iconic photographer, Rennie Ellis.
---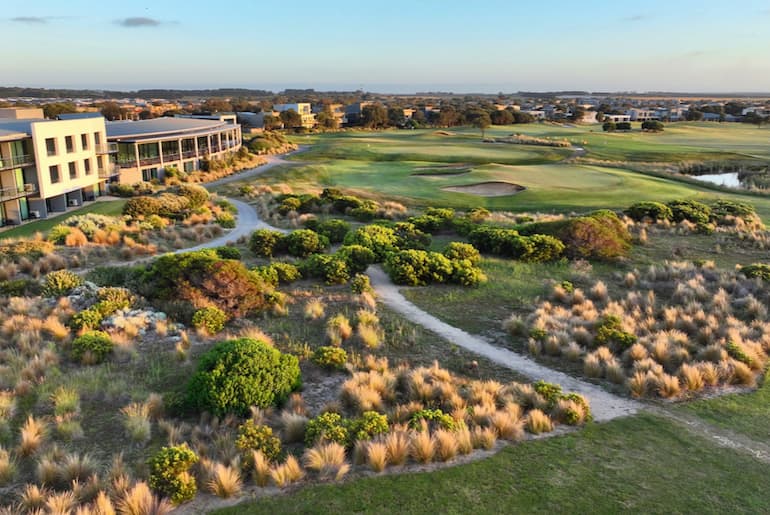 The Sands Torquay
If your idea of a weekend getaway from Melbourne includes coastal living and playing golf, you can enjoy both in luxury and style at The Sands Torquay. The 18-hole golf course is moulded into the dunes, giving you an interesting terrain while you take in the fresh sea breeze. Just a short walking distance away from the beach, you can enjoy a stroll on the beautiful coastline and retreat to your chic coastal-style room. Oh, and they have pet-friendly rooms too!
---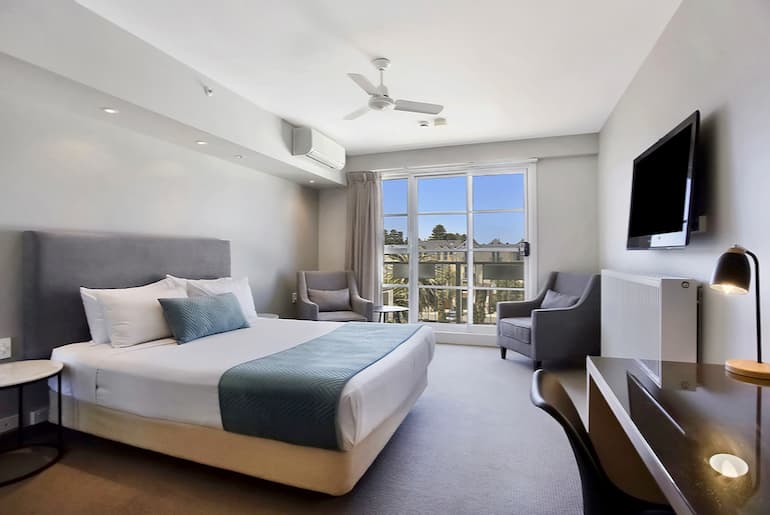 Deep Blue Hotel & Hot Springs, Warrnambool
The Deep Blue is the first hot springs hotel in Victoria, giving its guests a place to relax and rejuvenate in its tastefully decorated rooms and 15 enhanced hot spring bathing experiences. This is an escape where you can reconnect with yourself or special someone. Enjoy some nutrient-rich dishes from Nourish Dome or indulge in an organic facial or relaxing massage at the day spa. Make sure to take a dip in the hydrothermal jetted pool, the illuminated geothermal rockpools (best for twilight sessions!), and the aromatherapy pool.
---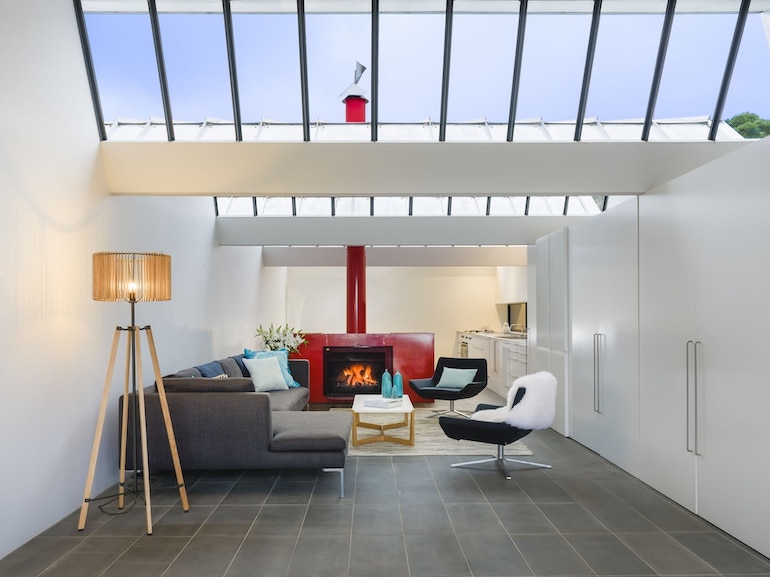 Alkina Lodge, Wattle Hill
Escape to 1 of 3 luxury lodges in Alkina Lodge on the Great Ocean Road. Tastefully modern yet with iconic interior design pieces such as egg chairs Bauhaus classics, Alkina Lodge has a bespoke vibe that oozes sophistication. Up to 8 guests can enjoy this luxury accommodation as each lodge has 4 bedrooms. If you're planning a weekend getaway with family or friends, you can enjoy exclusive luxury accommodation for up to 24 people.
---
High Country
Although a bit more of a drive from Melbourne, Victoria's High Country has beautiful mountains, valleys, and rivers that set the mood for luxurious relaxation. Perfect for adventures all year round, you can enjoy hitting the slopes during winter or biking and hiking the scenic trails during the warmer weather. After a day of exploration, unwind in irresistibly charming accommodation nestled in the tranquil region of the High Country. Here are our picks for you.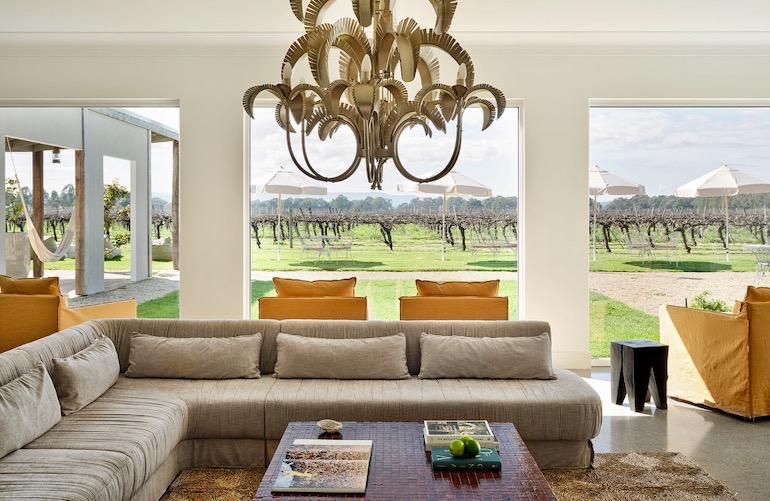 Lancemore Milawa
Fresh from a multi-million refurbishment, Lancemore Milawa is a boutique hotel nestled in between the vineyards of Brown Brothers winery in the King Valley. It has 40 elegant guestrooms with private balconies or patios that have views of the neighbouring vineyards and distant alpine peaks. You can enjoy a serene dining experience at Restaurant Merlot and indulge in 2- to 3-course country-style meals which are loved by locals and visitors alike.
Find your perfect getaway in Victoria
Discover over 200 handpicked hotels, resorts & private villas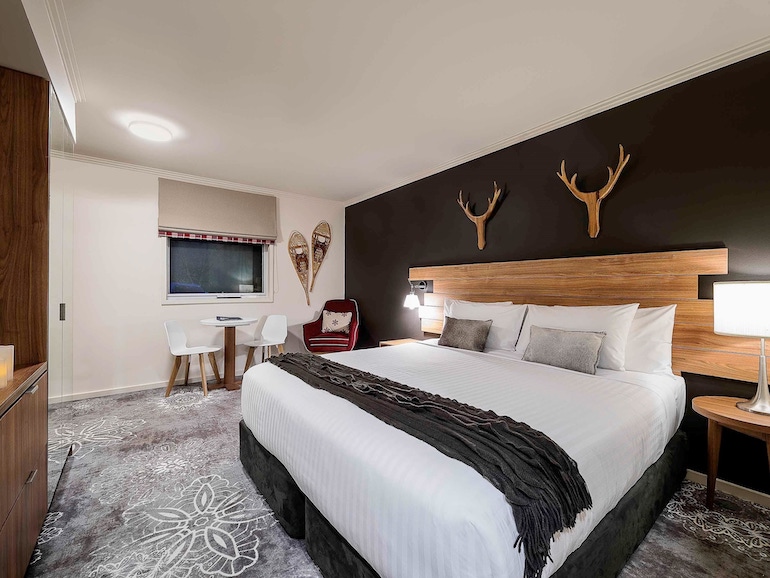 The Sebel Pinnacle Valley Resort, Merrijig
Nestled in the heart of Victoria's High Country, The Sebel Pinnacle Valley Resort is just 10 minutes from Mansfield and 30 minutes from the Mt Buller Ski Resort. Apart from being one of our favourite weekend getaways in Victoria, this beautiful alpine resort is the perfect choice for a family ski holiday and also has plenty to offer in the warmer months when there's horse riding, walking, and biking trails to explore.
---
Dandenong Ranges
A perfect city escape, the Dandenong Ranges has charming villages, cafes and restaurants, and pubs where you can enjoy an authentic country-style vibe. Slow down a bit and take a walk through some of the gardens, lush fern glades and beautiful trestle bridges, or simply enjoy the views from your window or balcony from your own private haven. Find a spot away from it all from our selected stays in the Dandenongs: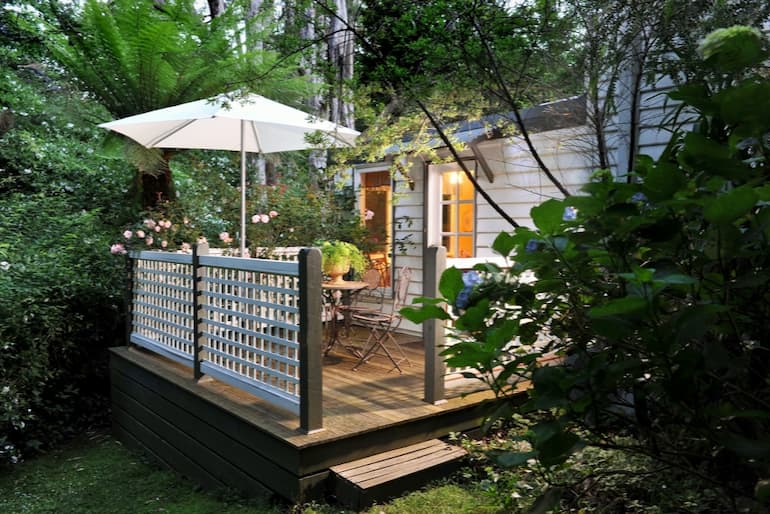 Clarendon Cottages, Sassafras
Only a 15-minute stroll from the heart of Sassafras, Clarendon Cottages is a peaceful garden retreat that is the ideal escape from the city. Choose from 3 gorgeous cottages that all offer breakfast provisions. Whilst Dovecote Cottage is cute & cosy, Camellia Cottage & The Stables Cottage are larger and both offer fireplaces & spa baths.
---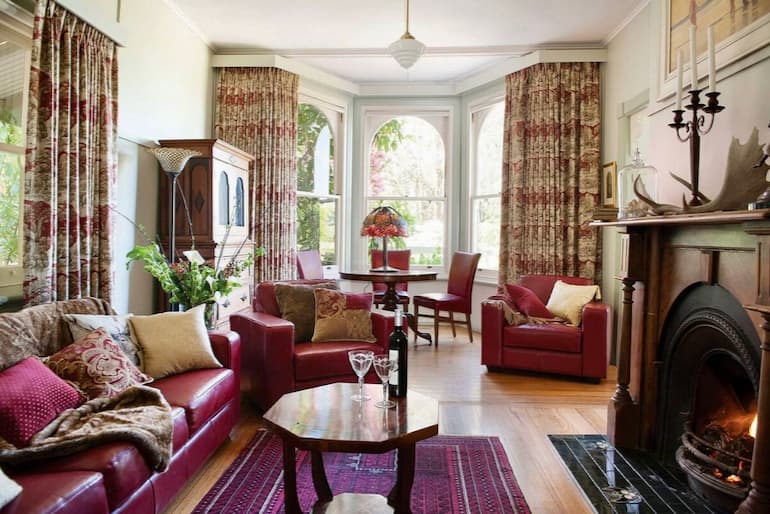 Woolrich Historic Garden Cottage, Olinda
Enjoy the peace and quiet of the surrounding 5 acres of woodland and be transported to charming old Europe inside Woolrich Historic Garden Cottage. The rich reds bring such a welcoming warmth to the Woolrich Cottage which also has a Jacuzzi spa while the Garden Retreat which has a spa bath has a softer, more neutral colour palette. Both cottages have a full kitchen and laundry area, making them a great choice for even longer stays.
---
Yarra Valley
Famous for its white wines and picturesque landscapes, the Yarra Valley has a relaxed vibe that is perfect for a weekend getaway from Melbourne. Views of the rolling hills and the Dandenong Ranges in the distance take us away to a different world; quiet and removed from the busy city. Visit some wineries, try out hot air ballooning to take in the sights, or simply indulge in some in-room dining in your private haven at one of these spots: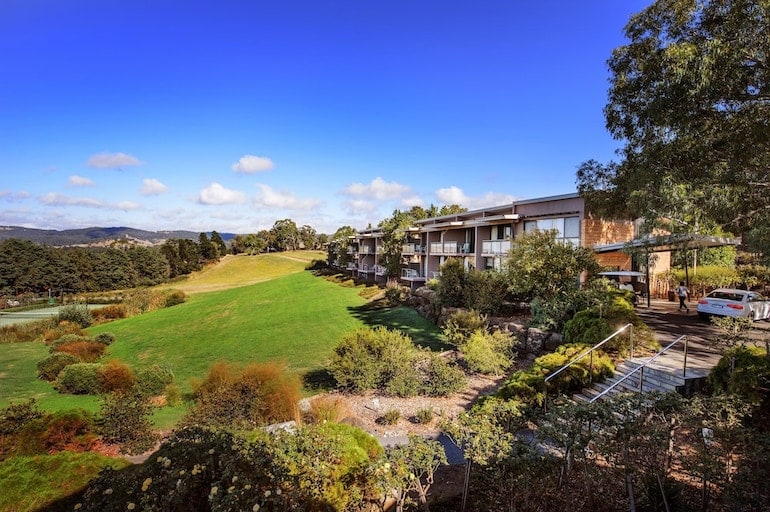 Balgownie Estate, Yarra Glen
Balgownie Estate Yarra Valley is nestled in the heart of the Yarra Valley, less than an hour from Melbourne's CBD making it a perfect choice for a short escape close to the city. Here you can enjoy the extensive resort facilities such as the health club, day spa, sauna, steam room or spa, or simply enjoy the panoramic country views from the privacy of your balcony.
---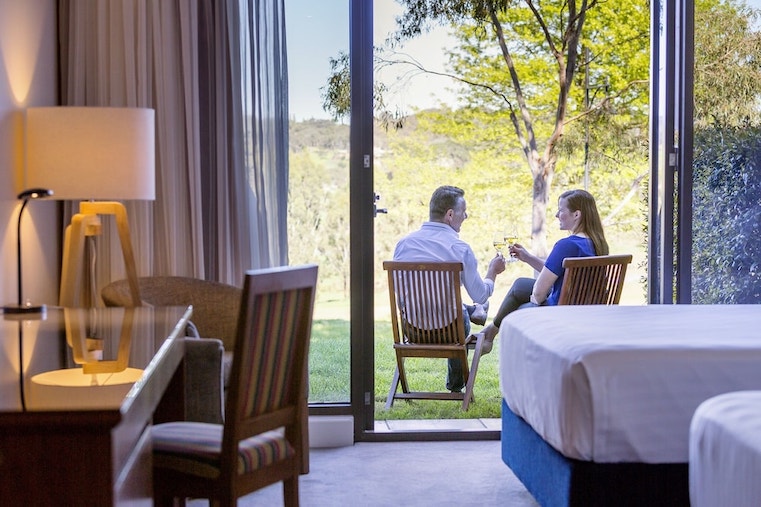 Yarra Valley Lodge, Chirnside Park
A sophisticated yet relaxing retreat for weekend getaways from Melbourne, Yarra Valley Lodge is located on the grounds of the Heritage Golf & Country Club at the gateway to the Yarra Valley. All guest rooms open directly onto a gardened terrace or private balcony where you can enjoy your morning coffee and take in the spectacular views of this 120-hectare estate.
---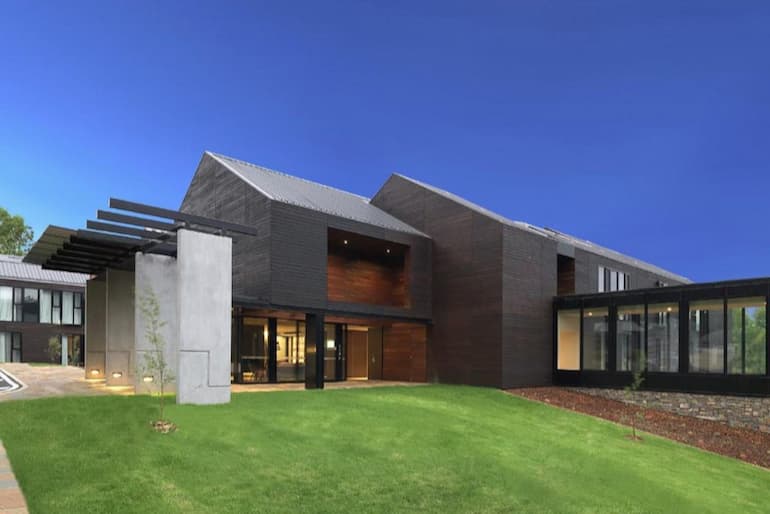 Peppers Marysville
A quiet riverside hotel, Peppers Marysville has contemporary rooms and amenities that are great for a family weekend getaway. All rooms and suites have work areas and coffee and tea-making amenities, while the Deluxe Rooms and Superior Suites have private balconies, with the latter having a kitchenette as well. You can also savour the yummy local produce and signature wines from Radius Bar and Grill!
---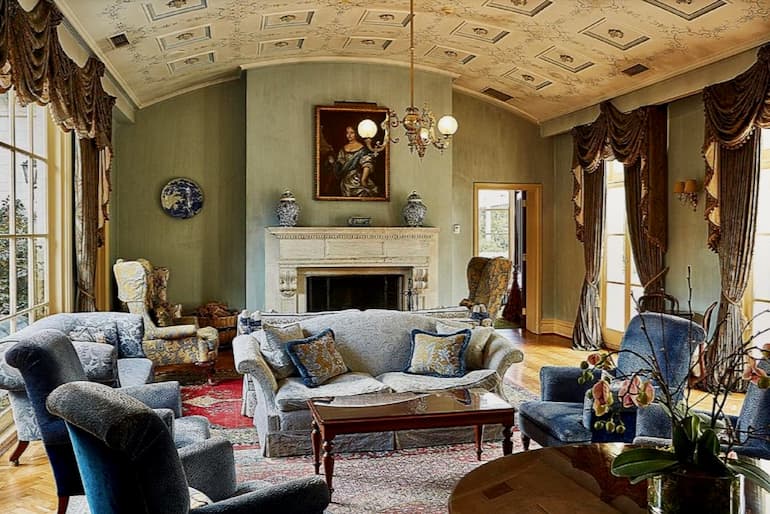 Chateau Yering Hotel, Yering
Charming Victorian style, check. Fine and casual dining options, check. Luxury at every corner? Chateau Yering Hotel ticks that box as well. Set on a 250-acre estate, it has 32 Victorian-style suites that will make you feel as if you're in a movie set. Lavish and inviting, all of the suites have a private veranda or balcony with views of the garden or the mountain ranges. You can enjoy fine dining at Eleanor's Restaurant or something more relaxed at the light-filled Sweetwater Café.
---
Geelong and The Bellarine
From strolling down beautiful beaches to cycling the rail trail, Geelong and the Bellarine has sights and activities that can take your mind off of its usual preoccupations. We all need a break every now and then, and the sun, surf, sand, and vineyards of this region are sure to pleasurably distract you from your life in the city. Find yourself a retreat in one of our top picks in this area for your weekend getaways from Melbourne: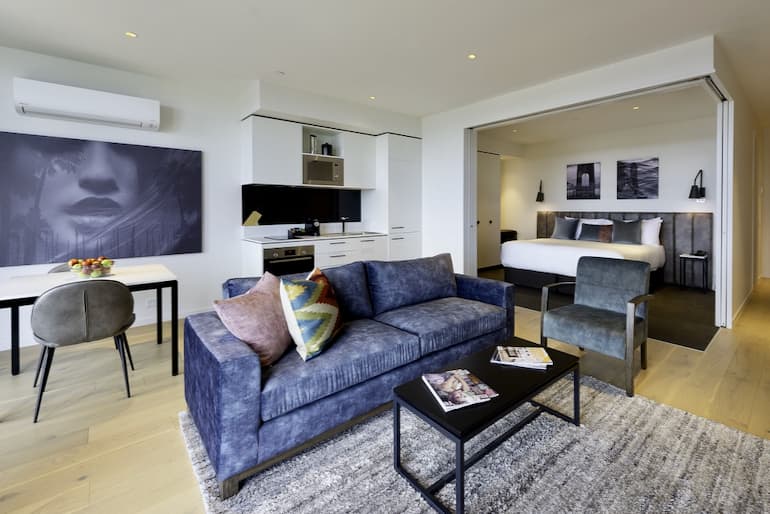 R Hotel Geelong
Only a short walk away from Eastern Beach, R Hotel is a serviced apartment hotel nestled within a heritage-listed building overlooking Corio Bay. The Ocean View Apartments make the most out of their surroundings by having floor-to-ceiling glass windows while the 2-Bedroom Loft Apartment has an airy, high-ceilinged living room that makes for a perfect hangout place for the family.
---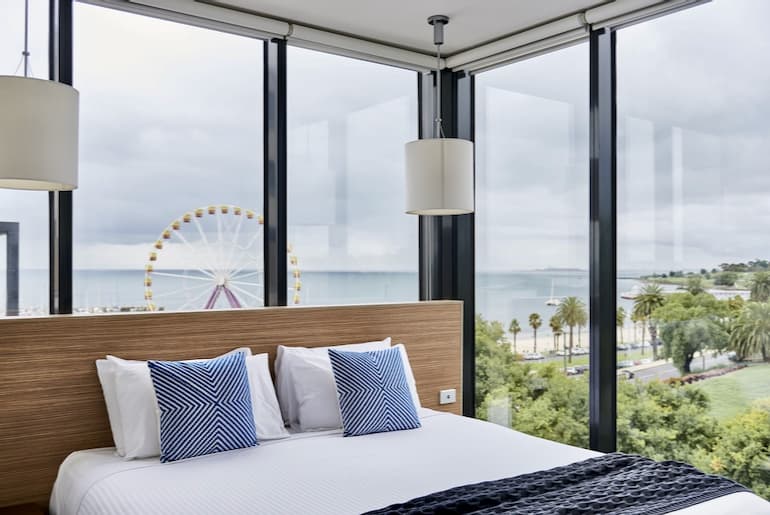 Vue Apartments Geelong
Just minutes away from Eastern Beach, close to the Westfield Shopping Centre, and some of the finest restaurants and cafes in Geelong… Vue Apartments is your launching pad for enjoying the area to its fullest. The rooms have a homely yet elevated feel that will make you want to stay so much longer. Choose from apartments that offer kitchenettes and views of the park or the Giant Sky Wheel.
---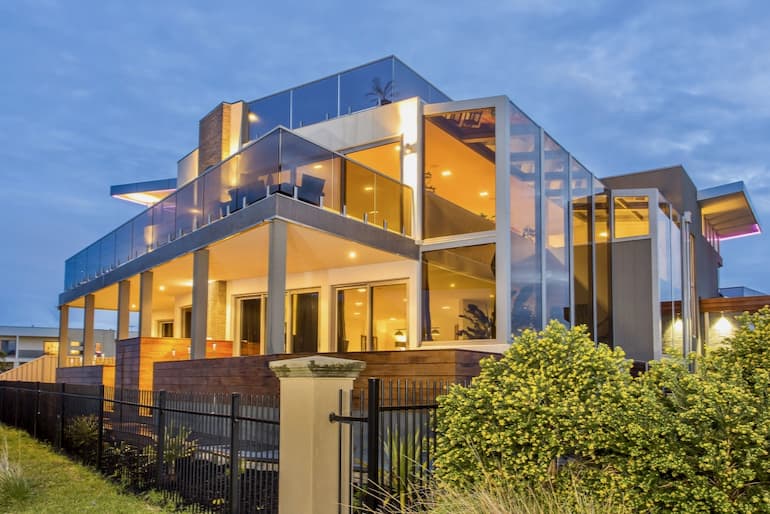 Starhaven Retreat, Indented Head
Starhaven Retreat is a stunning holiday home on the Bellarine Peninsula that is perfect for indulgent weekend getaways from Melbourne. The pristine glass façade is gorgeous and truly adds a wow factor to the place. Starhaven Retreat has 4 tastefully furnished suites, a spa, an indoor pool, a theatre room, a game room, and a rooftop with loungers where you can relax and enjoy the ocean breeze. How cool is all of that?
---
Gippsland
Gippsland is a land filled with wonderful destinations for all kinds of adventure. There's Wilsons Promontory, Ninety Mile Beach, beautiful coves, Toorongo falls, Lakes Entrance, Mt. Baw Baw (where you can enjoy winter sports) and plenty of national parks too. These sights and activities make it one of our favourite places for a weekend getaway from Melbourne, and we have a selection of top stays for you to try…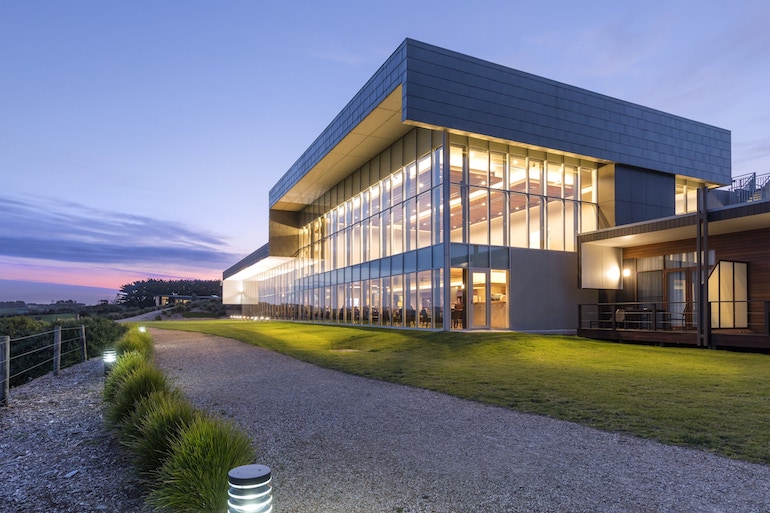 RACV Inverloch Resort, Inverloch
RACV Inverloch makes it to our list of best weekend getaways from Melbourne with its unique setting between wetlands and pristine beaches of the beautiful Bass Strait. You can choose from their spacious and stylishly furnished rooms, villas, and cabins that have ocean or garden views. Glass sliding doors and wide picture windows let a lot of natural light in and allow you to relax while taking in the views.
---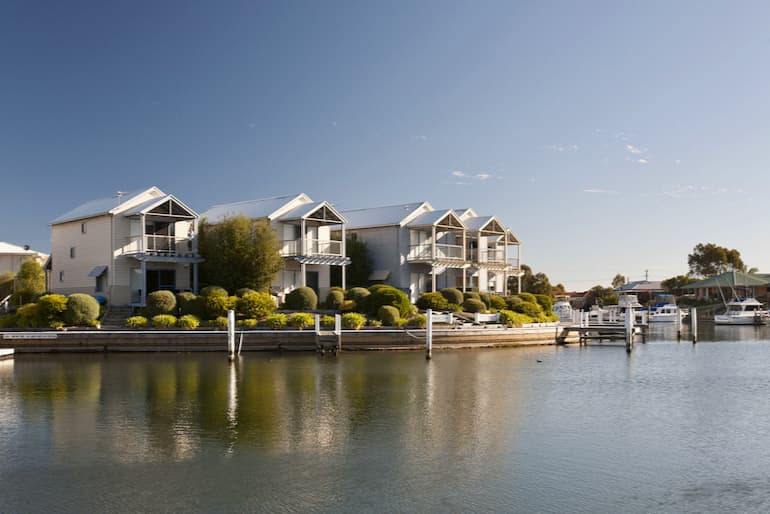 Captains Cove Waterfront Resort, Paynesville
Fancy waterfront lifestyle? Captains Cove Waterfront Resort has 16 thoughtfully designed apartments just 5 minutes away from the Esplanade shops and cafes. Each apartment has a kitchenette and living area, and you can enjoy views of the lake from your deck or private balcony. The stylish coastal interior design definitely sets the mood for weekend relaxation, and the apartments can sleep 2 up to 6 guests, making it a great spot where small families or a group of friends can unwind and spend time together.
---
Goldfields
The Goldfields have a distinct old-world character, beautiful architecture, and country charm that takes us away to another time. The blend of its rich history and today's diversity gives the region a unique atmosphere that you'll feel as you stroll through its quaint towns. Enjoy easy access to lakeside parks, botanical gardens, historic buildings, and art galleries when you stay at any of these Goldfield getaways.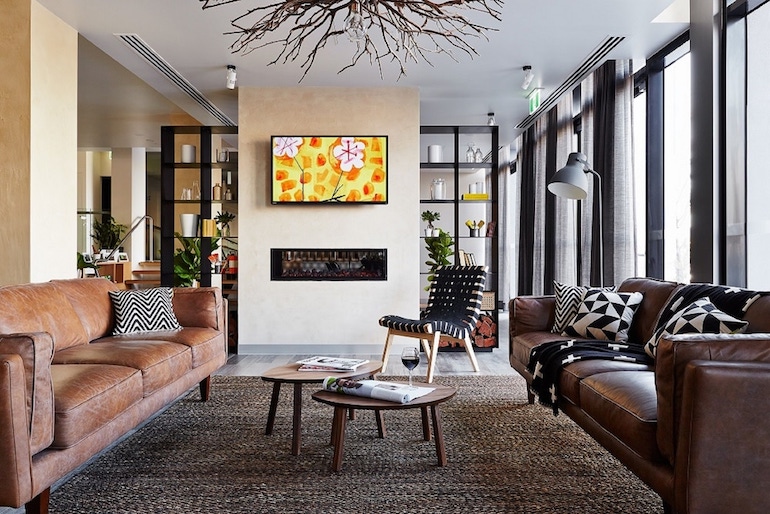 Mercure Bendigo Schaller, Bendigo
Mercure Bendigo Schaller is a vibrant boutique hotel with rooms featuring stunning original artwork from renowned artist, Mark Schaller. Boasting a warm welcoming feel and located in the heart of Bendigo, the hotel is close to plenty of restaurants, cafes and shops. The Pantry Café & Bar also offers all-day café dining for hotel guests.
---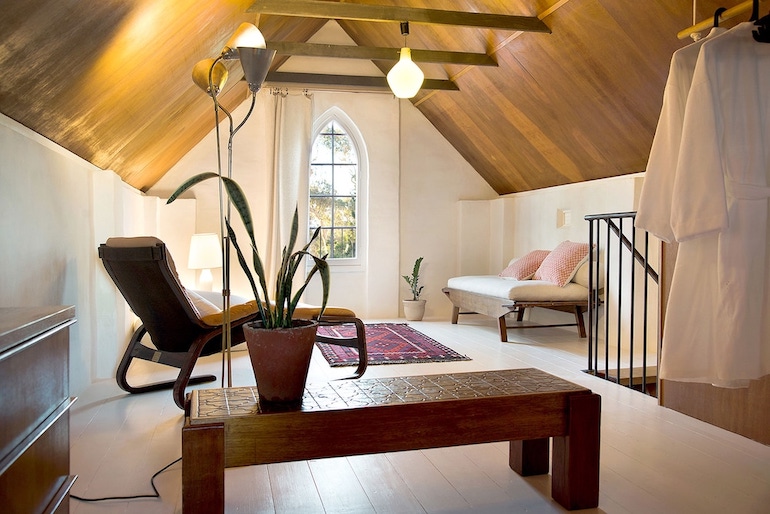 Be&Be, Castlemaine
Set on the highest hill in town, be&be is a gorgeous little studio that boasts magnificent views over Castlemaine and the countryside beyond. The interiors blend mid-century elegance with seventies funk, delivering a super-chilled vibe that is perfect for a relaxing weekend away.
---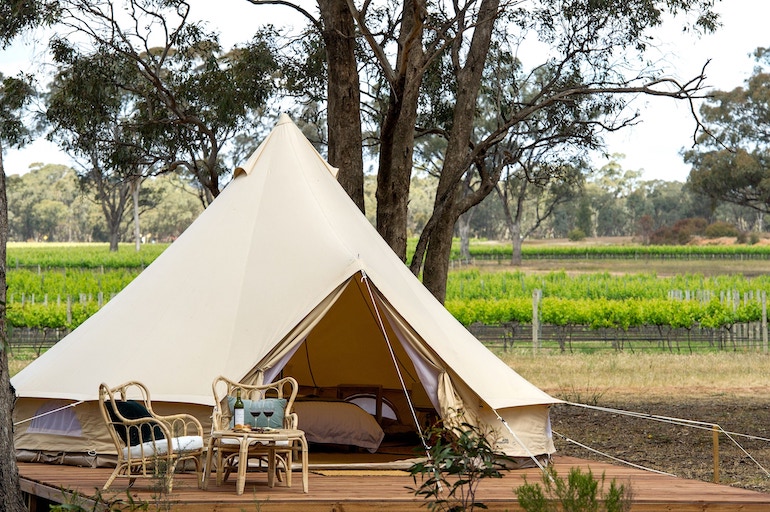 Balgownie Estate Bendigo, Maiden Gully
Just 10 minutes away from Bendigo city centre, you'll find Balgownie Estate Bendigo. Here you can wine, dine, and enjoy charming rooms and private glamping tents spread out through the vineyards and bushlands. Balgownie Estate—Bendigo's oldest winery—was established in 1969 and is famed for its Cabernet and Shiraz.
---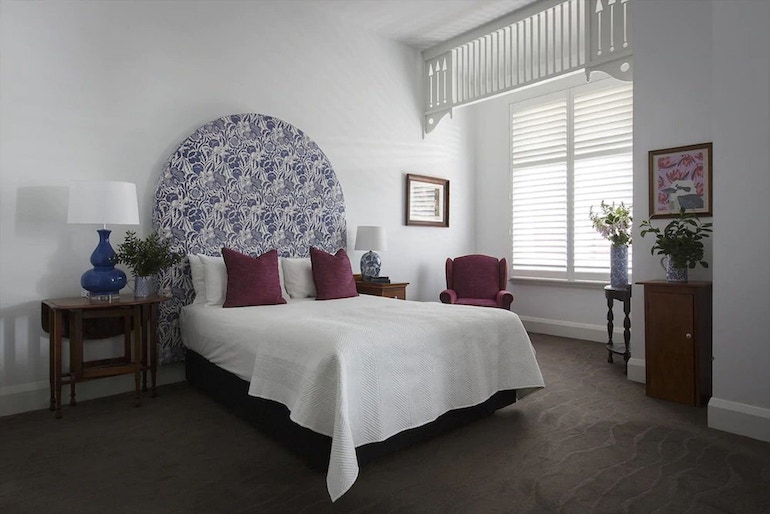 The Provincial Boutique Hotel, Ballarat
The Provincial Boutique Hotel was built in 1909 and is located on Ballarat's historic Lydiard Street, close to restaurants, cafes and shops. Each spacious guest room within this iconic heritage building is uniquely styled and offers a relaxed and inspiring vibe. Lola Dining Room is located downstairs and is a great choice if you don't feel like going far for dinner.
---
Goulburn Valley
Situated in the northeastern part of Victoria, the Goulburn Valley region encompasses the valleys of the Goulburn and Murray Rivers. Visitors can explore the region's many vineyards and wineries, go fishing or boating on the Goulburn or Murray Rivers, or take in the natural beauty of the nearby Strathbogie Ranges and Mitchellstown Caves. A laid-back destination where you can enjoy the bounty of nature, a trip to the Goulburn Valley presents you with plenty of opportunities to discover the beautiful surrounds while enjoying a slower pace.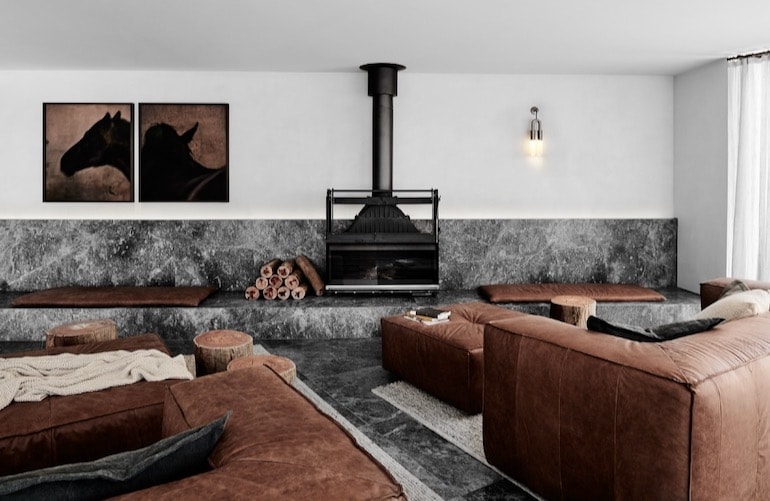 The Mitchelton Hotel Nagambie
Located in the scenic Goulburn Valley of Victoria, The Mitchelton Hotel Nagambie is the perfect escape for those looking for a stylish and contemporary retreat. The hotel features an array of well-appointed rooms, complete with earthy design elements that exude a cosy and inviting atmosphere. Art enthusiasts can explore the hotel's art gallery, showcasing an impressive collection of Aboriginal artwork, while foodies will enjoy the sophisticated ambience of The Muse restaurant. With so many refined experiences to enjoy, you're sure to feel refreshed and inspired after your stay at The Mitchelton Hotel Nagambie.
---
We're confident you'll love your weekend getaway in Victoria. If you're looking for more luxury escapes, browse our full collection of luxury accommodation in Victoria.
What's your luxury?
Luxury means different things to different people. Is your luxury a glamorous hotel in downtown Manhattan, a private island hideaway on the Great Barrier Reef, or a safari camp on the plains of the Serengeti? We'll help you find your perfect version of luxury in some of the world's most beautiful places.