We love that sense of wonder whenever we travel to a new place, and staying at a boutique hotel that reflects the local surroundings certainly adds to that excitement. With plenty of great properties to choose from, we've reviewed and handpicked the best boutique hotels in Melbourne and provided you with an overview of each hotel's unique character. Discover refreshing takes on interior design and experience stylish accommodation at these beautiful hotels that will definitely take your travels up a notch.
---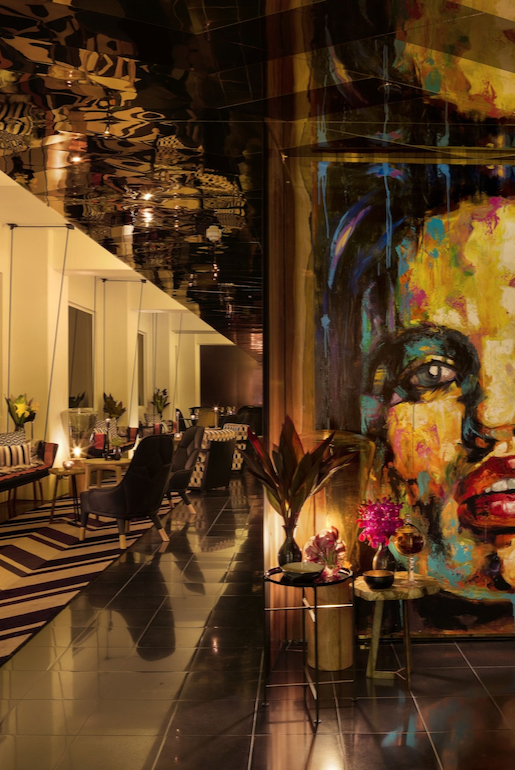 Adelphi Hotel
Adelphi Hotel is a sweet treat — figuratively and literally. It is the world's premier dessert-inspired hotel filled with fun, quirky, and whimsical touches. Om Nom Cocktail Bar has delightful cocktails and swinging chairs, and the room furnishings take inspiration from Liquorice Allsorts, lollipops, and candy jars giving you visual decadence at every turn. Because of these playful elements, Adelphi Hotel also made our list of the best art hotels in Australia. From the neon-lit exteriors to the 34 richly detailed rooms and suites, this 9-storey boutique hotel in the heart of Melbourne will stimulate your senses. Oh, and… Adelphi has a glass-bottom roof deck pool extending 2 metres beyond the building's periphery giving you views of Flinders Lane. How cool is that?
---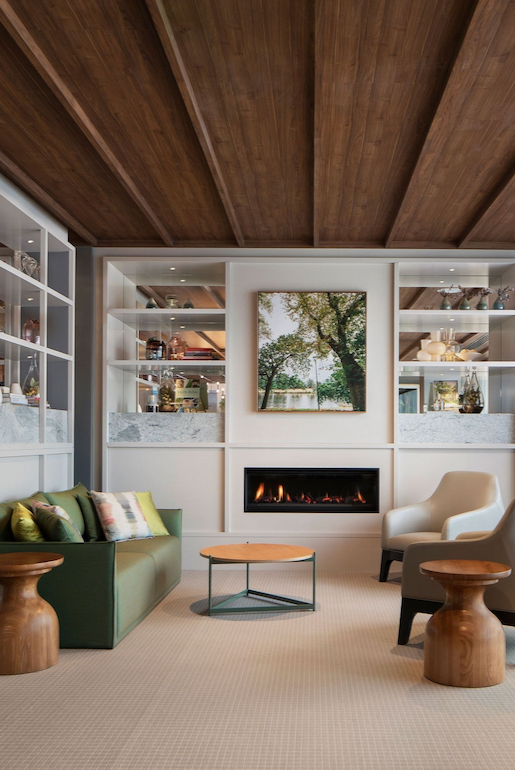 Element Melbourne Richmond
Bridging the best of Melbourne's vibrant centre and inner-city neighbourhoods, you will find yourself in a soft flow at Element Melbourne Richmond. This modern, pet-friendly hotel features 168 light-filled rooms with pieces of furniture that are mostly rounded, lending a gentle visual flow from one corner of the room to another. This softness is balanced out by sleek floor-to-ceiling sliding glass doors, and metal feature pieces here and there. Standouts include the cosy library lounge area, a 24-hour fitness centre, free bikes to borrow, and an Asian fusion menu at Mint Lane Restaurant and bar.
---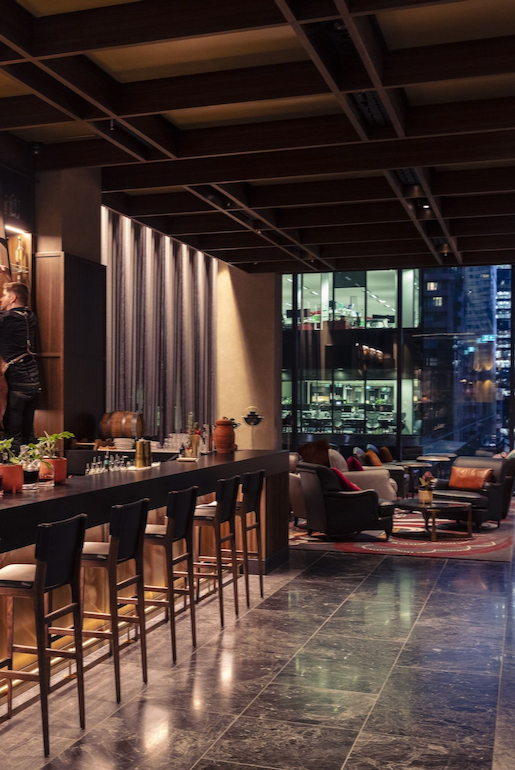 Next Hotel Melbourne
Set amid Melbourne's hip 80 Collins area, Next Hotel Melbourne borrows elements from nearby Chinatown and melds them with sophistication and comfort. Bedrooms have a delightful mix of textures from the fine boutique French linens and mini bolsters with leatherette pillowcases. When you visit La Madonna — the hotel's fine dining restaurant — be prepared for an interesting visual spectacle of the glamorous chandelier and vase-like hanging elements. At The Club, enjoy your favourite fizzy drink while letting the glimmering lights reflecting off of the well-stocked bar tickle your eyes.
---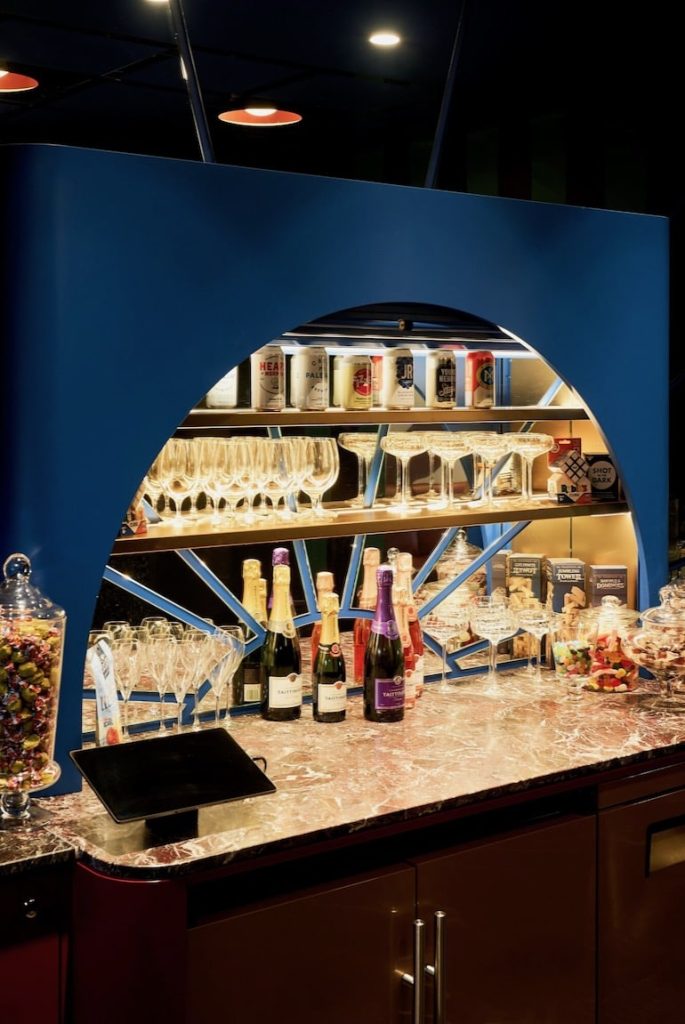 Laneways by Ovolo
Laneways by Ovolo couldn't put you in a better spot — right in the heart of Melbourne's famous laneways. Inspired by the street art and culture of the surrounding laneways, the accents inside the rooms of Laneways by Ovolo will make you feel as if you're in a muted Andy Warhol artwork; just the right amount of pop colours for a burst of visual energy with comfortable and contemporary furnishings. The rooms are eclectic and interesting, just like the laneways surrounding the hotel. Choose from suites that can sleep 2-4 guests, with bigger suites having longer couches, perfect for entertaining a small group of friends.
---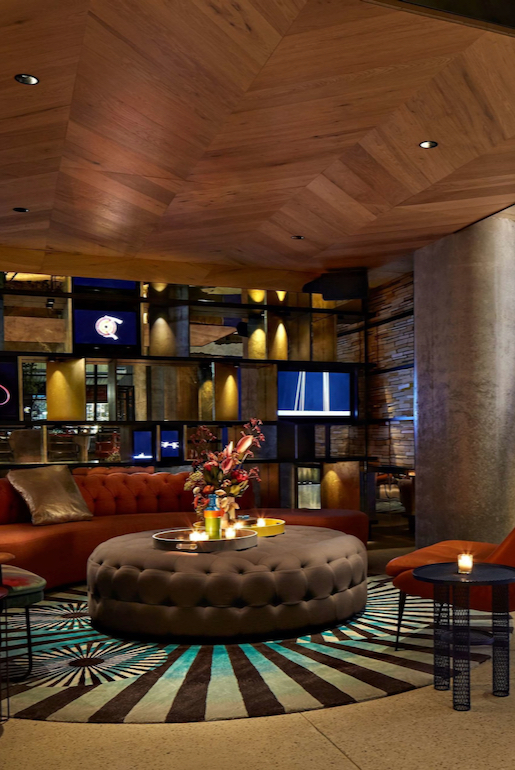 QT Melbourne
Industrial chic meets high-fashion and contemporary interiors at QT Melbourne where every space is artsy and fitted with designer furnishings that give it an edgy-cool ambience. Rooms are slick and stylish, featuring concrete ceilings, timber floors, and brushed-slate bathrooms that are a cool welcome break from the hubbub outside. Reflective of Melbourne's bold side, QT does not shy away from colours, patterns, and a well-meshed eclectic mix of materials used to bring life and undeniable wonder to this modern boutique hotel.
---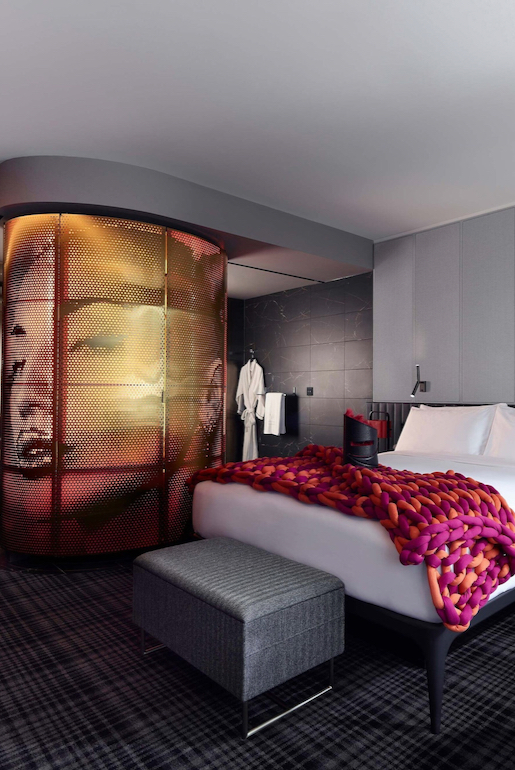 W Melbourne
Chunky knit blankets, "peeling" wall lights, plaid carpets, in-room murals, and wall mirrors… these are just some of the cool design elements in W Melbourne. The lobby and bar are space-like and trippy, but in the best kind of way. W Melbourne has a futuristic look pulled together by an abundance of light trimmings and features that add a beautiful depth to the artwork and unique pieces of furniture inside. Its energetic aura is almost club-like, yet the rooms and suites spell out comfort and luxury with lots of fun in between.
---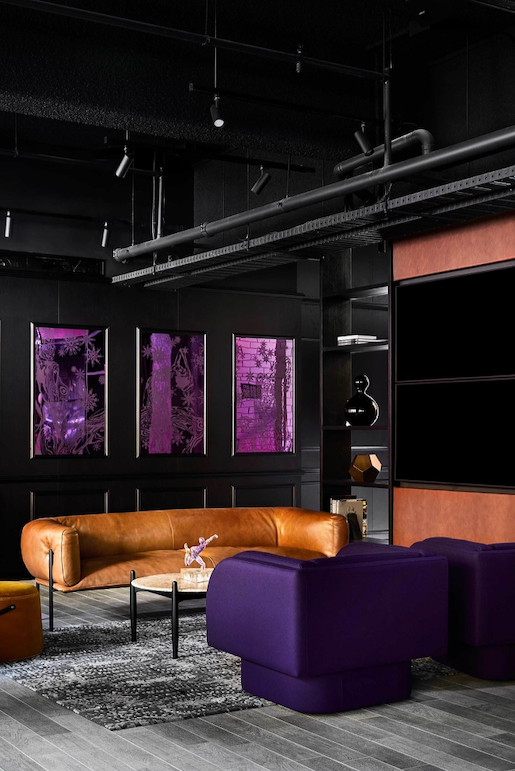 Zagame's House
Named after the hotelier brothers Victor and Robert Zagame, Zagame's House is a 97-room boutique hotel showcasing sustainable architecture, sophisticated modern design, and luxurious amenities. It's a beautiful play of deep colours and patterns; think houndstooth upholstered side table chairs and cheetah print pillows. These otherwise "loud" visual elements are counterpoised by matte black cabinets and sliding doors, while still giving touches of luxe with golden lamps and garment racks.
---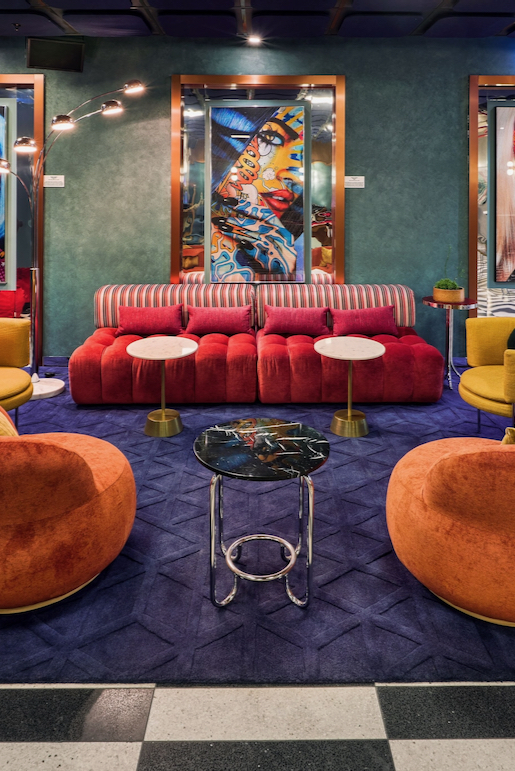 Ovolo South Yarra
Ovolo South Yarra is an artsy time capsule that takes us back to disco era. Situated in the trendy cosmopolitan heart of Melbourne, Ovolo South Yarra is an energetic embodiment of retrofuturistic interiors taking your visual senses on a delightful spin. Think of 1970s wallpaper prints, shag carpets, rattan furniture accents, and retro-plush couches but with Bose Bluetooth speakers and seamless technological integration. Apart from being one of the best boutique hotels in Melbourne, it is also one of our top picks for pet-friendly accommodation in Australia.
---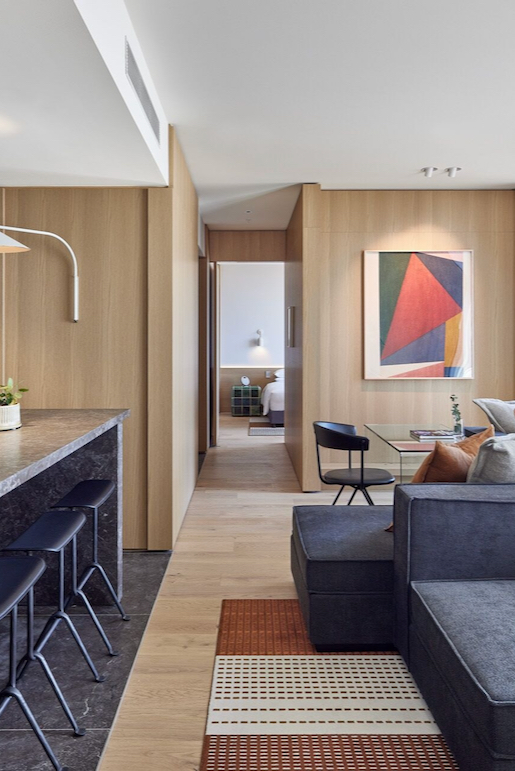 Hyatt Centric Melbourne
With minimalist rooms and suites offering views of Port Phillip Bay, Hyatt Centric Melbourne is a great launchpad for experiencing the city. Accent lamps shine on artwork in communal spaces, and recessed lights in the bedrooms set a soft glow, setting the mood for relaxation. The indoor pool has a bathhouse-like structure, with individually divided cushioned areas by the pool for guest relaxation. With premium amenities and a light-spirited warmth inside, you will experience uncomplicated quality and an escape from the city's fast pace.
---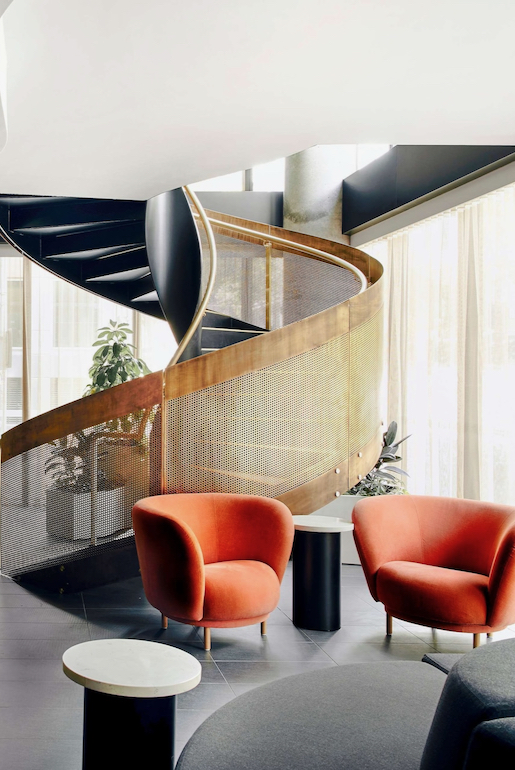 Quincy Hotel Melbourne
Do you love skyline views? Quincy Hotel's colourful rooms will be your playful private escape in the heart of the city. Located on the iconic Flinders Lane, you'll be a short stroll away from fine dining restaurants, art galleries, and fashion outlets. Inside the hotel, there is a vibrant mood brought about by bold, primary-coloured headboards and colour blocking throw pillows. You can choose from standard, deluxe, and club rooms which are great for couples or groups of friends. Quincy hotel offers three dining spots with southeast Asian flair, adding to the zing of your boutique hotel experience.
---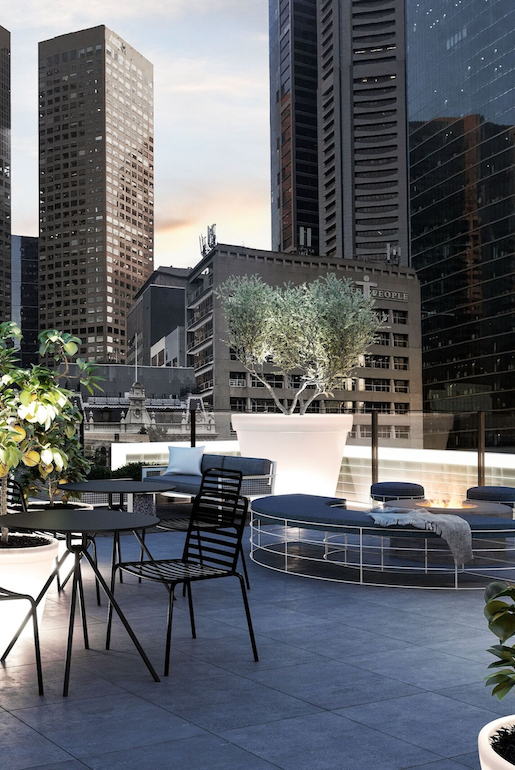 Lancemore Crossley St. Melbourne
Lancemore Crossley St. is a reflection of artsy Melbourne. Its 113 art-filled rooms are filled with rich textures and a visually appealing combination of elements that work seamlessly together, giving the rooms their own unique character. If you love matte black furnishings, you'll enjoy the room's matte black pieces and even the toiletries and bathroom fixtures. Very Pinterest-y! Located on Crossley St., there is no shortage of bars and restaurants nearby with delectable offerings for you to enjoy. So much to discover, so little time!
---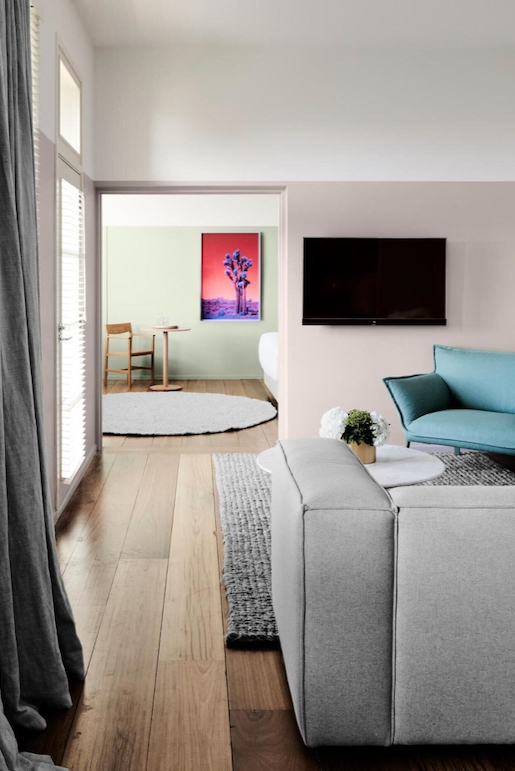 The Prince
Do you enjoy a lively bar, being just a short walk from the beach, and having your room just steps away after you've enjoyed your drinks and the music? The Prince at St. Kilda is the place to be. St. Kilda is a haven for the city's artists, and The Prince Bandroom is where you can experience fantastic live music and great vibes. After you've enjoyed the artists' performances, settle into your beautifully appointed room painted with soft palettes and adorned with privately commissioned photographs, true to the property's championing of artists. Handmade furnishings are made by local artisans, adding a unique aura to each of the rooms and suites at The Prince.
---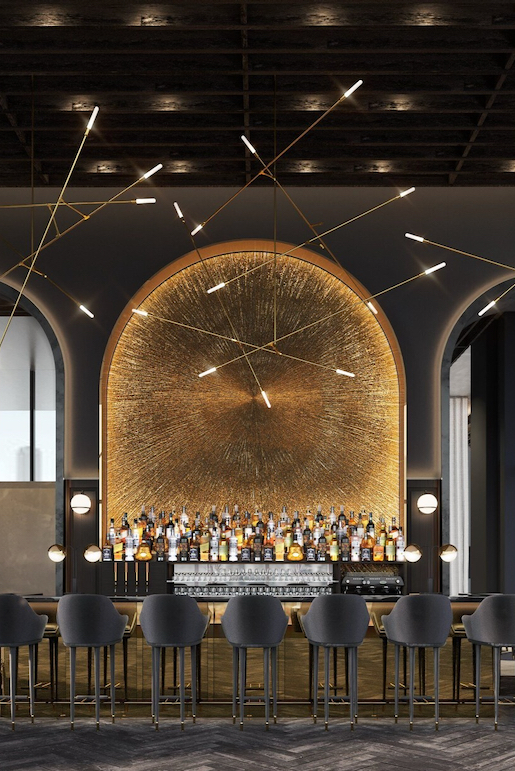 voco Melbourne Central
What stands out about voco Melbourne Central is the dominance of darker analogous interiors delightfully broken by warm lighting and refreshing little accents in the form of foliage and flowers. You'll feel the boutique yet bougie vibe inside voco—almost as if you're in a European atelier. The fitness centre and outdoor pool give you options to stay active, while the spa, in contrast, takes you to a place of calm and relaxation. You can enjoy a lively little get together with friends at the Blacksmith Brasserie or some drinks at the Blacksmith Bar before you unwind and catch your ZZZs in your plush bedroom.
---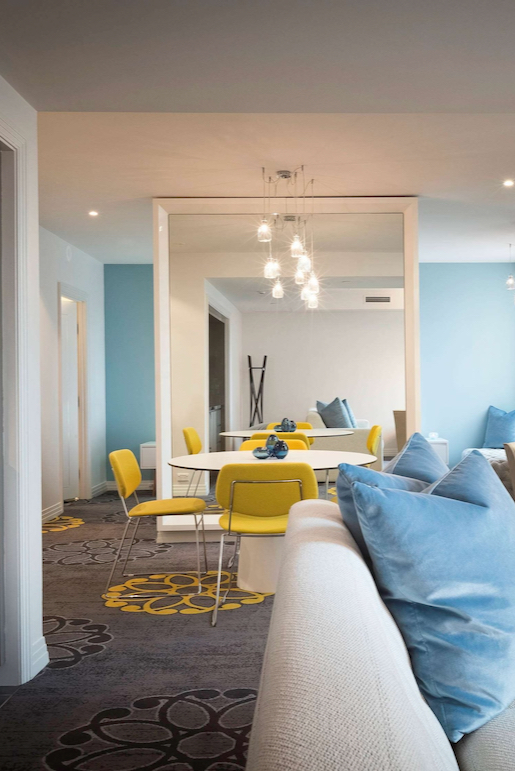 The Como Melbourne
Feel refreshed and in good spirits at The Como Melbourne! Located in the fashion hotspot of South Yarra, The Como welcomes you with its crisp, chic style. We love the floral arrangements and the pops of colours in the lobby as well as the playful yet elegant colour scheme of the minimalist bedrooms. Indulge in an unhurried breakfast at The Brasserie or dine without leaving the comfort of your room. Whether you're staying in a 1- or 2-bedroom apartment, you'll find that the stylish interiors will punctuate your stay with a luxurious feeling you'll definitely want to experience again.
---
Looking for more accommodation and boutique hotels in Melbourne? Check out our full list of Melbourne accommodation so you can plan your next holiday.
Image credit: Ovolo South Yarra
What's your luxury?
Luxury means different things to different people. Is your luxury a glamorous hotel in downtown Manhattan, a private island hideaway on the Great Barrier Reef, or a safari camp on the plains of the Serengeti? We'll help you find your perfect version of luxury in some of the world's most beautiful places.